Try our mouthwatering vegan bolognese made with the meatiest plant-based option. Combining tomatoes, veggies, vegan ground beef, and aromatic herbs, it's a satisfying, tasty twist on the classic dish. Ready in just 30 minutes, it's perfect for newer vegans seeking familiar flavors without meat. Give it a go and enjoy the delicious tastes of Italy in a plant-based way!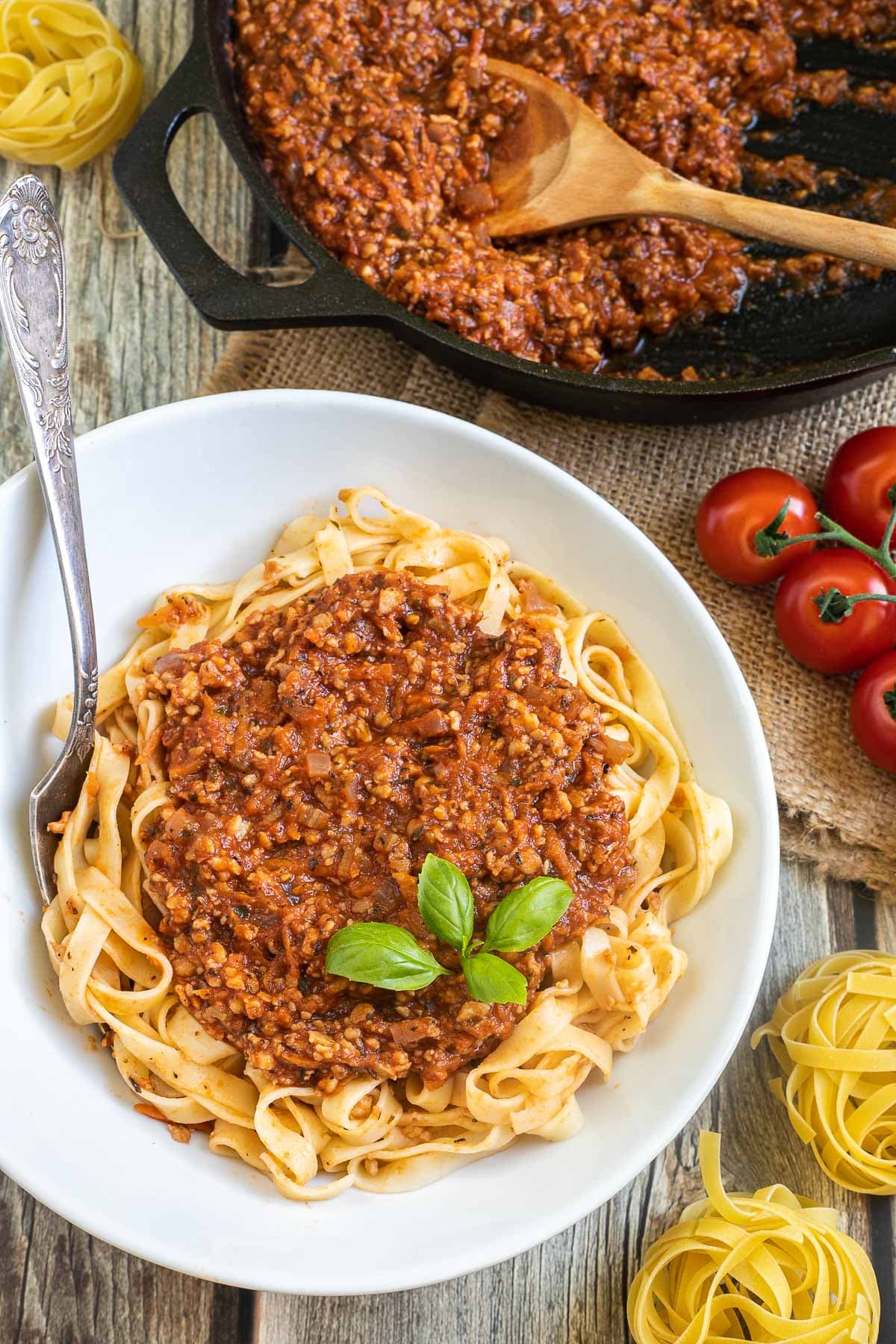 For more plant-based versions of the traditional bolognese, you can check out our easy vegan lentil lasagna, lentil bolognese, vegan spaghetti bolognese with cauliflower walnut meat, and tofu bolognese. For even more pasta inspiration, explore our extensive section on vegan pasta recipes.
Jump to:
What to expect?
Our vegan bolognese is a lot like the traditional Italian version, featuring carrots and celery for that authentic Bolognese experience. But here's the exciting twist: We use TVP (Textured Vegetable Protein), a meat replacement that remarkably mimics the consistency of ground beef.
It not only provides a phenomenal meat-like texture but also boasts high protein content and low fat. It's a versatile ingredient that soaks up the savory goodness of other components, creating a robust and deeply satisfying sauce. And the best part? This delicious bolognese comes together in just 30 minutes!
See the below picture. Absolutely nobody will be able to tell that it is not made of real meat. It is still so aromatic, hearty, and delicious.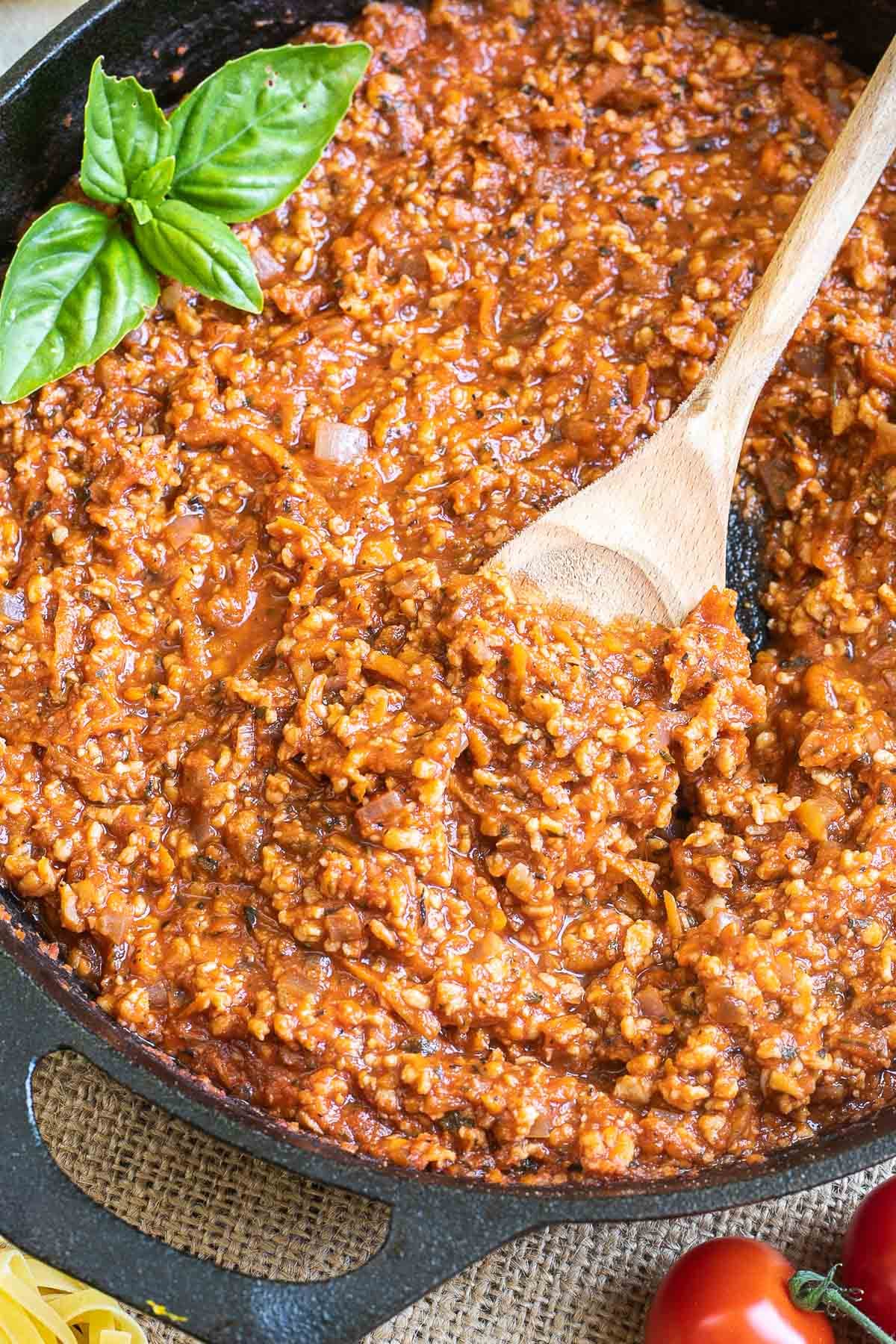 Ingredients
Just like any classic bolognese, this version utilizes simple, everyday pantry ingredients that blend together to create a delicious and hearty meal.
Tagliatelle pasta – or any pasta shape like pappardelle, rigatoni, fettuccine, penne pasta, and even gluten-free pasta.
TVP (Textured Vegetable Protein) – Soy-based
Veggie broth
Olive oil
Onions
Garlic
Carrot
Celery stalk
Sieved tomato puree – You can probably find several types of tomato sauces in the stores. However, we recommend choosing a sieved tomato product, which is thicker and unseasoned.
Tomato paste
Red wine
Soy sauce – or tamari for gluten-free
Parsley
Dried thyme
Fresh basil
🛒 You can find detailed measurements for all ingredients in the printable version of the recipe card at the bottom of this post.
Instructions
Preparing the ingredients
Bring a large pot of water to a boil and cook the pasta using the back-of-the-packet instructions till al dente. Don't overcook it.
Peel and chop your washed onions, garlic cloves, and celery stalk.
Finely grate a medium-sized carrot after washing and peeling.
Take the dry TVP out of the packet and soak it in hot veggie stock for about 10 minutes. Then, drain and squeeze out the excess moisture by pressing it with a wooden spoon. It should look like soft, moist crumbles like in the below photo.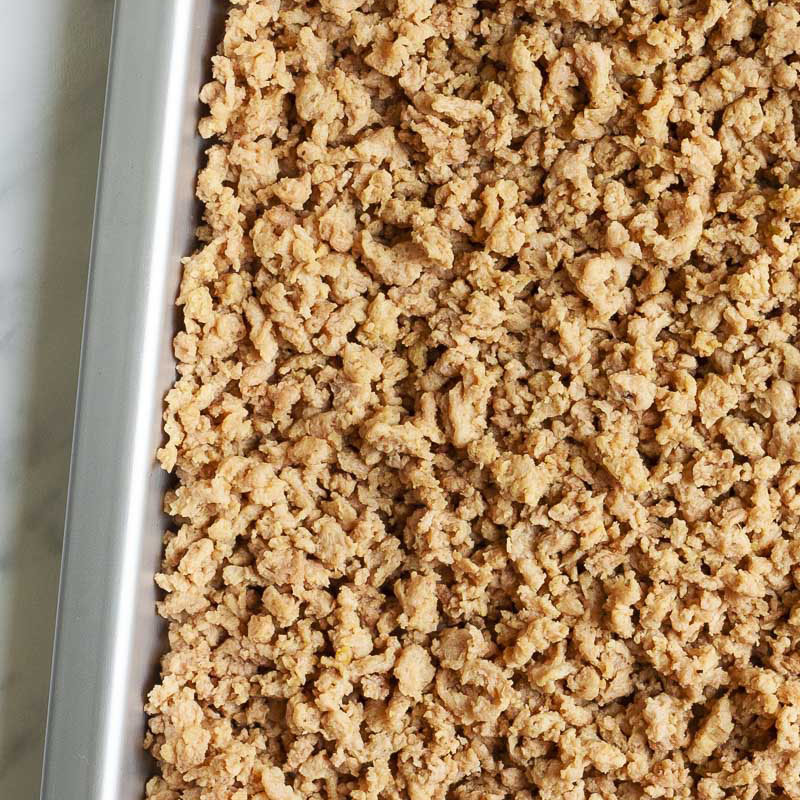 Add the TVP to a large frying pan along with a tablespoon of olive oil and saute gently. Add salt and pepper to taste.
Pan-fry the TVP for 5-10 minutes or until all the water has evaporated and it resembles ground beef. Now, take it off the stove once ready to prevent it from drying out.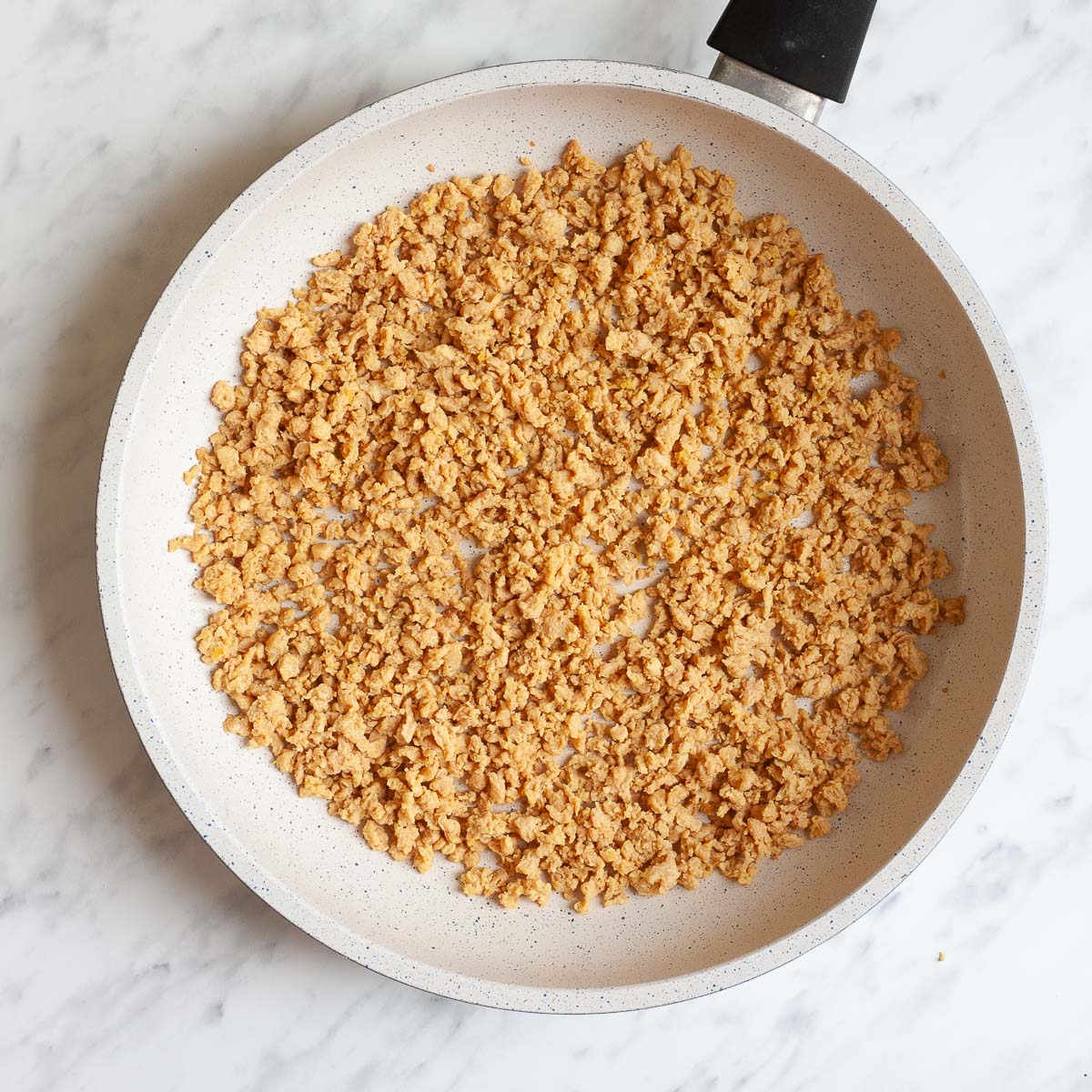 Making vegan bolognese
In a non-stick pan or Dutch oven, add a few teaspoons of olive oil and sauté the finely chopped onions for 2-3 minutes.
Add the grated carrot, chopped celery stalk, and minced garlic.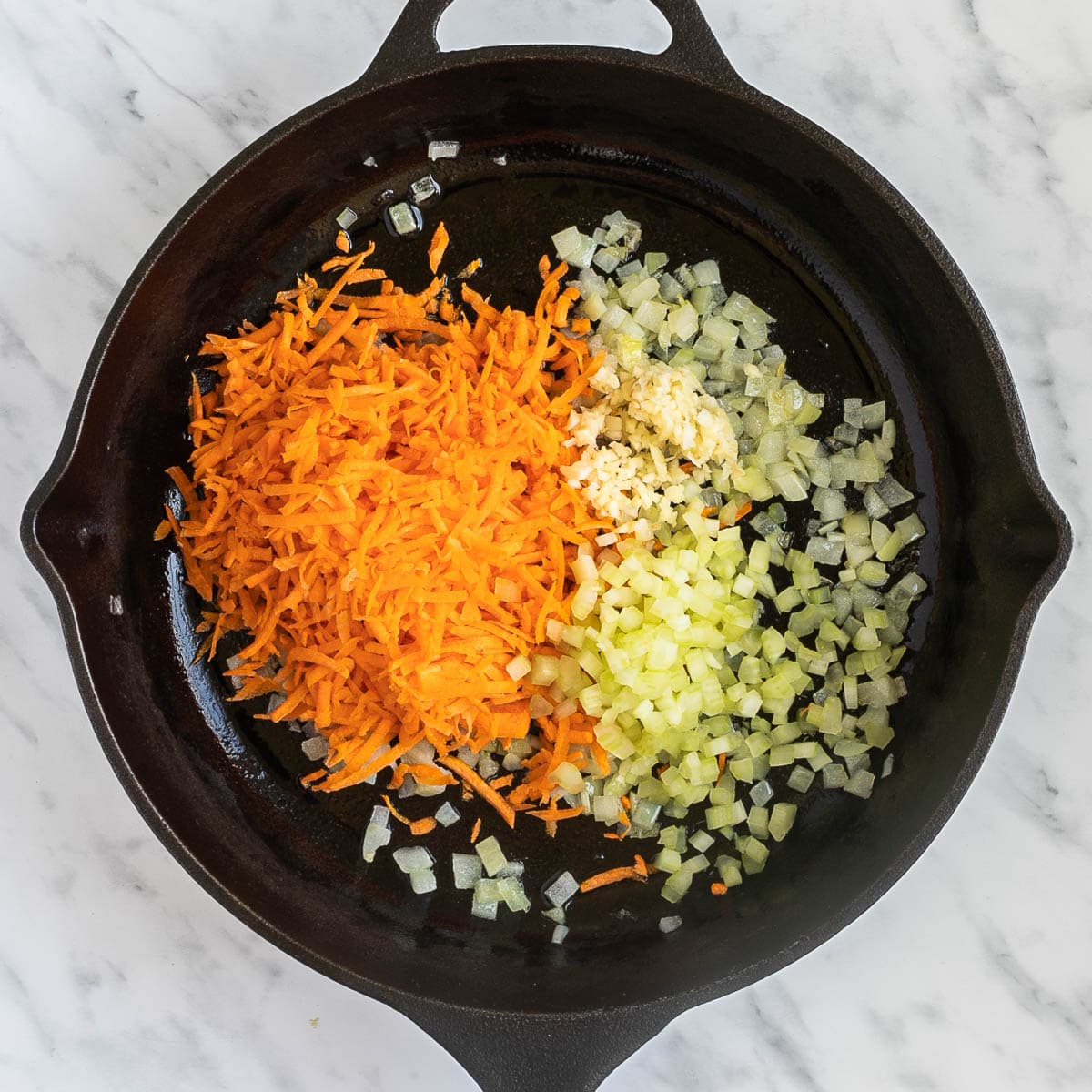 Season with salt, pepper, thyme, parsley, and basil. Stir well and cook this base on medium-high heat for 5-7 minutes.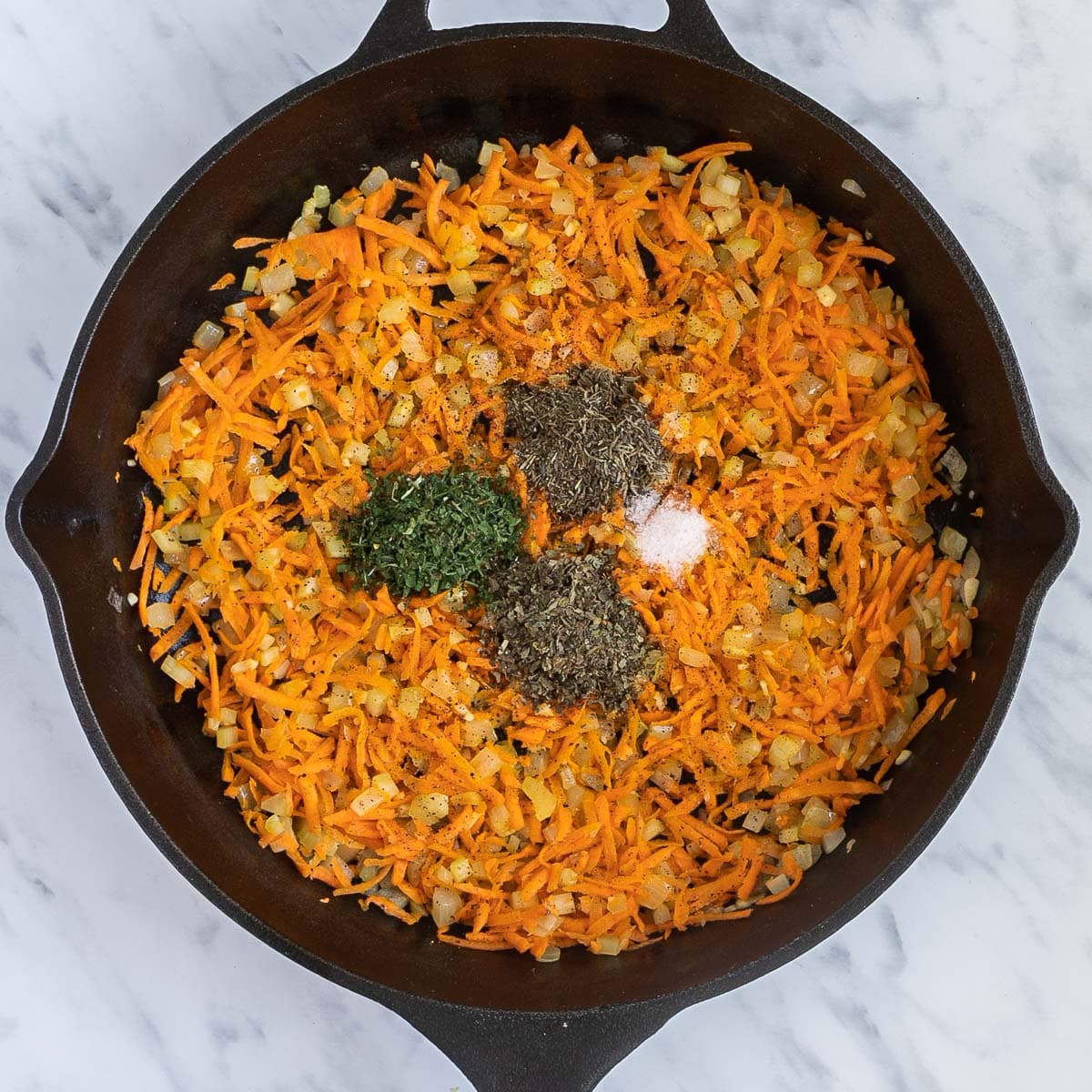 Gently scrape off anything that sticks to the pan with a spatula to incorporate it for more flavor.
Deglaze the pan by pouring in the red wine, and cook it until the wine fully evaporates, stirring occasionally.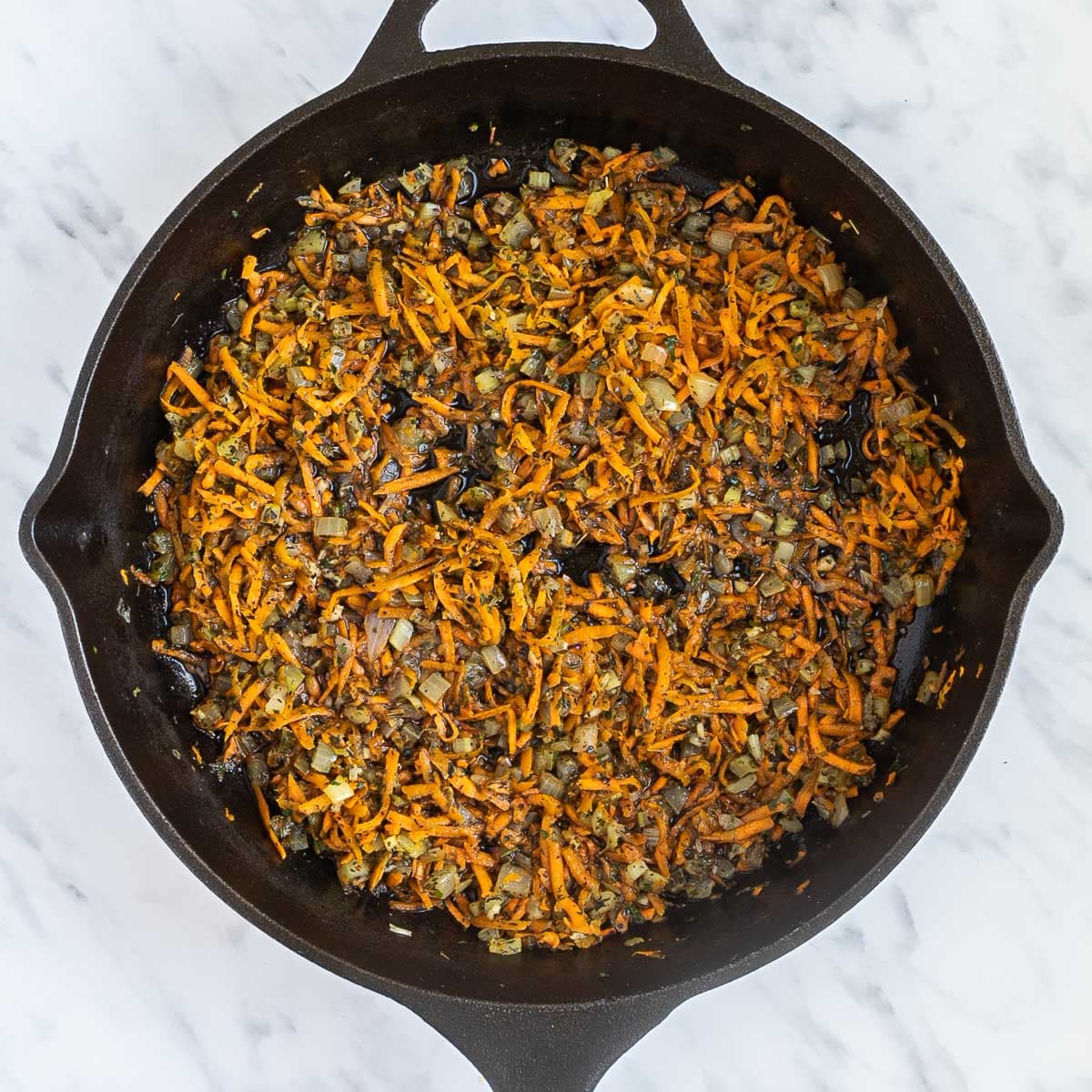 Add the tomato paste, tomato sauce, and soy sauce. Check and adjust the seasoning to your taste.
Bring the marinara sauce to a boil and cook for 2-3 minutes, stirring occasionally.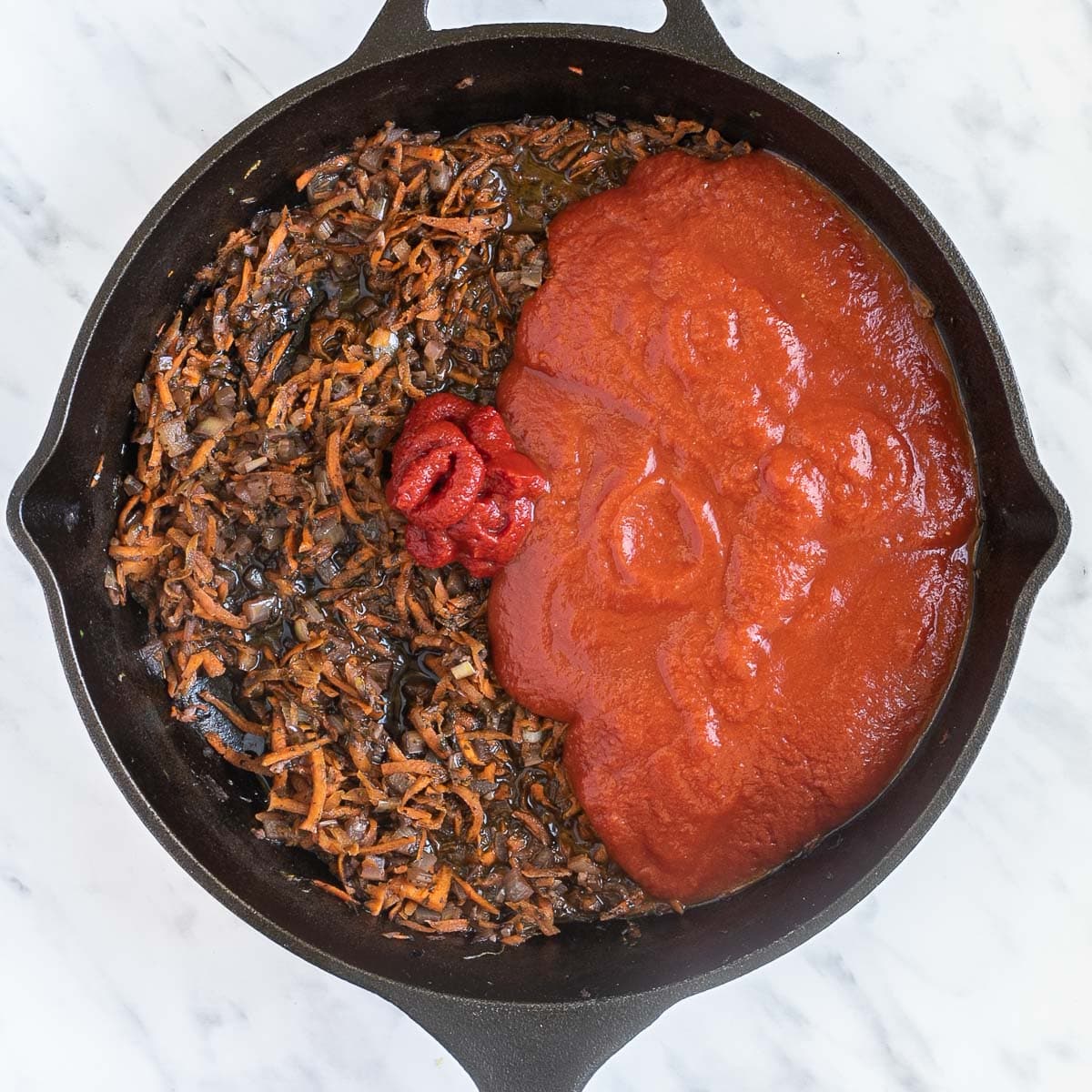 Mix the pre-fried TVP well until evenly coated with the sauce. Cook for an additional 2 minutes to let the flavors meld together.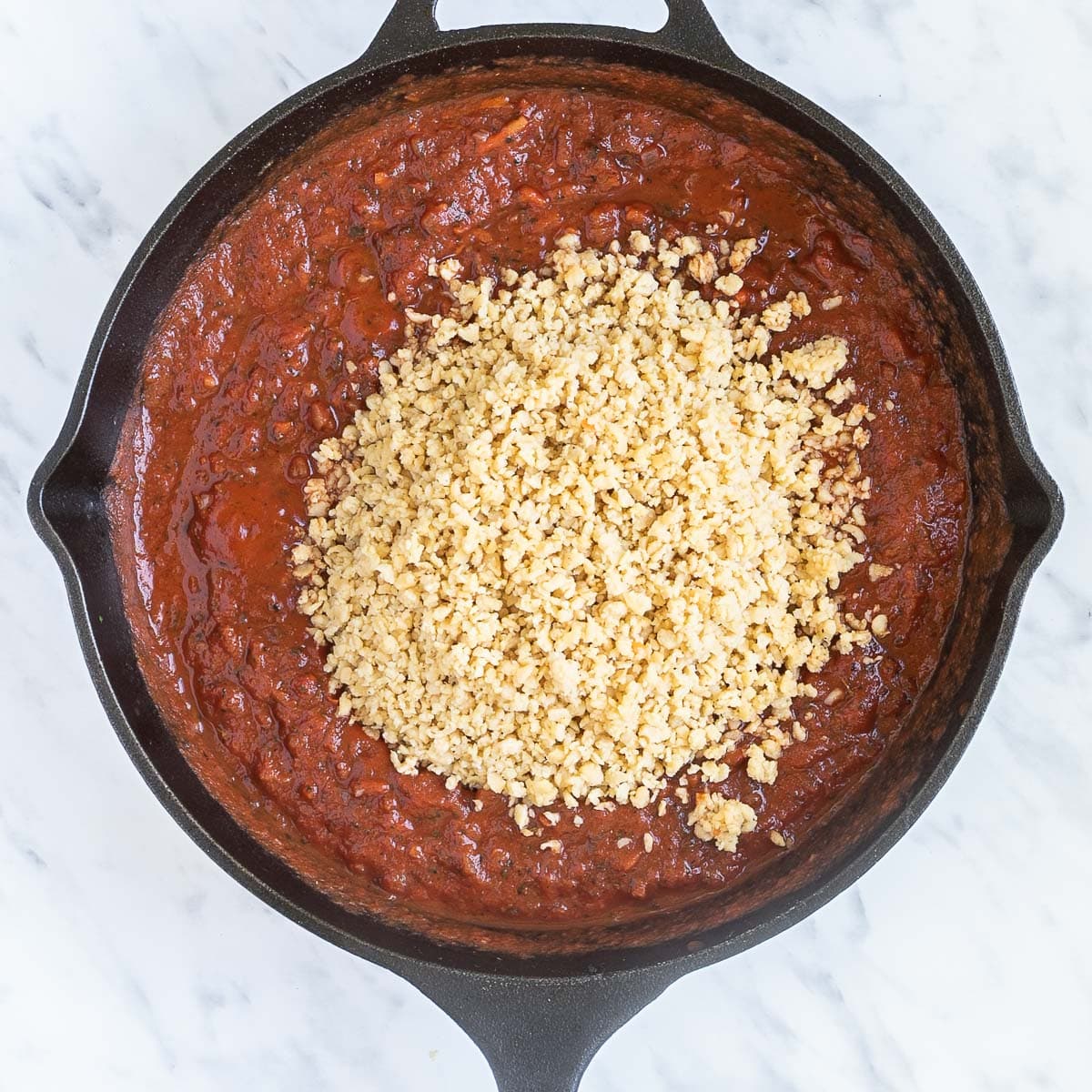 Cooking tips
Marinate the TVP crumbles – Marinate your pre-soaked and drained TVP in olive oil, soy sauce, salt, and pepper for a more elevated flavor. You can include onion powder, garlic powder, red pepper flakes, or balsamic vinegar.
Balance with a sweetener – While this step is optional, a little sugar, maple syrup (or vegan honey), or any other artificial sweetener can work to balance the acidity of the tomatoes in the sauce. Please note that honey is not vegan, but there are plenty of honey substitutes around here.
Add something cheezy – Add any vegan milk in the last step to make your sauce creamier. Garnish it with some vegan parmesan cheese or nutritional yeast, and you've got yourself a bowl of soul food!
Variations
Embrace the tofu temptation – If you're a tofu lover, our website has an incredible tofu bolognese recipe that's a must-try. The crumbled tofu soaks up all those delicious sauces, giving you a wholesome and satisfying experience without any processed faux meat.
Make a mushroom medley – Elevate your bolognese sauce by sautéing chopped cremini and shiitake mushrooms in olive oil with a touch of bay leaf. These earthy gems add a rich, deep flavor that'll take your taste buds on a journey to Bologna and back!
Lentil love – Don't like vegan meat substitutes? We've got a mouthwatering lentil bolognese that'll surprise your taste buds.
Cauliflower and walnut – Another exciting twist awaits in our vegan spaghetti bolognese with a cauliflower and walnut mince. The combination of textures and flavors will leave you mesmerized, earning this dish top marks in any culinary showdown!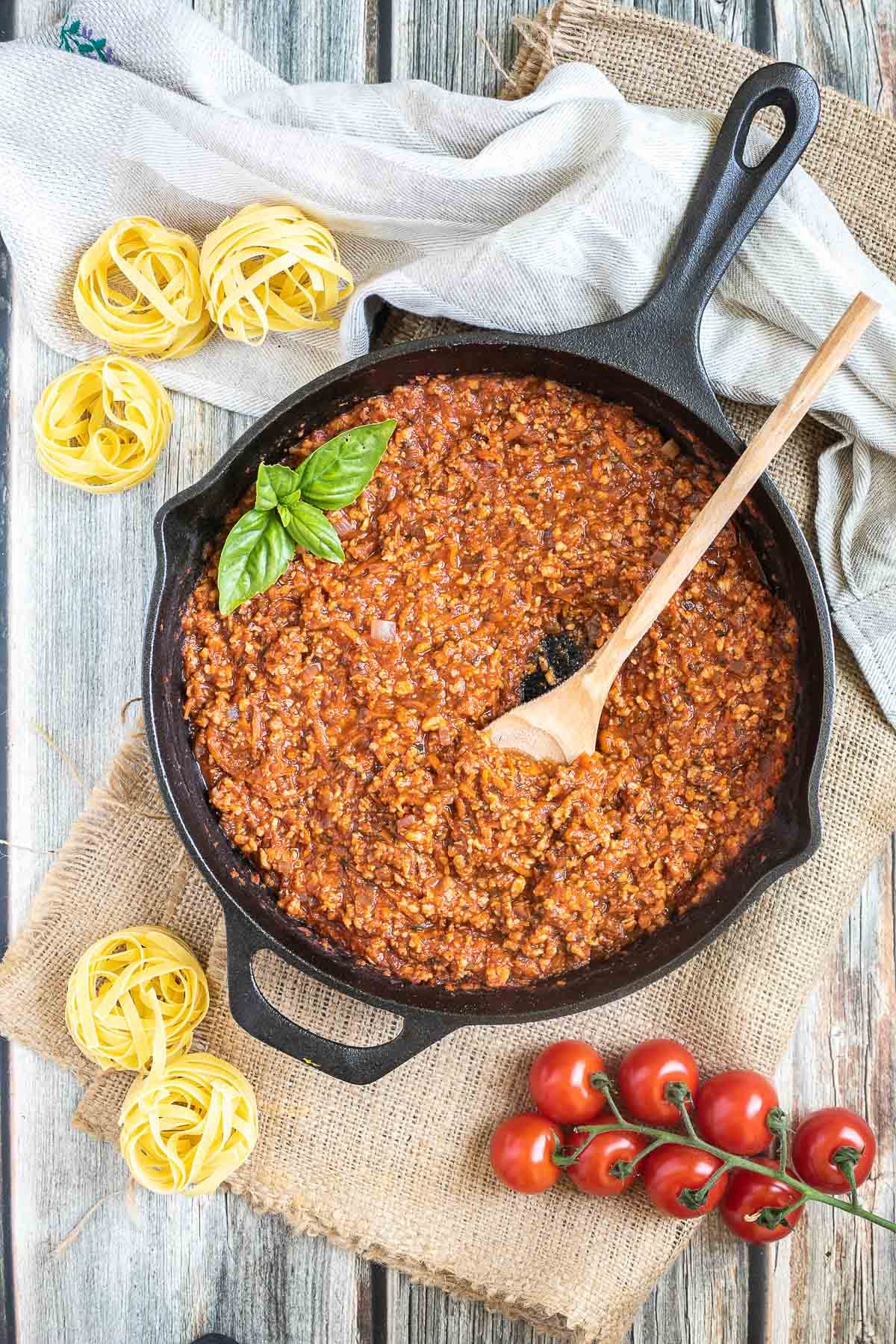 Serving ideas
Explore these serving ideas to enjoy your vegan bolognese in unique and delicious ways:
Stuffed: Fill bell peppers or butternut squash with our bolognese sauce, top with vegan cheese, and bake until the cheese melts to perfection. Finish with a sprinkle of fresh herbs for a flavorful twist.
Gnocchi: Don't overlook our delightful sweet potato gnocchi either! And while we're at it, how about some sweet potato pizza bites? Simply pan-fry or bake marinated 1⁄2-inch sweet potato slices, add a sprinkle of vegan cheese, and top it off with the savory bolognese.
Gluten-free options: Swap out pasta for gluten-free alternatives like brown rice, quinoa, or veggie noodles such as spaghetti squash, zucchini zoodles, or sweet potato spirals. Enjoy a wholesome meal that caters to different dietary preferences.
Storing tips
After enjoying your vegan bolognese, store any leftovers in an airtight container and refrigerate for up to 3 days. If you want to keep it longer, transfer it to a freezer-safe container and store it in the freezer for 2-3 months.
You have two reheating options when you're ready to enjoy the leftovers. Thaw and warm it on low flame for a gentle reheat, or use the microwave for a quicker process. Add a splash of water or vegetable broth to restore the sauce to your desired consistency.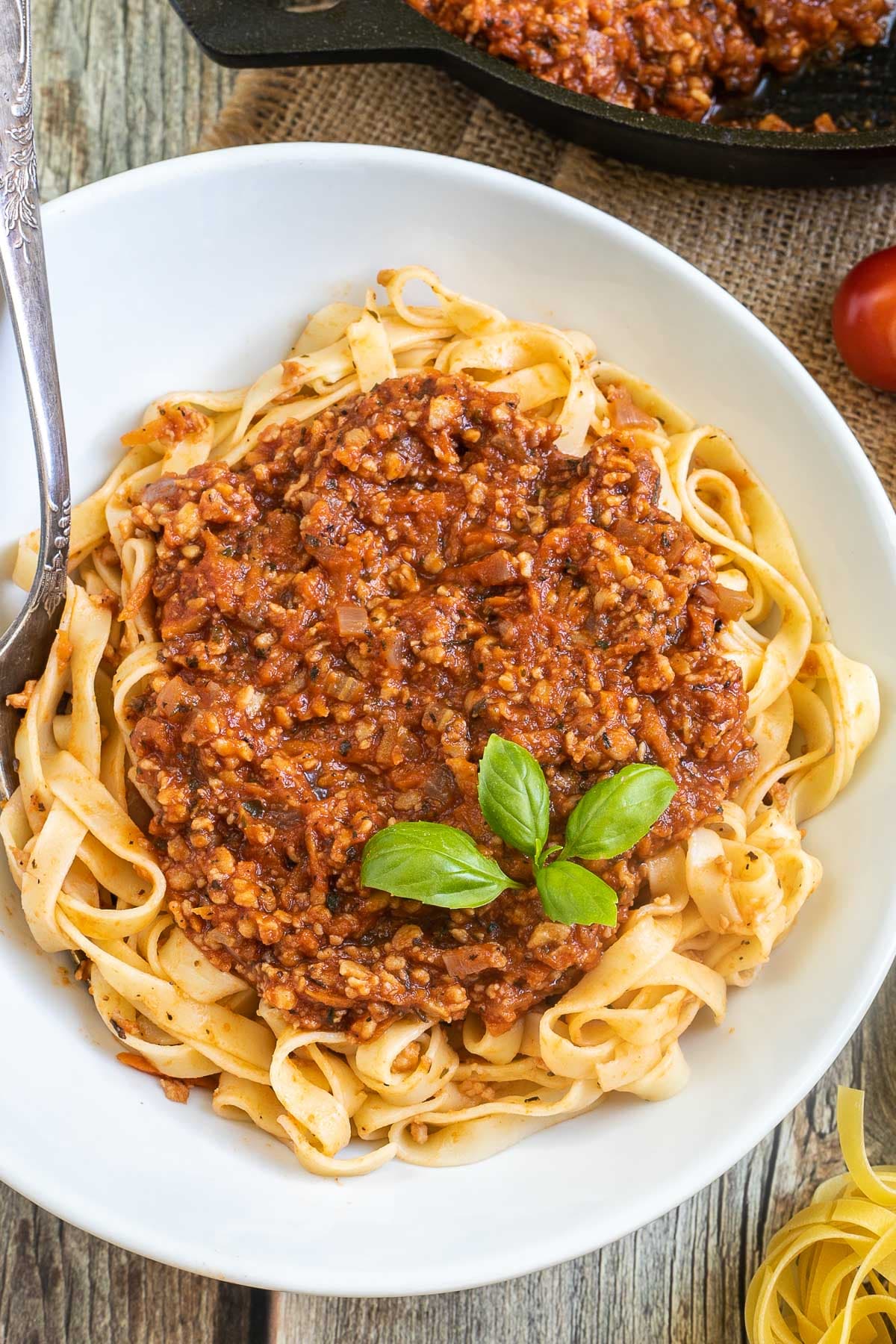 FAQs
What gives vegan bolognese its flavor?
Bolognese's rich texture and depth of flavor come from a combination of key ingredients and techniques. Traditional versions infuse the sauce by slow-cooking veggies and ground beef. Our vegan variant aims to achieve the same by using pan-fried plant-based ground beef, fresh vegetables, and a blend of aromatics and spices.
Does vegan bolognese taste better the longer you cook it?
While traditional meat-based bolognese benefits from long, slow cooking, it's a little different for a vegan dish. It can easily dry out and become chewy if overcooked. Our recipe recommends a cooking time that allows for the infusion of flavors without compromising the texture of the vegan ground beef.
More vegan Italian recipes
THANK YOU so much for visiting our website. Please comment below if you have tried this recipe. We LOVE hearing from you! If you loved the recipe, please don't forget to give us a ⭐⭐⭐⭐⭐ RATING. We appreciate all of our readers.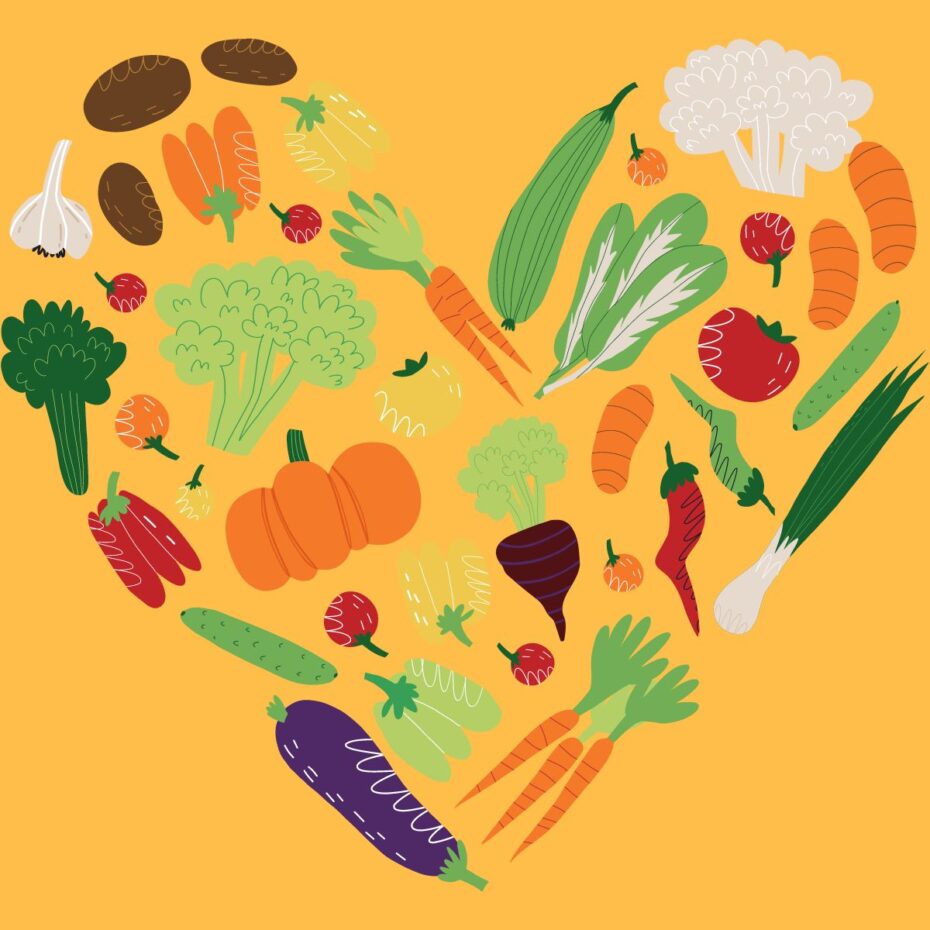 The Meatiest Vegan Bolognese
Try our mouthwatering vegan bolognese made with the meatiest plant-based option. Combining tomatoes, veggies, vegan ground beef, and aromatic herbs, it's a satisfying, tasty twist on the classic dish. Ready in just 30 minutes, it's perfect for newer vegans seeking familiar flavors without meat. Give it a go and enjoy the delicious tastes of Italy in a plant-based way!
EXCLUSIVE 5-ingredient recipes for busy home cooks that are ready in 15 minutes!
Check out our Express Vegan Cookbook!
Instructions
Prepare the ingredients
Cook pasta according to packaging instructions.

Peel and chop onion, garlic and celery stalk.

Soak dry TVP in hot veggie stock for 10 minutes. Drain then squeeze TVP with a wooden spoon to remove excess moisture. In a frying pan, add 1 Tbsp olive oil and add TVP. Season it with a bit of salt and black pepper. Fry TVP until most of the remaining moisture is gone and it has a "minced meat" texture. It will take about 5-10 minutes (you can do this in parallel with making the sauce). Once ready take it off the stove.
Making vegan bolognese
Take a non-stick saucepan and add olive oil. On medium heat saute onions for 2-3 minutes.

Add grated carrots, chopped celery stalks, and garlic. Season it with parsley, thyme, basil, salt, and black pepper. Stir well and cook on medium-high heat for 5-7 minutes. It may stick to the bottom of the pan sometimes. Scrape it up with your wooden spatula. This will give more flavor to your sauce.

Add red wine and cook until it's almost entirely evaporated. Stir it from time to time.

Add tomato paste, soy sauce, and tomato puree. Stir well. Check for seasoning and add more salt and black pepper if needed. Bring to a boil and cook for 2-3 minutes.

Add the fried TVP. Stir well and cook for another 2 minutes. Ready to be served! Enjoy!
Nutrition
Nutrition Facts
The Meatiest Vegan Bolognese
Amount Per Serving (1 serving)
Calories 634
Calories from Fat 108
% Daily Value*
Fat 12g18%
Cholesterol 83mg28%
Sodium 1329mg58%
Potassium 1049mg30%
Carbohydrates 99g33%
Protein 29g58%
Vitamin A 3937IU79%
Vitamin C 20mg24%
Calcium 156mg16%
Iron 7mg39%
* Percent Daily Values are based on a 2000 calorie diet.