This Chickpea Shakshuka is a thick, hearty stew of mainly tomatoes, bell pepper and onion. Imagine it as a kind of Middle Eastern Ratatouille with spices like cumin, paprika, fennel, cinnamon and cayenne pepper. It is absolutely delicious, flavorful, and stunning. Not to mention it is super easy to make under 30 minutes.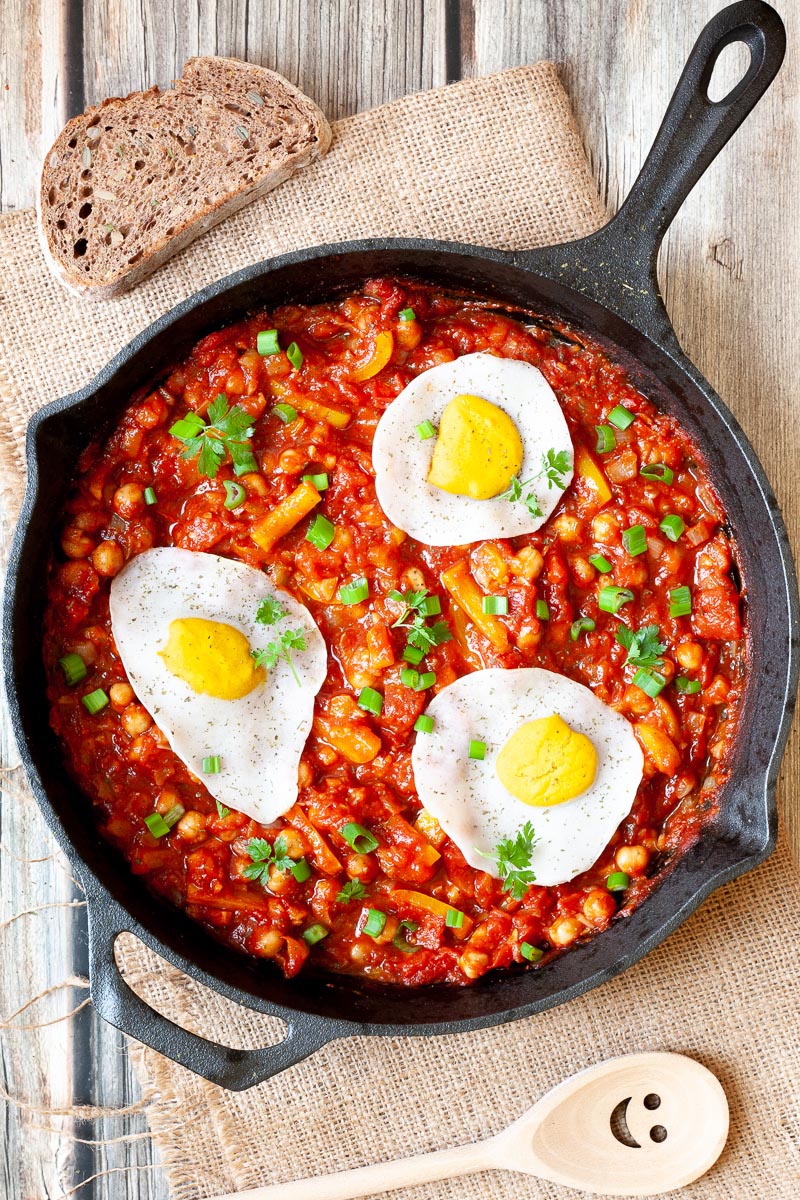 We like one-pot hearty veggie-packed dishes like this Vegan Shakshuka. Although it is originally eaten for breakfast we usually make it for dinner. If you also like one-pan, no-mess vegan dinners, try our Vegan Jackfruit Beef Stew, or our Vegan Bean Chili, or this amazing Chickpea Mushroom Curry. I mean right after you made this yummy shakshuka of course.
What is Shakshuka?
If you haven't heard about it yet, you are in for a treat. Shakshuka also spelled as shakshouka or şakşuka is a North African and Middle Eastern dish means "mixture". It is a thick, stew-like sauce of onions, tomatoes and peppers spiced with cumin, paprika, and cayenne pepper. Traditionally, they poached eggs on top of this sauce and served it as an evening meal or breakfast. It is a delicious vegetarian dish that is quite spicy, but not hot. Actually, it tastes even a little bit on the sweeter side.
If you'd like some comparable dishes to imagine how shakshuka tastes like, you can think of these one with even stronger flavors and spices:
Italian Eggplant Caponata, or
Hungarian Lecsó, or
Mexican Huevos Rancheros, or
Spanish Piperade.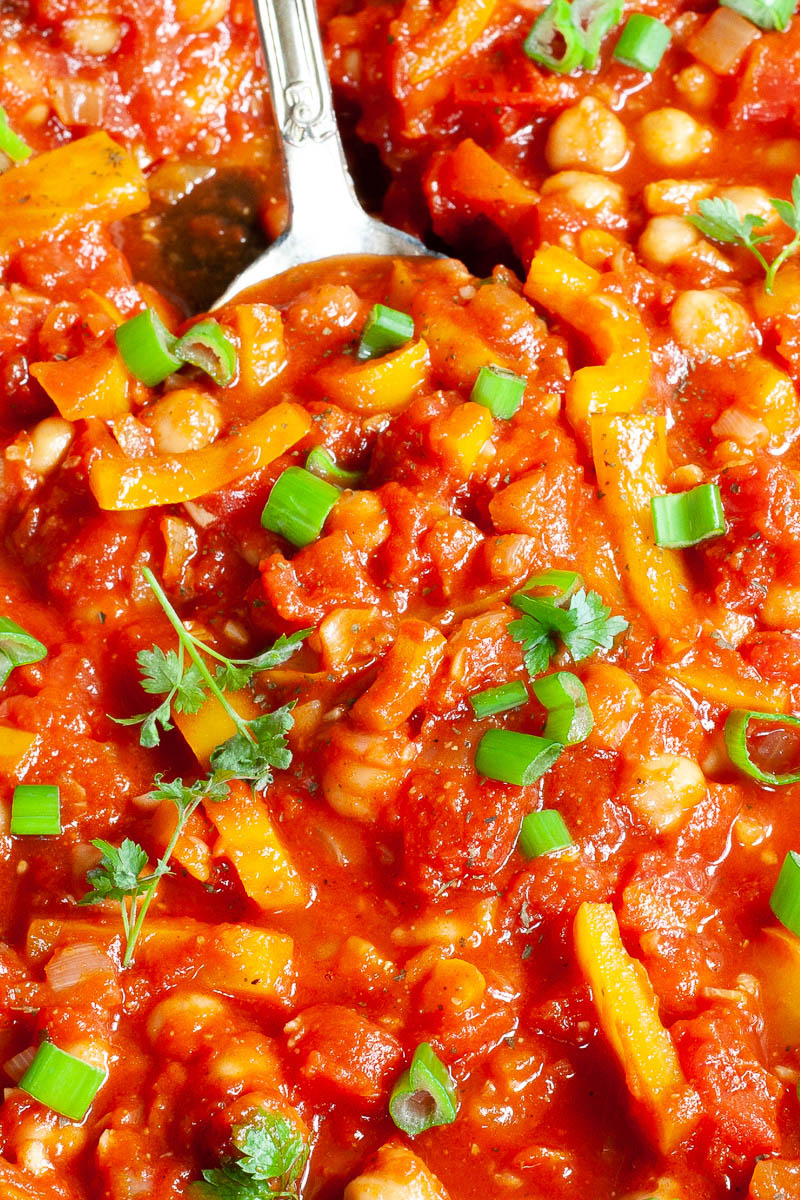 How to make Vegan Shakshuka?
Well, the base stew is already vegan, so it is only the "poached egg" part that needs to be adjusted. We have a lovely Vegan Fried Eggs recipe, you can make separately and serve them on top of your shakshuka when it is ready. Or you can skip that and add a can of chickpeas for some added protein.
Prepare ingredients
We used canned chopped tomatoes. But if you have large, ripe, juicy tomatoes then you can use those. The best ever dish we made was with the combination of Beefsteak and Heirloom Tomatoes we bought from a local organic farmer. Wash and dice them.
Peel and chop onion.
Peel and mince garlic.
Wash and chop bell pepper to the size of diced tomatoes.
Drain canned chickpeas.
What else you can add? Think of black olives or avocado slices on top. You can also add freshly chopped parsley or cilantro as topping.
Making shakshuka in a cast-iron skillet
Heat olive oil in a large cast-iron skillet. (We use the one we got from UnoCasa).
Add chopped onions, minced garlic, and chopped bell pepper and sauté for 5 minutes.
Add spices: smoked paprika, fennel seeds, cumin seeds, cinnamon, cayenne pepper, and sugar and sauté for 1 minute.
Add canned diced tomatoes and canned drained chickpeas, cover, and simmer over medium heat for 10 minutes, stirring occasionally.
Remove lid and allow to simmer for an additional 5 minutes, until thick and bubbly.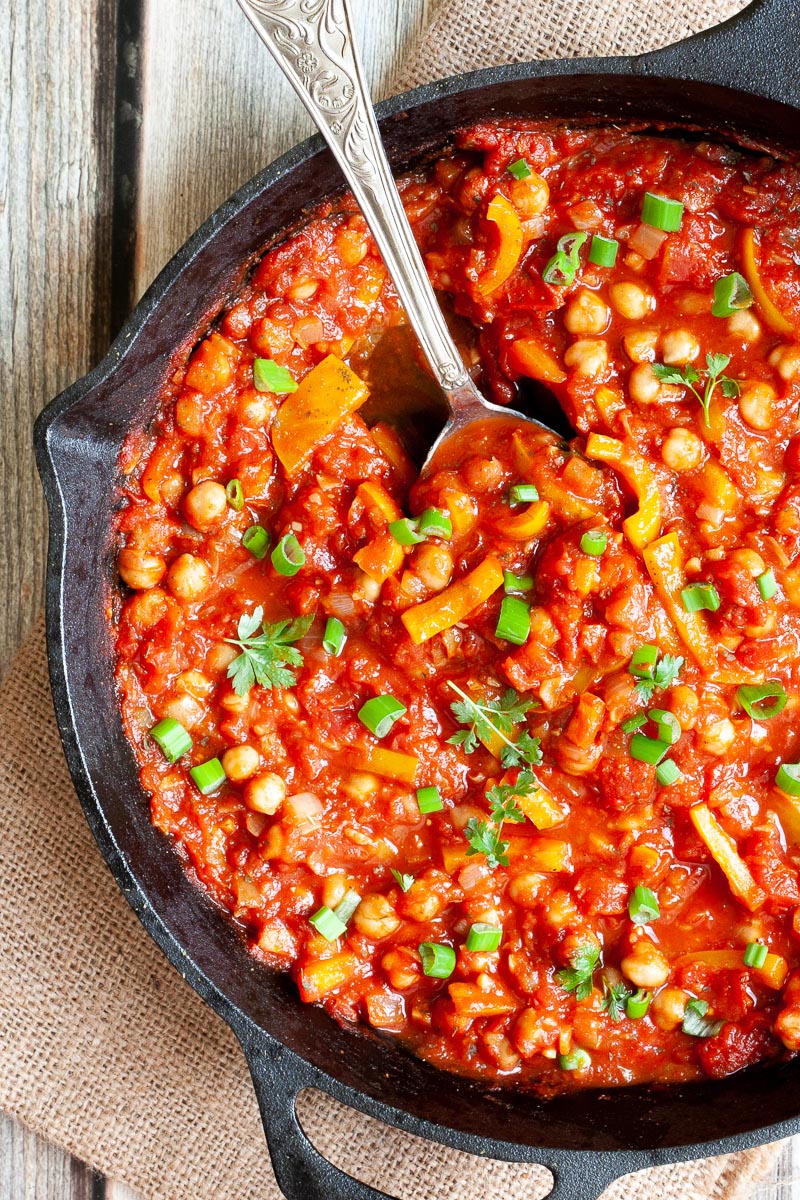 What to serve with a Chickpea Shakshuka?
Shakshuka vegan or not can be served as a breakfast or as dinner. If you go with eating it for breakfast, you can serve it with a pita bread, naan or any crusty bread you have at hand. If you choose it for dinner here are some side dishes that can go great with it:
As this Vegan Chickpea Shakshuka is very similar to the French Ratatouille, you might be interested in our collection of 25 creative recipes to pair with ratatouille in a separate post called What to serve with ratatouille?. It may give you even more ideas what to serve shakshuka with.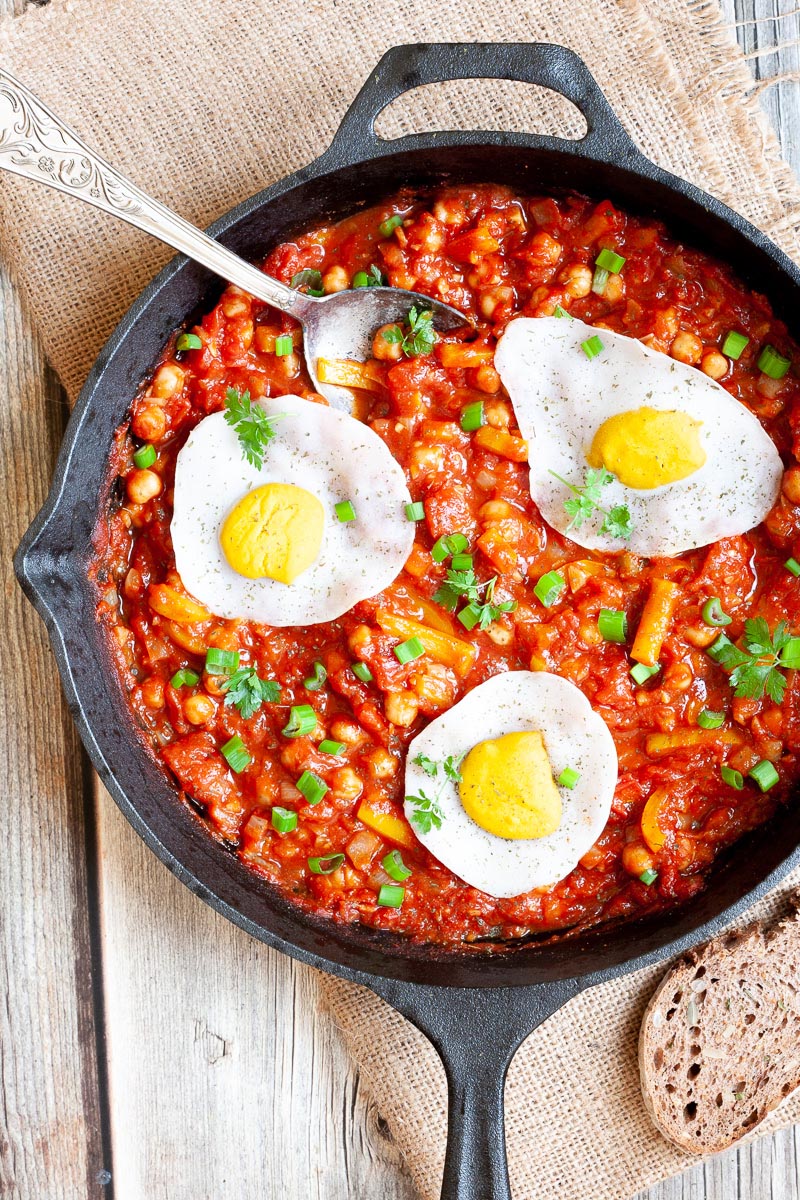 It is featured in the California Vegan Cookbook
I was asked to review a cookbook. I got super excited as I get to try new recipes, and I also feel the excitement of the author as their new "baby" reviewed by many bloggers at the same time. But the most exciting thing is that I get to share with you one recipe from the book. And I chose this delicious VEGAN CHICKPEA SHAKSHUKA recipe. But which cookbook is it, you ask?
Sharon Palmer is a registered dietitian nutritionist (RDN) with more than 18 years of experience in plant-based nutrition and sustainability. You might heard of her as "The Plant-Powered Dietitian". She has authored over 1000 articles in a variety of publications. She serves as the nutrition editor for Today's Dietitian, a professor at Prescott College Master of Science in Sustainable Food Systems program, a nutrition consultant for several organizations such as AICR and Oldways, and is co-founder of Food and Planet.
California Vegan* is her third cookbook. Her previous books include The Plant-Powered Diet: The Lifelong Eating Plan for Achieving Optimal Health, Beginning Today* and Plant-Powered for Life: 52 Weeks of Simple Whole Recipes*.
I love real food — whole, minimally processed, earthy goodness. Plant-powered foods are simply delicious and nutrient-rich, leaving you feeling like you're on top of the world all day long. What I love most is knowing that my eating choices are making a considerable impact on protecting the environment for future generations. I call this the good life. – Sharon Palmer
⇒ Click here to see all Vegan Cookbooks we recommend including some FREE e-books you can download right now!
What can you find in this cookbook?
California Vegan* is featuring over 100 plant-based recipes with full nutritional information. The cookbook is almost 290 pages including recipes of 16 different categories. Yes, 16, according to Sharon the culinary aesthetic in California is based on so many things – the variety of amazing produce available year-round, infusion of global influences from around the world (Vietnam, Peru, Ethiopia and so on), Mediterranean climate, and fresh attitude about food. Some examples of categories are:
Eating a Los Angeles
Indigenous Food Traditions
Ojai, Bohemian Paradise
Loma Linda, Home of the Blue Zones
Inspirations from Asia
Silicon Valley Startups
Soulful Roots
Our favorite recipes from this cookbook
Among the 100 recipes, you will find inspiration for breakfast, brunch, soups, salads, sandwiches, quick and easy lunch and dinner, desserts and condiments. Here are some of our favorite recipes from California Vegan* we either made and loved or on our list of must-try dishes:
Three Sisters Chili – It is a Native American dish and the three sisters are beans, squash and corn. We love our classic Vegan Bean Chili as well as more trendy versions like Quinoa Sweet Potato Chili, but I would never have tried this dish without this cookbook. The spices are far away from the classic Mexican chili spices and it has bay leaves, juniper berries, sage, or tarragon. We couldn't find any juniper berries, but the dish was still delicious.
Tofu Mole with Brown Rice – Tofu needs a strong flavor to be enjoyable and I have no doubt a homemade from scratch mole sauce will do the trick. I enjoy tofu more as an egg substitute like in a Vegan Egg Salad, but this recipe is on my list to try next. The sauce contains peanut butter and chocolate so I am sold.
California Ratatouille Stuffed in Spaghetti Squash – It is not always available to buy spaghetti squash where we live, but we can enjoy it time to time. It is such a cute thing though. They literally turn into light spaghetti noodles like rice noodles after roasting. We have a French Ratatouille and a Hungarian Lecso recipe on the blog, and I cannot wait to try the Californian version once I get my hands on some spaghetti squash. It should be fun!
Tofu Bibimbap Skillet – What can I say? It is tofu marinated in Korean chili paste and fried in a skillet with an abundance of veggies. This was definitely my kind of dish and it wasn't even too spicy, just a hint of hot. It was absolutely delicious.
Coconut Curry Corn Chowder – This is next on my list. We have a lovely and creamy Vegan Corn Chowder recipe on the blog thanks to another cookbook review, but my curiosity is peaked. I can't wait to try this Thai take on the classic dish.
Tahini Swirl Brownies with Hemp Seeds – While the dessert recipes in the cookbook is not gluten-free, this one is a flourless brownie recipe. It is rich in protein, fiber and healthy fats, but that is not why we eat desserts, do we? We love our Sweet Potato Brownies, but who has to time to roast sweet potato every time. If you love super fudgy brownies with lots of nuts and seeds, this recipe is for you.
Is this cookbook for you?
Do you enjoy cooking from scratch using fresh produce?
Do you like colorful and delicious recipes?
Are you always on the look-out for yummy new ingredients or combination to try?
Do you want to try cooking and baking with minimal oil?
Are you looking for healthy, nutritious dishes with whole foods instead of processed?
Do you want to get inspiring recipes from different cultures and cuisines?
If the answers are yes, then Sharon's California Vegan Cookbook* is the perfect cookbook for you.
⇒ Click here to see all Vegan Cookbooks we recommend including some FREE e-books you can download right now!
How can you infuse a California plant-based spirit into your cooking?
Sharon's top tips:
Become familiar with global, plant-based food cultures in your region, and try some of the ingredients and dishes in your own kitchen. Ask people from diverse backgrounds to share some of their favorite cooking tips with you. Some of my beloved foods include those from Indian, Thai, and Ethiopian culinary traditions.
Follow the seasons for produce. Try to prioritize purchasing produce in season, growing some of your own food, and enjoying preserved foods (tomatoes, beans, pickles) during the off season. This means you will get high-quality, delicious, sustainable fruits and vegetables, rather than those shipped from far away.
Use a light touch of extra virgin olive oil as your main fat, for cooking, salads, marinades, and even baking!
Go heavy on fresh herbs, spices, and citrus to season your foods, and light on added salt and sugar.
Pile on pulses (beans, lentils, peas) and whole grains in home-made veggie- burgers, side-dishes, salads, and power bowls.
Make your eating style downright delicious, satisfying, and addictive. No need to waste a single meal eating something wimpy as a California Vegan.
This Chickpea Shakshuka recipe is meat-free, dairy-free and egg-free. It is also suitable for a vegan, vegetarian, gluten-free, nut-free, and soy-free diet. It can also be WFPB-friendly (whole foods plant-based) if you sautee veggies in water or veggie broth.
More veggie-packed recipes