Making vegan and gluten-free gnocchi is super easy especially if you make them with sweet potatoes. No special ingredients or expensive gluten-free flour mix is needed, only pantry staples. Are you curious to try our 4-ingredient homemade sweet potato gnocchi recipe? We help you with tips, hacks, and more.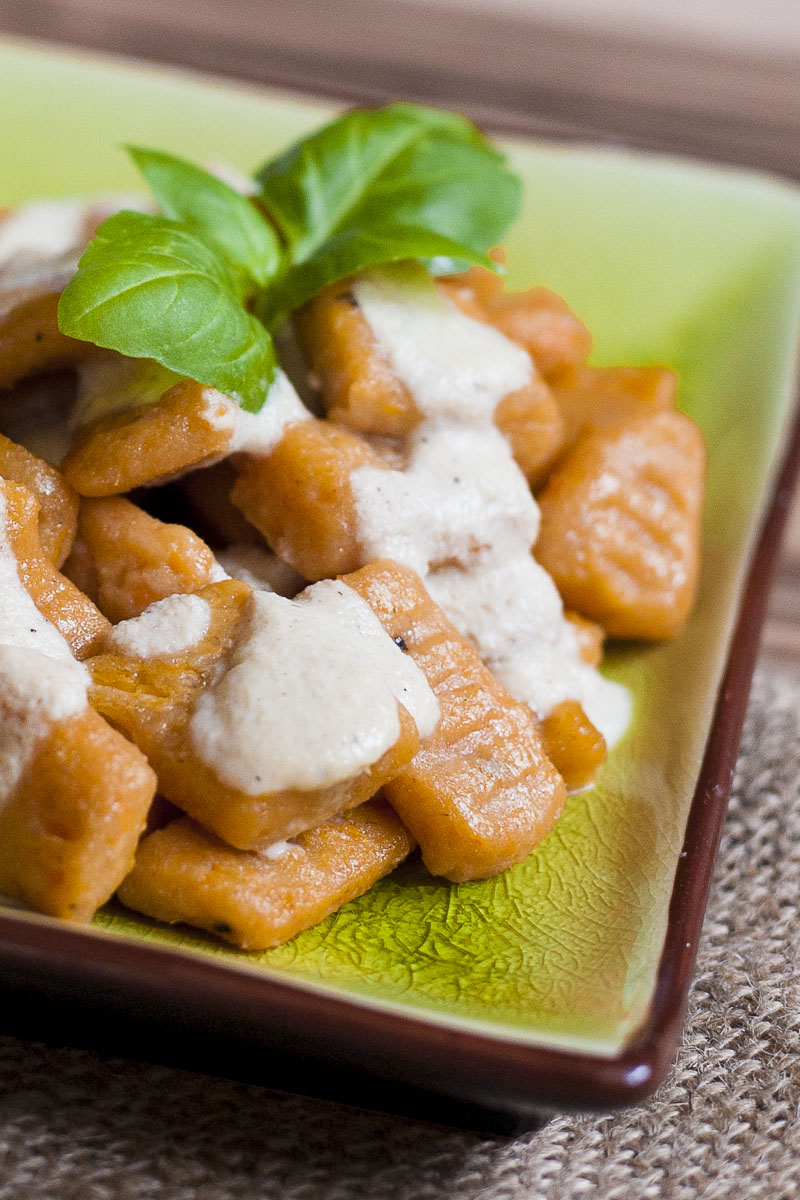 Another Italian recipe, as we just can get enough of them. We love pasta! I think you can tell. We love our 15-minute Cashew Alfredo Sauce, our Vegan Spaghetti Bolognese, or our Eggplant Meatballs. And don't even start me on lasagna. We even have two recipes for it: a super easy and creamy Classic Vegan Lasagna with Lentils and a creative twist called Cabbage Lasagna with Spinach Alfredo.
What is gnocchi?
There are several types of gnocchi, but the most popular and well-known one is the Potato Gnocchi. They are these cute, little potato dumplings in the size of a larger grape. They have ridges so that the sauce can easily stick to them. In Italy, gnocchi is usually the first course before the main event, but sometimes it can also be a side dish to a saucy, meaty dish. If you are wondering "Is gnocchi gluten-free?", the answer is sadly that usually they are not. The main ingredients are mashed potato, wheat flour, and sometimes egg for binding. It is served with brown butter sage sauce, tomato sauce, white sauce, or pesto. We collected the Best 20 Sauces for Gnocchi. Check it out and get inspired.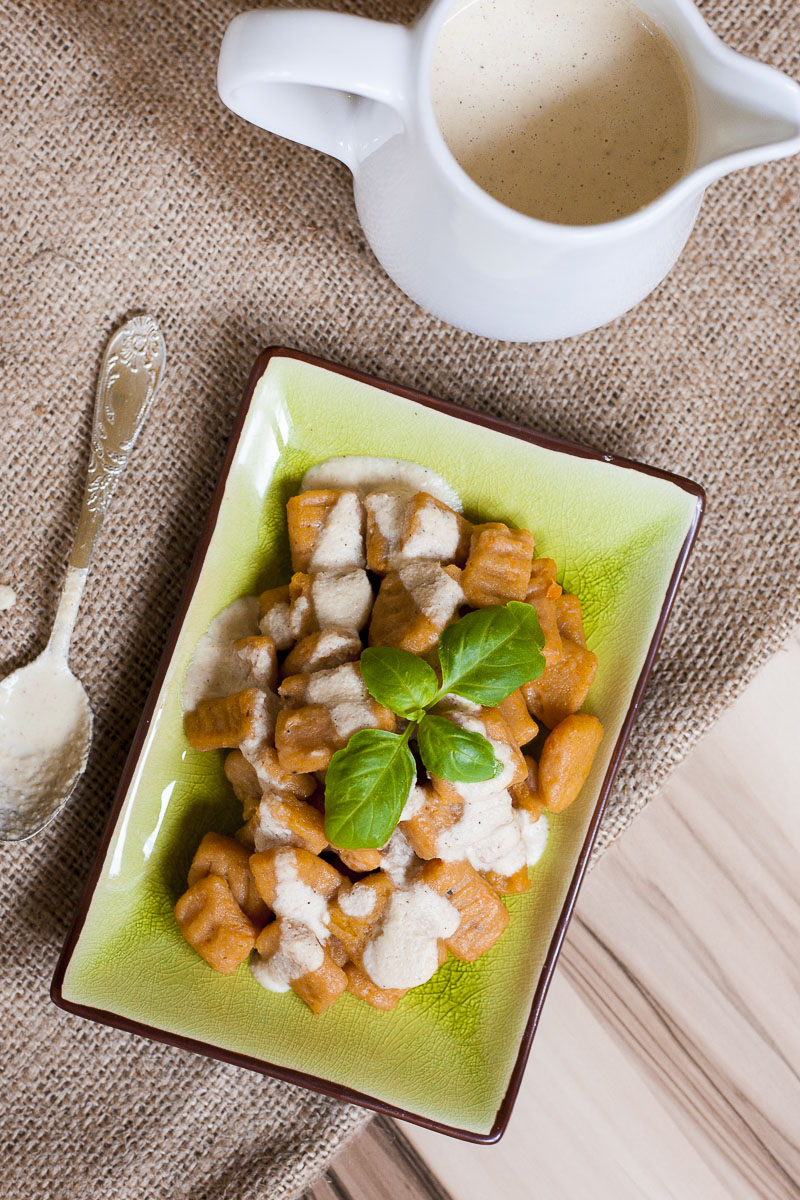 Why sweet potato gnocchi?
There are two main reasons I love working with sweet potato especially to make gnocchi.
1) First of all, sweet potato is a highly nutritious alternative to the classic yellow potato, although I wouldn't say it is a low carb version.
It is quicker to cook as it softens easier.
It gives extra sweetness to any dish…
…not to mention a lovely orange color.
It is extremely high in Vitamin A (beta-carotene).
If you would like to read more about nutrition, here is an article about the health benefits of sweet potato on Healthline.
2) Second of all, there are so many types of potatoes. And I can tell you this from experience that not all potatoes are perfect to make gnocchis. On the contrary, working with new, young, less starchy potatoes is painful. The gnocchi will be so gooey after boiling that they may stick together while cooling.
As my grandma would say the perfect potatoes to make dumplings of any kind is the old, wrinkled, thick-skinned, starchy yellow potatoes (like Russet).
Compared to that sweet potatoes are so easy to deal with partially because you don't have that kind of wide variety. You can be sure that if you buy any orange sweet potato, this recipe will work for you!
How to make sweet potato gnocchi gluten-free and vegan?
I prefer to mix flours on my own instead of using a store-bought gluten-free flour mix. Why? Firstly, because these flour mixes can be quite expensive. Secondly, there are more ingredients (than needed) combined in them to ensure that they are indeed "all-purpose" flours like xanthan gum or 2-3 different kind of starches. They work great for some cases, but you definitely don't need them for ALL recipes.
To make homemade sweet potato gnocchi gluten-free and vegan, you can use a combination of brown rice flour, oat flour, and potato starch. Here is the reason why I chose them:
Brown rice flour is the cheapest and the most common gluten-free flour. However, using only this flour would give a kind of grainy finish to my taste.
That is why I usually use it in combination with certified GF oat flour because for me this is the closest in texture and in behavior to wheat flour.
Potato starch is only a guarantee to make sure the sweet potato gnocchi holds together 1000% without eggs or other egg substitutes. We lose some of the starch due to boiling as they are released in the water. Furthermore, the starch content of sweet potato is like half of the classic yellow potato.
For more FAQs and substitutions, check the Notes section of the recipe card.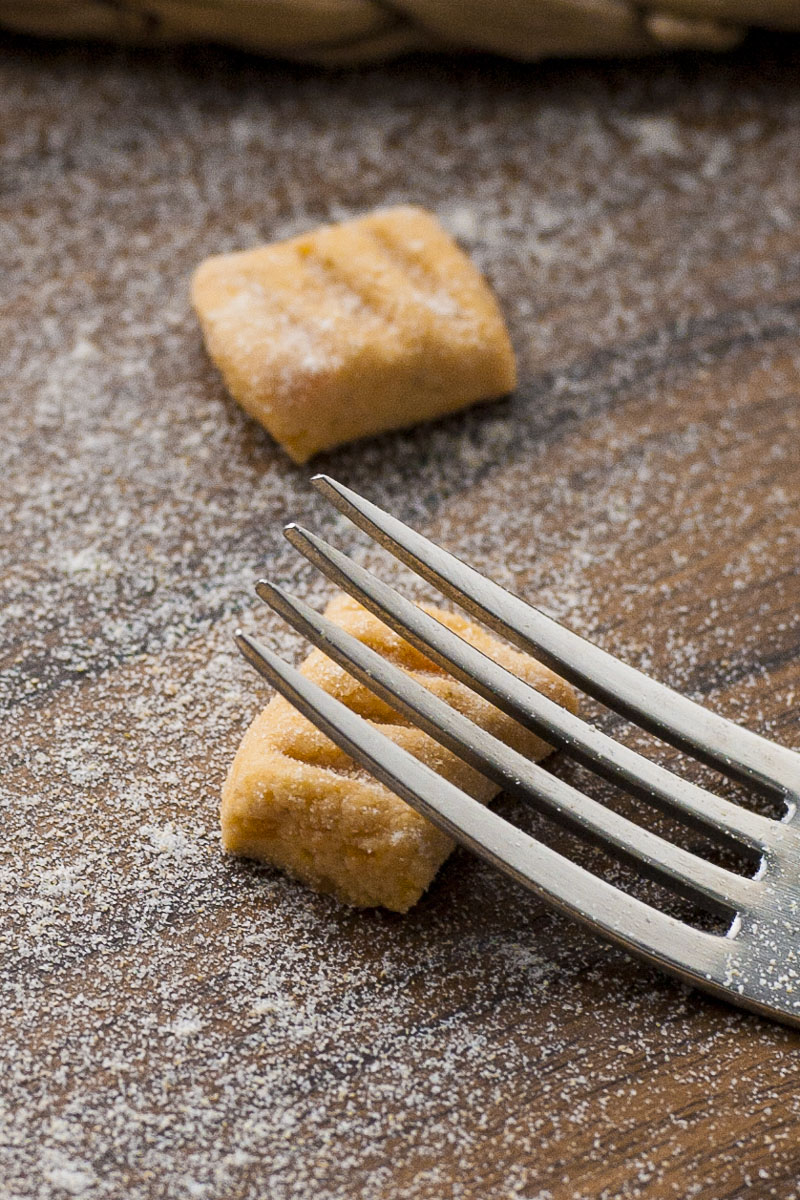 How to make this sweet potato gnocchi?
Cooking sweet potatoes
I wouldn't say that the entire reason I chose to boil the sweet potatoes instead of roasting them is based on Dr. Greger's video, although it was reassuring. His detailed, evidence-based video concluded that from a nutritional standpoint boiling is preferred over roasting. 🙂
So there you go. For the first step, peel and cut the sweet potato and cook them in boiling water until soft. The smaller you cut it, the shorter the boiling time is. I found that for 1-inch cubes it takes approx. 10-15 minutes.
A quick tip: If you roast sweet potatoes to make gnocchi, you need to add less flour due to less moisture. I would start by adding only half of the rice flour indicated in the recipe card and see whether the dough holds together or not.
Making the gnocchi dough
You can use a potato ricer or potato masher for sure, but sweet potatoes are so soft you can smash them with a fork (photo #1). No need to grab your food processor, just use your hand to combine it now with the other ingredients (rice flour, oat flour, potato starch, salt, and pepper) (photo #2).
Top tip -> the less flour you use, the more tender the gnocchi will be. So how to avoid adding more flours than in the recipe suggests:
Don't use warm sweet potato! – The cooked sweet potato has to be cooled down completely before adding the flours. Why? Because if it is still warm, it will likely absorb more flour and your sweet potato gnocchi will be rather hard and stiff.
Don't overwork the dough! – You should mix the ingredients until they are combined then stop. If you start working on the dough as if you're kneading bread, the sweet potato moistens it up again. Meaning you need to add more flour to be able to roll it. So, you will end up with a hard and stiff sweet potato gnocchi again.
Rolling and shaping
Now you have your sweet potato gnocchi dough ball. The next step is to roll it out and form long tubes. Then cut the tubes into 1-2 inch-long pieces (like 2 cm). You can add stripes to your gnocchi by pushing them against a fork as we did on the photo and in our video. However, if you prefer the authentic traditional gnocchi look, you should get these gnocchi strippers*.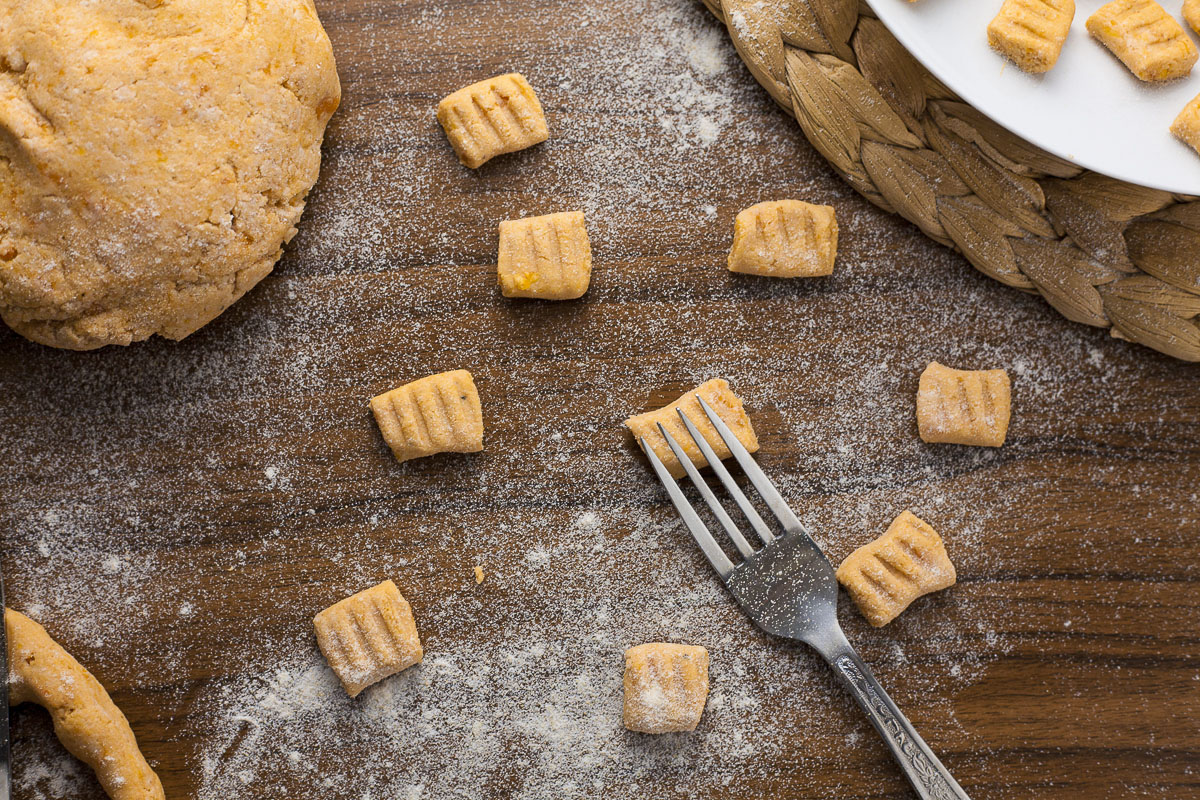 Boiling
You need to cook your vegan sweet potato gnocchi in boiling water. It takes about 1 minute for the gnocchi pieces to rise to the surface. Wait another 2 minutes and you can take them out with a strainer.
How to turn them into crispy pillows?
As the last step, I like to fry them for a couple of minutes in oil (coconut oil or olive oil). In this way, your gluten-free sweet potato gnocchi will not stick together but get a nice golden brown and crispy crust.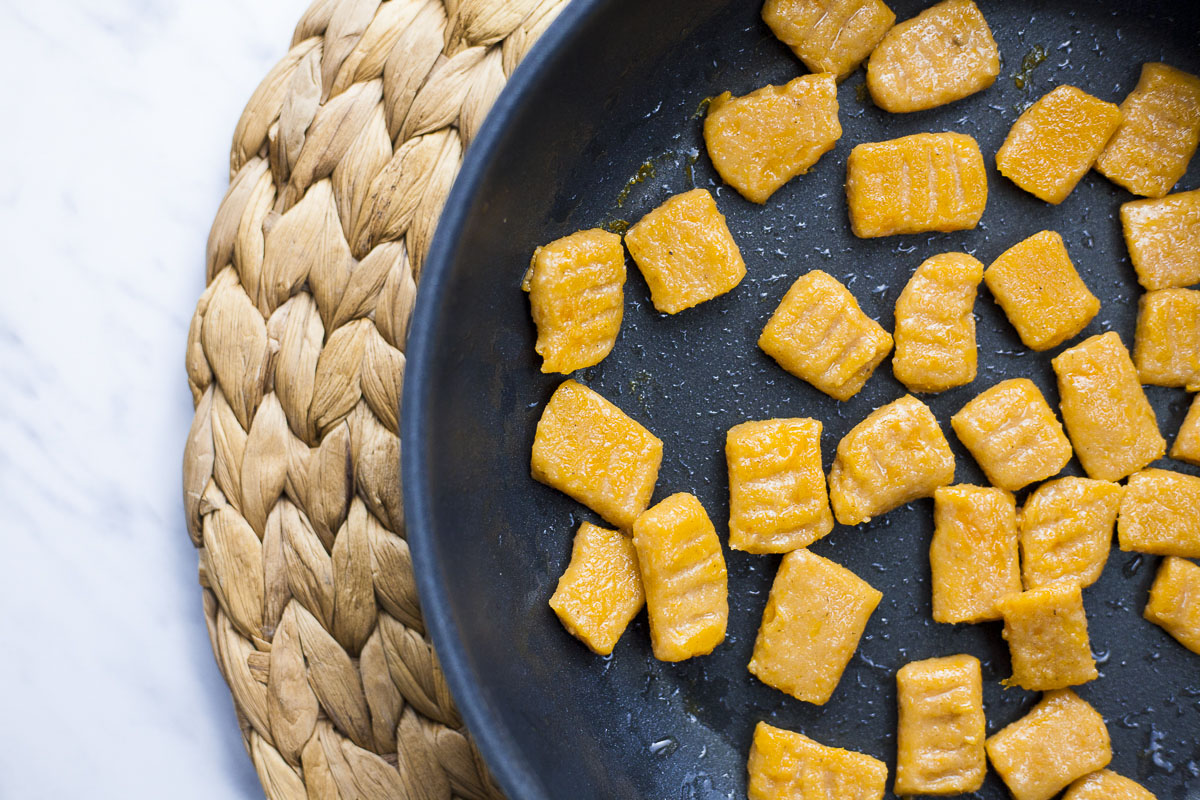 Sauces for gnocchi
With your favorite pasta sauce of course. The classic one would be the Brown Butter Sage Sauce. However, if you need some inspiration, check out the Best 20 Sauces for Gnocchi and get inspired. You can also browse through our Vegan Sauce Recipes collection for even more ideas. Our favorite ones are Marinara Sauce, Cashew Alfredo, and Hidden Veggie Sauce.
FAQs and Substitutions
What other flours can you use?
If you don't need to eat gluten-free, then you can use all-purpose wheat flour. If gluten-free, you can use a store-bought gluten-free all-purpose flour mix for sure. I haven't tested with other combinations of individual flours, but I can safely say that using only one type will not give you a great result.
Can you use different starch?
I only tested this recipe with potato starch and tapioca starch. I chose potato starch, well because it is a potato-based dish originally. If you try it with corn starch or arrowroot powder, please let us know in the comments. We'd love to know.
How do you store them?
If you haven't boiled them, then we recommend you only keep them in the fridge for 1 day tops. The cooked sweet potato may release further moisture, so either the gnocchi will stick together or you need to re-make them while adding more flour. This way you may end up with hard and stiff gnocchi.
If you want to keep leftovers in the fridge (aka after boiling/frying), we recommend storing them by themselves and not dipped in any sauce. You can keep them in the fridge for 3-4 days without any problem.
Can you freeze them?
Yes, you can. We recommend freezing them before boiling. When you are ready to eat, no need to thaw, just drop the frozen gnocchi into boiling water. When they rise to the surface, wait another 2 minutes and you can take them out with a strainer.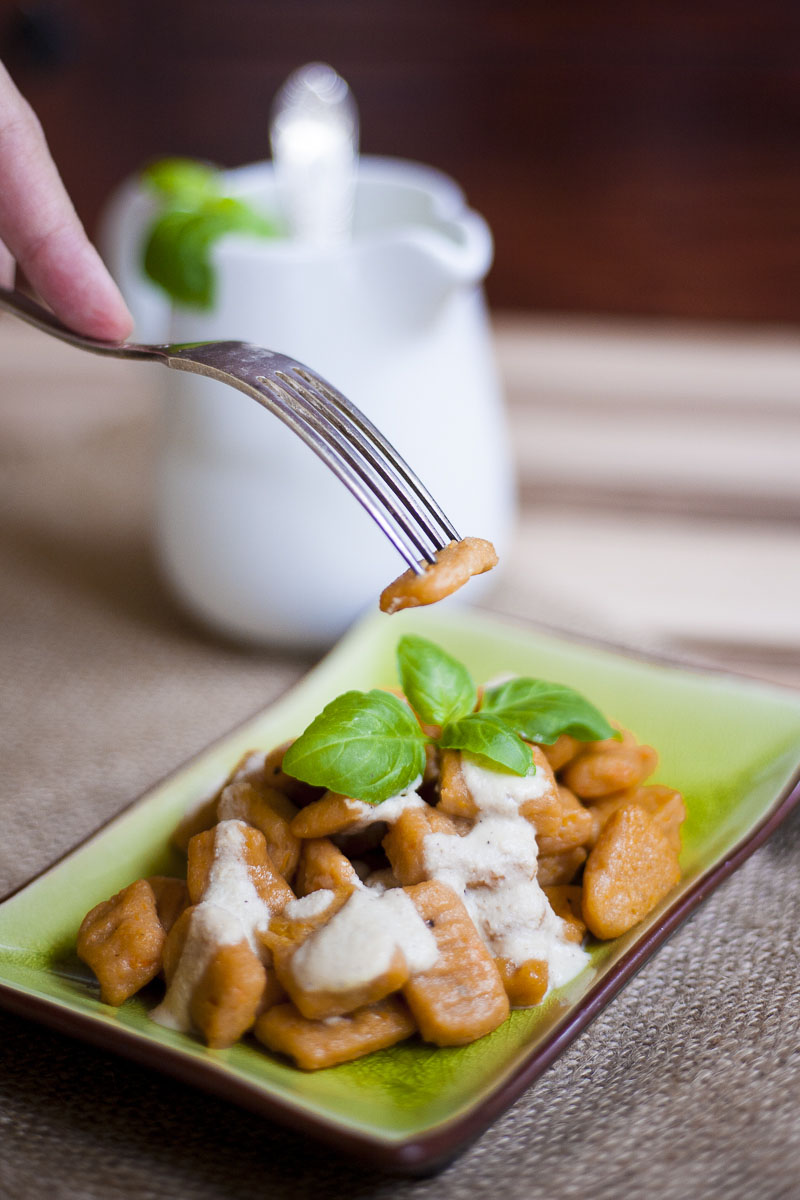 This Sweet Potato Gnocchi recipe is vegan (so egg-free and dairy-free), vegetarian, nut-free, soy-free, and WFPB-friendly (whole foods plant-based). However, it is only gluten-free if you buy certified oat flour. Oats are naturally gluten-free, although they are usually cross-contaminated with other grains. If you are interested to read more about oats, you can always visit Coeliac.org.uk or NCA's Stance on Gluten-free Oats.
More vegan Italian recipes
You can browse through our Vegan Lunch and Dinner Meals or our 15-min Quick & Easy Vegan Meals collection or check out
UPDATED: This recipe was originally posted in 2018, but was rewritten and republished with new photos, instructions, and serving tips in Jan 2021.