Call it either marinara sauce or chunky spaghetti sauce, but one thing is for sure this vegan tomato pasta sauce is damn easy and quick. You can whip it up in 10 minutes in one pot. Are you ready? We even included 20+ vegan and gluten-free recipes to use your hearty marinara sauce for.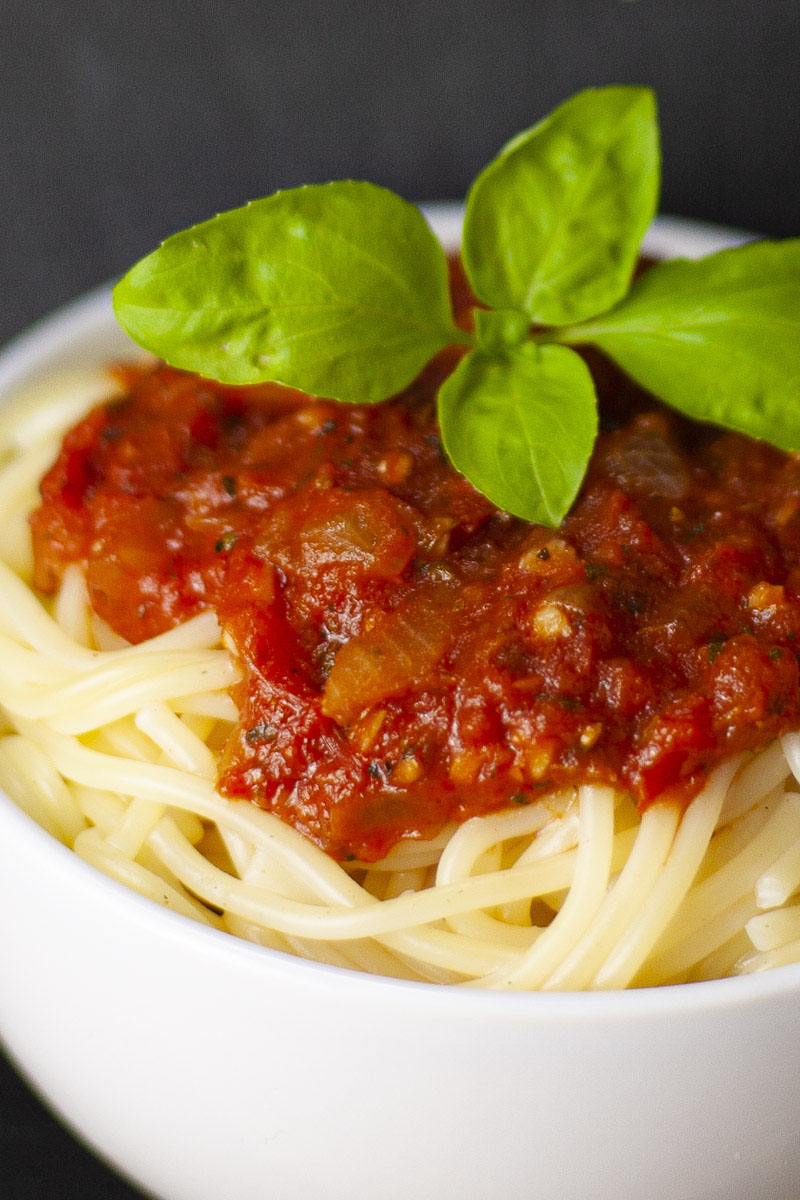 If you like pasta recipes, here is a couple of tasty recipes for you to try. How about this Vegan Cashew Alfredo Sauce, or this Nut-free Vegan Mac and Cheese or this Asparagus Lemon Pepper Pasta, or this Caramelized Carrot Sauce? For even more inspiration, browse through our Vegan Sauce Recipes gallery.
What is a marinara sauce?
Marinara sauce is a thick spaghetti sauce with chopped tomatoes and Italian seasoning. It tastes and looks more like a chunky tomato sauce.
What is exactly the difference between marinara and spaghetti sauce then? Well, we can only speak for ourselves, but when we say spaghetti sauce we usually think of the classic tomato-based pasta sauce that is a smooth, velvety tomato sauce with the same Italian seasoning, but no chunks, no skins, no seeds like what we use in our Vegan Spaghetti Bolognese recipe.
Now, what do we think of when we hear tomato sauce? We think of the cooked and pureed tomato they sell in bottles. It is without seasoning and it is the perfect basis for a marinara sauce or for classic spaghetti sauce. Furthermore, we use the unseasoned tomato sauce also in our Chickpea Mushroom Curry recipe or in our Juicy Vegan Lentil Loaf recipe.
By the way, this recipe is also part of our Quick Vegan Meals collection.
Is marinara sauce vegan?
Yes, typically it is vegan. If you are looking for a recipe, you don't really need to search for "vegan marinara sauce" per se as the main ingredients are usually tomato, garlic, onion, olive oil, herbs and spices like basil, oregano, salt and black pepper. See, plant-based all the way.
However, if you are looking to buy a store-bought brand, that is usually an entire different story. So can there be any ingredients to watch out for? I would say yes, always check the label. Jarred marinara sauce may include sugar, starch, natural flavors, preservatives and other ingredients that may not be vegan. I rarely come across one, 99% of the time it is easy to find a vegan and gluten-free one.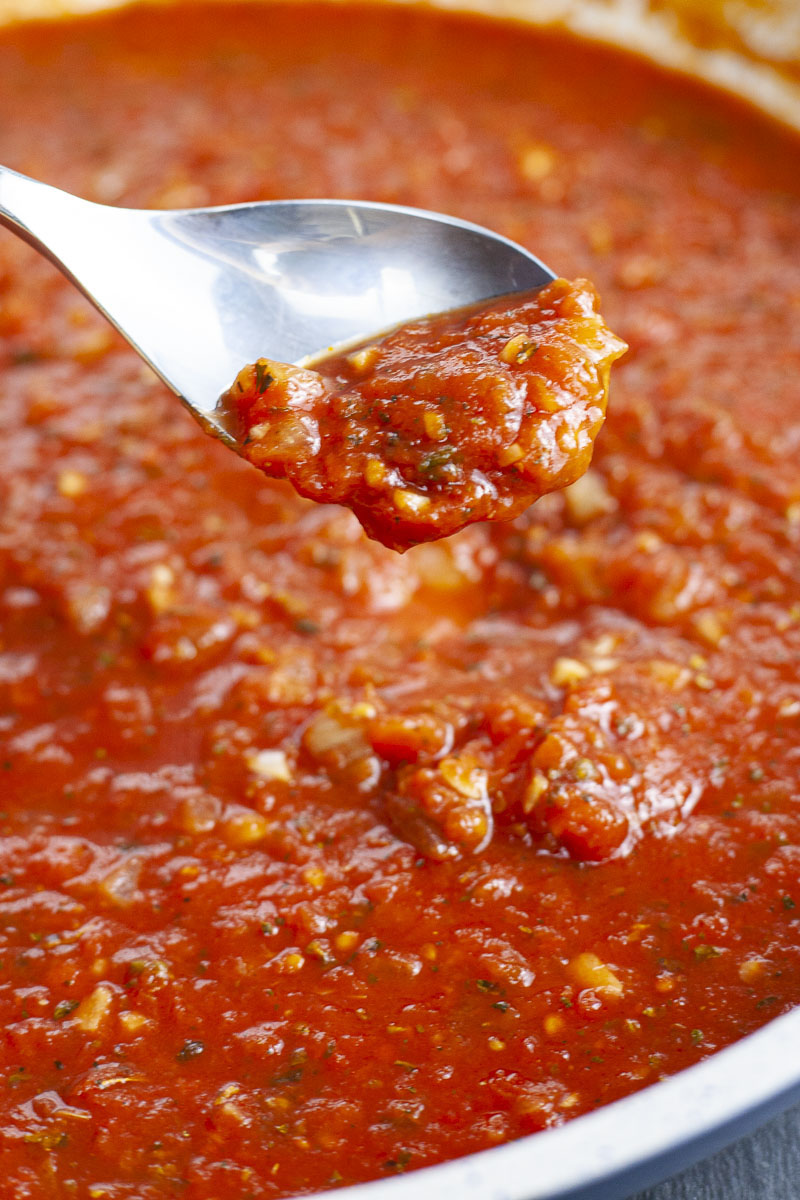 How to make a marinara sauce?
Well, do you have 10-minutes? That is how long it takes to cook a homemade marinara sauce. In this recipe, we use the combination of finely chopped tomatoes and silky tomato sauce. We love to use Mutti's canned tomato* and Mutti's tomato passata* as they are vegan, gluten-free and has no added sugar or other funky ingredients.
Saute onion and garlic. – Cook the chopped onion and the finely chopped garlic on olive oil.
Add tomatoes. – When the onion and the garlic is soft and cooked, add the chopped tomatoes and the tomato sauce. (Use fresh tomatoes if you can buy ripe and sweet ones like Heirloom tomatoes otherwise use canned chopped tomatoes.)
Spice it up. – Add dried basil, oregano, salt, and pepper. (If you use fresh ingredients, chop the finely but keep a couple of basil leaves for decoration.)
Bring to boil. – On low/medium heat, bring to boil so that the herbs and spices are activated.
Serve. – Your 10 minutes are up! You are ready! Now you know how to make your own marinara sauce at home. What to serve it with? See 20+ vegan recipes in the next section.
What else you can add?
Well, you can spice up this easy marinara sauce depending on what you want to use it for and who you serve it to.
Spicy – add chili flakes or sriracha or hot chili powder
Cheezy – add vegan parmesan or nutrition yeast
Creamy – add a bit of vegan heavy cream or cashew alfredo sauce or vegan bechamel and you can make a rose sauce similar to the one we make for Vegan Spaghetti Bolognese.
Smoother – if you don't like chunks or your kid don't like chunks, take an immersion blender and smooth it out.
Richer – add a dash of red wine to make it richer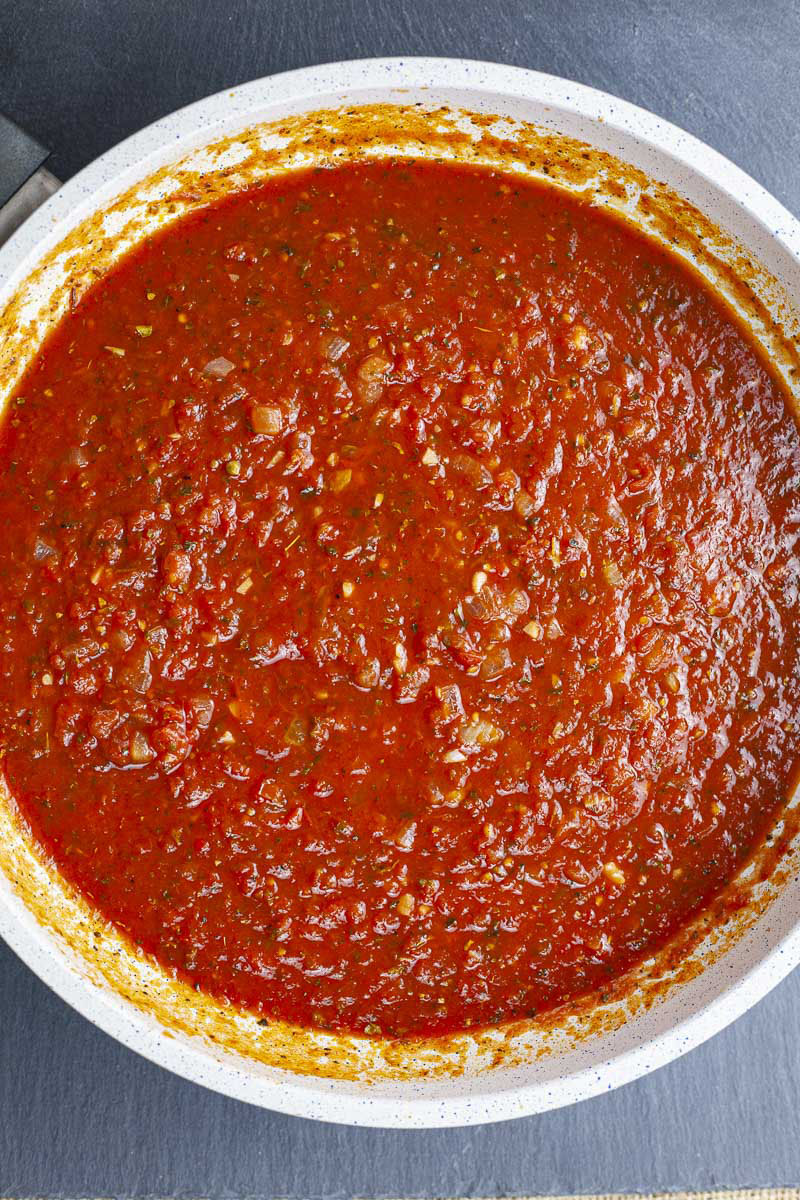 20+ delicious ways to use it
No need to search further as we have already collected for you multiple recipes ideas. All of the below links are guiding you to recipes with hearty marinara sauce that are vegan AND gluten-free (or providing a gluten-free option).
Pasta and marinara
As it is primarily a pasta sauce, there is no surprise that most of the recipes featuring it are pasta recipes. Here is some variety you can start with: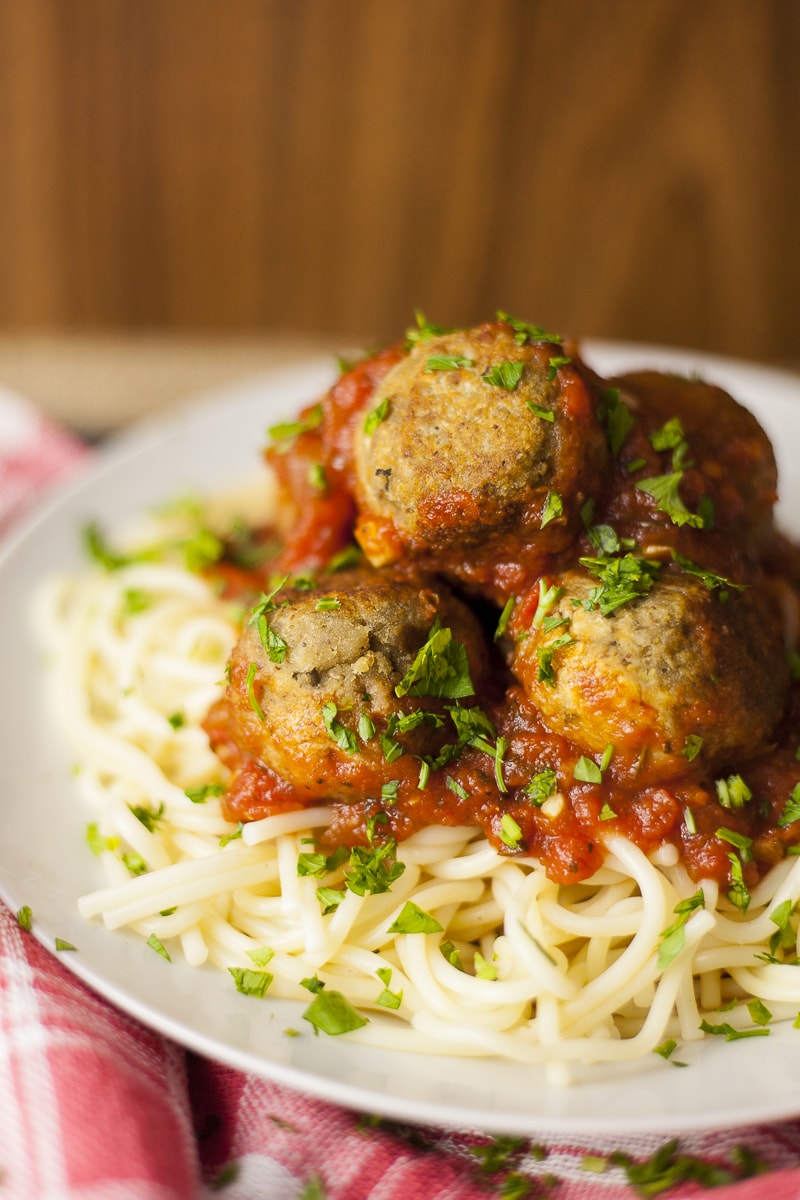 Pizza vs marinara sauce
Generally, we would use our 5-minute No-Cook Vegan Pizza Sauce on top of our Ultra-thin Gluten-free Pizza Crust, but you can't really turn down a simple margarita pizza with marinara sauce and cheese. It just gives an extra zing to have all these chunks mixing with melted cheese. Here is some variety to start with:
Other unique and delicious recipes
Not looking for either a pasta nor a pizza recipe? Then try these creative recipes using marinara sauce: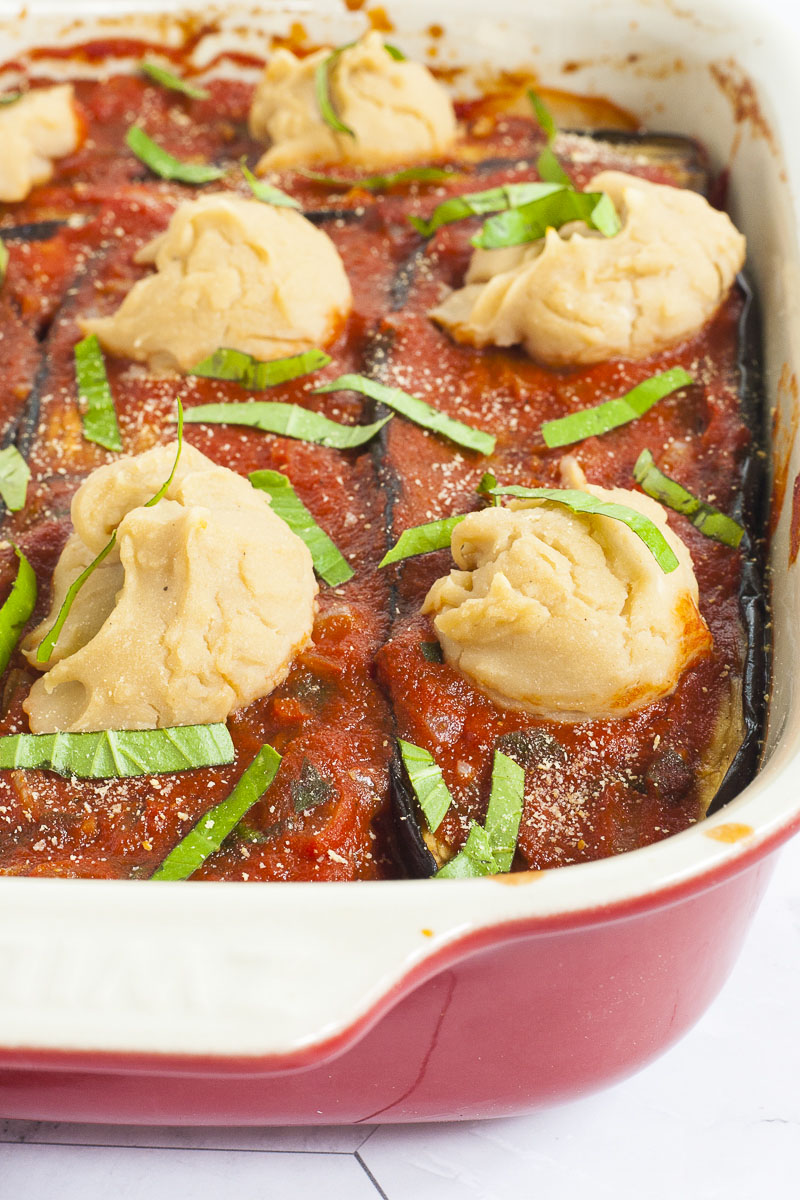 FAQs and substitutions
How to make it oil-free?
If you follow a WFPD (whole foods plant-based) diet, cook onion and garlic in veggie broth or in water or directly in the tomato sauce. As well as choose a tomato sauce brand that is oil-free.
Is it low fat, low sodium or low carb?
We calculated the nutritional value of our marinara sauce recipe by inputting it to Cronometer. 1 serving (the whole recipe is for 4 servings) has the total calories of 70 if you cook the onions without olive oil, 90 if you cook them with olive oil. Huge advantage for those who eat a WFPBNO diet. Furthermore, it is not only low fat but essentially zero fat. If the sodium content is important for you then you should choose Hunt's diced tomatoes* instead of Mutti's as they have a canned product with only 15g sodium per serving. Finally, the recipe has approx. 8g of carbs per servings if you use Mutti's products.
How to store it?
The sauce is perfect for batch cooking. You can easily store it in the fridge for up to a week without any problem.
Can you freeze it?
Store any leftovers per serving (in a jar, in a ziplock bag or other container) in a freezer and thaw whenever you need it.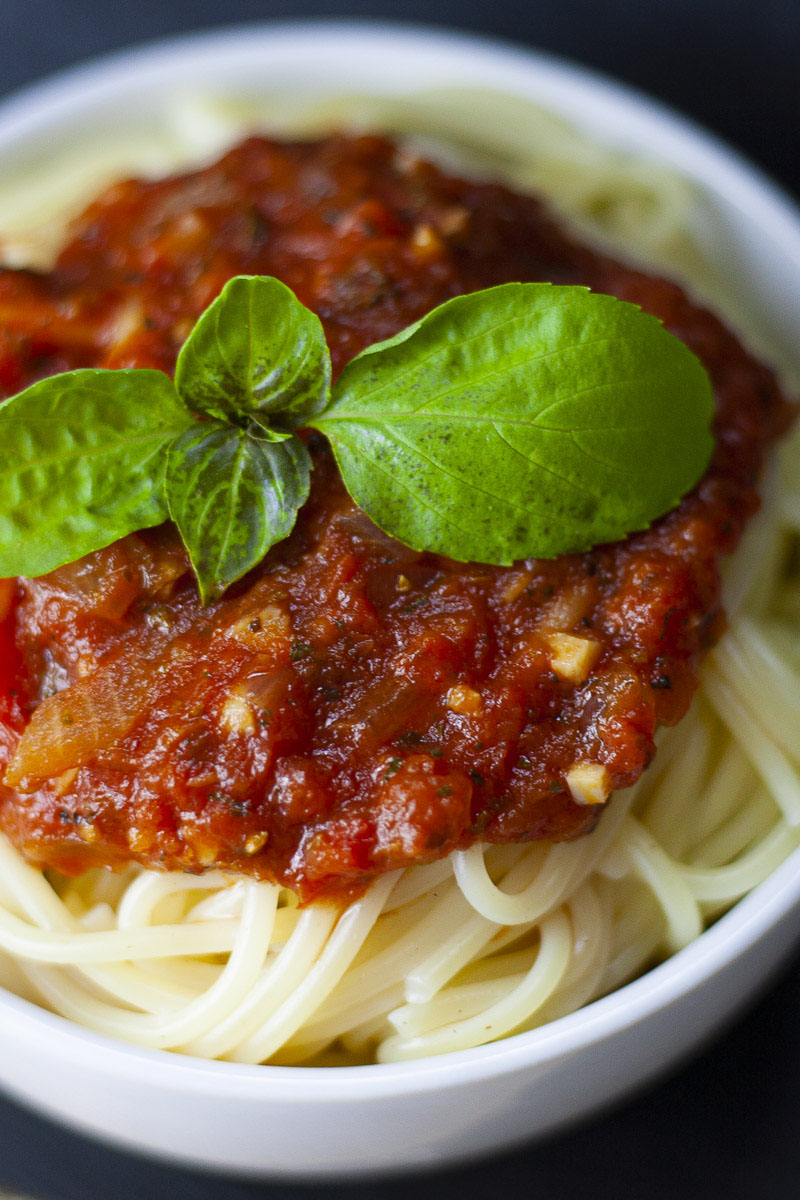 This Marinara Sauce recipe is meat-free, dairy-free, and egg-free. It is also suitable for vegan, vegetarian, nut-free, and gluten-free diets. It can also be WFPB-friendly (whole foods plant-based) if you cook the onion in water or in veggie broth or directly in the tomato sauce.
More quick vegan dinner recipes
You can browse through our Vegan and Gluten-free Dinner Recipes or our Quick Vegan Meals collection or check out
UPDATED:This recipe was originally posted in Jan 2019, but was rewritten and republished with new photos, instructions, and tips in Dec 2020.