Stock up your freezer with convenience and flavor with these 26 big-batch dishes that are perfect for make-ahead meals. From hearty soups and stews to comforting casseroles, flavorful sauces, and wholesome muffins, these recipes are designed to be prepared in large quantities and frozen for later enjoyment. Streamline your cooking routine and ensure that you always have a delicious and satisfying meal ready to go, whether it's a busy weeknight or a last-minute craving. Embrace the beauty of batch cooking and discover the convenience of a well-stocked freezer that brings homemade goodness to your table anytime you need it.
Chili with Beans
This chili recipe is packed with flavor and wholesome ingredients like vegetables, legumes, and grains. It's a satisfying and hearty dish that's both easy to make and good for you.
Recipe: chili
Creamy Mushroom Pasta
Indulge in the rich and creamy flavors of this mushroom pasta, made with sautéed mushrooms and a savory herb-infused creamy sauce. Topped with Parmesan and a touch of red chili pepper, this dish is a comforting and delicious meal that's perfect for any day of the week.
Recipe: mushroom pasta
Portobello Pot Roast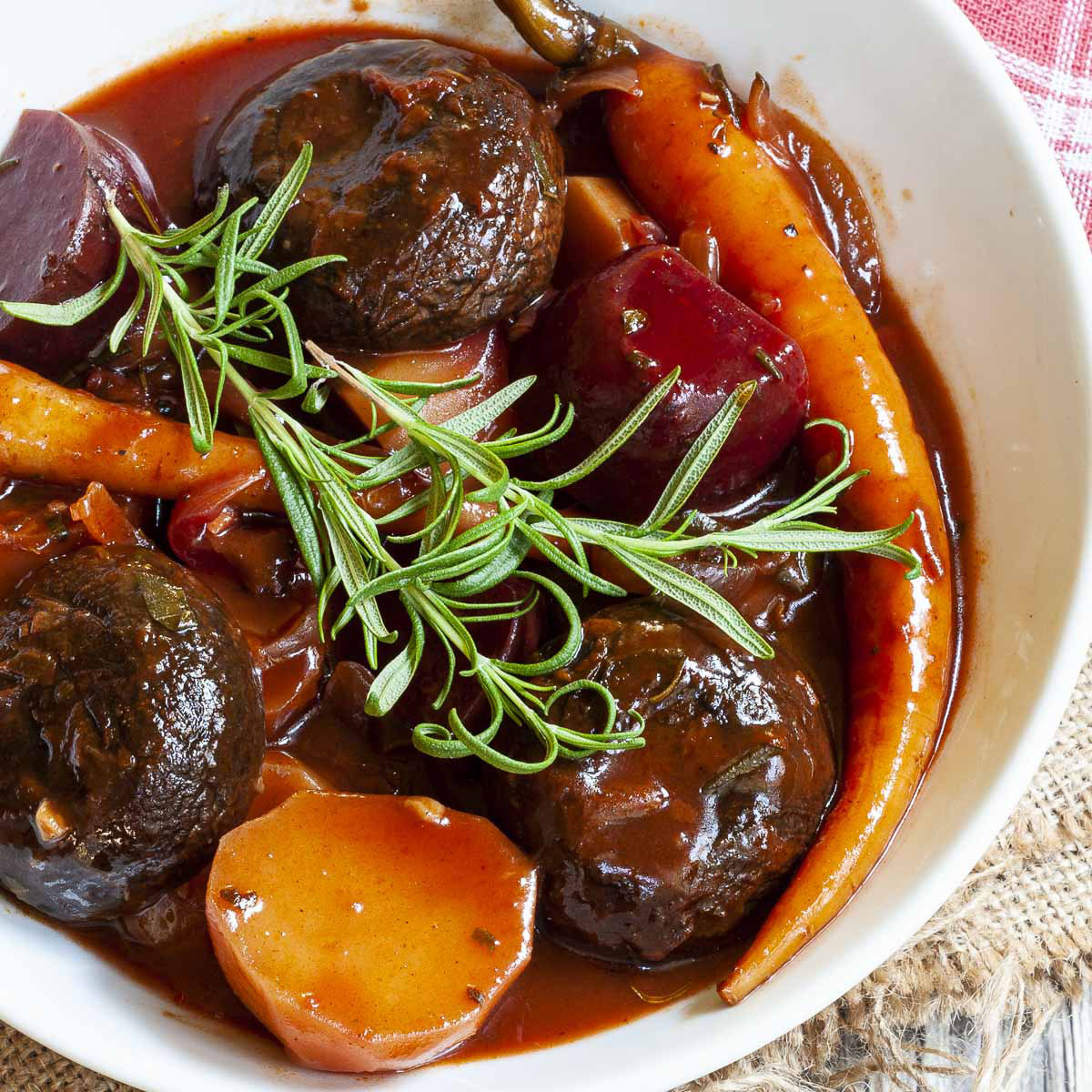 This pot roast is the perfect dish for those looking for a satisfying and flavorful one-pot dinner. With juicy portobello mushroom caps and an array of veggies stewed in a rich red wine gravy, it's a hearty and comforting meal that's also easy to make.
Recipe: pot roast
Tikka Masala
This tikka masala recipe offers a quick and easy way to enjoy a flavorful tomato-based curry sauce that's creamy and aromatic. It can be paired with your choice of ingredients, such as meat, mushrooms, cauliflower, tofu, or chickpeas, to create a delicious and satisfying meal.
Recipe: tikka masala
Authentic Lecsó (Hungarian Pepper Stew)
Lecsó is sort of the Hungarian version of the French ratatouille. It is a super easy tomato and pepper stew you can stir up in one pot within 30 minutes. If you would like to eat Lecsó exactly how Hungarians eat it, you should try this recipe.
Recipe: lecso
VegetableShepherd's Pie
This Vegetable Shepherd's Pie is true comfort food for any seasons with rainbow carrots, zucchini and eggplant topped with creamy mashed potatoes.
Recipe: vegetable shepherds pie
Vegetable Moussaka
This moussaka recipe features layers of tender roasted eggplant slices, a rich tomato-based ragu sauce made with meatless ground meat, and a velvety creamy white bechamel sauce that is baked to perfection. It's a hearty and flavorful Mediterranean-inspired dish that is sure to impress.
Recipe: moussaka
Indian Aloo Broccoli
Indian Aloo Broccoli is a flavorful and nutritious dish that combines the earthiness of potatoes with the vibrant green goodness of broccoli, seasoned with aromatic Indian spices. The combination of tender potatoes, crunchy broccoli, and a blend of spices creates a delightful and satisfying side dish or even a standalone meal.
Recipe: indian aloo broccoli
Creamy White Stew
Creamy White Stew is a comforting and indulgent dish that satisfies both the palate and the soul. The rich and velvety texture of the stew, combined with a medley of tender vegetables and aromatic herbs, creates a delightful experience for any food lover.
Recipe: creamy white stew
Vegetable Korma
This vegetable korma recipe is a quick and easy way to make a flavorful Indian dish that is loaded with vegetables and protein-rich chickpeas. With its creamy and aromatic sauce, it is a perfect choice for a healthy and delicious dinner that everyone will love.
Recipe: vegetable korma
Hidden Veggies Pasta Sauce
This healthy vegetable sauce is a delicious and nutritious option for pasta lovers. Packed with seven different veggies and blended into a smooth and creamy sauce, even picky eaters will love this flavorful and satisfying meal.
Recipe: vegetable sauce pasta
Authentic Hungarian Bean Goulash
Indulge in the flavors of Hungary with this hearty goulash soup made with beans and vegetables. This traditional recipe has been passed down through generations and can be made in just 30 minutes, making it the perfect comforting and healthy meal for any weeknight.
Recipe: goulash soup
Juicy Lentil Loaf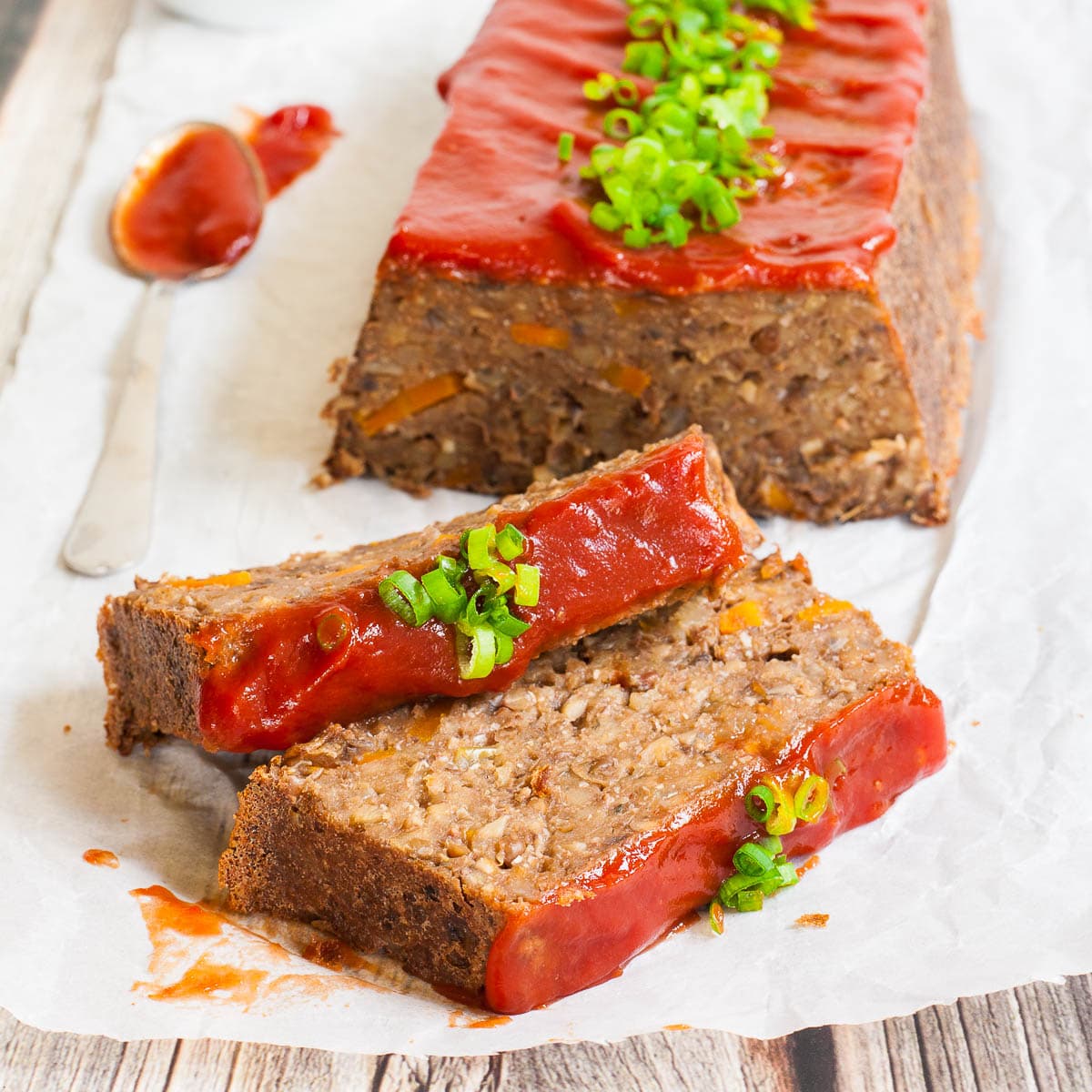 This lentil loaf is packed with nutrients and flavor, and it's a perfect option for a healthy and filling dinner. Plus, it's easy to customize with your favorite herbs and spices for a dish that is sure to impress.
Recipe: lentil loaf
Mac n Cheese Pasta Bake
Cauliflower Mac n Cheese Pasta Bake is a delicious twist on a classic comfort food favorite. This dish features tender cauliflower florets mixed with creamy macaroni and cheese, creating a satisfying and flavorful combination. The cauliflower adds a nutritious element while still maintaining the cheesy goodness of traditional mac and cheese. Baked to perfection, this pasta bake is sure to be a hit with both kids and adults alike.
Recipe: cauliflower mac n cheese
Veggie Stew
The best thing that can happen to canned young jackfruit is to turn it into a hearty and filling veggie stew. It is the perfect dinner recipe when you need a warm and steamy bowl of delicious comfort food.
Recipe: veggie stew
One-Pot Ratatouille
This is the best French summer vegetable stew that you can stir up in one pot within 30 minutes. I say to stir up because the traditional ratatouille is cooked on a stovetop and not baked.
Recipe: ratatouille
Lentil Chickpea Curry
Lentil chickpea curry is a popular vegetarian dish that is as nutritious as it is delicious. Hearty and flavorful, this dish is easy to make. It combines lentils and chickpeas with a blend of aromatic spices to create a filling and satisfying meal that will leave you feeling nourished and satisfied.
Recipe: lentil chickpea curry
Shakshuka
This shakshuka is a flavorful and hearty stew that combines Middle Eastern spices with tomatoes, bell peppers, onions, and chickpeas. Ready in under 30 minutes, this dish is perfect for a quick and satisfying weeknight dinner.
Recipe: shakshuka
Hearty Meatballs
These hearty meatballs are the perfect meatballs, with a satisfying texture and full of savory flavors. Paired with a rich marinara sauce and spaghetti, they make a delicious and comforting meal.
Recipe: hearty meatballs
Spinach Lasagna
This lasagna recipe is a wholesome and delicious take on the classic comfort food, with layers of hearty marinara sauce and a flavorful spinach tofu ricotta filling. It's a satisfying dish that's perfect for a cozy night in.
Recipe: spinach lasagna
Eggplant Meatballs
Looking for a twist on traditional meatballs? Look no further than these delicious eggplant meatballs! Made using only eggplant and perfectly seasoned for a delicious flavor, they pair perfectly with your favorite marinara sauce and a plate of spaghetti.
Recipe: eggplant meatballs
Eggplant Parmesan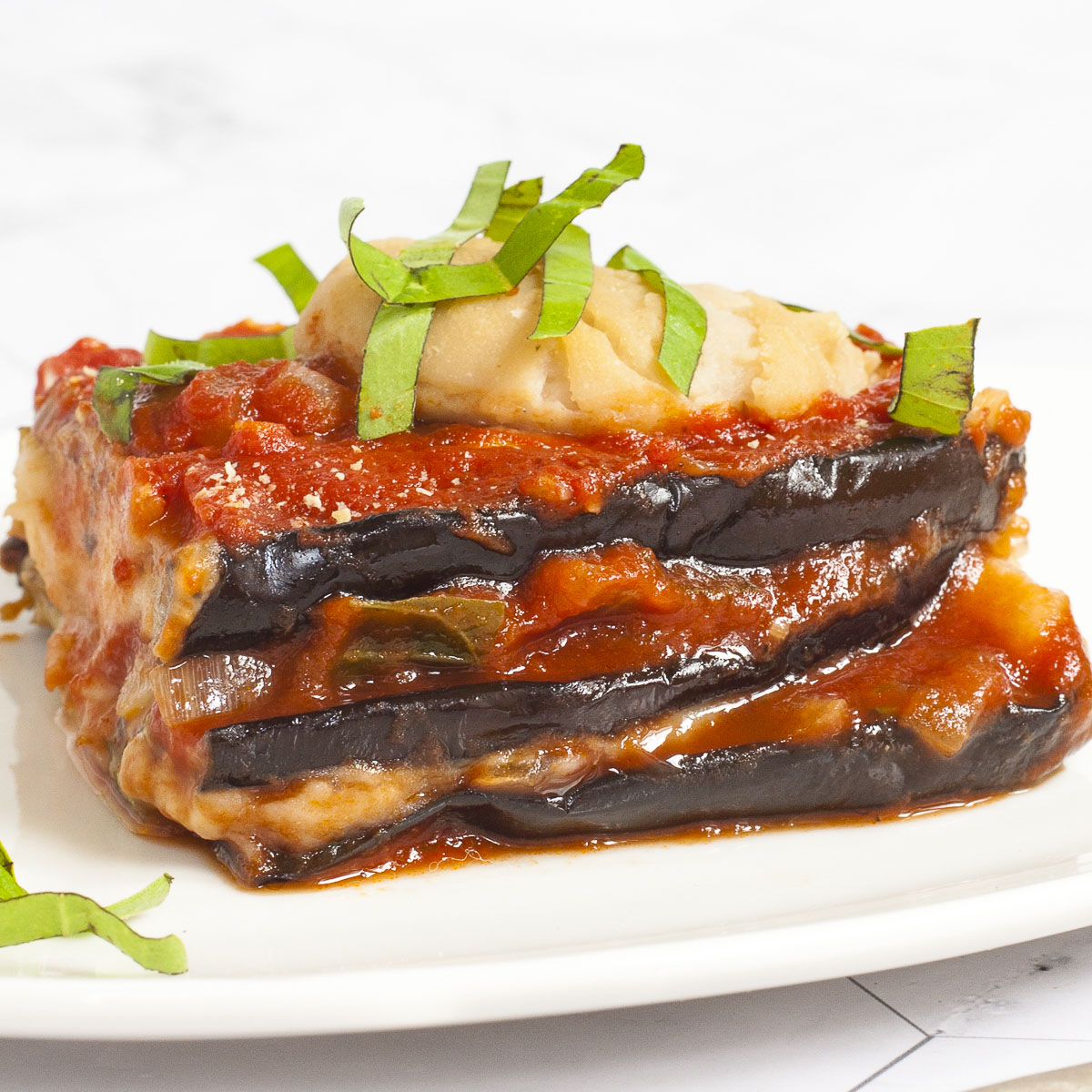 This eggplant parmesan is a delicious and healthy alternative to the traditional Italian dish. With roasted eggplant and a hearty Pomodoro sauce topped with a creamy cheese sauce, you won't even miss the breadcrumbs.
Recipe: eggplant parmesan
Spaghetti Bolognese
Enjoy a healthier twist on the classic bolognese with this quick and easy dinner. Packed with nutrients and flavor, this is a delicious and guilt-free option for any pasta lover.
Recipe: spaghetti bolognese
Mexican Rice Casserole
This is one of the quickest and easiest Mexican-style rice casserole recipes with the meatiest beefless ground beef ever, lots of black beans, and sweet corn in a spicy tomato-based sauce. You can make it in 30 minutes.
Recipe: mexican rice casserole
Cauliflower Korma
Get ready to delight your taste buds with this fantastic 30-minute cauliflower korma recipe. The recipe uses warm spices like cumin, coriander, turmeric, and garam masala to create the perfect blend of flavors.
Recipe: cauliflower korma
Baked Butternut Squash Risotto
If you want to give the risotto a try, you should check out this delicious butternut squash risotto recipe. It is easy to make as part of the job is done by the oven. It is aromatic, creamy, and rich, made with Arborio rice, sweet butternut squash, green peas, and roasted pine nuts.
Recipe: butternut squash risotto
Cool Treats, No Oven Required: 13 Refreshing No-Bake Desserts for Hot Summer Days
Skip the Stove: 19 No-Cook Recipes that Are Not Just Salad
12 Legendary American Restaurants and Its Legendary Dishes