Experience the delightful combination of vegetables and aromatic pesto sauce in our pesto vegetables recipe. This culinary fusion is sure to satisfy. Prepare to savor the vibrant flavors and enticing aromas as roasted veggies are perfectly paired with a flavorful pesto sauce!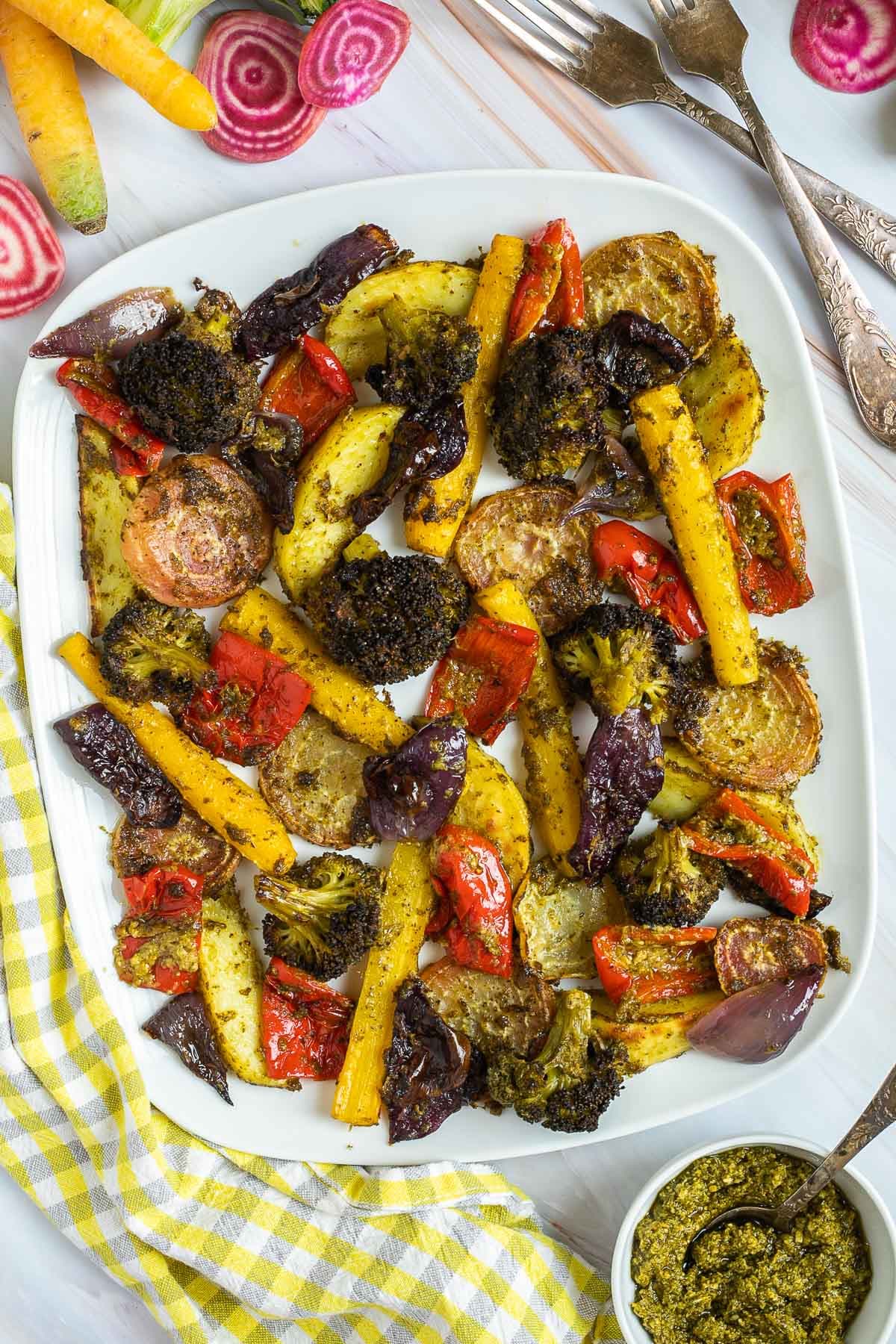 If you are looking for other easy vegetable recipes, check out our grilled vegetable napoleon, grilled vegetable kabobs, and roasted cauliflower with tahini recipes.
Jump to:
What to expect?
With the rich history of pesto as our inspiration, we've added our own twist to create a flavorful veggie side dish. These pesto vegetables combine tradition, taste, and convenience.
What makes it even better is its versatility—you can customize it by choosing your favorite vegetables and your favorite type of pesto. Whether you're serving it as a side dish or making it the star of a vegetable-focused meal, this recipe is sure to impress with its delicious simplicity.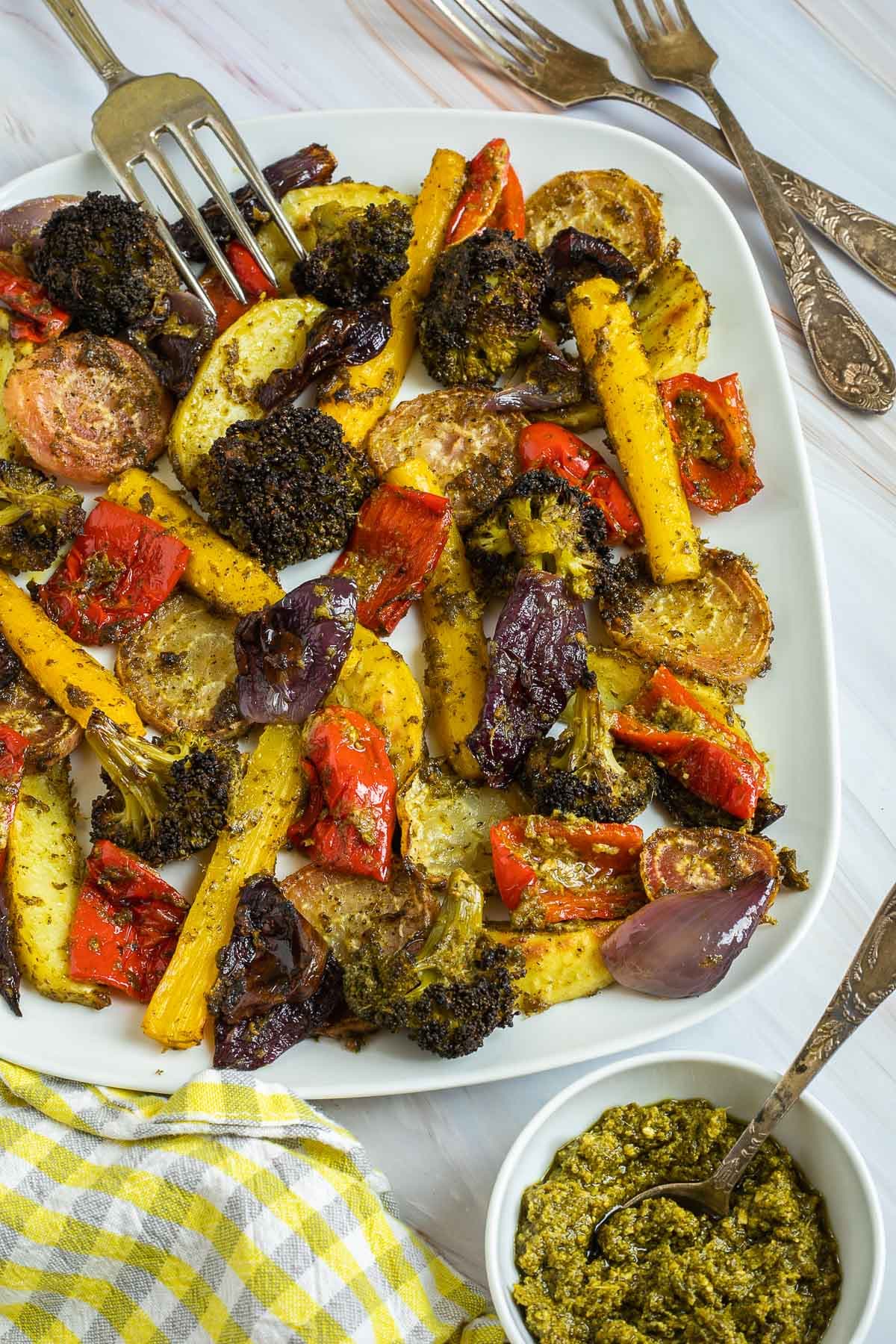 Ingredients
We recommend using homemade pesto sauces because they are easy to make and taste deliciously fresh.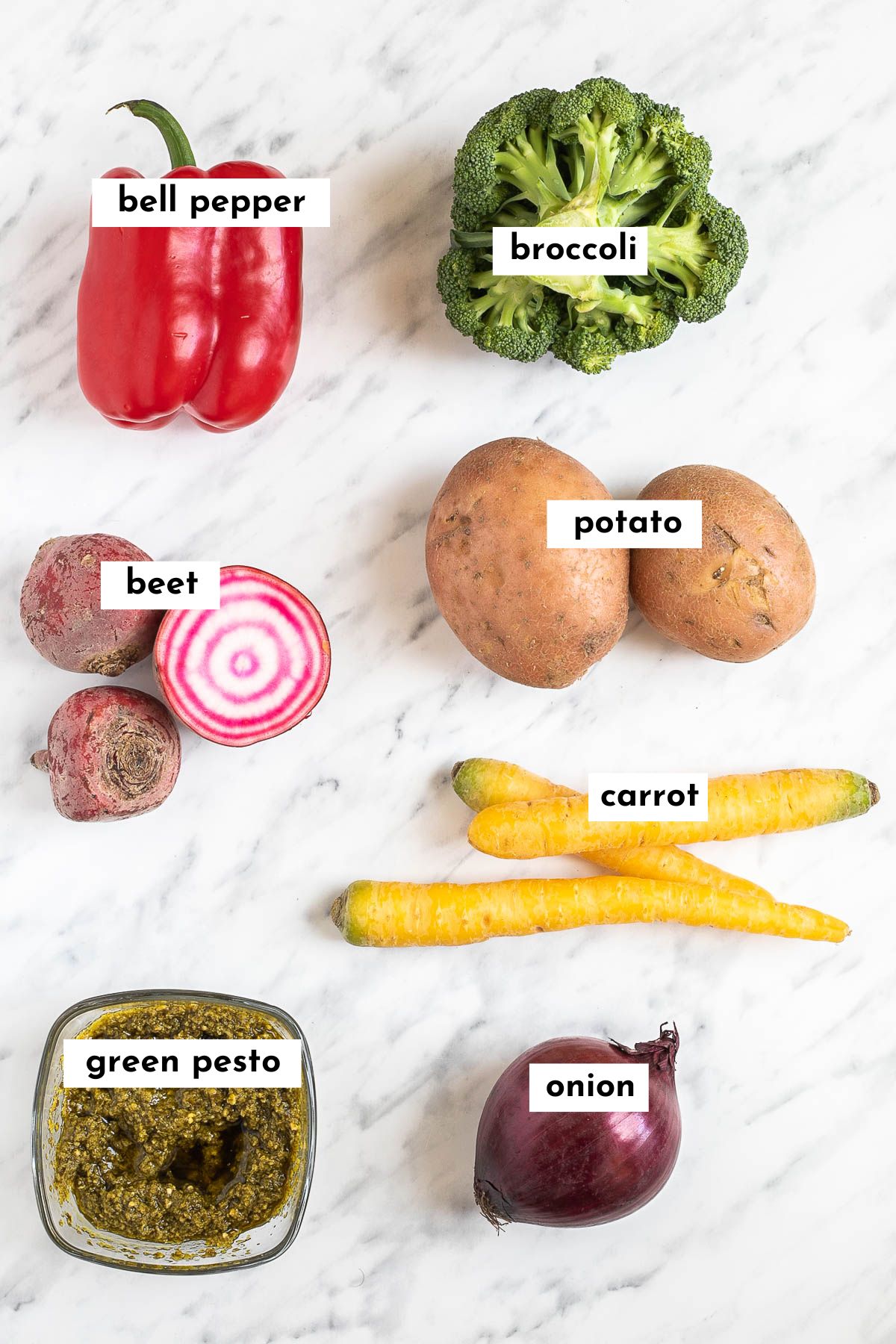 Pesto – We have basil pesto, spinach pesto, and a sun-dried tomato pesto recipe.
Red bell peppers – Any color.
Carrots – Young carrots taste sweeter than baby carrots, since the latter are only pieces broken off of large carrots.
Beets (medium-sized)
Potatoes
Broccoli
Red onions – white onions will also work.
Green peas
🛒 You can find detailed measurements for all ingredients in the printable version of the recipe card at the bottom of this post.
Instructions
Preparing the ingredients
Wash thoroughly, then peel and cut beets into slices of even thickness.
Wash the potatoes and peel them. Cut them into wedges, ensuring they are all the same size. This will help roast them evenly.
Peel the onion and cut it into quarters.
Prepare the broccoli by cutting it into larger florets. This allows them to retain their shape and texture during roasting.
Slice the bell pepper and cut it into squares.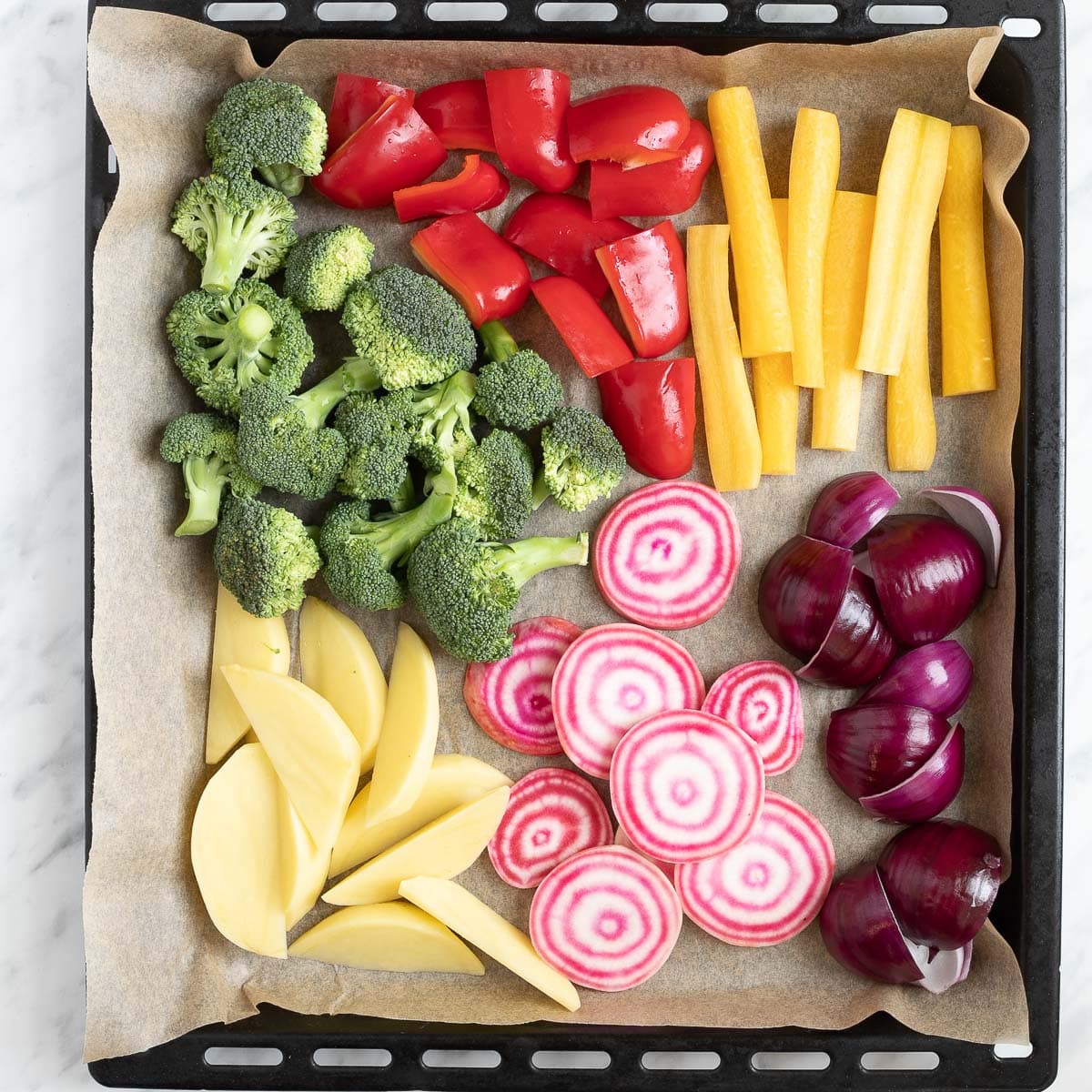 Roasting pesto vegetables
Preheat your oven to 400 °F (ca. 204 °C) to ensure it reaches the desired temperature for roasting.
If the green pesto you use is thick, drizzle in some extra-virgin olive oil to loosen it up. This will help in coating the vegetables evenly.
In a large bowl, toss the prepared pesto and vegetables together. Ensure all the vegetables are well-coated with the pesto sauce to infuse them with the pesto flavor when roasting them.
Line a sheet pan with parchment paper to prevent the vegetables from sticking. Spread them out in an even layer.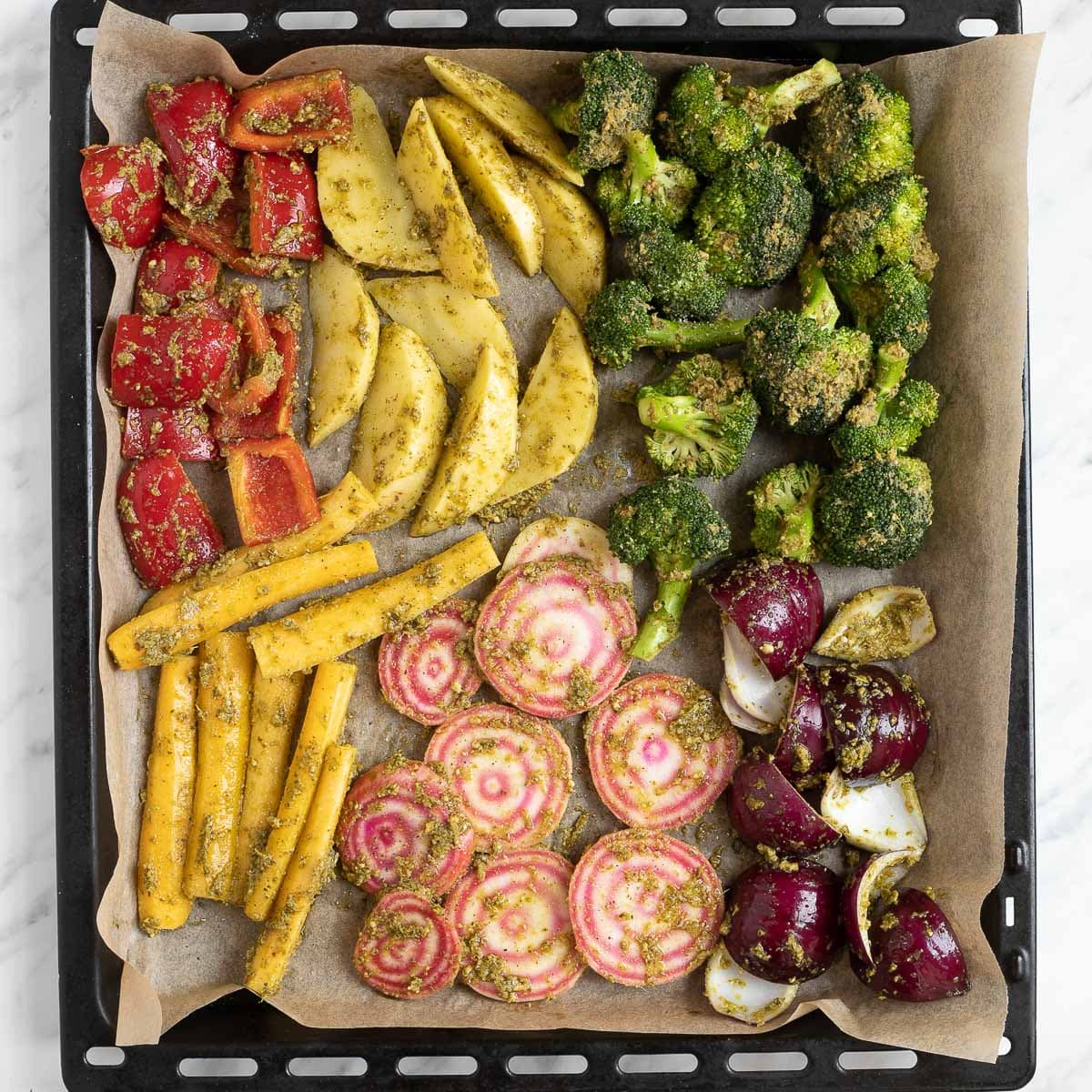 Place the sheet pan in the oven and let the vegetables roast for approximately 30-35 minutes. The roasting time may vary slightly depending on the thickness of the vegetables, so keep an eye on them.
For an extra touch of color and slight charring, you can broil the vegetables for the last 5 minutes of cooking.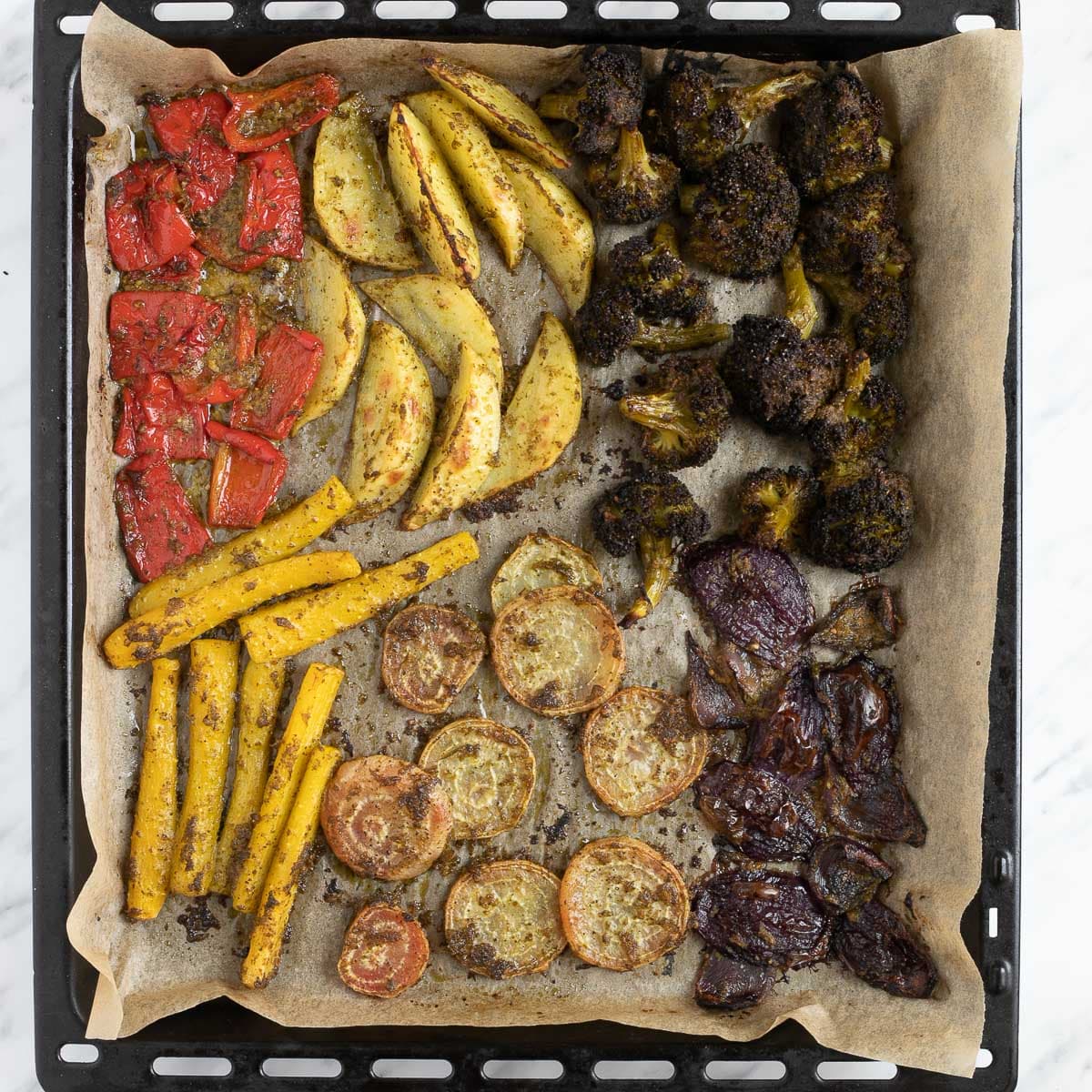 Cooking tips
Be mindful of the size – Avoid cutting the vegetables into tiny pieces when preparing them for roasting. Smaller-sized vegetables have a higher chance of burning easily.
Follow our guide for oven time – Every vegetable has its own cooking time due to variations in density and moisture content, so follow the recommended oven time given in the recipe.
Add them in sections – We never mix them. Because if one type of vegetable is done too early and begins to char too much, we can easily take only those out and roast the remaining vegetables without them.
Variations
Explore different pesto flavors – While this recipe calls for green pesto, you can experiment with various pesto variations to add a unique twist to your pesto vegetables. For starters, you can consider trying our sun-dried tomato pesto, spinach pesto, or even the basil pesto from our vegan pesto pasta recipe. Each recipe variation will bring its own distinct flavors and aromas.
Roast a variety of vegetables – While the recipe suggests specific vegetables, don't hesitate to explore other options to create your own flavorful combinations. Consider roasting vegetables like zucchini, eggplant, squash, cauliflower, carrots, asparagus, mushrooms, beans, or cherry tomatoes. These additions will introduce new textures and flavors to the dish, making it even more diverse and enjoyable.
They can be a wonderful substitute for the classic vegetable Napoleon stack. If you don't want to make layers, make this recipe instead.
Use the roasted pesto vegetables as a delightful alternative to traditional grilled vegetable kabobs. Thread them onto skewers and daub some pesto all over them. The smoky flavors from the grill and the pesto-infused vegetables will be a true delight for your taste buds.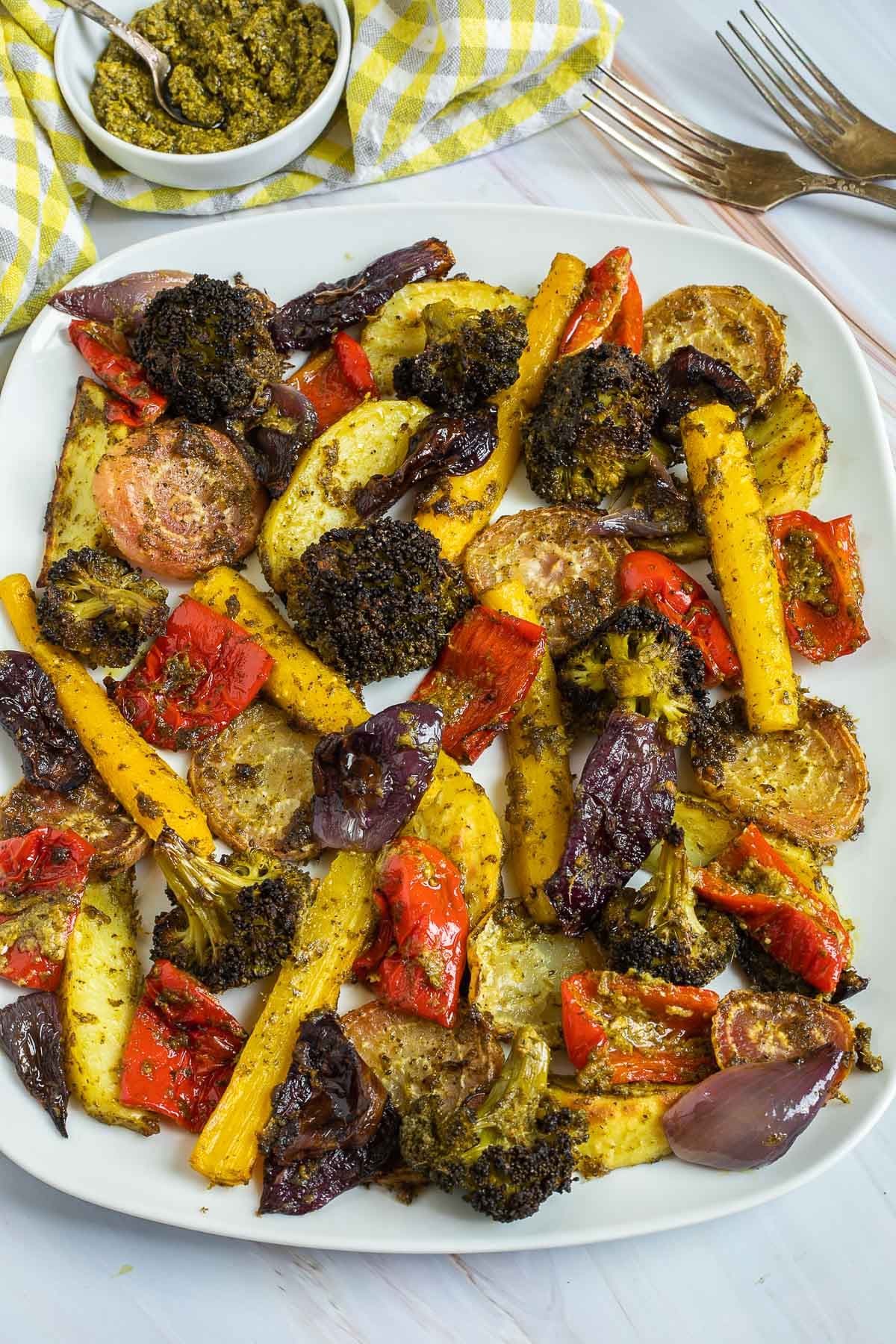 Serving ideas
Sprinkle your pesto vegetables with some toasted pine nuts, grated Parmesan cheese, or a drizzle of balsamic glaze to add extra texture and flavor. These toppings will enhance the dish and provide a delightful contrast to the roasted vegetables and pesto sauce.
Pesto vegetables pair exceptionally well with veggie steaks like tofu steak. The robust flavors of the pesto and the tender, roasted vegetables complement the heartiness and texture of the veggie steaks, creating a well-balanced and satisfying meal.
Use them as an add-in to pasta or salad recipes.
Equipment
Baking sheet – A baking sheet is essential for roasting the pesto vegetables in the oven. Choose a sturdy, rimmed baking sheet that can accommodate the size of your vegetable mixture and provide even heat distribution during roasting.
Parchment paper – Using them on the baking sheet helps prevent the vegetables from sticking to the surface and makes cleanup easier. It creates a non-stick surface, allowing the vegetables to roast evenly without any hassle.
Glass baking dish – Alternatively, a large glass baking dish can be used to roast pesto vegetables. A glass dish allows for even heat distribution and is non-reactive, making it a suitable option for the oil-rich pesto sauce. Just ensure the glass dish is large enough to accommodate most vegetables in a single layer, allowing them to roast properly without overcrowding.
Storing tips
Cool the pesto vegetables, then transfer them to a freezer-safe container or zip-top bag, removing excess air. Freeze for future use. While the texture of some vegetables may change slightly after freezing, they can still be enjoyed later on.
Preheat your oven to 350 °F (ca. 177 °C). Place the refrigerated or thawed vegetables in a baking dish and cover with foil to prevent drying. Heat for about 15-20 minutes, or until warmed through.
If the reheated pesto vegetables have lost some of their original vibrancy, you can try reviving them by incorporating them into other dishes. Consider using them as a filling for omelets or frittatas, making a pesto pasta dish, or layering them in sandwiches or wraps.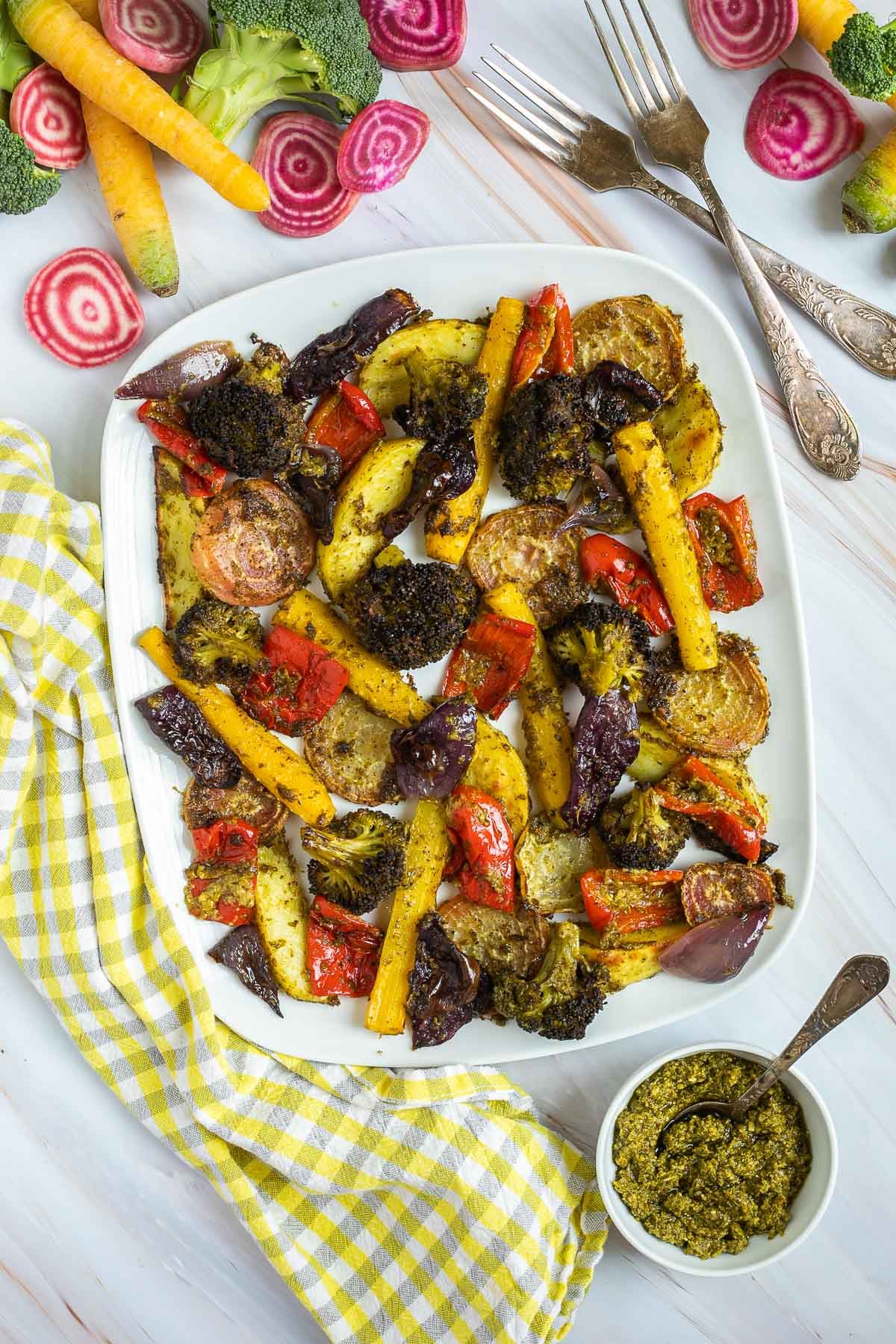 FAQs
What is the difference between green pesto and red pesto?
The difference between green pesto and red pesto lies in their ingredients and flavor profiles. Green pesto typically includes basil, pine nuts, garlic, Parmesan cheese, and olive oil, offering a herbaceous taste. In contrast, red pesto is made with sun-dried tomatoes, garlic, and provides a tangy flavor. We have recipes for both.
What vegetables taste good with pesto?
Pesto pairs well with a variety of vegetables, allowing for endless possibilities. In this recipe, we feature beets, potatoes, broccoli, carrots, and bell peppers. However, you can also explore other options, such as zucchini, cauliflower, or asparagus. The aromatic sauce beautifully enhances the natural flavors of the vegetables, resulting in a delicious dish.
More vegetable side dishes
Browse through our vegan side dishes, or check out one from here:
THANK YOU so much for visiting our website. Please comment below if you have tried this recipe. We LOVE hearing from you! If you loved the recipe, please don't forget to give us a ⭐⭐⭐⭐⭐ RATING. We appreciate all of our readers.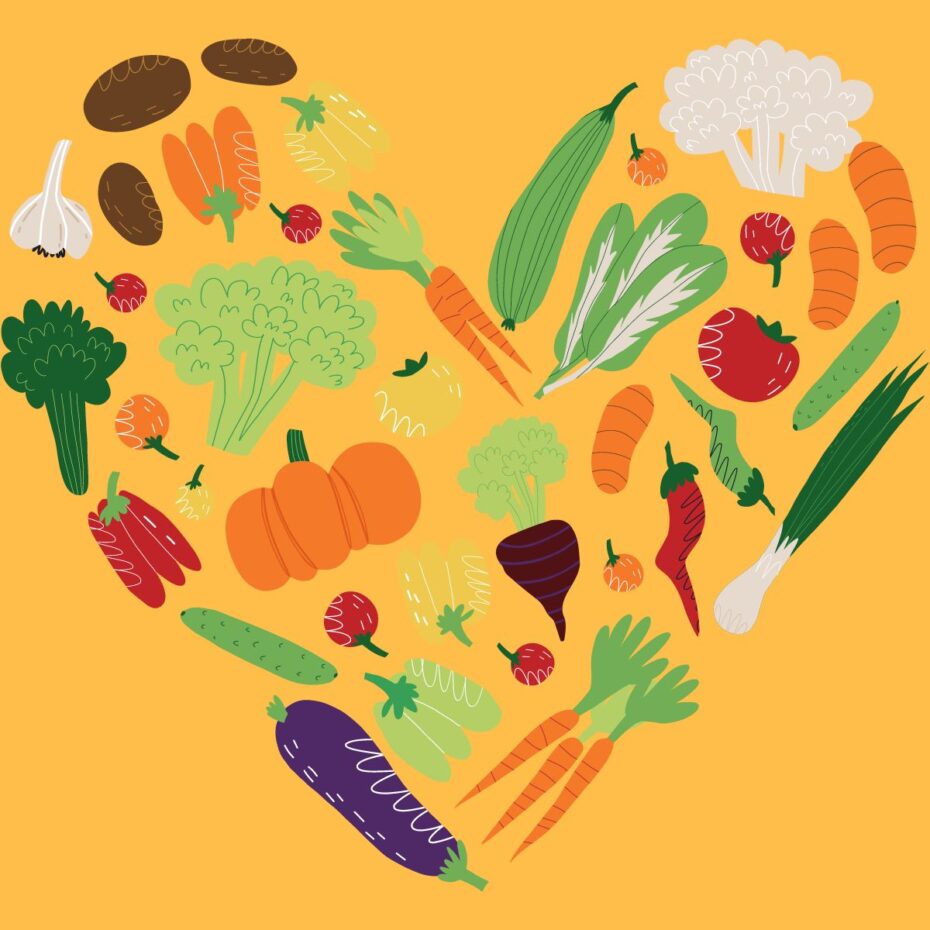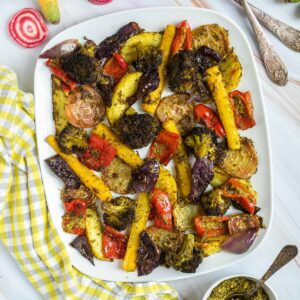 Pesto Vegetables
Experience the delightful combination of vegetables and aromatic pesto sauce in our pesto vegetables recipe. This culinary fusion is sure to satisfy. Prepare to savor the vibrant flavors and enticing aromas as roasted veggies are perfectly paired with a flavorful pesto sauce!
Ingredients
6

oz

Pesto

1

Red bell pepper

6

oz

Carrots (medium)

10

oz

Beet (medium)

10

oz

Potatoes

10

oz

Broccoli

1

Red onion

2

Tbsp

Olive oil

½

tsp

Salt

¼

tsp

Black pepper
EXCLUSIVE 5-ingredient recipes for busy home cooks that are ready in 15 minutes!
Check out our Express Vegan Cookbook!
Instructions
Prepare the vegetables
Peel and cut the beets into slices.

Peel and cut the potatoes into wedges.

Peel and cut the onion into quarters.

Cut the broccoli into larger florets.

Slice and cut the bell pepper into squares.
Roasting pesto vegetables
Preheat the oven to 400 F (200 C).

If the pesto you are using is not runny enough, add some olive oil.

In a large bowl, mix pesto with vegetables.

Add parchment paper to a sheet pan. Pour in the vegetable mixture. Season with salt and black pepper. Roast in the oven for 30-35 minutes. Check around 20-25 minutes to see how they progress. For the last 5 minutes, you can broil the vegetables to give them a more charred color.
Nutrition
Nutrition Facts
Pesto Vegetables
Amount Per Serving (1 serving)
Calories 372
Calories from Fat 207
% Daily Value*
Fat 23g35%
Cholesterol 3mg1%
Sodium 803mg35%
Potassium 993mg28%
Carbohydrates 36g12%
Protein 8g16%
Vitamin A 9360IU187%
Vitamin C 123mg149%
Calcium 145mg15%
Iron 2mg11%
* Percent Daily Values are based on a 2000 calorie diet.