If you are looking for delicious vegan pesto pasta, you should try this recipe using an easy homemade nut-free and vegan spinach pesto. Even if you make everything from scratch you can still be ready in 15 minutes! Serve it with cherry tomatoes and an extra layer of vegan parmesan or nutritional yeast!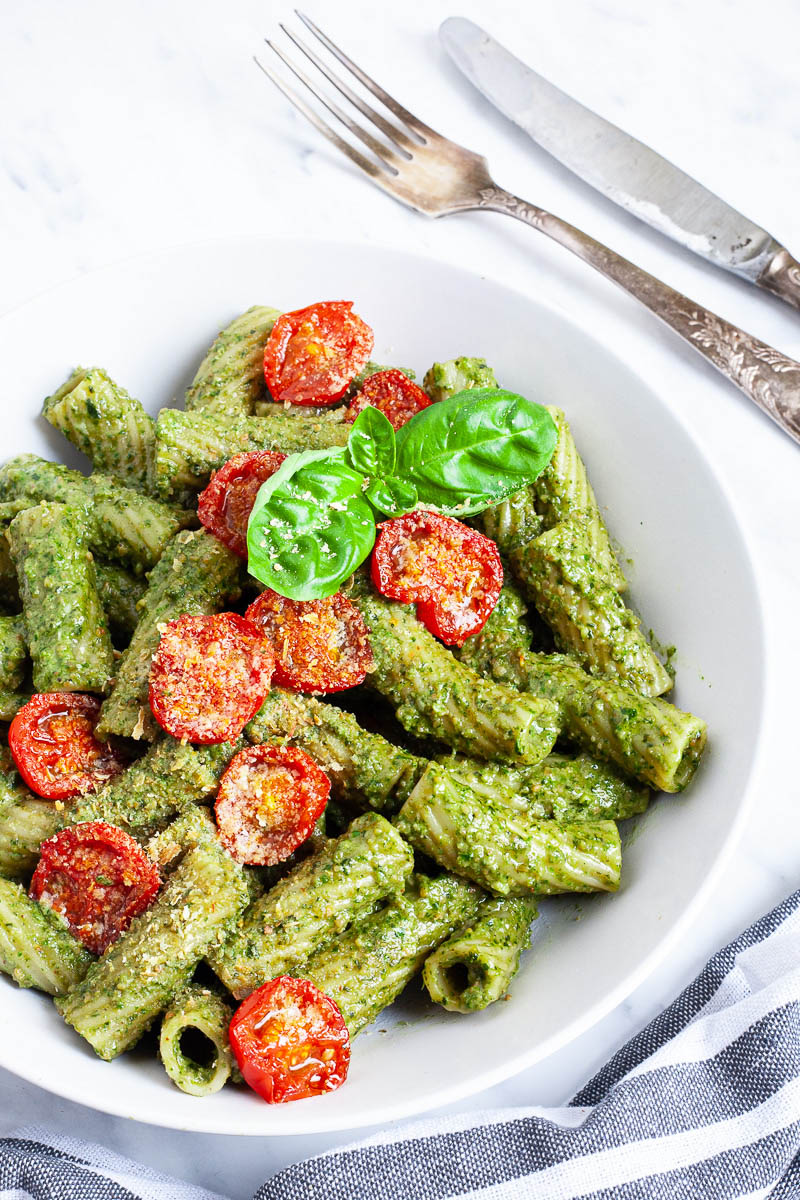 We have many delicious vegan pasta sauce recipes you can browse through but if you are looking for a nut-free pasta sauce recipe you can try this creamy harissa tahini pasta sauce, this nut-free vegan mac and cheese sauce, or this hidden veggie pasta sauce. We also have an awesome collection of the best 20 gnocchi sauces that you can add to any pasta dishes really.
Is pesto vegan?
The original Italian pesto (also called "pesto alla Genovese") is made of pine nuts, basil leaves, Parmesan or Pecorino cheese, and a bit of salt. Traditionally, all ingredients are crushed in a mortar and mixed with olive oil. This is the base of all pesto variations.
Is pesto vegan? Sadly not. The only ingredient that needs to be changed though is cheese. If you are vegetarian, you also need to pay attention here as Parmesan cheese is also NOT vegetarian. Read more here.
You can use any store-bought or homemade vegan pesto to make this recipe. But if you want to make it from scratch, we have a delicious nut-free vegan spinach pesto recipe (see in the below picture) that you can whip up quickly. We love sunflower seeds so we use them instead of pine nuts or cashews. It is equally delicious.
Ingredients
To make vegan pesto pasta, you need to mix and match your favorite ingredients.
Vegan pesto

– You can choose any type really store-bought or homemade. To make this pesto pasta recipe we used our nut-free vegan spinach pesto. Try also our vegan sun-dried tomato pesto if you are looking for a red pesto recipe as well.

Vegan pasta

– You can choose any type like spaghetti or penne. Even gnocchi if you want something unique. Please note that pasta, as well as, gnocchi is not gluten-free, so choose the right brand for your diet. Or go creative and use zucchini noodles for example.

Toppings

– A lot of vegetables and toppings go great with spinach pesto. To make this recipe, we added some pan-fried cherry tomatoes. However, we included many other options under Toppings.
How to make vegan spinach pesto pasta?
Buying or making pesto?
If you want to use our vegan spinach pesto recipe, you will be ready in 10 minutes. It is actually ready while your pasta is cooking in the water. It really is only TWO steps:
Prepare the ingredients

-> Wash the basil and spinach leaves. Peel garlic clove. Measure all ingredients.
Blend them in 5 minutes! -> Add all ingredients (spinach leaves, basil, extra virgin olive oil, sunflower seeds, garlic, and nutritional yeast) to your food processor (to make a smaller serving size, use an immersion blender) and blend. You might need to stop and scrape the sides a couple of times. The pesto at the end should be similar to a thick, stiff paste with a little chunkiness, not as smooth as hummus.
If you want more information about What else to do with Pesto if it is not pasta? or How to use a mortar? or What can you substitute for the different ingredients, visit our vegan spinach pesto recipe for all this additional info.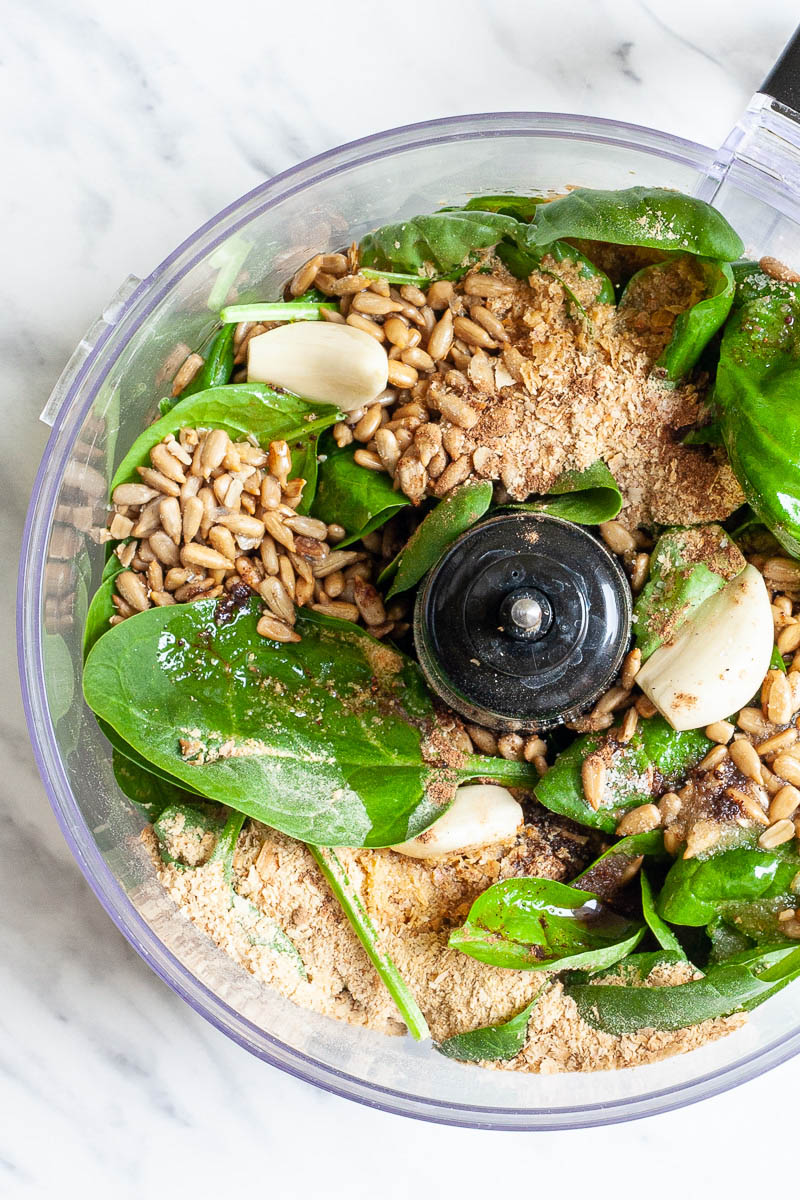 Preparing the toppings
We used some pan-fried cherry tomatoes. Sliced them in half and wilted them with a bit of olive oil. You will find other topping ideas a bit further below.
Mixing pesto and pasta evenly
The only thing left really is to toss the cooked and drained pasta together with a couple of Tablespoons of pesto. Mix well and add any toppings you want. OR
The pesto is usually prepared cold, while the pasta is hot. They can be mixed more evenly if they are both warm. So here is what we usually do:
Cook pasta in a large pot of water according to the package instructions.
When pasta is cooked, drain it but reserve some pasta water.
Take a skillet or frying pan and heat it on low/medium heat.
Add cooked pasta and the pesto with a bit of cooking water.
Mix while you warm them up over low-medium heat.
At first, it may seem that the pesto is too thin because of the cooking water, but as the dissolved starch in the cooking water is activated, it coats the pasta nicely and evenly. (You can check out the video to see or take a look at the below picture.)
If you don't add the cooking water, you will start to cook essentially the pesto. It can result in the fresh green leaves of basil and spinach turning brownish.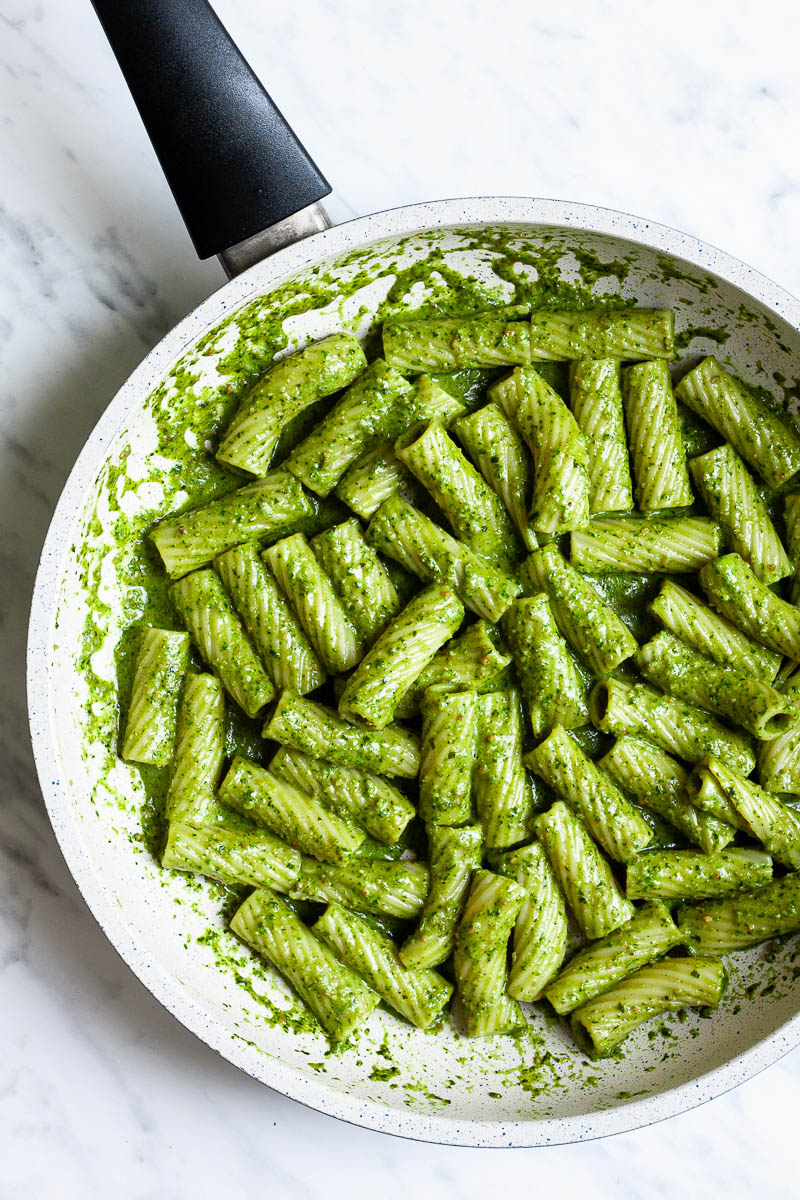 Toppings for pesto pasta
You can never go wrong with some veggies for your vegan pasta may it be with pesto or other sauce. Our favorite ones are the following:
Lightly roasted cherry tomatoes or sun-dried tomatoes (It is always nice to add a bit of color.)
Sauteed broccoli or even better broccolini
Green peas
Sweet corn
Olives (kalamata or green)
Legumes (beans, lentils) like white/cannellini beans, red kidney beans, chickpeas (roasted or cooked)
Nuts and seeds (almond slices, pepitas, pistachios, or any leftovers from making the pesto)
More vegan parmesan, or nutritional yeast
Vegan feta cheese crumbles or vegan mozzarella
Let us know in the comments what is your favorite topping!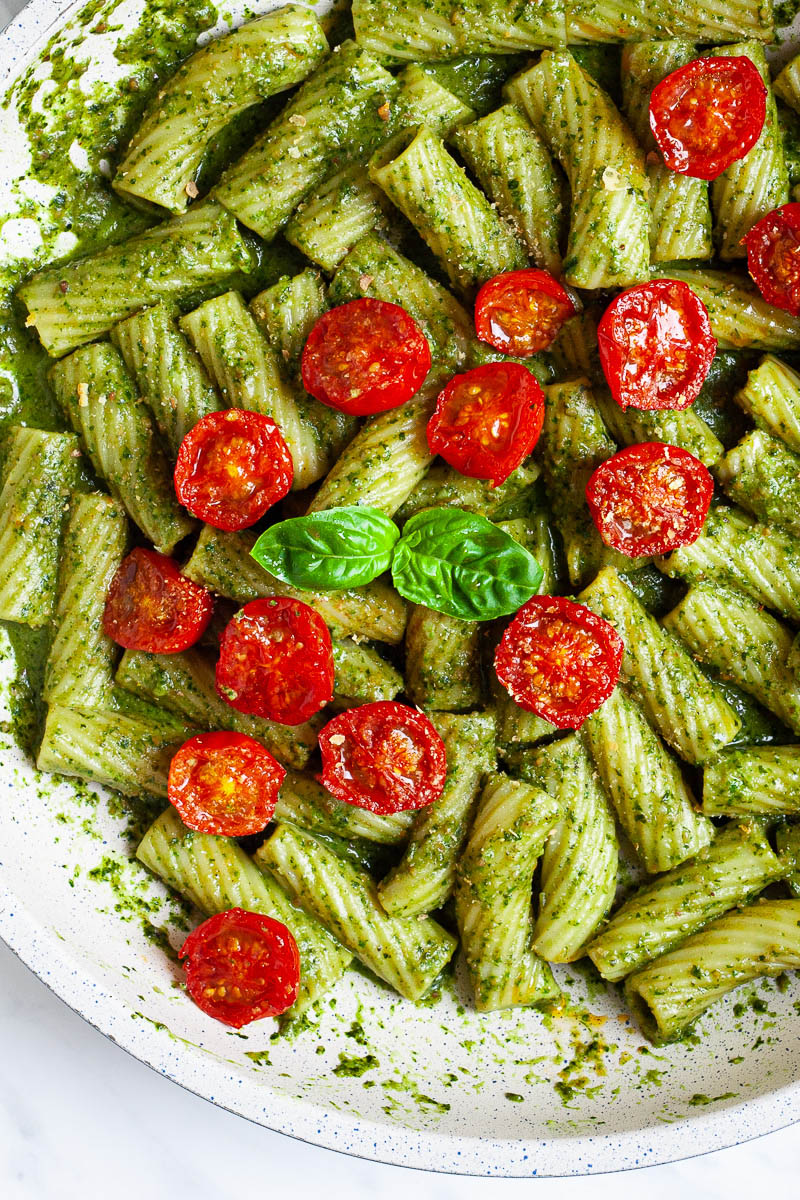 FAQs and substitutions
Can you make pesto without basil?
You can use any combination of fresh green herbs and leafy greens. The original pesto uses basil, but you can use mint, cilantro, or parsley. More creative recipes use even carrot greens or sage.
What can you use instead of spinach?
You can use kale, arugula (rocket salad), watercress, or any other collard green. The flavor profile will be slightly different for all combinations.
What can you use instead of sunflower seeds?
You can use any other nuts and seeds actually. The most popular ones to make vegan pesto is cashew nuts (like in our red pesto tofu pasta recipe) and pine nuts.
If you are looking for nut substitutes try almonds, pecans, or walnuts.
If you have a nut allergy, pepitas (pumpkin seeds) or hemp seeds work just fine. We choose sunflower seeds for their budget-friendly nature as well as because we just love using sunflower seeds in place of other nuts and seeds.
How to store leftovers?
Vegan pesto is perfect for batch cooking since you can store it in the freezer for up to 6 months without any problem. Since it is quite rich and filling, you don't need a lot per serving. Using an ice cube tray to freeze them in small portions is a popular option. You can transfer it to a freezer-safe storage bag to save space. We don't recommend freezing pasta mixed with pesto sauce since the texture can be way off after thawing.
You can also keep it in the fridge for 3-4 days without a problem. Oil is a good preserver so it may be good even longer. If the oil has a pungent odor or the taste is off, don't use it.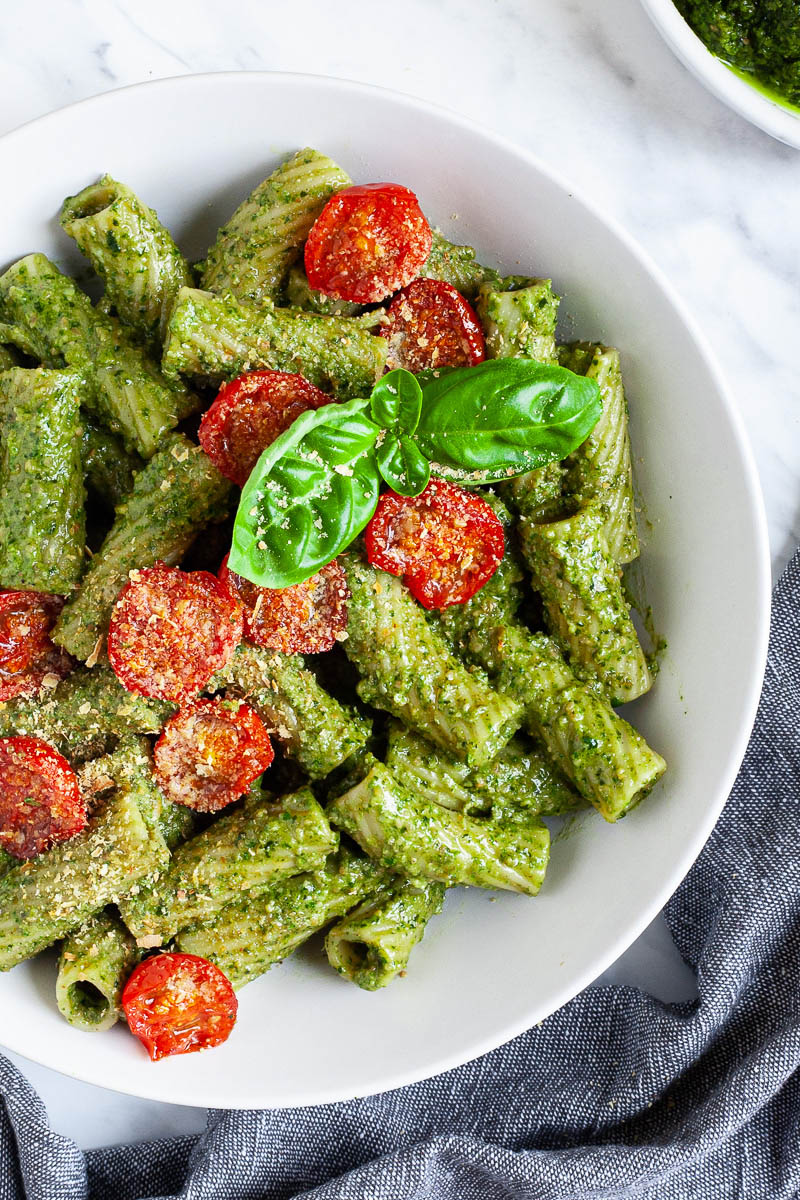 This Spinach Pesto Pasta recipe is meat-free, dairy-free, and egg-free. It is suitable for vegan, vegetarian, nut-free, and gluten-free diets. It is not compatible with whole foods plant-based diet as olive oil is a kind of must-have ingredient.
More vegan spinach recipes
You can browse through our vegan spinach recipes or check out these.
More vegan pasta recipes
You can browse through our vegan sauce recipes or our quick vegan meals collection or check out
UPDATED: This recipe was originally posted in May 2021. It has been updated with more info, tips, serving suggestions, and related recipes and republished in May 2022.