This harissa tahini pasta sauce is ready in 20 minutes, so it is perfect for busy weeknights. It is rich, creamy, and spicy. If you are looking for a super simple pasta recipe, this will be your new best friend. Serve it with asparagus and spinach or mix and match it with your favorite veggies and toppings.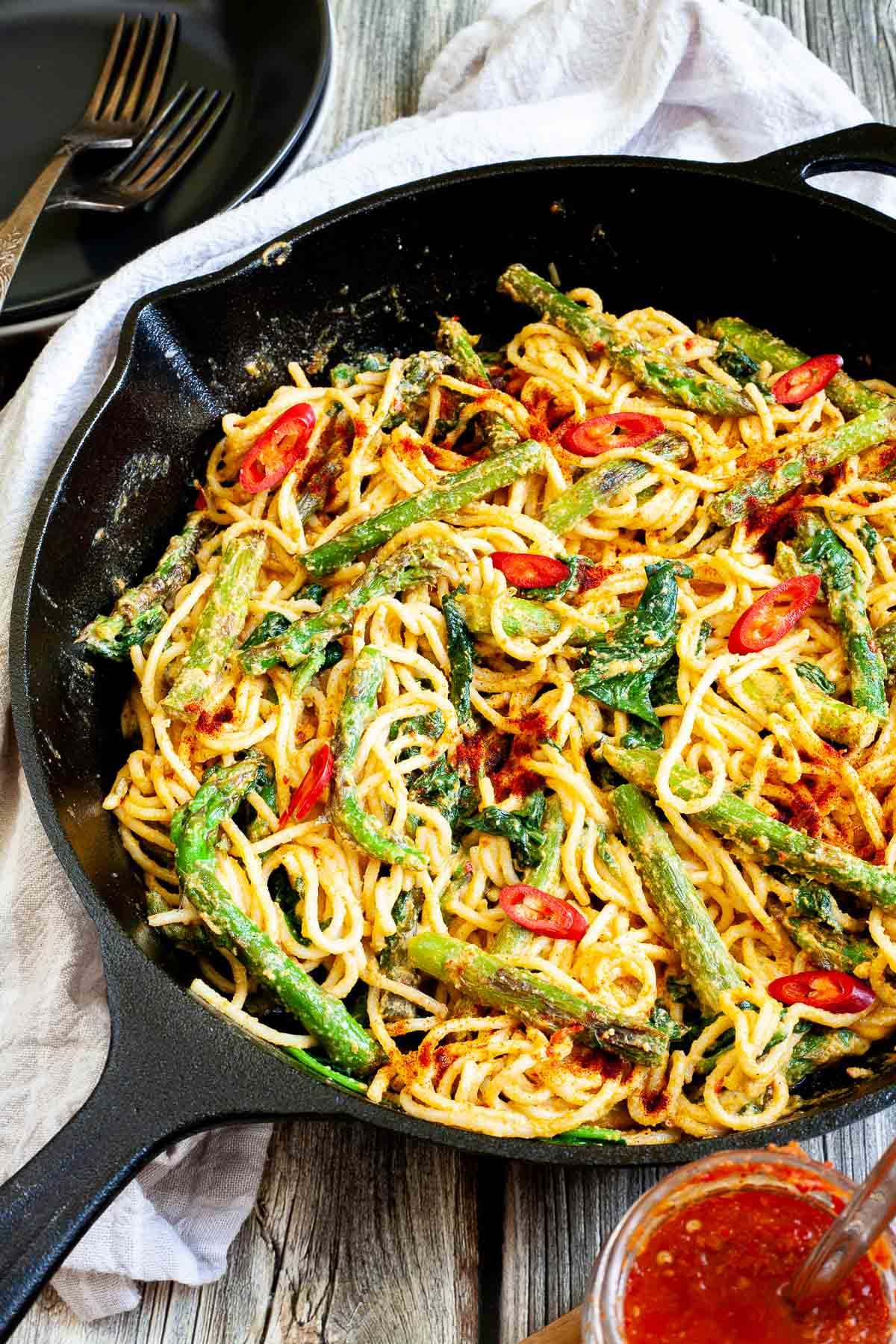 If you love vegan pasta recipes, you should check out this 15-minute creamy spinach pasta sauce, or this caramelized carrot pasta sauce. While we do love a classic cashew alfredo pasta, there are many more ingredients you can make delicious dishes from. Browse through our vegan sauce recipes gallery for even more inspiration.
Why you'll love this recipe
Harissa paste is made of red chili peppers (or in combination with red bell peppers), garlic, salt, and some kind of acid like vinegar. There are sometimes added spices like coriander, cumin, or caraway seeds. It is not as thick as a tomato paste, but it is rather closer to a sauce texture. It is also perfect as a tofu marinade like in this crispy baked harissa tofu recipe.
Tahini is toasted ground sesame seeds. You may have heard of it as one of the essential ingredients in hummus (or not) as well as widely used by people who need to eat nut-free. It is a distinctive nutty flavor if you use it too much. However, in combination with the right ingredients, you may only have a hint of taste, but you end up with a lovely creamy texture.
You can never have enough recipes for creamy vegan pasta sauces. If you choose to make this harissa tahini pasta recipe, you'll get a sauce that is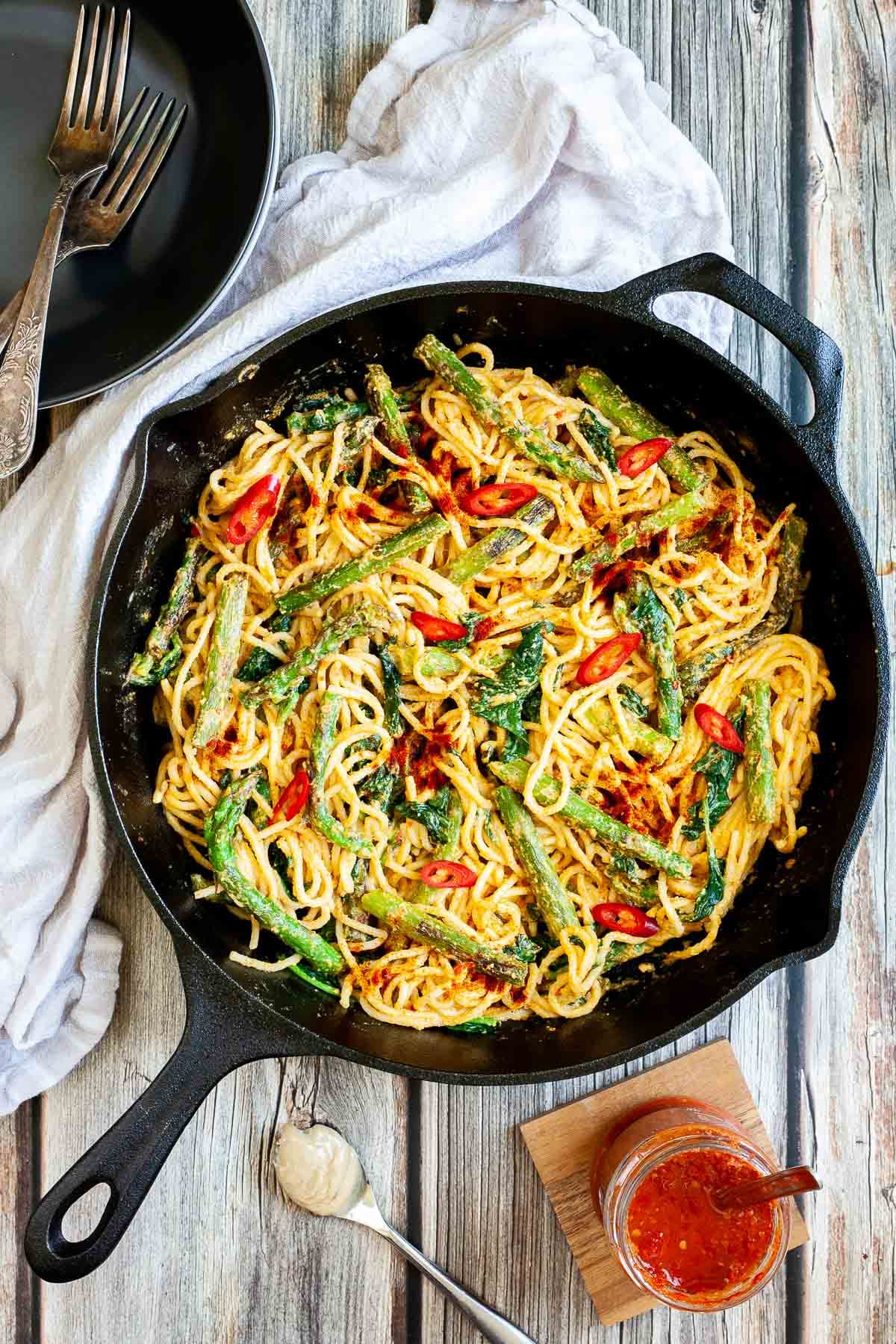 Ingredients
To make this vegan pasta sauce, you only need 7 ingredients. Any other toppings and add-ins are optional and you can choose your favorite ones if you were to try more combinations. So what do you need for this sauce? See exact quantities in the recipe card.
How to make harissa tahini pasta?
Prepare the ingredients
Making the pasta sauce
In a medium-sized mixing bowl, add all sauce ingredients (spicy harissa paste, tahini, lemon juice, salt, onion, and garlic powder). Mix well with a spoon or spatula. No need to blend them since they are easy to combine.
Add a bit of water until you reach the desired consistency.
Mixing everything together
Preheat a cast-iron skillet (we love ours*) to medium heat on the stove and add heat-resistant

oil

(sunflower oil or coconut oil and not olive oil). Add

asparagus

and sprinkle a bit of salt and black pepper. Cook them for approx. 10 minutes.
Lower the temperature and add

spinach

. Stir them well and wilt them for approx. 1-2 minutes until the leaves reduce their size.
Remove the skillet from the heat and add

cooked pasta

. Mix them well.
Finally, add the

harissa tahini sauce

and mix them well. If you feel that the sauce is too thick, loosen it with a couple of tablespoons of

pasta water

you reserved previously. And you are ready! Enjoy!
Top tips to make it perfectly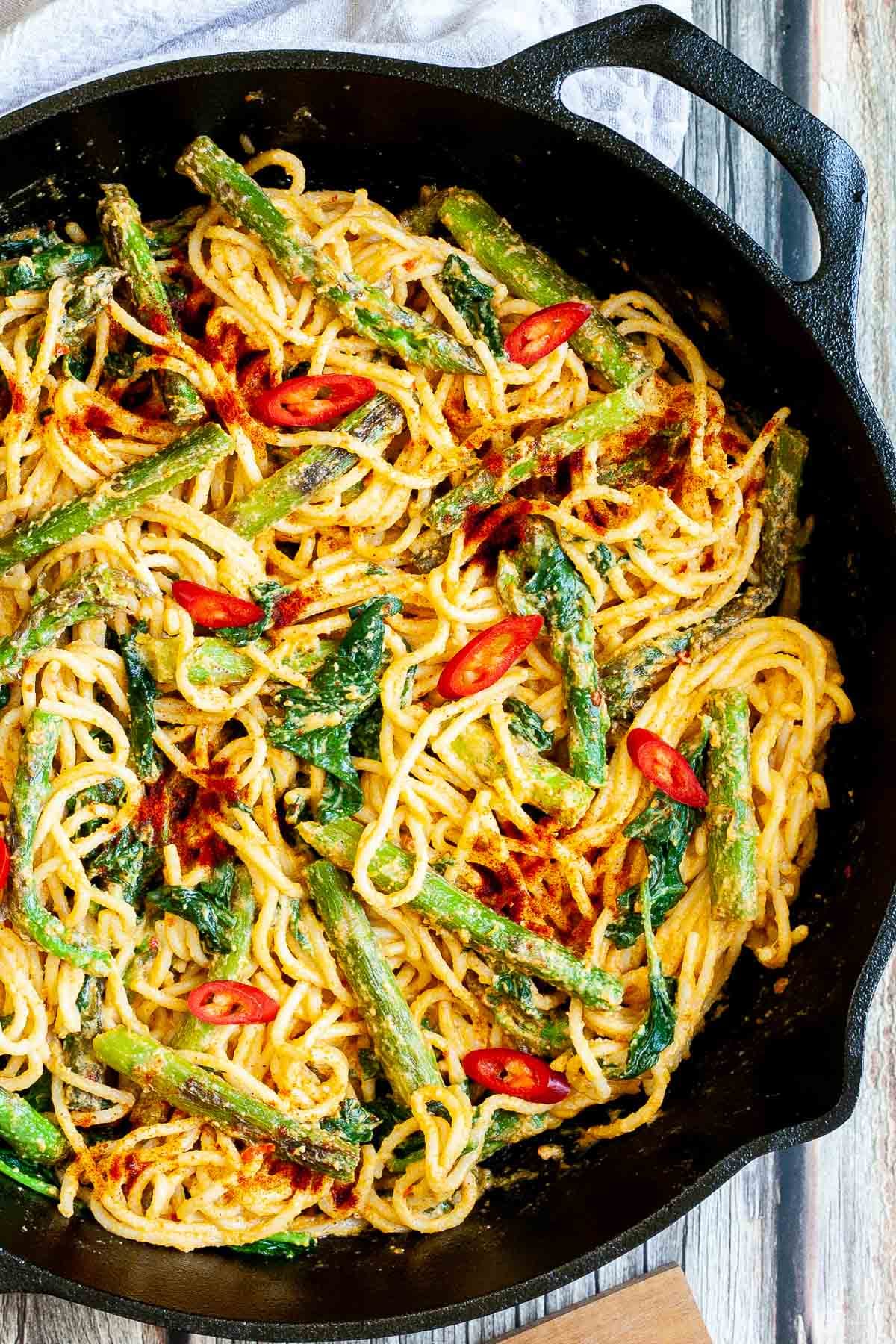 Variations
Spinach and asparagus or any green veggies are all perfect add-ins not only because they make this pasta dish more colorful, but also because their earthy grass flavors are complemented by the creamy spicy-sweet sauce.
You can never go wrong with veggie toppings. Here are a handful of ideas for you to mix and match. Let us know in the comments what is your favorite topping!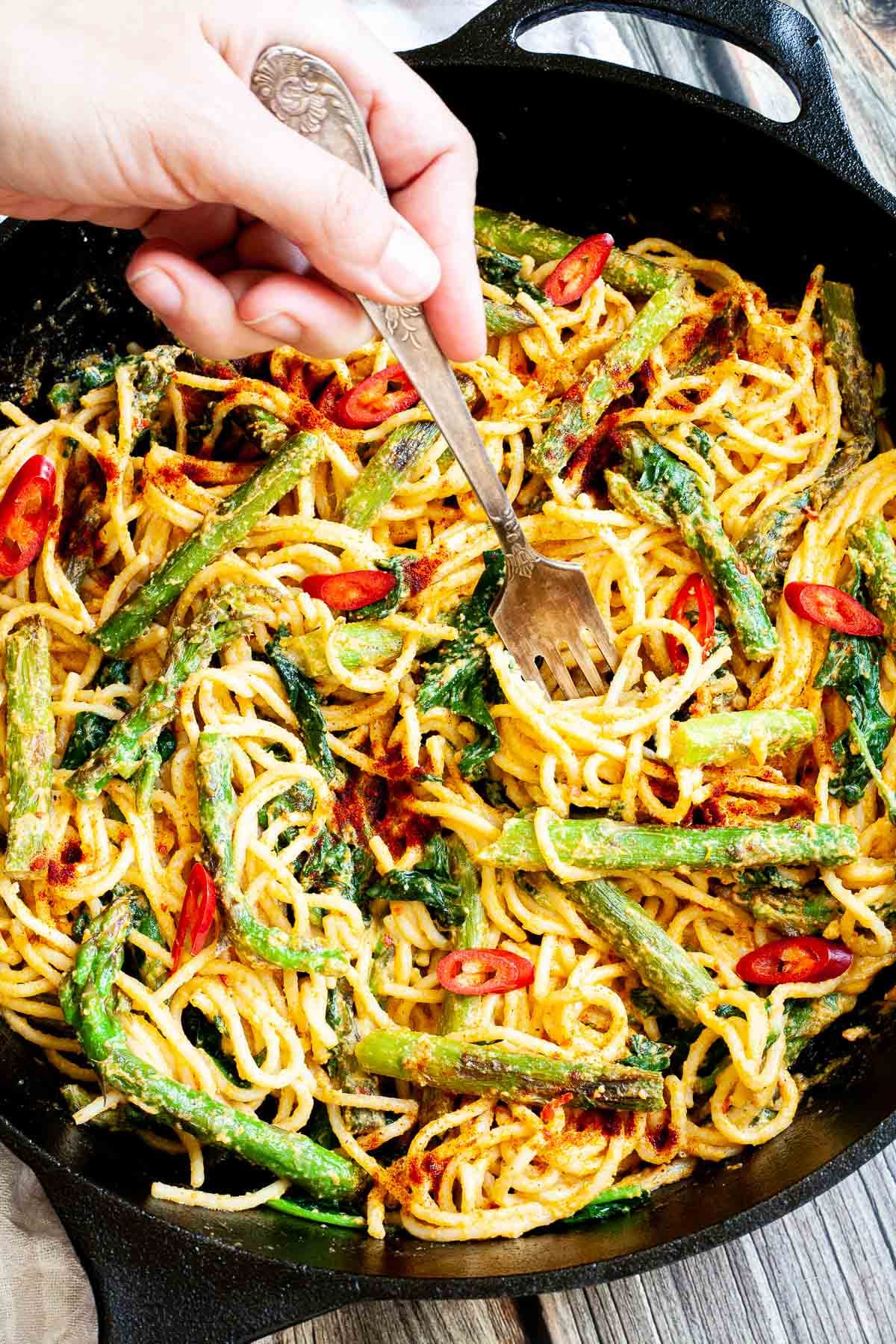 FAQs and substitutions
Can I add roasted veggies?
Absolutely, you can add pre-cooked or roasted veggies separately. Here is how to roast asparagus and button mushrooms. Add them right before serving.
What pasta should you choose?
Tagliatelle, pappardelle, fusilli, fettuccine, spaghetti… really whichever type you fancy or have at home. We also tried this harissa pasta recipe with rice noodles* and it was delicious with them too.
The sauce itself is gluten-free, but you can choose any of your favorite gluten-free pasta. If you want something unique, choose for example lentil pasta or chickpea pasta. You can also try quinoa spaghetti* or this protein-packed edamame spaghetti* or this chia flour pasta*.
What can I use instead of tahini?
We have a whole post about all the tahini substitutes you can use since there are some people who either find it expensive or just don't like its flavor. The closest substitute is sunbutter or other types of nut butter.
How to store it?
If you have any leftovers you can keep them in the fridge for 1-2 days. A quick note though that the longer you store it, the more sauce the pasta will absorb. It means that on day 2, your pasta might be much drier.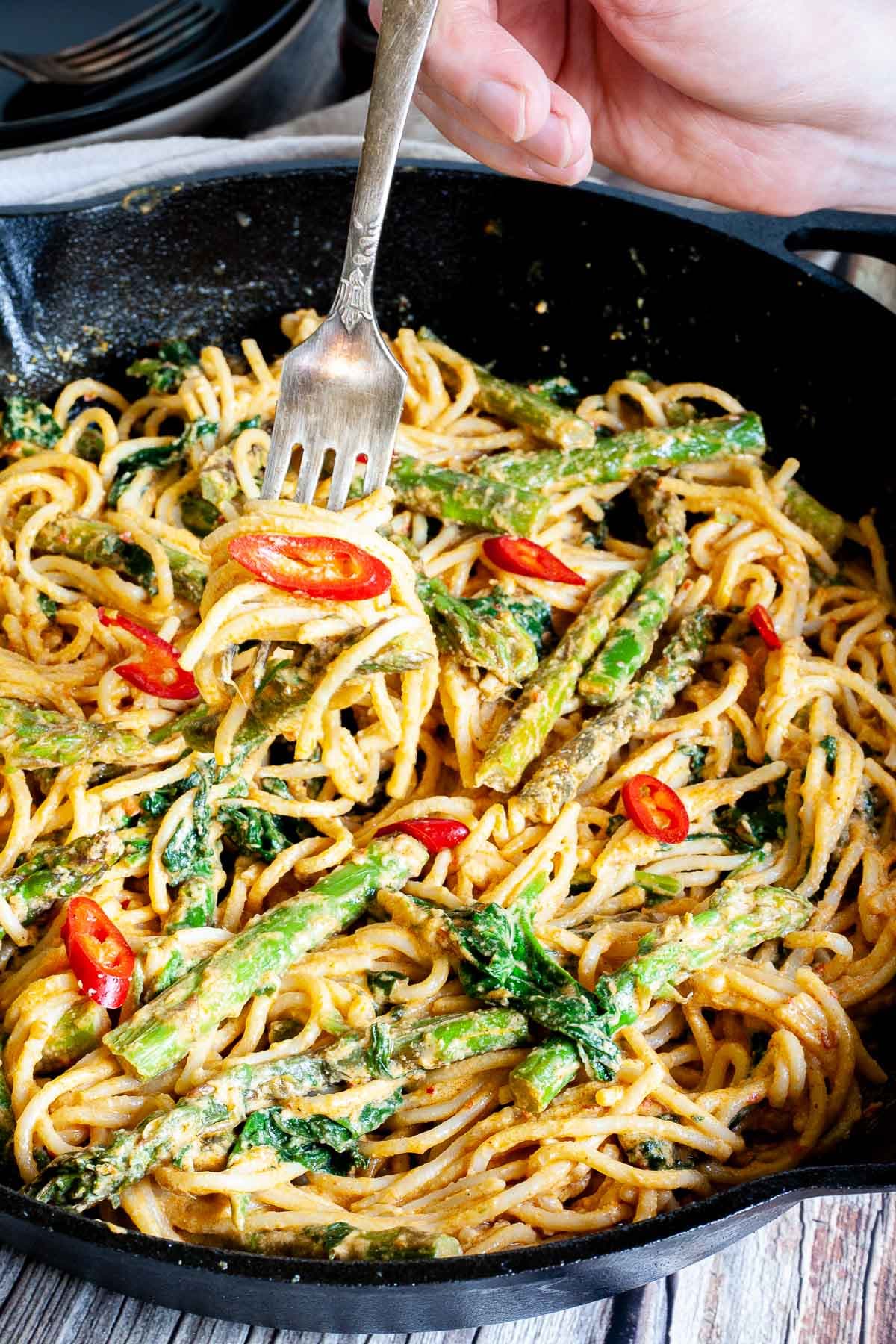 This Harissa Tahini Pasta Sauce recipe is meat-free, dairy-free, and egg-free. It is suitable for vegan, vegetarian, nut-free, and gluten-free diets. It is WFPB-compliant if you sautee veggies in water or veggie broth. Choose your pasta according to your dietary needs.
More vegan pasta recipes
You can browse through our vegan sauce recipes or check out these gnocchi sauces that can be used on any type of pasta or try one of these recipes below: