Our aim was to create the ultimate vegan breakfast burrito. And we succeeded, as this recipe is packed with so much flavor. It boasts a juicy tofu scramble, hearty vegan sausage crumbles, crispy roasted potatoes, and a burst of freshness from the avocado tomato salsa.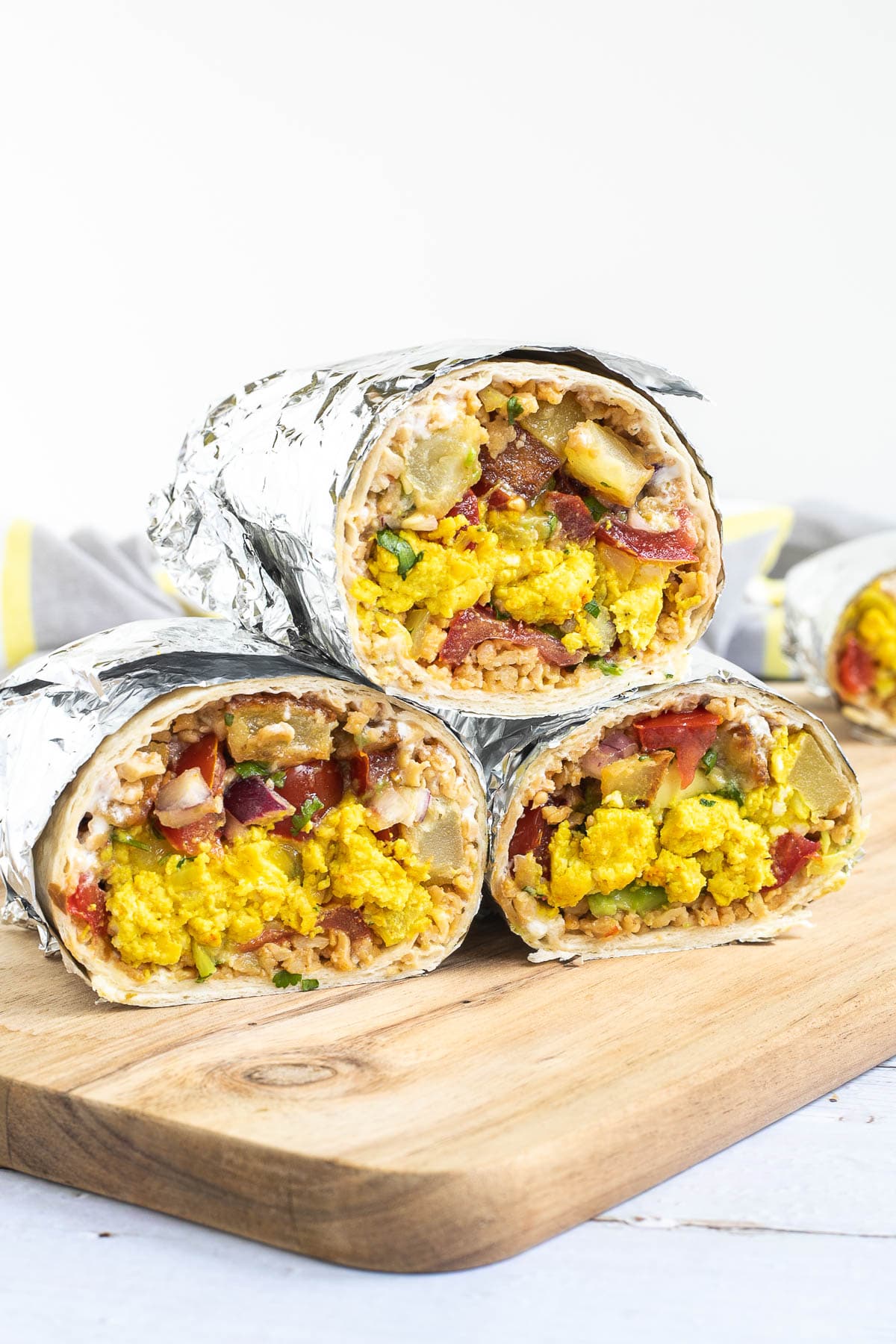 Looking for other easy, savory vegan breakfast options? Check out our vegan frittata, vegan breakfast hash, vegan breakfast casserole, and vegan breakfast enchiladas recipes for more inspiration.
Jump to:
What to expect?
To create the ultimate vegan breakfast burrito, we took inspiration from how food trucks and local eateries make their non-vegan versions. We have captured the essence of the most popular ones while adding our own vegan twist and keeping things simple and delicious.
It has everything you want and more, including a juicy tofu scramble, crumbled vegan sausage, zesty salsa, crispy roasted potatoes, and a dollop of sour cream. It's a treat you will definitely enjoy – filling and flavorful.
Here is why this vegan burrito is the perfect breakfast option:
It combines spiciness, saltiness, and tanginess all in one bite. It is hearty and satisfying with protein-packed ingredients like tofu and vegan sausages.
You can prepare most ingredients ahead of time and put everything together whenever hunger strikes.
All the ingredients are readily available at most grocery stores. It is a breeze to get everything ready.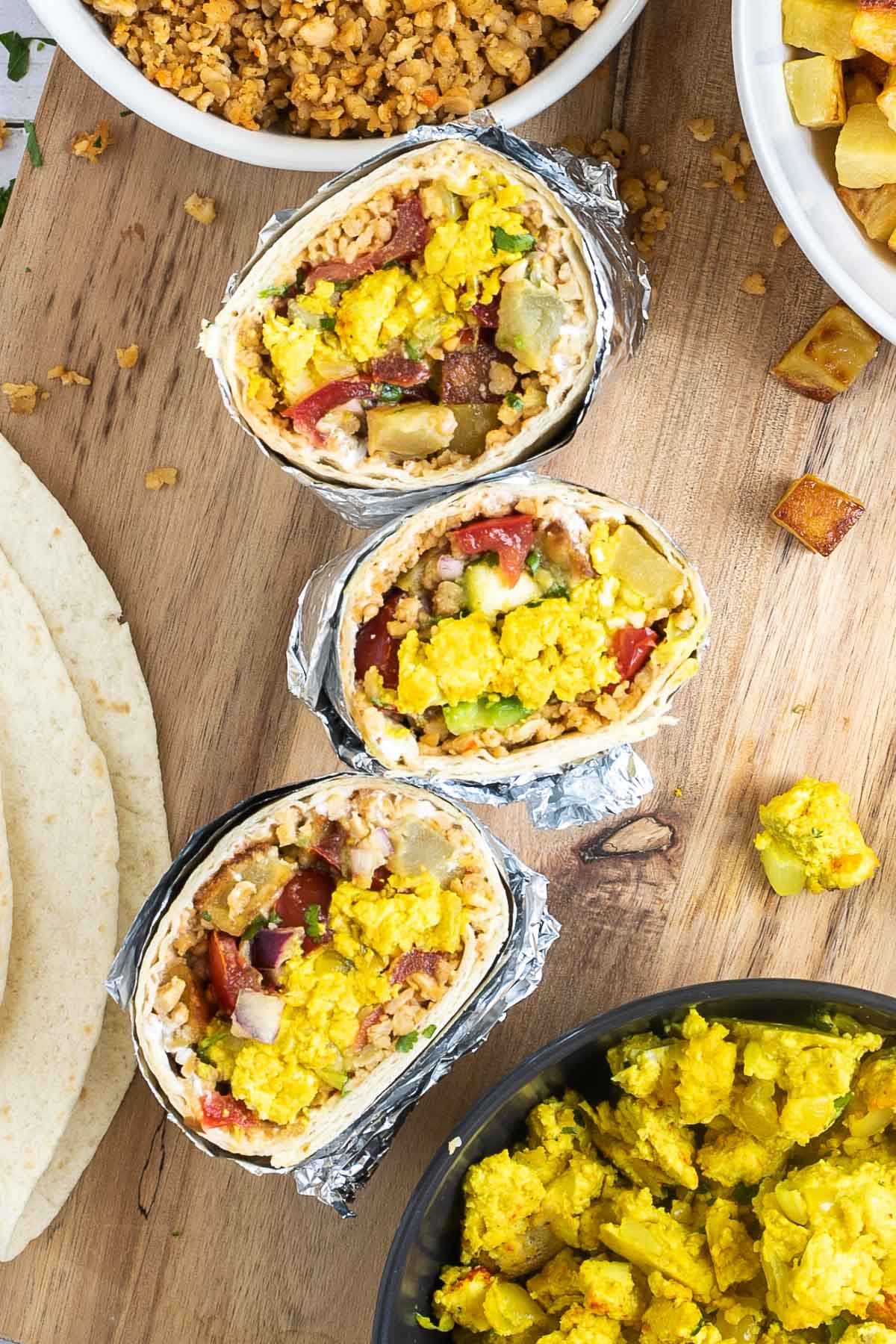 Ingredients
Tofu scramble – Made from firm tofu cooked with spices.
TVP (Textured Vegetable Protein) – Also known as "textured soy protein," "soy meat," or "soybean meat," TVP has a texture akin to minced meat. It's easily found in stores and can be purchased in bulk online. We love creating TVP recipes.
Potatoes – We usually go for regular potatoes, but you can also opt for sweet potatoes if you prefer a sweeter taste.
Avocado
Tomatoes
Tortillas
Olive oil
Spices – Oregano, onion powder, cumin, sweet smoked paprika powder,
Soy sauce – or tamari for gluten-free.
Fresh cilantro
Lemon juice
🛒 You can find detailed measurements for all ingredients in the printable version of the recipe card at the bottom of this post.
Instructions
Preparing ingredients
Begin by soaking dry TVP in hot vegetable stock for 7-10 minutes. If stock isn't available, water works as well, but stock gives a better flavor.
After soaking, drain and gently squeeze the TVP with a spoon to remove any extra moisture.
Peel and dice the avocados and potatoes. Opt for ½-inch potato cubes and lengthwise avocado slices.
Chop the onions after peeling.
Dice the tomatoes and cilantro after washing them.
Making tofu scramble
Creating a tofu scramble is easy, but getting it juicy is only possible if you follow our recipe with foolproof tips.
Opt for firm tofu. It's the key to achieving that scrambled egg texture – soft inside, slightly crispy outside. If you can't find firm tofu, go for extra-firm or super firm.
Press your tofu block to remove excess moisture and enhance marination. How to press tofu? 4 ways to do it, but we prefer our TofuBud.
Pat the tofu dry with paper towels and crumble it.
Cook the crumbled tofu in olive oil with your chosen seasonings for about 10 minutes until perfectly done.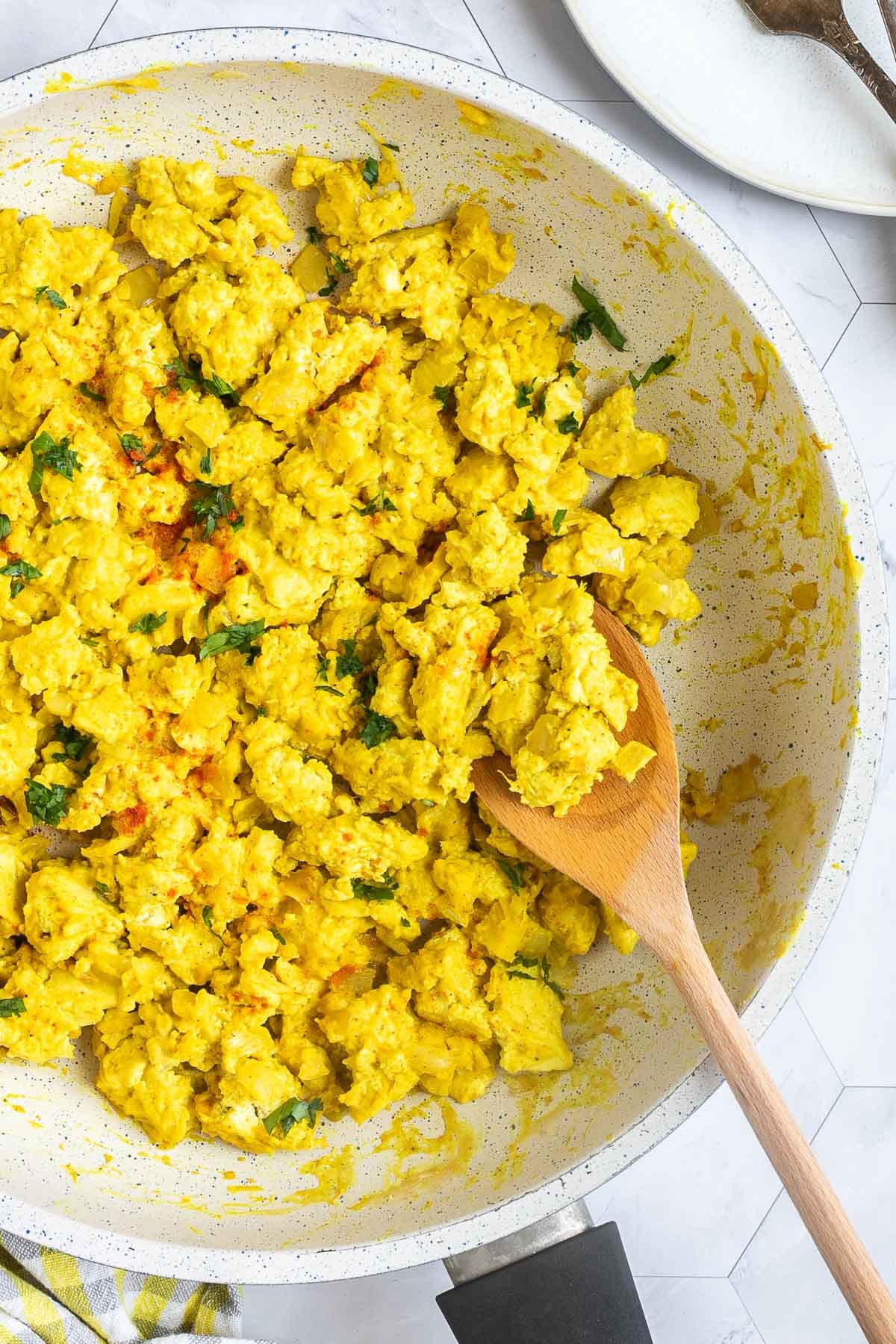 Making vegan sausage crumbles
TVP, or textured vegetable protein, is the star of your vegan sausage crumble. Here's how to turn it into meat:
Start by adding the drained and squeezed TVP crumbles to a non-stick pan with a bit of olive oil.
Season with salt, black pepper, garlic powder, onion powder, oregano, cumin, and sweet smoked paprika. Stir and cook for 2-3 minutes.
Add a spoonful of soy sauce and lemon juice to the mix. Cook until excess moisture evaporates. Voila! Your vegan sausage crumble is ready.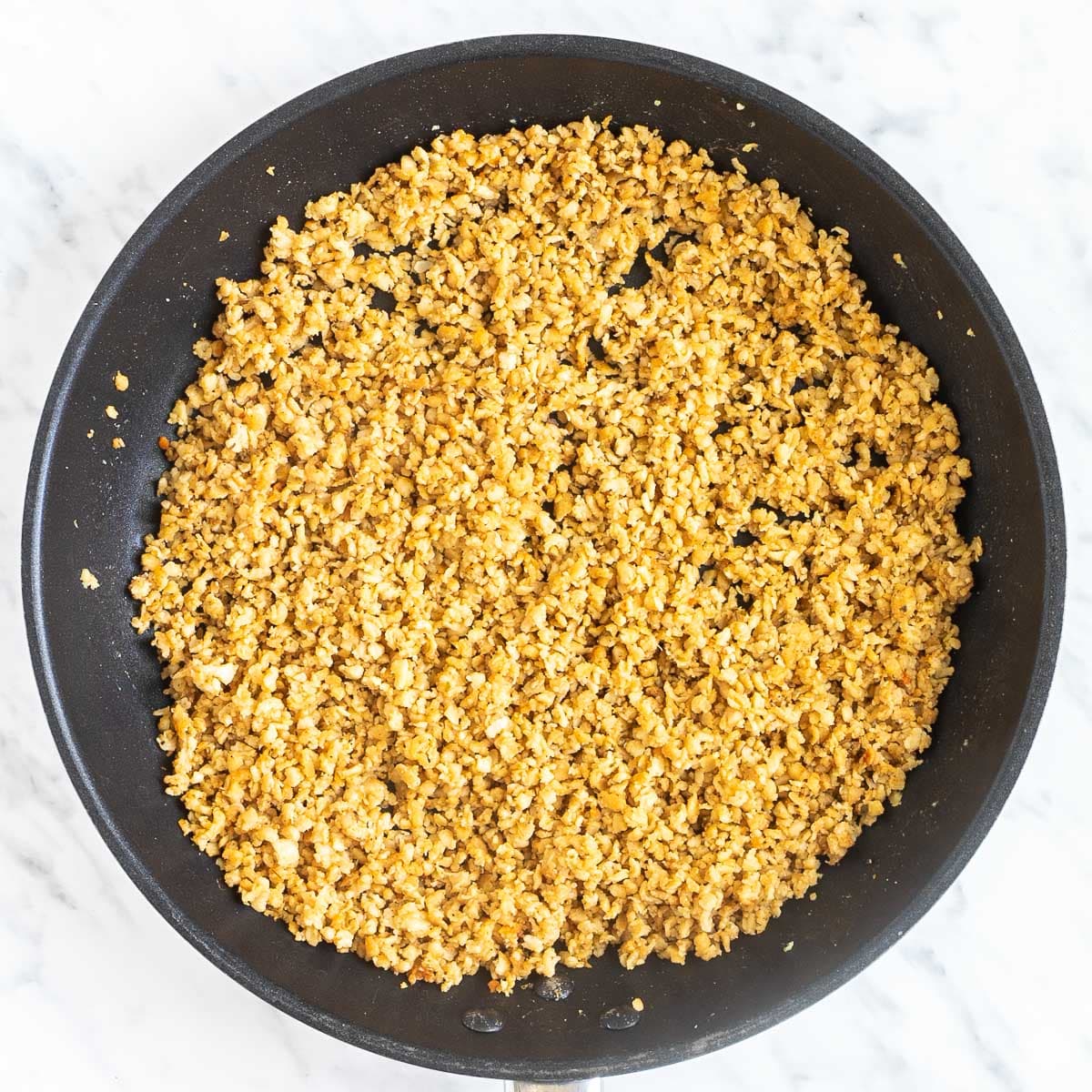 Making avocado tomato salsa
Add diced tomatoes, creamy avocado, chopped onions, and a handful of cilantro to a bowl.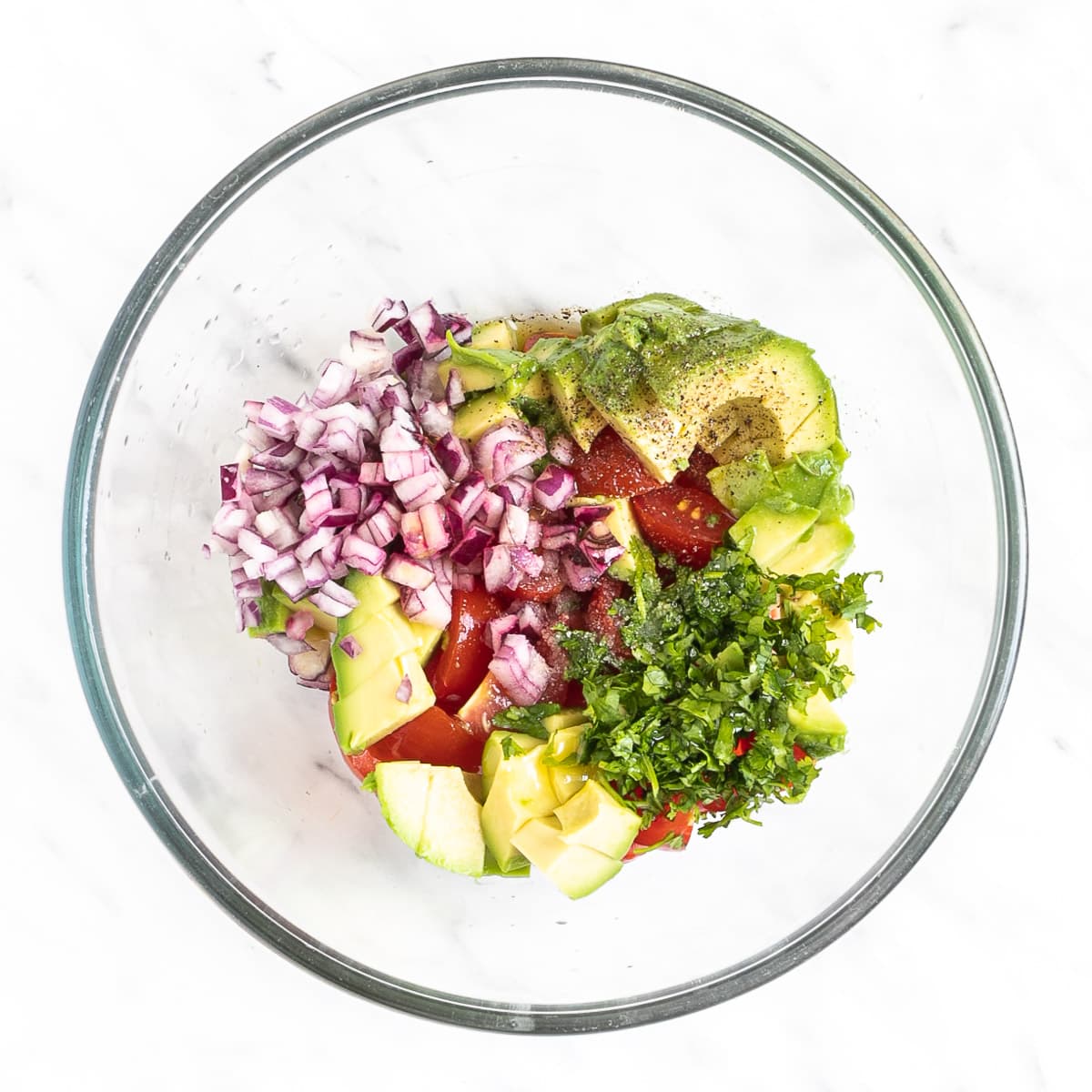 Give it a dash of zesty lime juice and a drizzle of olive oil.
Sprinkle onto it a pinch of salt and a bit of black pepper. Also, feel free to toss in extra seasonings for your personal touch!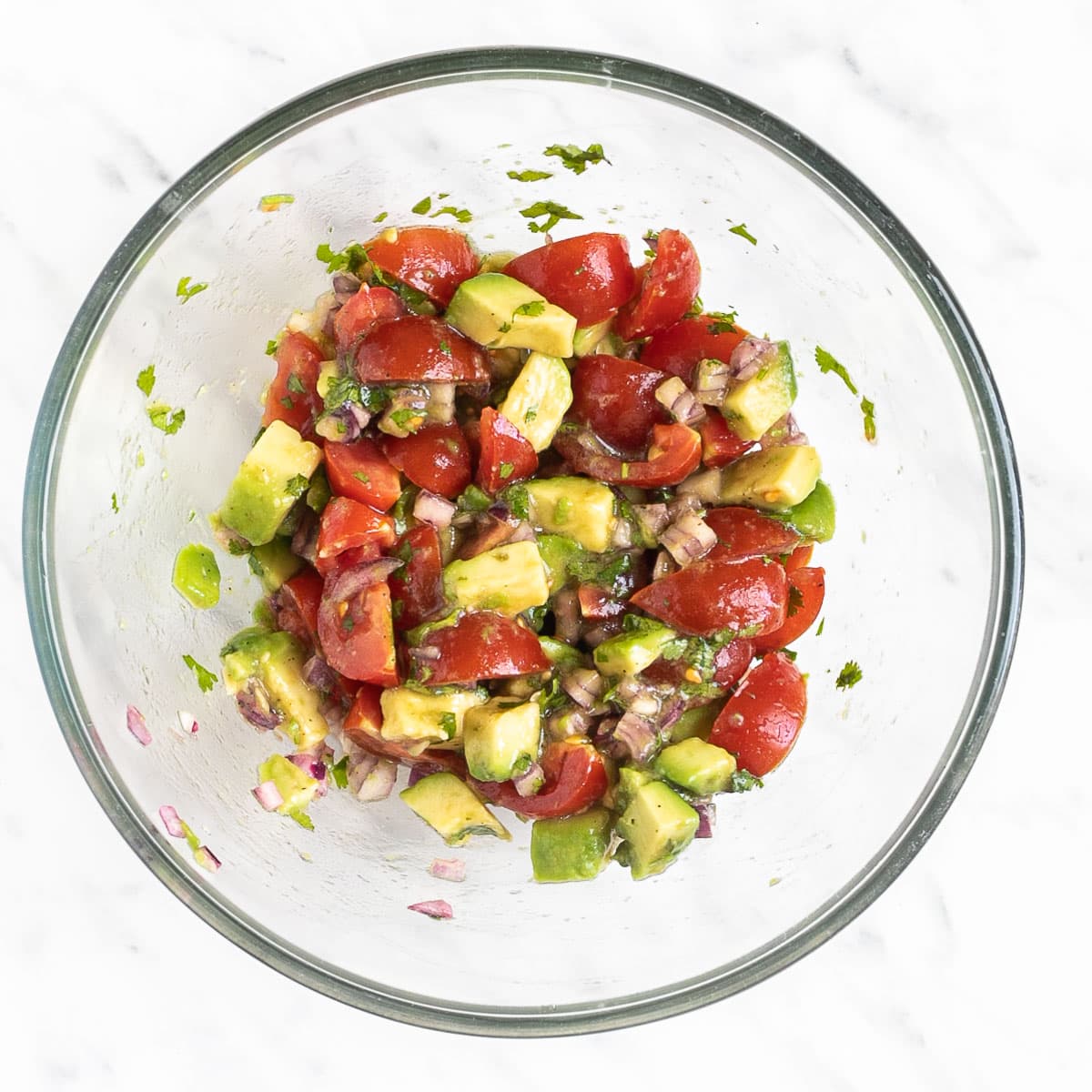 Making roasted potatoes
Place the potato cubes onto a baking sheet covered with parchment paper. Drizzle some olive oil over them. And here's a little kitchen secret: toss in a touch of cornstarch and a little black pepper for extra crispiness!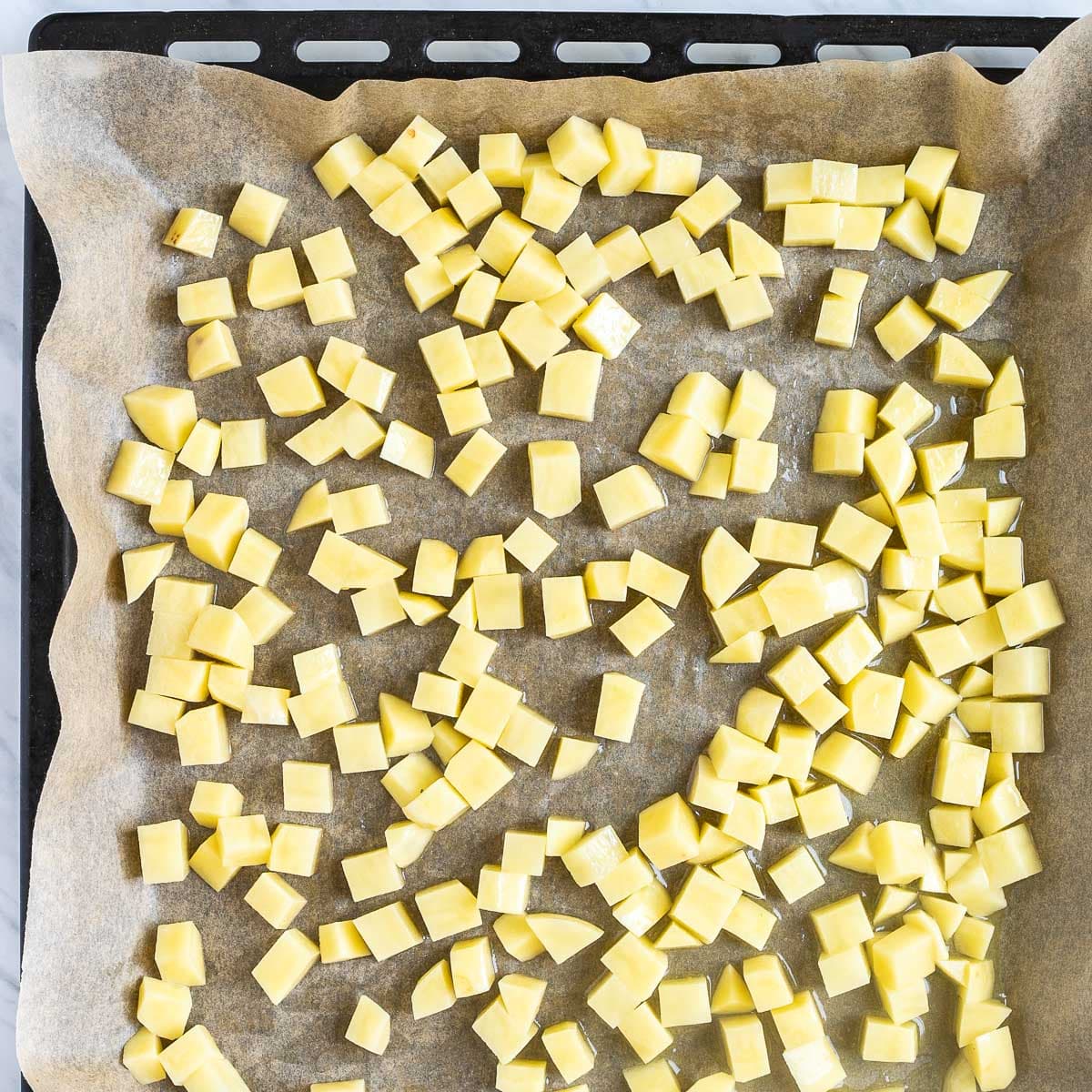 Slide the pan into the oven set at 400°F (200°C). Let the magic happen as they bake for about 30 minutes until they turn a tempting golden brown. Don't forget the halfway flip for even browning, and as a grand finale, season with a sprinkle of salt.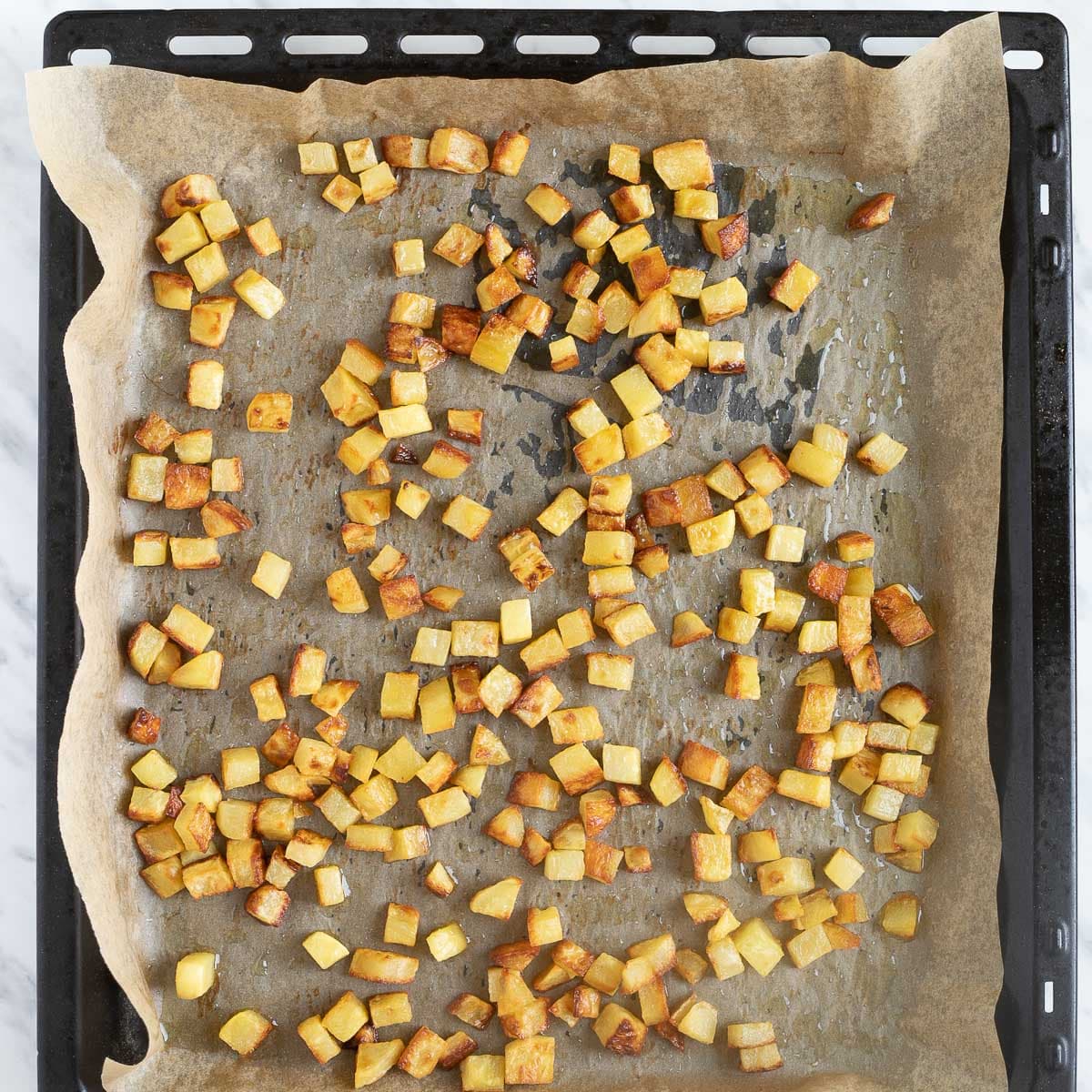 Making vegan breakfast burrito
Warm up a tortilla in a pan over low heat and place it on your plate.
Spread a dollop of vegan sour cream on the tortilla.
Spoon 2-3 helpings of the vegan sausage crumble and evenly scatter it over the center.
Next, add your crispy fried potatoes to the mix.
Layer on 3 tablespoons of the creamy, eggy tofu scramble.
Generously spoon on avocado tomato salsa.
Finally, carefully fold, roll, and enjoy your delicious burrito. To keep everything in place wrap it in tin foil before cutting it in half.
Cooking tips
Give it a taste – Before assembling, have a little taste of each element to make sure they're seasoned to your liking.
Crispy potato – Want those potatoes super crispy? Soak them in cold water for 5 minutes, then drain, rinse, and dry before frying. That'll give you the perfect crunch!
Don't overfill the tortillas – It is always hard to estimate how many filling to add. If you add too much, the tortilla may rip or the filling overflows. Always use a tin foil to wrap the burrito tightly. Even if the filling is too much, the tin foil keeps them together.
Variations
Black beans – These little beans are protein-packed and perfect for burritos. Just drain them before using.
Bell peppers – Add some crunch with roasted bell peppers. You can char them on the stove or in the oven, then peel off the skin. If you're in a hurry, you can chop them raw. Or prepare these spicy fajita veggies or these mild chipotle fajita veggies.
Spinach – Freshen things up with nutrient-rich spinach. No need to sautee them, I love adding them as fresh leaves.
Corn – Swap out avocados for corn or add them as extras. You've got a tangy Pico de Gallo on your hands like in our chipotle veggie burrito.
Dips – Not a fan of sour cream? Try our vegan queso dip or vegan nacho cheese sauce for a creamy twist. How about some hot tomato salsa dip?
Pickled red opnions – Pickled onions add a burst of flavor. Feel free to try other pickles including pickled cucumbers or jalapenos for an extra zing!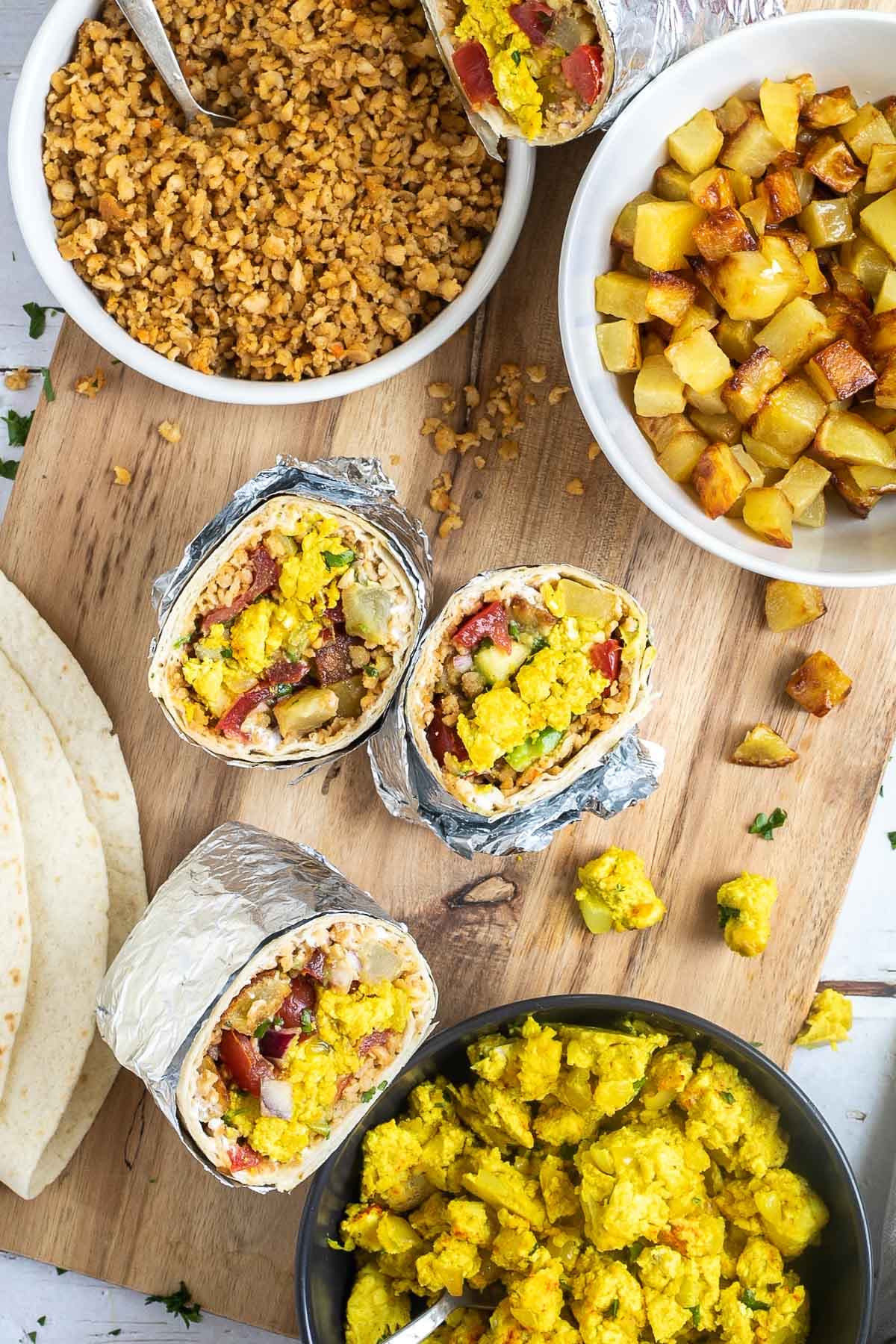 Serving ideas
Roll up the burrito and serve it just like that! Or, you can cut it into two for an easier bite. Burritos are great on their own, but they are equally great with a serving of guacamole, or hot sauce on the side.
Equipment
Cast-iron skillet or frying pan: Opt for a trusty cast-iron skillet or frying pan. It's your ticket to even heat distribution and retention, delivering that perfect golden crisp to your tofu. The non-stick surface ensures easy flipping and a flawless texture. This kitchen must-have helps you nail the ideal combo of a tender inside and a satisfyingly crispy outside.
Storing tips
Burritos are best enjoyed fresh due to their wet ingredients. But the good news is, burritos are super meal-prep friendly! You can refrigerate or freeze them for later enjoyment.
Refridgerating: Ingredients like avocados, salsa, and sour cream can make the burrito soggy. That's why we suggest storing the filling separately and only assemble your burrito once you want to eat it.
Freezing: For the best quality, freezing is your friend. Wrap each burrito in plastic wrap or aluminum foil, then flash freeze them on a sheet pan until they're firm. Store them together in a ziplock bag and they'll stay good for up to 3 months.
Reheating: When you're ready to enjoy, unwrap the burrito, tightly wrap it in tin foil, and reheat it as soon as possible to avoid dryness. Microwave for 3-4 minutes or bake at 375°F for about 20 minutes in the oven.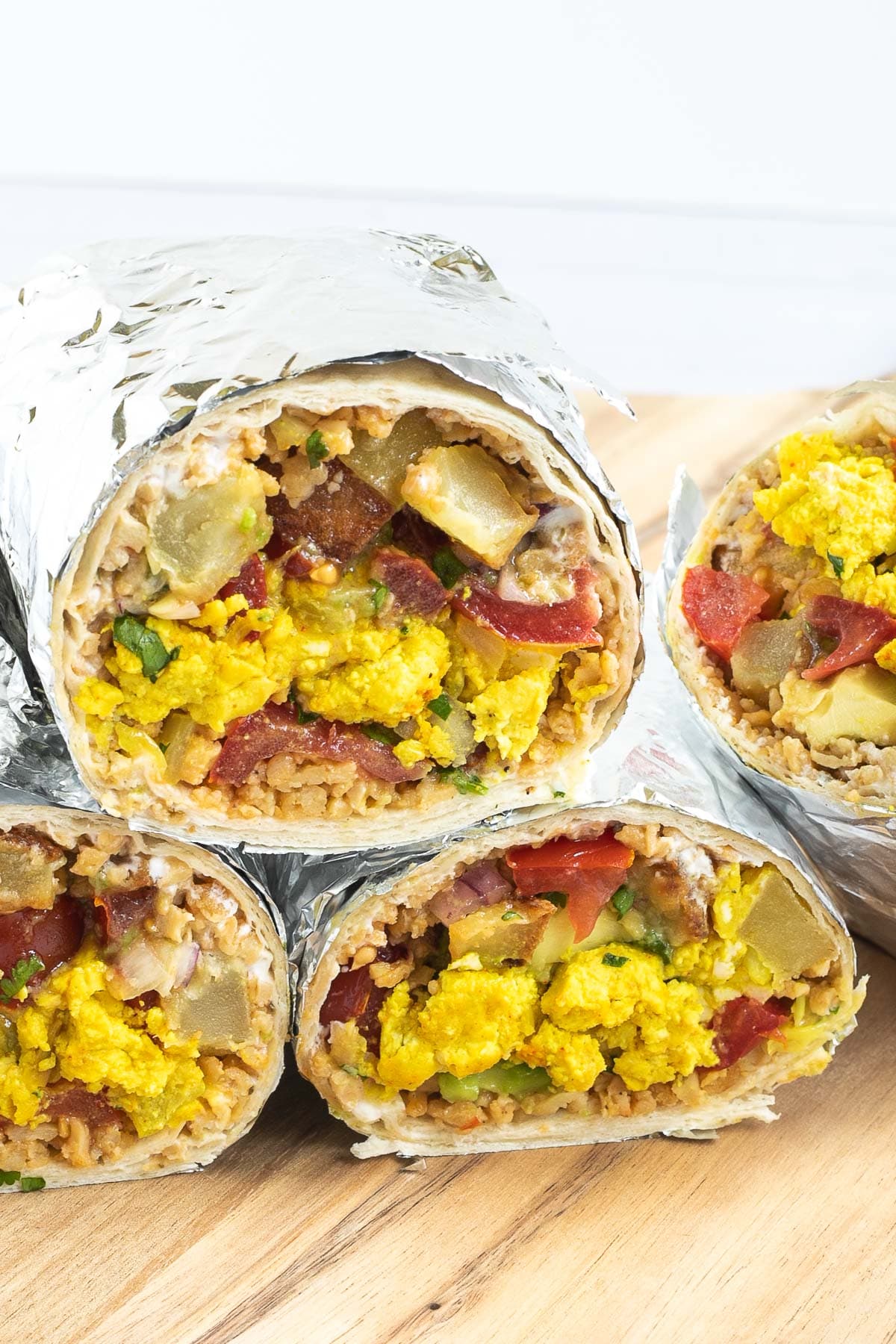 FAQs
How do you fill a burrito?
Fold up both of the ends of the tortilla. Hold the sides, fold the bottom, place your hands on the fold, roll upwards and then close the sides. You can also place a tin foil under the tortilla and use it to wrap it up tightly. Cut it in half and serve. Remember to warm up the tortillas before rolling!
What to put in a vegan breakfast burrito?
The great thing about a vegan breakfast burrito is that it is super customisable. In our recipe, we have used tofu scramble and TVP sausage crumble, two very protein-rich ingredients that are also remarkably eggy and meaty in texture and taste. But you can achieve the same meaty profile by using mushrooms with black beans and rice. It's really up to you to decide what you want to add depending upon your preferences.
More vegan breakfast recipes
Looking for more savory vegan breakfast ideas or more recipes with tofu?
THANK YOU so much for visiting our website. Please comment below if you have tried this recipe. We LOVE hearing from you! If you loved the recipe, please don't forget to give us a ⭐⭐⭐⭐⭐ RATING. We appreciate all of our readers.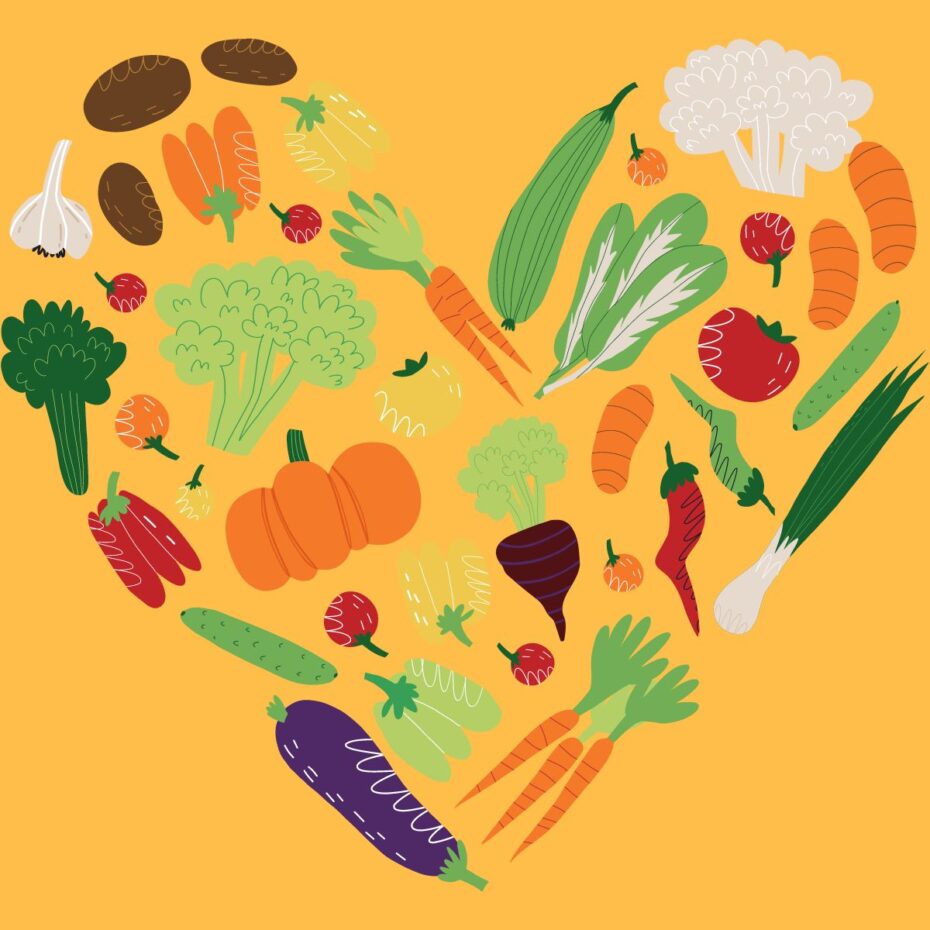 Vegan Breakfast Burrito
Our aim was to create the ultimate vegan breakfast burrito. And we succeeded, as this recipe is packed with so much flavor. It boasts a juicy tofu scramble, hearty vegan sausage crumbles, crispy roasted potatoes, and a burst of freshness from the avocado tomato salsa.
EXCLUSIVE 5-ingredient recipes for busy home cooks that are ready in 15 minutes!
Check out our Express Vegan Cookbook!
Instructions
Prepare the ingredients
Soak dry TVP in hot veggie stock for 10 minutes. Drain then squeeze TVP with a wooden spoon to remove excess moisture.

Peel and dice avocados and potatoes.

Wash and dice tomatoes and cilantro.
Making vegan sausage crumbles
Take a non-stick saucepan and add olive oil.

Add TVP crumbles. Season with salt, black pepper, garlic powder, onion powder, oregano, cumin, and sweet smoked paprika. Stir well and cook for 2-3 minutes.

Add soy sauce and lemon juice. Stir well and cook until most of the excess moisture from the TVP is gone.
Making avocado tomato salsa
Add diced tomatoes, avocado, chopped onion, chopped cilantro, freshly squeezed lime juice, and olive oil in a bowl. Season with some salt and black pepper. Stir gently with a fork.
Making roasted potatoes
Add diced potato into a sheet pan and drizzle them with some olive oil. Bake for 30 minutes at 400 Fahrenheit (205 Celsius).
Assembling vegan breakfast burrito
Take one large tortilla. Spread some vegan sour cream.

Add 2-3 Tbsp vegan sausage crumble in the middle. Spread it.

Add 2-3 Tbsp fried potatoes. Spread it.

Add 2-3 Tbsp tofu scramble. Spread it.

Add 2-3 Tbsp avocado tomato salsa. Spread it.

Add 2-3 Tbsp vegan sausage crumble.

Fold up both ends of the tortilla and start rolling it upwards. Wrap it in tin foil before cutting it in half.
Nutrition
Nutrition Facts
Vegan Breakfast Burrito
Amount Per Serving (1 serving)
Calories 723
Calories from Fat 315
% Daily Value*
Fat 35g54%
Sodium 1637mg71%
Potassium 1299mg37%
Carbohydrates 84g28%
Protein 23g46%
Vitamin A 1007IU20%
Vitamin C 49mg59%
Calcium 249mg25%
Iron 8mg44%
* Percent Daily Values are based on a 2000 calorie diet.