It is a 5-minute, homemade dairy-free sour cream recipe for when you need something nut-free and soy-free. 4-ingredients plus a high-power blender and you have yourself a creamy, tangy vegan sour cream without cashews.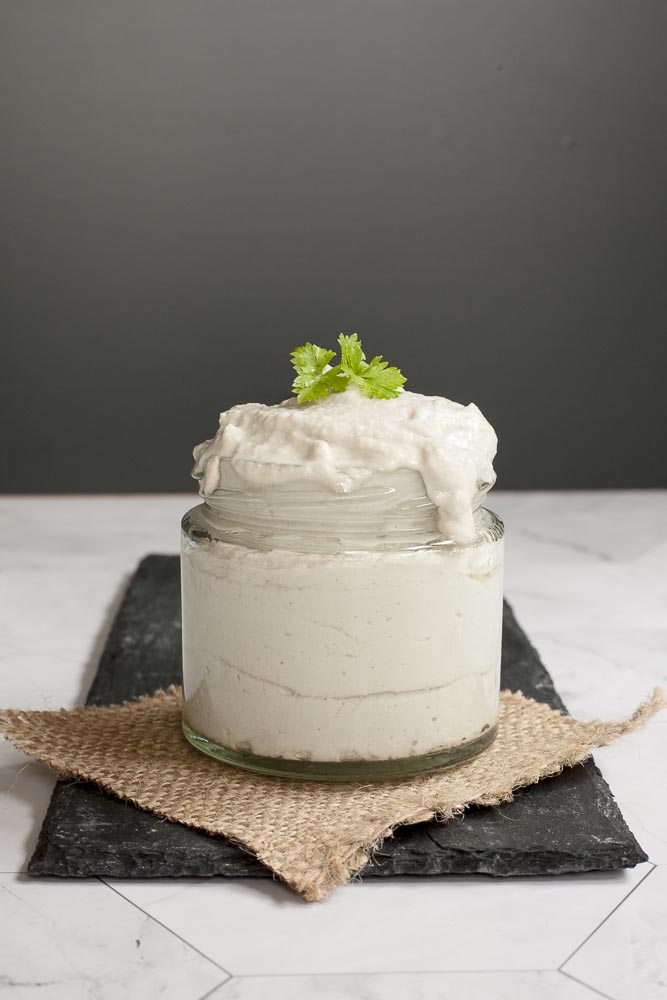 Finding a good dairy-free sour cream substitute can be challenging as dairy sour cream has such a unique texture and taste. And we love it as it makes savory dishes over-the-top creamy. Sometimes you don't need a spoon full of sugar, rather a spoon full of sour cream. For us, it is a must-have topping on vegan bean chili, on vegan burrito bowl, and on vegan breakfast casserole.
Non-dairy sour cream substitutes
There are numerous versions to make dairy-free sour cream. If you go with store-bought sour cream, they usually contain a lot of ingredients to make cultured sour cream from coconut cream (Follow Your Heart / Earth Island) or from soybeans (Tofutti).
However, you can make sour cream at home with fewer ingredients. I guess that's why you are reading this recipe anyway. What all recipes have in common is that you need to use lemon juice and/or apple cider vinegar to get your sour cream base sour and tangy enough.
Common bases for homemade recipes
You need something creamy and smooth not to mention white(-ish). And the following options are perfect to get that consistency:
blended soaked cashews (or almonds)
dairy-free yogurt
soy milk or other non-dairy milk
coconut cream
blended sunflower seeds (allergy-free version)
organic white beans
active cultures
Ingredients
It is really simple and quick. You need 4 ingredients and 5 minutes tops to make a tangy, creamy vegan sour cream.
sunflower seeds,
fresh lemon juice,
apple cider vinegar (choose a gluten-free vinegar if you need to)
salt
We also like to add a dollop of mustard or nutritional yeast for a more tangy result.
Why sunflower seeds?
It is the only allergy-free homemade sour cream alternative, so nut-free and soy-free. Another important aspect to consider: it is also budget-friendly. Compared to the price of cashews, sunflower seeds are usually a bargain.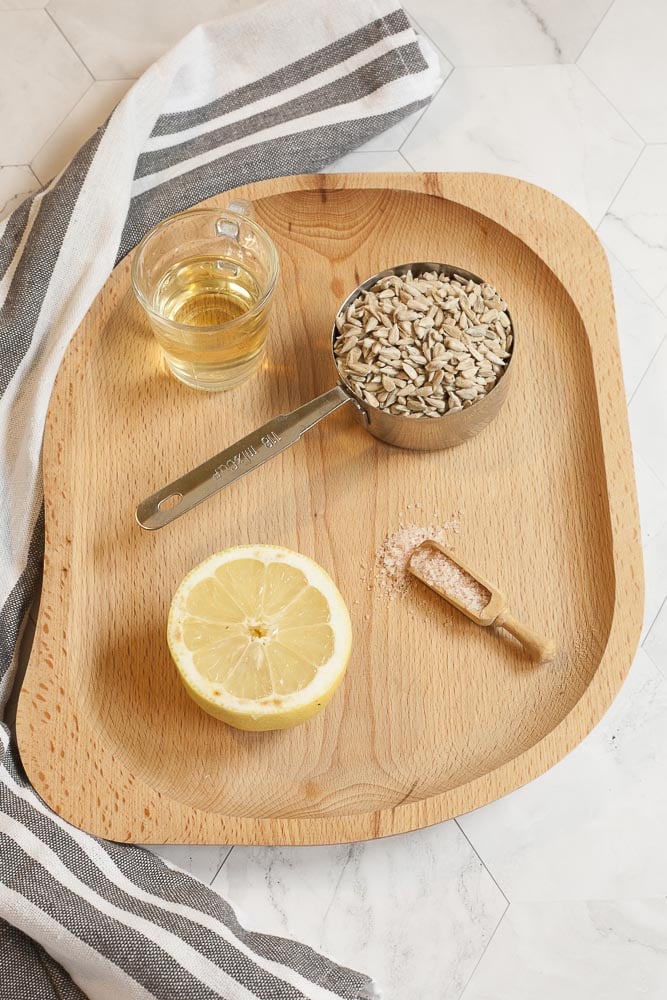 How to make vegan sour cream without cashews?
First, you need to soak the sunflower seeds. Well, not really soak, rather soften them. Pour boiling water on them and let them rest for approx. 20 minutes. Drain them when time is up.
Take a high-speed blender (like Vitamix or Blendtec) and add all ingredients in it (softened seeds, lemon juice, apple cider vinegar, and salt). (picture #1)
Blend for 5 minutes tops until your vegan sour cream is so-so creamy and so-so white. Unbelievable, right? (picture #2)
Top tips to make it perfect every time
By using a high-power blender, your sour cream will be warm when ready. It is better to make it the day before and let it cool in the fridge before using.
You can blend sunflower seeds without soaking if you have a high-power blender.
You can use a food processor or other types of blender, but you may need to compromise on creaminess.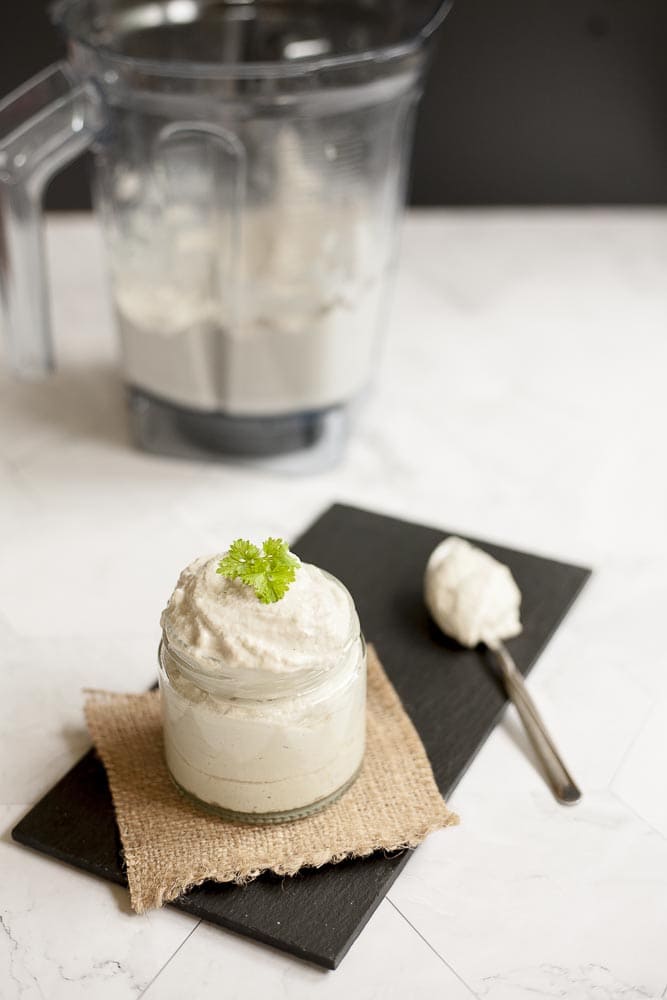 What to use it for?
It is a very delicate vegan sour cream substitute, so we prefer to use it as a topping or salad dressing or in dips. It is not really suitable for baking recipes as it may lose its texture due to high heat. Here are a handful of our favorite recipes where we add it as a topping:
Let us know in the comments where do you use your vegan sour cream!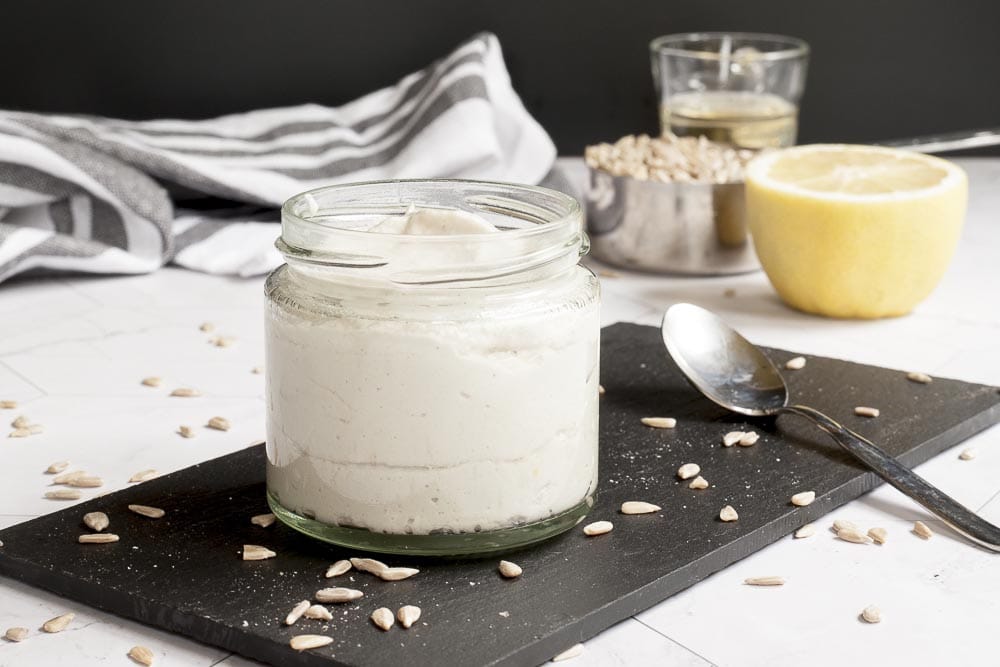 This no nuts vegan sour cream recipe is dairy-free (lactose-free) and egg-free. It is suitable for vegan, vegetarian, nut-free, and gluten-free diets. It also works in the whole foods plant-based and paleo diet.
More vegan condiment recipes
You can browse through our Vegan Condiment Recipes or check out