This is the easiest Fried Vegan Eggs you can make. They look like real fried eggs, and they taste delicious. The best part is that you need only 5 ingredients and 10 minutes tops. There is no soy or gluten as well, so quite allergy-friendly if you ask me. So what are you waiting for? Have some for breakfast.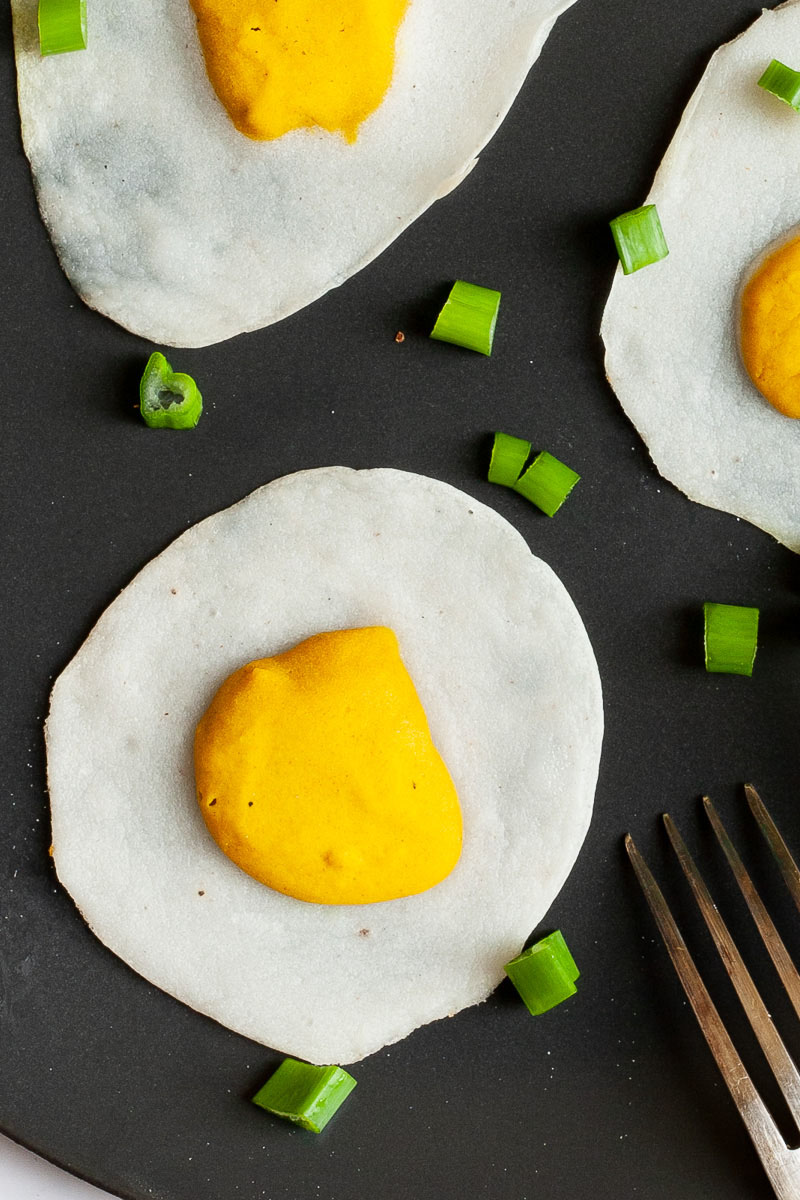 Are eggs vegan? No. Do vegans crave eating eggs? Sometimes. If you are missing eggs here are some of our favorite vegan breakfast recipes using different alternatives to eggs like chickpea flour or tofu. Check out our Vegan Frittata, our Vegan Breakfast Casserole, or our Vegan Egg Salad Sandwich recipes. They are perfect for breakfast or for light lunch, even for a quick dinner. Let's see whether we can make a vegan sunny side up egg, shall we?
What to expect from this recipe?
I started to think about making vegan fried eggs the first time when we are testing recipes for our Express Vegan Cookbook (15 minutes, 5 ingredients). I have been experimenting with a gluten-free vegan naan recipe that you can make in 15 minutes with only 5 ingredients. And one of the test batches almost looked like fried vegan egg whites. So I started experimenting with it and finally, we have a winner. So let's talk about look, taste, and texture so you can see what to expect when you make these!
LOOK

– They look like any sunny-side up eggs, although the egg yolk part will not be runny.

TASTE

– The not-so-secret ingredient to an egg-like taste is BLACK SALT aka Kala Namak. You can read more about what black salt is here. When you open the packaging, the eggy smell will hit you right away. If you haven't tried it yet, it is a must if you want the right taste. You need the full-fat coconut cream for texture, and while the spices are optional, the more you add, the less you can taste the coconut.

TEXTURE

– Getting the texture right is usually the hardest if you want to veganize any recipes. I have to say this vegan fried eggs recipe is close, but nonetheless not the same. Eggs have a kind of fatty texture which the full-fat coconut cream helps to mimic to some extent. The tapioca starch is also there to mimic the gooey-ness of the egg yolk and the whites. However, it will not fool anyone who compares them to real eggs. You certainly need to be open to any difference in texture.
Only 5 ingredients?!
Yes, you need only 5 basic ingredients. And yes, it will cover both vegan egg yolk and vegan egg white. No soy, no gluten, and no processed food. The recipe is one of the easiest recipes you can get. So what do you need?
full-fat canned coconut milk (I use this one*)
tapioca starch
white rice flour
black salt aka kala namak
turmeric
spices are optional like garlic powder, onion powder, or chili flakes etc.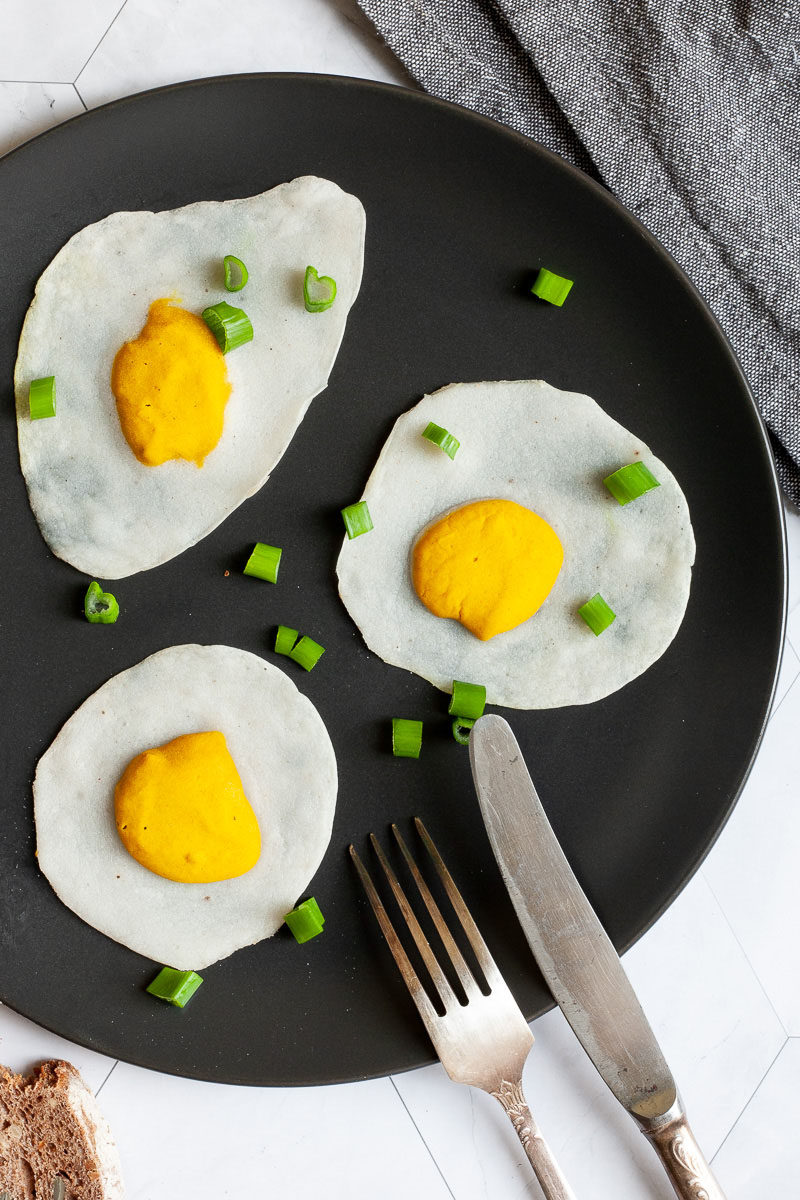 How to make Vegan Fried Eggs?
Prepare the vegan

egg white mixture

by mixing full-fat canned coconut milk (shaken), white rice flour, tapioca starch, and black salt in a bowl.
Transfer 4 Tbsp of the above mixture to a separate bowl and add turmeric for the nice yellow color and a bit more rice flour. Mix well. This will be your vegan

egg yolk mixture

.
Pre-heat a non-stick

frying pan

or a well-oiled cast-iron skillet to low/medium heat.

Pour

less than ¼ cup of egg white mixture.
Place 1 Tbsp of the egg yolk mixture in the middle.

Cover it with a lid and cook

for 3-4 minutes.
Ready and enjoy!
Top tips to make them perfectly
Flip it or not

? – It will be cooked with the lid on all the way through. You can flip it over if you feel like it or if you used to do that with real eggs, although it may lose its egg-y look as they will brown up a bit.

Choose your pan wisely

– I use a non-stick frying pan I would usually use for making pancakes, but you can also use a well-oiled cast-iron skillet. It is not really really a sticky batter as the high-fat content of the full-fat coconut milk helps to "grease" the pan so to speak.

Can you make runny egg yolk?

– If you want to mimic runny egg yolk, then this recipe might not be for you. The Edgy Veg has a really cool recipe using yellow tomatoes, albeit not the easiest one to make. Or try this recipe using potatoes and carrots from the Plant Power Couple.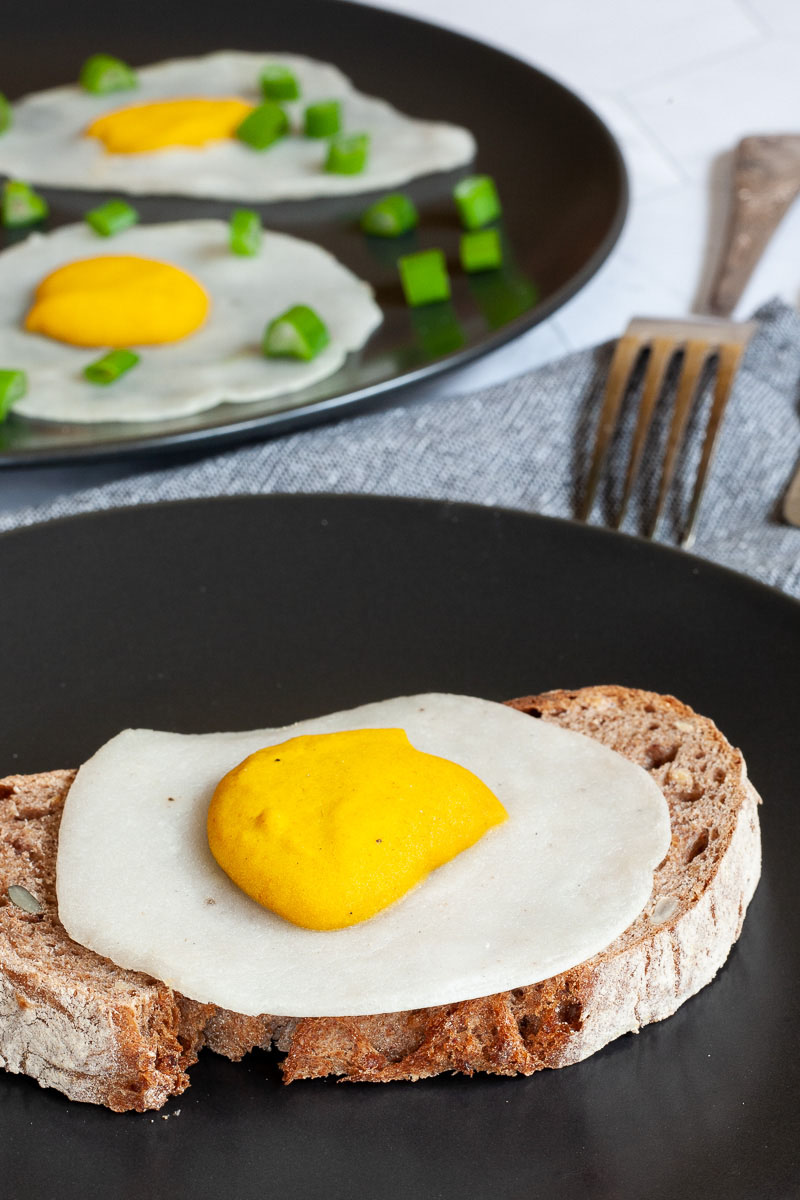 What to serve with fried vegan eggs?
They are perfect breakfast or brunch candidates to add to any of the following dishes:
Vegan French Toast
Breakfast Sandwiches like avocado or mushroom or garlic toast or bruschetta
Fresh Salad
Vegan Sausages or Vegan Bacon
Polenta
Breakfast Hash
Fried Eggs is a perfect side dish, they can easily complement main course meals like:
FAQs and substitutions
Can you use other flours?
We only tested this recipe with these ingredients and I don't think they can be substituted just like that. You need the egg whites to be white so any other flour than white rice flour will change the color to brownish. Rice flour is very light and grainy, I don't think even all-purpose flour will do the trick here. As for tapioca flour, it works because it makes the egg whites gummy as opposed to corn starch which does not have this characteristic. If you need a tapioca starch substitute, we have a comprehensive list with all possibilities including how and where each one of them works. In any case, let us know in the comments how they turn out if you do change anything.
Can you use something else for full-fat coconut milk?
It works because of its high-fat content. If you use thin milk (like cashew milk), you will not get the same result. In any case, let us know in the comments how they turn out if you do change anything.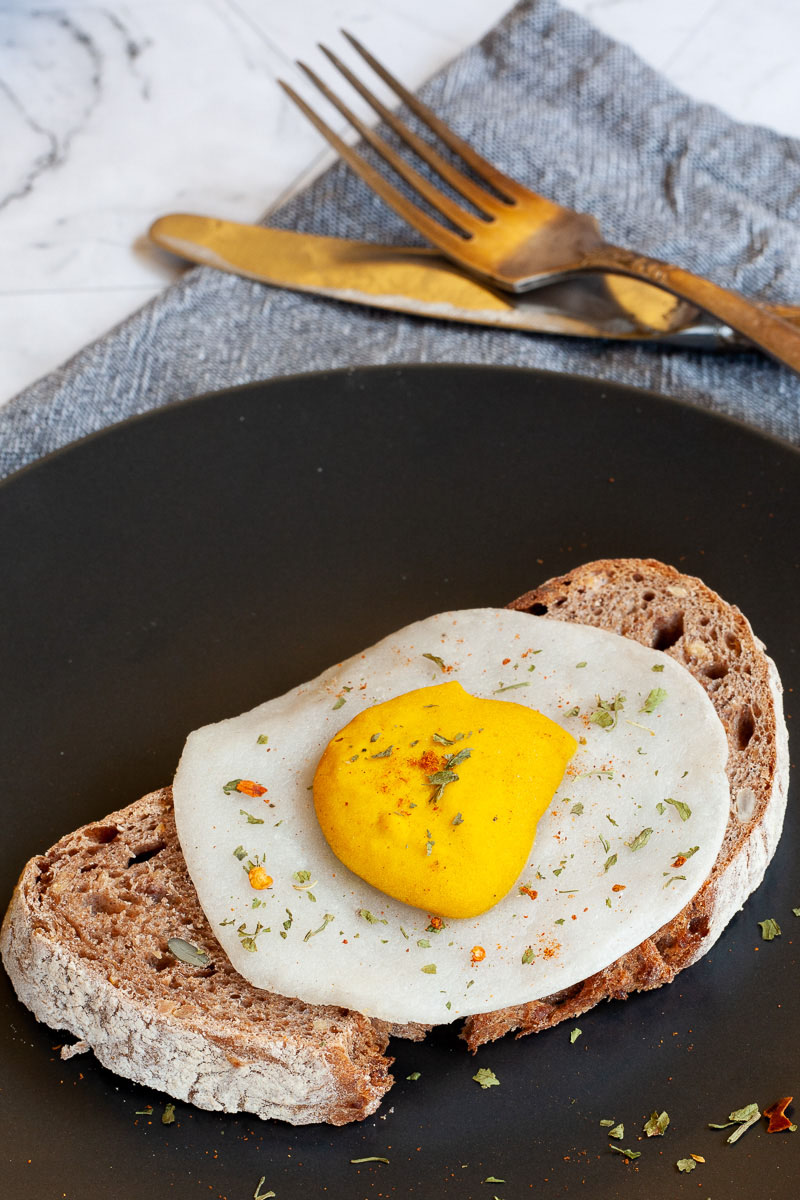 This Vegan Fried Eggs recipe is vegan (so meat-free, egg-free, and dairy-free) and vegetarian. It is gluten-free and soy-free. It is also WFPB-compliant (whole foods plant-based) if you use a non-stick frying pan.
More vegan recipes with egg substitutes
If you are missing eggs here are some of our favorite vegan recipes using different alternatives to eggs like chickpea flour or tofu: