If you're in the mood for a Mexican-inspired morning, our vegan breakfast enchiladas will get your day rolling. These enchiladas are a super easy, protein-packed dish with tofu, vegan sausages, and other delicious ingredients you probably already have or can easily grab from your kitchen!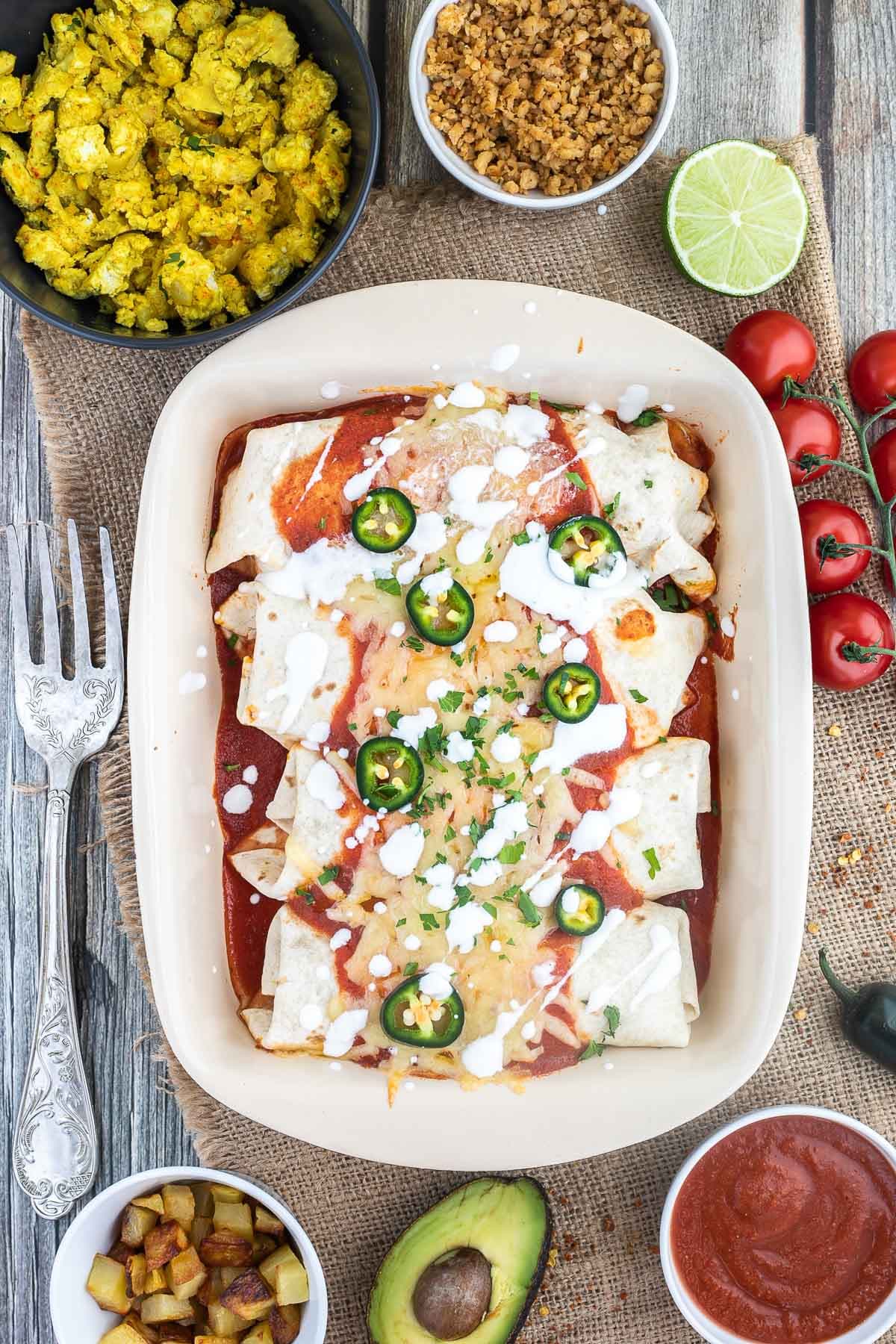 Looking for other easy, savory breakfast options? Check out our vegan frittata, vegan breakfast hash, vegan breakfast casserole, and vegan breakfast burrito recipes for more inspiration.
Jump to:
What to expect?
These vegan breakfast enchiladas are loaded with tasty tofu scrambles and savory sausage crumbles, seasoned with garlic powder, cumin, oregano, and sweet smoked paprika. Crispy roasted potatoes add a satisfying crunch, topped with spicy sauces and melted cheese.
With just 15 minutes of prep and 45 minutes of cook time, this recipe comes together in about an hour. To save time, you can prep the ingredients the night before and cook them fresh and hot the next morning.
What makes these enchiladas special is the burst of flavors you'll experience – tangy, spicy, cheesy, and more. We love how this hearty meal is made with just a handful of seasoning powders and sauces. The combination of fresh avocados, crispy potatoes, zesty salsa, hot jalapenos, and melted cheese wrapped in a soft tortilla provides the perfect morning boost!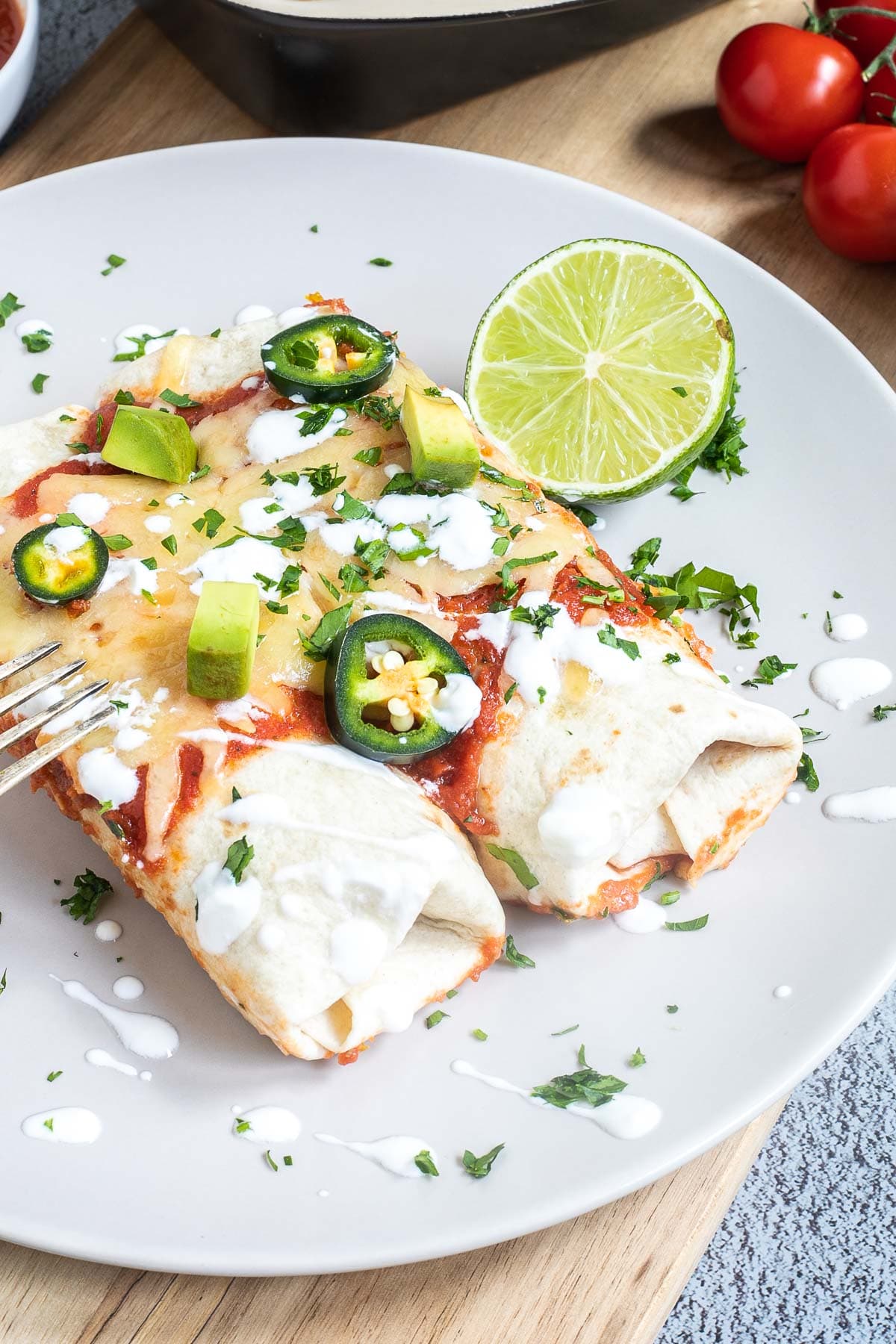 Ingredients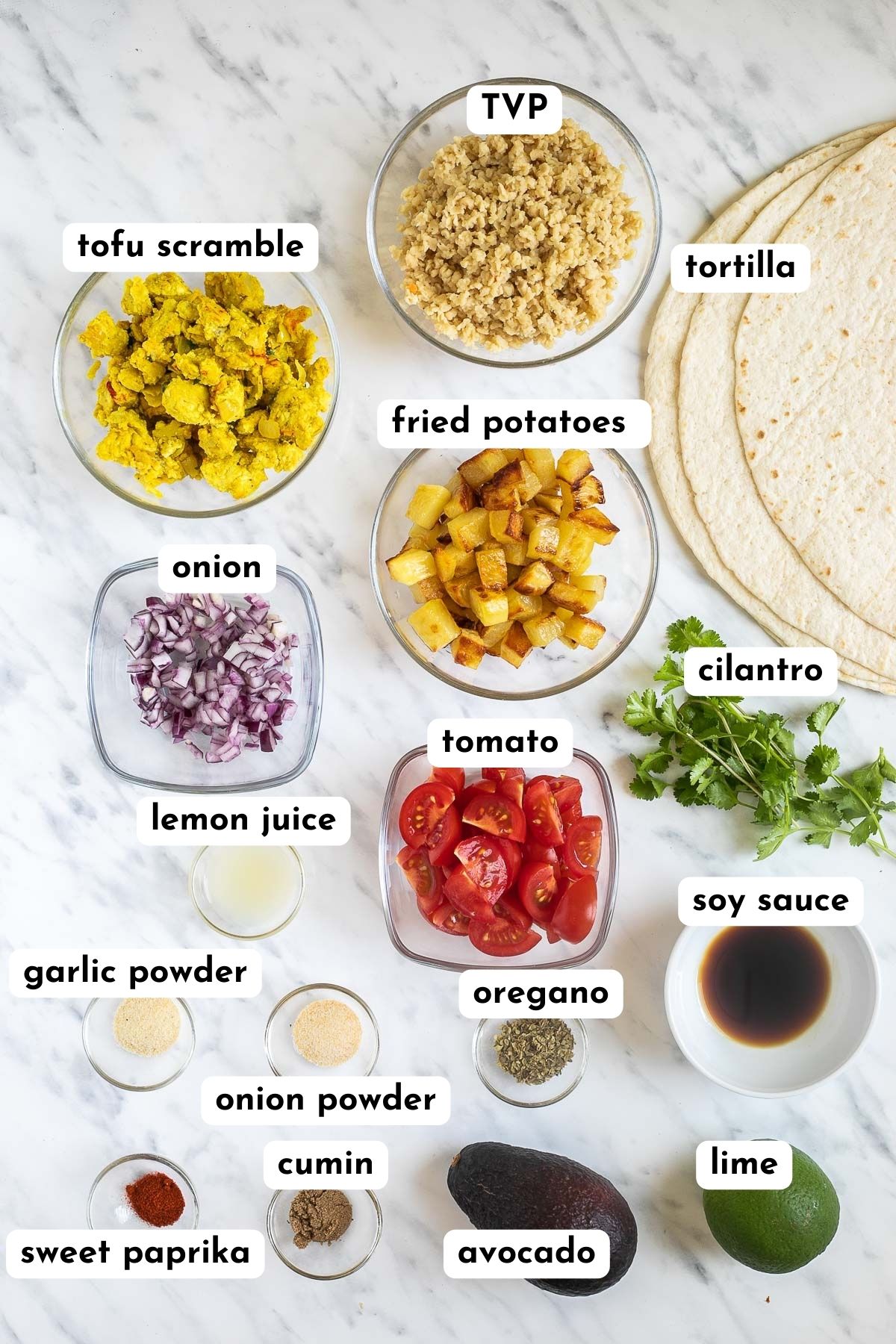 Small tortillas (corn tortillas preferably)
Tofu scramble – firm tofu cooked and tossed in spices
TVP (textured vegetable protein) – It has a similar texture to minced meat. We love creating TVP recipes.
Potatoes (or sweet potato)
Avocado
Jalapeño peppers
Salsa sauce – like this one
Shredded vegan cheese – we usually use this one
Enchilada sauce
Olive oil
🛒 You can find detailed measurements for all ingredients in the printable version of the recipe card at the bottom of this post.
Instructions
Preparing ingredients
Let's start by putting your dry TVP into some hot vegetable stock. Wait around 10 minutes, then drain it. Use your hands to press out any extra moisture and set it aside.
Next, peel and slice your avocados, cutting them lengthwise.
Making tofu scramble
Tofu scramble might appear basic, but our recipe comes with guaranteed success to have a juicy one instead of a dry one.
Choose firm tofu for that ideal scrambled egg texture – tender and slightly crisp.
Press the tofu block to remove excess moisture and prepare it to absorb the seasonings. You can use a heavy item or a tofu press, like TofuBud.
Gently pat the tofu dry using paper towels, then crumble it up.
In a pan with olive oil, cook the crumbled tofu with your selected seasonings for around 10 minutes until it's just right.
If you're feeling adventurous, add some hot sauce, colorful red bell peppers, a touch of olive oil, zingy salsa, juicy cherry tomatoes, and a sprinkle of paprika. These additions make the perfect match for the crumbled sausage we're about to create next.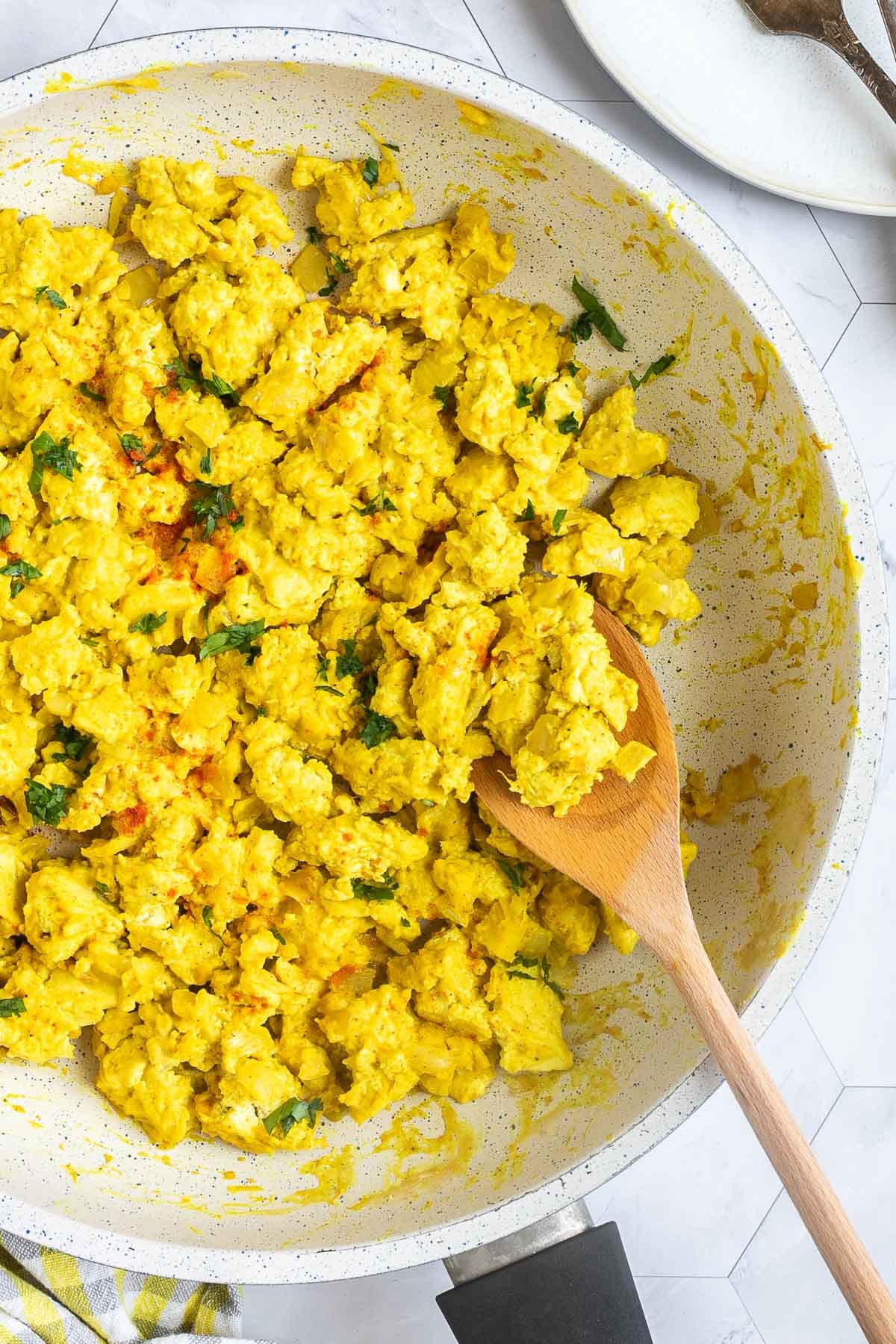 Making vegan sausage crumbles
TVP is like a chameleon in the vegan world, imitating the taste of minced or ground meat. Here's how to make the most of it:
In a non-stick saucepan, pour in olive oil, then toss in your prepped TVP along with oregano, garlic powder, onion powder, cumin, paprika, salt, and black pepper – all to suit your taste.
Stir this mix for about 3 minutes while it cooks.
As you keep stirring, introduce lemon juice and soy sauce. Continue cooking until all the moisture evaporates.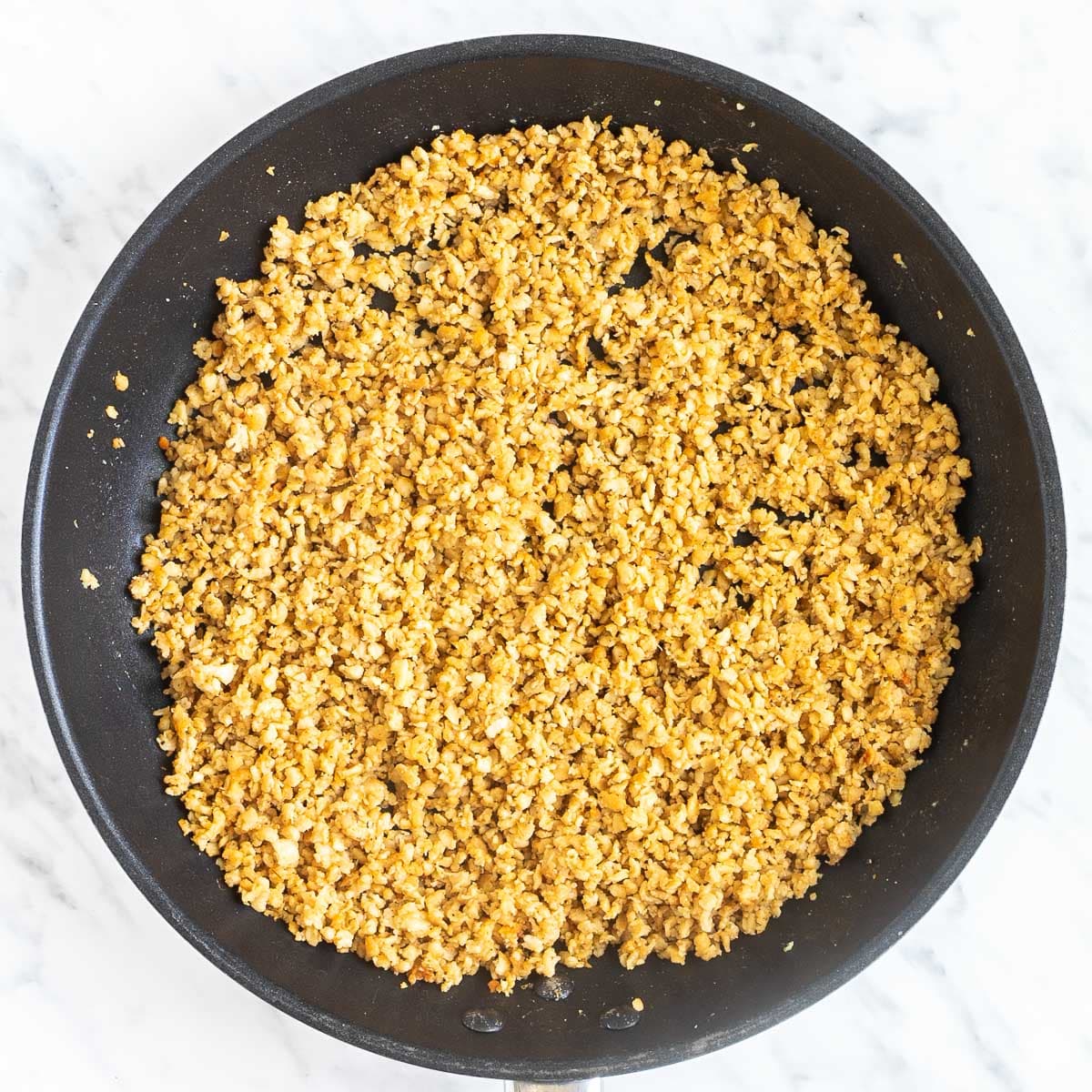 Making roasted potatoes
Spread the diced potatoes evenly on a baking sheet covered with parchment paper. Sprinkle them with salt and black pepper and drizzle olive oil over them. We don't use any other spices since the enchilada will be flavorful enough.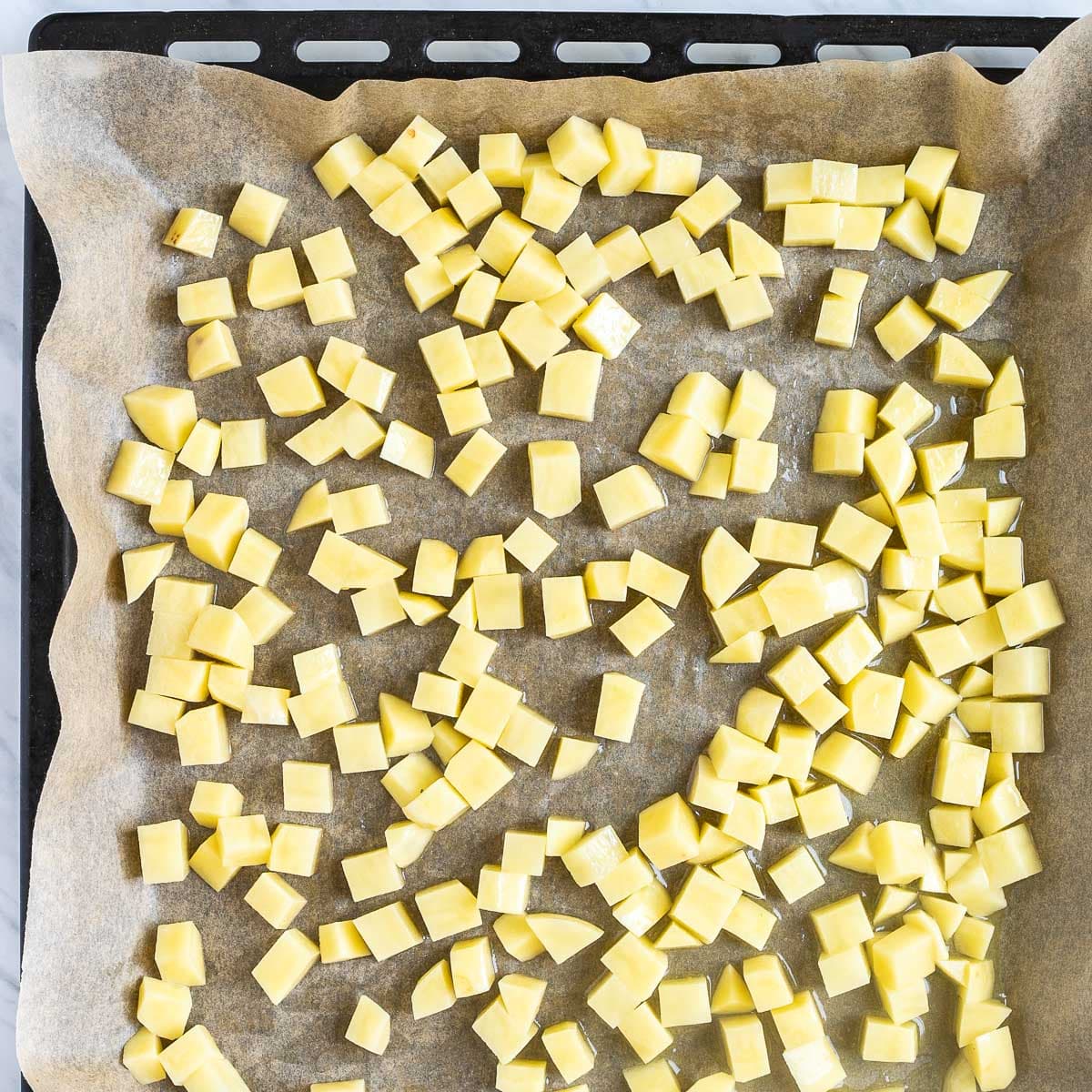 Roast the potatoes at 400°F (200°C) for about 30 minutes until they turn crispy and golden brown. Don't forget to flip them halfway.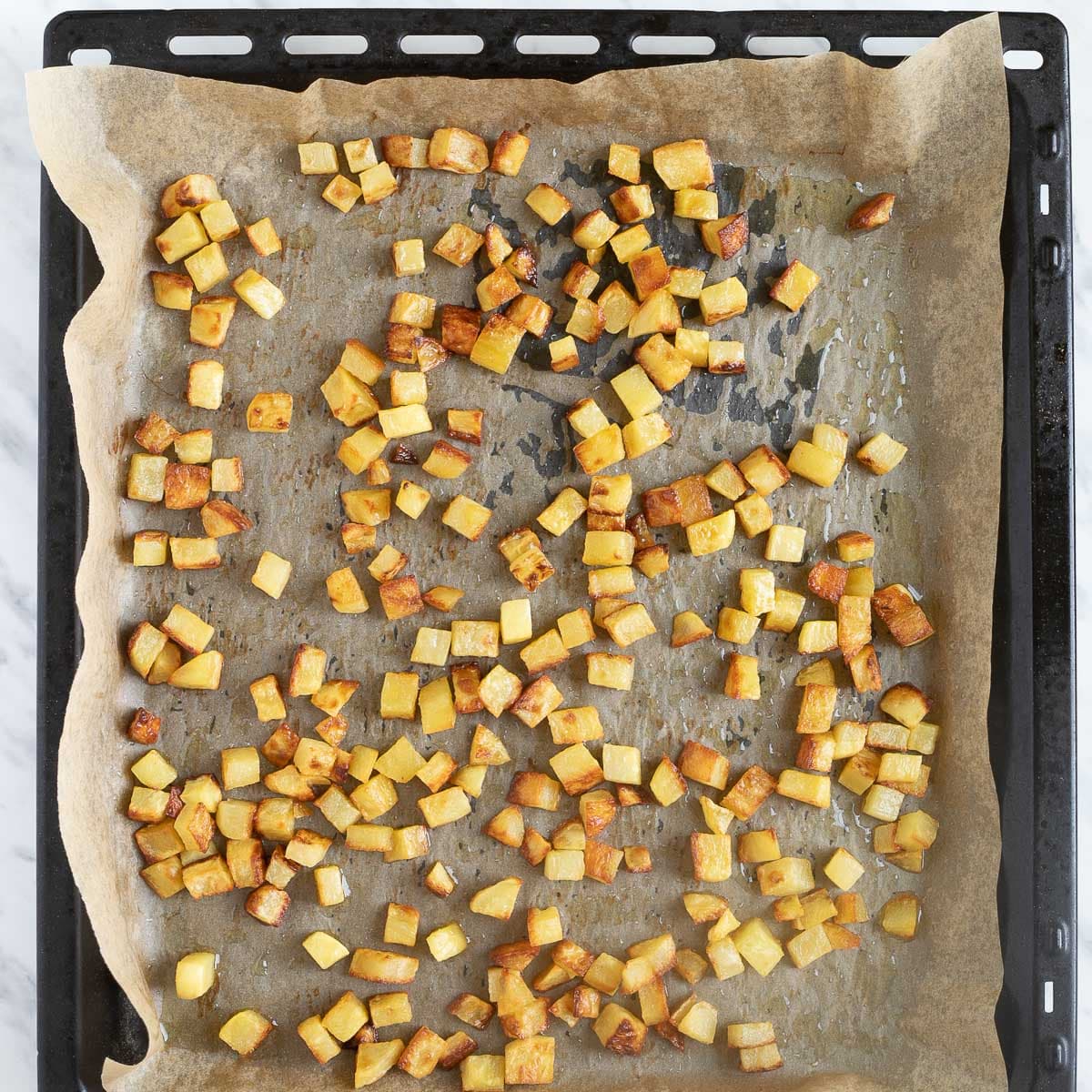 Making vegan breakfast enchiladas
Take a tortilla and spread some salsa on top, ensuring it's well-coated.
In the center, lay down about two tablespoons of your vegan sausage crumble and gently spread it out. Be cautious while spreading, keeping the edges light for easier wrapping.
Add the same amount of roasted potatoes in the middle and spread them evenly.
Toss in a tablespoon of chopped avocado and another of salsa on top.
Now, layer on roughly two tablespoons of tofu scramble, spreading it the same way.
Finish it off with shredded vegan cheese.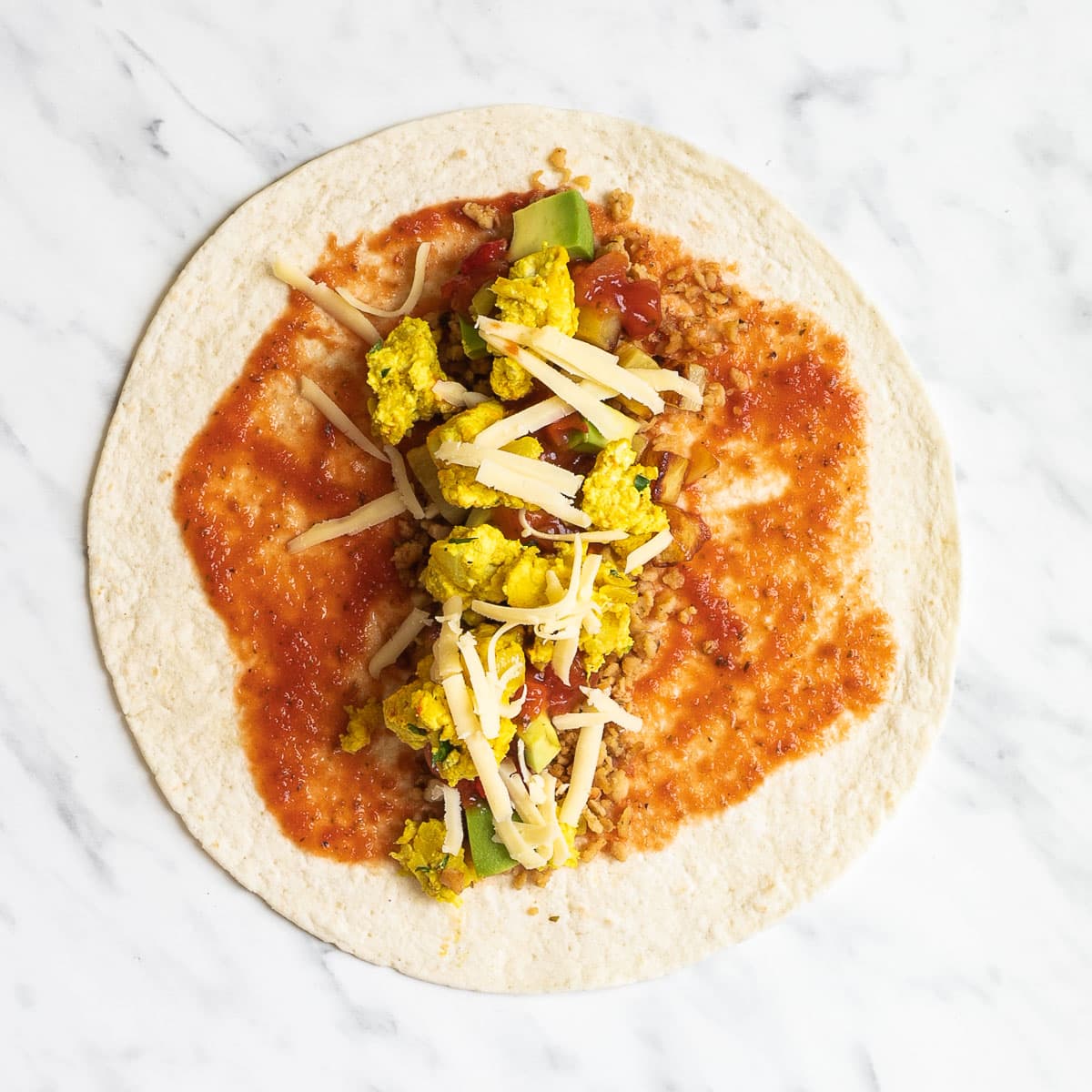 Here comes the slightly tricky part – rolling up your enchiladas. Carefully lift the two lower ends of the tortilla and fold them over the filling, then gently roll it upwards to seal.
With the enchiladas all set up, grab your baking tray and spread a layer of enchilada sauce on the base.
Arrange your enchiladas neatly side by side in the tray and give them another drizzle of sauce and a sprinkle of cheese on top.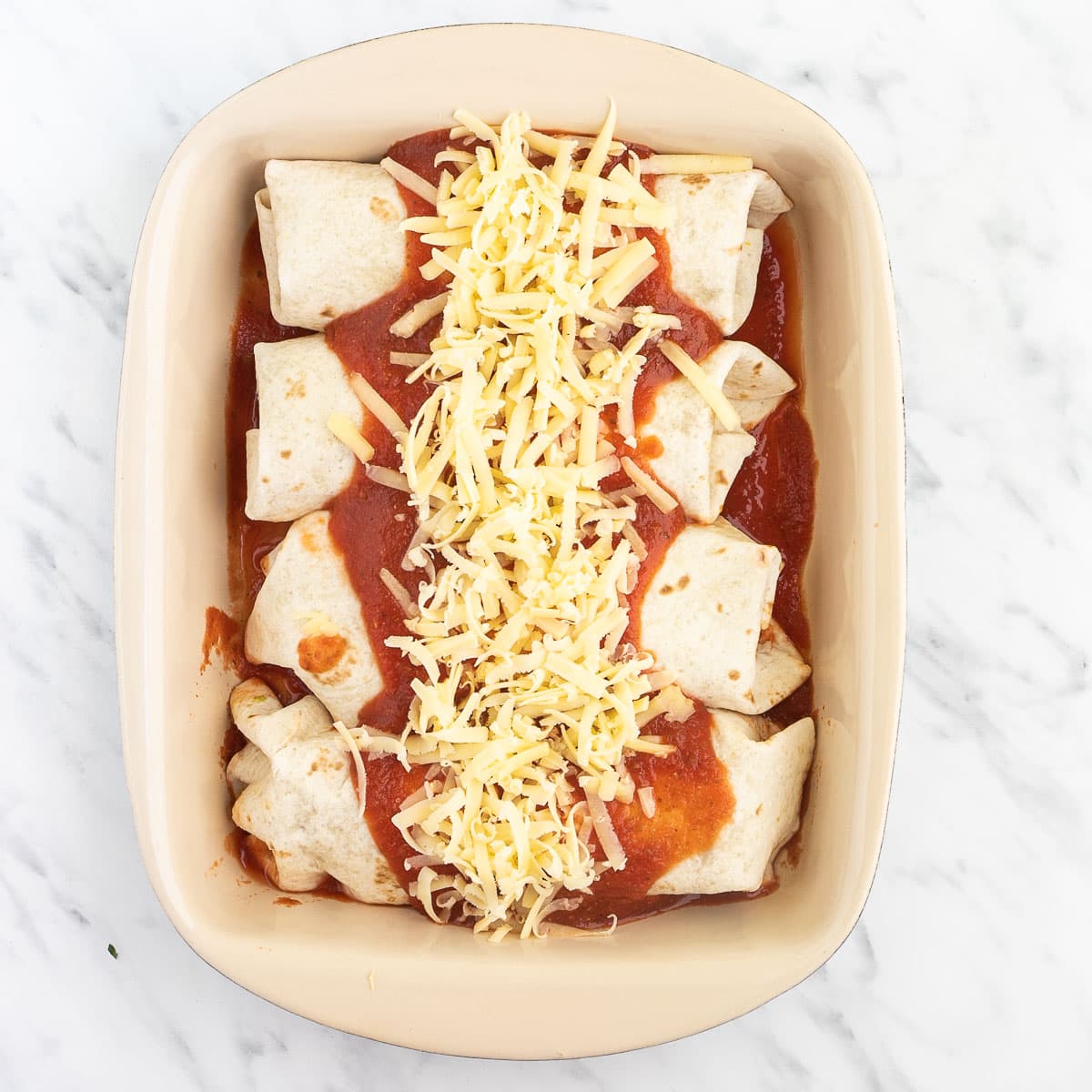 Pop them in the oven at 400° Fahrenheit (200 degrees Celsius) for 15 minutes, then take them out and dig into the deliciousness!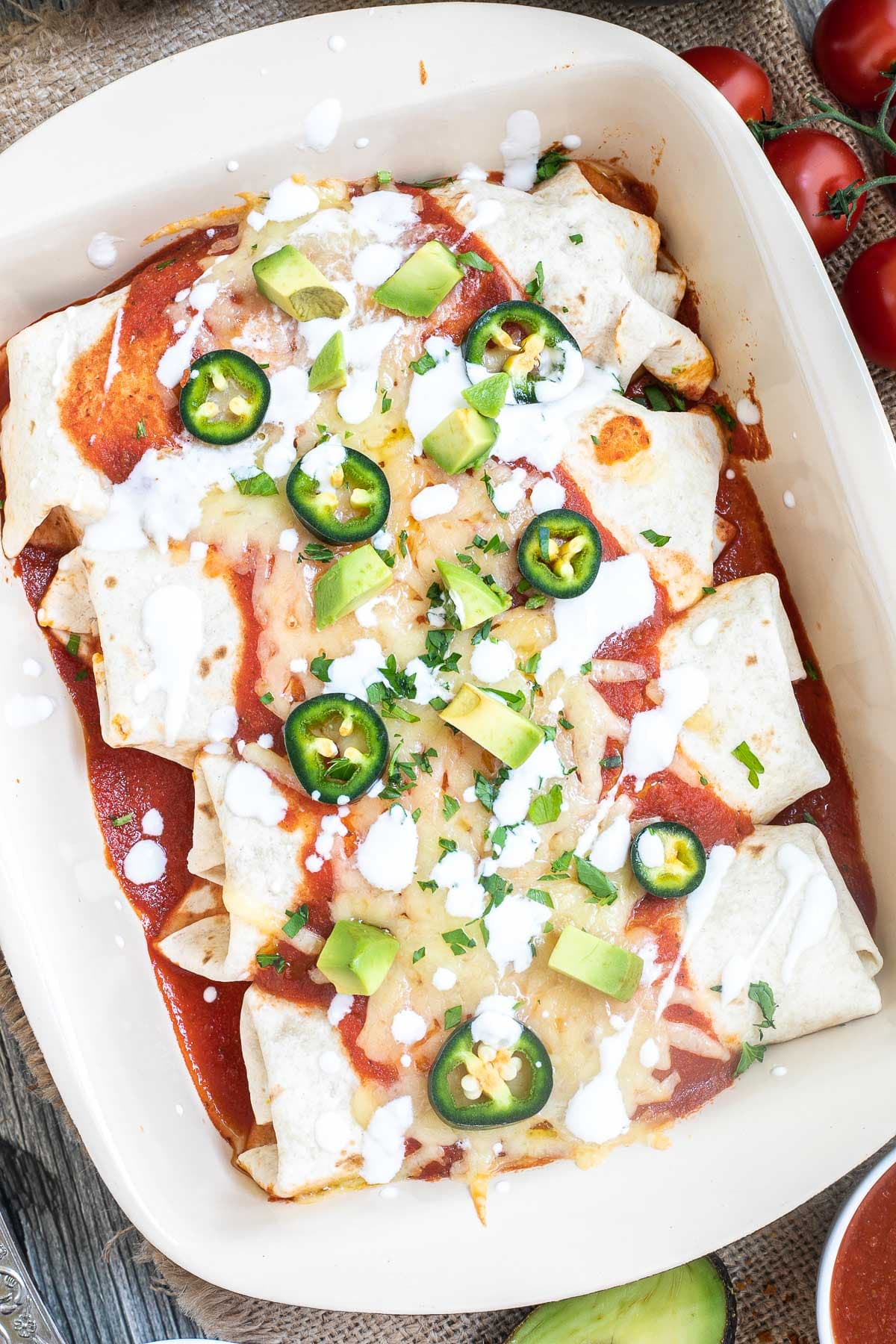 Cooking tips
Soften the tortilla – Give it a quick heat to make rolling easier. This softens it up and makes it more manageable as you roll.
Prevent sticking – Before arranging the enchiladas, add some sauce to the baking tray – this prevents them from sticking together.
More flavor – Balance is key, so don't forget the finishing touches. Sprinkle extra shredded cheese, pickled onions, jalapenos, cilantro, or any other favorites to give your vegan breakfast enchiladas that extra flavor boost!
Variations
Black beans: Amp up the protein by including black beans – they provide extra fiber and a vibrant contrast to the mix!
How about some bell peppers? Add them fresh, or prepare these spicy fajita veggies or these mild chipotle fajita veggies.
Cashew cream: If you want a more indulgent breakfast, introduce cashew cream. This will give the enchilada filling a creamier consistency and a hint of luxury.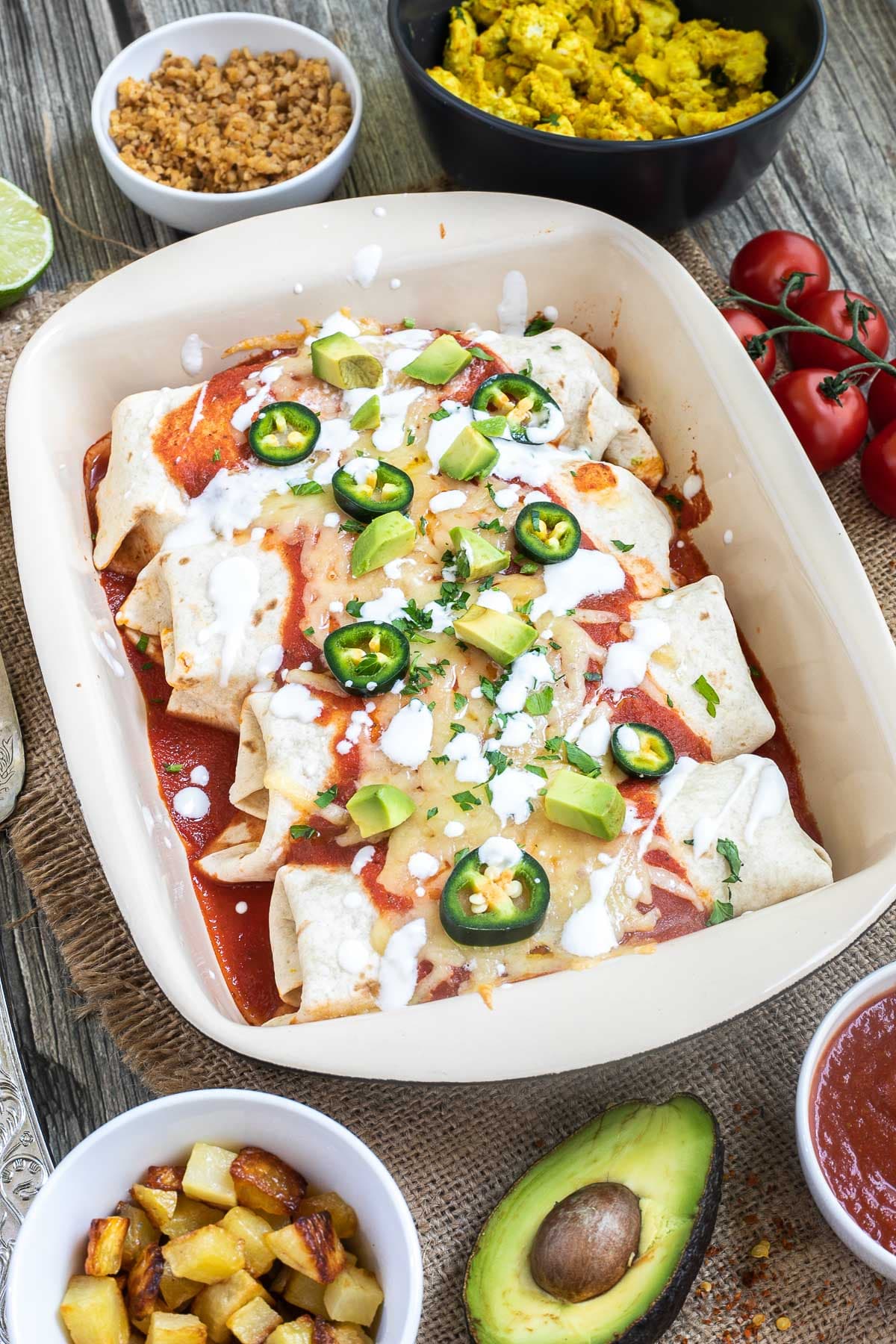 Serving ideas
You can enjoy the enchiladas just as they are, right out of the oven, while the melted cheese is still gooey. If you want to add a touch of sweetness, spice, or tanginess, you can whip up some simple dipping sauces and serve them alongside your hearty breakfast!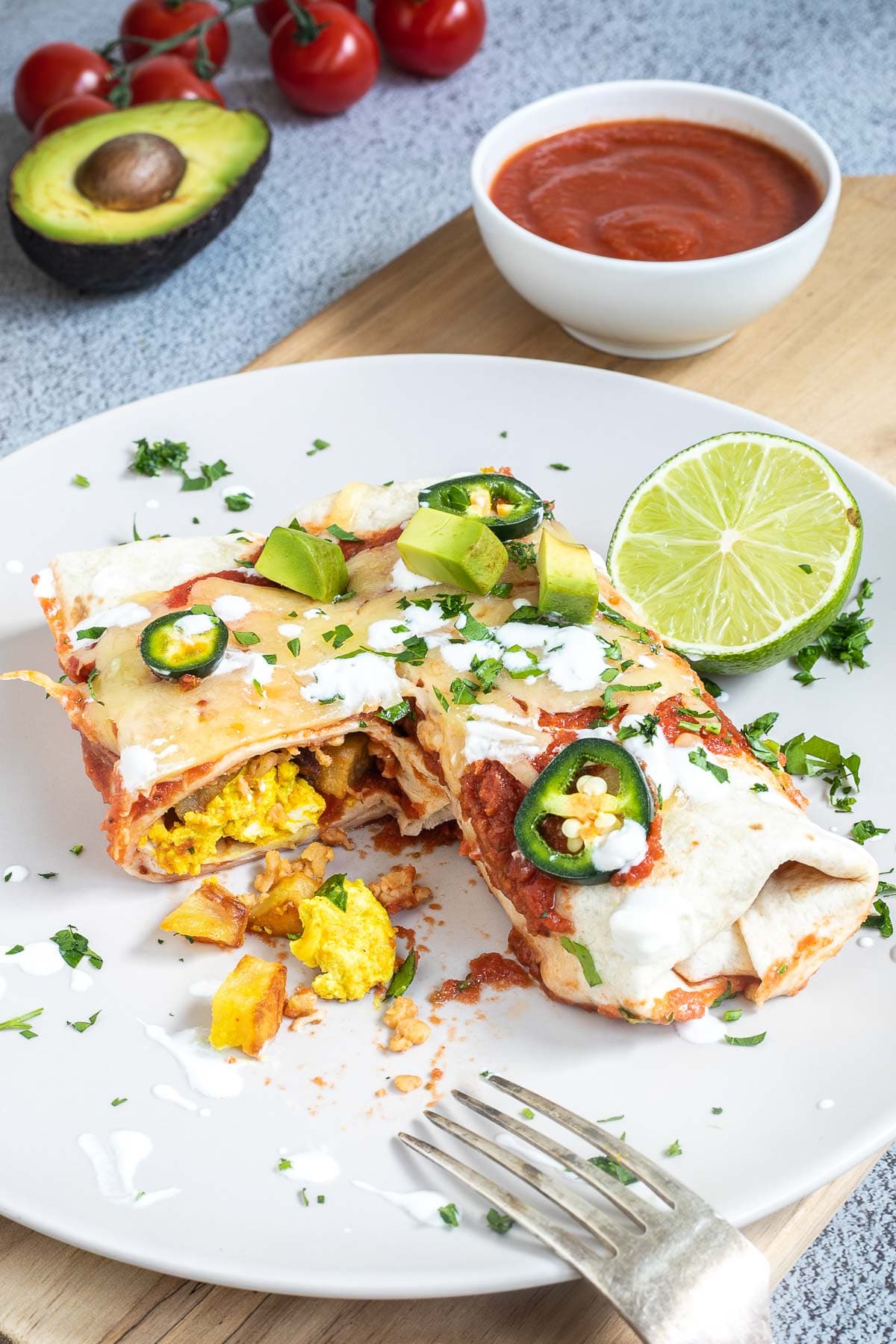 Equipment
Cast-iron skillet or frying pan: To make the vegan sausage crumble, you can use a non-stick frying pan that evenly cooks your mix while giving it the right amount of crisp.
Storing tips
For short-term storage, use a baking sheet or wrap them in plastic wrap and place them in the refrigerator.
If you're thinking of storing them for longer (1–2 months), wrap the enchiladas well and refrigerate them for 24 hours before transferring them to the freezer.
When it's time to reheat, preheat a baking dish, cover it, and bake the enchiladas at 350°F for about 30 minutes. Another reheating option is using a non-stick skillet: cook the stacked enchiladas for 4 minutes without a lid, then cover and cook for another 4 minutes.
For the best results, try storing the filling separately. When ready to enjoy, reheat the filling, prepare the fresh components, assemble the enchiladas, and bake them just before serving. This approach ensures you relish all the flavors and textures at their peak.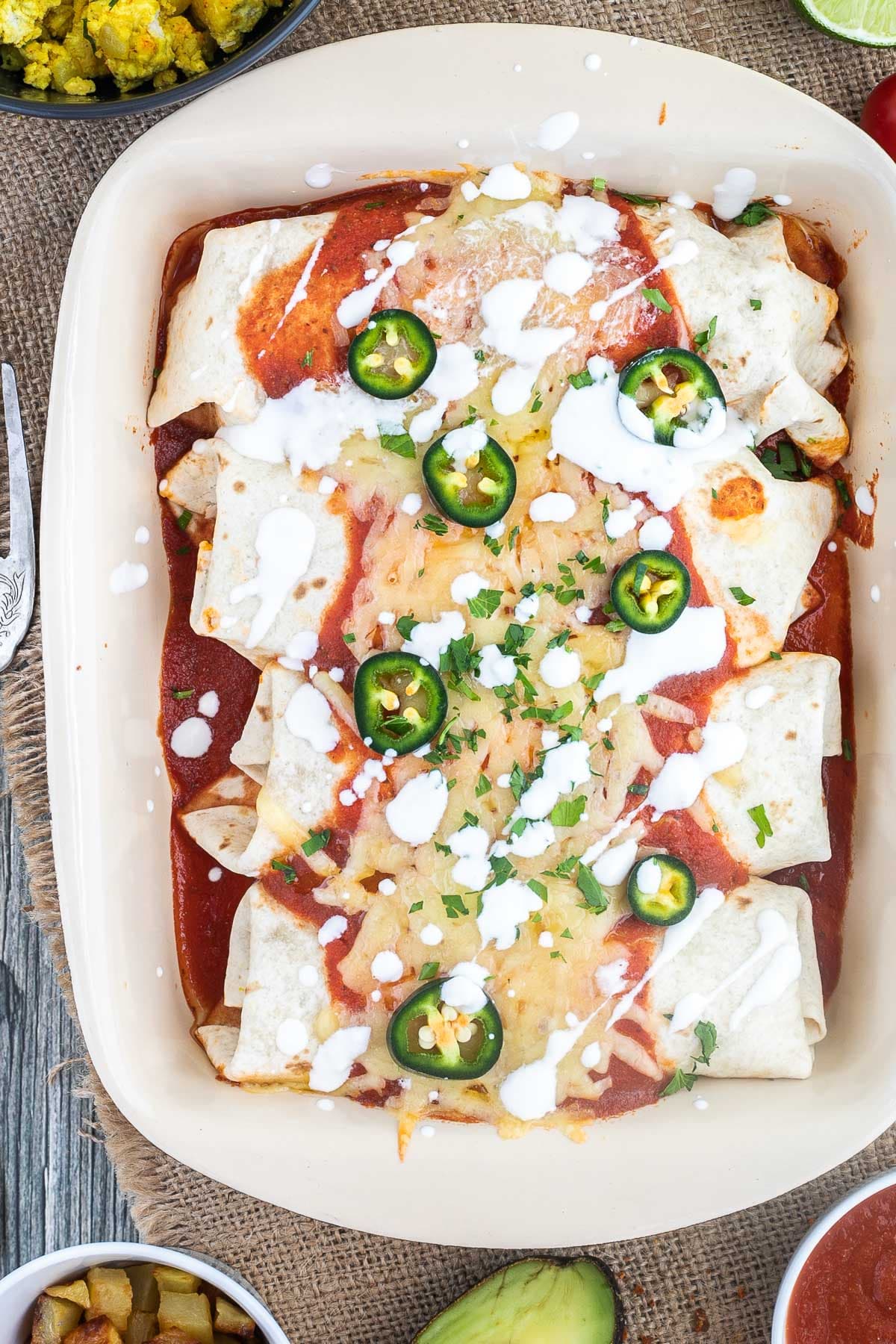 FAQs
How to make vegan breakfast enchiladas?
Create a simple tofu scramble with your favorite ingredients and mix it with vegan sausage crumbles and crispy potatoes. On a tortilla, layer them with enchilada sauce and shredded vegan cheese. Roll up and bake – your vegan enchiladas are ready. Explore variations in our recipe.
Is it okay to use tofu in enchiladas?
Absolutely! Tofu is an excellent meat alternative, packed with protein. In fact, it's a key ingredient in these enchiladas, contributing to their ideal texture and flavor balance. Just follow the instructions closely.
More vegan breakfast recipes
Looking for more savory vegan breakfast ideas or more recipes with tofu?
THANK YOU so much for visiting our website. Please comment below if you have tried this recipe. We LOVE hearing from you! If you loved the recipe, please don't forget to give us a ⭐⭐⭐⭐⭐ RATING. We appreciate all of our readers.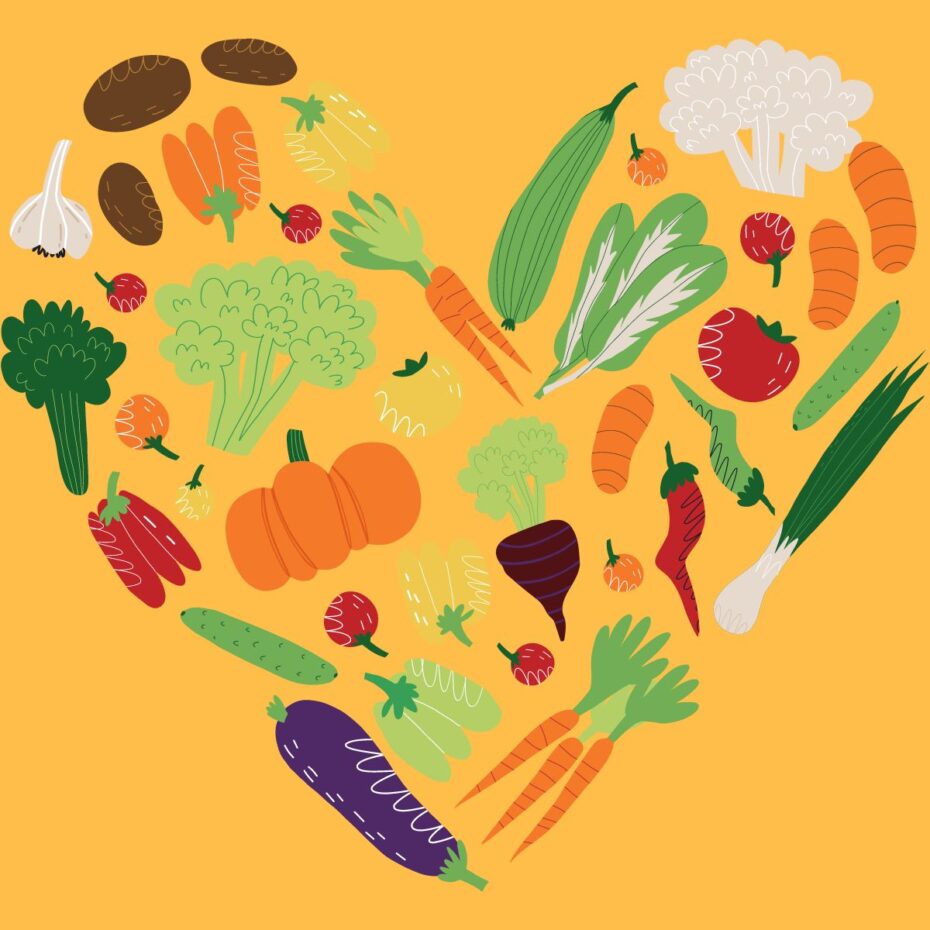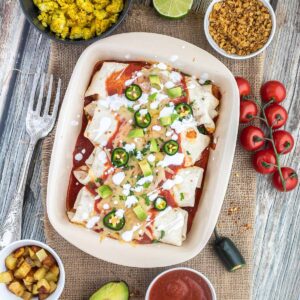 Vegan Breakfast Enchiladas
If you're in the mood for a Mexican-inspired morning, our vegan breakfast enchiladas will get your day rolling. These enchiladas are a super easy, protein-packed dish with tofu, vegan sausages, and other delicious ingredients you probably already have or can easily grab from your kitchen!
EXCLUSIVE 5-ingredient recipes for busy home cooks that are ready in 15 minutes!
Check out our Express Vegan Cookbook!
Instructions
Prepare the ingredients
Soak dry TVP in hot veggie stock for 10 minutes. Drain and squeeze TVP with your hands to remove excess moisture.

Peel and dice avocados and potatoes.
Making vegan sausage crumbles
Take a non-stick saucepan and add olive oil.

Add TVP crumbles. Season with salt, black pepper, garlic powder, onion powder, oregano, cumin and sweet smoked paprika. Stir well and cook for 2-3 minutes.

Add soy sauce and lemon juice. Stir well and cook until most excess moisture from the TVP is gone.
Making roasted potatoes
Add potato cubes to a sheet pan. Drizzle some olive oil. Bake for 30 minutes at 400 Fahrenheit (200 degrees Celsius). Sprinkle them with salt and black pepper after baking. Since the enchiladas are flavorful, we did not use any other spices on the potatoes.
Assembling vegan breakfast enchiladas
Take one tortilla. Spread some salsa.

Add 2 Tbsp vegan sausage crumble in the middle. Spread it.

Add 2 Tbsp roasted potatoes. Spread it.

Add 1 Tbsp avocado cubes.

Add 1 Tbsp salsa. Spread it.

Add 2 Tbsp tofu scramble. Spread it.

Optionally, add some jalapeño slices.

Sprinkle some shredded vegan cheese on top.

Fold up both ends of the tortilla and start rolling it upwards.
Baking
In a baking dish spread 3-4 Tbsp enchilada sauce. Add all prepared tortilla wraps next to each other.

Spread more enchilada sauce on top. Sprinkle them with vegan cheese.

Bake for 15 minutes at 400 Fahrenheit (200 degrees Celsius).
Nutrition
Nutrition Facts
Vegan Breakfast Enchiladas
Amount Per Serving (1 serving)
Calories 653
Calories from Fat 234
% Daily Value*
Fat 26g40%
Sodium 3225mg140%
Potassium 947mg27%
Carbohydrates 84g28%
Protein 23g46%
Vitamin A 1837IU37%
Vitamin C 37mg45%
Calcium 231mg23%
Iron 8mg44%
* Percent Daily Values are based on a 2000 calorie diet.