Get ready for a tofu-tastic adventure as we delve into the ultimate guide on how to cook tofu like a pro. Discover the secrets to preparing tender and flavorful tofu dishes, from savory stir fries to delectable curries. Whether you're a tofu enthusiast or a beginner, this article is guaranteed to elevate your culinary skills and showcase the incredible versatility of tofu.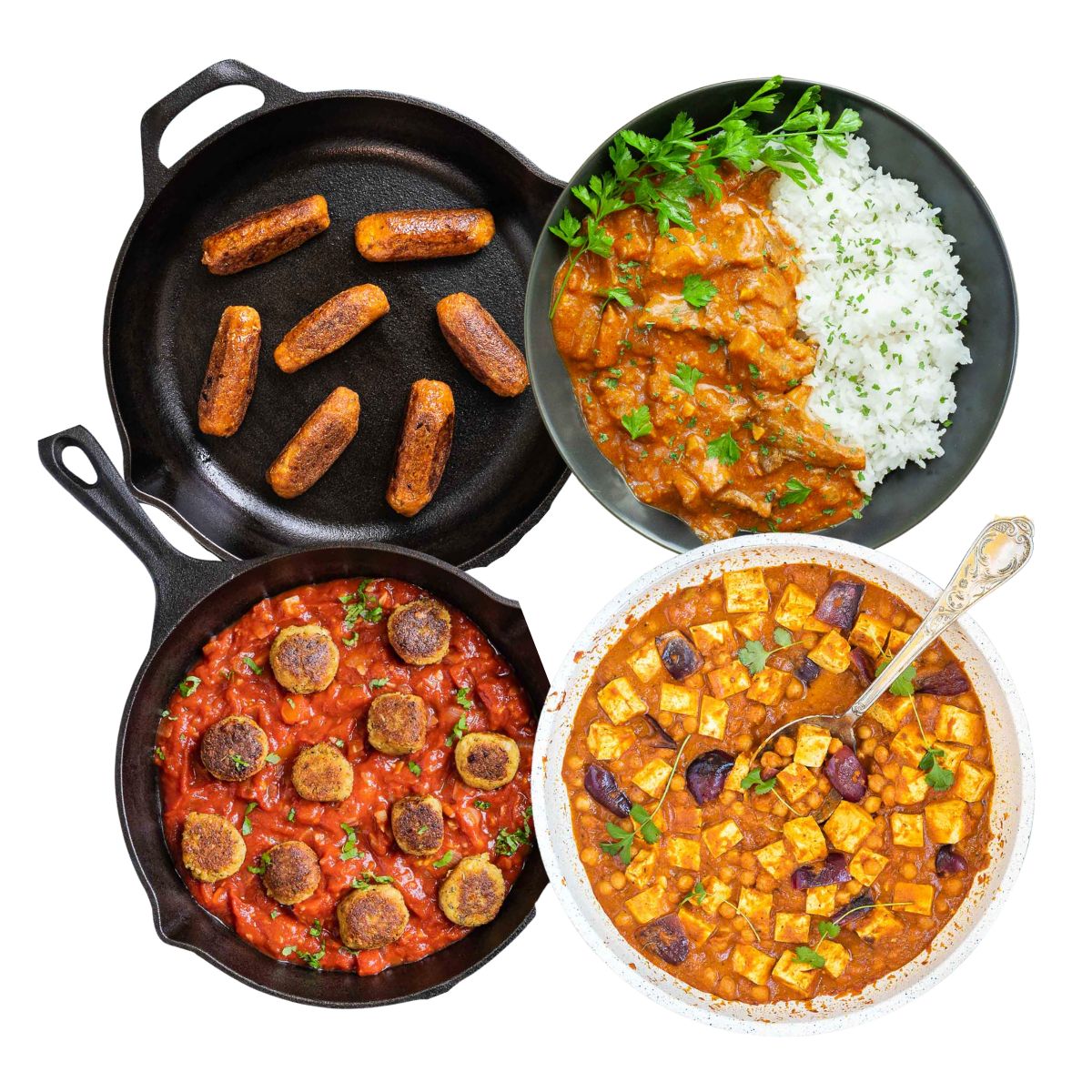 Tofu is a culinary gem derived from soybeans, offering endless possibilities in the kitchen. It's made by curdling soy milk and pressing the curds to create soft tofu blocks. What makes tofu truly special is its mild flavor, which eagerly absorbs the tastes of other ingredients and seasonings. This makes it a go-to meat substitute for vegan and vegetarian dishes that burst with deliciousness.
But tofu isn't just versatile in taste—it's also a nutritional powerhouse, thanks to its high protein content. And the adventure doesn't stop there! Tofu comes in various textures, like silken tofu (soft), firm, and extra-firm, each bringing its own unique creaminess and firmness to the table. Whether you're stir-frying, grilling, baking, or even blending it into smoothies or desserts, there's a type of tofu texture that suits every cooking method. Our 35 flavorful tofu recipes sure prove it!
Jump to:
How to prepare tofu?
Mastering a few essential steps is key to preparing tofu like a pro. It all starts with pressing the tofu to achieve the perfect texture and release excess liquid, especially in dishes where you want it to have a bit of a springy bite. Simply wrap the tofu in a paper towel, place a weight on top, and let it sit for 15-30 minutes to remove excess water. Or use a dedicated tofu press, like TofuBud.
Next comes the transformative power of marination. Elevate your tofu by immersing it in a flavorful tofu marinade. You can experiment with ingredients like soy sauce, garlic, ginger, and spices to create a marinade that suits your taste. Just remember to let your pressed tofu soak in the marinade for at least 30 minutes to allow it to really infuse and enhance the tofu's taste.
How to cook tofu?
Now, it's time to explore the exciting realm of 11 cooking methods. Whether you prefer frying for a crispy exterior, grilling for a smoky char, or stir-frying for a delightful tenderness, you'll see how each technique brings out unique qualities in tofu. It will ignite your culinary creativity and take your taste buds on an unforgettable journey.
Raw, uncooked
Raw, uncooked tofu will offer a refreshing twist to your dishes. Its soft and light texture adds a delightful contrast when sliced or cubed and incorporated into vibrant salads or Buddha bowls alongside fresh ingredients.
But the versatility of raw tofu extends beyond salads. It excels in plant-based spreads and dips, bringing a unique creaminess to your creations. Try using it to make a vegan egg salad (pictured) that captures the essence of creaminess without any cooking required. You can also enjoy a velvety tofu cream cheese, perfect for a savory dip.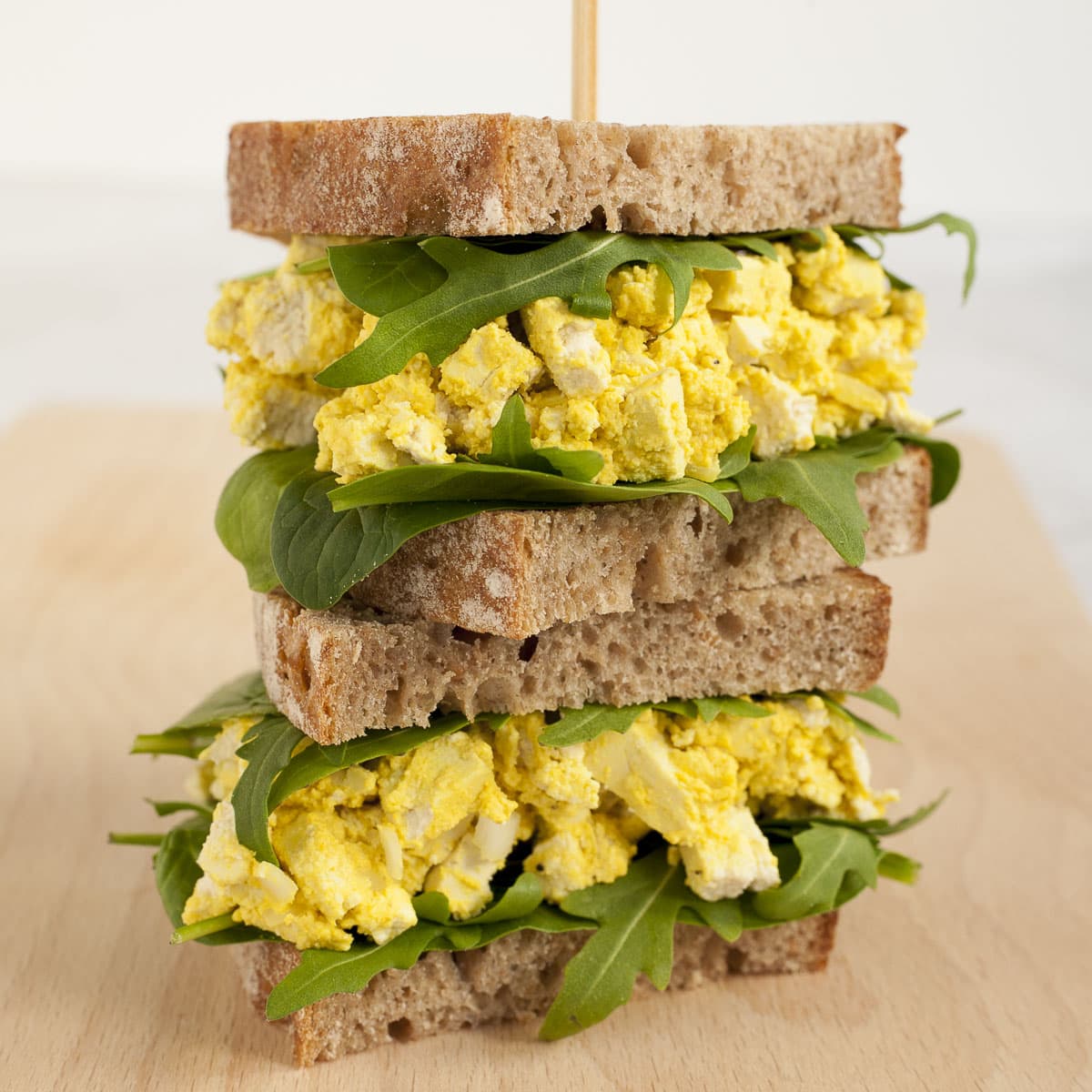 Pan-fried/stir-fried (high heat, crispy tofu)
Pan-fried tofu is a game-changer for achieving irresistible crispiness. Start by pressing tofu to remove moisture and slicing it into desired pieces. Heat a non-stick pan with oil over medium-high heat and cook the tofu until golden brown and crispy. The result is a mouthwatering combination of crispy perfection and tender, flavorful satisfaction in every bite.
Explore Asian-inspired dishes like teriyaki tofu (pictured) stir-fried with bell peppers and green beans, or get creative with eggplant tofu for delightful variations. For a protein-packed breakfast option, try tofu scramble. With pan-frying, you'll experience a satisfying crunch and bursts of flavor that will leave you wanting more.
Sauteed
Sauteed tofu offers a flavor-packed experience that's different from other cooking methods. To get started, drain and cut firm or extra-firm tofu into cubes. Heat a pan, add some liquid of your choice, and sauté the tofu cubes, as we did in this Thai red curry tofu recipe (pictured).
As the tofu cooks, it absorbs the flavors of the liquid, resulting in a chewy texture and a delicious taste. You can use sautéed tofu for stir-fries, salads, or to give a flavorful twist to your favorite dishes. Its chewiness and infusion of flavors will have you coming back for more.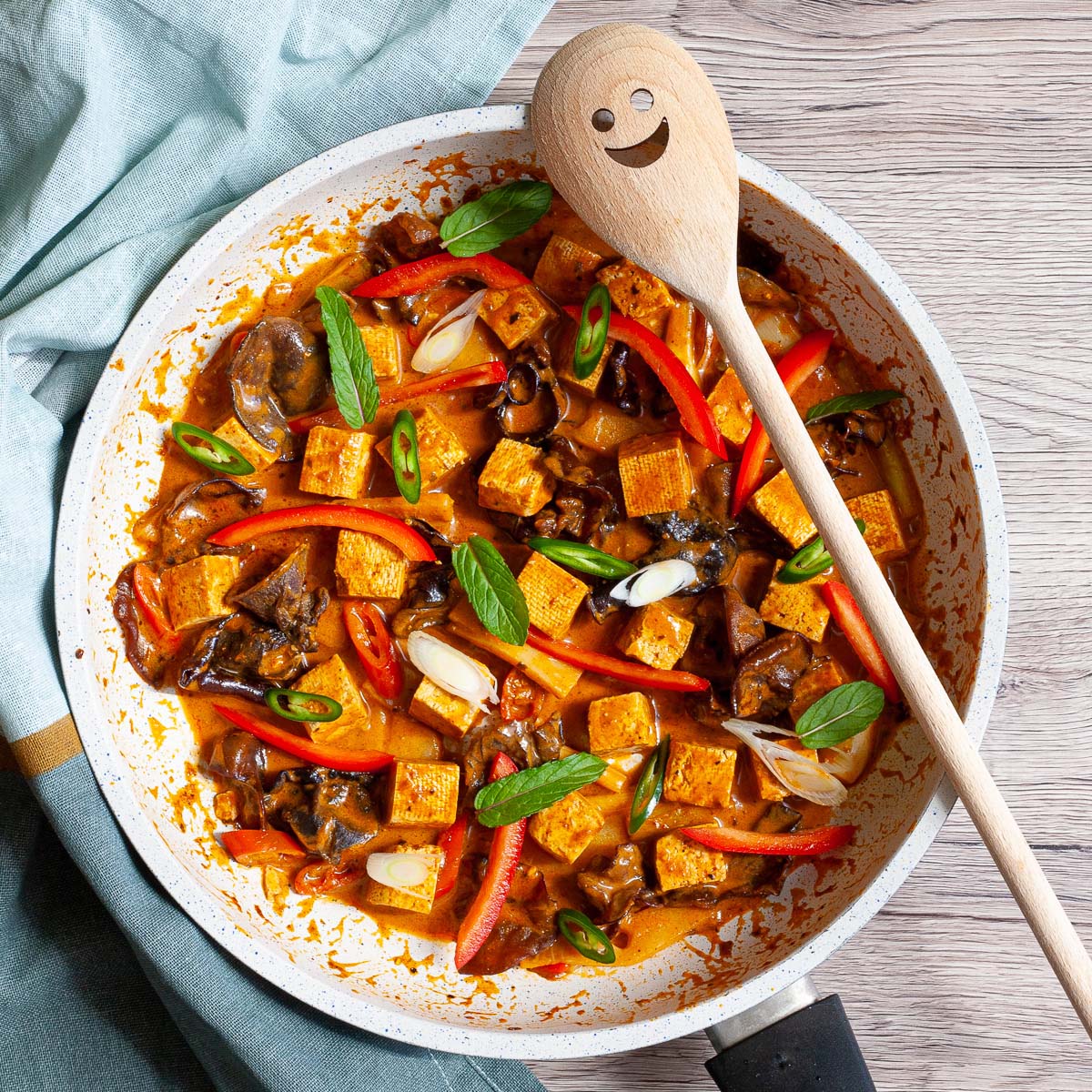 Minced
Mincing tofu opens up a world of culinary possibilities. By chopping firm or extra-firm tofu into tiny pieces with a food processor or grating it, you can create flavorful additions to your dishes. The key is to infuse the minced tofu with a blend of seasonings, herbs, and spices, enhancing its taste and texture.
Use minced tofu to make delicious tofu burgers or tempting tofu meatballs (pictured). With its adaptable nature, minced tofu absorbs savory flavors and offers a satisfying chewiness in every bite. Depending on the seasoning, you can also use them to make vegan sausage links or vegan breakfast sausages.
Deep-fried
Deep-frying tofu creates a delightful experience of crispiness and flavor. Begin by selecting a firm or extra-firm tofu and cutting it into small chunks. Heat a sufficient amount of oil in a deep pot or skillet. Lightly toss the tofu pieces in cornstarch before frying for an extra crunch.
Carefully place the tofu in the hot oil, ensuring each piece has enough space to fry evenly. Once they turn a beautiful golden color, remove and drain the tofu of any residual oil. Once cooked to perfection, you can enjoy the deep-fried tofu.
Or take one step further and bread them before deep-frying like in this orange tofu (pictured) which just bursts with deliciousness.
Air fried
Discover the game-changing method of air-frying tofu for irresistibly crispy and flavorful bites. Start with firm or extra-firm tofu, cut into cubes or slices. Preheat your air fryer, lightly coat the tofu with oil, and arrange it in a single layer. Cook for 10-15 minutes, flipping halfway, until golden and crispy. The result is a perfect combination of a crunchy exterior and a tender, moist interior.
Customize your air-fried tofu with your favorite seasonings or marinades to explore endless flavor possibilities. With air frying, you can enjoy a nearly oil-free method of cooking tofu that still allows you to achieve incredible texture and adaptability to various flavor profiles.
Oven roasted/baked/broiled
To unlock the transformative powers of your oven on tofu, first, preheat it and prepare the tofu by draining and pressing it. Coat it generously with your preferred tofu marinade to make miso tofu or harissa tofu.
Arrange the seasoned tofu on a baking sheet lined with parchment paper. Roast, bake, or broil until it develops a golden crust. The result is a perfect balance of crispy exterior and tender interior. Enjoy this delicious baked tofu in stir-fries, salads, bowls, or wraps. One great example is our tahini miso soba noodles (pictured) topped with baked miso tofu and roasted asparagus.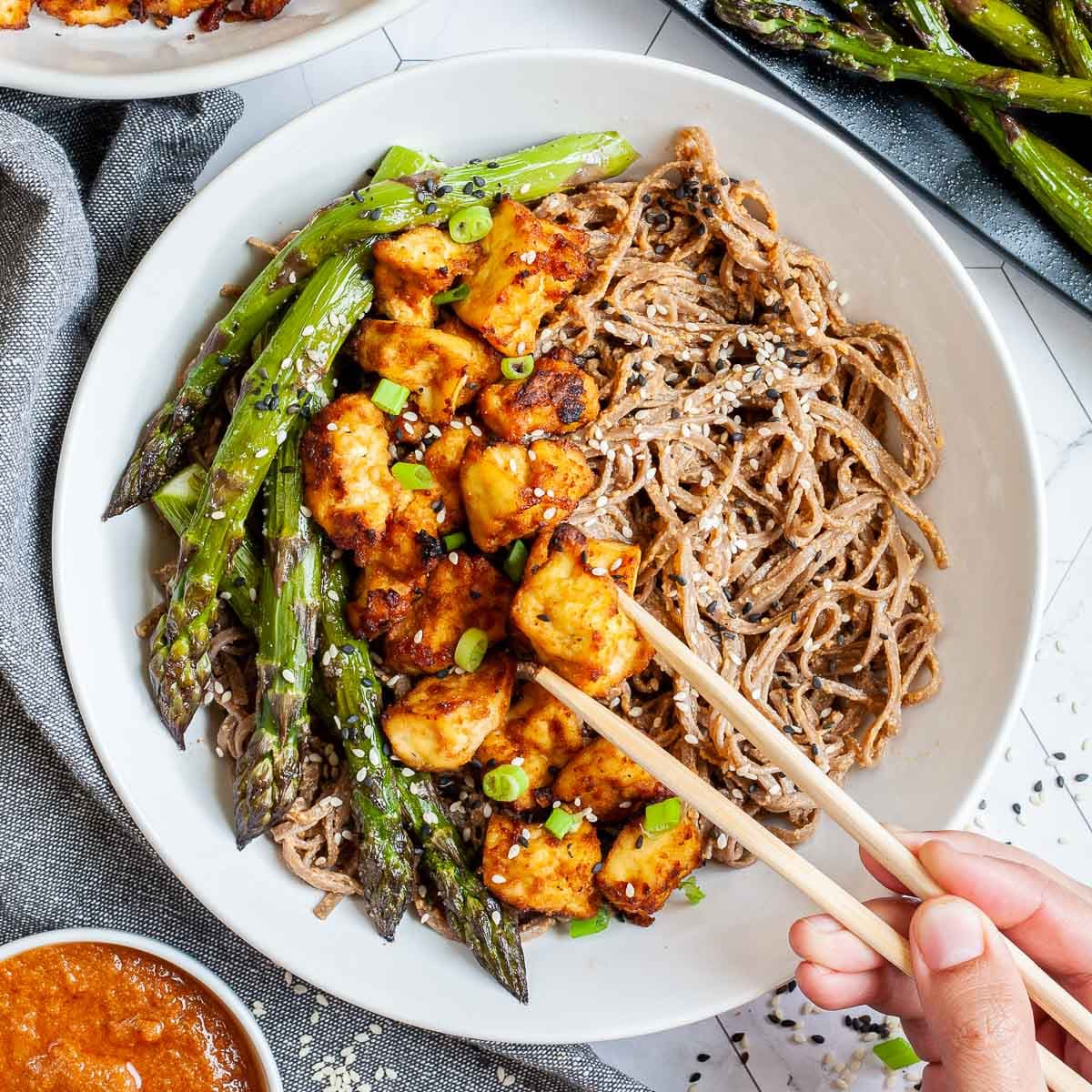 Grilled/BBQ
Experience the incredible flavors of grilled tofu, where smoky grilling meets mouthwatering marinades. To learn how to cook tofu by grilling it, start with pressing and marinating. Then either skewer the tofu first, as we did in our buffalo tofu recipe, or place it directly on the grill grates to make tofu steak (pictured). Cook over medium-high heat, turning occasionally, until charred and tender.
The result is a perfect combination of smoky, caramelized exteriors and juicy, flavorful interiors. Enjoy the sensational delights of grilled tofu, whether it's the spicy allure of buffalo skewers or the satisfying goodness of tofu steak.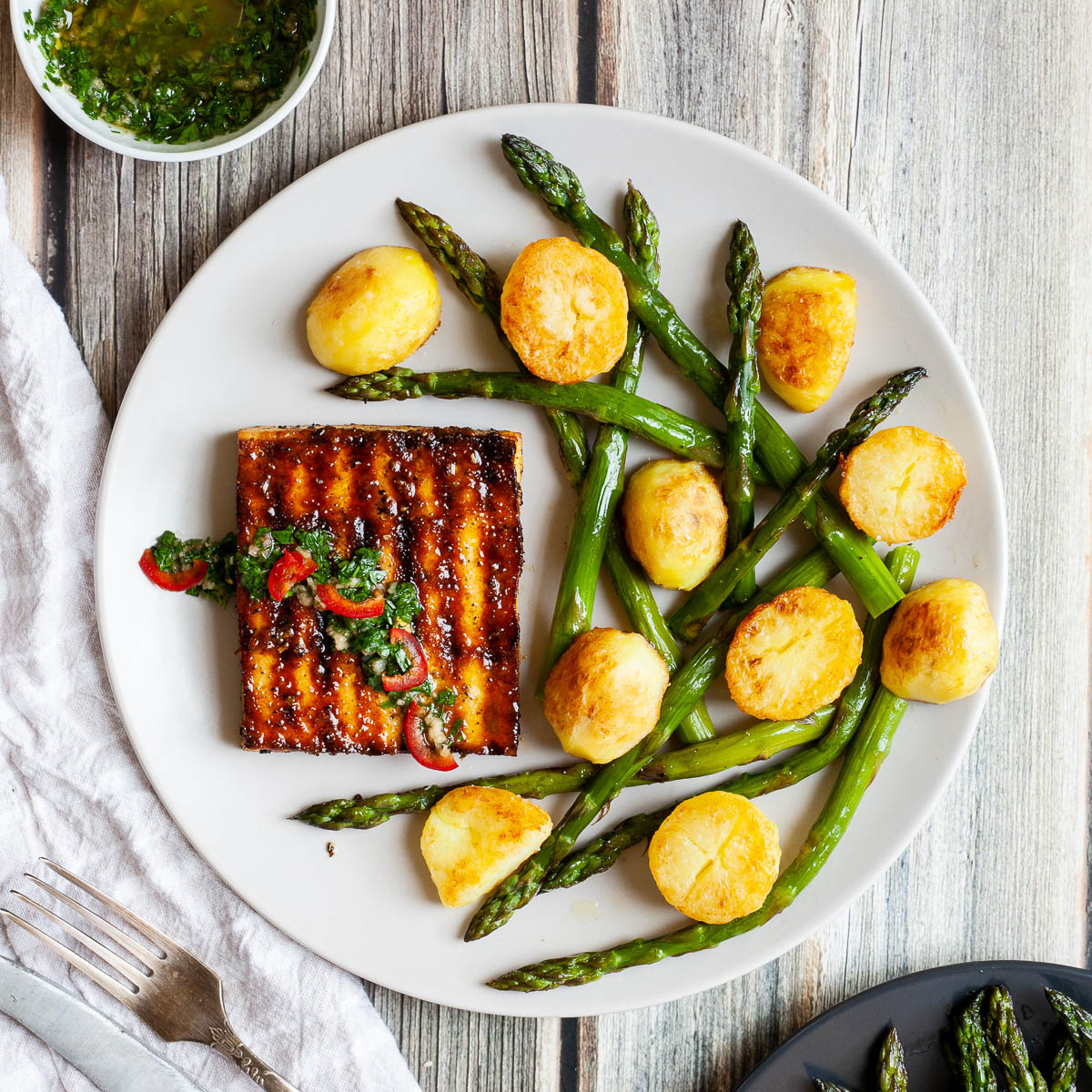 Braised/Stew
To braise your tofu, begin with firm tofu, removing excess moisture before diving into the cooking process. Sear the tofu for a golden crust, then add a small amount of flavorful liquid for braising. We show how to do it step by step in this Chipotle Sofritas recipe (pictured).
Allowing the tofu to simmer slowly will absorb the rich flavors and become more tender. Embrace the magic of braising and stewing to elevate your tofu dishes. This method will help you make dishes like our sweet potato curry tofu, chickpea tofu curry, and tofu korma usually served with rice.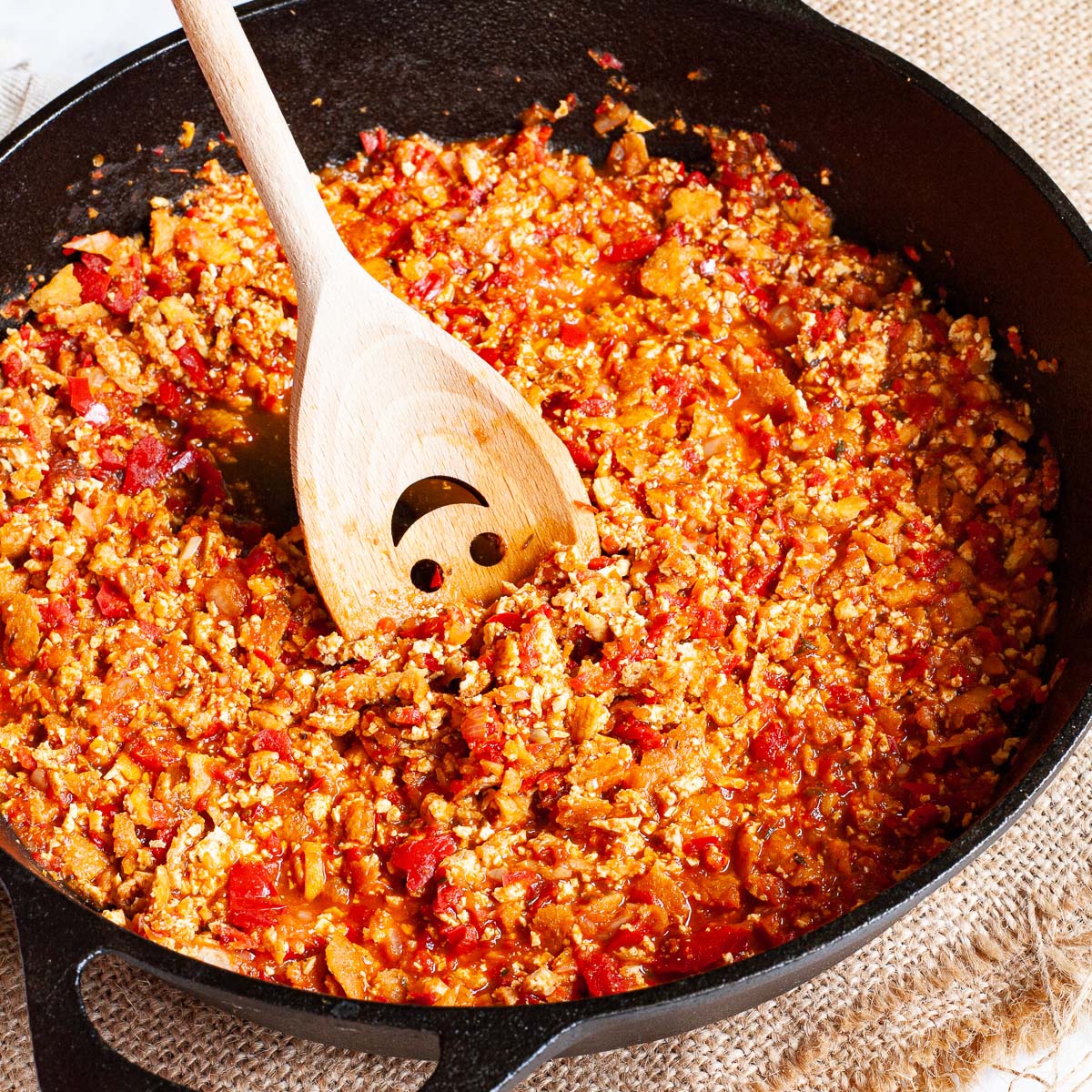 Smoked
Explore the intriguing process of making homemade smoked tofu using a clever technique that involves liquid smoke and a flavorful marinade. Opt for firm tofu and marinate it in a blend of your favorite ingredients like soy sauce, maple syrup, and garlic, and add a hint of liquid smoke.
Grill or cook the tofu until it achieves the perfect smoky flavor, allowing the enticing aroma to permeate each bite. Let your imagination soar by incorporating this smoky tofu into dishes like tofu sushi rolls, where its delicate smokiness adds a delightful twist.
If you don't want to smoke it at home, there are several brands offering smoked tofu to buy.
Poached
Poaching tofu introduces a whole new dimension of flavor and texture that is worth exploring. Start with firm or extra-firm tofu, sliced into desired shapes, and immerse it in a flavorful poaching liquid infused with herbs, spices, and aromatic ingredients.
Allow the tofu to simmer gently, absorbing the delicious flavors and becoming tender and melt-in-your-mouth. Poached tofu adds a delicate yet versatile element to soups, stews, and salads, enhancing their overall taste. Try this delicious coconut poached tofu with lemongrass and red curry recipe.
More information on tofu
There's a lot to know and just as many dishes to try, so get reading! If you need some recipes, check out these 35 flavorful tofu recipes.