If you are new to cooking with tofu, you may have a lot of questions. Don't feel intimidated, tofu is actually an easy ingredient to work with. This guide will contain answers to all your questions like why and how to press tofu, or how long you need to prepare it for cooking. We also included our favorite 6 tofu recipes, so you can jump right in and enjoy delicious tofu dishes starting today.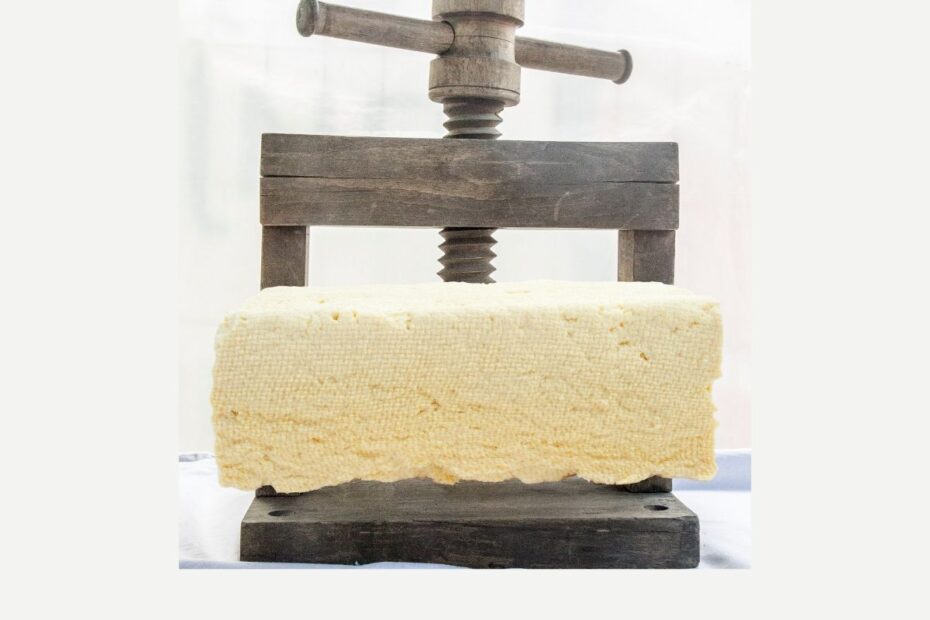 Which tofu needs to be pressed?
Tofu is typically sold in the form of blocks under two main categories, "fresh tofu" and "processed tofu."
Fresh tofu

– YES!!! It is made directly from soy milk and this is the one you should be looking at for pressing and cooking.

Processed tofu

– NO!!! It is produced from fresh soybeans. Examples are pickled tofu, stinky tofu or thousand-layer tofu. They are already pressed and prepared, so you can use them as they are.
Fresh tofu comes in many different varieties too, like
Soft silken tofu

– NO!!! It is very soft, with an almost custard like consistency. It is used to make cheesecake, sauces or pudding. No need to press it before using.

Firm tofu

– YES!!! This is the type you should to choose to make stir fries, curries, stews or make them crispy meat alternatives.

Super firm or extra firm tofu

– YES!!! While this type has the least water content, we still recommend to press it quickly. See the reasons for it below.
If you're new to tofu, you probably have loads of questions about it, and one of those might be "Is tofu gluten-free?" Read about that in our article because the answer isn't always straightforward.
3 reasons why pressing tofu is important
To soak up the marinade
You need to imagine it like that. If you have a sponge full of water, it cannot take up anything more. But if you squeeze your sponge empty, it can absorb new water again. Therefore, if you press your tofu block, the water will be drained and marinades can be soaked up in its place. This step is to make sure you have flavorful tofu at the end.
To reduce water content
If you want to make crispy tofu, you need to get rid of any excess liquid. If you were to fry it, grill it, or bake it without pressing, the water will be released then. This means even if you get them crispy, they will soften back up.
3. To firm up its texture
If you press tofu, it will be easier to work with. As it makes the texture of the tofu denser. It also becomes less crumbly and less likely to be torn or fall apart.
Can you skip pressing?
The answer is short and sweet: YES!!! If you buy extra firm or super firm tofu, you can essentially skip this step and use it in cooking without any preparation.
The main difference between a firm and an extra firm variety is its water content. The extra firm type was just pressed harder or longer during manufacturing. However, if you press firm tofu, you actually get very close to the texture of extra firm.
That being said, we still recommend pressing extra firm tofu for one reason only: marinating. As it has such a low water content, it soaks up marinade pretty badly. If you want to make sure it is packed with flavor you need to get rid of any water content so you can replace it with the marinade. We also recommend slicing it rather thin to have a better chance of getting the seasoning right in the middle.
How to do it without a tofu press?
Technically, you don't need a tofu press, you can use a so-called DIY method. The aim is to press as much liquid out as you can. Which can be achieved in various ways. However, having one makes it so much easier and mess-free. If you want to try it without one, here is what you need to do:
You need a tray or a

plate with a kitchen towel

or a thick good quality paper towel or multiple layers of paper towel on it.

Drain

the liquid from

the package

. Take the tofu out.

Place

the whole block of

tofu on the towel

.

Cover it

with another kitchen towel or fold the one from below.
Place a heavy book or any

heavy object

(like a cutting board)

on top

.

Wait

at least 30 minutes.
Pros
DIY method is considered a

cheap alternative

as you have all the "equipment" you need at home. So technically, you don't need to buy anything new.
Cons
It

seems easy, but it may get actually quite messy.

As the liquid you drain is not water, you need to wash the kitchen towels and any other things you use. You can't just load your washing machine with 1 dish towel, so you need to dry it somewhere and wait until you can add it to a full load.
If you don't find a flat surface or don't use flat "equipments", your tofu pressing tower

may lean and fall

. Yes, it did happen to us once or twice.
You need a larger, undisturbed counter top space to

avoid knocking it over

. Yes, it also did happen to us.
The kitchen towel absorbs the liquid. That is true. But the tofu is still standing in a moist surface. So after a while you either change the towel and creating more things to wash or just accept the fact that

not all moisture can be squeezed out

.
TofuBud review – why is this the best tofu press
Here comes the part about how to press tofu with a tofu press. More precisely how to use TofuBud* to press tofu quickly, easily, mess-free, and waste-free.
Place the tofu between the two plates.
Slide back the lid.
Press down the knob and turn until it is clicked to place. We usually shut it close completely even if you press firm or extra firm tofu.
Wait for 15 minutes.
Drain the excess water over the sink via the spout.
Take the knob out and slide off the lid.
The tofu is ready to be used.

Pros
You can

wash and reuse it within minutes

. No need to use kitchen towels or wasteful paper towels. You can rinse and wash the TofuBud quickly in the sink or in your washing machine.
You need a very

small counter top space

. And even if you knock it over, you don't create any unnecessary mess as it is completely

locked and covered

. Compared to many DIY methods where the liquid can be spilled if you tip it accidentally.
The block of tofu is

not sitting on a moist surface

like in the DIY method. The exceess liquid is immediately drained via the wholes of the bottom plate. So you can be sure that all liquid is properly squeezed out.
TofuBud

safes time

as it is done in 15 minutes compared to other DIY methods where you usually need to wait for approx. 30 minutes.
Cons
Well, it

does have a price

, but you can save money on not using several paper towels every time you need to press tofu or on not turning on your washing machine (saving electricity and water detergent).
Where to buy TofuBud?
You can buy direct on tofubud.com as they always offer various discounts from the original price. You'll receive FREE shipping and return, as well as a 30-day money-back guarantee.
Tofubud vs EZ Tofu Press
EZ Tofu Press is actually two white plates with two adjustable screws.
Pros
It is cheaper than TofuBud.
Cons
While the adjustable pressure idea looks promising, but who has the time to tighten the screws several times. TofuBud' spiral knob takes care of adjusting the pressure on its own without any intervention.
If you forget to go back to tighten them time to time, pressing tofu will likely take longer than with TofuBud.
If it is too tight, the tofu block may crack. If it is too loose, it will not squeeze all liquid out.
Tofubud vs Tofuture
Tofuture is also a quite compact tofu press with upper and bottom plates as well as a container to collect the liquid. It has a rubber band on both sides to adjust pressure.
Pros
It is cheaper than TofuBud.
Tofuture is quite similar to TofuBud in a sense that it is also a compact, easy to use, mess-free, and waste-free alternative.
Cons
You can put the rubber bands into 3 positions. So similar to EZ Tofu Press you need to be there or go back several times to adjust the pressure.
If you forget to go back to adjust it time to time, pressing tofu will likely take longer than with TofuBud.
Best tofu recipes
If you pressed your tofu, here are some of our favorite tofu recipes you can try not only for vegans and vegetarians. Let us know which one becomes your favorite.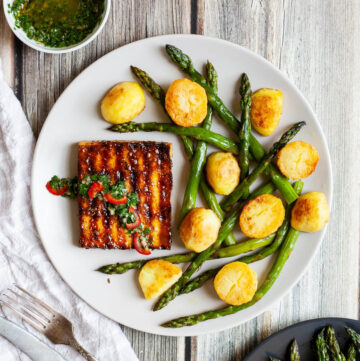 Tofu Steak with Chimichurri Sauce
A perfect tofu steak is a flavorful and satisfying dish that is crispy on the outside and moist on the inside. It is seasoned with a spicy, smoked steak marinade and grilled to perfection, resulting in charcoaled stripes. The tofu steak is served with a refreshing chimichurri sauce, baked baby potatoes, and garlicky roasted asparagus, making it a perfect feast for dinner.
Check out this recipe
Sticky Teriyaki Tofu (Copycat Pei Wei)
Do you want to make perfect, crispy, sticky teriyaki tofu just like they do in Pei Wei Restaurant? The secret is in the preparation of tofu. Serve it with rice and vegetables, and you will get a balance of flavors that are sweet, salty, and savory.
Check out this recipe
Easy Thai Red Curry with Tofu
This is the easiest Thai red curry ever, with only simple 6 ingredients to make a delicious sauce. We also used ingredients that are common in Thai cuisine like tofu, wood ear mushrooms also known as black fungus, bamboo shoots, spring onions, and red chilis. It is a delicious, rich, and creamy red curry dish done in 30 minutes!
Check out this recipe
Chinese BBQ Tofu Burger (Vegan)
Sweet, savory and aromatic are the three words I would use to describe this delicious tofu burger. The marinade was inspired by Char Siu aka Chinese BBQ dishes, which goes perfectly with a light coleslaw salad and a dollop of sriracha mayonnaise.
Check out this recipe
Grilled Buffalo Tofu Skewers
Experience buffalo tofu's bold and spicy flavors combined with a crispy caramelized crust. The best way to do that is to pan-fry or grill marinated tofu on skewers. If you make this recipe, you will enjoy an easy but flavorful tofu dish.
Check out this recipe
Copycat Chipotle Sofritas
Sofritas is actually fried tofu crumbles braised (aka cooked) in a spicy chili sauce. You can make Chipotle's famous vegan protein option at home with ease if you follow this recipe step by step. If you are looking for a flavorful tofu recipe to add to burritos, tacos, or salad bowls, try this easy Sofritas recipe.
Check out this recipe