Nourish your family with wholesome and clean-eating recipes that will satisfy their taste buds and keep them feeling great. Our collection of 18 recipes is designed to cater to the whole family while focusing on fresh, unprocessed ingredients. From colorful salads and hearty soups to lean protein dishes and satisfying snacks, these recipes prioritize nutrition and flavor. So, make your family's well-being a top priority and enjoy these clean-eating creations that ensure everyone at the table devours their meals with gusto.
Pan-fried Green Herb Oyster Mushroom
If you are looking for THE oyster mushroom recipe you can serve as a side dish, this will surely be your favorite. Green herbs like thyme and parsley with a smidgen of chili peppers and a splash of lemon juice will bring out the natural mushroom flavor that can accompany any main course.
Recipe: pan fried oyster mushroom
One-Pot Ratatouille
This is the best French summer vegetable stew that you can stir up in one pot within 30 minutes. I say to stir up because the traditional ratatouille is cooked on a stovetop and not baked.
Recipe: ratatouille
Risotto with Mushrooms
How to make risotto for two? It is easier than you think. All you need is 6 ingredients and about 30 minutes to cook a delicious creamy risotto. It will look fancy and impressive even if it was effortless and uncomplicated.
Recipe: mushroom risotto
Hummus Quesadillas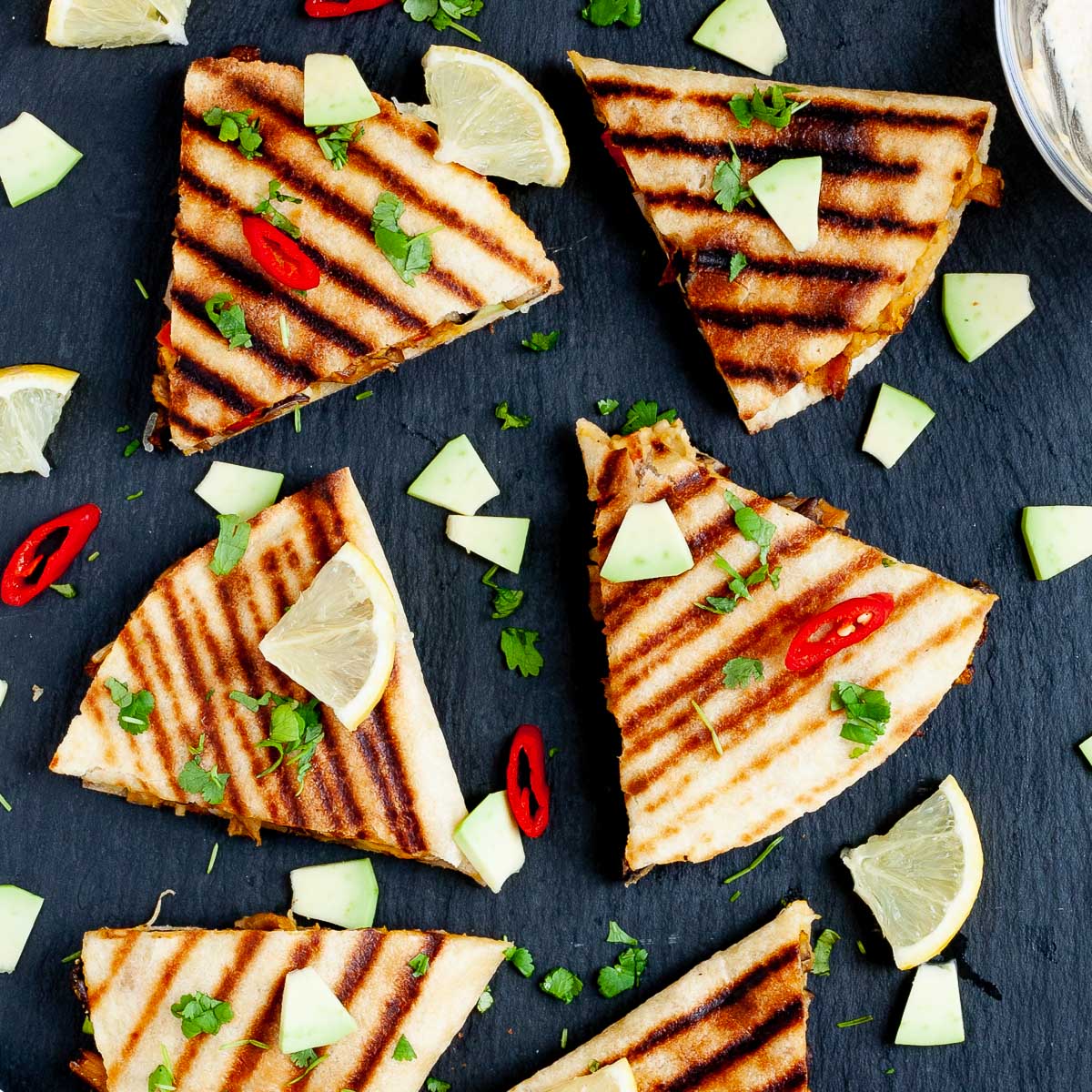 These hummus quesadillas are a delicious and healthy twist on a classic Mexican dish. Packed with flavorful veggies and beans, and bound together with creamy hummus instead of cheese, these quesadillas are a satisfying meal that will leave you feeling satisfied and nourished.
Recipe: hummus quesadillas
Lentil Bolognese
Introducing our delicious lentil bolognese – a meatless take on the beloved Italian favorite! It blends brown lentils, savory tomato sauce, veggies, and aromatic herbs to create a hearty and flavorful dish that's a must-try.
Recipe here: lentil bolognese
Copycat IKEA Veggie Balls
If you don't have an Ikea nearby, try our copycat Ikea veggie balls recipe. We added eight different vegetables, the same as in the original, with a tasty mix of spices and herbs to get the flavors just right.
Recipe: ikea veggie balls
Nacho Cheese Sauce
Looking for a delicious and healthy cheese sauce for your nachos? Try our nut-free and oil-free nacho cheese sauce, made with nutritious ingredients for a creamy and delicious dip. Ready in just 20 minutes, this budget-friendly recipe is perfect for snacking and entertaining.
Recipe: nacho cheese sauce
Greek Spanakorizo Stuffed in Butternut Squash
This stuffed butternut squash recipe takes inspiration from the Greek Spanakorizo, with a delicious Mediterranean filling of spinach, black olives, chickpeas, and feta cheese. The sweet and tender roasted butternut squash pairs perfectly with the flavorful and hearty stuffing, making for a satisfying and wholesome meal.
Recipe: stuffed butternut squash
Cauliflower Steak in 20 Mins
If you're looking for a new and exciting way to enjoy cauliflower, try making these cauliflower steaks. With their crispy exterior and tender interior, and seasoned to perfection, they make a perfect main dish or side that doesn't require an oven.
Recipe: cauliflower steak
Classic Crispy Falafel
Classic falafel is delicious. Traditionally it is made of soaked chickpeas and not canned, mildly spiced with fresh herbs, formed into balls, and deep-fried until it gets a crispy crust. This falafel recipe will show you exactly how easy it is to make them home.
Recipe: falafel
Vegetable Stew with Dumplings
This vegetable stew with dumplings is a delicious and comforting dish that will warm you up on a cold night. The flavorful stew, loaded with veggies and lentils, is topped with tender and fluffy dumplings, making it a satisfying and wholesome meal.
Recipe: vegetable stew with dumplings
Authentic Hungarian Bean Goulash
Indulge in the flavors of Hungary with this hearty goulash soup made with beans and vegetables. This traditional recipe has been passed down through generations and can be made in just 30 minutes, making it the perfect comforting and healthy meal for any weeknight.
Recipe: goulash soup
Chicken-less Salad
Give our healthy chicken-less salad a try! It will take less than 20 minutes to make it. You'll love the mix of tender king oyster mushrooms in place of chicken, crunchy celery, and juicy apples, all doused in a creamy dressing. This hearty salad is packed with flavor, and we guarantee you won't be able to stop at just one helping.
Recipe: healthy chicken salad
Smoky Sweet Potato Soup
How about a rich and filling sweet potato soup? It is a veggie-loaded soup with bell peppers, carrots, spinach and more. Adding quinoa or millet will make it a complete meal for either lunch or dinner.
Recipe: sweet potato soup
Buffalo Dip
Learn how to make a creamy, cheesy sauce that's both soy and nut-free using cannellini beans. Pair it with oyster mushrooms for the perfect plant-based alternative to shredded chicken in your buffalo dip.
Recipe: buffalo dip
Cheeseless Pizza
This easy cheeseless pizza recipe puts a fun and nutritious twist on traditional pizza and is a meal the whole family will love! In just 30 minutes or less, you will have a delicious veggie- and flavor-packed pizza without the dairy. It is the perfect answer to a quick, family-friendly meal!
Recipe: cheeseless pizza
Casarecce Pasta in Peperonata Sauce
Looking for a quick and delicious meal? Try our casarecce pasta recipe! Originating from Sicily, these short pasta noodles are known for their twisted or rolled shape, perfect for holding rich and flavorful sauces. Boil the pasta, and in just 30 minutes, you'll have a comforting Italian masterpiece.
Recipe here: casarecce pasta
Plum Crumble
This Simple Plum Crumble with Crunchy Walnut and Oat Topping is one of the easiest dessert recipes. You can't go wrong with a crumble. No kneading, no shaping, no decorating. I usually make the crispy topping with a food processor, which is like 2 minutes tops. And a scoop of vanilla ice cream is a must.
Recipe: plum crumble
26 Big-Batch Dishes to Stock Your Freezer
15 Weekend Lunch Recipes on a Dime to Feed The Family
Europe's Finest 25 Recipes You May Not Even Know Of
25 Asian Foods You Absolutely Need to Make At Least Once
Skip The Dreaded Drive-Thru Line With These 15 Fast Food Copycat Recipes