This Simple Plum Crumble with Crunchy Walnut and Oat Topping is one of the easiest dessert recipes. You can't go wrong with a crumble. No kneading, no shaping, no decorating. I usually make the crispy topping with a food processor, which is like 2 minutes tops. And a scoop of vanilla ice cream is a must. Enjoy!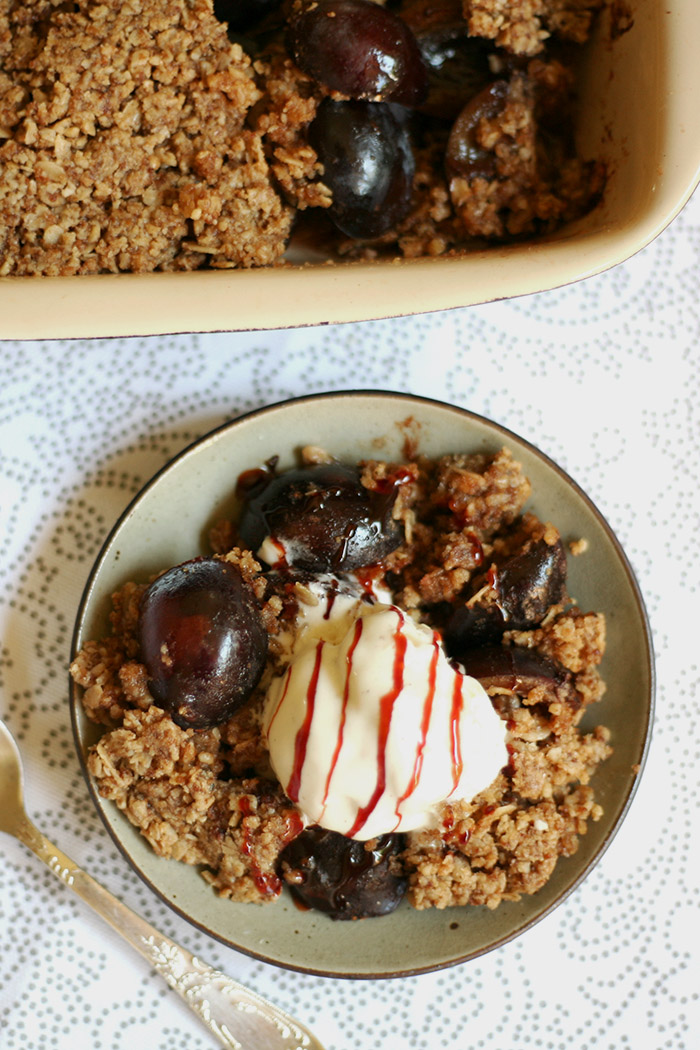 If you love quick and easy desserts, making crisps and crumbles will be your favorite. Dare I say the combinations are endless. Check out our Gluten-free Apple Crisp Pie, or our Gluten-free Strawberry Rhubarb Crisp, or our Gluten-free Blueberry Crisp.
So why Plum Crumble?
It all started with a huge basket of Italian Prune Plums aka Empress Plums we received from my mother-in-law. Every year she makes tasty plum jams, plum pies, and plum dumplings, but there are always some extra baskets she has no time to preserve or use. So what should I do with them? Let's make a crumble or crisp. Is it crisp or crumble or streusel? I never really know what people expect when they hear these names.
Think of it as a go-to dessert for when you have a sudden wish to eat something sweet. We love our Strawberry Rhubarb Crisp and our Blueberry Crisp, but I thought cinnamon plum crumble sounds quite delicious. You might already be caught up on the fact that I love to use cinnamon. It just makes everything better, isn't it? If you love it too, be sure to check out all of our cinnamon recipes.
Plum filling and Walnut topping fits perfectly
Again, I have to thank the idea to my mother-in-law. A couple of years ago, she made these cute plum and walnut dessert bites. She made a large enough cut on the plum to take the seeds out and to put a larger walnut piece in the hole. After that, she dried them in a dehydrator/fruit dryer. When they were ready, she sprinkled them with cane sugar. Yummm! They were so easy and so delicious. Plum and walnut just fit perfectly together. I was recalling this image and taste when I came up with the idea of this crunchy plum crumble topping with walnuts.
How to make an Oat Topping for Crumble?
No kneading, no rolling, no special skill is needed to make it. So what do you need to make a crumble oat topping?
rolled oats – Make sure you use certified gluten-free, if you have coeliac. You can use quick oats, but rolled oats look more rustic.
rice flour – This is my go-to flour to think of when I am baking something. I know that there are 90+ Gluten-free Flours, but this one is easy, cheap and neutral in taste.
walnuts – This gives you the extra crunchiness. If you have walnut meal, then you can skip one step. If you have roasted walnuts that is even better as the taste will be even deeper.
coconut sugar – We chose coconut sugar instead of white sugar or brown sugar. And the reason is simple and not at all health-related. 🙂 Coconut sugar has a subtle caramel taste which gives the topping a speculoos kind of flavor. If you haven't tried it, you should.
unsalted butter – Any unsalted butter would do even if you need vegan or dairy-free. Don't worry the recipe is perfect either way.
cinnamon – While it is optional, we highly recommend it as plums and walnuts go great with cinnamon. I am biased probably, but I just L-O-V-E cinnamon on almost everything.
If you don't have walnut meal, then place your halves or pieces in the food processor first and pulse until you got a corse texture. Than add all other ingredients and pulse a couple times until you get a breadcrumb-like texture. Just 2 minutes! See the result on the below picture.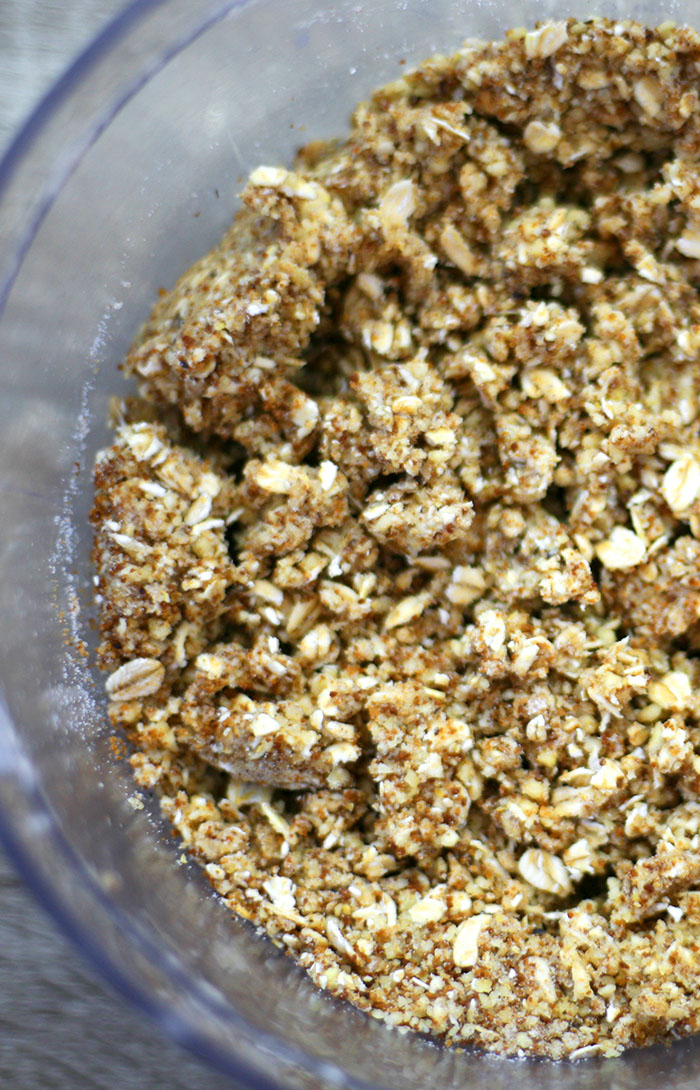 Making a cinnamon plum filling
The most time-consuming part of this recipe is to wash the plums and cut them in half to take the seeds out. To reduce the number of dishes you need to wash at the end of the day, add the seeded plum halves directly to the baking dish. Sprinkle it with coconut sugar and cinnamon. Stir until combined. That's it! 1 minute tops!
Top tips to make the perfect filling
sugar – I prefer to use coconut sugar as it has a nice caramel flavor which goes great with any fruit. But you can certainly add any other sweetener (granulated white sugar, brown sugar, maple syrup, other alternatives).
water – No need to add any.
lemon juice – No need to add any. Lemon juice is supposed to bring the sweetness out. I would omit it completely as plums are rather tart fruits compared to syrupy sweet peaches or strawberries.
starch – Plums are not juicy, so you don't need any starch to thicken anything.
spices and herbs – I love using cinnamon, but you can make this plum crumble recipe equally delicious by adding a bit of vanilla extract (1 tsp) instead. If you are super adventurous, try star anise or orange zest.
Baking a crunchy Plum Crumble
You have your filling already in the baking dish. I use a ceramic oven-safe dish in the size of (see below picture). Spread the crumbs using your fingers on top of the fruit filling. Pre-heat the oven to 350 Fahrenheit (180 degrees Celsius) and bake your plum crumble for at least 20-30 minutes. You know it is ready when the oat crumble topping is brown and the plums soften but not completely mush. And what to serve with it? It is easy. VANILLA ICE CREAM or whipped cream! Enjoy!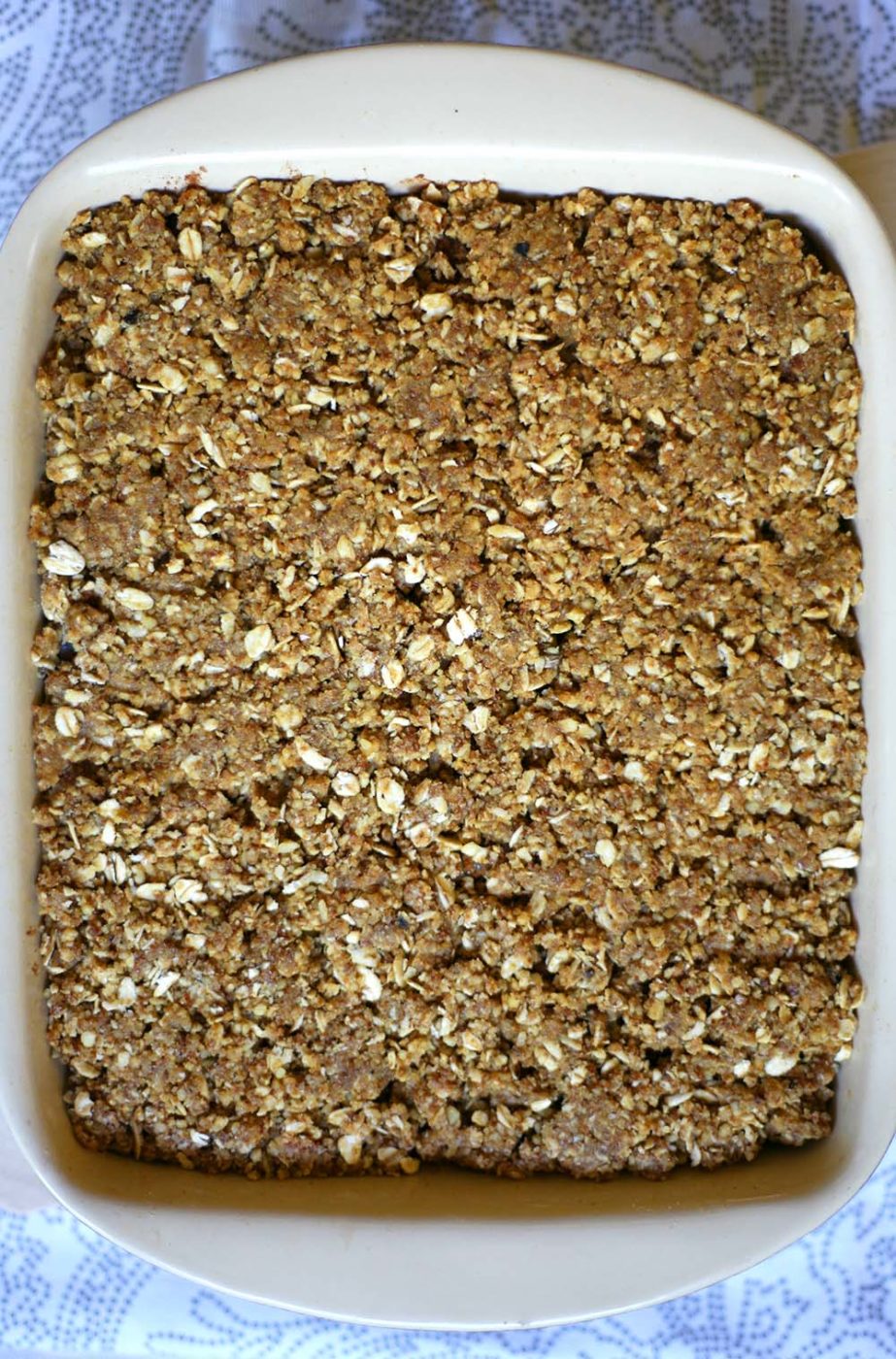 More reasons to love this plum crumble
Plums are such underrated fruits. The first thing that came up usually is that eating too many plums will have laxative effects.
However, plums are just extremely nutritious with high in Vitamin A, C and K and rich in antioxidants. If you're interested to learn more, be sure to check out the seven evidence-based health benefits of plums.
Pair them with walnuts and you will get also an Omega-3 and Omega-6 rich dessert. Walnuts are exceptionally nutritious and not only rich in healthy fats, but fiber, minerals and vitamins as well. If your're interested, you can read more about their health benefits.
FAQs and Substitutions
What kind of fruits you can substitute plums for?
You can add peaches, any berries, apples. This crunchy cinnamon oat topping pairs great with lots of different fruit. Let us know if you try any combination. We have similar recipes for you to try like our Gluten-free Apple Crisp Pie, or our Gluten-free Strawberry Rhubarb Crisp, or our Gluten-free Blueberry Crisp.
Can you use frozen plums?
You can absolutely use frozen plums. You need to thaw them though as their flesh is hard enough as it is. And you want them to soften during baking.
Can you use different sweeteners to make it low-carb?
Sure you can, although I only tested this recipe with cane sugar and coconut sugar (the same amount is needed). Therefore, I am not familiar with the measurements for other sweeteners like stevia or erythritol. If you do, please let us know in the comments.
This Plum Crumble with Walnut Oat Topping recipe is vegan, so dairy-free, and egg-free. It is also suitable for vegetarian, soy-free, and gluten-free diets (if you use certified GF oats). It is not WFPB-friendly (whole foods, plant-based) as dairy-free butter is not compliant due to its oil content.
More fruity gluten-free dessert recipes
You can browse through our Vegan and Gluten-free Dessert Recipes or check out
Plum Crumble with Crunchy Walnut and Oat Topping
Ripe plums sprinkled with cinnamon sugar and topped with crunchy walnut and oat crumbs. 2 mins to mix. 20 mins to bake. And your plum crumble is ready!
Ingredients
Simple Plum Crumble Filling
Crunchy Walnut Oat Crumble Topping
EXCLUSIVE 5-ingredient recipes for busy home cooks that are ready in 15 minutes!
Check out our Express Vegan Cookbook!
Instructions
Simple Plum Crumble Filling
Wash the plums. Cut them in half and take the seeds out. (You can cut them in quarters or smaller pieces to have them more tender and mushy after baking.)
Crunchy Walnut Oat Crumble Topping
Pre-heat oven for 350 F (180 degrees).

Scatter the crumble topping evenly over the plums.

Bake for 20 minutes or until the crumble topping turns golden brown. Serve it warm with vanilla ice cream that melts all over it.
Nutrition
Nutrition Facts
Plum Crumble with Crunchy Walnut and Oat Topping
Amount Per Serving (1 serving)
Calories 433
Calories from Fat 225
% Daily Value*
Fat 25g38%
Polyunsaturated Fat 11.5g
Sodium 66mg3%
Potassium 250mg7%
Carbohydrates 49g16%
Protein 6g12%
Vitamin A 1600IU32%
Vitamin C 2.5mg3%
Calcium 35mg4%
Iron 1.6mg9%
* Percent Daily Values are based on a 2000 calorie diet.
UPDATED: This recipe was originally posted in October 2018, but was rewritten and republished with new photos, instructions, and serving tips in Jan 2021.