Looking for a quick and delicious meal? Try our casarecce pasta recipe! Originating from Sicily, these short pasta noodles are known for their twisted or rolled shape, perfect for holding rich and flavorful sauces. Boil the pasta, and in just 30 minutes, you'll have a comforting Italian masterpiece.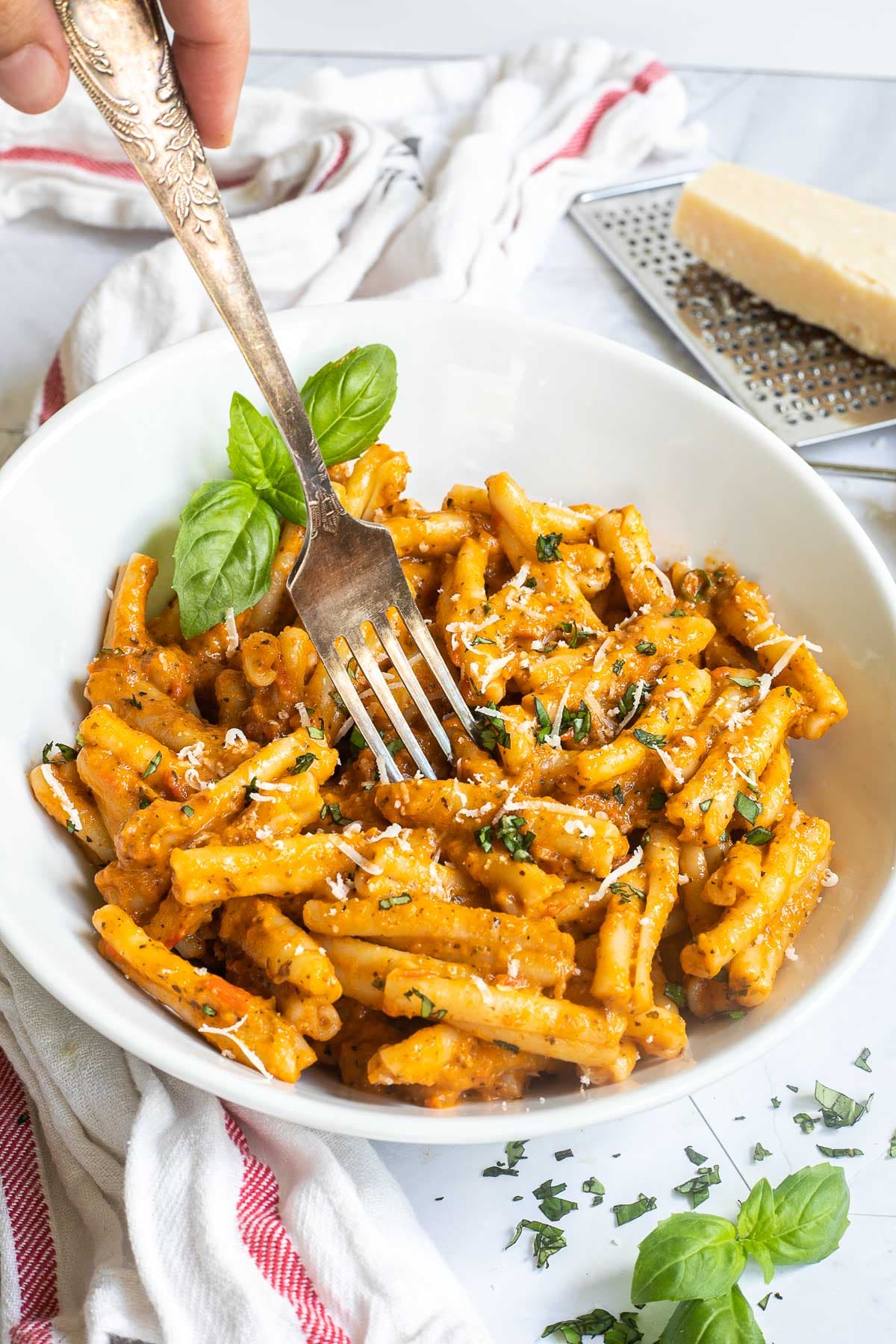 If you are looking for other easy pasta recipes, try our coconut milk pasta, lemon pepper pasta, and cajun oyster mushroom pasta.
Jump to:
What to expect?
Casarecce pasta is a versatile delight that pairs well with various sauces and ingredients. Our recipe features a rich tomato-based sauce that perfectly complements the pasta's shape and texture.
Creating this flavorful dish from Southern Italy is surprisingly simple, making it a quick and satisfying option. The combination of tangy tomatoes, vibrant veggies, and the option to add cheese creates a symphony of flavors.
The heat of bell peppers balances the sweet tanginess of the tomatoes, resulting in a harmonious blend. Basil, oregano, and parsley add aromatic notes, while garlic and red wine contribute depth and acidity.
Prepare yourself for a delightful dining experience with this quick and flavorful Sicilian casarecce pasta recipe. It's perfect for cozy evenings, offering comforting aromas and delightful flavors.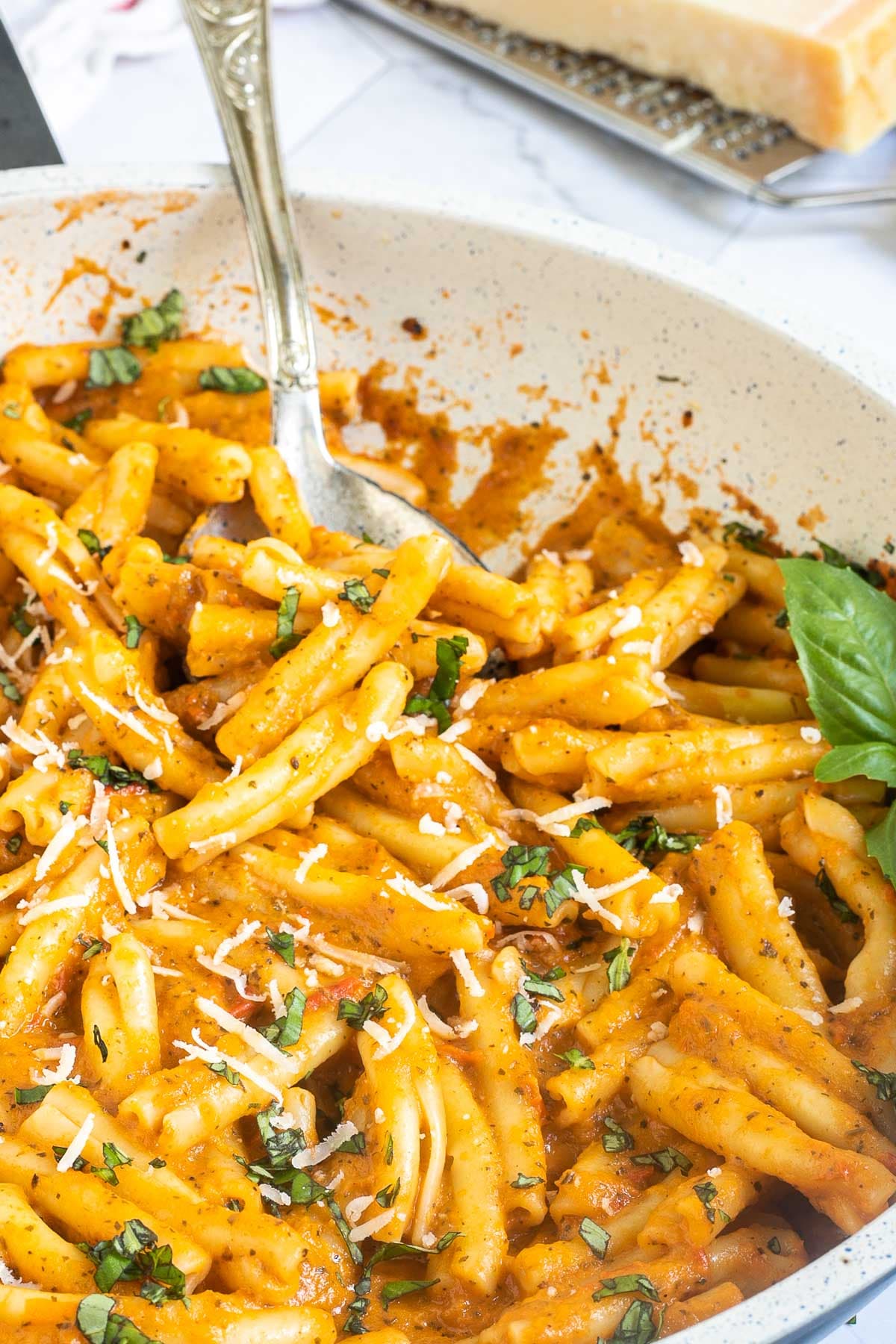 Ingredients
Our casarecce pasta recipe calls for basic pantry ingredients, along with fresh herbs, to enhance its authentic Sicilian flavor. However, if you don't have access to fresh herbs or certain veggies, we've got you covered with a few substitute suggestions below.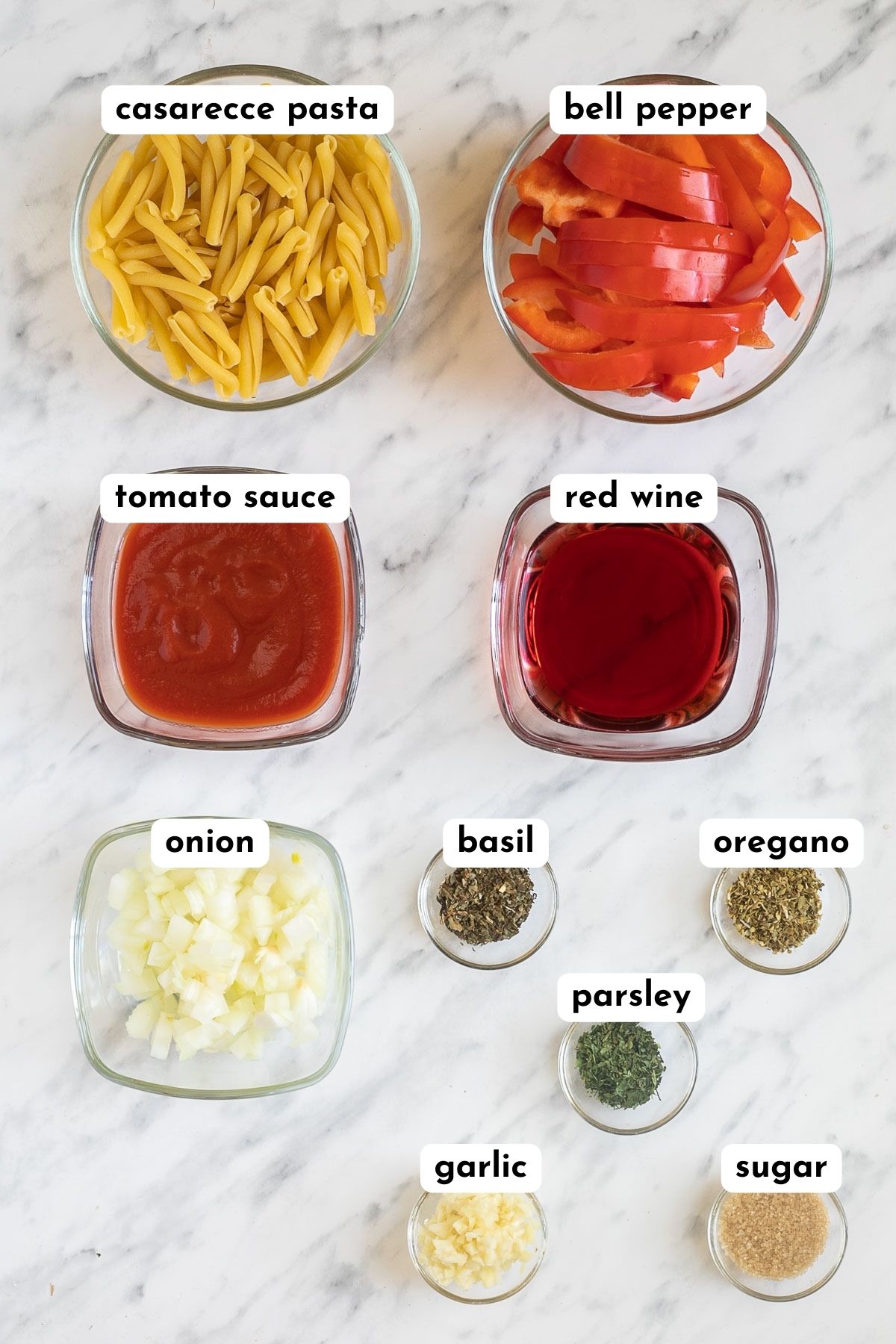 Casarecce pasta – Choose artisanal casarecce pasta for this recipe. Its porous texture holds the sauce perfectly.
Olive oil – Use extra-virgin olive oil to ensure your pasta dish acquires a rich depth of flavor.
Onion – Yellow onions are preferred, but you can also opt for sweet white onions.
Sieved tomato purée – You can probably find several types of tomato sauces in the stores. However, we recommend choosing a sieved tomato product, which is thicker and unseasoned. If you can, use fresh San Marzano tomatoes for a vibrant and sweet tomato sauce.
Red wine – Medium-strength red wines like Cabernet Sauvignon, Merlot, or Zinfandel will balance the tang of the tomato.
Garlic cloves
Bell pepper
Basil
Oregano
Dried parsley
Cane sugar
🛒 You can find detailed measurements for all ingredients in the printable version of the recipe card at the bottom of this post.
Instructions
Preparing the ingredients
Set a large pot of water to boil and add the casarecce pasta in as per the packaging instructions.
Cook the pasta until al dente, following the recommended timing provided by the pasta brand. This usually takes about 10-12 minutes. Don't forget to save a cup of pasta water before draining.
While the pasta is boiling, peel and chop the onion. Start by trimming the root and stem ends, then cut it in half from the root to the stem end.
Mince the peeled garlic cloves into fine pieces.
Thoroughly wash the bell peppers and slice them up.
Making casarecce pasta with peperonata sauce
Preheat a cast-iron skillet or large frying pan over medium heat.
Add the onions to the pan and sauté for about 3–4 minutes until they turn slightly golden brown.
Toss in the minced garlic and cook for 1–2 minutes until they release their aromas.
Next, throw in the bell peppers and season with salt and pepper. Stir the mixture for 4–5 minutes, quickly adding the peppers at the end to ensure they don't soften completely.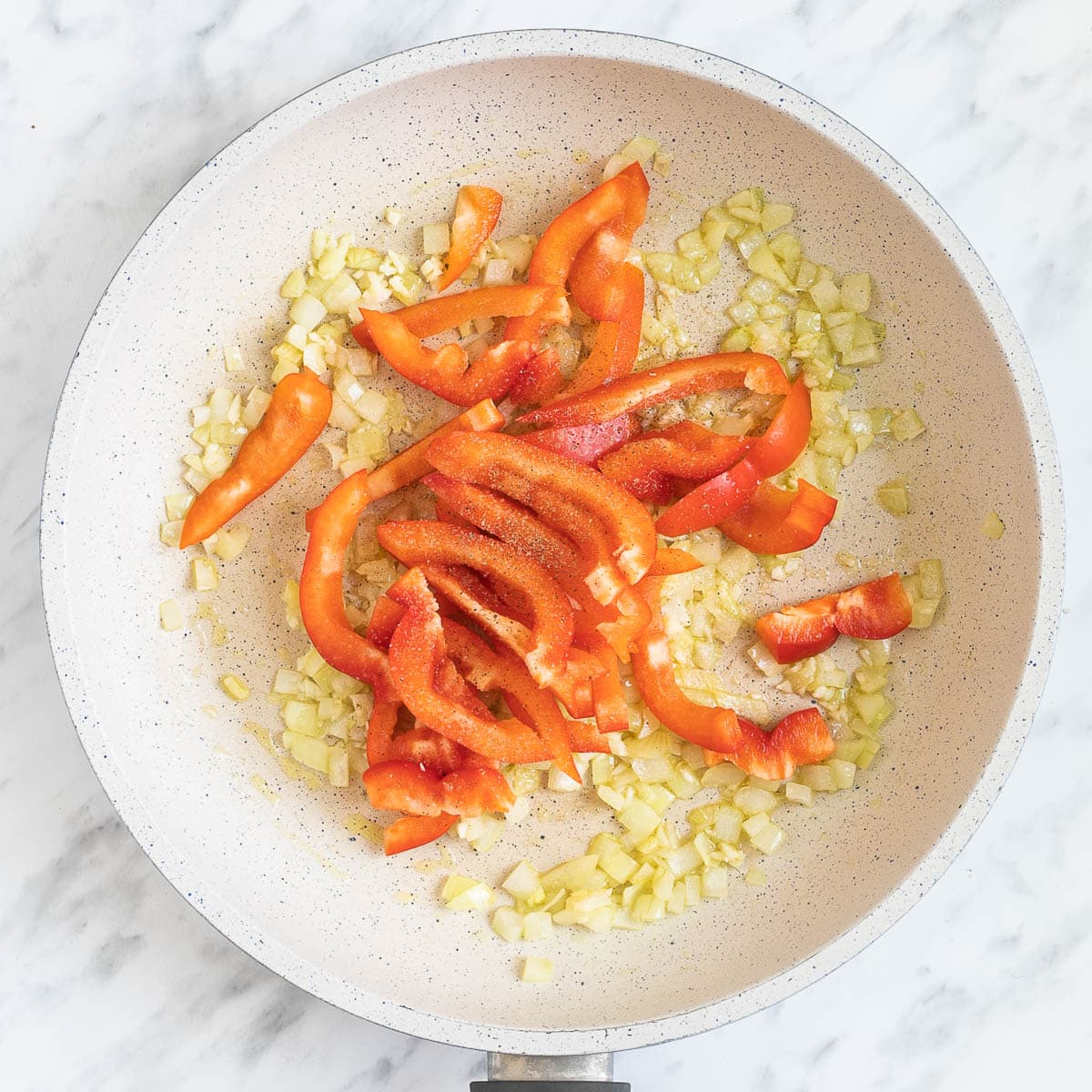 Add the Italian seasonings, including oregano, basil, and parsley, and mix well. Cook for around 1–2 minutes.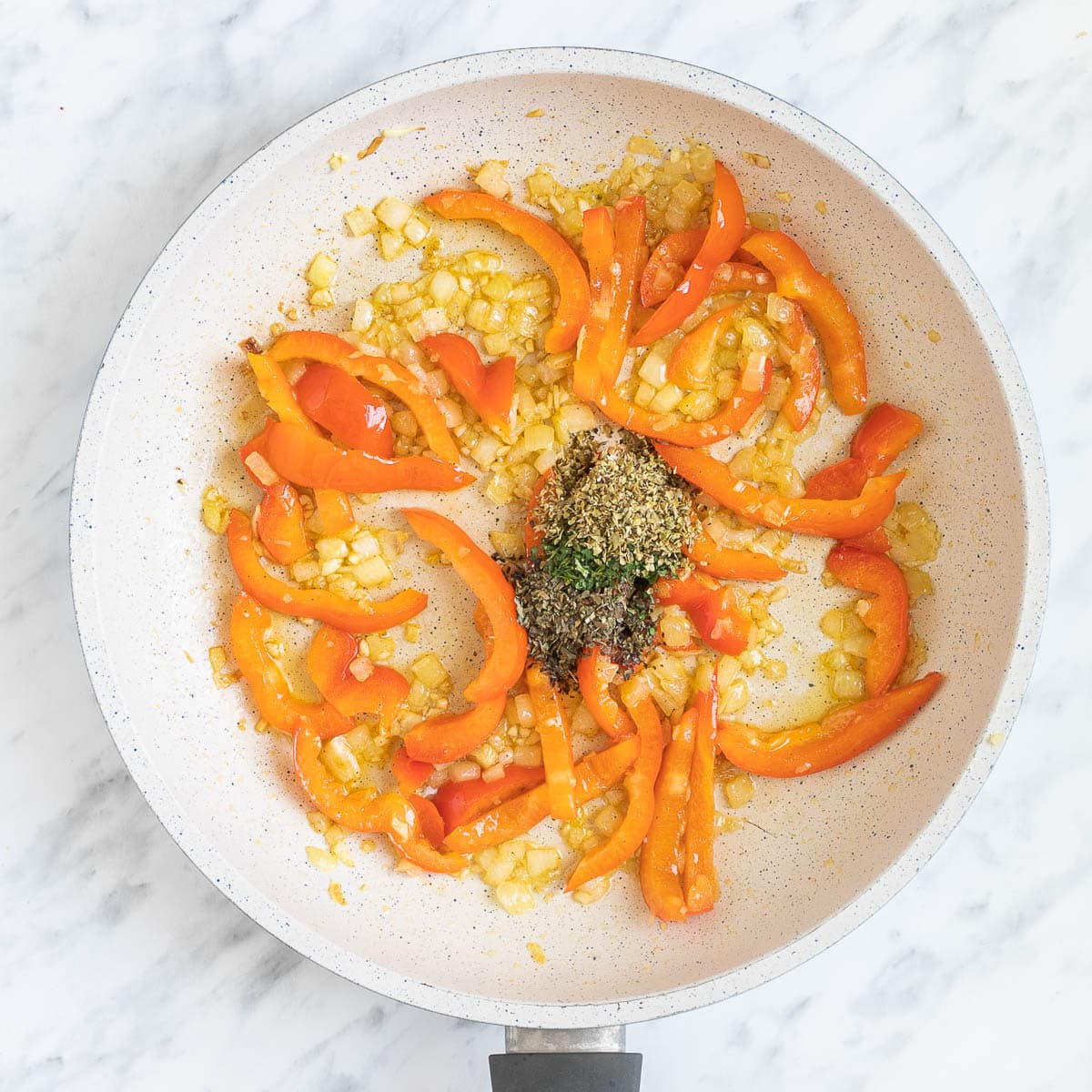 Gently pour in the red wine, incorporating it into the sauce. Stir occasionally until the mixture is cooked and almost all the liquid has evaporated.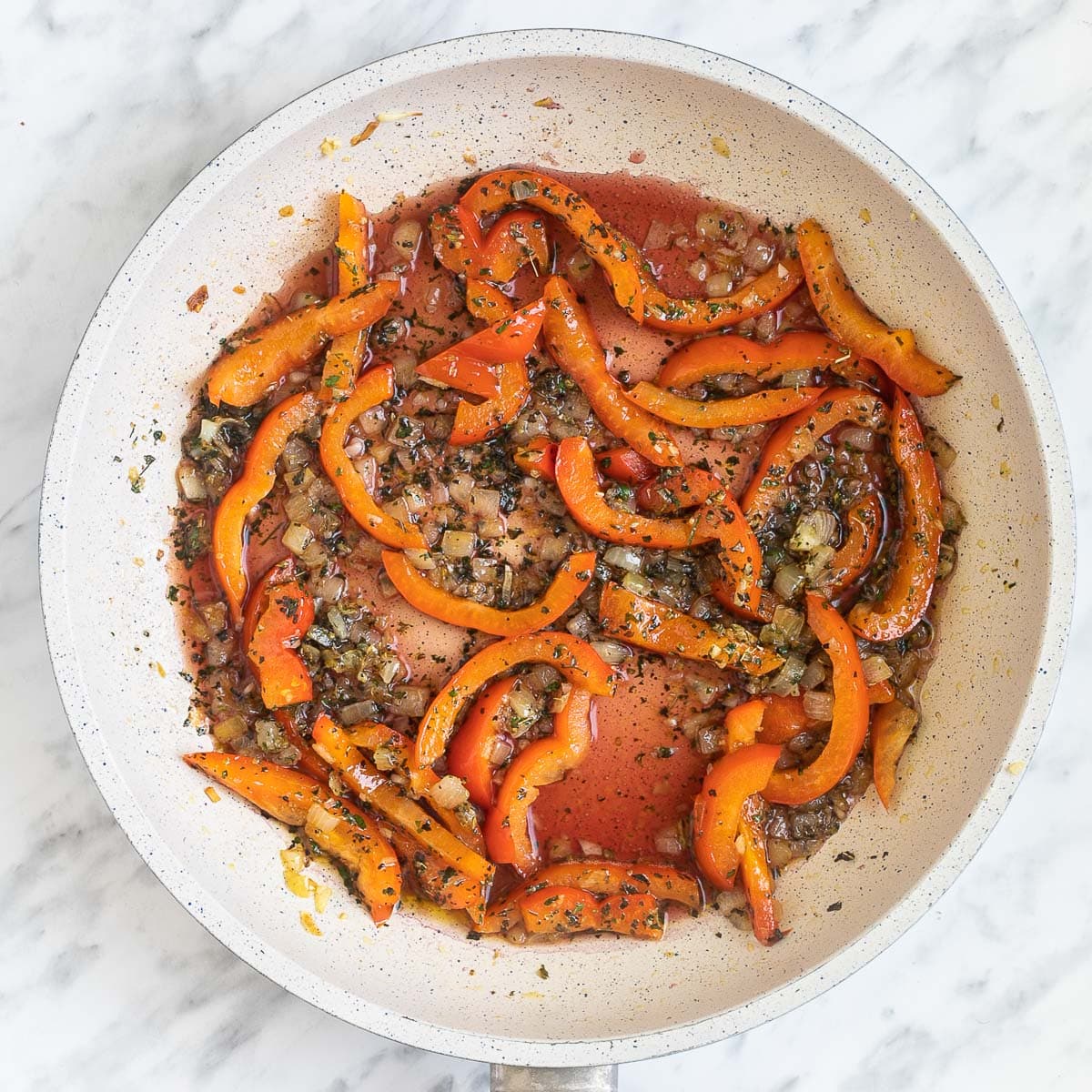 Add the tomato sauce, cane sugar (which helps to counter the acidity and sourness of the tomatoes), and a bit of the reserved pasta water.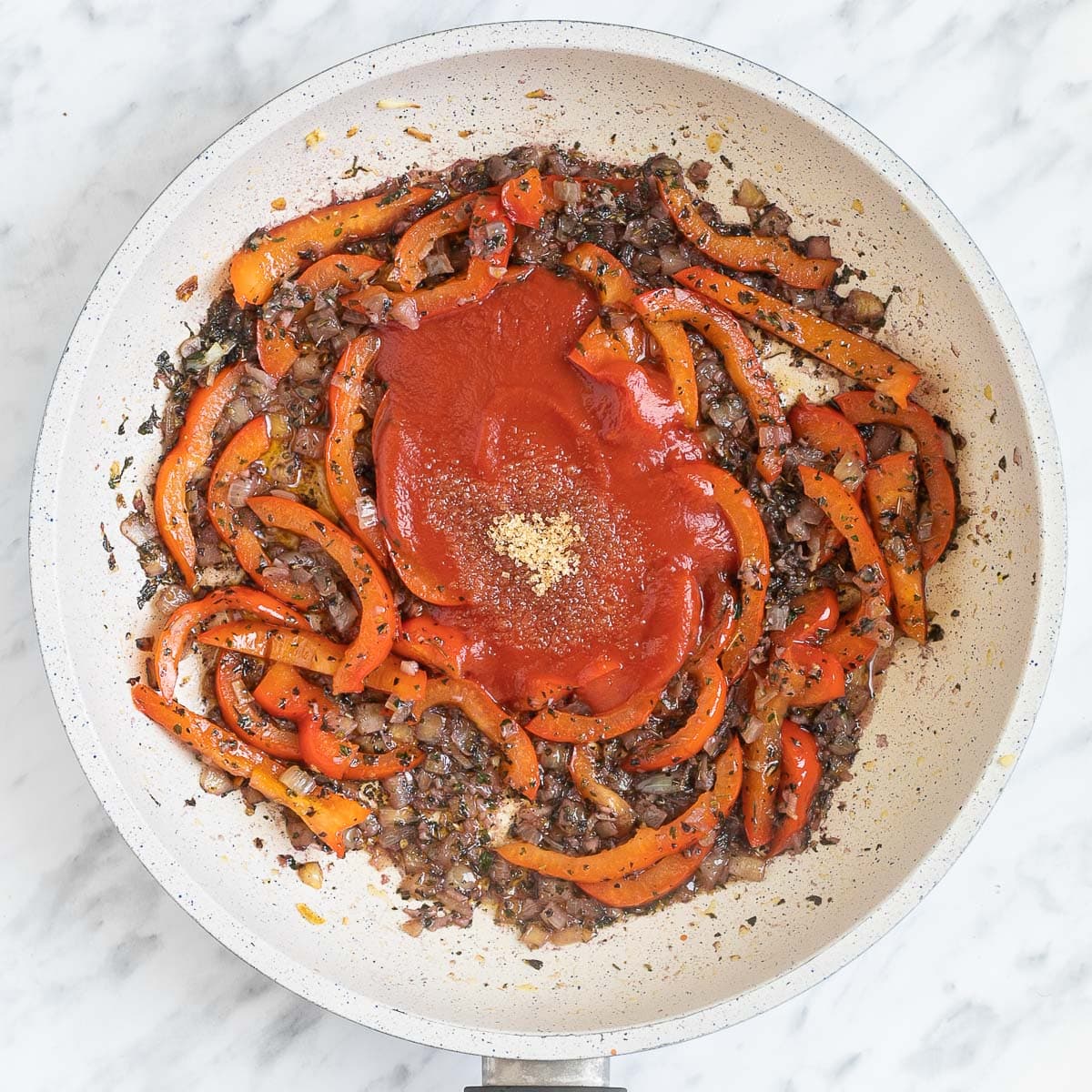 Stir the mixture and let it come to a boil. Then set aside.
Once it cools, transfer the contents to a blender and blend till smooth. Pour the sauce back into the pan and do a quick taste test. Add seasonings if required.
Drain the cooked pasta and add it to the sauce and mix well. Garnish with fresh herbs and your favorite cheese, if desired, before serving!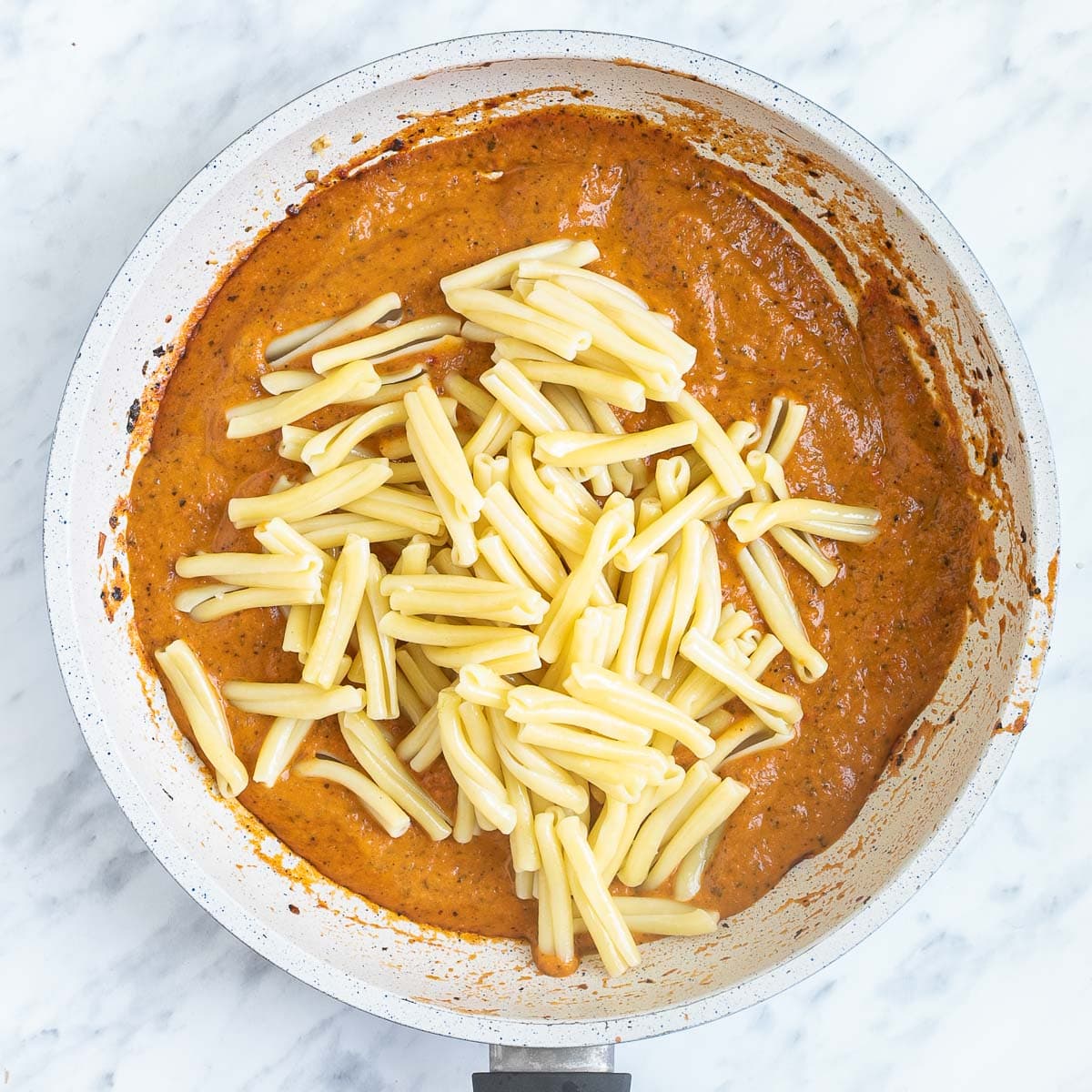 Cooking tips
Store the sauce overnight – For enhanced flavor, store the sauce in an airtight container overnight in the refrigerator. This allows the seasonings to meld together for a more robust taste.
Using reserve pasta water – Adjust the sauce's consistency by adding reserve pasta water. Increase the amount for a thinner sauce.
Salt your pasta water – Remember to generously salt your pasta water to balance the flavors and prevent the pasta from being overly sweet.
Variations
Pasta varieties – Elevate the visual appeal of your dish by opting for other short pasta varieties such as fusilli, penne, or farfalle. Choosing pasta shapes and textures similar to casarecce ensures they can effectively capture and hold the flavorful sauce. For those following a gluten-free diet, there are also alternatives that can be found in stores, from classic to protein-packed, like quinoa spaghetti, edamame spaghetti, or chia flour pasta.
Vegetables – The best part of this recipe is the variety of ingredients it allows you to use. Add a delightful twist to this recipe by incorporating a variety of vegetables such as eggplant, steamed broccoli, zucchini, or mushrooms. The versatility of the recipe allows you to explore different flavors and textures, making it a great opportunity to utilize fresh produce from your local store or home garden.
Proteins – Want to make your pasta more protein-paced? Toss in white beans, tofu, vegan meatballs, or vegan sausage.
Spices – For those who love a bit more punch in their sauce, throw in some cayenne peppers, some smoked paprika, red pepper flakes, or even a bit more black pepper.
Turn it into a casserole – In a baking dish, top your casarecce pasta with shredded cheese and bake at 375 Fahrenheit (ca. 191 °C) for 20 minutes.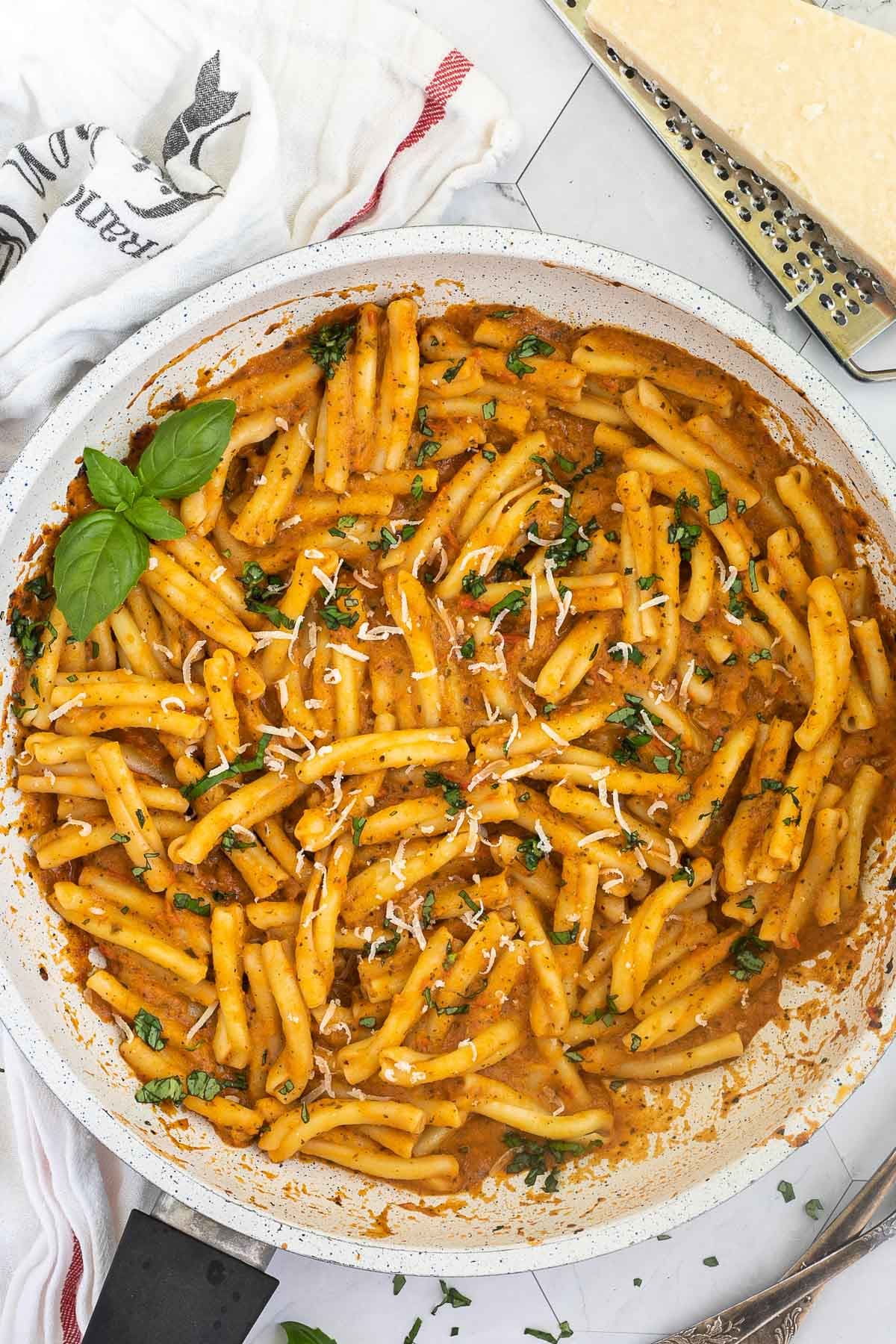 Serving ideas
Add fresh herbs: Elevate the flavors of your dish by sprinkling freshly chopped herbs such as thyme or parsley. These aromatic herbs add a burst of freshness and enhance the dish's overall taste.
Make it cheesy: Sprinkle some freshly grated vegan Parmesan cheese just before serving.
Garlic bread on the side: Serve it with warm garlic bread or crispy breadsticks. The combination of the rich flavors from the pasta and the satisfying crunch of the bread will take your dining experience to the next level.
Toasted breadcrumbs or nuts: Chop up some pine nuts, pecans, walnuts, or cashews and sprinkle them over the pasta to add a nutty flavor profile.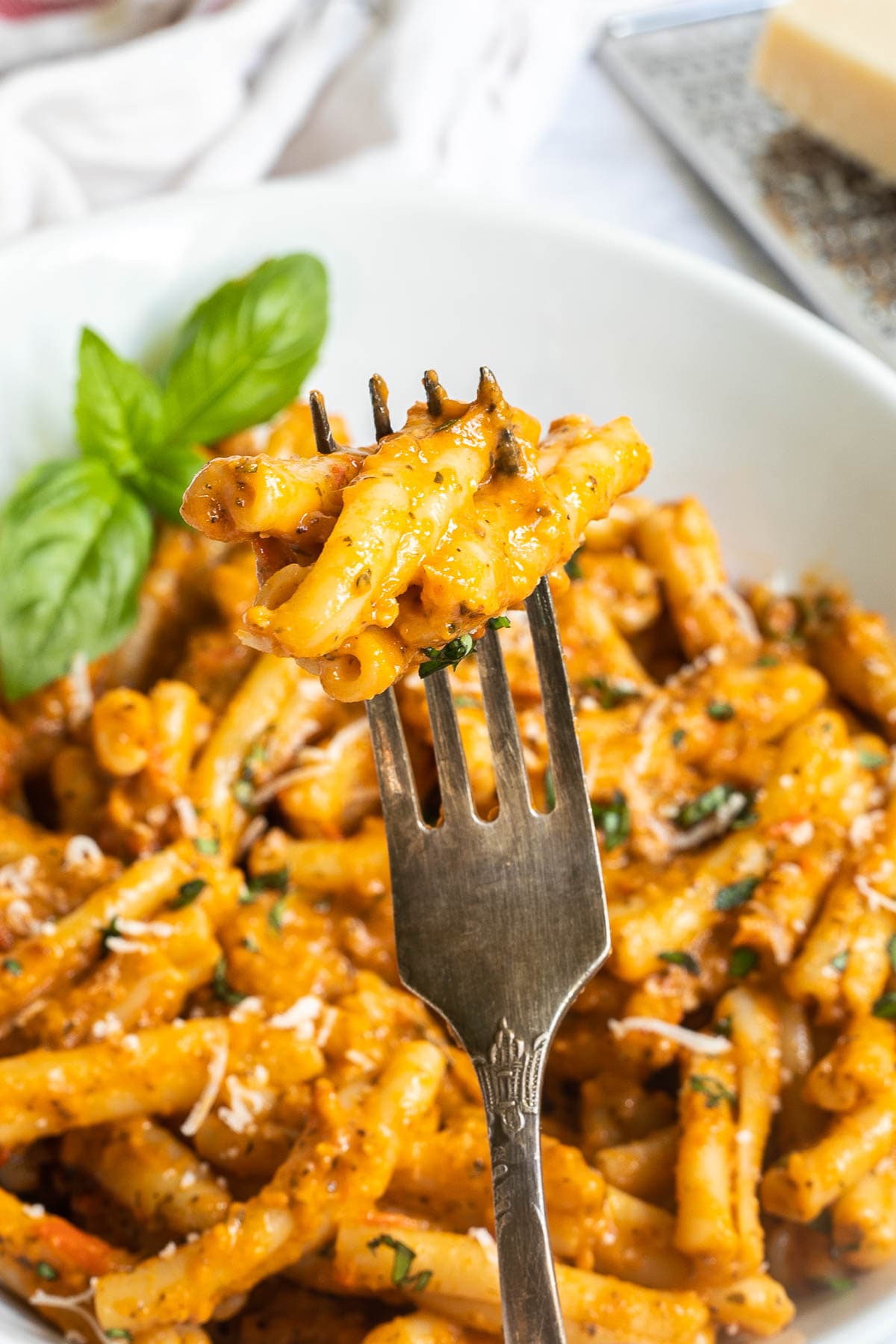 Equipment
Cast iron skillet – Our UnoCasa cast iron pan is an excellent choice, as it retains heat well and facilitates quick and easy frying or sautéing of vegetables.
Large non-stick frying pan – If you prefer a non-stick option, a large frying pan will also work perfectly for this recipe.
High-power blender – A high-power blender like Vitamix is essential to achieve a smooth consistency for the thick and veggie-filled sauce.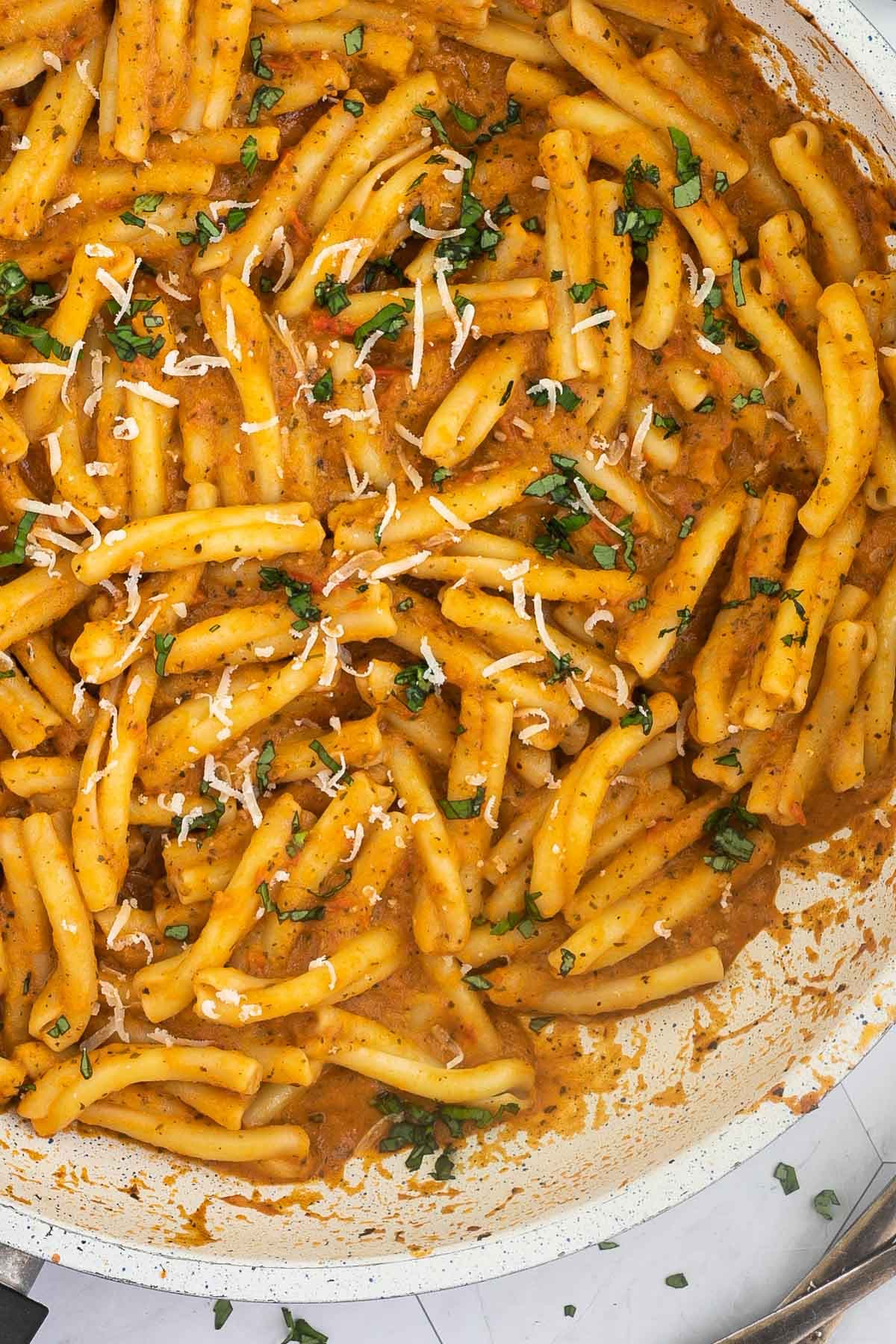 Storing tips
We recommend storing the peperonata sauce and the cooked pasta separately if possible. As time goes by the pasta will get soggy and the sauce dry.
Fridge: Store any leftovers in an airtight container in the refrigerator for about 3–4 days. When you're ready to enjoy them again, simply reheat the desired amount of pasta in a small pot over medium heat. If the sauce has dried out, add a little water to thin it out. Alternatively, you can microwave it for a few minutes.
Freezer: Freeze only the sauce and store it for up to 3 months. Defrost in the fridge overnight before using.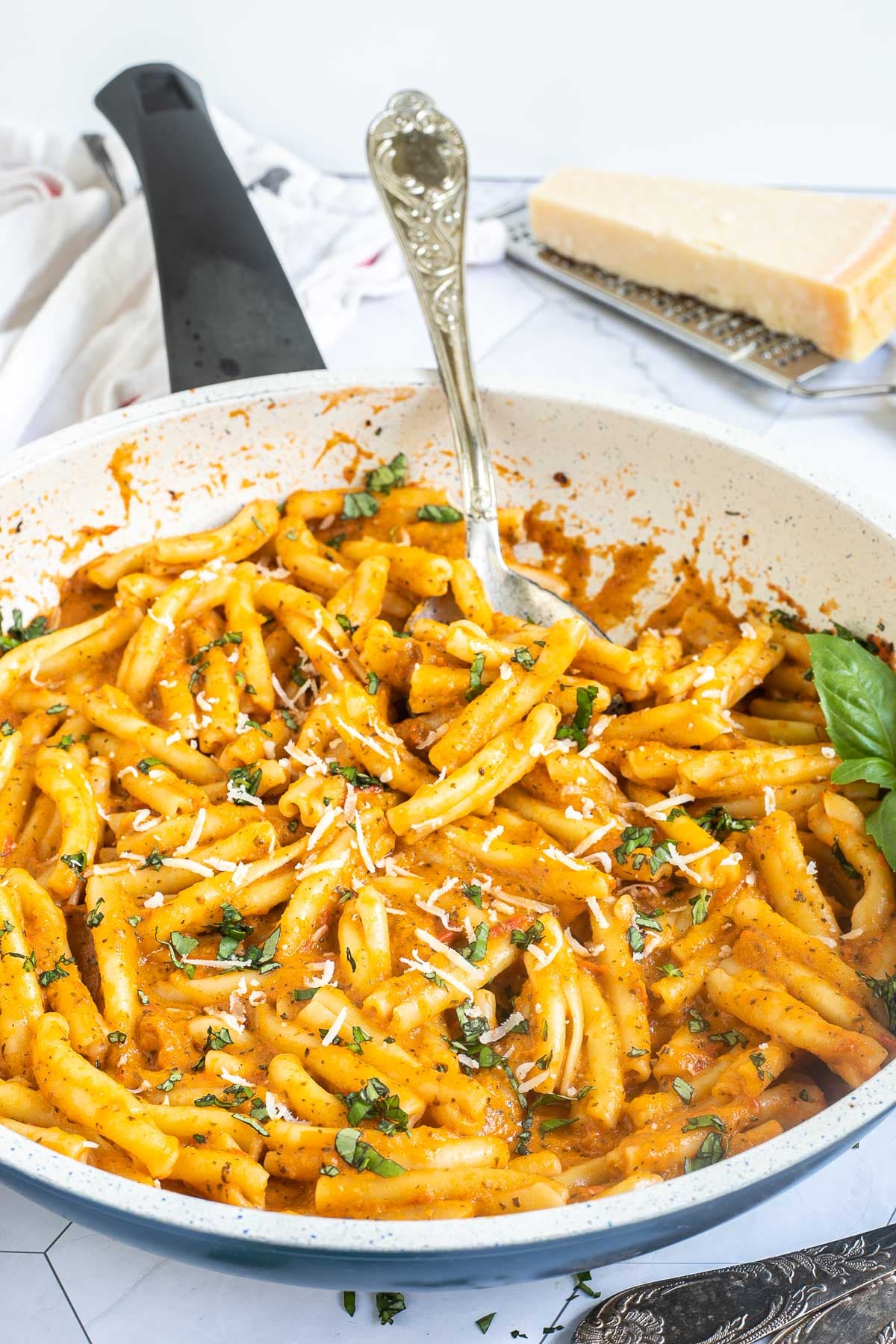 FAQs
What can I substitute for casarecce pasta?
Our casarecce pasta sauce recipe can be personalized based on your individual needs and the ingredients available in your pantry. Shorter pastas with a rough texture, such as fusilli, penne, or farfalle, are great substitutes that work well with the sauce.
How do you cook casarecce pasta?
Casarecce pasta can be cooked in many ways – simply with olive oil and herbs, with a creamy white sauce, or even baked in a dish. But its short wavy shape and rough texture make it perfect for heavy tomato-rich sauces like ours, which are a delightful mix of sweet and spicy.
How long does it take to cook casarecce pasta?
A casarecce pasta recipe can be whipped up in just about 30 minutes. Set the pasta to cook as you prep the sauce, and it should come together in no time!
THANK YOU so much for visiting our website. Please comment below if you have tried this recipe. We LOVE hearing from you! If you loved the recipe, please don't forget to give us a ⭐⭐⭐⭐⭐ RATING. We appreciate all of our readers.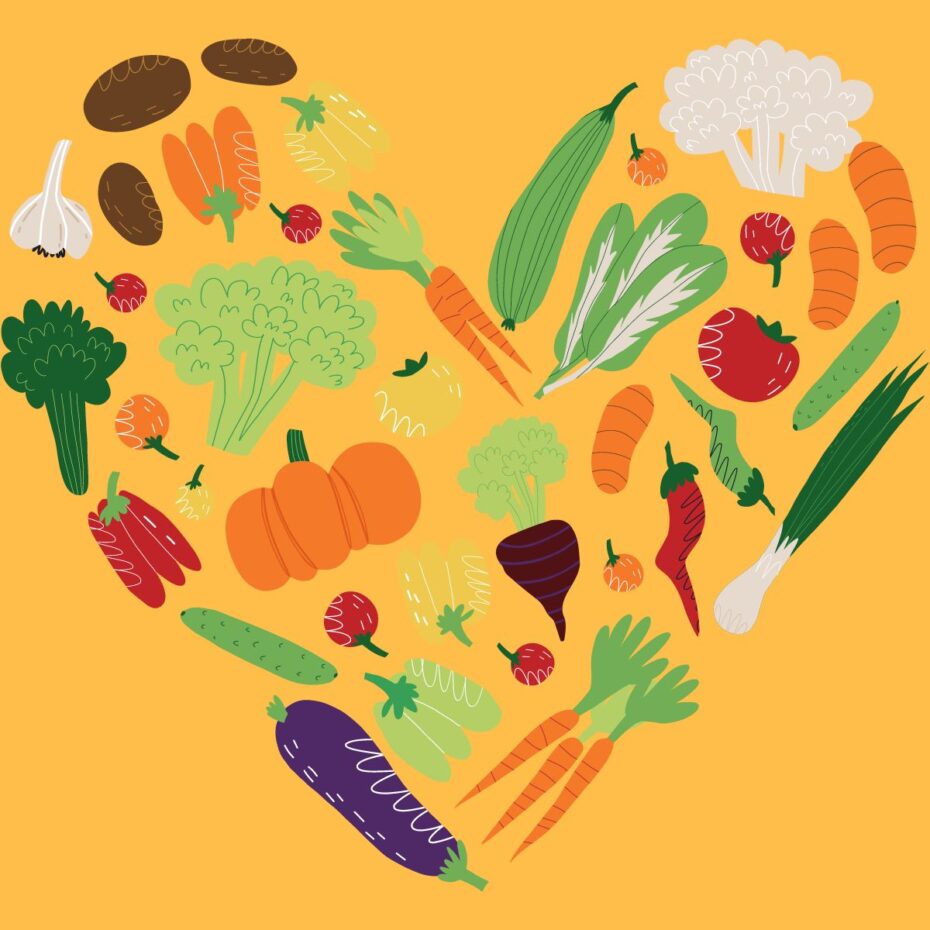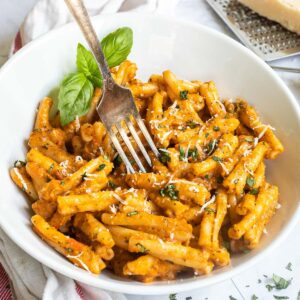 Casarecce Pasta with Peperonata Sauce
Looking for a quick and delicious meal? Try our casarecce pasta recipe! Originating from Sicily, casarecce pasta is known for its twisted or rolled shape, perfect for holding rich and flavorful sauces. Boil the pasta, and in just 30 minutes, you'll have a comforting Italian masterpiece.
EXCLUSIVE 5-ingredient recipes for busy home cooks that are ready in 15 minutes!
Check out our Express Vegan Cookbook!
Instructions
Preparing the ingredients
Peel and chop the onion. Peel and mince garlic cloves.

Wash and slice bell pepper.

Cook pasta according to package instructions.
Making pasta sauce
Preheat a large frying pan or skillet to medium heat.

Add chopped onions and saute for 3-4 minutes.

Add minced garlic. Cook for 1-2 minutes.

Add sliced bell peppers. Season with salt and black pepper. Stir well. Cook for 4-5 minutes.

Add oregano, basil and parsley. Stir well. Cook for 1-2 minutes.

Pour red wine. Cook until nearly all liquid is evaporated. Stir occasionally.

Add tomato sauce, sugar and a bit of reserved pasta water. Stir well and bring it to a boil.

Transfer this to a blender. Blend until smooth. Return the sauce to the pan. Adjust seasoning is needed.

Finally, add pre-cooked pasta. Stir well.
Nutrition
Nutrition Facts
Casarecce Pasta with Peperonata Sauce
Amount Per Serving (1 serving without pasta)
Calories 420
Calories from Fat 72
% Daily Value*
Fat 8g12%
Sodium 16mg1%
Potassium 404mg12%
Carbohydrates 71g24%
Protein 12g24%
Vitamin A 1054IU21%
Vitamin C 42mg51%
Calcium 42mg4%
Iron 2mg11%
* Percent Daily Values are based on a 2000 calorie diet.