Introducing our delicious lentil bolognese – a meatless take on the beloved Italian favorite! It blends brown lentils, savory tomato sauce, veggies, and aromatic herbs to create a hearty and flavorful dish that's a must-try. Get ready for a tasty plant-based bolognese treat that'll leave you craving more.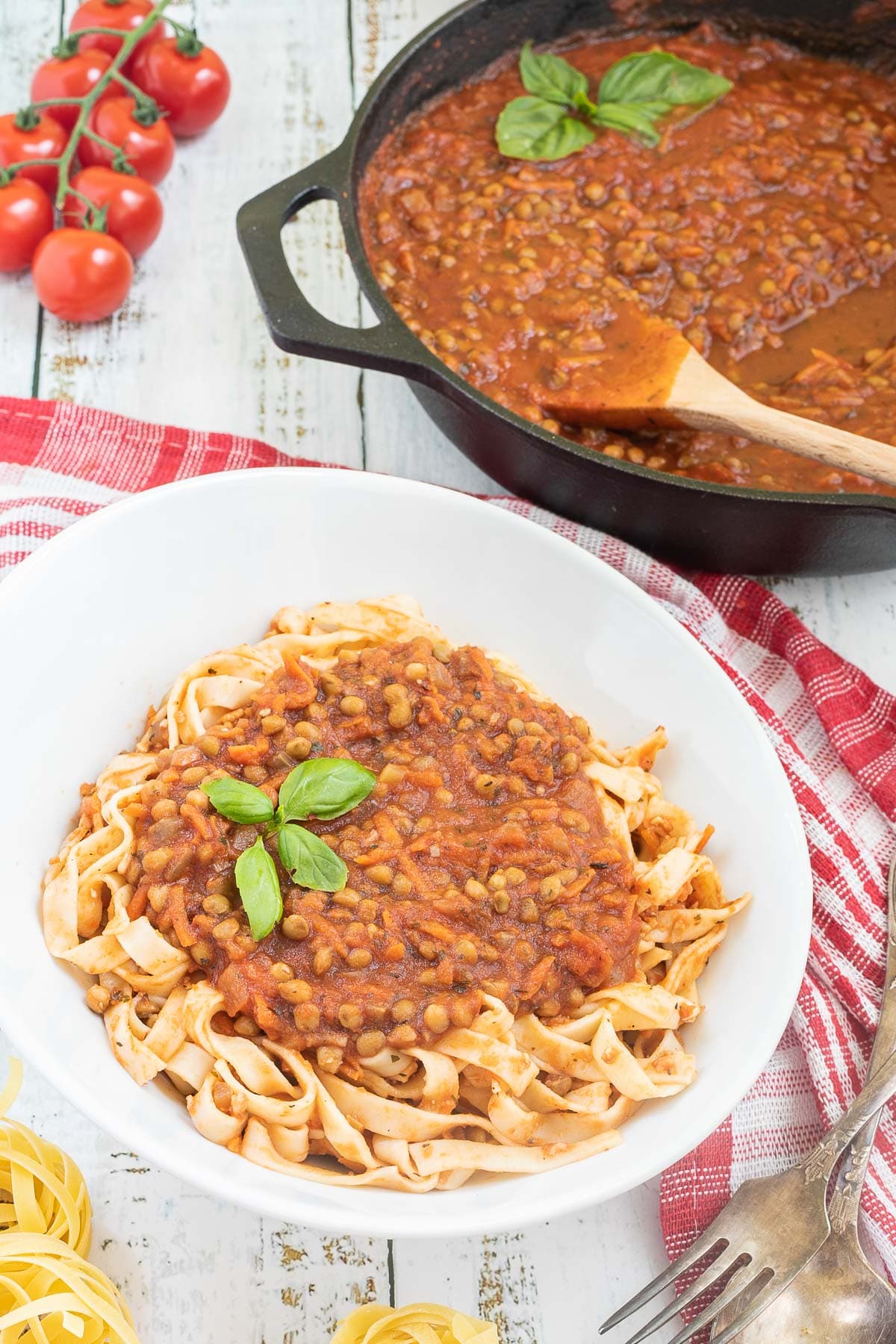 For more plant-based versions of the traditional bolognese, you can check out our easy vegan lentil lasagna, tofu bolognese, vegan spaghetti bolognese with cauliflower walnut meat, and vegan bolognese that uses TVP. For even more pasta inspiration, explore our extensive section on vegan pasta recipes.
Jump to:
What to expect?
Looking for authentic bolognese flavors without using a meat substitute? Our 30-minute lentil bolognese has you covered! It follows the traditional Italian recipe with carrots and celery, making it a perfect choice for plant-based fans.
All you need are a few key ingredients and pantry staples to create the most satisfying and flavor-rich sauce. While the lentils, with their hearty texture, are definitely the star here, the veggies and herbs contribute to the depth of the recipe. Add to that another dimension of umami with tomato puree and soy sauce, and you'll have yourself a symphony of flavors. And with simple steps and a quick prep time, it's sure to become a regular in your household.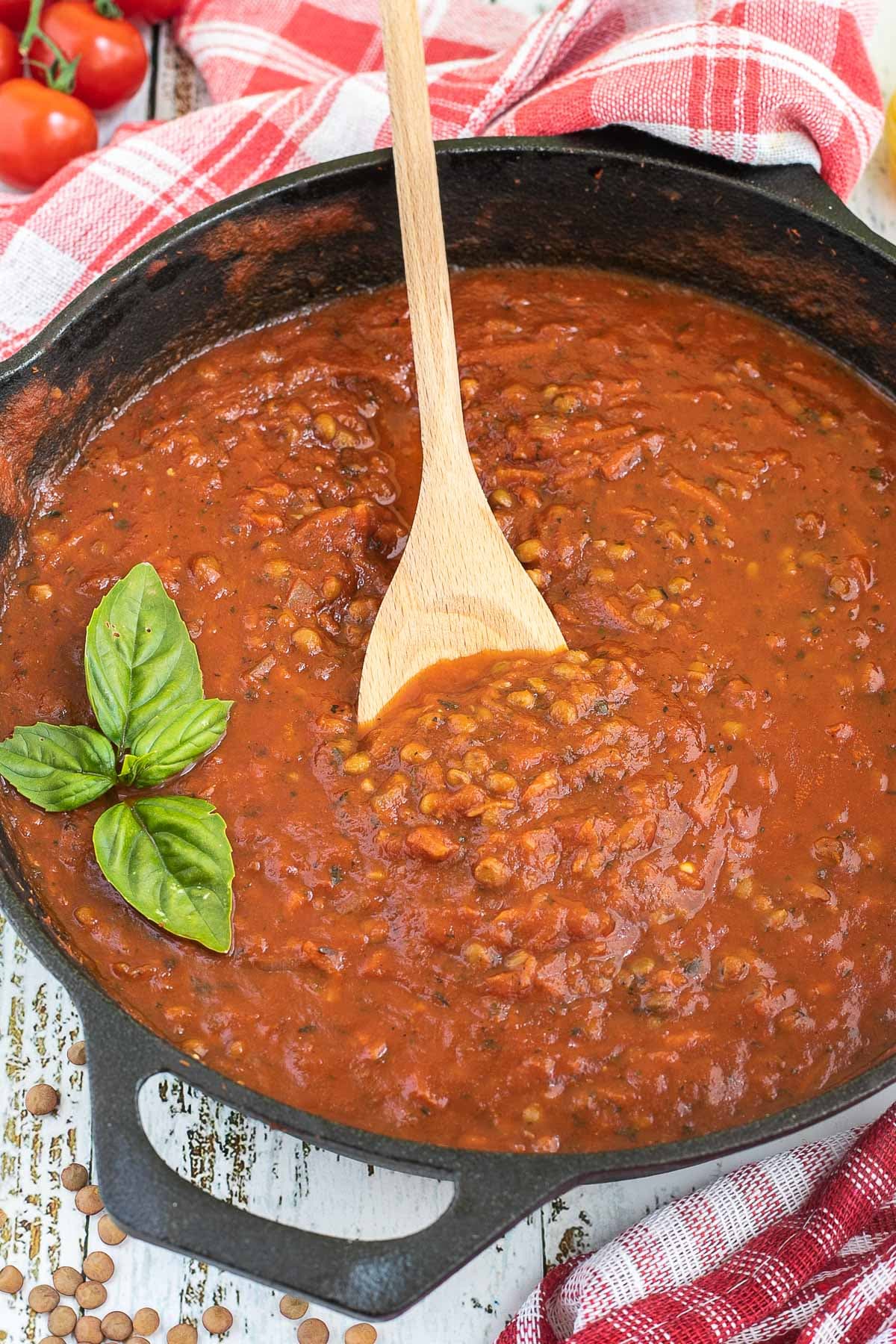 Ingredients
Tagliatelle pasta – While this is the traditional pasta shape for bolognese, you can also use spaghetti or fettuccine. You can also opt for gluten-free pasta.
Brown lentils – We use canned.
Olive oil
Onions
Garlic
Carrot
Celery stalks
Sieved tomato puree – You can probably find several types of tomato sauces in the stores. However, we recommend choosing a sieved tomato product, which is thicker and unseasoned.
Tomato paste
Red wine – for an added silkiness and depth of flavor
Soy sauce – for the note of umami and the beautiful color
Parsley
Dried thyme
Fresh basil
🛒 You can find detailed measurements for all ingredients in the printable version of the recipe card at the bottom of this post.
Instructions
Preparing the ingredients
Cook the pasta al dente following the instructions on the packet, making sure not to overcook it.
Finely chop an onion, cloves of garlic, and celery stalk after washing and peeling them.
Grate a medium-sized carrot after washing and peeling it.
Making lentil bolognese
Grab a non-stick saucepan or large pot. Heat a few teaspoons of olive oil over medium heat.
Add chopped onions and sauté for 2-3 minutes until they're soft and fragrant.
Add chopped garlic, celery stalks, and grated carrot.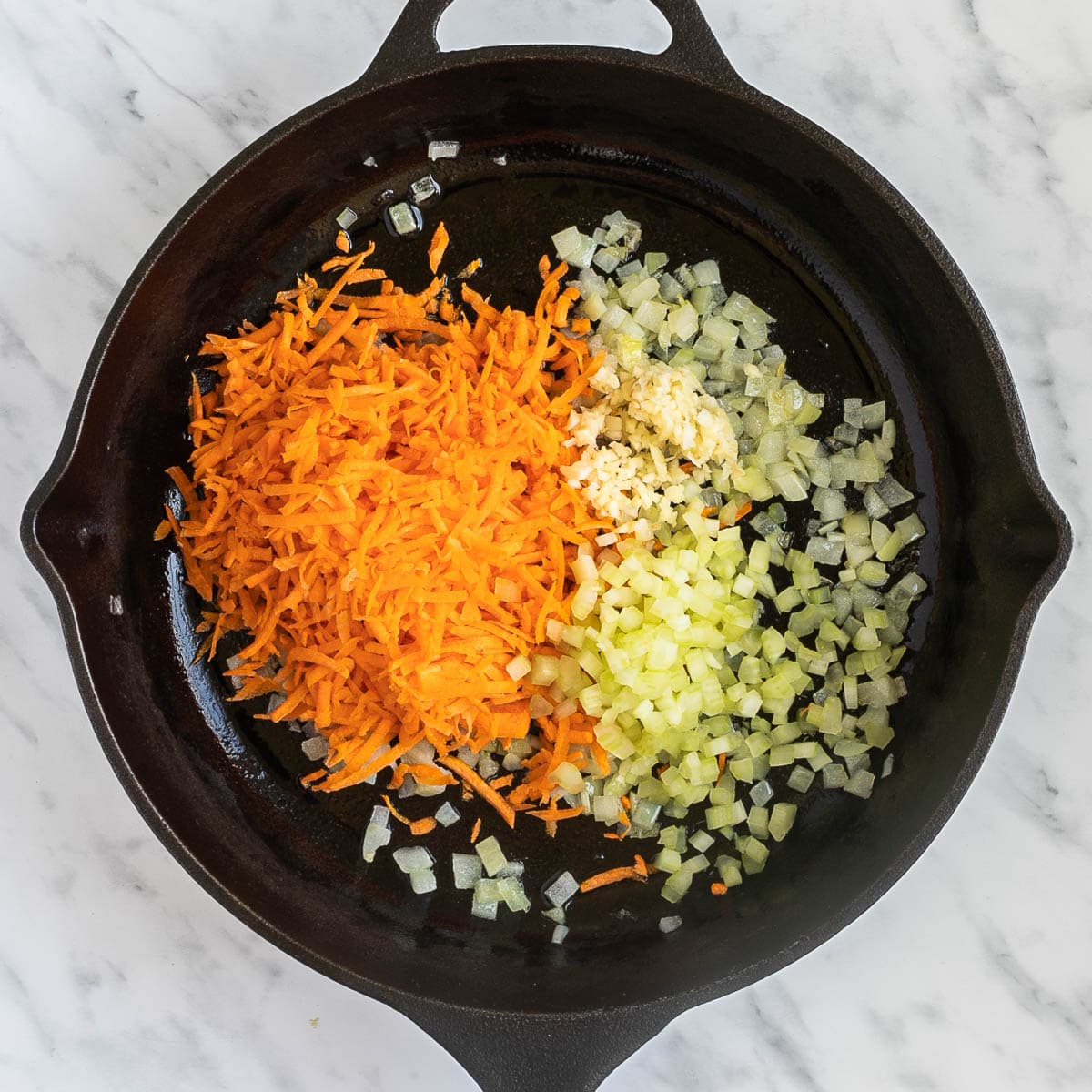 Season with salt, pepper, parsley, thyme, and basil. Cook for 5-7 minutes on medium-high heat, stirring occasionally.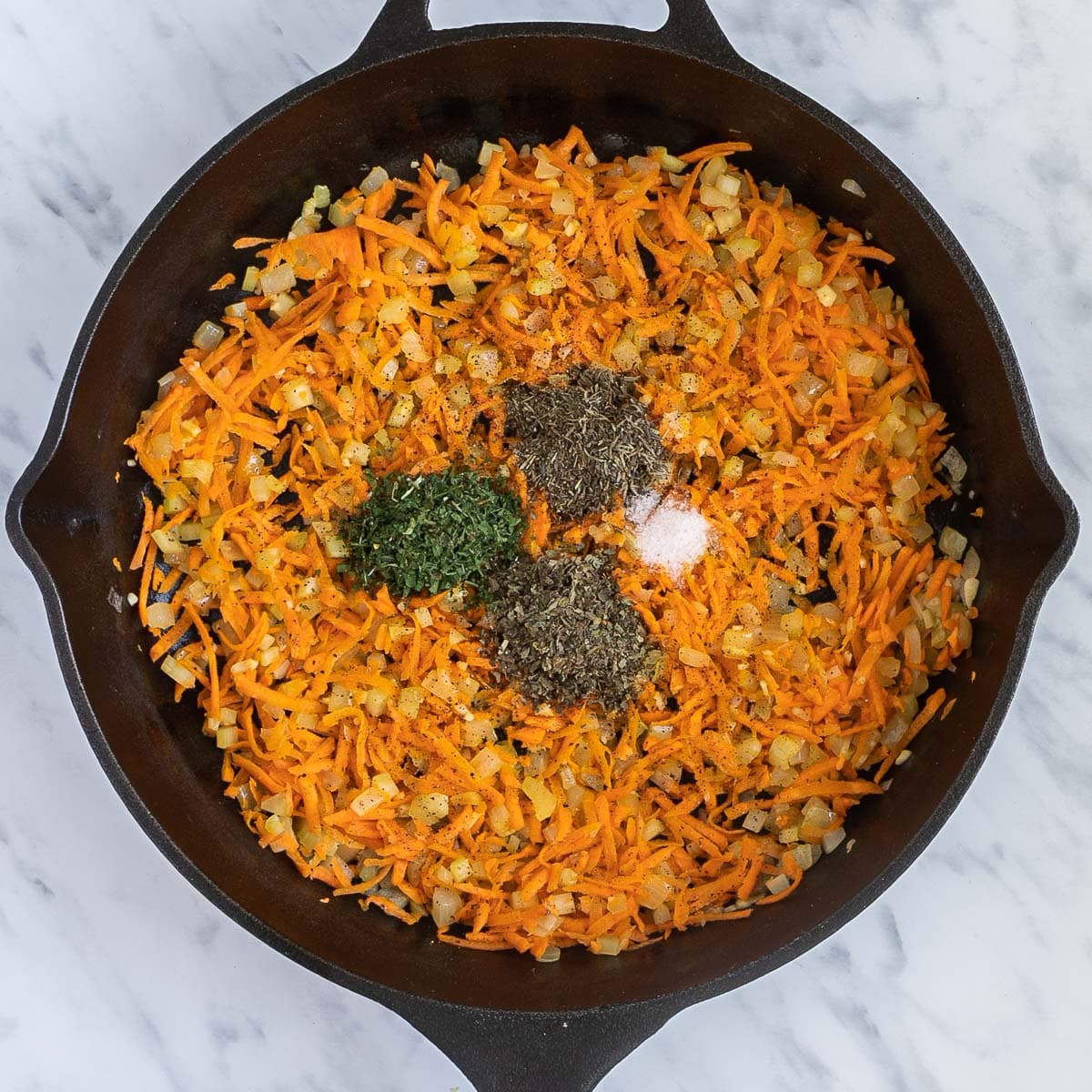 Pour in red wine to deglaze the pan and cook until the wine evaporates.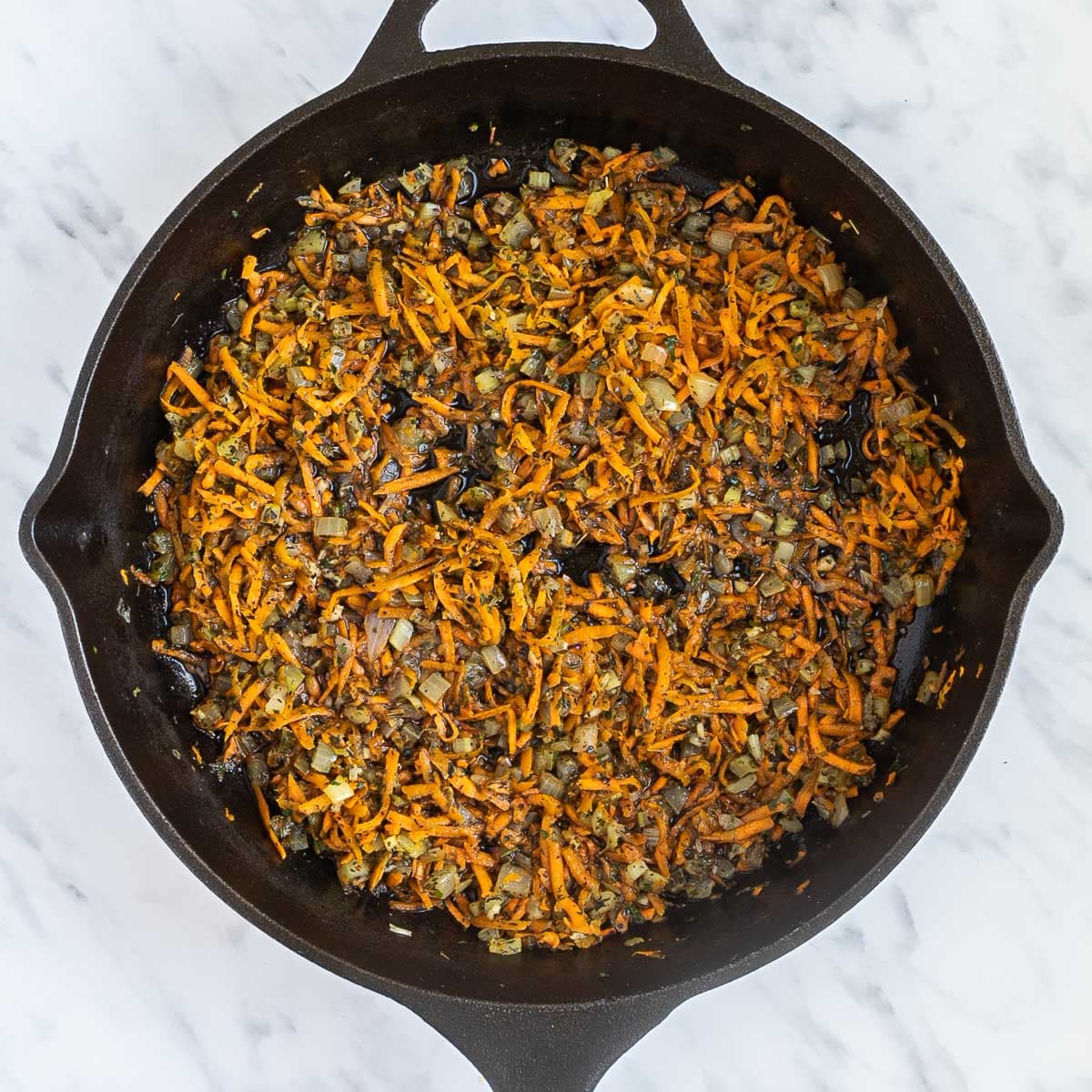 Stir in tomato paste, tomato puree, and a splash of soy sauce. Mix everything well.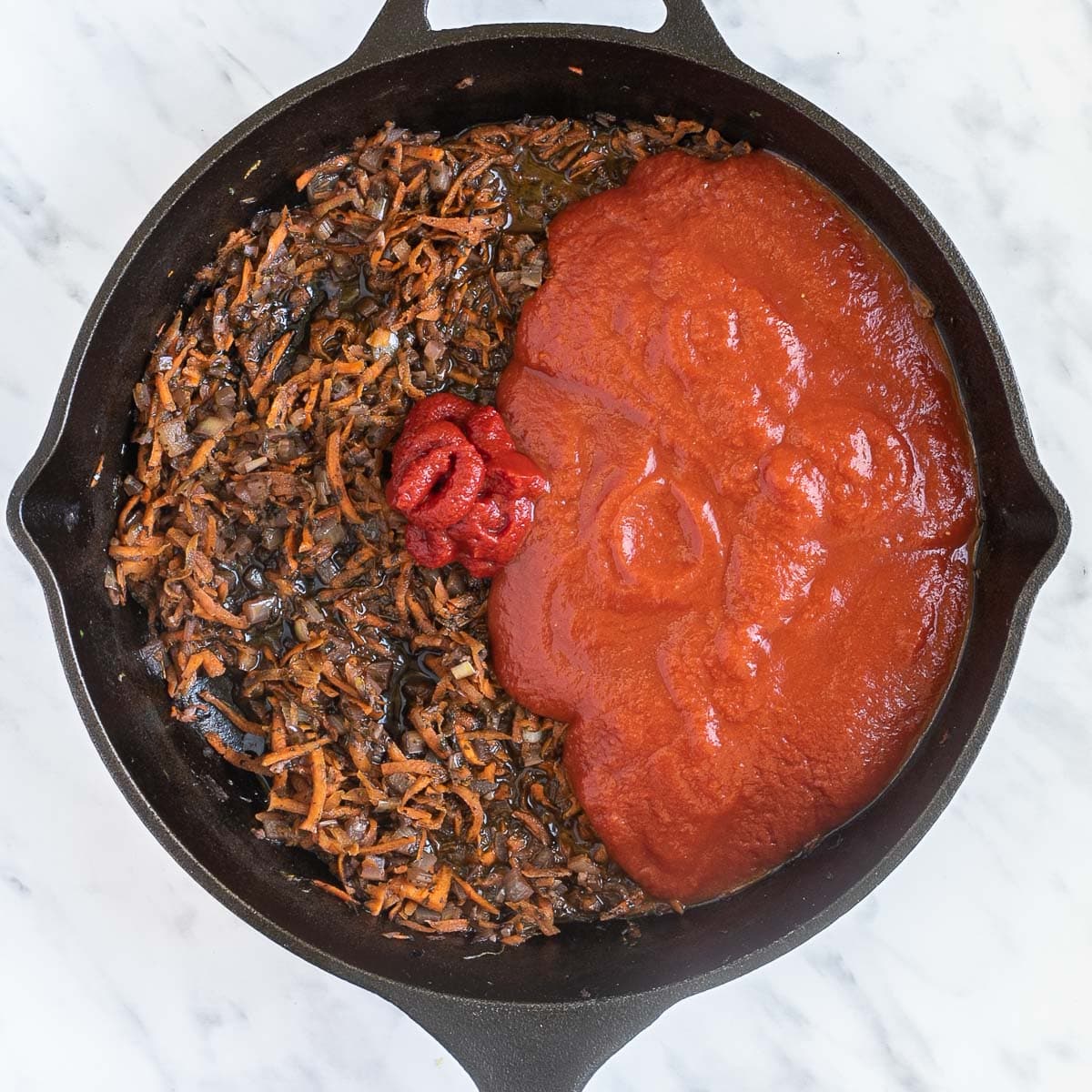 Taste the sauce and add more seasoning if needed. Bring it to a boil and cook for an extra 2-3 minutes.
Add drained lentils to the sauce. Stir and cook for another 2 minutes to let them soak up the flavors.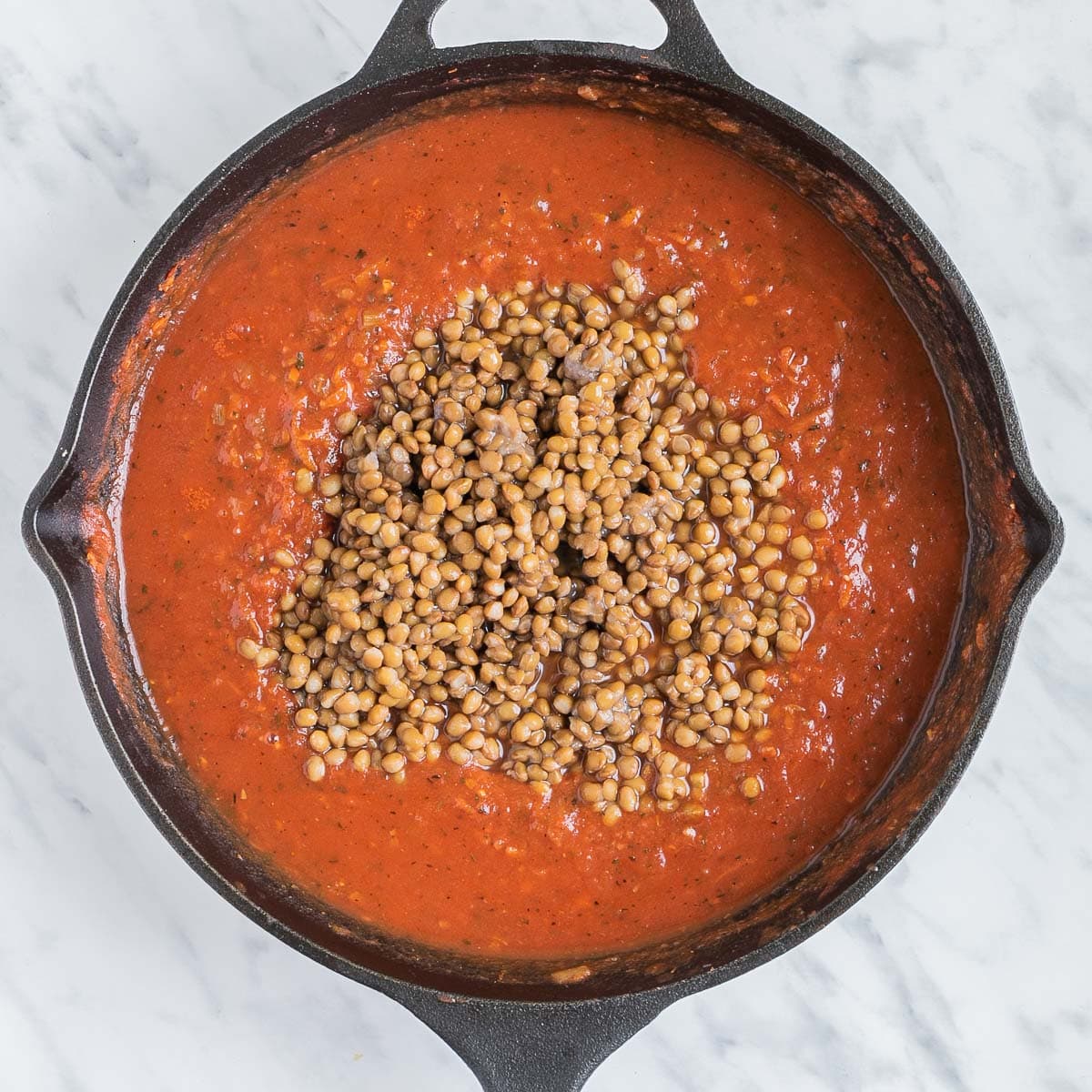 Cooking tips
Enhance its aroma – You can incorporate other herbs like oregano or dried rosemary as you saute the base to boost the flavor. Spice lovers can even add a pinch of red pepper flakes for that extra kick. A dash of balsamic vinegar is also a good option to take your sauce to the next level.
Let it simmer – A few extra minutes on extremely low heat will allow the lentils to absorb all the savory goodness of the sauce. The final result will be a more robust and well-incorporated dish. Don't overcook them, or it'll be a mushy mess.
Vegan cheese – A nice helping of grated plant-based parmesan cheese is all you need to transport yourself to a scenic cafe in Bologna.
Variations
Mushrooms – Add some chopped button or shitake mushrooms caramelized in olive oil to your bolognese. This gives the sauce a deep earthy undertone and an elevated sense of umami.
Tofu – If you're a fan of tofu, consider opting for a tofu-based Bolognese instead. Just follow our tofu bolognese recipe, where crumbled tofu mimics the texture of ground beef and absorbs the rich flavors of the sauce. It provides a satisfying bite without feeling heavy.
A cauliflower and walnut medley – If lentils aren't your favorite, you can explore another variation of spaghetti Bolognese featuring a cauliflower walnut mince. This alternative option offers a delightful combination of tastes and textures while maintaining a plant-based base.
Textured Vegetable Protein (TVP): For newcomers to the plant-based world, Textured Vegetable Protein (TVP) is an excellent alternative as a meaty vegan ground beef substitute. Explore our vegan bolognese recipe featuring TVP to learn how to cook with this versatile ingredient.
Serving ideas
Not only does our vegan lentil bolognese taste fantastic with classic tagliatelle but there are also many other delicious ways to enjoy it. Pair it with a fresh salad, a slice of lightly toasted garlic bread, or check out our other ideas below:
Go gluten-free: Spaghetti squash and zucchini noodles act as excellent gluten-free substitutes for pasta.
A sweet potato pairing: Another nutritious noodle option is sweet potato spirals. You can either blanch, steam, or pan-fry them in a few tablespoons of olive oil before dousing them in the luxurious bolognese. Don't forget our sweet potato gnocchi as well. And while we're on the subject, sweet potato pizza bites are another good option for serving your lentil bolognese. Pan-fry or bake some marinated 1⁄2-inch sweet potato slices, garnish them with vegan cheese and top it with the bolognese. Totally Instagram-worthy!
Grain bowl: You can serve your lentil sauce over steamed white/brown rice, quinoa, or some polenta.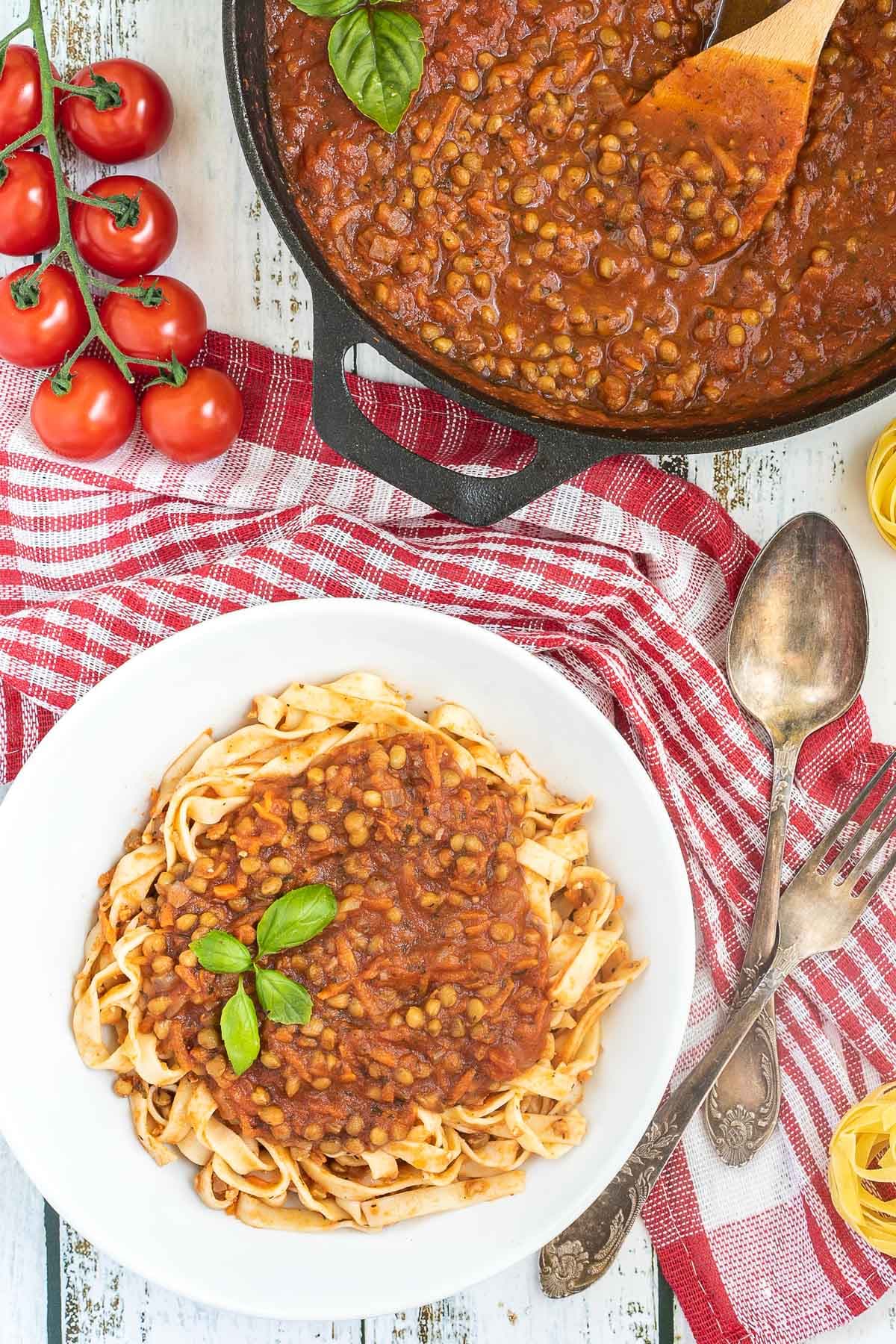 Storing tips
Store your lentil bolognese in the fridge in an airtight container for up to 3 days. If you need to save it for longer, pop it in a freezer-safe box, and it'll be good for about three months.
When you're ready to enjoy it again, just let the frozen bolognese thaw and reheat it on low flame. Add a bit of water or vegetable broth to bring back the right consistency and flavors. Feel free to adjust the seasonings to your taste.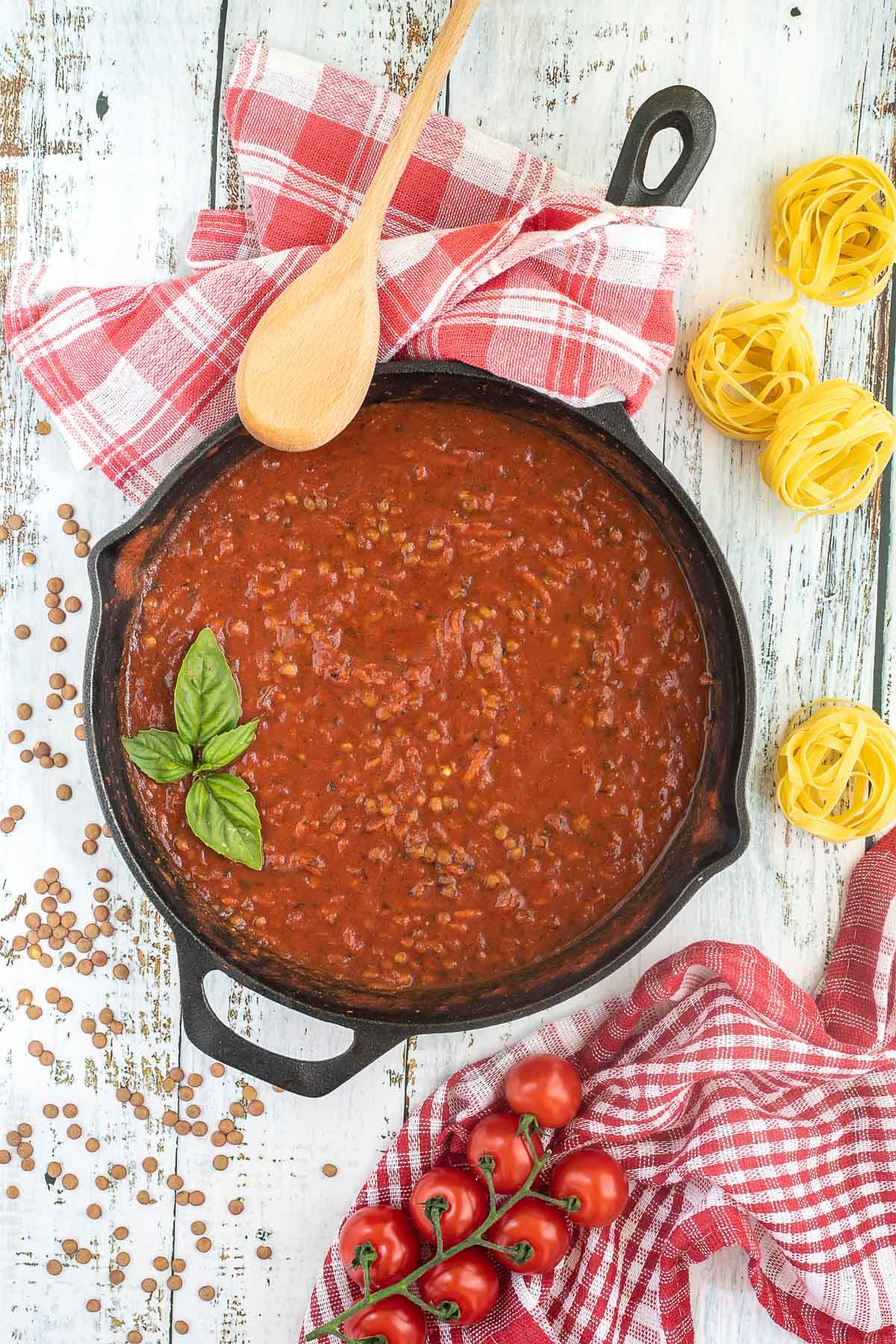 FAQs
What makes lentil bolognese taste like bolognese?
The classic bolognese sauce is known for its iconic flavor, achieved by combining various ingredients and spices, especially tomatoes and meat. In our version, we don't use lentils as a meat substitute but embrace their distinct qualities to enhance the sauce. To capture that authentic bolognese taste in a vegan version, our focus is on creating depth and richness by caramelizing the vegetables.
Which lentils are best for bolognese?
A popular choice for lentil bolognese is brown lentils. They hold their texture well during cooking and provide a satisfying bite that complements the sauce. They also have a deep, earthy flavor unlike other types of lentils. However, feel free to use French green or split red lentils if you prefer those.
Does lentil bolognese get better the longer you cook it?
Unlike traditional meat bolognese, which requires slow-cooking for several hours to develop its depth of flavor, lentils don't need that. In our recipe, we've carefully optimized the cooking time to ensure the lentils are tender while still maintaining their texture. A couple of extra minutes on low heat can enhance the savoriness, but be cautious not to overcook them, as nobody enjoys mushy lentils.
More vegan Italian recipes
THANK YOU so much for visiting our website. Please comment below if you have tried this recipe. We LOVE hearing from you! If you loved the recipe, please don't forget to give us a ⭐⭐⭐⭐⭐ RATING. We appreciate all of our readers.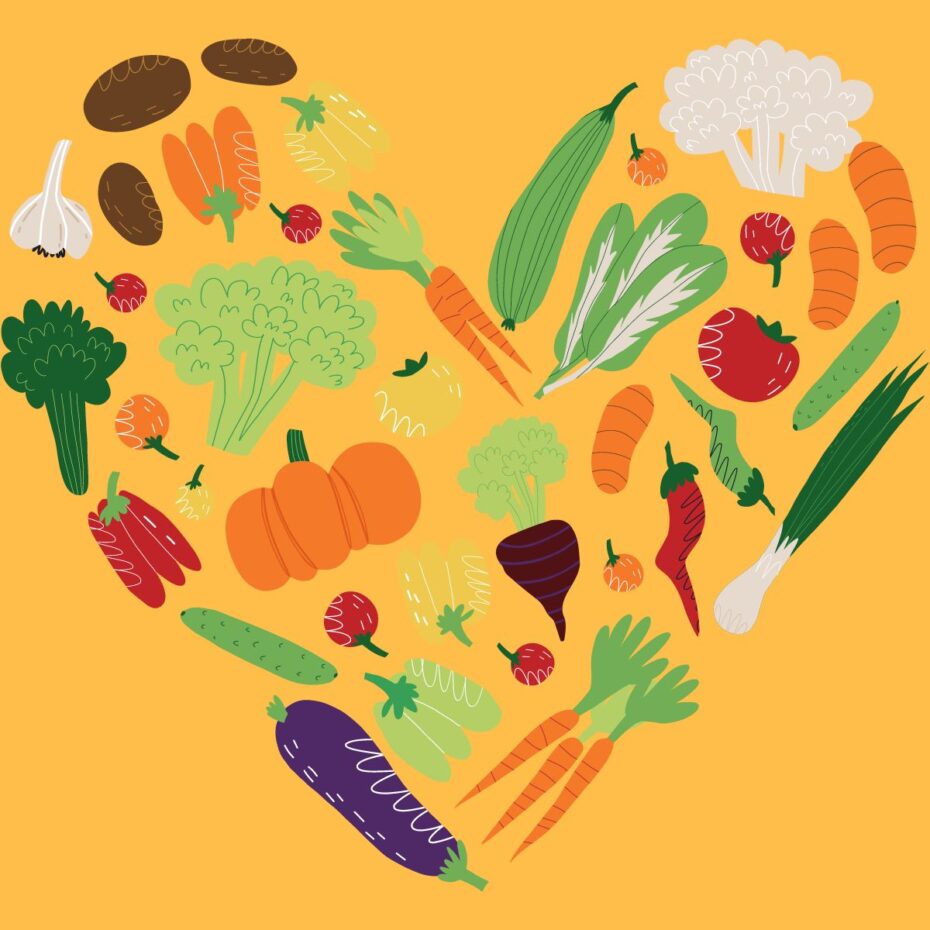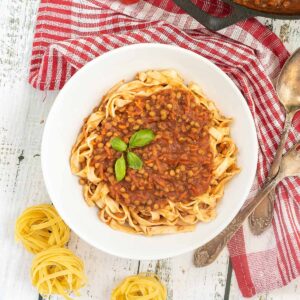 Lentil Bolognese
Introducing our delicious lentil bolognese – a meatless take on the beloved Italian favorite! It blends brown lentils, savory tomato sauce, veggies, and aromatic herbs to create a hearty and flavorful dish that's a must-try. Get ready for a tasty plant-based bolognese treat that'll leave you craving more.
Ingredients
14

oz

Tagliatelle pasta

14

oz

Brown lentils (canned)

1

Tbsp

Olive oil

1

Onion (medium sized)

2

cloves

Garlic

1

Carrots (medium)

2

Celery stalk

2

Tbsp

Tomato paste

½

cup

Red wine

1

Tbsp

Soy sauce

tamari for gluten-free

1

tsp

Parsley

1

tsp

Thyme (dried)

1

tsp

Basil

Salt and Pepper to taste
EXCLUSIVE 5-ingredient recipes for busy home cooks that are ready in 15 minutes!
Check out our Express Vegan Cookbook!
Instructions
Prepare the ingredients
Cook pasta according to packaging instructions.

Peel and chop onion, garlic, and celery stalk.
Making lentil bolognese
Take a non-stick saucepan and add olive oil. On medium heat, saute onions for 2-3 minutes.

Add grated carrots, chopped celery stalks and garlic. Season with parsley, thyme, basil, salt and black pepper. Stir well and cook on medium-high heat for 5-7 minutes. It may stick to the bottom of the pan sometimes. Scrape it up with your wooden spatula, this will give more flavor to your sauce.

Add red wine and cook until it's almost entirely evaporated. Stir it from time to time.

Add tomato paste, soy sauce, and tomato puree. Stir well. Check for seasoning and add more salt and black pepper if needed. Bring to a boil and cook for 2-3 minutes.

Add the drained lentils. Stir well and cook for another 2 minutes.
Nutrition
Nutrition Facts
Lentil Bolognese
Amount Per Serving (1 serving)
Calories 632
Calories from Fat 81
% Daily Value*
Fat 9g14%
Cholesterol 83mg28%
Sodium 389mg17%
Potassium 1416mg40%
Carbohydrates 110g37%
Protein 27g54%
Vitamin A 3445IU69%
Vitamin C 21mg25%
Calcium 100mg10%
Iron 8mg44%
* Percent Daily Values are based on a 2000 calorie diet.