If you would like to eat a vegetarian goulash soup EXACTLY how Hungarians eat it, you should try this recipe. Our family has been making bean goulash this way for generations. It is a 30-min simple, one-pot soup using only veggies and beans.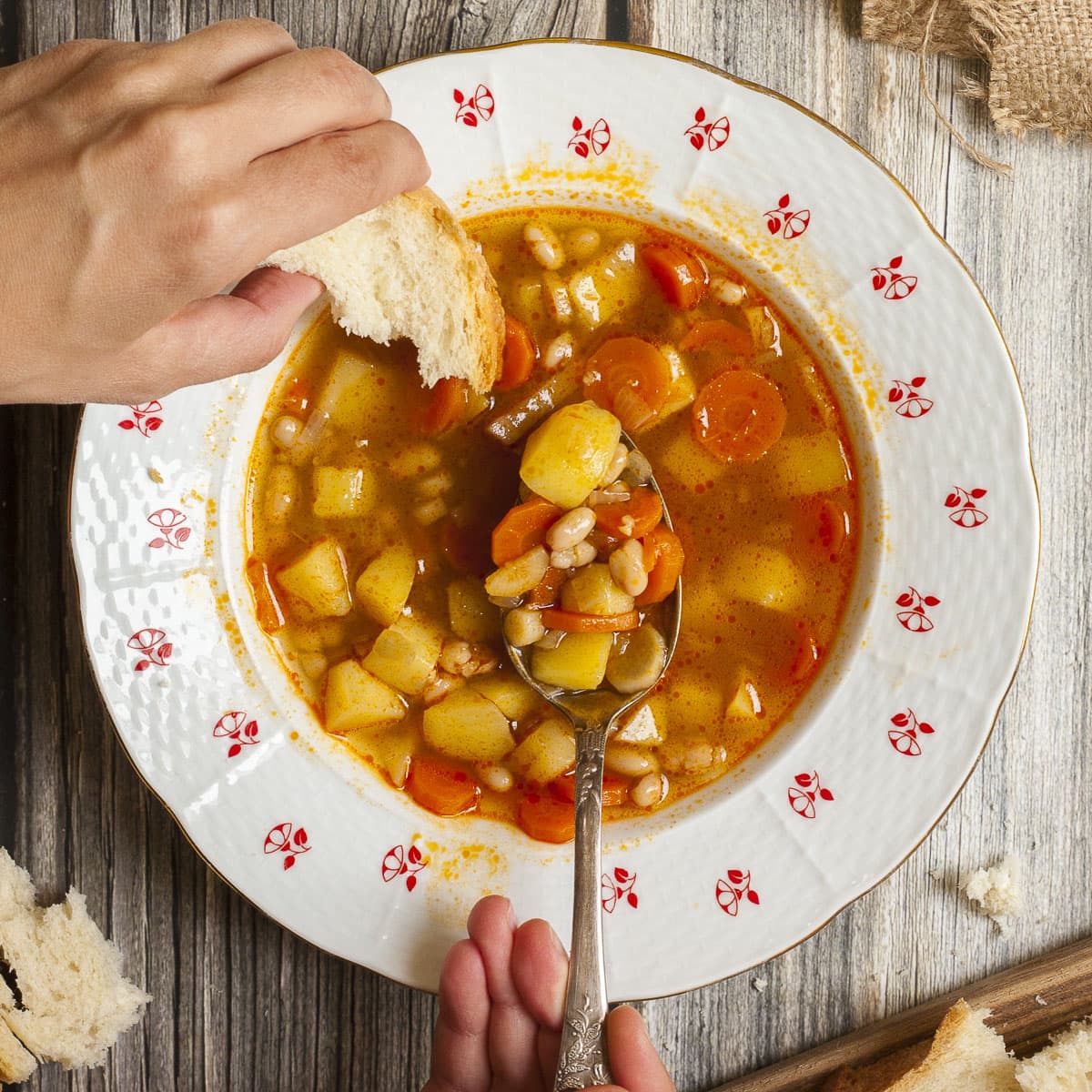 You may not know but we are in fact Hungarians. You can see a glimpse of Hungarian cuisine in some recipes like lecsó, cabbage soup, red lentil soup, mushroom pasta in paprikash sauce, carrot pasta sauce which is actually a vegetarian take on the popular Hunter's stew ("vadas"). We love eating a variety of dishes from different cuisines, but from time to time we get back to our roots. More Hungarian family recipes to come for sure.
What is goulash?
Actually, Hungarians call "goulash" (with Hungarian pronunciation "gulyás") the person looking after a herd of cows aka a herdsman. As this dish was originally cooked by them, it was named after them.
Traditionally, goulash is a one-pot meal, cooked in a cauldron on an open fire. The men used the ingredients they had on hand, which were usually beef, onion, potato, carrots, and sweet paprika powder. In poorer times, when meat was scarce, they used beans instead of beef. Goulash is actually one of the 10 most famous Hungarian dishes.
The authentic Hungarian goulash is NOT a STEW, but a thick SOUP. The stew version of this dish is actually called "pörkölt" and served with pasta or cooked potatoes.
Types of goulash
There are actually three authentic Hungarian goulash recipes:
Beef goulash (and not beef stew)
Mock goulash (only bones, no meat)
Bean goulash (no animal products)
In different regions and in other countries outside Hungary there might be other variations (like adding egg noodles called "csipetke" or "nokedli"), although the basis of the dish they call goulash should be the same.
American vs Hungarian goulash
There is a bit of confusion around what goulash means in the different parts of the word. What people call American goulash is closer to ground beef stew cooked with canned diced tomatoes or tomato sauce with Italian seasoning. It is also served with macaroni noodles. The only common ingredient is probably sweet smoked paprika. While both dishes are delicious on their own accord, they are very different from each other.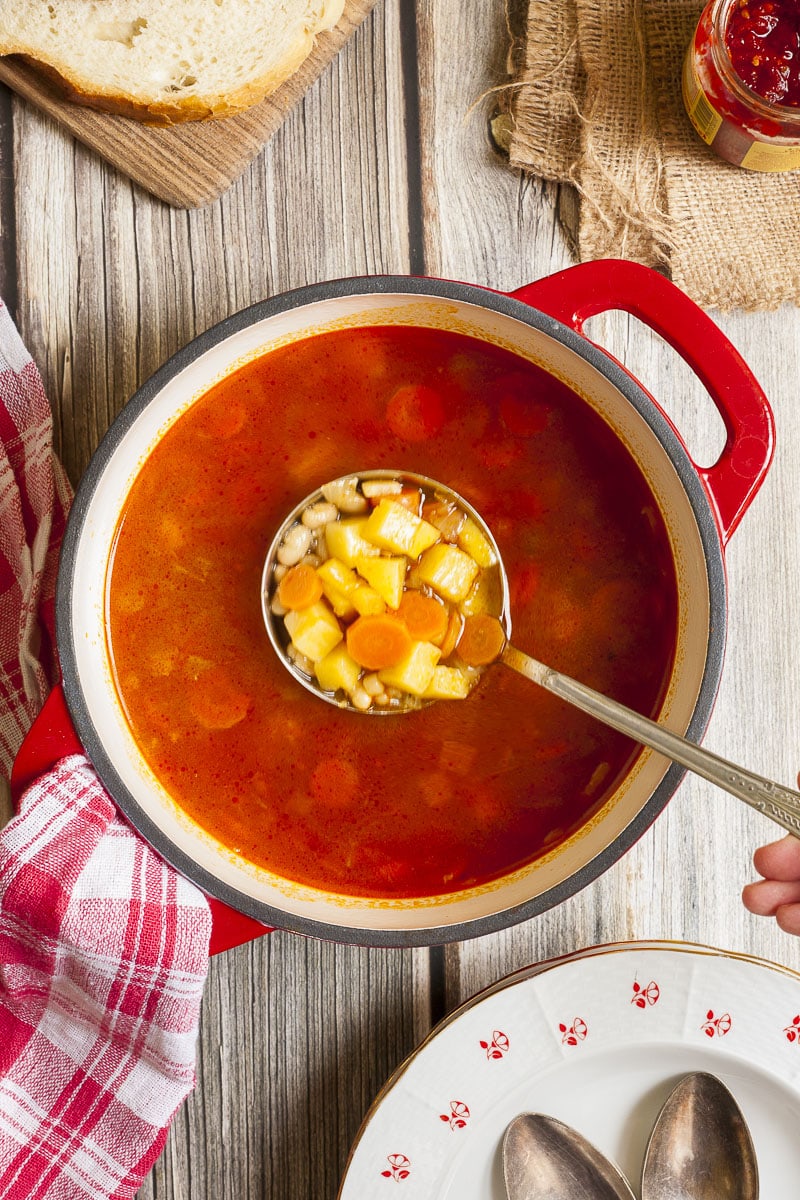 Ingredients
If you were searching for the term Hungarian goulash, you might come across various recipe versions. However, if you are looking for the original recipe you only need the following ingredients:
beef or beans
onion
garlic
potatoes
carrots and other root vegetables like parsnip
tomato paste or goulash paste* (if it is available to you)
sweet Hungarian paprika* or other sweet smoked paprika powder
caraway seeds (different than cumin)
parsley
liquid smoke – optional (to replicate cooking in a cauldron on an open fire)
Why do many goulash recipes fail to be real?
There are certainly a number of ways you can deviate from the original Hungarian goulash recipe, but you definitely don't need the following ingredients to make a traditional recipe:
zucchini, eggplant, celery, and other non-root veggies
red bell peppers, tomatoes or similar veggies
pasta, rice, or polenta of any kind
dairy or non-dairy substitutes, not even sour cream
soy sauce, Worcestershire sauce or any other flavor enhancer
cilantro, oregano and other green herbs
cayenne pepper or bay leaf
How to make a Hungarian goulash soup?
Making a vegetarian goulash soup is easy and simple. Depending on how large you chop the vegetables, the soup can be ready in 30 minutes.
Prepare your vegetables
Peel and chop the onion and garlic.
Wash and chop potatoes.
Wash, peel and slice carrots and parsnip.
Cook your beans or use a canned version.
Wash and chop fresh parsley.
Making vegetarian goulash soup
Heat your stockpot to medium heat and add

vegetable oil

or

coconut oil.

Cook the chopped

onion

for 1-2 minutes.
Add the sliced

carrots and parsnip

. Stir and cook for 5-6 minutes.
Add the chopped

garlic

and the

spices

(salt, pepper, parsley, and caraway seeds) and cook for another 2-3 minutes.
Add the

sweet smoked paprika powder

and the

tomato or goulash paste

, and stir until combined.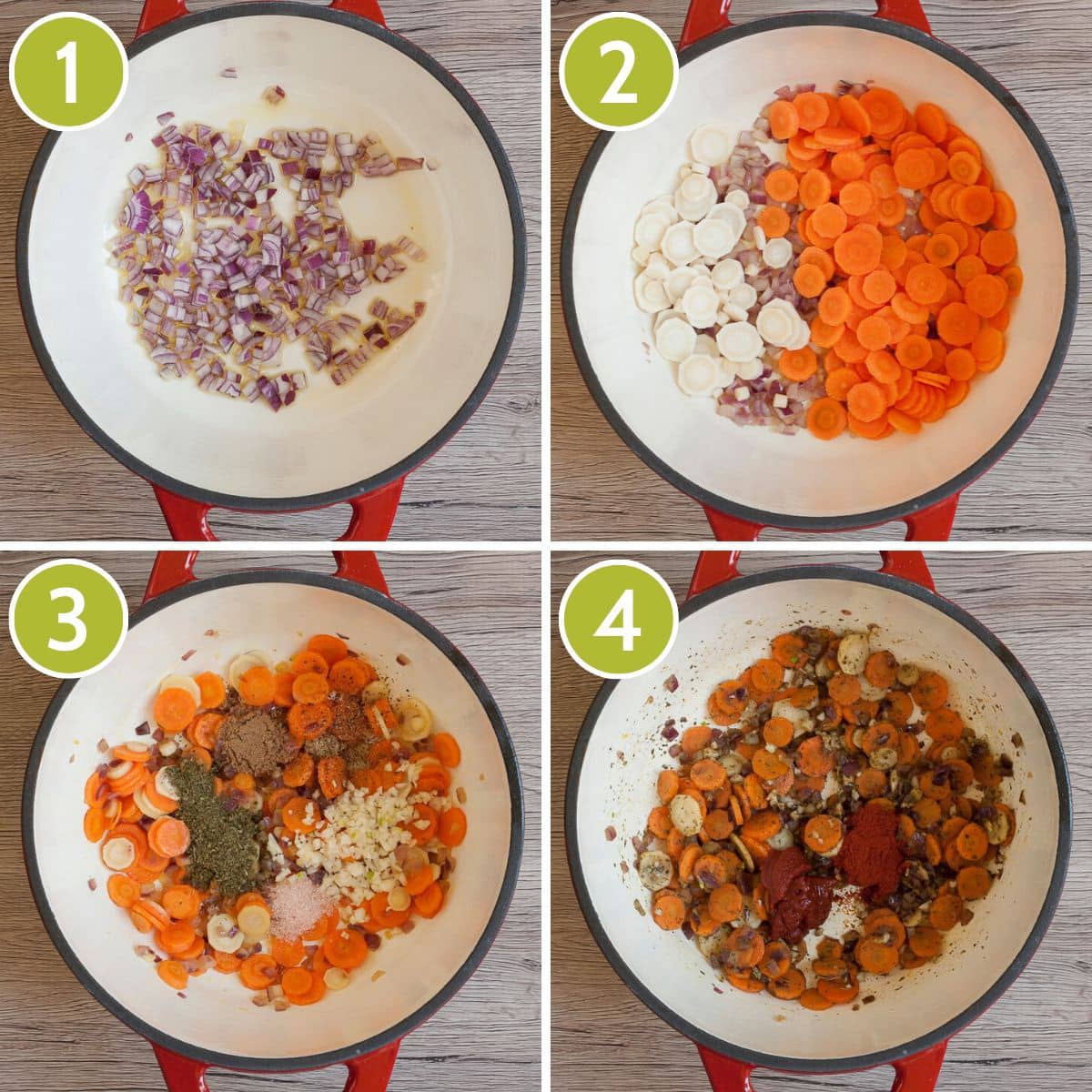 Pour the

vegetable broth

and cook the soup for approx. 5 minutes.
If carrots and parsnip are almost cooked add the diced

potatoes

and cook for another 5 minutes.
Finally, add the

cooked beans

and simmer for another 5 minutes. NO need to bring it to boil. That's all! You are ready when all ingredients are tender! Serve and enjoy!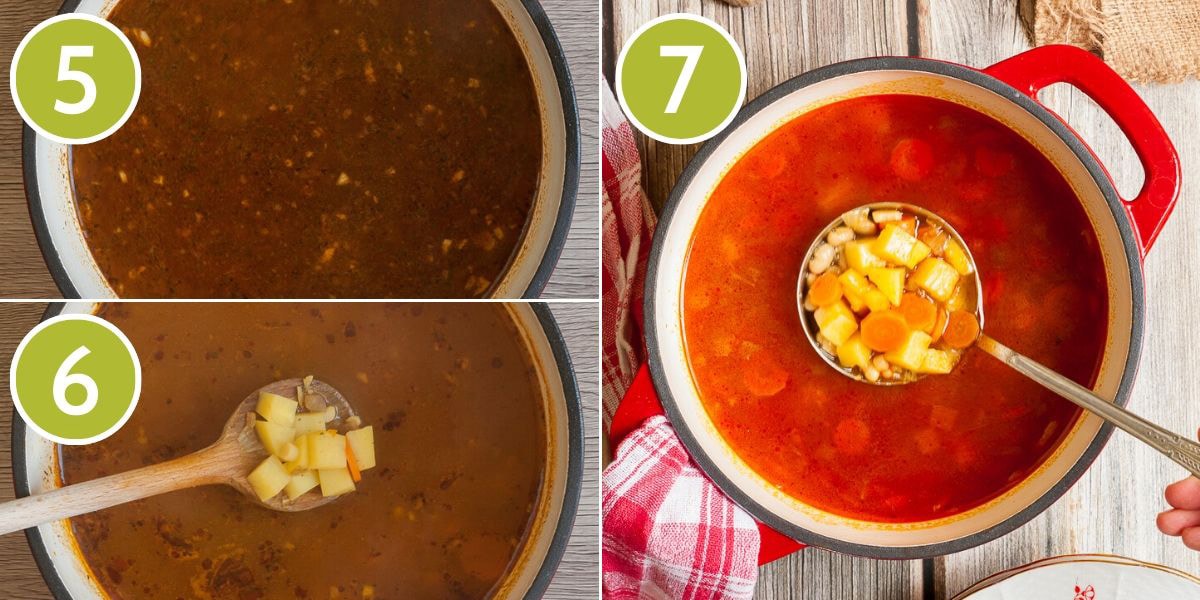 Top tips to make it perfectly
Chop vegetables evenly

– We added carrots and parsnip first as they need the most time to be cooked, then potatoes. They will cook more evenly if the veggies are the same size.

Chop vegetables smaller

– If you prefer to reduce the cooking time, you can cut the potatoes to smaller or slice the carrots thinner.

How spicy should it be?

– Depending on how hot and spicy you prefer your soup, you can add chili powder or sriracha or freshly chopped raw chili peppers beside the sweet paprika powder. In Hungary, we use Eros Pista* which is a roughly pureed hot paprika and nothing else. You will only need a really small amount to get the soup hot.

Beans vs chickpeas

– While the traditional recipe calls for white or red kidney beans, you can use chickpeas or other type of beans if you like them better.

Why coconut oil?

– The traditional way is to make the base for cooking onion and garlic with lard. As we eat plant-based, the closest alternative is coconut oil. Why? It gives the soup a fatty after-taste similar to lard. We don't recommend olive oil in this recipe.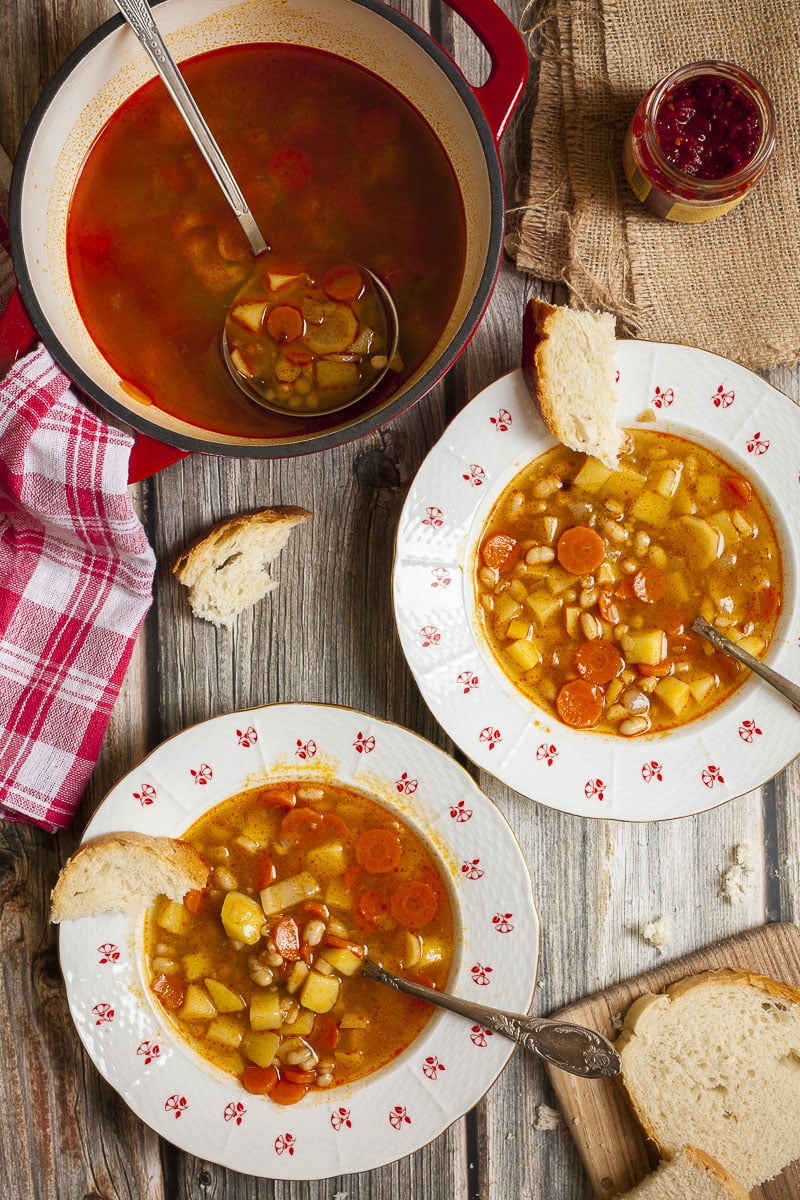 What to serve with it?
If you'd like to keep it authentic, the only side Hungarians pair this soup with (either vegetarian or beef) is bread. We use the bread slices to dunk them in the soup and eat it like that. Goulash soup is a one-pot dish, so the side is actually the cooked potatoes that are already in it.
FAQs and substitutions
What kind of beans can I use?
The most authentic ones are kidney beans of any kind: red kidney beans, white cannellini beans aka white kidney beans, or speckled kidney beans… We have also made it several times with chickpeas and the soup tastes amazing.
What else can I add to the soup?
If you'd like to add more veggies, but still want to keep it authentic, we recommend adding button mushrooms. If you'd like some beefy texture, you can add vegan beef or marinated soy chunks which are usually made of textured vegetable protein (tvp).
How long can I store the soup?
You can store it in the refrigerator for up to 4-5 days without a problem.
Can I freeze it?
Yes, you can. It freezes really well, for a couple of months.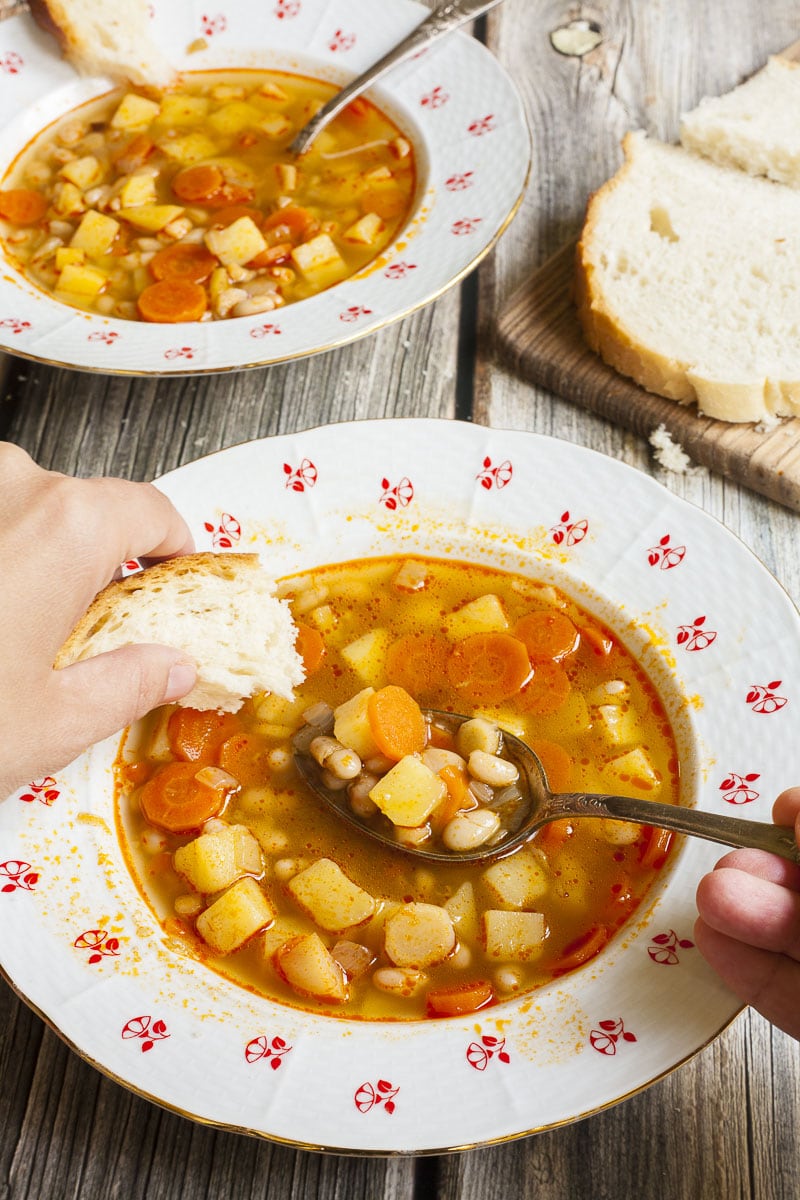 This Vegetarian Goulash Soup recipe is vegan (so egg-free and dairy-free), gluten-free, nut-free, and soy-free. It is WFPB-friendly (whole foods plant-based) as you need to skip cooking onion and garlic in oil and add all veggies directly to the veggie broth.
More vegan soup recipes
You can browse through our vegan soup recipes or check out one of the below ones. If you specifically are looking for creamy soups we have a collection of 30 deliciously creamy vegan soups.
More vegetarian Hungarian recipes
If you are interested, here are some of our Hungarian family recipes. Or check out the below list:
UPDATED: This recipe was originally published in April 2020. It was been updated with more info and tips in March 2022.