When you're in the mood for a delicious meal without the fuss of cooking, turn to our collection of 19 easy no-cooking recipes. These dishes are designed to keep you satisfied without the need to turn on the stove. From refreshing salads and zesty wraps to hearty sandwiches and creative no-bake dishes, these recipes offer a range of options for those moments when you want a quick and convenient meal without the heat of the kitchen. So, give your stove a break and enjoy these no-cooking creations that will make mealtime a breeze.
Cream Cheese Veggie Pinwheels
These Veggie Pinwheels with Cream Cheese are a quick and tasty appetizer that are always a hit at parties. The colorful vegetables, creamy cheese, and soft tortilla make for a satisfying and delicious bite.
Recipe: Veggie Pinwheels
Creamy Coleslaw
This easy coleslaw recipe is ready in 15 minutes or even less. It is a must-have side dish next to your favorite burger. If you need something quick and light to prepare for a summer potluck or grill party, think of this classic coleslaw salad.
Recipe: coleslaw
Mediterranean Grazing Board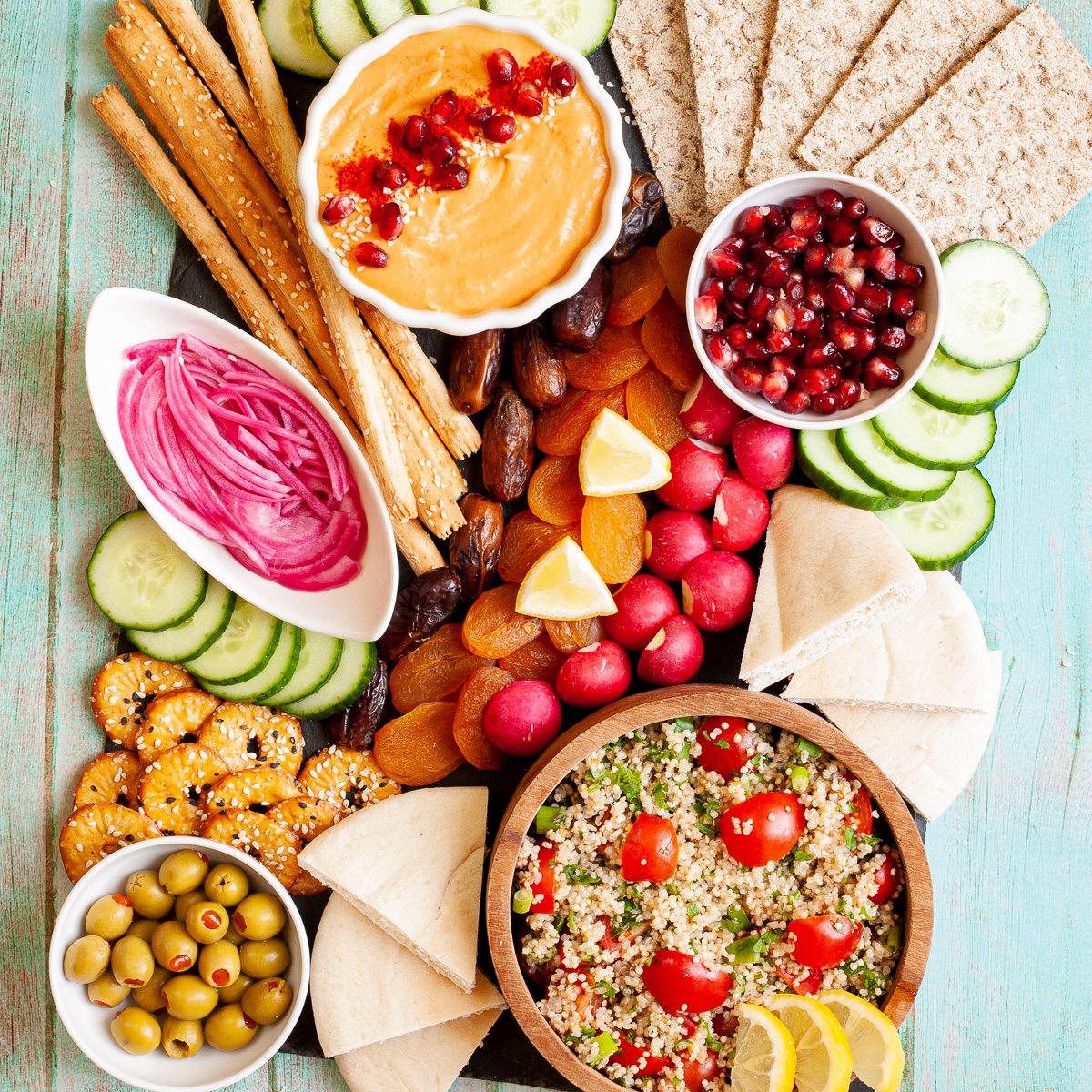 A grazing board is the perfect combination of aesthetics and taste. With a variety of dips, crunchy breadsticks, pickled onions, and soft pita bread, it's a delicious Mediterranean feast that's perfect for sharing with family and friends.
Recipe: Mediterranean Grazing Board
Smoked Tofu Sushi Rolls
This tofu sushi recipe combines smoked tofu, veggies, and a sriracha mayo to make delicious maki sushi rolls the entire family will love. You do not need to be a professional sushi chef to whip up this recipe.
Recipe: tofu sushi rolls
Avocado Spring Rolls
Try our avocado spring rolls for a delicious and easy-to-prepare summer snack or appetizer. They are freshly prepared with a mix of flavorful avocado mango salsa and vermicelli noodles to create a delightful combination of texture and flavor. So refreshing!
Recipe: avocado spring rolls
Caramel Nice Cream
Indulge in this luscious vegan caramel nice cream, made with frozen bananas and a rich, velvety caramel flavor blended in. Topped with a drizzle of vegan caramel sauce, this treat is easy to make and perfect for satisfying your sweet tooth any time of day.
Recipe: caramel nice cream
Kiwi Banana Spinach Smoothie
This Kiwi Banana Spinach Smoothie is packed with all the good stuff you need for a healthy and satisfying snack. It's also great for nursing mothers as it's a green lactation smoothie, providing all the nutrients necessary for optimal breastfeeding.
Recipe: Kiwi Banana Spinach Smoothie
Hummus Pasta
Hummus pasta salad from our cookbook is a quick and flavorful vegan pasta dish that can be prepared in just 15 minutes. The combination of creamy hummus with tangy sun-dried tomatoes and olives creates a unique taste. Different flavored hummus, such as roasted red pepper or spinach, allow for endless variations.
Recipe: hummus pasta
Tofu Cream Cheese
Looking for a quick and healthy cream cheese alternative? Try this 5-minute vegan tofu cream cheese recipe that is perfect for breakfast bagels or toast. Made with simple and healthy ingredients, this spread is high in protein and free from dairy, oil, and gluten.
Recipe: tofu cream cheese
Sushi without Fish
If you thought sushi without fish or seafood was impossible, think again! Not only is it possible, but it is incredibly delicious. This easy sushi rolls recipe takes you step-by-step through how to prepare colorful and flavorful maki sushi in your own kitchen in just an hour!
Recipe: sushi without fish
Healthy Egg Salad
This egg salad sandwich is a delicious and healthy alternative to traditional egg salad, made with tofu and cashews for a creamy and protein-packed filling. The recipe is made with whole foods, without any processed ingredients or high-fat mayo, making it a nutritious and satisfying brunch option.
Recipe: egg salad
Hummus Without Tahini
This sunflower seed hummus recipe is hands down the best hummus without tahini out there. We didn't just settle for a basic chickpea puree because we discovered the perfect substitute: roasted sunflower seeds or sunflower butter.
Recipe: hummus without tahini
Quinoa Salad with Berries and Nuts
This refreshing berry and nuts quinoa salad is a perfect choice for a healthy and satisfying meal. Packed with protein from quinoa and nuts, and topped with fresh summer berries, it's a delicious and nutritious dish for any occasion.
Recipe: quinoa salad
Alfredo Sauce in 15 minutes
Enjoy a healthy and quick meal with our 5-ingredient alfredo sauce recipe. Creamy, delicious, and ready in just 15 minutes, it's the perfect solution for a fast and easy dinner.
Recipe: alfredo sauce
Thai Glass Noodle Salad – Yum Woon Sen
Indulge in the flavors of Thailand with this refreshing and easy-to-make meatless Yum Woon Sen salad recipe. Loaded with tangy tomatoes, crunchy celery, and roasted peanuts, and tossed with a zesty salad dressing, this dish is perfect for a light summer meal or as a side dish for your next barbecue.
Recipe: Yum Woon Sen
Rice Paper Sushi without Seaweed
These rice paper sushi rolls are a delicious and refreshing alternative to traditional sushi, filled with a combination of sweet mango, creamy avocado, and roasted red pepper, and served with a zesty wasabi mayo. Perfect for a light lunch or snack!
Recipe: rice paper sushi without seaweed
Sweet Potato Sushi Rolls
The star of these sweet potato sushi rolls are maple roasted sweet potato, earthy beet, and creamy avocado wrapped up in sushi rice and nori sheets. It is the perfect combination of something sweet, savory, and umami that the whole family will love.
Recipe: sweet potato sushi rolls
Pesto Pasta
Indulge in the deliciousness of this pesto pasta that's bursting with flavors of freshly made basil pesto, juicy cherry tomatoes, and a sprinkle of vegan parmesan or nutritional yeast. It's a quick and easy meal that's perfect for any time of the day.
Recipe: pesto pasta
Sun-Dried Tomato Pesto
This sun-dried tomato pesto with rosemary is a flavor-packed condiment that can add a tasty twist to your meals. Use it as a spread on sandwiches, a dip for veggies, or a sauce for pasta to enjoy the delicious taste of sun-dried tomatoes and aromatic rosemary.
Recipe: sun-dried tomato pesto
26 Big-Batch Dishes to Stock Your Freezer
15 Weekend Lunch Recipes on a Dime to Feed The Family
Europe's Finest 25 Recipes You May Not Even Know Of
25 Asian Foods You Absolutely Need to Make At Least Once
Skip The Dreaded Drive-Thru Line With These 15 Fast Food Copycat Recipes