According to my husband, this is our Kiwi Banana Spinach Smoothie, but it is also my Green Lactation Smoothie boosted with all good things a mother needs during breastfeeding. So, Moms read on! Guys, don't get discouraged. My husband loves it too. 🙂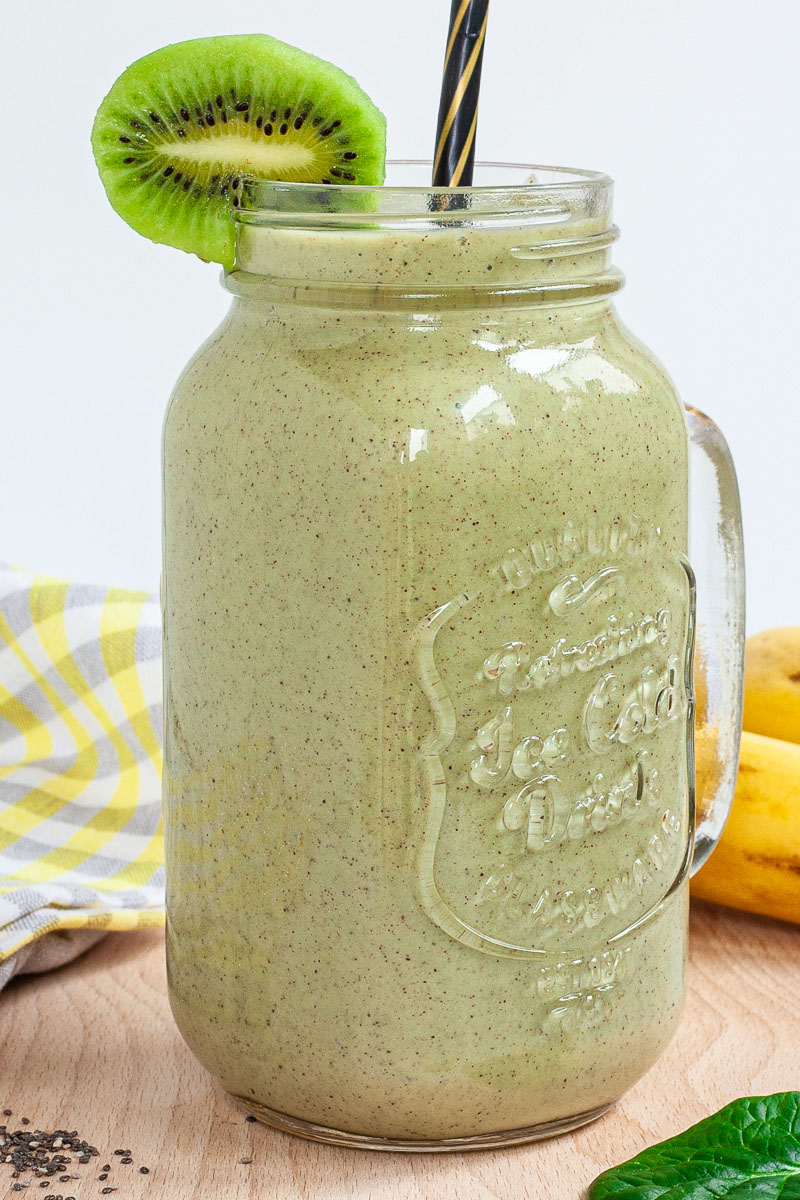 This green smoothie is quite filling, so it can be perfect for breakfast. If you are looking for more vegan breakfast recipes check out our Overnight Chia Seed Pudding recipe or our Healthy Apple Cinnamon Oatmeal recipe or our Blueberry Millet Porridge recipe.
What is a lactation smoothie?
If you are looking for a delicious lactation smoothie recipe there is a good chance you think your milk supply is low. You may have heard that drinking a lactation smoothie (aka a boobie smoothie) will boost milk supply, so you have enough for your little one.
I know breastfeeding for first-time moms can feel like a challenge. I've been there. I am a mommy of two. You think you don't know what you are doing half of the time, you question yourself continuously, you feel exhausted and frustrated. You just want what is best for your baby. If it were just that simple.
VeryWellFit has an amazing article with a list of things on How to Naturally Increase Milk Supply. I recommend going through those first. Lactation smoothie recipes are not magic potions. When you drink it, your breast milk will not double instantly. However, it is a perfect way to get a large number of nutrients in your body that will keep you healthy and energized. It can definitely be part of a healthy diet that in the end help your nurse your baby as long as you want.
Do lactation smoothies work?
What do you need from lactation smoothies? You need it to get you a wide variety of nutrients that will directly boost your health and energy, which will indirectly help you boost your milk supply.
While I was pregnant and worrying about whether I eat enough, my OBGYN said that
Don't worry, the baby will get everything she needs from you. The question is whether there is anything left for you.
I have a similar attitude towards breastfeeding now. I try to eat a wide variety and hope it gets to my baby girl and remains some for me. If you'd interested in reading more about breastfeeding, take a look at this article at La Leche League (No.1. worldwide breastfeeding support organization) titled Breastfeeding on a Vegan Diet.
I also recommend the following articles on vegan foods during breastfeeding: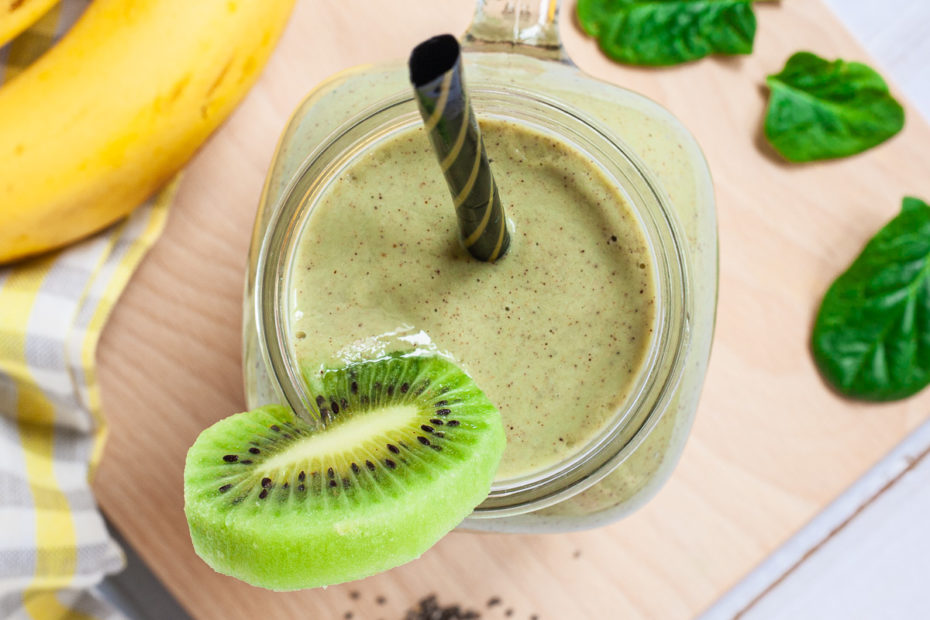 Why these ingredients?
I selected all the ingredients very carefully to make this spinach kiwi banana lactation smoothie recipe nutrient-dense, rich, and filling. It can even be a light breakfast or an afternoon energy boost. So what do you need and why did I choose these green smoothie ingredients?
Kiwi is so high in Vitamin C that eating TWO will more than cover your needs for the day (123%). That is why this recipe calls for two.
Raw baby spinach leaves help to get you Vitamin A (65%) and Vitamin K (160%). Not to mention they are high in folate and iron.
Banana adds natural sweetness and will give you energy in the form of fiber and carbs (14%).
Fortified almond milk is to get you a lot of Vitamin D, E, B12, and Calcium (30%).
Chia seeds are added for healthy Omega 3 fats (137%) and more iron (18%) than spinach actually.
Oats are here to provide calories and fullness in form of fiber and carbs.
Hemp powder is just to boost the protein (with an extra 5.4g) and the iron (with 30%) content.
Homemade peanut butter (to avoid any additional ingredients like preservatives or oils) will add to your protein content by 3.6g, to Omega 6 fats by 15%, and in the form of several nutrients.
A quick disclaimer: All data is coming from Cronometer calculated for a 35-year old average height average weight breastfeeding mom drinking the whole smoothie in one go 🙂
This lactation smoothie recipe gives you approx. 2 cups (4-5dl), which I have drunk usually in one go. :))) So in total, it is 529 Calories (17.6g protein). Awesome, right? There are really a lot of studies as to how much extra calories are needed for breastfeeding moms. The amount I saw varies between 350-550 depending on a lot of factors. You drink this smoothie and you will be more than covered for sure. If you need a quick snack (lactation cookies), try our Banana Peanut Butter Oatmeal Cookies.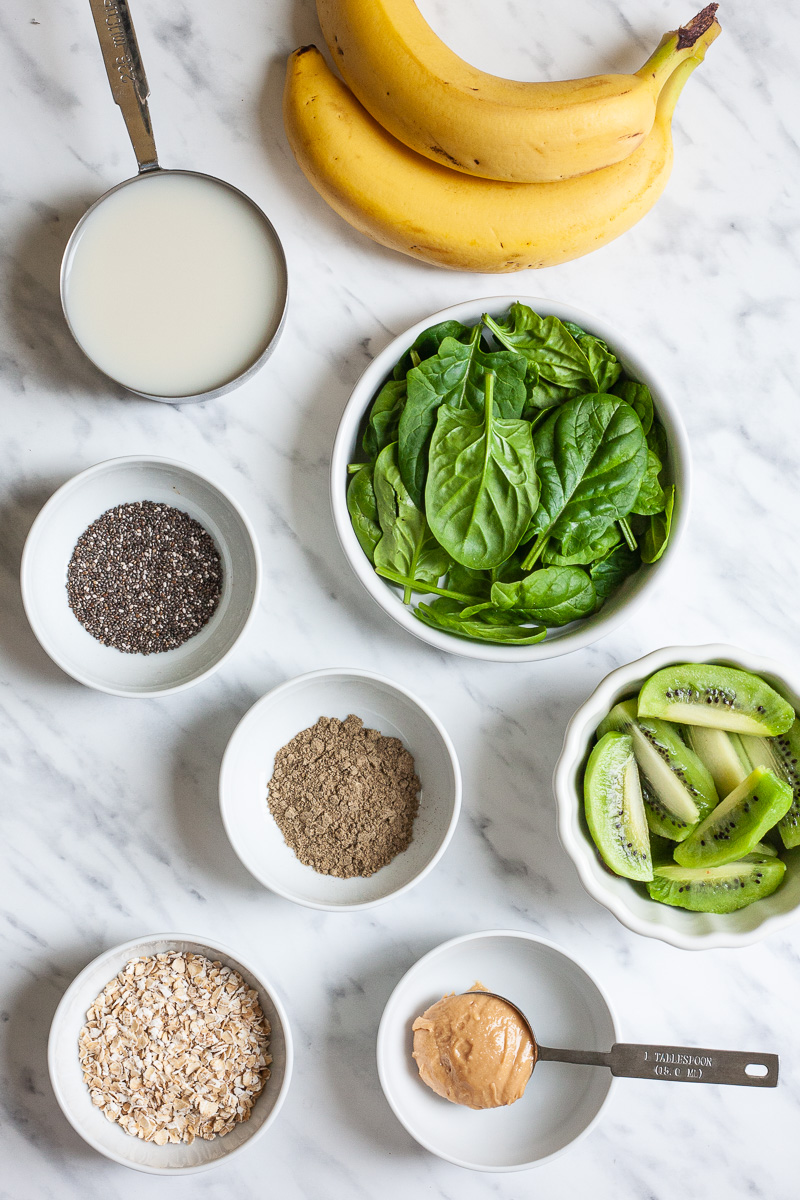 How to make kiwi banana spinach smoothie?
Now, it truly is easy. Take your blender and fill it up with your ingredients.
First, add wet ingredients so that they are at the bottom of your blender. These are kiwi (peeled and cut into halves or quarters), banana (peeled and cut into larger chunks), dairy-free milk, and Homemade Peanut Butter. (If you need a gluten-free PB brand, check out our "Is peanut butter gluten-free?" post for the list.)
Then add dry ingredients, which I also call smoothie boosters. These are chia seeds, oats, and hemp powder.
Add spinach leaves to the top.
Blend them until nice and creamy.
You want smooth and creamy?
Use a Vitamix or Blendtec – You can certainly use a hand blender (aka immersion blender) or a regular blender. However, if you need your smoothie to be extra smooth without a single little piece to find, we recommend using a high-power blender like Vitamix* or Blendtec.
Choose ground chia seeds – If you don't have a high-power blender and you still want to enjoy a smooth and creamy smoothie, use ground chia seeds.
Soak oats in the milk – Soak oats overnight in milk and make your smoothie in the morning. This way even if you don't have a high-power blender, your regular one can make the oat pieces disappear.
Use frozen bananas – If you when some banana slices in your freezer, use them in this smoothie instead of nice cream (I mean once in a while). 🙂 It will turn it into a spoonable smoothie bowl.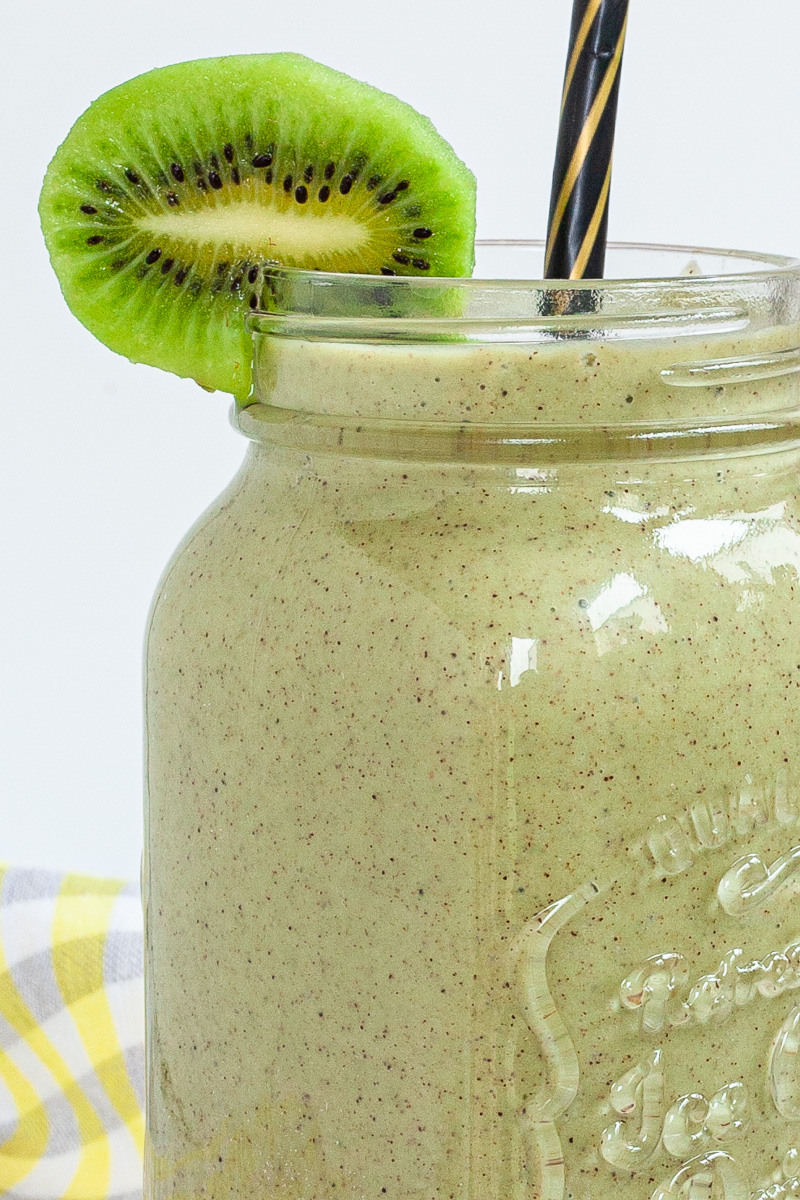 FAQs and substitutions
Can you use other types of milk?
If you are drinking this smoothie as a delicious kiwi – banana – spinach smoothie, then you don't necessarily need a fortified dairy-free milk. I made this smoothie several times with Homemade Cashew Milk.
How to store it?
This lactation smoothie is full of fresh ingredients that can deteriorate quickly. If you store it in a fridge, we recommend drinking it within a day. You may experience some division or layering, just shake it well. If it smells or tastes foul, leave it.
Can you make lactation smoothie freezer packs?
Yes. Preparing freezer packs can be a good way to work in advance. What do you need to do? Peel and chop the banana and the kiwi in slices. Wash the spinach leaves. You can freeze them together in a freezer bag. Squeeze the air out. Close it tight. Lay it flat in your freezer. If you want to use it and have a high powered blender you can just add the pack frozen to your blender. You can meal prep the dry ingredients in small mason jars and keep them in your pantry on room temperature.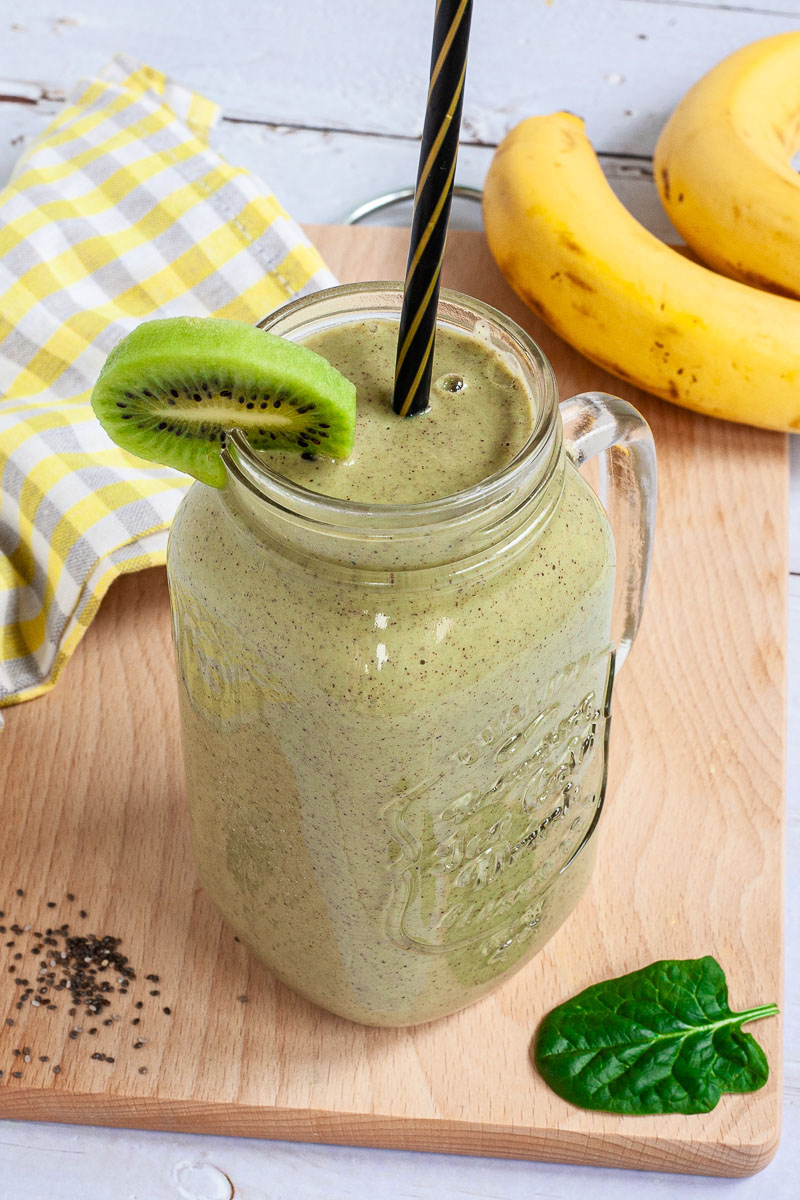 This Green Lactation Smoothie recipe is raw vegan, vegetarian, dairy-free, soy-free and WFPB-friendly (whole foods plant-based). However, it is only gluten-free if you buy certified gluten-free rolled oats like this one*. Oats are naturally gluten-free, although they are usually cross-contaminated with other grains. If you are interested to read more about oats, you can always visit the UK's Coeliac Website.
More vegan breakfast recipes
You can browse through our Vegan and Gluten-free Breakfast Recipes or check out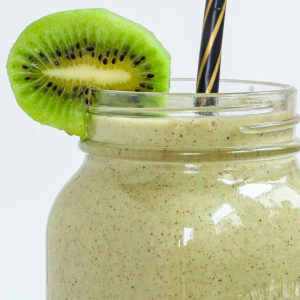 Green Lactation Smoothie (Kiwi Banana Spinach)
Green Lactation Smoothie, aka quick and simple kiwi banana spinach smoothie is not only perfect for breastfeeding moms but can be enjoyed by the whole family
EXCLUSIVE 5-ingredient recipes for busy home cooks that are ready in 15 minutes!
Check out our Express Vegan Cookbook!
Instructions
Peel and chop kiwis and banana.

Take your blender and add wet ingredients like kiwis, bananas, dairy-free milk, and peanut butter.

Add dry ingredients like spinach leaves, chia seeds, oats, and hemp powder.

Ready! Set! Go! Blend them until nice and creamy.
Nutrition
Nutrition Facts
Green Lactation Smoothie (Kiwi Banana Spinach)
Amount Per Serving (1 cup)
Calories 317
Calories from Fat 99
% Daily Value*
Fat 11g17%
Sodium 142mg6%
Potassium 937mg27%
Carbohydrates 45g15%
Protein 13g26%
Vitamin A 2222IU44%
Vitamin C 107mg130%
Calcium 345mg35%
Iron 3mg17%
* Percent Daily Values are based on a 2000 calorie diet.
UPDATED: This recipe was originally posted in Feb 2019. It has been updated with new photos and improved recipe in Feb 2021.