These Sweet Potato Sushi Rolls (Maki Sushi or makizushi) are filled with maple roasted sweet potato, earthy beetroot, and creamy avocado wrapped up in sushi rice and nori sheets. It is the perfect combination of something sweet, savory, and umami that the whole family will love.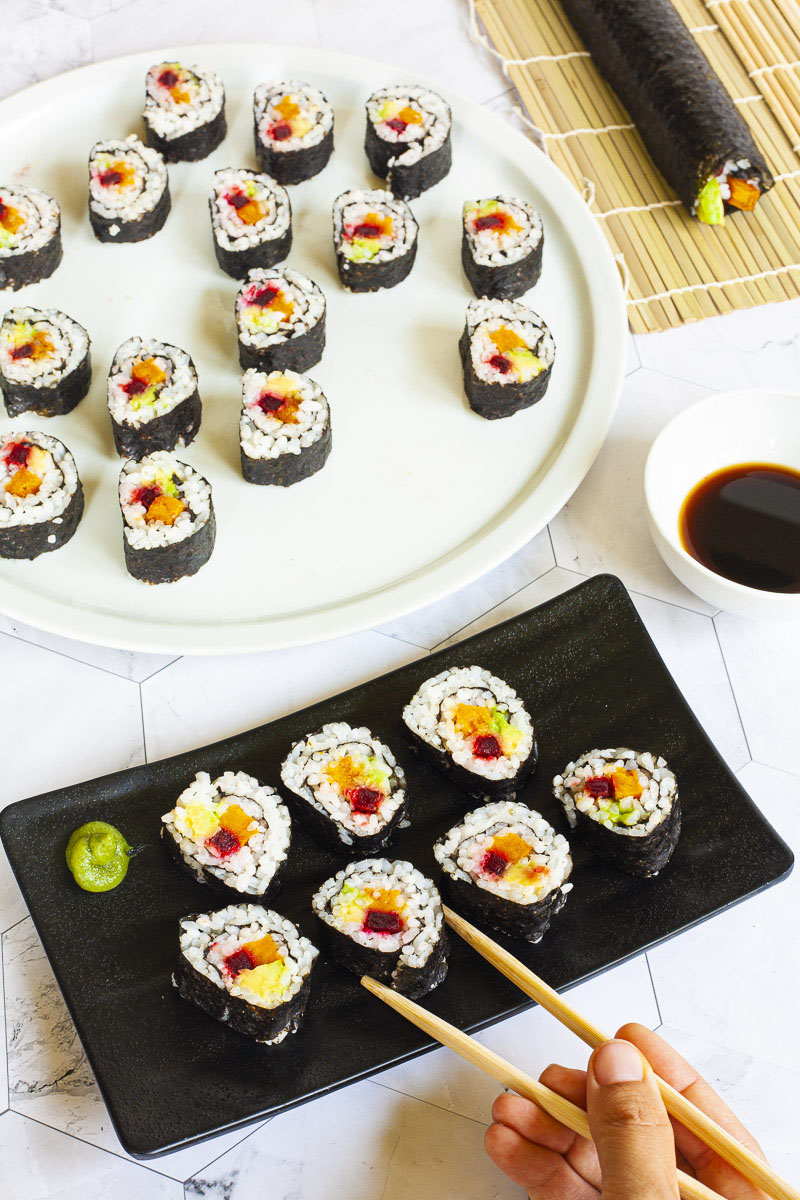 It is amazing how colorful and versatile sushi can be, like tortilla pinwheels, samosa rolls, spring rolls, or dumplings. You have some basic ingredients but then you can mix and match the filling to your heart's content. And they usually end up so stunning and appetizing that they are quick to disappear.
Ingredients
I don't think I need to introduce sushi as you can see them, buy them, and eat them literally everywhere. As there are just so many different sushi types, several may seem very intricate and hard to make.
Well, I probably wouldn't venture to try every type at home, but maki sushi aka rolled sushi is quite easy and you can add whatever filling you prefer.
So what do you need to make sushi rolls? There are obviously some must-have ingredients, but other than that it is up to your imagination.
Nori sheets
Maki sushis are rolled and wrapped in a nori sheet, which is actually a dark green and very thin paper-like sheet of pressed and dried seaweed. You can buy them in most stores. They keep well in the pantry. Nori has a distinctive taste that will remind you of eating a seafood dish. Even if you don't like the taste of seaweed, try our rice paper sushi rolls recipe where we skip this ingredient.
Sushi rice
Sushi rice aka sushi-meshi is actually short-grain white rice. I have also seen and tried sushis with brown rice, wild rice, or even quinoa as a "healthier" alternative. Long grain rice tends to be drier and less sticky.
If you want to make sushi rice in the classic Japanese way using a rice cooker, Hangiri (a Japanese wooden tub), and Uchiwa (a Japanese fan), try Shihoko's recipe. However, we offer you a shortcut in the recipe card to delicious, sticky sushi rice that might be more suitable for your kitchen equipment.
Sushi filling
I would say anything and everything. Being a plant-based blog, we obviously opted for a meatless sushi roll that contains ingredients that can be familiar to the whole family. We wanted to make sure it is the right combination of sweet, savory, and umami. Not to mention colorful as an added bonus. 🙂 We know a lot of kids just love sushi, so this one is for the whole family including
maple roasted sweet potato,
roasted beetroot, and
avocado
Other add-ins
Japan is all about classic, simple, and minimalist in the sense that stuffing sushi with too many ingredients and flavors is something you don't usually see. In order to roll the sushi easily, we recommend 3-4 ingredients tops. Browse through these 16 accidentally vegan sushi fillings or here are some other suggestions to consider:
Japanese omelet aka Tamagoyaki (vegan version of course)
other veggies like cucumber, carrots, and shiitake mushrooms
meat substitutes primarily tofu
fruits like avocado
unique Japanese ingredients like gourds, dashi or fermented soybeans, wakame (kelp), and mirin
How to make sushi rice?
Rinse short-grain rice under cold water using a fine-mesh sieve.
Take a pot and pour in fresh cold water and rice vinegar. Add rinsed rice and salt.
Bring it to boil. Once boiling, turn the heat low.
Simmer until the water disappears, then remove it from heat and cover with a lid. It should stay covered for 5 minutes. Now, you have perfectly cooked sushi rice.
How to roast sweet potato for sushi?
We roasted some sweet potato and beetroot fries in advance that we can use to make rolled sushi.
Make a quick marinade with soy sauce (or tamari if you need it to be gluten-free), maple syrup, sesame oil, and vegetable oil.
Peel and cut sweet potatoes into fries approx. ½-inch thick.
Brush the sweet potato fries with the marinade, then turn and brush the other side as well.
Preheat the oven to 400 Fahrenheit (200 degrees Celsius) and roast the sweet potato fries until soft and tender. It will take approx. 30 minutes.
How to roast beetroot for sushi?
Wash, peel the beetroot and cut it thinner approx. ¼-inch fries.
Sprinkle the beetroot fries with olive oil and with some black pepper. Toss and turn.
Preheat the oven to 400 Fahrenheit (200 degrees Celsius) and roast the beetroot fries until soft and tender approx. 30 minutes.
A quick tip: Place them in a single layer on separate sheet pans or baking trays or parchment papers. If you bake them together with sweet potato fries, the beetroot will color the sweet potatoes purple during baking.
How to make sweet potato sushi rolls?
So you have prepared the sushi rice, the roasted sweet potato, and beetroot fries. You sliced up the avocado and grabbed several nori sheets. Now, the last step is to roll our maki sushi. How to do that?
Take a bamboo mat and place a dry nori sheet on it.
Take 2-3 spoonfuls of cooked sushi rice and using your fingers (make sure your fingers are wet) spread it evenly and thinly over the nori sheets.
Make 3 lines horizontally around ⅓ of the nori sheet by placing one line of sweet potato fries, one line of beetroot fries, and one line of avocado slices (see the below photo for reference).
Take the bamboo mat and roll the sushi as tight as you can manage.
Once it is tightly rolled, cut it into 1-inch wide sushi rolls. Repeat with the rest of the nori sheets. You should have approx. 25-30 sweet potato sushi rolls.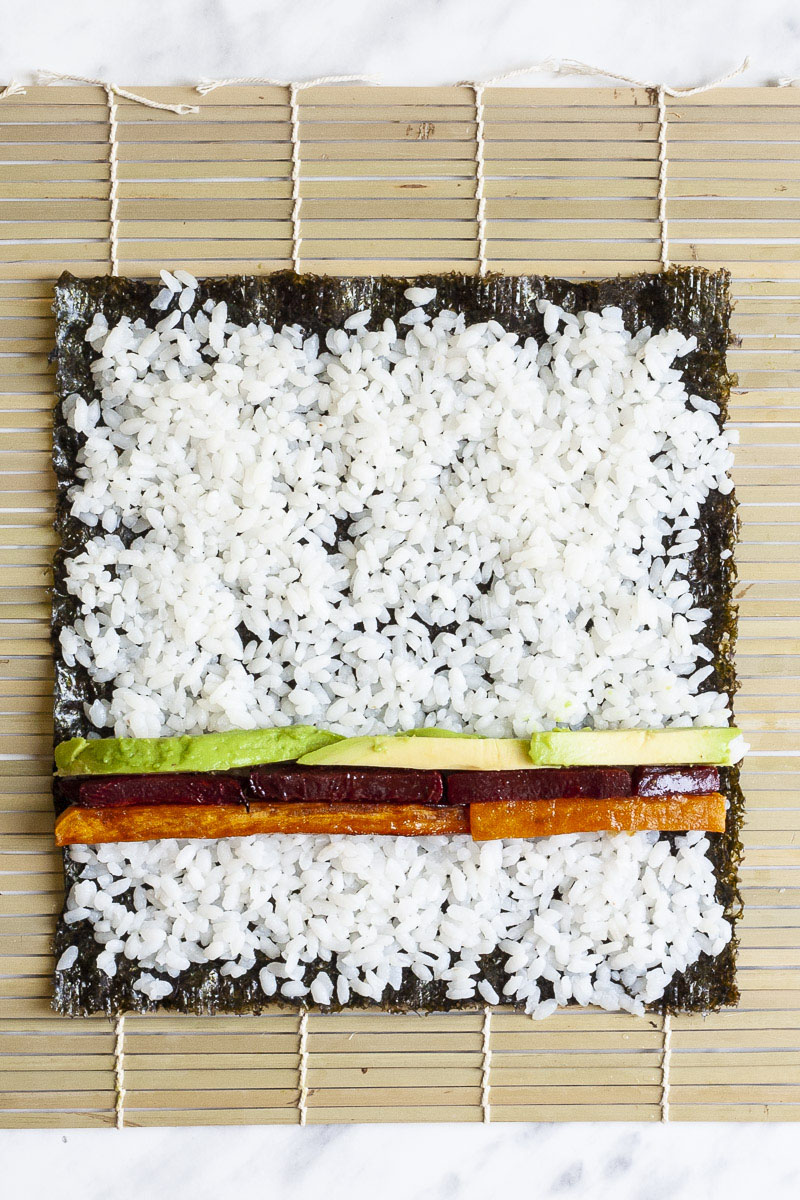 How to roll exactly?
We made a video of how we do it, but here is also a step-by-step photo collage to show you each step.
Fold the bottom of the nori sheets with the help of the bamboo mat at the height of the filling.
Gently roll it further until the bottom side hits the other side of the sushi.
Apply a bit of pressure through the bamboo mat to squeeze the filling a bit together.
Roll the bamboo mat back a bit and tuck in any overflowing filling.
Wrap it up with the bamboo mat again and roll it all the way to the end of the nori sheet.
Apply a bit of pressure again and voila you are done! Here is your first sushi roll.
What condiments to serve it with?
Before I was turned into a sushi lover, during a couple of my first tries I didn't dare to try soy sauce or wasabi. But now, I would say they are must-have condiments. So what else you can serve with sushi?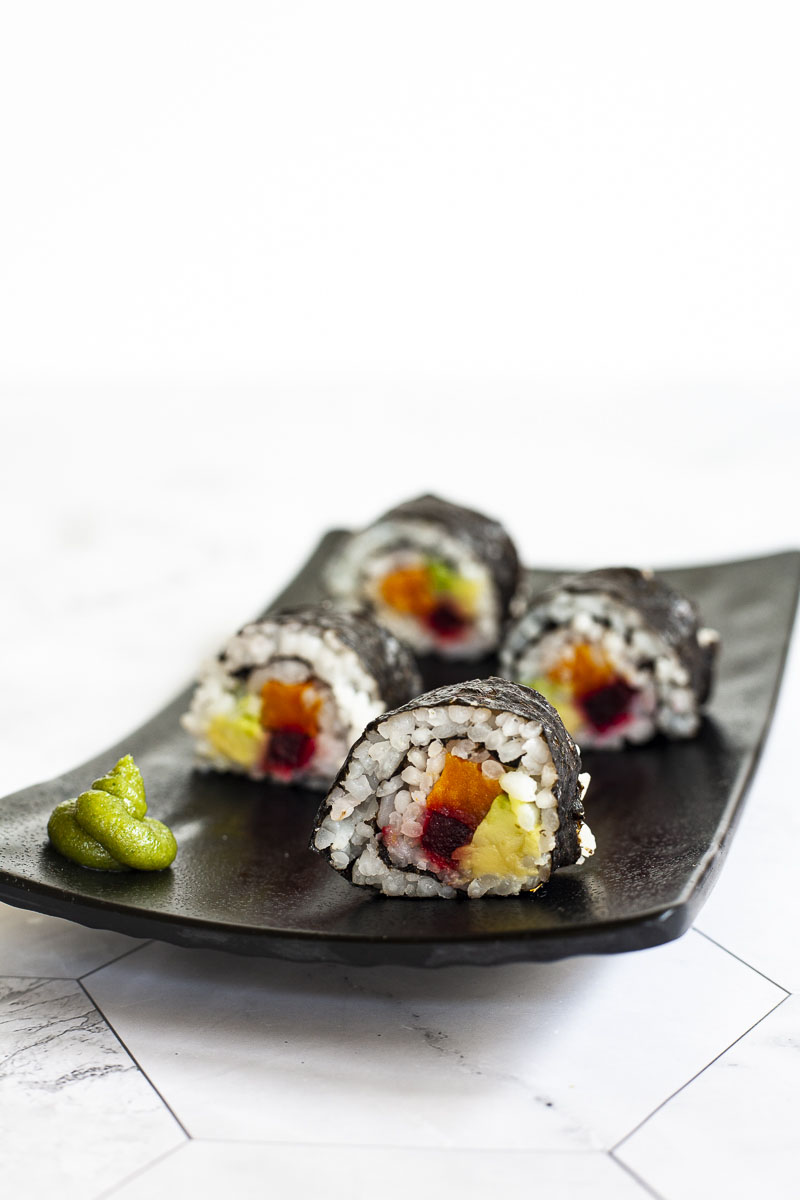 FAQs and substitutions
Is sushi gluten-free?
Sadly, not always. We put together a post examining all popular sushi ingredients in detail to give you the best answer possible.
Can you substitute nori sheets?
If you don't like the taste of seaweed, you can use rice paper or soybean sheets as substitutes. We show you how to roll them in rice paper in our sushi without seaweed recipe.
How to store it?
You can store sushi rolls in an airtight container for up to 3-4 days in the refrigerator without any problem.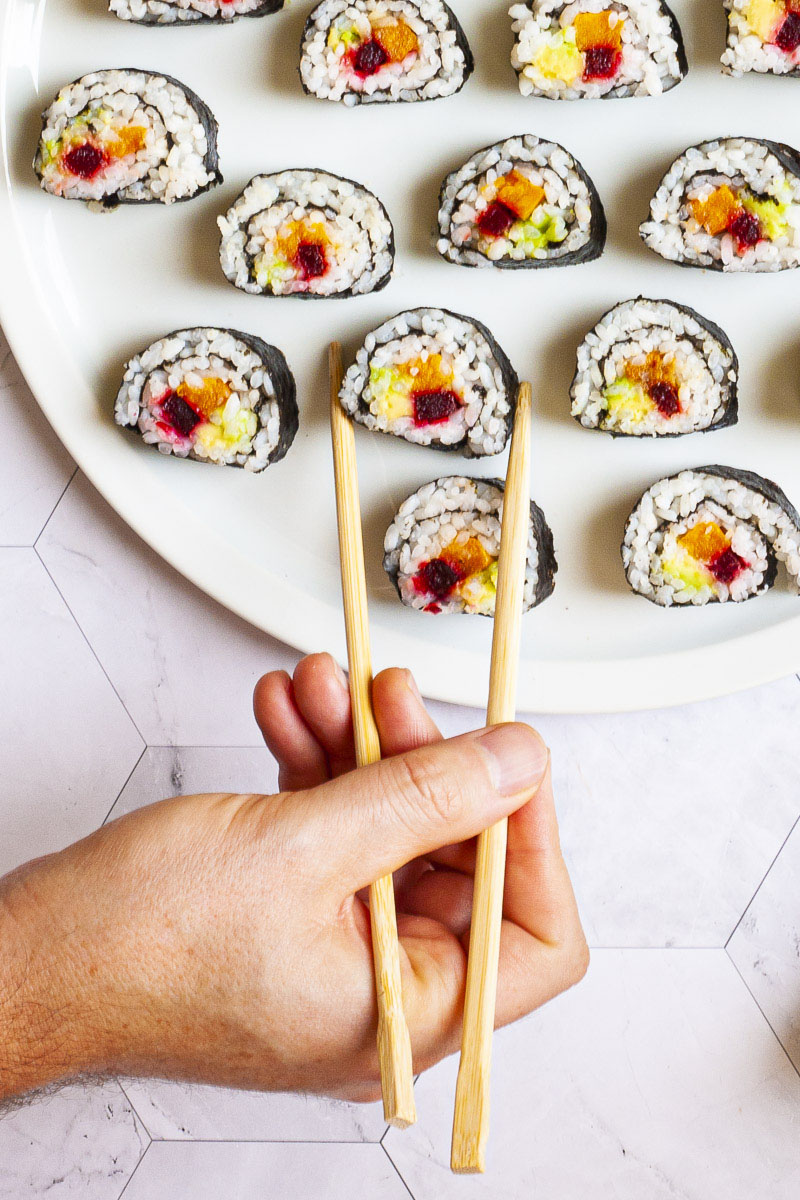 This Sweet Potato Sushi Rolls recipe is meat-free, dairy-free, and egg-free. It is also suitable for vegan, vegetarian, nut-free, and gluten-free diets. It is NOT WFPB-friendly (whole foods plant-based) since we used oil to roast the vegetables.
More vegan Asian recipes
You can browse through our vegan gluten-free dinner recipes or our quick vegan meals collection or check out
Baked Vegan Egg Rolls (coming soon!)
THANK YOU so much for visiting our website. Please comment below if you tried this recipe. We LOVE hearing from you! If you loved the recipe, please don't forget to give us a ⭐⭐⭐⭐⭐ RATING. We appreciate all of our readers.
UPDATED: This recipe was originally posted in October 2020. It has been updated with more tips, steps, and details and republished in May 2022.