Not all sushi is gluten-free. We checked all popular ingredients for you like nori sheets, sushi rice and various sushi fillings. We will give you answers to whether imitation crab, wasabi, or eel sauce is gluten-free or not. We also included a super easy recipe for a homemade gluten-free sushi if you want to try making it at home. (See table of contents below if you want to jump around.)
What is in sushi?
Why do I say that not all sushis are gluten-free? Well, the reason is that there are at least 1000 ways to prepare sushi. However, if you know which ingredients are safe, you can mix and match and choose the right ones. That way you can enjoy your night out with your family and friends even if you end up in a sushi restaurant.
3 main ingredients are:
Sushi-meshi – also known as vinegared sushi rice
Nori – thin paper-like seaweed sheets that is usually wrapped around maki sushi
Gu – sushi fillings or toppings depending on which type you order e.g.: maki or nigiri
Is sushi rice gluten-free?
In short, the answer is yes. The traditional or classic way to prepare sushi rice is using a rice cooker, a Hangiri* (a Japanese wooden tub) and an Uchiwa* (a Japanese fan). The main ingredients are rice, rice vinegar, sugar, salt and water. You can check out Shihoko's recipe for more details.
The rice that is typically used to make sushi is a short grain white rice*. Apart from cross-contamination issues, rice itself is naturally gluten-free.
Rice vinegar also called as rice wine vinegar might be the only suspicious ingredient, which is "made by fermenting the starches in rice using an acetic acid bacteria known as Mother of Vinegar (Mycoderma aceti) and small amounts of rice wine to convert the sugars into alcohol and then into acetic acid " – by Healthline. However, there are not supposed to be any wheat-related products involved in the making it or among its ingredients. So if the sushi rice is made with distilled rice vinegar, it should be gluten-free.
We checked some of the most popular Japanese rice vinegar brands what they say about their products. If you need more info, read our "Is vinegar gluten-free?" article.
Is seaweed gluten-free?
In short, the answer is yes. Seaweed sheets aka nori sheets are the ones you see covering maki sushis or used in miso soups. They are actually a very thin paper-like sheets of pressed and dried seaweed made similar to actual paper. If you are interested in a bit of historical background or how are they farming it nowadays, this article is very helpful.
Nori sheets supposed to be made of only sea weeds, which are naturally gluten-free. However, there are different grades based on quality. Silver and gold* supposed to be the highest quality, the darkest sheets of all and the best ones for making sushi. Green, blue and other colors indicate medium quality. These sheets are usually also greener and lighter. Silver and gold should mean pure seaweed as well, while you need to pay attention to the ingredients list for buying other quality grades as you may find other ingredients there.
Are there gluten-free sushi fillings and toppings?
In Japanese, they called the main ingredients aka the fillings of sushi as Gu. As there are thousand ways to prepare sushi, the fillings may not be gluten-free. Far from it. Here is a list of ingredients you need to pay attention to that contain gluten:
Tempura – It means that the seafood, meat or vegetable is battered and deep fried before added to the sushi. The tempura batter is made with wheat flour, which means it is not gluten-free.
Breaded ingredients – Some of the less traditional sushis may contain breaded ingredients where the meat, the seafood or the veggie is covered in wheat flour, then egg, then breadcrumbs and deep fried. Sadly, it is never ever gluten-free.
Surimi aka imitation crab meat – It is actually made of mostly fish and a bunch of different ingredients like starch, egg white, flavors and such. Here is a very detailed description of how they manufacture surimi. Sadly it is never gluten-free, not vegan.
Soy sauce-based marinades – Japanese cuisine likes to use soy sauce as part of a marinade for meat and seafood. We have already written about why soy sauce is not gluten-free, including 5 gluten-free soy sauce substitutes. If you order sushi in a restaurant, I am pretty sure they don't bother using any of the substitutes. Hence, sushis including soy sauce marinated ingredients are not gluten-free.
Teriyaki, Eel sauce, Ponzu sauce, BBQ sauce – All of these has soy sauce among the ingredients, hence anything that is marinated in these sauces will not be gluten-free as well.
Japanese omlette (Tamagoyaki) – There is a type of nigiri sushi which has a rolled Japanese fried omelette on top. Sadly this type of omelette is prepared with soy sauce. Soy sauce is not gluten-free. I have low hopes that any restaurant uses one of the 5 gluten-free soy sauce substitutes instead of the real deal.
Tofu – It is a regular addition to sushis, nigiri or maki or other. Tofu is actually the curd of soy milk, hence no gluten should be involved. However, it is very rare that the tofu is served without a marinade. And typically said marinade contains soy sauce, which is not gluten-free.
The less is more in a sense that usually the simple sushis are better than the uber-creative ones. Simple maki sushis have less ingredients, hence less chances to get it wrong. Here is a sadly not too long list of fillings/toppings that naturally do not contain any gluten:
typical vegetables in sushis: mushroom, cucumber, avocado, carrots, asparagus, snap peas, scallion etc.
raw or smoked seafood: scallops, tuna, crab etc. without marinade
tobiko aka raw fish eggs
Japanese condiments to serve with sushi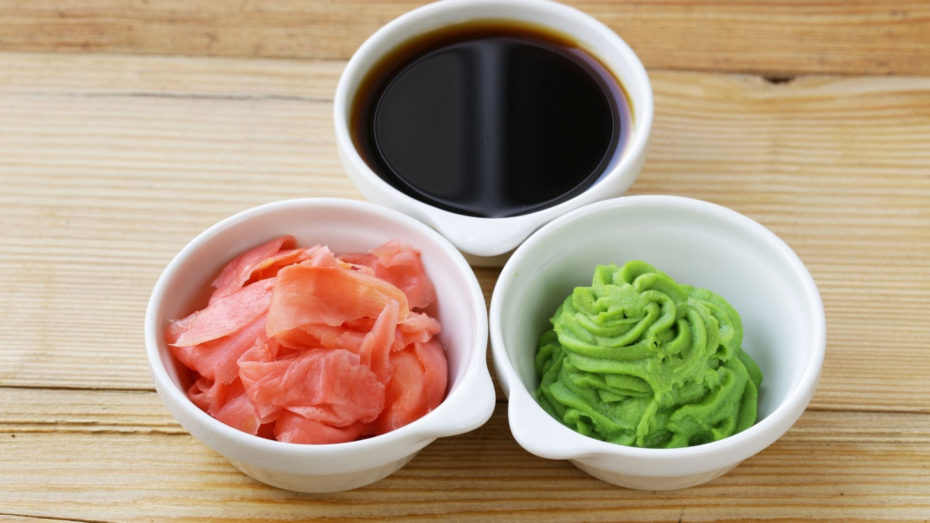 Is wasabi gluten-free?
Not always. Did you know that wasabi is eaten with sushi to make raw fish safe? And that 95% of wasabi don't even contain wasabi? Surprising, huh? Wasabi paste you likely find in restaurants or in stores contains mainly Japanese horseradish, mustard, starch, flavors and food coloring. If you are lucky, you can have a 1% wasabi among the ingredients. You can read more about why real wasabi is rare. Pacific Farms sells 100% freshly grated wasabi* that is certified gluten-free.
If we take a look at the most popular brands, you can see that the most suspicious is likely starch.
Is pickled ginger gluten-free?
It should be gluten-free. Pickled ginger is made of young ginger root thinly sliced or grated and pickled in a mix of rice vinegar, sugar and water. The question is usually what kind of vinegar. I have already explained above that distilled rice vinegar (like Marukan rice vinegar*) should be gluten-free. Therefore, if the ones they serve in the restaurant is made of that or you make it at home like that, it is safe to eat on a gluten-free diet as well. Most of the labels I have checked lists rice vinegar especially the ones claim to be authentic or made in one of the Asian countries. I haven't really come across any brands that would list malt vinegar. If you want to try making some at home, here is Nami's homemade pickled ginger recipe from Just One Cookbook.
Is soy sauce gluten-free?
Sadly not. Despite its name "soy sauce", it is not made of entirely soy, but it also contains wheat. Shocker, I know. I was definitely shocked when I had to start eating gluten-free and had to start checking the labels. We have a whole post about soy sauce, including 5 gluten-free soy sauce substitutes you can use instead.
How to order gluten-free sushi
As there are at least 1000 ways to prepare sushi, the sad truth is that there are just so many ingredients the restaurants work with. So even if you pick a sushi which by default has only gluten-free ingredients, you have to take into account cross-contamination.
Are sushis prepared on the same cutting board, with the same knife, rolled in the same bamboo mat? When you ask about gluten-free ingredients, does the server or chef answers in confidence or in details? Or do they say "Probably"?
I guess in high-end restaurants where you see the sushi prepared right in front of you is better. Because you can see how clean they work, you can ask questions and see the ingredients first hand.
Easy gluten-free sushi recipe
If you would like to try making gluten-free sushi at home, don't get discouraged. Here is a super simple recipe with step-by-step photos on how to make sushi rice with vinegar and how to roll maki sushi in nori sheets. This is a veggie-only, delicious, kid-friendly recipe that is perfect for beginners. The filling is roasted sweet potato, beetroot and avocado which are usually loved by most people (as opposed to raw fish which can be a deal-breaker for some). Take a look at these spectacular and colorful Sweet Potato Sushi Rolls. Aren't they gorgeous?
More gluten-free pantry items
You can browse through our Gluten-free Pantry Guide or go through our List of 90+ Gluten-free Flours or check out
⇒ GET OUR FREE 7-DAY VEGAN MEAL PLAN NOW! OR CHECK OUT ALL VEGAN MEAL PLAN RECIPES HERE! ⇐