The short answer is – they can be! It all depends on the type of noodles. Our comprehensive article will clear up every doubt you have about whether traditional noodles are gluten-free, and if so, which ones. With lists of ingredients to watch out for as well as all certified gluten-free brands that sell each type of noodle, you will soon see that getting a hold of a bowl of your favorite noodles to slurp up is easier than you think!
What's not to love about a big steaming bowl of noodles? It's one of the most well-known comfort foods in the world, despite its origins being in Asia. And with so many varieties and dishes to choose from, it's no wonder why! You've come to the right place if, between all these flavors and textures, you find yourself wondering "are noodles gluten-free?". Let's see the different types one by one.
Egg noodles?
Usually, egg noodles are not gluten-free. Egg noodles are a staple in Chinese cooking, although they are often used in other Asian cuisines as well. If you're wondering whether Chinese food is gluten-free, find out here!
The four most common types of fresh egg noodles are
thin wonton noodles
wide wonton noodles
Hong Kong-style noodles
lo mein noodles
Sadly, the conventional recipe, made of eggs, a pinch of salt, and either semolina or all-purpose flour, most definitely contains gluten. And since eggs are also one of the main ingredients egg noodles are not vegan either.
While gluten-free versions are not the easiest to find at supermarkets, certain gourmet stores do stock them and they are available rather easily online.
Gluten-free Egg Noodles by Double Yolk
They swapped out the wheat-based flour in egg noodles with a special blend of rice flour, tapioca flour, starch, and gum, and got the perfect gluten-free alternative. Albeit not vegan since eggs are still used.
With Double Yolk egg noodles, there's no need to avoid your favorite lo mein, chow mein, and classic egg noodle soup. Just be careful not to overcook them to preserve their chewy texture.
Gefen Gluten-free Egg-free Wide Noodles
Looking for an egg-free alternative? Gefen has got your back. All-natural, gluten-free, and vegan, these noodles are made by a brand that is best known for having also a well-respected kosher certification. However, the reviews are not that encouraging.
Rice noodles?
From delicious pad thai and Vietnamese pho to a variety of different stir-fries, there's an endless list of Asian delicacies that herald rice noodles. Made from rice flour, starch, and water, rice noodles are almost always gluten-free. However, it's always good to double-check the ingredient list to make sure they're free from wheat-based starches or cross-contamination.
These usually-flat noodles come in all lengths and widths. The thinner and finer versions are used in fragrant broths like the pho or deep-fried and used as a crispy garnish. We do love using any types in stir-fries as well. Here is a delicious Thai oyster mushroom stir fry recipe with rice noodles pictured below.
Based on the width, the noodles are either called
mai fun
bun
sen mee
jantabon
rice sticks
rice vermicelli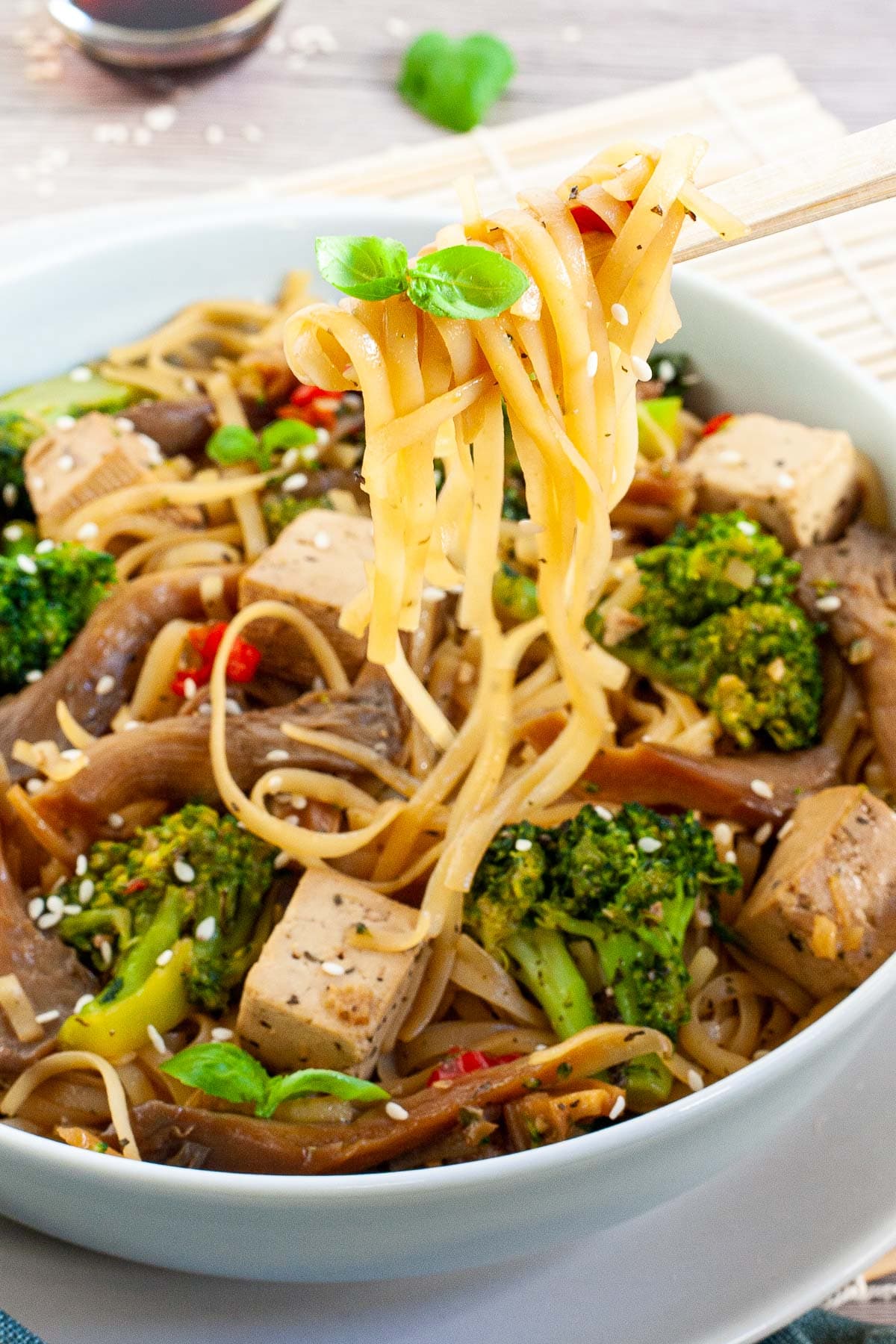 Organic Rice Noodles by Lotus Foods
Lotus Foods has an entire range of rice noodles available on its website. With varieties made from white, brown, and black rice, you'll find different kinds are best suited for different types of dishes; some are even perfect as a substitute for pasta! All the noodles are produced in a gluten-free facility that guarantees certified gluten-free foods.
Rice Noodles by Annie Chun
The delicate texture and mild flavor of these rice noodles make them perfect for all Asian rice noodle dishes from soup to cold salads. Available in two categories namely the mai fun and pad thai, these verified gluten-free noodles come in the white and brown rice variants. Available in their dedicated store and on Amazon, these noodles are just as easy to get a hold of as they are to prepare!
Soba noodles?
Soba noodles are traditionally made from buckwheat, a type of seed from the family that leafy vegetables like rhubarb or sorrel belong to. It has nothing to do with "wheat" despite its name containing this word.
Soba noodles may be free from gluten however we came across several brands advertised as soba noodles but contained wheat flour probably for better texture. That being said if you see soba noodles don't automatically assume it is made of 100% buckwheat flour.
These Japanese noodles are usually served cold along with a flavorful dipping sauce. The buckwheat gives the noodles a distinctive light to dark brown color as well as a nutty taste.
Ice cold soba with dipping sauce, soba noodle salad, stir-fried sesame soba noodles, or this spicy miso tahini soba noodles (pictured below) are some of the most delicious dishes made with these noodles.
Buckwheat Noodles by King Soba
King Soba offers 100% organic buckwheat noodles made from hulled buckwheat kernels, steamed, and air-dried to ensure their purity. Ready within 5-6 minutes, care must be taken to avoid overcooking these noodles to maintain their shape and texture. Besides typical Asian dishes, these noodles also make a healthy substitute for pasta in spaghetti recipes.
Soba Noodles by Lotus Foods
Popular for its various rice and rice-based products, Lotus Foods also sells gluten-free soba noodles. These noodles combine organic buckwheat with whole grain brown rice to create delicious Japanese-style goodness.
Ramen noodles?
Ramen is one of the most convenient comfort foods out there. Freshly made or from an instant packet, it is easy to find, and is usually tasty and affordable. But are ramen noodles gluten-free? No, traditional ramen noodles are made from wheat flour, and therefore, contain gluten.
But don't worry! Nowadays there are a ton of gluten-free options on the market to satiate your ramen cravings. These are usually made from millet, brown rice flour, beans, potatoes, tapioca, and more.
Pro-tip: Remember to also carefully read the ingredient lists of the flavor packets in instant ramen to avoid gluten-containing ingredients and cross-contamination. Just to mention one soy sauce is not gluten-free, so look for tamari instead.
Organic Rice Ramen by Lotus Foods
Lotus Foods offers an entire range of certified gluten-free ramen noodles made from their specialty rice in place of wheat. Consisting of bold and interesting combinations like Millet & Brown Rice Ramen which has a nutty flavor, Jade Pearl Rice Ramen with wild-crafted bamboo extract, and many more, their collection is highly unique and sought after.
Ready in less than 4 minutes, they make a perfect addition to soups, stir-fries as well as cold salads. Lotus Foods also produces rice ramen noodle cups with flavor packets like red miso, garlicky veggie, and more. It doesn't get easier or yummier than this!
Ramen by Big Green Organic Food
Big Green Organic Food prides itself on selling certified organic and gluten-free products in facilities free from wheat, rye, or barley products to avoid any cross-contamination. They offer an array of Japanese-style ramen noodles made from millet, sorghum, buckwheat, rice (black, white, and brown), sweet potato, and sometimes a combination of these gluten-free flours.
Udon noodles?
Originating from Japan, udon is a long, slightly thick, chewy noodle that is used in a variety of soups, stews, Japanese curries, and stir-fries. Yaki-udon, one of the most popular udon dishes, is a stir-fry that is made with a variety of ingredients doused in a rich, fragrant soy-based sauce.
As you might have already guessed, the answer to the question "are udon noodles gluten-free" is no sadly it is not gluten-free. The traditional recipe used wheat flour for that quintessential bite and chewy texture. However, you can find gluten-free options if you know where to look.
Organic Brown Udon Rice Noodles by Lotus Foods
Made with organic, whole grain brown rice, Lotus Foods brings this popular type of Asian noodle to the States in a new and improved gluten-free form.
These thick and chewy noodles have a mild, nutty taste and a good bite, making them perfect for broths and stir-fries with veggies or protein.
Gluten-free Udon Noodles by Toa Food
Made from 100% Japanese rice flour, Toa Food's gluten-free udon noodles have a smooth and chewy texture that perfectly replicates traditional udon noodles. They are ready in 8 minutes and available at dedicated gourmet Asian stores and online. They are ideal for both hot stir-fries and cold udon-based salads.
Glass noodles or Cellophane noodles?
A broad category of noodles, glass noodles, sometimes also known as cellophane noodles, are made from any type of starch apart from wheat. While the most common variant is the bean thread noodle made from mung bean starch, there are also others that are made from tapioca starch and sweet potato starch as well.
The question "are glass noodles gluten-free?", answers itself yes they should be gluten-free since the starches that are used are usually devoid of any form of wheat or barley. The neutral flavor of glass noodles is used in a variety of Asian dishes, particularly in Pad Woon Sen aka Thai glass noodle stir fry (pictured below), or in fresh Vietnamese Summer Rolls.
Thai Bean Thread Glass Noodles by Kaset
Made from the highest quality ground mung beans from Thailand, Kaset's gluten-free vermicelli is stocked at almost all Asian sections of popular stores and even available online. Soaking them in warm water for 7 minutes makes them soft, springy, translucent, and ready to be stir-fried or cooked in broth. They are also known as silver bean thread noodles or woon sen.
Pine Brand Bean Vermicelli by Tonson
Popular in both Thailand and the United States, Pine Brand prides itself on producing glass noodles made from 100% gluten-free bean threads. Their reliable production process and natural preservation techniques ensure great quality without the use of any harmful additives. Used in several dishes across Asian cuisine, these noodles require 7-8 minutes of pre-soaking before cooking.
Shirataki noodles?
Shirataki noodles are round, thin noodles that are thicker than glass noodles and are used to add substance to flavorful broths. Made from the starch of a Japanese root vegetable called konjac, these noodles are gluten-free and present little to no flavor.
They are loaded with fiber and have a chewy, springy texture which makes them perfect for ramen. Shirataki noodles with peanut sauce are one recipe that became quite popular on the internet.
Shirataki Noodles by Skinny
If you're looking for gluten-free instant noodles, your search ends at Skinny. Prepared with all gluten-free ingredients like konnyaku (konjac) flour, organic brown rice flour, pumpkin powder, and calcium hydroxide, these versatile noodles are an excellent substitute for glutenous noodles in traditional ramen dishes.
Shirataki Noodles by House Foods
House Foods has a multitude of shirataki noodle varieties made from completely gluten-free konnyaku flour. Apart from the traditional variety, they are also available in a tofu blend and a combination of oats and rice bran. These noodles come in a number of shapes and thicknesses like angel hair, macaroni, fettuccine, and more. If you have celiac disease, please watch out for oats as well, since many people with gluten sensitivity cannot tolerate non-gluten-free oat products as well.
Kelp noodles?
Kelp is a type of brown algae seaweed that is most commonly enjoyed in Asian cuisines like Japanese, Chinese, and Korean. To make kelp noodles, the inner gel-like part of the kelp is dried and made into a powder which is then mixed with water. Advertised as being low in both carbs and calories due to the absence of any whole grain flours, kelp noodles are completely gluten-free.
Mild and understated, these ready-to-eat, crunchy noodles acquire the flavor of the accompaniments and broths that they are served with. They are great in salads and spring rolls. You can also cook them by soaking them in hot water before you add them to soups and stir-fries.
Kelp Noodles by Sea Tangle
Sea Tangle is a great brand for all your kelp needs. With all their products made in a gluten-free and allergen-free facility, they prevent any cross-contamination. Plus, they offer a wide range of flavored kelp noodles apart from the regular ones like green tea, konaberry, and moringa.
Kelp Noodles by Gold Mine
Beloved for their various organic Asian staples, Gold Mine Natural Food Co. also stocks kelp noodles that can be served right from the package. Available in flavors like infused green tea and konaberry apart from the traditional kind, their unique texture makes them perfect for salads and broths.
Pasta vs Noodles
Despite sometimes being similar in taste, color, and even shape, noodles and pasta are very different from each other.
Traditionally pasta was a form of cooked dough made from durum wheat and water that is stamped into various shapes like penne, fusilli, or spaghetti. Due to this, traditional pasta almost always contains gluten. Modern pasta, on the other hand, uses a wider variety of grains (flours) to be more inclusive of different kinds of food intolerances and preferences. And yes, some of these are even gluten-free!
Noodles are more versatile and not linked to one singular grain. They are made from everything and anything, from wheat, rice, buckwheat, almost all types of root vegetables, seaweed, and more. There are also a variety of different ways that noodles are made. Stretching, pulling, rolling, and twisting only just scratch the surface! This makes the question "are noodles gluten-free?" both easier and more complicated to answer at the same time!
Here is a list of key differences between noodles and pasta to help you better understand:
Flour: A coarser and harder type of flour is used to make pasta, whereas a finer type of flour is used to make noodles. Soft and fine flour gives noodles a light color, a smoother feel, and a softer texture.
Form: While most noodles are limited to long strings of various thicknesses and textures, pasta has over 300 different forms. Each type has a different name and is used to prepare a specific dish.
Sauce vs Broth: Noodles have the potential to be served hot, cold, in a broth, with a curry, stir-fried, or even deep-fried. Pasta is typically boiled and sauteed with a sauce and topped with cheese. While there are pasta dishes where pasta is indeed served in broth, like Tortellini in Brodo, this is certainly the exception and not the rule.
Spaghetti vs egg noodles
Although similar in appearance, the main difference between spaghetti and egg noodles is that the former, as the name suggests, is always made using eggs. This is not always the case with spaghetti.
The al dente texture of perfectly cooked pasta is usually only achievable with pasta made from durum wheat. Since egg noodles are made from a variety of different flours apart from traditional wheat flour, their texture varies from chewy and springy to silky smooth.
Even so, you shouldn't mistake that to mean that gluten-free pasta is a sure thing either! Many gluten-free varieties on the market are often found to be either too gluggy or downright expensive.
Fettuccine vs rice noodles
Like most traditional pasta, fettuccine is also made from wheat. Since it is made by rolling pasta dough flat and cutting it into strings, it appears similar to pad thai rice noodles which are also mostly flat. However, it should be noted that they do differ significantly in both taste and texture.
Fettuccine is best enjoyed al dente but is rarely found in a form that is gluten-free, economical, and tasty. Rice noodles, on the other hand, are almost always gluten-free and cheap. So, if you don't mind the textural differences and are eager to try something new, give this substitution a go.
Vermicelli vs capellini (angel hair pasta)
Due to vermicelli being a thin variety of noodles, it is often compared to and sometimes even confused with capellini, or angel hair pasta. Angel hair pasta is made from durum wheat while vermicelli can be made from a variety of starches like rice or mung bean which can make it gluten-free. Traditional capellini is also much thinner than its Asian counterpart. A lot of Italian dishes these days substitute angel hair with glass noodles to avoid gluten.
More gluten-free pantry guides
You can browse through our gluten-free pantry guide or gluten-free flour guide. ​We have also listed 11 vegan foods to avoid on a gluten-free diet.
If you are looking for certified gluten-free products you can buy in stores, check out the below articles. We researched in detail what they were made of and which brands are safe to use. We also give you examples of the best substitutes or of homemade recipes in case you need them.