Chinese cuisine is one of the oldest and most widely-spread cuisines around the globe. It has undeniably traveled and fused with foreign cuisines and evolved to accommodate various diets over time. This begs the question, which Chinese food is gluten-free as a result? Read on to learn about the most common ingredients and dishes in Chinese restaurants, as well as which ones are safe and which you should avoid.
Typical Chinese ingredients
The answer to whether Chinese food is gluten-free or not depends partly on the ingredients and partly on the way of cooking. While some components of Chinese cuisine are naturally gluten-free, others are definitely never ever. We list here some of the most common ingredients you can find in Chinese restaurants or in the Asian aisle of the supermarket.
Noodles
Noodles are ubiquitous in Chinese cuisine and are prepared in numerous ways for swirling, slurping, and swallowing. Differing by region and ingredients, this iconic staple manifests in a dizzying array of varieties. We have a whole article about which noodles are gluten-free and which ones are not. However, there are 3 types, which should be gluten-free.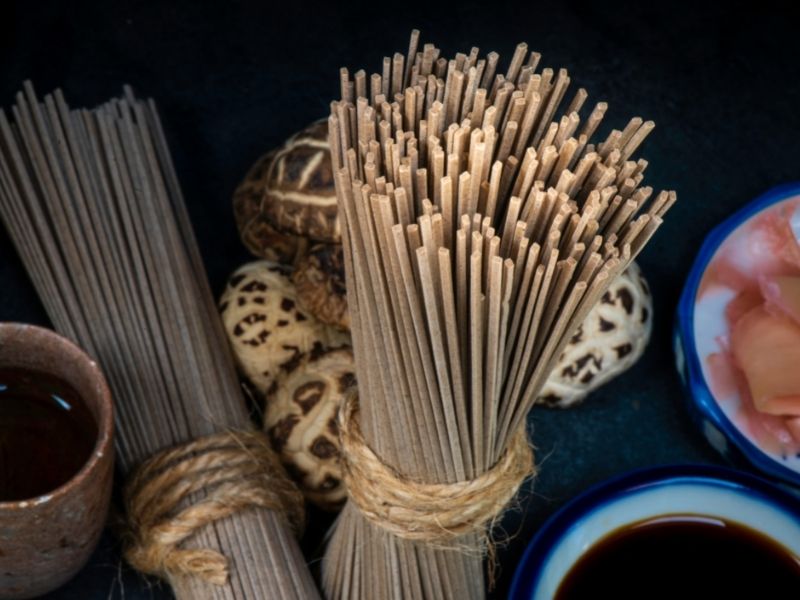 Rice noodles

are the most common type, which is great news since they are made from white rice and starch, making them gluten-free. Just remember to be safe and double-check that the added starch contains no wheat or all-purpose flour. There are several kinds of rice noodles like mai fun (rice vermicelli), chow fun & mi xian, chee cheong fun (steamed rice roll), lao shu fen (silver noodles), and lai fen. Try our oyster mushroom noodle stir fry recipe which is served with rice noodles.

Soba noodles

the pure buckwheat noodles kind, also called kiko uchi, are traditionally gluten-free. But some brands today add a bit of whole-wheat flour to prevent the noodles from deteriorating, so keep an eye out for that. Packing a nutty flavor and a dense texture, they have evolved from their humble street food origins to the high-class soba noodles found in restaurants. They are served hot or cold with only one rule. Try our harissa tahini pasta which we served with soba noodles.

Bean thread noodles

are also known as mung bean vermicelli which is another great ingredient you can use in many Asian dishes including Chinese recipes. Try our pad woon sen recipe, which is actually a Thai glass noodle stir fry.
Wrappers
Chinese cuisine uses wrappers to create many delicious dishes. Among them, spring rolls are probably the most well-known. While you can count at least 10 wraps for spring rolls, there is one that is gluten-free, easy to use, and cheap since the classic spring roll wrappers are made of wheat flour and hence absolutely not suitable for people with celiac disease.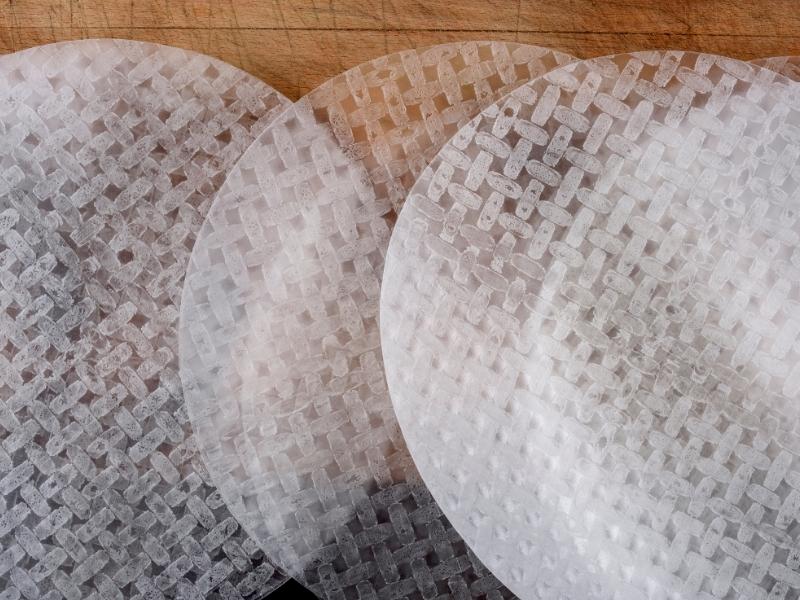 Rice paper wrappers are such an amazing ingredient. To witness some culinary magic, dip the dry, stiff rice paper in water and watch it transform into a pliable and chewy ready-to-eat wrapper! Originally from Vietnam, these soft shells are used now worldwide. Try one of our many delicious recipes with rice paper.
Cornstarch
The power of the simple cornstarch is two-fold: it thickens up sauces and seals the protein in food. Cornstarch slurry is the foundation of a Chinese cooking method called velveting, which is creating a protective coating for even cooking.
And yes, cornstarch is gluten-free. So go ahead and use it to marinate meat, deep-fry crispy snacks, and thicken soups, sauces, and gravies.
Tofu
Tofu can be traced back to 2000 years ago when it was a traditional food used as a spiritual offering to ancestors in Han China. Today, this meat substitute is prized for its mild flavor and smell, which gives it the ability to absorb new flavors through spices and marinades.
Tofu is almost nothing more than coagulated soy milk, but still, there are a ton of ways to make it and use it. From silken tofu in marinades, dips, and puddings; soft tofu in soups and casseroles; to firm tofu in stir-fries, this coagulated soy milk is essential to many world-famous Chinese dishes. Raw tofu is always gluten-free. But read on if you want to know which marinated tofu dish is really gluten-free.
Chinese 5 spice
The number 5 in Chinese culture signifies the five elements (fire, water, wood, earth, and metal) and the five primary flavors (sweet, sour, pungent, bitter, and salty). The wǔxiāng fěn, or five-spice powder, has origins in traditional Chinese medicine and is believed to foster internal harmony by balancing one's yin and yang.
The unique blend of spices made from star anise, fennel seeds, Szechuan peppercorns, cloves, and cinnamon is gluten-free, dairy-free, vegan, and vegetarian. If you buy it as a spice mix vary the ones without a gluten-free label as cross-contamination may occur.
This spice blend is perfect for those who love spicy food and intensity of depth, it's great for seasoning meats with high-fat contents (pork, duck, or goose) to make dishes like Peking duck. We do love to use it in our Chinese BBQ tofu burger recipe as well.
White rice vinegar
Because white rice vinegar is made from fermented rice, it inherently contains no gluten. Less acidic than Western distilled white vinegar, the high vinegar content of mi cù makes it the first choice in Cantonese-style sweet and sour dishes.
Its sharper taste and lack of coloring are what make it the preferred option for cooking stir-fries, pickling vegetables, or adding acidity to dipping sauces. We do add it to our sweet and tangy orange sauce to make vegan orange chicken.
Soy sauce
Chinese soy sauce, with its wide variety, emphasizes that not all sauces are created equal. Epitomizing all things umami, the unique flavor of jiàngyóu lingers across the tongue, leaving behind a strong aftertaste which makes it a key component of Chinese cooking. It is a standard ingredient in many dishes, including Korean bulgogi, Japanese shoyu ramen, and Chinese lo mein.
Despite its name, soy sauce is not only made of soybeans. During production, soybeans are fermented with wheat or barley hence making this condiment unsuitable for anyone with gluten intolerance. So what is a Chinese food lover to do, you ask? Check out our article on gluten-free substitutes for soy sauce including tamari which is what we use in most of our recipes.
Other Chinese sauces
Here is the list of typical Chinese sauces where the main ingredient is either soy sauce or wheat flour. Unless the bottle specifically states that it is made of gluten-free soy sauce, you should not use them or order food that contains them:
Oyster sauce is not gluten-free

, as soy sauce is one of the main ingredients

Hoisin sauce may not be gluten-free

as it usually contains soybeans, fennel, red chili peppers, garlic, vinegar, Chinese five-spice powder, and sugar. Sadly many brands add wheat flour as well.

Fish sauce may not be gluten-free

since there are so many regional variations where some contain soy sauce, but some don't.
Shaoxing wine
It is also known as Chinese black rice vinegar. It has a spicy, caramel-like taste that is reminiscent of dry sherry. Used in everyday cooking, it adds a complex layer making it suitable for hong shao or red-cooked dishes. It is also known to remove the raw smell of meat or fish, making it an essential component in braises and marinades.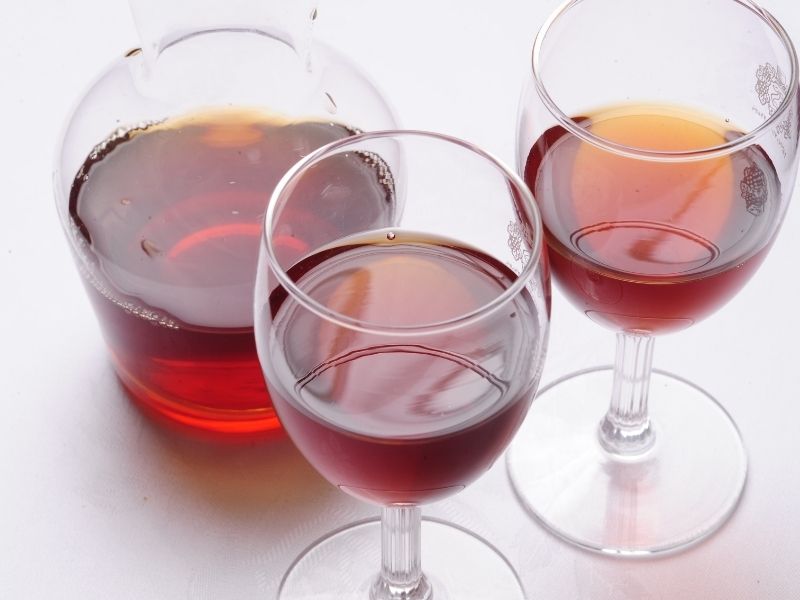 A small amount of wheat is used to prepare it along with fermented grains of rice, sorghum, barley, bran, and chaff. So, unfortunately, shào xīng jiǔ is not gluten-free.
Gluten-free Chinese food
Is Chinese food gluten-free and safe for those on dietary restrictions? Read on to learn more about the most popular Chinese dishes.
Chinese fried rice
Fried rice recipes were developed as a way to use leftovers and are one of the best-known Chinese dishes. This comfort food is versatile and can contain anything from veggies and seafood to meat.
Just toss them in a wok with 2-3 days old cooked rice and season with oil and spices. While most fried rice dishes are gluten-free, be sure to verify the type of soy sauce used just to be safe.
Egg foo young
Essentially an omelet, the egg foo young is made by beating eggs with veggies like bamboo shoots, mushrooms, scallions, water chestnuts, cabbage, beans, meat, or seafood.
The American-Chinese hibiscus egg is a favorite for those looking for a gluten-free dish and caters to both East and West cuisine. Keep in mind that you will need to look up the spices and condiments used, as some, like soy sauce, are not gluten-free.
Since we are a vegan blog, we have to mention that eggs are not vegan, so you should choose something else if you want your meal to be both vegan and gluten-free.
Egg drop soup
As long as it contains no soy sauce, this Chinese food can be considered gluten-free. Made from a simmering vegetable or chicken broth with raw eggs whisked in and seasoned with various spices, this egg flower soup is perfect for cold winter evenings.
Since we are a vegan blog, we have to mention that eggs are not vegan, so you should choose something else if you want your meal to be both vegan and gluten-free.
Peking roasted duck
This dish is one of the most famous dishes in Beijing, served since the imperial era. To make this dish, specially raised ducks are cooked in a lengthy procedure to bring out their characteristic crispy flavor. It can be gluten-free if the hoisin sauce contains no gluten. It is usually served with pancakes which are usually wheat-based. We mention it since it is quite famous, but definitely not a vegan Chinese dish.
Chinese dishes to watch out for
Hot Pot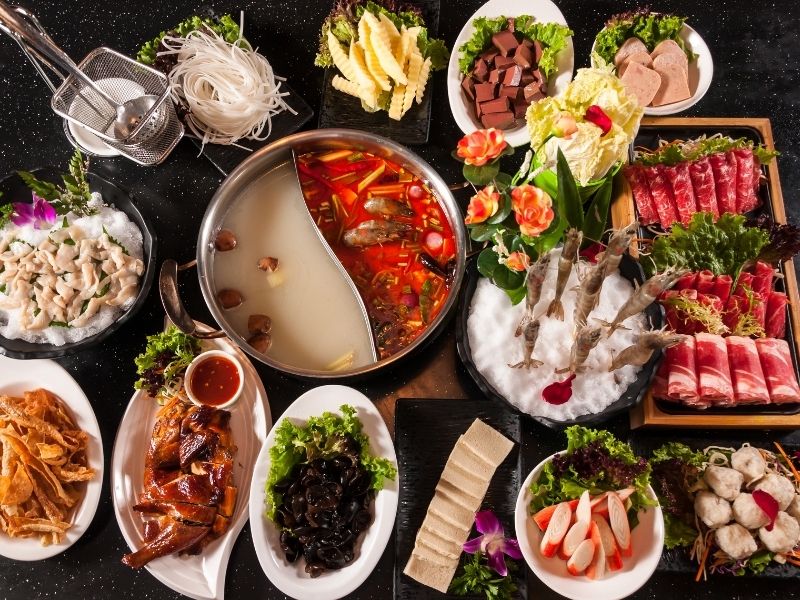 A hot pot is a simmering metal pot of broth that is placed at the center and is surrounded by dipping ingredients like sliced meat, mushrooms, potato, noodles, and dumplings. It is then flavored as per preference by guests as they gather around to socialize while they feast.
Since it is an eat-as-you-cook type of meal, it is either completely gluten-free for everyone or it is almost impossible to avoid cross-contamination.
Spring rolls
A symbol of wealth, spring rolls were prepared to herald the Spring season in China for friends and relatives. The savory rolls are made with a crunchy crust enveloping beans, cabbage, carrots, or meat, accompanied by sauces.
Unfortunately, these bite-sized appetizers are not gluten-free because of the wheat flour that is used in the wrappers. But do not despair! We have a delicious crispy rice paper spring rolls recipe that makes this perfect late-night snack.
Egg rolls
The egg roll is the American cousin of the spring roll. Believed to have been created in 1930s New York by a Chinese immigrant chef Lum Fung, it most commonly contains roast pork, shredded carrots, and cabbage within a fried shell that contains wheat. While rarely used today, eggs were added to the original batter for a thicker wrapper.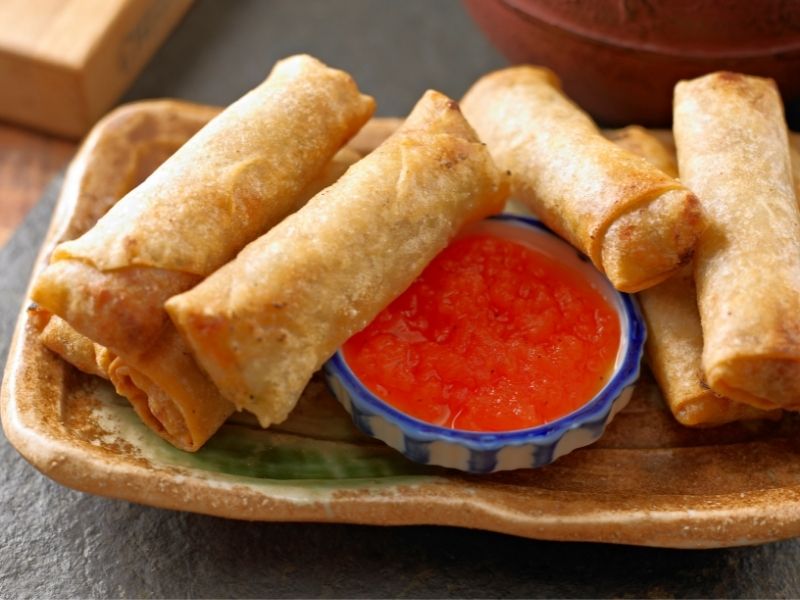 If you are on a gluten-free diet, sadly you cannot order them in restaurants, but you can try our vegan egg rolls recipe at home which is wrapped in rice paper wrappers.
Dumplings
China is the birthplace of dumplings, a mass of soft dough encasing a filling of vegetables or meat, and either boiled, steamed, or fried.
There are several kinds of dumplings to try based on the filling type, the dough used, and the preparation method. The most common is the crescent-like jiaozi which is boiled to make shui jiao, steamed to prepare zheng jiao, or panfried into the potstickers, guo tie. Wontons, of course, are the best-known Chinese dumplings to accompany noodle soup or rice broth.
Since the dumpling dough is almost always made with wheat flour, they are sadly not gluten-free. But our recipe for vegan hoisin duck dumplings is vegan and free from gluten too!
Dim Sum
Dim sum and tea go hand in hand. Typically associated with brunch, dim sum is a Chinese meal on small plates that includes an assortment of steamed buns, rice noodle rolls, and dumplings.
The ingredients used as fillings range from seafood, meat, and vegetables, and are steamed, baked, or fried. But unfortunately, they are not usually on a gluten-free menu as the dough of these dumplings contains gluten.
Char siu
This Cantonese BBQ pork meal is prepared by "fork roasting" pork over a flame. It has a depth of flavor with a salty yet sweet contrast and a hint of spice. However, because it contains both soy sauce and hoisin sauce, it is sadly not gluten-free.
Seasoned with five-spice powder and sweetened, our vegan and gluten-free Chinese BBQ tofu burger recipe can make a fabulous addition to your next backyard cookout instead.
Stir fries like Lo Mein, Chow Mein
Confused about the difference between lo mein and chow mein? It's pretty simple; lo mein refers to tossed noodles while chow mein refers to fried noodles.
Tossed and seasoned with veggies or meat, they are a popular takeout option. However, since the noodles used here are both made from eggs and wheat flour, they are not gluten-free.
Ma Po Tofu
Hailing from the Sichuan province and characterized by its intense heat, this dish is all things mala (level of hotness and numbness).
The ideal meal for those who love testing their spice limits, ma po tofu is unfortunately not gluten-free as it is cooked with fermented black beans and doubanjiang.
Scallion pancakes
Made using scallions, water, and flour, this crispy aromatic flatbread is not gluten-free. The cong you bing or green onion pancake is a savory Chinese pancake that offers multiple layers to chew through.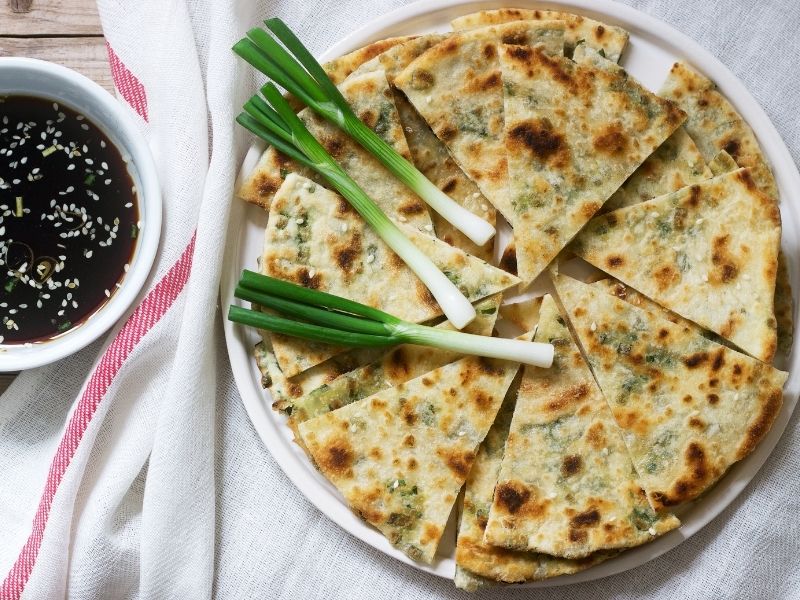 Wonton soup
You can never go wrong with a hot bowl of soup on a rainy day. It is aromatic, comforting and an absolute classic made with ginger, scallions, shrimp, meat, and other ingredients. But due to the dumplings containing wheat flour, this dish is not gluten-free.
Typical Chinese takeouts
While ordering takeout like General Tso, Kung Pao, Sweet and Sour, Teriyaki, or Orange Chicken, people often have the same question on their mind: is Chinese food gluten-free? Sadly, all the above most probably contain soy sauce, which is not gluten-free. Therefore, you are better off making them at home.
We have a handful of Chinese takeout copycat recipes like this crispy sticky teriyaki fried tofu or this vegan orange chicken. Made without gluten-containing ingredients like soy sauce, you can be absolutely sure that they are safe to consume.
How to order in a Chinese restaurant?
Before you dine at your local restaurant or order takeout, a careful look through the menu will save you a great deal of trouble later. While some places might mark gluten-free meals to make things easier, you might still need to ask the servers about potential gluten-containing ingredients. The risk of cross-contamination is something you will need to discuss with the restaurant.
Soy sauce is a pretty standard component of most Chinese dishes, but it is also one of the most problematic ingredients as it contains wheat. Furthermore, unless it is specifically marked as gluten-free food, be wary of noodles as wheat can be included as a binding agent for rice noodles.
More gluten-free pantry guides
You can browse through our gluten-free pantry guide or gluten-free flour guide. ​We have also listed 11 vegan foods to avoid on a gluten-free diet.
If you are looking for certified gluten-free products you can buy in stores, check out the below articles. We researched in detail what they were made of and which brands are safe to use. We also give you examples of the best substitutes or of homemade recipes in case you need them.