What are Panko breadcrumbs? Are they gluten-free? Sadly not, but there are at least 7 brands that actually manufacture gluten-free panko breadcrumbs. If you are looking for alternatives, we give you 20(!) gluten-free substitutes for panko breadcrumbs.
What is Panko?
Panko is a type of breadcrumb with Japanese origins. Due to its super-light, crunchy, and crispy texture, panko is excellent as a coating for chicken, fish, and vegetables. The best part about panko is that it absorbs minimal grease and oil, allowing fried food to stay light.
By itself, panko has no flavor. But when used the right way, you will never choose to go back to breadcrumbs. Panko is so versatile that you can use it as a filling, a topping, a crust, and even as a thickener.
Generally, panko will contain:
Yeast
Wheat flour
Oil
Salt
Other seasonings
Breadcrumbs versus Panko
Put simply, breadcrumbs taste of crumbled, toasted bread. What differentiates panko from the regular breadcrumb is its flaky (and not crumbly) texture. Although panko is also made from bread, it's made from a special kind of white bread. This bread is crust-free due to being baked in an electric oven over a conventional oven or in World War II with an electric current.
You can generally find two kinds of panko in stores: white panko and tan panko. There isn't much difference between the two. However, the former is made from a crustless type of bread, while an entire loaf is needed to make the latter.
Now, the main question is – is panko gluten-free? Unfortunately, it is not since it uses wheat flour. However, there are a few gluten-free panko brands that you can opt for if you have gluten sensitivity.
Can you make panko at home?
Homemade panko won't be the same as the kind you find at the store, but here is a simple recipe to try anyway. All you need is about 15 minutes and a gluten-free loaf of white bread.
Remove the crust from the bread and crumb it using a food processor.
Place the crumbs on a baking sheet and into a preheated oven (350 F) for about 5-7 minutes.
Make sure the breadcrumbs do not brown. And you are done!
Gluten-free panko brands
Gluten is a protein generally found in grains like wheat, barley, and rye. Sadly, classic panko is made of wheat flour so it indeed contains gluten, but here are a few brands that sell gluten-free panko. See below in alphabetical order.
It is always easier to find certified gluten-free products when the ingredients are not naturally gluten-free and the company has to show that this product is indeed safe and not even cross-contamination is an issue.
4C
The plain panko crumbs by 4C* use rice flour instead of wheat and are certified gluten-free by the Gluten-Free Certifying Organisation (GFCO). These breadcrumbs will leave your fried chicken crunchy and juicy at the same time.
Aleia's
We all know that feeling when our favorite fried recipe ends up all soggy after some time. Well, no more with Aleia's panko*, a certified gluten-free product. The best part is that the panko is manufactured in a dedicated gluten-free facility, taking cross-contamination with gluten-containing products out of the picture.
Ian's Original
If you are looking for an allergy-friendly panko breadcrumb, then this might be the perfect option for you. Wondering why? Because this brand is free from casein, peanuts, eggs, and tree nuts. Ian's allergy-friendy product range consists of two flavors of panko – the Original Panko* and the Italian Style*. They are both labeled gluten-free.
Jeff Nathan Culinary Creations
Jeff Nathan's gluten-free panko* tastes not only great but also makes excellent super-crunchy breading. It is certified gluten-free and comes in three flavors: Plain, Cajun, and Seasoned. Here is a little tip – toast the plain panko with some (gluten-free) spices or herbs, and you will have an absolute winner on your hands.
Kikkoman
Kikkoman is a popular brand that manufactures certified gluten-free products. Kikkoman gluten-free panko* has just three ingredients: rice flour, dextrose, and pea protein. And no wheat! The best part is that this panko is unseasoned and customizable.
Kinnikinnick
These Kinnikinnick breadcrumbs* taste just like your normal panko, so much so that you will not be able to tell the difference. Instead of wheat, they use pea starch, tapioca starch, white rice flour, and pea protein. It is labeled and lab-tested gluten-free. You can use this as a kitchen staple with any kind of food.
Michelle Farms
They have many certified gluten-free products including panko breadcrumbs*. The main flour they use is rice flour and it has no artificial ingredients or preservatives. Several brands add oil, but this one is oil-free.
We established before that there is really not that much of a difference between panko and classic breadcrumbs. Especially if you add gluten-free in the equation. As the various gluten-free flours have various characteristics, the different gluten-free panko brands will taste different as well. If you want to choose a gluten-free substitute, we got you 20 alternatives to choose from depending on what you want to use it for as a binder or as a breading.
Gluten-free oats

– They are the perfect binding agent if you want to make meatloaf, metaball, burger patties, veggies patties. We use quick oats to make Eggplant Meatballs (pictured below).

Gluten-free grains like rice, quinoa, buckwheat or millet

– Skip breadcrumbs and add more nutritious ingredients to the recipe. If you haven't tried then, they are also great binders. We use cooked rice in our Chickpea Meatballs and Mushroom Meatballs, we use buckwheat to make Lentil Loaf (pictured below).

Cornmeal

– While it is definitely grainer, it can still be a good subsitute. When you choose this subsitute you should take note that they need a lot of moisture to soften so if you use them as a binding agent, pre-cook them.

Gluten-free flours like almond flour, chickpea flour or rice flour

– Especially if you think of coarse flours like almond flour or heavy ones like chickpea flour they can add additional flavor, texture and nutrition. We use a combination of chickpea flour and rice flour to make a gluten-free breading for our Copycat Vegan Orange Chicken (pictured below).
Nuts – Don't think of only almond flour, nut meals can be a great option as well. The flavor of ground walnuts goes perfectly with mushrooms in our Vegan Wellington filling or in these Mushroom Meatballs. They are even perfect for breading.

Seeds

– Think of them as nut-free alternatives. Any recipe that calls for nuts can be usually replaced by seeds like sunflower seeds or pumpkin seeds. If you ground them, they look just like breadcrumbs. Think of them both for binding and for breading.

Shredded coconut

– This may not work in just any recipes as a general subsitute as the coconut taste will most probably comes through, but they can be a great option if it complements the flavors of the dish. Think of Katsu Tofu or other Asian-inspired recipes.

Chopped rice paper

– I saw this brilliant idea in this video, where the guy blitzes dry rice paper in a food processor and use it as breading to fried chicken. Awesome idea!

Gluten-free corn flakes / cereal

– First of all, watch out as not all corn flakes are gluten-free, read our article titlted "Are corn flakes gluten-free?" to see the list of the ones that are gluten-free. Grind them in a food processor and they are perfect replacements. I dare to say they makes an even crunchier Fried Chicken (pictured below) or Buffalo Chicken Wings.

Gluten-free potato or veggie chips

– These ones might seem unusual but they can be great substitutes. Just think of topping your Macaroni and Cheese or Green Bean Casserole with them.

Gluten-free pretzels and crackers

– Blizt them in a food processor or smash them with your rolling pin and use them as you would panko.

Nutritional yeast / Parmesan cheese

– They can be a great addition to any coating and even adds a cheezy flavor. Wouldn't it be a bonus?
For even more ideas visit our "Complete List of 30 Breadcrumbs Substitutes" article.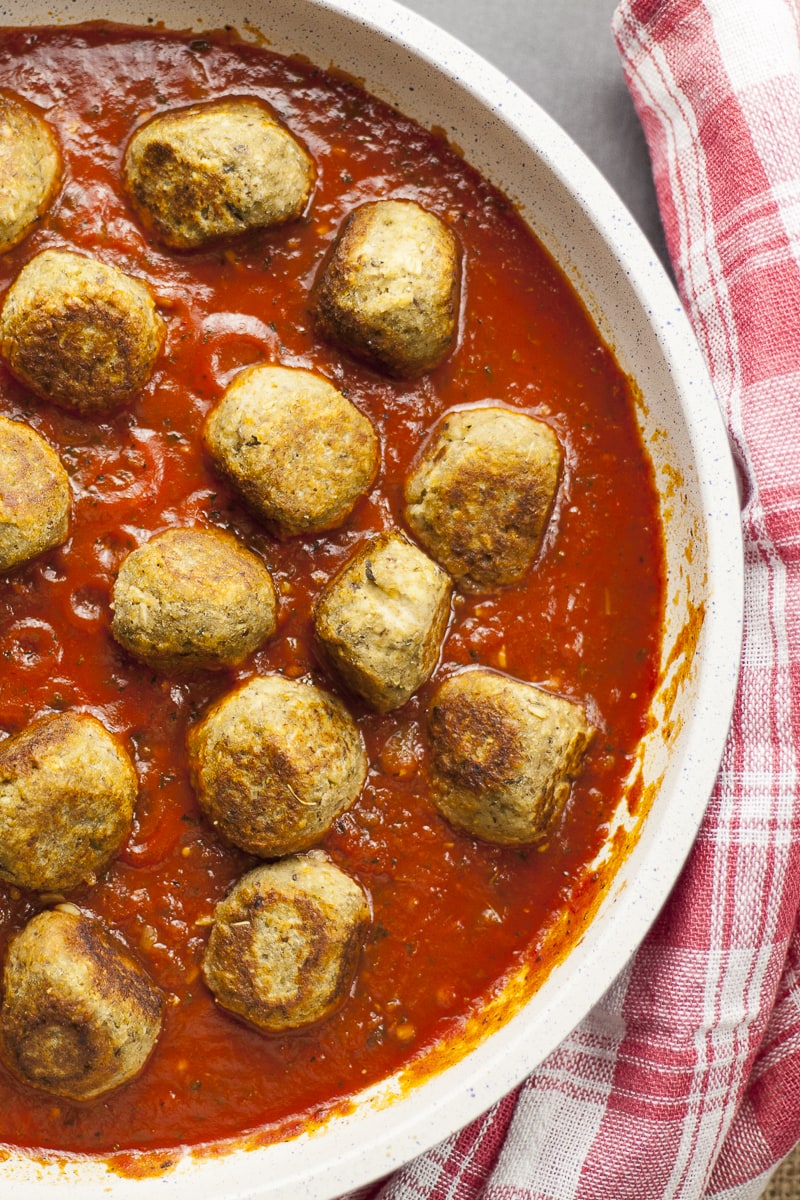 More gluten-free pantry guides
You can browse through our gluten-free pantry guide or gluten-free flour guide. ​We have also listed 11 vegan foods to avoid on a gluten-free diet.
If you are looking for certified gluten-free products you can buy in stores, check out the below articles. We researched in detail what they were made of and which brands are safe to use. We also give you examples of the best gluten-free substitutes or of homemade gluten-free recipes in case you need them.