Sadly spring rolls you can order are usually NOT gluten-free. We checked different spring roll wrappers and popular ingredients for fillings to see which ones are gluten-free. We also included 4 super easy recipes for homemade gluten-free spring rolls if you want to try making them at home.
What are spring rolls?
Spring rolls are a popular filled and rolled appetizer in Asian cuisine. They come from Mainland China and they were originally served as a festival food during the Chinese Spring Festival. They were savory rolls filled with cabbage and other veggies then they were pan-fried or deep-fried until crispy.
There are 2 things you need to take a closer look at to see whether they are gluten-free or not:
Various names of spring rolls
Different regions may have different names for them. There are also differences in terms of filling, type of wrapper, and cooking technique. We found 10 wraps for spring rolls there are out there to use.
However, if you know which ingredients are safe in a gluten-free diet, you can choose the right spring roll for you. First of all, let's see a shortlist of the various names you might come across when searching for spring rolls.
Dim sum

– It is the common name for all small dishes served in Asian restaurants. It can be any type of small dish including but not limited to spring rolls.

Lumpia

– Spring rolls are called lumpia in Indonesia and in the Philippines. They might have different fillings or types of wrappers, but lumpia rolls are also rolled and fried appetizer rolls.

Egg roll

– They are a variety of deep-fried filled and rolled appetizers that are usually served in American Chinese restaurants. The egg part refers to the dough of a thin pastry shell that contains eggs as well.
Chả giò (Imperial rolls) – In Vietnam, people call them imperial rolls. Don't mix it with Vietnamese summer rolls which are eaten raw and fresh, not pan-fried or deep-fried.
Gỏi cuốn (Summer rolls) – They are the Vietnamese summer rolls, where raw veggies are wrapped in rice paper and eaten uncooked.

Harumaki

– This is the name for the Japanese spring rolls, which are quite similar to the Chinese ones although the preparation of the filling is slightly different.

Samosa

– It is similar to spring rolls in the sense that they also have a savory filling, which is wrapped up in a thin pastry. But they are not rolled but made into a triangle or cone-shaped packets.

Wonton

– You might hear of wonton, but they have nothing to do with spring rolls. Wontons are steamed or boiled stuffed dumplings. However, wonton wrappers are very similar to spring roll pasty and sadly not gluten-free at all.
Are spring roll wrappers gluten-free?
The short answer is if the rolls you see are opaque and yellowish, it is NOT gluten-free. If they are transparent and white, they are highly likely gluten-free rice papers. (See photos below.)
Classic Chinese spring roll wrapper
The original and the most commonly used spring roll wrapper is made of wheat flour. This means that if you order spring rolls in Chinese restaurants or as a take-out, the likelihood you end up with a wrapper made of all-purpose flour* is almost 100%.
Rice paper wrappers
Vietnamese spring rolls are traditionally rolled in rice paper known as banh trang. They are usually made of rice flour, (tapioca starch – optional), water and salt. Based on the ingredients they should be gluten-free, but always check the labels for cross-contamination.
However, if you order them in Vietnamese restaurants or as a take-out make sure to check in advance that they are really using rice paper. Sometimes chefs want to make them extra crispy so they opt for the Chinese spring roll wrapper, which is not gluten-free.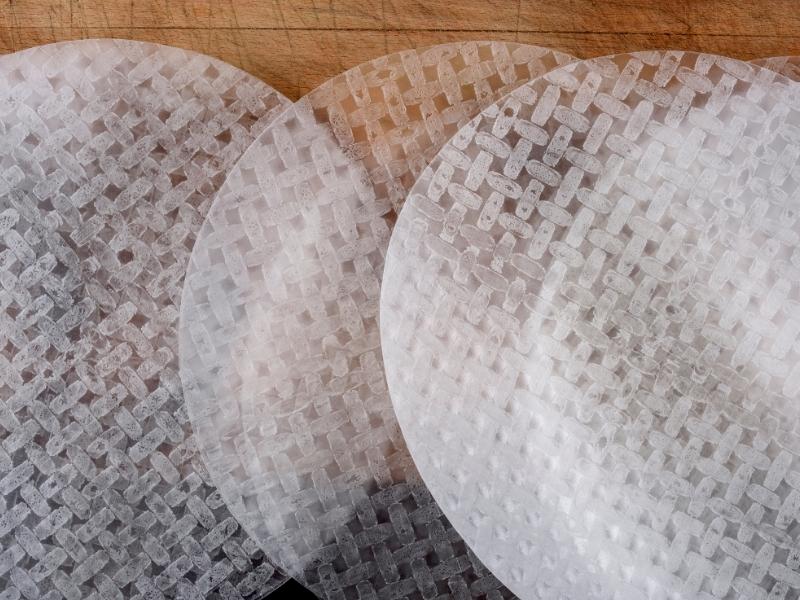 Gluten-free spring roll wrappers
We have written a Complete Guide to Rice Paper Wrappers including the Best Rice Paper Rolls recipes where we share detailed information about how they are made, what is the difference between them and why is that difference important in terms of how to handle them or how to roll them.
Here is a list of the most commonly available rice paper wrappers:
Best of Thailand* – Labeled as gluten-free. The ingredients are rice flour, tapioca, filtered water, and salt.
Blue Dragon* – Labeled as gluten-free. The ingredients are rice flour, tapioca flour, water, and salt. (May contain nuts.)
Cathay* – Labeled as gluten-free. The ingredients are tapioca, filtered water, rice flour, and salt.
Greenland* – Labeled as gluten-free. The ingredients are tapioca, premium quality oryza rice flour, water, and salt.
Panda Brand* – Not labeled gluten-free, but the ingredients are tapioca, water, and salt. No rice flour either.

TaoTao

– I use this brand which is labeled gluten-free and consists of 99.5% rice flour, water, and salt.
Three Ladies* – Labeled as gluten-free. The ingredients are tapioca, filtered water, rice flour, and salt.
What is normally in a spring roll?
Typically spring rolls are filled with vegetables like the ones from the below list, but sometimes chicken, pork, beef, or tofu is added. You can find recipes where rice noodles like vermicelli are also part of the filling mix. Here is to check which noodles are actually gluten-free.
shredded or julienne carrot
shredded or julienne cucumber
shredded cabbage
sprouts
bamboo shoots
bell pepper
leek, spring onion
Are spring rolls gluten-free?
If you choose a spring roll with gluten-free rice paper there are also other ingredients you need to look out for. The below filling options are NOT gluten-free, so make sure you avoid them at any cost.
Tempura or breaded ingredients – It means that the seafood, meat, or vegetable is battered and deep-fried. The tempura batter is made with wheat flour, which means it is not gluten-free. The breading usually consists of 3 layers of wheat flour, then egg, then breadcrumbs, and deep-fried. Sadly, it is never ever gluten-free.
Surimi aka imitation crab meat – It is not a typical spring roll filling, but just in case you come across it. Surimi is actually made of mostly fish and a bunch of different ingredients like starch, egg white, flavors, and such. Here is a very detailed description of how they manufacture surimi. Sadly it is never gluten-free, not vegan.
Soy sauce-based marinades – Japanese cuisine likes to use soy sauce as part of a marinade. We have already written about why soy sauce is not gluten-free, including 5 gluten-free soy sauce substitutes. Asian restaurants use classic soy sauce, there is zero chance they will use a substitute. So any soy sauce marinated ingredients are not gluten-free.
Teriyaki, Eel sauce, Ponzu sauce, Hoisin sauce, BBQ sauce – All of these have soy sauce among the ingredients, hence anything that is marinated in these sauces will not be gluten-free as well.
Tofu – Tofu is actually the curd of soy milk, hence no gluten should be involved. However, it is very rare that the tofu is served without a marinade. And typically said marinade contains soy sauce, which is not gluten-free. Read more about which tofu is gluten-free here.
What is safe to choose?
It is hard to tell. Even if the spring rolls are wrapped in gluten-free rice paper and there are only veggies like carrots, cabbage, sprouts, and alike, there is still a matter of the marinade they use. I would say if you need something gluten-free, you have two options:
Choose Vietnamese summer rolls. They are usually wrapped in gluten-free rice paper and stuffed usually only with raw, fresh veggies without any marinade or seasoning. Be sure and always check though!

Make spring rolls at home

. This way you have full control over the ingredients you add.
Gluten-free spring rolls recipes
We have 4 pretty simple recipes using rice paper instead of the classic spring roll wrapper with a completely gluten-free filling.
Vietnamese Spring Rolls (Fresh Summer Rolls)
It is almost the same as the traditional gỏi cuốn as we filled the rice paper wrappers with thinly cut veggies, vermicelli noodles, fresh herbs like basil, and mint, but instead of pork or shrimp, we opted for crispy meaty oyster mushrooms.
Get the recipe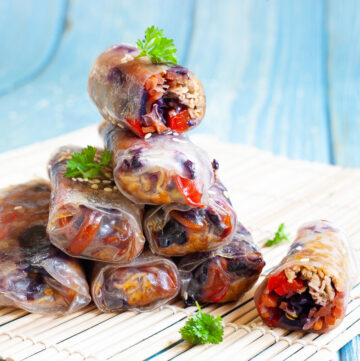 Crispy Rice Paper Spring Rolls
This recipe is loaded with veggies like red cabbage, shredded carrots, bean sprouts, and thin bell pepper strips. As a vegan option, you can add a delicious shredded hoising tofu to the mix.
Get the recipe
Rice Paper Egg Rolls (3 Ways)
These vegan egg rolls have a delicious filling of carrots, cabbage, scallion, and mushrooms wrapped in crunchy rice paper wrappers. You can prepare the filling in 10 minutes and bake the whole batch in one in 20 minutes. Or deep-fry or air-fry them for a couple of minutes.
Get the recipe
Samosa Rolls in Rice Paper
Samosas are usually wrapped in a triangle- or cone-shaped but who is to say you cannot enjoy them like spring rolls? In this recipe, you can make a quick and easy spicy samosa filling and bake them until crispy in the oven.
Get the recipe
More FAQs
Are spring rolls and egg rolls the same thing?
Both of them are savory rolls wrapped in thin pastry and deep-fried until crispy. While egg rolls are a term used in American Chinese restaurants, spring rolls are commonly used in Asian restaurants. The main difference is though that the dough of the wrapper for egg rolls contains eggs, which the spring roll wrapper usually does not. You can tell that by seeing the blisters on egg rolls.
What is the difference between spring rolls and summer rolls?
Spring rolls are usually pan-fried or deep-fried, while summer rolls are eaten raw and uncooked. Spring rolls use wrappers which are usually made of wheat flour, while summer rolls are wrapped in rice paper.
Do spring rolls have eggs?
Egg rolls are different from spring rolls, so usually, spring roll wrappers do not contain eggs. However, be sure to check with the restaurant whether they use egg wash to make the rolls extra crispy.
Are spring rolls vegan?
Spring rolls are usually filled with vegetables like carrots, cucumber, cabbage, sprouts, bamboo shoots, bell pepper, leek, spring onion, or mushrooms (shiitake or other Asian types). However, sometimes they add chicken, pork, beef, or tofu. Even if the filling is vegan, be sure to check whether the restaurant deep-fries them in oil where other non-vegan dishes are also fried.
Is rice paper gluten-free?
Rice papers also known as banh trang are usually made of rice flour, tapioca starch, water, and salt. There are brands with 100% rice flour as well as brands with 100% tapioca starch. Some brands label it gluten-free, which means that they should be safe from cross-contamination. Check for the list of brands in our article.
More gluten-free pantry guides
You can browse through our gluten-free pantry guide or gluten-free flour guide. ​We have also listed 11 vegan foods to avoid on a gluten-free diet.
If you are looking for certified gluten-free products you can buy in stores, check out the below articles. We researched in detail what they were made of and which brands are safe to use. We also give you examples of the best substitutes or of homemade recipes in case you need them.