Tofu should be gluten-free. What you need to watch out for is cross-contamination during manufacturing and that certain tofu varieties that come pre-prepared and flavored sometimes include ingredients that are non-gluten-friendly. Don't worry, we go through all potential ingredients you need to watch out for.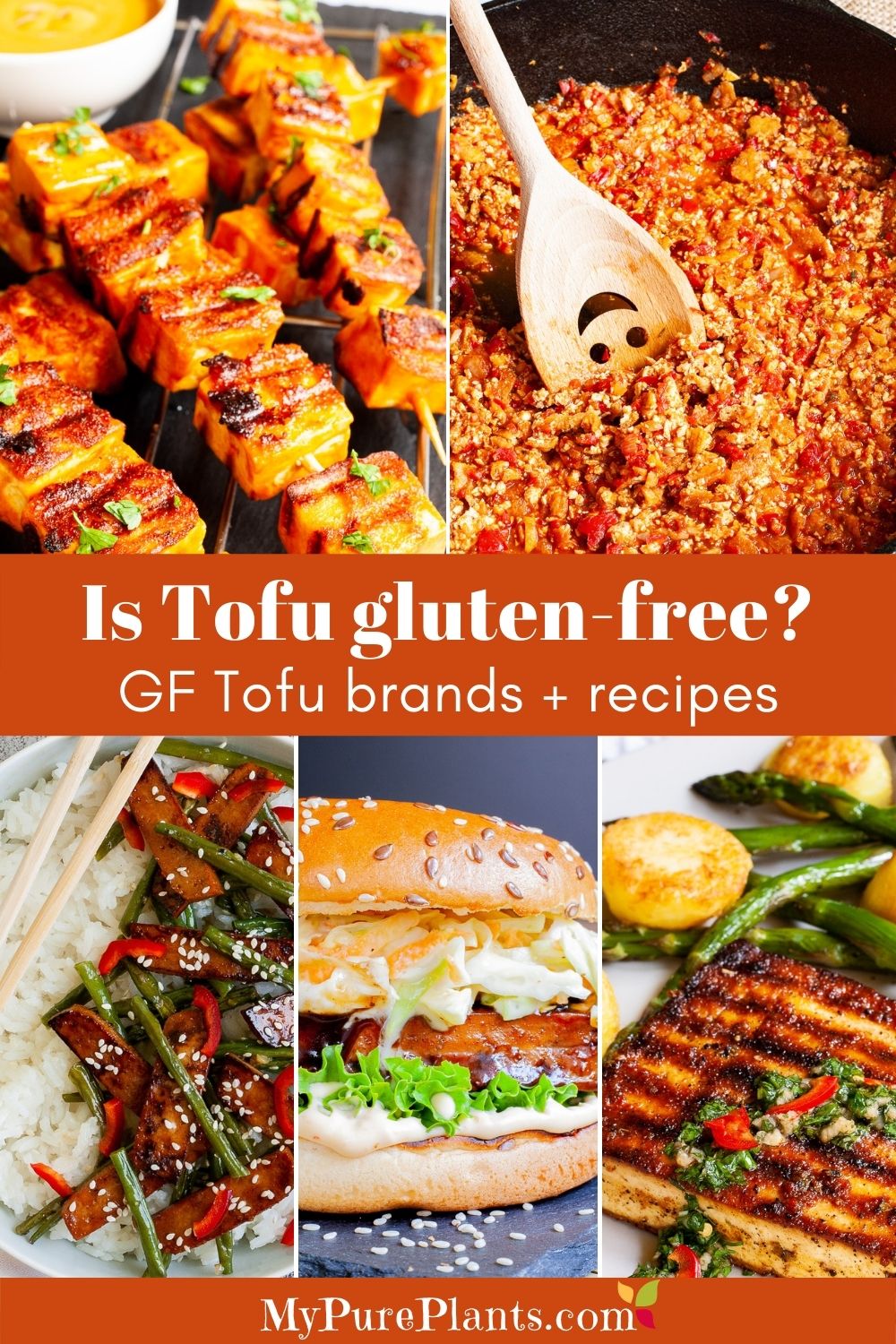 What is tofu?
If you are or have ever thought about going vegetarian or vegan, you have probably tried tofu. Whether it's in a dessert, a savory snack, or as used as a meat substitute, this chameleon of a food is nutrient-packed and rich in flavor (depending on how it's used, but more on this later)!
Tofu is believed to have originated in China around 2,000 years ago. Legend says that a cook whipped up the first ever batch of tofu by accidentally mixing soy milk with nigari. Nigari is seawater left over after the salt extraction process. What he ended up with was a sort of "soy-bean curd". The food then became a traditional component of many dishes from Japan, Indonesia, Singapore, Korea, Thailand, and the Philippines.
Today it's typically sold in the form of blocks under two main categories, "fresh tofu" and "processed tofu." Fresh tofu is made directly from soy milk, while processed tofu is produced from fresh soybeans.
Tofu comes in a few different varieties as well. These are:
Silken tofu

: This tofu has a creamy texture owing to its high water content. It's ideal for making sauces, desserts, dips and puddings.

Soft tofu

: Soft tofu has a little less liquid than silken tofu and is used to make slightly firmer sauces and dips – think cream cheese or soup consistency.

Firm

: Firm tofu is firm enough to be used in the place of a crumbly cheese, but not firm enough to be cut into cubes or blocks.

Extra firm tofu

: This type of tofu holds up well when cut up and cooked, whether it's stir fried or deep fried.

Super firm tofu

: This type of tofu has had most of the moisture removed from it making it more solid in consistency than the rest. Due to its texture, super firm tofu is the kind that is used in most "vegan meat" recipes. It's tough and holds up well when cut, cubed, stir fried, deep fried, or pan fried.
Being high in protein, low in calories, and taking into consideration the fact that it contains all eight amino acids, makes it safe to say tofu is highly nutrient-dense. This, coupled with the food's ability to absorb and retain all types of flavors easily makes it the perfect meat substitute for those looking to go without.
Main ingredients of tofu
Tofu is made from three main ingredients:
Soy beans

Water

Coagulant

– usually nigari (magnesium chloride), or gypsum (calcium sulfate)
This article explains how tofu is made. In short,
Dried soybeans are first soaked in water.
After that they are crushed and boiled to make soy milk.
Next a salt coagulant is added to separate the "curds" from the whey.
Then the curds are poured into molds and the whey is allowed to drain off.
The resulting soft tofu is transferred to cold water, and cut into cubes. They are stored in small containers or tubs of water until they are sold.
Is tofu gluten-free?
Tofu should be gluten-free, and usually is when it's plain old regular tofu made using completely gluten-free manufacturing processes. Unfortunately, the pesky issues of gluten cross-contamination and introduction of gluten by gluten-containing ingredients tend to creep in, as they usually do.
What do you need to look out for?
Tofu can sometimes be cross-contaminated when they are processed or manufactured in the same facilities that produce products containing gluten. That's why it's important to keep an eye out and opt for products with labels that read: "gluten-free", "without gluten", "free of gluten," and "no gluten". Some companies also use the gluten-free certification mark recommended by Gluten-Free Certification Organisation (GFCO) on their products.
Tofu varieties that come pre-prepared and flavored sometimes include ingredients that are non-gluten-friendly like
sesame
teriyaki
chipotle
eel sauce
ponzu sauce
barbecue sauce
sauces made with brewer's yeast, wheat flour, or malt vinegar.
Read more about which sauces have soy sauce in our "Is soy sauce gluten-free?" article. When looking for flavored varieties of tofu, try to look for tamari in the ingredient list instead of soy sauce. That way you can at least tick one ingredient off your list.
Gluten-free Tofu Brands
House Foods Tofu
House Foods has been offering family-friendly, innovative tofu products at affordable prices since 1983. Their range includes premium tofu, organic tofu*, shirataki, convenience products, and specialty products, all of which are certified gluten-free.
The products are made in a gluten-free facility and tested with GlutenTox, which tests to about five parts per million of gluten. For those looking for tofu that is free from gluten cross-contamination at the manufacturing level, this is your safest best!
Some of the marinated tofu* products offered by House Foods such as teriyaki, spicy garlic, and savory orange are labelled as gluten-free as they use tamari instead of regular soy sauce.
Small Planet Organics Tofu
Small Planet's Organics Tofu* produces innovative handcrafted tofu products in small batches. You would think organic tofu made using true Japanese artisan traditions would be plain and flavorless but you couldn't be more wrong. That's because the people who work at Small Planet love what they do.
Their tofu comes in multiple unique flavors like Fresh & Savory Baked, Garlic & Herb, Spicy, Curry, and Sun-Dried Tomato Tofu, all while being wheat, gluten, and dairy free. They even make sure to mention they use tamari soy sauce in their ingredients. However, it is important to note that Small Planet Organics does not test its tofu for gluten cross-contamination.
SoyBoy by Northern Soy
What started out as an enterprise to promote the vegetarian lifestyle, has since grown into an environmentally friendly company that sells unique varieties of tofu and tempeh for all. Yup, even for those with gluten sensitivity!
Their website mentions if a product is gluten-free in its product description and even lists the soy sauce they use as "wheat free soy sauce," wherever applicable. Their products are also non-GMO, Kosher Certified, and made with organic tofu without the use of preservatives.
The following tofu products by SoyBoy are 100% gluten-free: SoyBoy Firm Tofu, SoyBoy Extra Firm Tofu, SoyBoy Smoked Tofu, SoyBoy Caribbean Tofu, SoyBoy Italian Tofu, SoyBoy Tofu Lin, and SoyBoy Not Dogs.
Nasoya Tofu
Nasoya's mission is to make plant-based eating accessible, delicious and satisfying. Their tofu* comes in extra firm, silken, and firm varieties and is listed as gluten-free on the company's website. The company uses non-GMO ingredients and believes that good-for-you foods don't have to be tasteless.
Over the last 40 years, they have grown and developed their product line-up to include ten different varieties of tofu. This includes ready-to-serve items, pre-marinated, and pre-baked items. Their products include flavors like Sweet BBQ, Classic Bolognese, Sesame Ginger, and Teriyaki (yes, made with tamari), among others! The products are labeled with a "gluten-free" label making them easy to distinguish.
Tofu Yu
Tofu Yu is a local company in Richmond, California that makes healthy, ready to eat tofu treats that appeal to the American palette. Their tofu is handcrafted, organic, uses all non-gmo ingredients and mentions "gluten-free" on their labels. The homegrown brand prides itself on their inventive way of using ancient traditions of making tofu to spice up Eastern and Western cuisine. They call it tofusion!
Hodo foods
Obsessed with making delicious plant-based eats, the food makers and artisans at Hodo Foods aim to make your favorite food, and not just an alternative. To that end, they offer a wide range of ready to cook and ready to eat tofu products that are all gluten-free!
Some of their tasty pre-marinated tofu products are the Spicy Harissa Tofu Cubes, Southern Barbecue Tofu Cubes, and the Chermoula Moroccan Tofu Cubes. Ready to eat tofu treats include products like Thai Curry Nuggets, their Chinese 5 Spice Nuggets, Tofu Veggie Burger and Tofu Cajun Burger. They confirm on their website that "All Hodo products and ingredients are gluten-free. No foods with gluten are processed in our facility."
Bonus tip: Chipotle uses Hodo Tofu in its restaurant's to make Sofritas. If you want to make it at home, try our easy Copycat Chipotle Sofritas recipe.
Morinaga Silken Tofu
Mori-Nu, the maker of Morinaga tofu*, takes the gluten-free label very seriously, as it should! The company explains on its website that they do not manufacture any products using gluten-containing ingredients at all. As a result, Morinaga tofu tests at less than 5 parts per million gluten, the lowest score possible by today's measurements. The company also participates in regular audits to ensure that their anti-gluten contamination policies remain up to the mark.
Ota Tofu
Ota Tofu, America's oldest tofu company, has been producing fresh handmade tofu since 1911. Made with manual processes using 100% American grown non-GMO soybeans, Ota prides itself in its authenticity and its reputation for quality.
The family-owned business states on its website that their products are gluten and dairy friendly, as well as vegan and vegetarian friendly. Choose between their soft, medium, firm, and extra firm varieties of tofu, or go for their chewy "age" fried kind for something special.
How to order tofu in restaurants
Ordering tofu at restaurants can be difficult because even if a dish is made with gluten-free tofu and looks like it doesn't have any worrisome ingredients, there is always the matter of the marinades and sauces they use.
If you need your tofu to be gluten-free, try to avoid dishes made with brown

sauces because they might contain soy sauce

. Read more about why it is not gluten-free in our "Is soy sauce gluten-free?" article.
Try to opt for white or clear sauces that use corn starch, but always ask in advance.
Consider carrying your own tamari sauce with you. Some chefs will even cook your dish with the sauce you bring.
Another thing to avoid at restaurants is any kind of

deep fried tofu

. This is because the coating will usually contain wheat, which you need to avoid at all costs.
We also have an article titled "Is sushi gluten-free?" where we explain which sauces and ingredients to watch out for.
Before making any orders, check to see how your waiter responds to being asked questions about gluten-free ingredients. Do they respond with confidence or sound unsure? If you feel like your dietary needs are not being met by the establishment, do not hesitate to take your business elsewhere. Better safe than sorry!
Gluten-free Tofu Recipes
Check out these tasty recipes using tofu and sauces that will satisfy your cravings and meet those protein needs. There's absolutely no need to worry with these because they're completely gluten-free (pictured below in order):
More gluten-free pantry guides
You can browse through our gluten-free pantry guide or gluten-free flour guide. ​We have also listed 11 vegan foods to avoid on a gluten-free diet.
If you are looking for certified gluten-free products you can buy in stores, check out the below articles. We researched in detail what they were made of and which brands are safe to use. We also give you examples of the best gluten-free substitutes or of homemade gluten-free recipes in case you need them.