The short answer is yes, usually ketchup is gluten-free. If the product contains the usual ingredients, it should be. However, you need to pay attention to the vinegar and other potential gluten-containing ingredients as well as any cross-contamination issues. To help you choose, we included the list of 20 gluten-free ketchup brands and 4 healthy ketchup substitutes you can make at home.
What is ketchup?
What do burgers, rolls, fritters, and hotdogs all have in common? They're all eaten with a sweet, thick red sauce – ketchup. Would you have guess? It is found in 97% American households, and may also be referred to as "salsa", "catsup" or "relish".
Strangely enough, the original ketchup recipe involved the fermentation of pastes made of fish entrails, meat byproducts and soybeans. Derived from the Kokkien Chinese word "Ge-teacup" or "koe-cheup," it was ideal for storage during long trade voyages by sea. The paste travelled to Indonesia, the Philippines, and then finally to Britain, thus beginning the Golden Age for Ketchup in the 18th century.
Cookbooks showcased ketchup made from exotic ingredients like oysters, mushrooms, walnuts, fruits like plums, and even celery. Either boiled or left in salt till it attained a syrupy consistency, the final product was a flavorful savoury dish that lasted for long periods without spoiling. Eventually, Heinz entered the market with a tomato-based catsup in 1876, and named his product "ketchup" to distinguish it from others. Since then there are several companies who manufacture a thick tomato sauce we call ketchup.
Usual ingredients
Today, tomato ketchup is most commonly made from
tomato concentrates,
sugar,
distilled vinegar,
high-fructose corn syrup,
salt,
wide array of spices.
I found this article about how it's made. Ripe tomatoes are picked, cleaned, cut, and placed into huge steel vats for preservation and precooking, after which the juice and pulp are separated. The juice is then processed into ketchup with the addition of the other ingredients.
Is ketchup gluten-free?
The simple answer is usually YES, the usual ingredients used to make ketchup do not contain gluten. But hold on a second, because the ketchup in your store might not be entirely gluten-free. Unfortunately, gluten can sometimes be introduced into ketchup by gluten-containing ingredients, or by cross-contamination.
What you need to look out for?
The main preservative in ketchup is

vinegar

. While most distilled vinegars used in ketchup manufacturing contain no gluten, some types of vinegar that are derived from wheat do contain it, and care must be taken to avoid these.
In the same way,

stabilizing agents

added to thicken the sauce might contain gluten, and should be checked.

Cross-contamination

occurs when a gluten-free food item becomes contaminated, by either direct or indirect contact with a gluten-containing food item. Cross-contamination might occur in industries where other products containing gluten are produced.
So what do you do?
The simplest way to be really sure if your ketchup is gluten-free, is to look for the following labels: "gluten-free", "without gluten", "free of gluten", and "no gluten". Some companies may even use the gluten-free certification mark recommended by Gluten-Free Certification Organisation (GFCO) on their products.
Even a quick read of the ingredients might help you verify the presence of any gluten-containing additions. You might also want to check for warnings like: "may contain traces of gluten."
Popular gluten-free ketchup brands
We have listed below in alphabetical order 17 ketchup brands that label their products gluten-free.
Annie's Organic Ketchup
This vegan, certified organic ketchup has no artificial ingredients – tomato paste, distilled white vinegar, cane sugar, sea salt, onions, allspice, and cloves. The vinegar used is made from beets or corn, ensuring that Annie's Organic Ketchup* is gluten-free. Furthermore, since many products are made at the same plant, the company has also stated that they will post a warning if any product is manufactured with other products that may have gluten-containing ingredients. Currently it is labelled as gluten-free on the bottle.
Fody Foods Ketchup
This brand brings you a "gut-friendly" ketchup as Fody Foods Ketchup* is not only labelled gluten-free, but onion-, and garlic-free as well. It is made with tomato puree, sugar, vinegar, modified corn starch and spice extract.
Foodgod's Truffle Ketchup
This gourmet ketchup* is suitable for many diets, as it is vegan, nut-free, non-GMO, cruelty-free, kosher and gluten-free. It is also only made from organic ingredients: tomatoes, extra virgin olive oil, and white truffles, and is the brainchild of modern-day food critic, Jonathan Cheban.
French's Ketchup
Tomato concentrate, sugar, distilled vinegar, salt, onion powder, spices, and natural flavor are used to make French's ketchup*. It tests well under the FDA requirements, and it bears the "gluten-free" label on the bottle.
G Hughes Sugar Free Ketchup
G Hughes Sugar-free Ketchup* is also labelled gluten-free, and contains tomato concentrate, distilled vinegar, garlic powder, onion powder, salt, spices, and a very unique ingredient, sucralose instead of the usually used corn syrup. Sucralose is modified cornstarch, and isn't something you would find in regular ketchup!
Heinz Tomato Ketchup
The popular ketchup brand started by Henry J. Heinz and Dr. Harvey Washington Wiley in 1876 was the first to manufacture an entirely natural ketchup with no chemical preservatives. The Original Heinz Tomato Ketchup*was made from tomato concentrate of ripe red tomatoes, distilled vinegar, high fructose corn syrup, salt, spice, onion powder, and natural flavoring. Heinz has several ketchup products, but all of them are labelled gluten-free.
Hellman's Ketchup
You might know them for their mayonnaise, but there is a Hellman's ketchup as well. Their product is made from tomato puree, honey, white wine vinegar, spices, onion powder and salt, this ketchup is labelled gluten-free, but not vegan as it is sweetened with honey.
Hunt's Ketchup
Using California tomatoes, natural sugar, salt, garlic, spices, and vinegar, Hunt's ketchup* has no high fructose corn syrup or artificial ingredients. It is labelled gluten-free.
Maya Kaimal Spicy Indian Ketchup
The "little sweet, the little spicy, little Indian" ketchup is vegan and labelled gluten-free. Made from high quality ingredients, Maya Kaimal Spicy IndianKetchup* includes tomatoes, onions, vegetable oil, brown sugar, spices, cider vinegar, salt, Serrano pepper and paprika. Another bonus is that this gluten-free ketchup is packaged in recycled glass bottles!
McDonald's Ketchup
The company states that the "standard tomato ketchup used on the hamburgers, cheeseburgers and quarter pounders, as well as the dipping sauce has no gluten containing ingredients". Their ketchup packet according to their website contains Tomato Concentrate from Red Ripe Tomatoes, Distilled Vinegar, High Fructose Corn Syrup, Corn Syrup, Water, Salt, Natural Flavors. However they also say "we do not promote any of our US menu items as vegetarian, vegan or gluten-free."
Organicville Ketchup
As stated in the name and on the bottle with the words "organic and gluten-free," Organicville Ketchup* contains only organic ingredients: tomato purée, agave nectar, white vinegar, salt, onion powder and spices. The ketchup is made from cane or corn based vinegar.
Primal Kitchen Ketchup
This ketchup is one of the unsweetened organic ones that is labelled gluten-free. Primal Kitchen Ketchup* has organic Tomato Concentrate, Organic Balsamic Vinegar, Less than 2% of Salt, Organic Onion Powder, Organic Garlic Powder, Organic Spices. This company has several dairy-free products like ranch dressing or buffalo sauce with cashew butter.
Red Gold Tomato Ketchup
Red Gold Tomato Ketchup* is labelled gluten-free, vegan and kosher ketchup is made with natural flavoring, high fructose corn syrup, distilled vinegar, salt, onion powder and spice. An added benefit is that a portion of the proceeds from their sales goes toward the 'Folds of Honor Foundation', which gives educational support to the children and spouses of those who have fallen or been disabled while serving our nation.
Sir Kensington's Ketchup
The "ketchup that requires no apology" is labelled gluten-free, with low sugar and salt, plus has no GMO ingredients. Sir Kensington's Ketchup* contains tomatoes, tomato paste, fair trade organic cane sugar, water, onions, distilled vinegar, salt, lime juice concentrate, green bell peppers, and allspices.
Tessemae's Ketchup
It is made from organic ingredients like tomato paste, white balsamic vinegar (wine Vinegar, concentrated Grape Must), coconut nectar (organic Coconut Tree Sap Nectar), sea salt, onion powder and allspice. It is labelled organic, vegan, gluten-free and keto as well. Tessemae's Ketchup* is for those who wish to cut down their sugar intake, or just want a more spicy alternative.
Trader Joe's Ketchup
Trader Joe's Ketchup* is organic, but not labelled as gluten-free on the bottle. It is produced using organic tomato puree, organic sugar, organic white vinegar, salt, organic onion powder, and organic spices. All ingredients should be gluten-free as there is no mention of any allergens or cross-contamination. Still the gluten-free label is missing.
Yo Mama Ketchup
Yo Mama Ketchup* is not only vegan and labelled gluten-free, but keto as well. If this is something you need as the sweetener they use is monkfruit extract, which is compatible with the keto diet. Other ingredients are non-GMO tomato concentrate, water, apple cider vinegar, sea salt, onion powder, garlic powder, paprika, mustard seed, and bay leaf.
Walden Farms Ketchup
This "calorie-free" ketchup has 'no calories, fats, carbs, gluten, or sugars of any kind'. Walden Farms Ketchup* is made with tomato paste, a blend of apple cider and white distilled vinegar, vegetable fiber, sea salt, xanthan gum, natural flavors, onion, garlic, red cabbage coloring and sodium benzoate (to preserve freshness).
Whataburger Ketchup
Both Fancy Ketchup* and Spicy Ketchup* are gluten-free as per the website, but not labelled as such. They are ideal for grilling and dipping. Both of them is made from tomato concentrate, distilled vinegar, high fructose corn syrup, spices, onion and garlic powder, spices, sugar, salt and jalapeño pepper purée for the spicy one.
Healthy ketchup substitutes
As often as we use ketchup, there are some drawbacks to this yummy condiment.
Tomatoes are cooked over high heat for a long time the essential minerals and vitamins leach away, leaving behind a concentrate that has very few nutrients.
The distilled vinegar used to make this sauce comes from GMO corn, which is sometimes dosed with heavy chemicals and pesticides.
Some products use high levels of corn syrup which is usually not my first choice of sweetener.
There is a reason why some ketchups has no salt added.
Tomato sauce
Tomato sauce refers to the variety of sauces made from tomatoes. They are usually incorporated within the dish itself. So really, ketchup is actually a type of sauce, while tomato sauce is not a ketchup. Confused? It's pretty simple actually.
Ketchup, as we now know, contains tomatoes, sugar, vinegar/acetic acid and spices. Whereas, tomato sauce is made from tomatoes, vegetable stock, spices and oil. So it is pretty clear that tomato sauce should be gluten-free.
Tomato ketchup tends to be sweeter, and thicker in consistency. But tomato sauce has more of a liquid-like consistency, and can pack a punch based on the kind.
Ketchup is usually only served cold, as an accompaniment to fast-food dishes. But tomato sauce is much more diverse, and can be used hot or cold, for cooking or as a side. Simply adding tomato sauce to different dishes can give you a wonderful array of flavors.
Tomato sauces are used in curries, pastas, casseroles, jambalaya, chili and a whole lot more. Check out this recipe for meatless Quinoa Sweet Potato Chili (pictured below) for a quick and easy way to use tomato sauce. Some famous sauces made using a good tomato sauce are Vegan Barbecue Sauce, arrabbiata and marinara.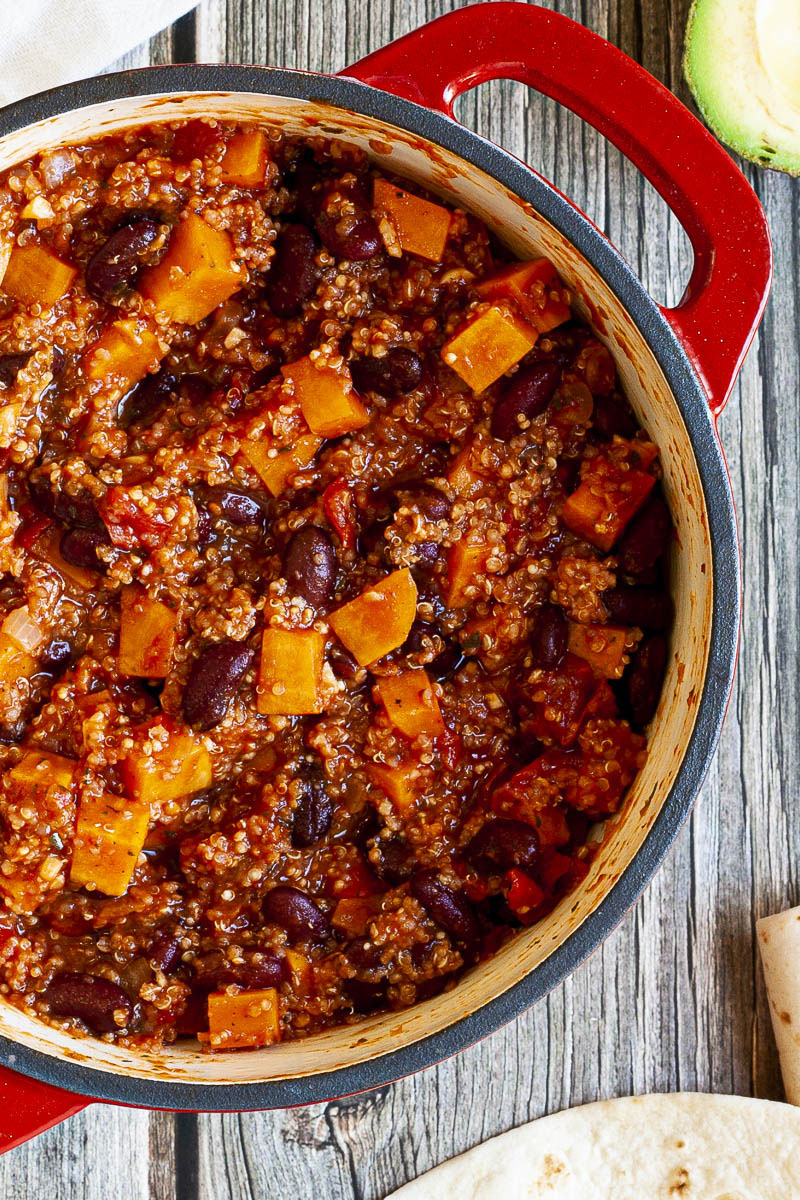 Tomato paste
Pure tomato paste is made by removing the skin and seeds of ripe tomatoes. After being left to sun-dry, they are then pureed into a thick paste. Leaving them to dry in the sun is what gives them their earthy, smoky, and sweet, jam-like flavor.
A base ingredient for many dishes, including curries like our Mushroom Chickpea Curry (pictured below), the tomato paste is often used to enhance the flavors of the other ingredients. Tomato paste creates that rich, deep and more concentrated tomato flavor. Thick, with that dry tomato flavor, the tomato paste is also slightly acidic in taste. This tartness comes from the citric acid component which is the chief preservative. Adding tomato paste to tomato sauces, stews, soups, gravies, Vegan Chickpea Meatballs, and even beans, increases the nuances in its final flavor.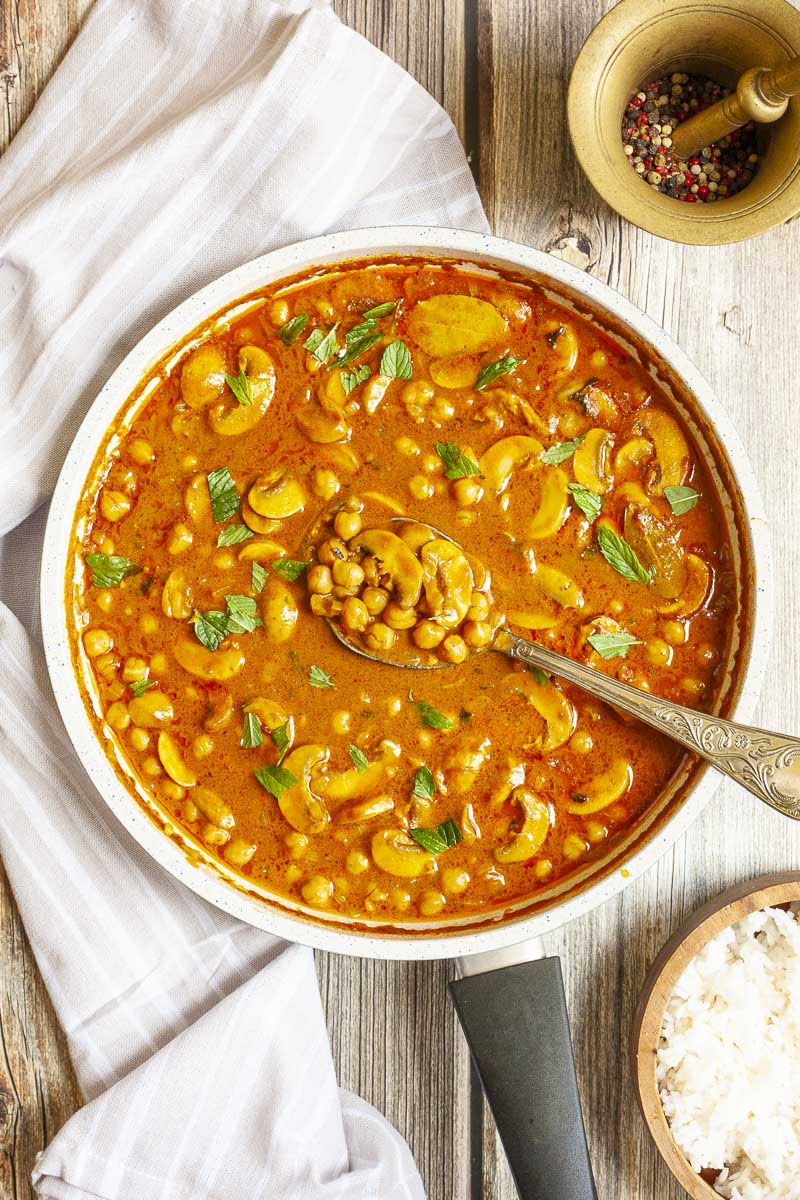 Sieved tomato purée
Purée is French for something that has been ground, pressed, blended, and/or sieved to the consistency of a soft creamy paste or thick liquid.
Tomato purée is smooth, thick and deep in flavor, but isn't very concentrated. Made only from tomatoes, the most basic use of tomato purée is to make sauces and dips. Popular uses include to make Indian curries, our 5-minute No-Cook Pizza Sauce (pictured below), tomato cream sauce for pastas, and of course, the irreplaceable, hot and sour sauce.
Chopped canned tomatoes
Actual tomatoes, tomato juice, and occasionally some salt all packed in a can. This is what makes up chopped canned tomatoes. The fact that they do not contain any oil or sugar makes them suitable for those who have dietary restrictions or medical conditions. Why choose this over ketchup? It's pretty simple, 2 tablespoons of ketchup has around 30 calories, which is about 7 tablespoons of canned tomatoes!
Canned tomatoes are picked when they are freshest and slowly pre-cooked. This creates a smooth consistency, with a robust flavor. Plus you can always add a personal touch by flavoring these pocket-friendly substitutes according to your individual needs, and end up with your very own one-of-a-kind sauce.
Use canned tomatoes to make this chunky Vegan Marinara Sauce, or this delicious Vegan Minestrone Soup and as accompaniments to dishes like pastas and Copycat Chipotle Sofritas (pictured below).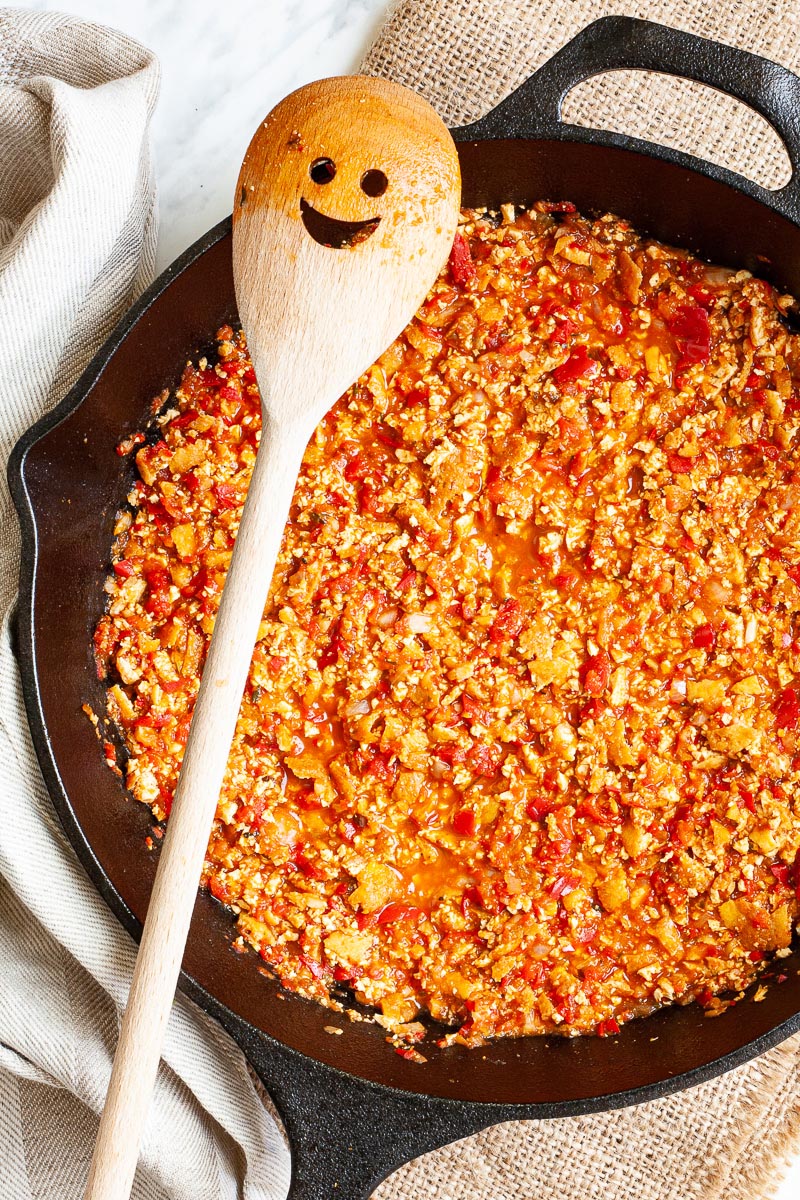 Homemade gluten-free ketchup
If you are looking to make your own healthy, preservative-free, vegan, gluten-free tomato ketchup, we have the perfect recipe. This maple tomato glaze we use to make this delicious Vegan Lentil Loaf (see below picture) mimics the original tomato ketchup wonderfully.
Nightshade-free ketchup
If you are looking for not only a gluten-free, but a nightshade-free ketchup as well, try this recipe from Strength & Sunshine. The main ingredients are carrots and beets with an array of spices to get a close match.
More gluten-free pantry guides
We have also listed 11 vegan foods to avoid on a gluten-free diet.
If you are looking for certified gluten-free products you can buy in stores, check out the below articles. We researched in detail what they were made of and which brands are safe to use. We also give you examples of the best gluten-free substitutes or of homemade gluten-free recipes in case you need them.