The answer is yes and no. Corn, by nature, is gluten-free. However, it does contain maize prolamins, a protein that in rare cases cause inflammation in individuals with celiac disease. Branded pop corn might also contain certain toppings, additives or spice blends that contain gluten, especially if the product isn't labelled gluten-free. We included 11 gluten-free popcorn brands that are safe to use and 13 homemade gluten-free popcorn recipes.
What is popcorn made of?
Popcorn, one of America's most beloved snack foods, is so ubiquitous today that you would be surprised to know that the snack has been around for nearly 8000 years. However, it was not until the 1890s when the first popcorn-popping machine was built, and popcorn became America's very own. If you are interested, read about its history here in more details.
Popcorn is a special variety of corn that expands and pops when it is heated. Generally, popcorn contains the following raw ingredients:
There are two methods of making popcorn, but you can read about the science behind it in this article on Scientific America.
The dry method:

The corn kernels are kept in a basket or a wire cage and then heated until the kernels expand. In the end, seasonings like salt and butter are added.
The wet-pop method

: In a solid-bottomed container vessel, the popcorn kernels are added, followed by oil. This helps distribute the heat, as evenly distributed heat equals better-popped popcorn.
Is popcorn gluten-free?
The answer is yes and no. Corn, by nature, is gluten-free. However, it does contain maize prolamins, a protein that can sometimes cause inflammation in individuals with celiac disease. It should be noted that this is extremely rare due to the prolamins in corn being entirely different to the prolamins found in wheat, barley and rye! This means that most people with gluten-sensitivities should be completely fine consuming corn.
When purchasing commercially manufactured popcorn brands, you might have to take a few added precautions. This is because some brands might contain certain toppings, additives or spice blends that contain gluten, especially if the product isn't labelled gluten-free.
If your popcorn was made in a factory that also manufactures glutenous foods, then the chances that your popcorn has been cross-contaminated with gluten is high. These should be avoided. Here are a few ingredients to be cautious of:
Malt flavoring
Wheat starch
Brewer's yeast (for more details read our "Is yeast gluten-free?" post)
Soy sauce (for more details read our "Is soy sauce gluten-free?" post)
Bottom Line – when buying pre-packaged or microwaveable popcorn, make sure to read the ingredients listed on the back. The U.S Food and Drug Administration mandates that a gluten-free product contain less than 20 parts per million of gluten. This will be indicated by a label reading any of the following things: "without gluten", "no gluten", "gluten-free", and so on.
Flavors to watch out for
The first thing to keep an eye on would be spices. While spices themselves do not contain gluten, it is possible for them to have been cross-contaminated with a gluten source. This study reports that people with celiac disease should avoid imported cloves and mace, both of which are used to make spice mixes.
Some popular popcorn toppings, like cheddar cheese, certain kinds of chocolate (and flavors like "Cookies and Cream"), may also be harmful to those with gluten sensitivities.
Gluten-free popcorn brands
Angie's BOOMCHICKAPOP Popcorn
Angie's Boomchickapop Popcorn* (a subsidiary of ConAgra Brands) offers you multiple flavors to choose from, all of which have a gluten-free certification from the Gluten-Free Certification Organization (GFCO). Additional benefits? It is devoid of any high-fructose corn syrup and uses natural flavors and colors.
Great Northern Popcorn Company
If you are looking for extra-flavorful and buttery popcorn that is au naturel, then the Great Northern Popcorn Company's White Horse popcorn* might be the perfect choice for you. Along with this product being labelled gluten-free, the company also sells gluten-free popcorn seasonings. These include flavors like White Cheddar and Nacho Cheese.
Black Jewell Gourmet Microwave Popcorn
The speciality of Black Jewell's Gourmet Microwave Popcorn* is that it uses a different kind of corn kernel – the Original Black. This corn is smaller than the yellow variety and has a light hull, which disappears after popping. No more hulls getting stuck to your teeth and gums. The snack is labelled gluten-free.
Act II
Act II* is a famous brand that is owned by the company ConAgra Brands. It manufactures microwavable popcorn in eight different varieties, all of which are labelled gluten-free! The company also tests their food to make sure it is entirely gluten-free. If you need a dairy-free/vegan alternative, choose the Kettle Corn version* as it only contains corn, oil and salt.
Yellow Popcorn by Arrowhead Mills
Arrowhead Mills' Yellow Popcorn* is the perfect regular popcorn for a midday healthy snack, or to make recipes like popcorn balls with. It is a classic favorite among the young and the old. And the best part? It is certified gluten-free and USDA organic.
Bob's Red Mill
Bob's Red Mill is famous for its gluten-free grain-based flours. But did you know they also sell gluten-free products? Some of their products are certified gluten-free like their Yellow Popcorn*.
Orville Redenbacher's Skinnygirl Butter & Sea Salt Microwave Popcorn
Skinnygirl manufactures its Butter & Sea Salt Microwave Popcorn* in partnership with Orville Redenbacher's. It is delicious, perfectly snack-worthy and completely gluten-free. However, it does contain milk so steer clear of this one if you are allergic to dairy or eat a vegan diet.
Jolly Time
Nobody needs an introduction to Jolly Time's Popcorn* products since it has been one of America's most beloved brands for over a century! However, it might be news to some that Jolly Time adds a gluten-free label to their products.
They also take extra care to avoid any ingredients that might have gluten. One example is oats, which is sometimes a cause for worry for those with a gluten-free diet.
Jiffy Pop
Are you one of those people who likes to snack on popcorn when you are camping outside? Then you are probably familiar with Jiffy Pop*, which is a subsidiary of ConAgra Brands.
The popcorn, oil and flavoring all come sealed within an aluminium foil pan, making it easy to make on top of a naked flame. Jiffy Pop is one of the only brands that sell popcorn this way, and it is generally considered gluten-free. Albeit it is not certified the only allergen listed is milk as it has only products with butter in it.
Orville Redenbacher's Gourmet Popcorn Kernels
It doesn't matter whether you are using an air popper, a stovetop or a microwave because Orville Redenbacher has something to offer for all occasions. It claims that it uses real butter (and not just butter flavoring), giving the popcorn a richer taste and aroma. The brand is owned by ConAgra brands, and some of their popcorns are labelled "gluten-free", like their Original Gourmet Popcorn Kernels*.
SkinnyPop Popcorn
SkinnyPop has one motto – "snacking without compromise." SkinnyPop was started with the intention of keeping their popcorn very simple, with just corn kernels, sunflower oil and salt.
While their classic and tasty popcorn still does the trick they also offer a range of other popcorn products today. These include mini popcorn cakes, microwavable popcorn, popcorn chips and regular ready-to-eat popcorn, all of which are certified gluten-free. This Lime & Salt one* does sounds delicious.
4 Ways to Make Homemade Gluten-free Pop Corn
While owning a popcorn maker or popper might make things extra convenient, it is most certainly not a must. You can easily make popcorn at home and customize it any way you want. Here are four ways how:
Stovetop
It is super easy to make popcorn on stovetop. You will need coconut oil (peanut or canola oil also works), salt, popcorn kernels, and some seasoning for Happy Kitchen's Stovetop Popcorn recipe.
Air Fryer
If you have an air fryer we got you covered Budget Delicious shares a super easy recipe on how to make Air Fryer Popcorn. A quick tip: check the holes of your air fryer basket – the smaller the hole, the better it is for making popcorn.
Instant Pot
Have you been wondering whether you can make popcorn in an Instant Pot? Yes you can. Recipes from a Pantry has a detailed Instant Pot Popcorn recipe with tips on how to make them.
Microwave – 3 ways
Downshiftology included not one but 3 ways to make Popcorn in a Microwave. You can use a paper bag or a larger Stasher bag or a glass bowl with a ceramic dinner plate.
Gluten-free Sweet Popcorn Recipes
Circus Popcorn
If you are looking for a colorful and healthy snack idea, try this Circus Popcorn Recipe from Strength & Sunshine where all ingredients are allergy-friendly like Rainbow Rocks cereal, freeze-dried apples, roasted peanuts drizzled with a vegan caramel sauce.
Gingerbread Caramel Corn
The Forked Spoon's Gingerbread Caramel Corn Recipe combines the goodness of caramel sauce with the warmth of gingerbread spice by using all gluten-free ingredients, like corn syrup, molasses, brown sugar and salt. This makes a delectable, crunchy, drool-worthy snack.
Cinnamon Sweet & Salty Kettle Corn
This delicious Cinnamon Sweet and Salty Kettle Corn is sure to transport you to a summery night spent at a local carnival. Head to this recipe by Chenee Today to see what I am talking about.
Easy Candied Jello Popcorn
Candy, jello and popcorn – need I say more? Check out this colorful recipe for Easy Candied Jello Popcorn by Faithfully Gluten Free for a sweet popcorn treat. A quick note though that jello is not vegan as is, so make sure you use vegan jello if you need to.
Raspberry Lemonade Popcorn
Jolly Filled Eats made a recipe for Raspberry Lemonade Popcorn which has become a house favorite ever since. What makes this popcorn so amazing is that it is sweet and tangy at the same time, due to the lemon syrup, freeze-dried raspberry and lemon zest.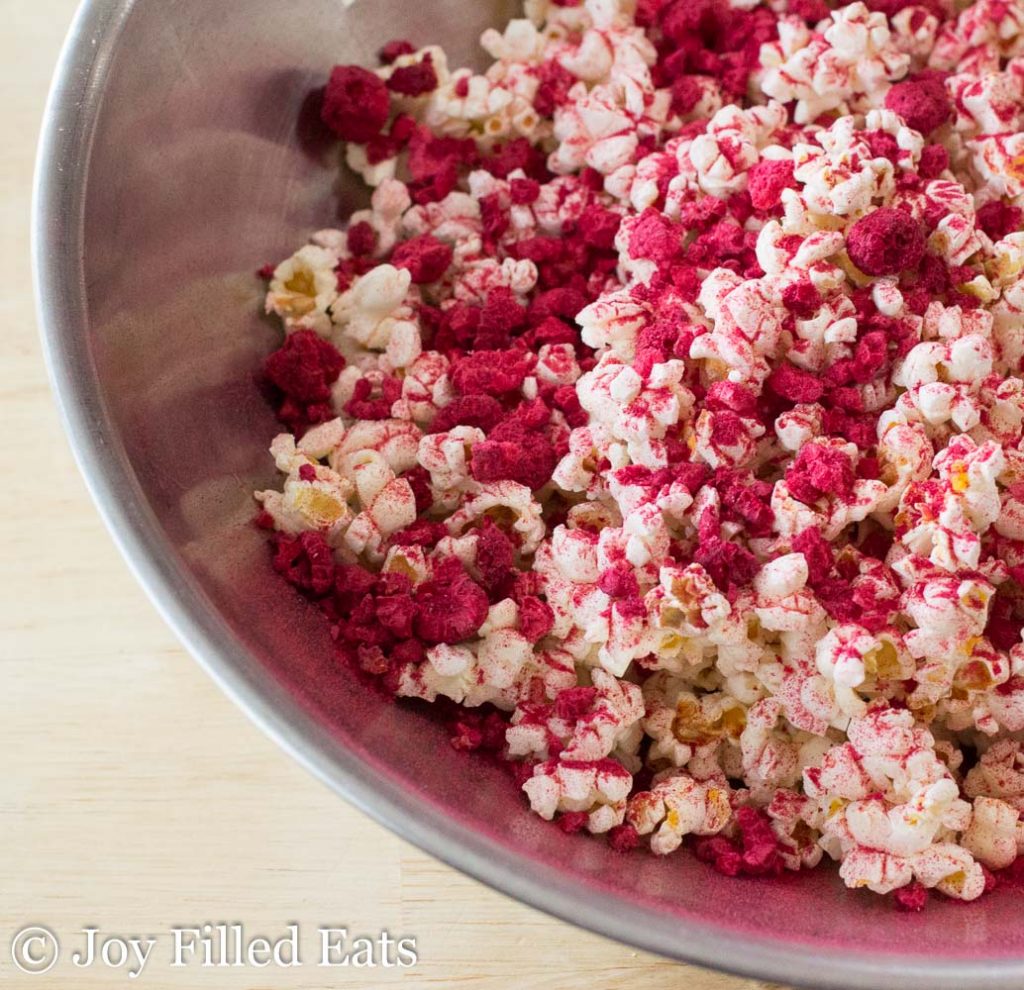 Peanut Butter Cup Popcorn
What if I told you that you could have popcorn glazed with melted chocolate AND peanut butter sauce? Cadry's Kitchen's recipe for Peanut Butter Cup Popcorn gives you just that. A quick note: use gluten-free chocolate and peanut butter to make it. We have a post about which brands have gluten-free peanut butter.
Almond Joy Chocolate Popcorn
This Chocolate Popcorn with Almonds and Coconut by Bites with Bri is sweet, nutty and salty at the same time. I especially like the chunky almonds and coconuts that give this popcorn a crunchy texture. Make sure to use gluten-free chocolate to make it.
Mexican Hot Cocoa Popcorn
The ingredient list of this Mexican Hot Cocoa Popcorn by Bad to the Bowl is everything wholesome – cocoa powder, brown sugar, coconut oil, agave nectar, cinnamon, cardamom and vanilla extract. It's just as tasty as it is healthy.
Gluten-free Savory Popcorn Recipes
Spiced Tandoori Popcorn
If you are someone who likes a spicy hit to their popcorn, then you should definitely try out this Spiced Tandoori Popcorn recipe by Maroc Mama. The spiciness comes from a mouth-watering combination of cumin, coriander, ginger powder, paprika, coriander and turmeric.
Sriracha Popcorn
On the lookout for a popcorn recipe for Super Bowl Sunday? This fiber-rich Sriracha Popcorn recipe by Kara Lydon Nutrition could be just what fits your bill.
Pumpkin Pie Spice Popcorn
This Christmas season, make this Pumpkin Pie Spice Popcorn by Lathis Kitchen to fill your house with the smell of pumpkin pie. It's assured you will make a snack that everyone can enjoy, because who can say no to popcorn, vanilla essence, and pumpkin pie spice?
Cajun Popcorn
Three words – homemade Cajun spice mix, popcorn, and 10 minutes! Oh wait, that's more than three words. No worries, because we guarantee you will be as hooked to this Homemade Cajun Popcorn recipe by Three Olives Branch as we are.
Salt and Vinegar Popcorn
Homemade in the Kitchen made this Salt and Vinegar Popcorn that is out of this world. It is perfect for those of you who have been looking to capture the flavor of Salt and Vinegar chips in every way possible.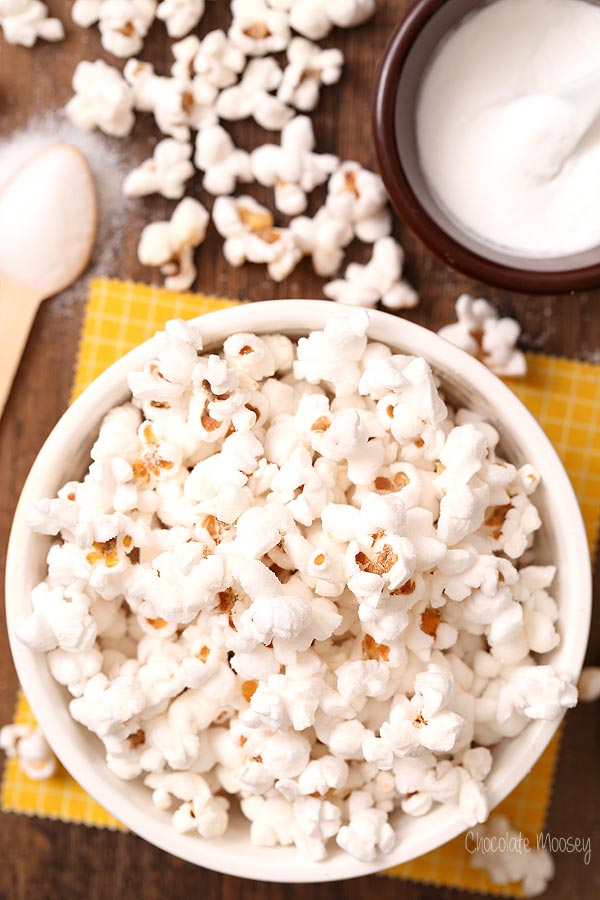 More gluten-free pantry guides