There is nothing more synonymous with Japanese cuisine than sushi. Although often associated with fish and seafood, the truth of the matter is that there are at least 16 types of sushi for vegans as well. It is not some far-fetched notion to find vegan sushi when you go to a restaurant or attempt to make it at home. We'll tell you all the ingredients you need to avoid and all options you can choose to enjoy a delicious sushi dinner.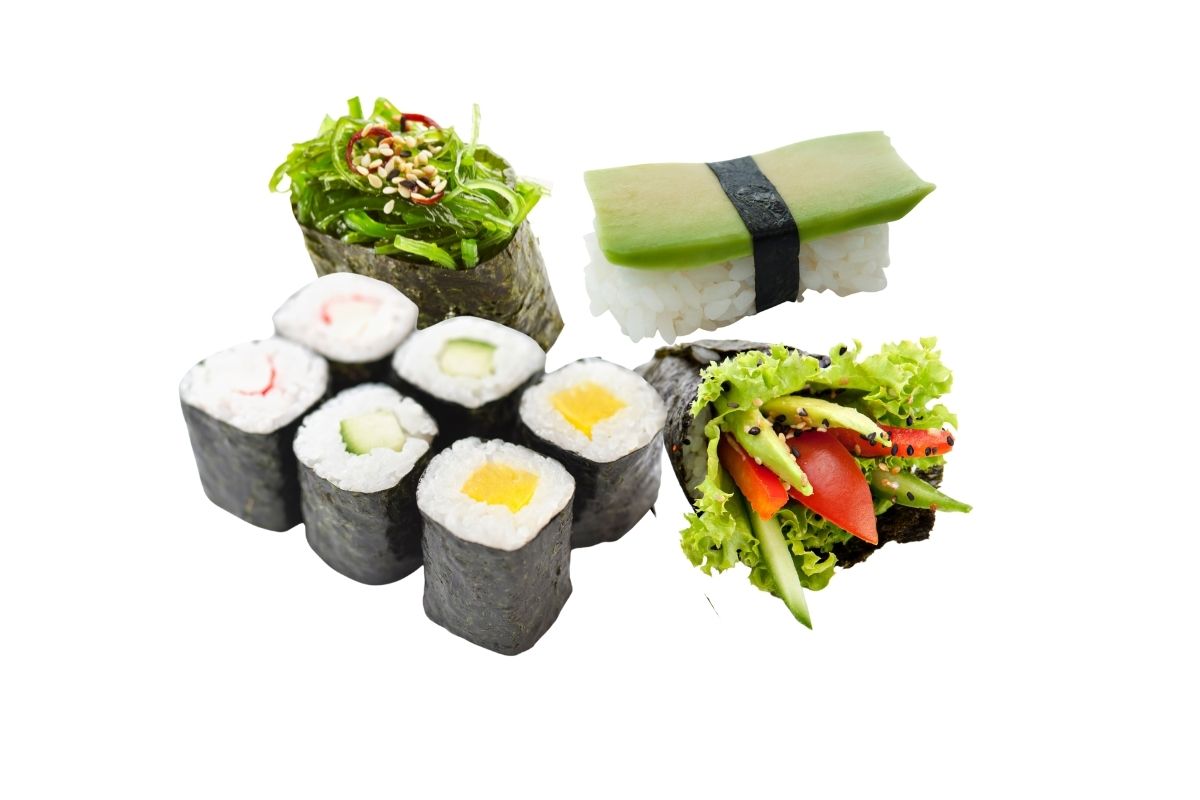 What started out as a type of fast food, made using only four ingredients for laborers working near the Edo river, has evolved into the modern version of sushi that we know and love today. Methods of preparation have since transformed into an art form, where chefs now carefully curate different types of sushi at five-star restaurants. That's why we've put together a bunch of vegan sushi ideas for you to mix and match and enjoy a night out at your local sushi restaurant worry-free.
Is sushi vegan?
The short answer is yes, sometimes. Many people incorrectly assume that fish (typically salmon, tuna, or eel) or seafood (typically crab or shrimp) are mandatory ingredients in sushi, but toppings or fillings other than fish are also very common.
However, since the primary ingredients of sushi are vegan, like sushi su (sushi rice, rice vinegar, water) and nori sheets (100% seaweed), whether a roll of sushi is vegan or not depends on the fillings and toppings used.
Sushi rice is prepared by steaming and adding vinegar to uruchimai (Japanese white rice) and then mixing it with sugar and salt before allowing it to cool down. This specialty short-grain rice is both vegan and gluten-free.
Typical vegan sushi fillings
As long as the fillings and condiments used in your sushi are free of any animal products, you should be fine. If you want to also know which ingredients of sushi are gluten-free, we have also written a detailed guide on that.
veggies like cucumber, carrots, and shiitake mushrooms
meat substitutes primarily tofu
fruits like mango or avocado
unique Japanese ingredients like gourds, dashi or fermented soybeans, wakame (kelp), and mirin
Fillings to avoid
Fish, shellfish, meat, and other kinds of seafood are the most obvious things to keep an eye out for if you are a vegan, aside from a few others:
Tamagoyaki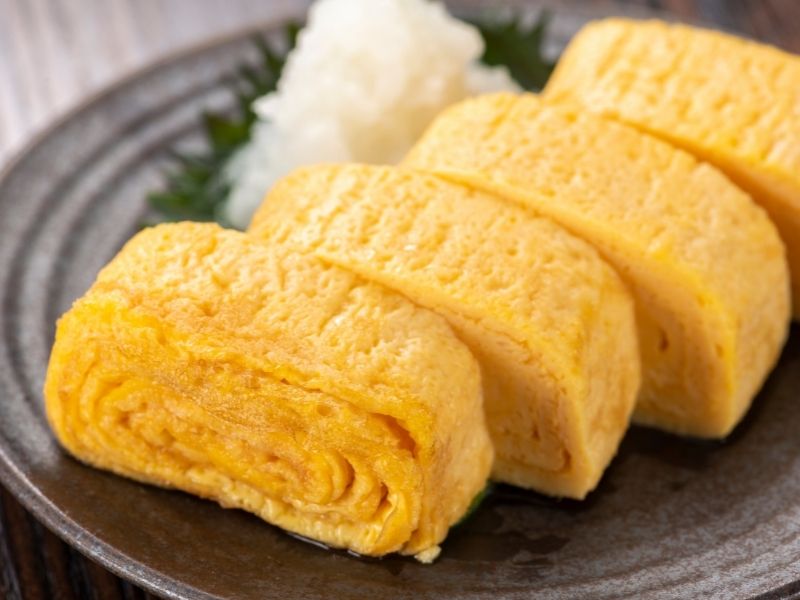 In the simplest of terms, tamagoyaki is a Japanese omelet. The eggs are cooked by folding inwards into multiple layers and seasoned with sugar and soy sauce.
Although traditionally served as a sushi topping, tamagoyaki is also served around the world today in the form of nigiri sushi. It is even incorporated as an ingredient in futomaki rolls.
Tempura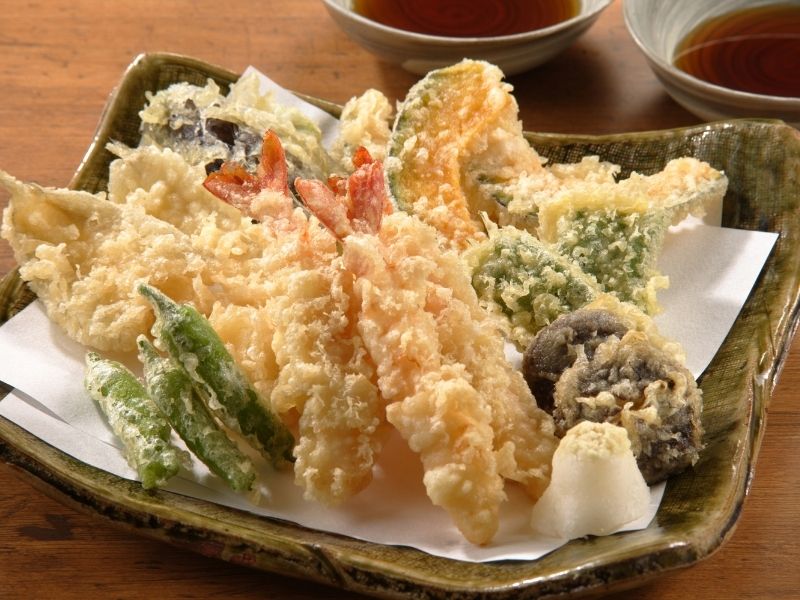 Tempura is a popular Japanese savory treat that is made by deep-frying various ingredients like vegetables, meat, and seafood in a special batter. This batter is made with flour, cold water, and eggs, which is why it is best avoided by vegans.
Katsuobushi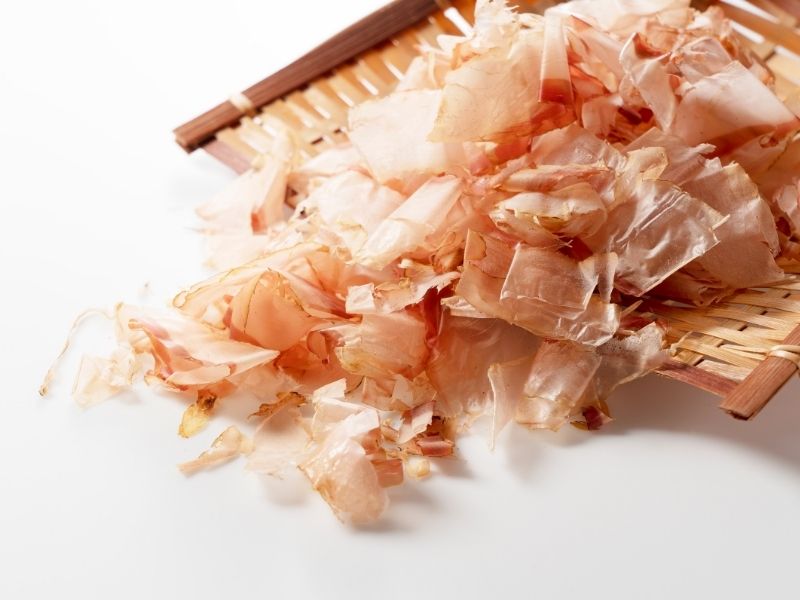 Generally used as a topping, these grated flakes are made from dried bonito fish.
16 types of sushi for vegans
It's a happy accident for vegan sushi lovers that most restaurants offer more than a few authentic vegan sushi options without even meaning to! Look beyond simply replacing meat with substitutes, and check out our list of vegan sushi options to try the next time you have a sushi craving.
Before we begin, here's a quick lesson on all things sushi to better help you learn about the different types available.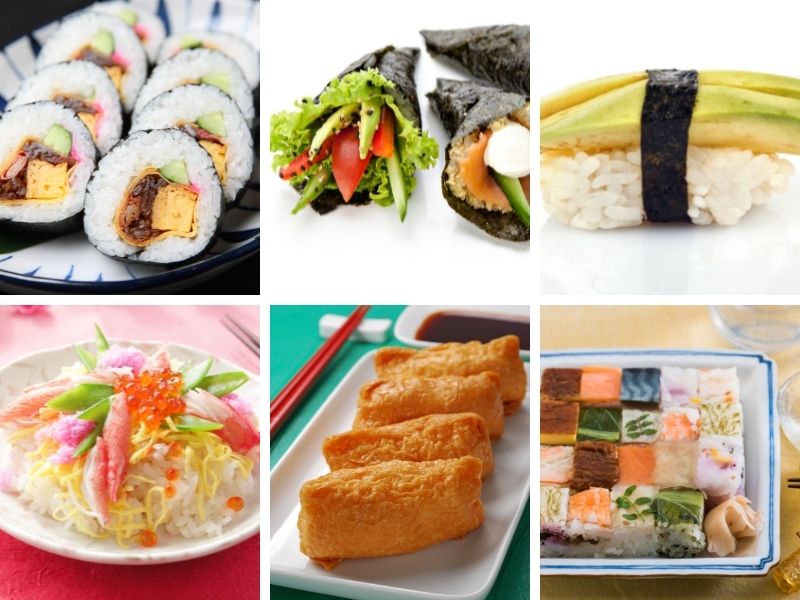 Makizushi is the most popular form of sushi. It is a roll that usually consists of rice and veggies or meat, all neatly wrapped up in toasted seaweed using a bamboo mat and cut into 6-8 bite-sized pieces with a sharp knife. While the larger futomaki has a combination of fillings, the sleeker homosaki features just one ingredient. Another name for them is norimaki on account of them being rolled in nori seaweed. If you want an easy vegan sushi recipe you can try at home, we recommend making these sweet potato sushi rolls or if you are a bit afraid of seaweed taste, try this rice paper sushi recipe.

Temaki sushi

in Japanese translates to hand roll sushi. It is prepared by hand-rolling rice and fillings into a cone-shaped nori sheet.

Nigirizushi

is a molded heap of sticky rice topped with vegetables or seafood and then secured using a thin band of dried nori. This type of sushi is hand-pressed and is usually rectangular or oval in shape.

Chirashizushi

is simply sushi rice in a bowl covered in 9 toppings. It is a kind of sushi rice salad that is usually put together using leftovers.

Inarizushi

is a type of sushi named in honor of the Shinto God Inari, who loved tofu. Simply put, the inari sushi is just fried and stuffed tofu slices.

Oshizushi

is shaped into compact, rectangular shapes using wooden boxes or molds called oshibako.
Now that we are familiar with the basics, here are some sushi for vegans you must try.
Uramaki Sushi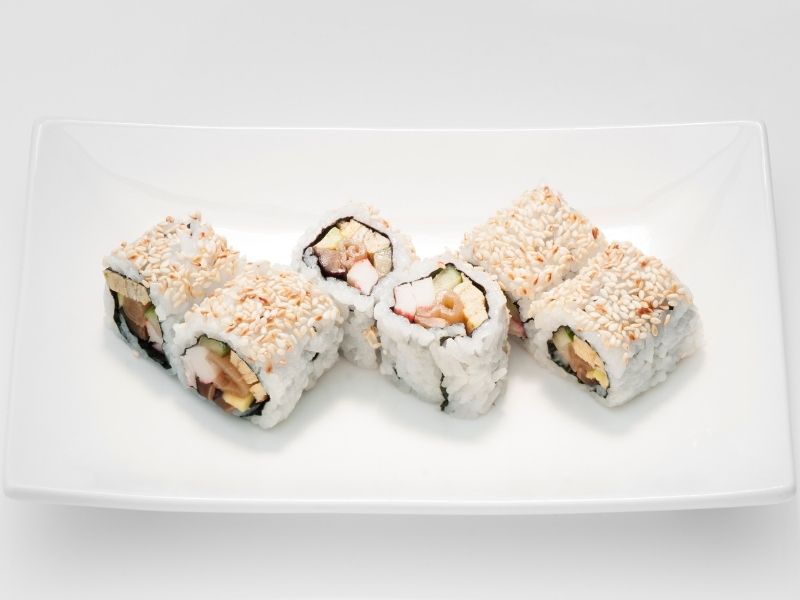 An American innovation from the late 60s, the uramaki is an inside-out variation of maki. Created to hide the nori from customers who disliked its texture, it pulls a switcheroo by putting the rice on the outside. The fillings can vary and can sometimes even contain nothing more than veggies, like the cucumber California roll. This is fantastic news for vegans looking to sample some delicious sushi.
Oshinko Sushi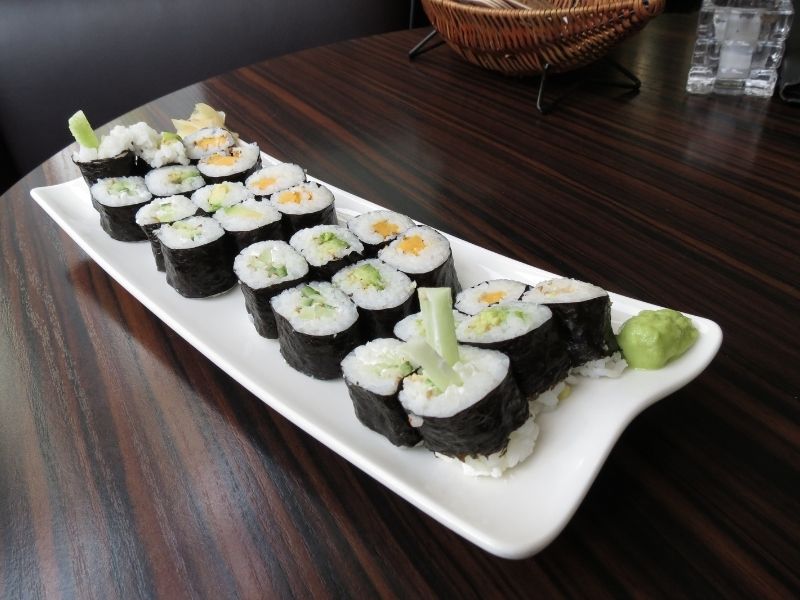 Sweet and crunchy, the star ingredient of this sushi is the pickled winter radish of Japan, the daikon. The radish itself tastes sweet and mild and is typically less concentrated than other types of radishes. It retains that sweetness after the pickling process but also becomes saltier. These rolls can also contain cucumber or cabbage to add that satisfying crunch with each bite.
Kappa Maki
While first intended as a palate cleanser, today, the homosaki is a healthy and refreshing sushi dish in its own right. Kappa maki in Japan refers to cucumber rolls, and they happen to be one of the most popular sushi rolls around the world.
Interestingly, the word kappa itself does not translate to cucumber in Japanese but instead refers to a mythical Japanese water spirit whose favorite food was cucumbers. Sushi rice, nori, and cucumbers are the three main ingredients for the dish, making it a favorite among vegans all over.
Takuan Maki
The takuan maki is a variation of the shinko maki, which is made from pickled vegetables. Made from pickled daikon radish, try this sushi roll if you like your food with a bit of tang.
Kampyō (or Kanpyō) Maki
Kampyo is a traditional Japanese ingredient made from pickled calabash or bottle gourd. It is most famously used in kampyo maki and has an intriguing contrast of textures that is fun to explore. This spongy and snappy bottle gourd has a salty-sweet taste that is similar to soy sauce, It is believed to aid in digestion, which is why it's the best kind of sushi to end a meal.
Ume Shiso Maki
If you're feeling adventurous and want to try something new, the ume shiso maki is the sushi roll you're looking for. This makizushi is prepared by combining the salty Japanese plum (ume) paste with the sweet flavors of cucumbers and Japanese mint (shiso). The refreshing maki rolls can be used as a palate cleanser or to round off a meal.
Natto Maki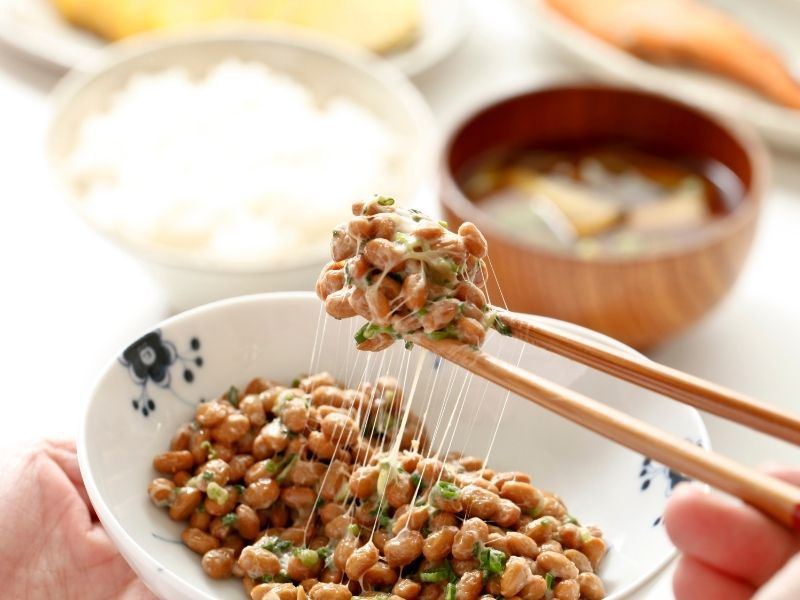 One of the most popular ways to eat natto in Japan is sushi. A homosaki made from fermented soybeans, the natto maki is a simple way to eat tasty and healthy with each bite.
Natto Temaki
Natto Temaki is prepared by wrapping sushi rice and natto with dried laver. Made like a temaki, it is another kind of natto sushi.
Avocado Roll
When a Japanese chef discovered that he had run out of toro (the fatty portion of tuna), he reached for the next best thing in the American market, a ripe avocado. He then rolled up chunks of the avocado with sushi rice and nori sheets to create this beloved masterpiece.
Avocado Nigiri
Picture creamy avocado atop a serving of rice, lightly salted and fastened with nori. It just doesn't get better and easier than that.
Seaweed Gunkanmaki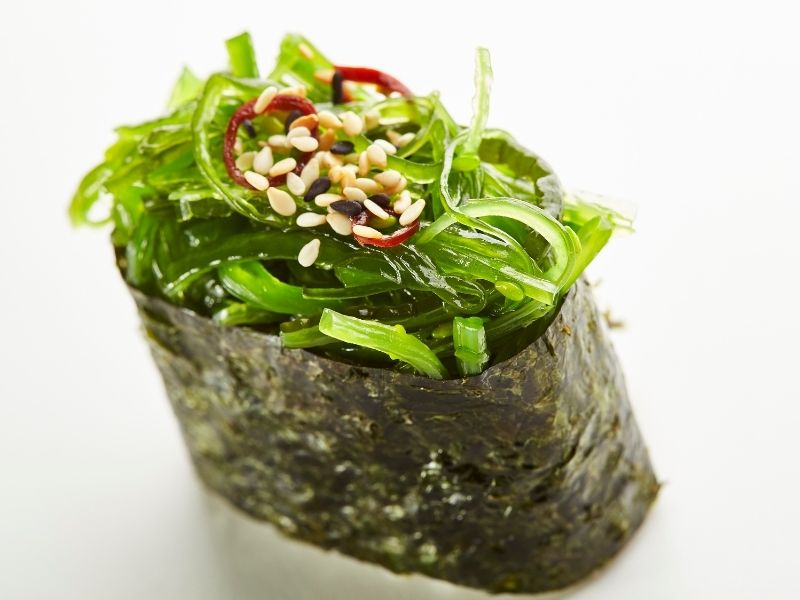 The gunkanmaki or battleship roll resembles a warship in shape. It is made by wrapping a small ball of rice and wakame (seaweed strips) in a nori sheet, this type of sushi is, in actuality, a kind of nigirizushi.
Takenoko Chirashizushi
A springtime favorite, the takenoko chirashizushi is prepared by simmering bamboo shoots in a broth till they are soft and succulent. It's important for vegans to check if fish flavoring like dashi or bonito flakes is added.
Yaki Onigiri
While technically not sushi, this Japanese convenience store snack is ideal for those who dislike the mushy texture of white rice. Yaki onigiri is a version of onigiri that is grilled over a flame till crisp and golden. This easy-to-carry rice ball is then liberally coated with soy sauce or miso and enveloped in a nori sheet. While it usually doesn't have any fillings, avocado or umeboshi can be added to this crowd-pleasing savory dish.
Eggplant Sushi
Packed with a tangy grilled flavor in every bite, the nasu nigiri is a year-round favorite. It can be roasted for a melt-in-your-mouth flavor or marinated for a chewier and richer profile. Tempura eggplant is another variation of this sushi with grated ginger, but be careful as tempura varieties are usually not vegan.
Shiitake Maki
This sushi is made with chopped shiitake mushrooms and seasoned with garlic and sesame seeds. The rich flavor of shiitake maki pairs well with ginger and wasabi.
Shiitake Nigiri
With just salt or soy sauce for flavoring, shiitake nigiri will leave you longing for more.
That wraps up our vegan sushi ideas (yes, pun intended), so go forth and bravely explore the world of sushi, sushi-lovers!
Vegan condiments for sushi
There are quite a few vegan condiments to try when it comes to sushi, but the main three are wasabi, gari, and soy sauce.
Wasabi
This spicy green paste is created by grinding the root of the wasabi plant (Japanese horseradish). While real wasabi is rare and expensive, generic wasabi contains mustard, horseradish, and other spices.
When buying wasabi, always check the ingredients as some companies add non-vegan ingredients like egg whites. The method used to make the wasabi is another thing you want to ask about, as certain authentic Japanese restaurants prepare it by grinding the root against shark skin.
Gari (or Amazu Shoga)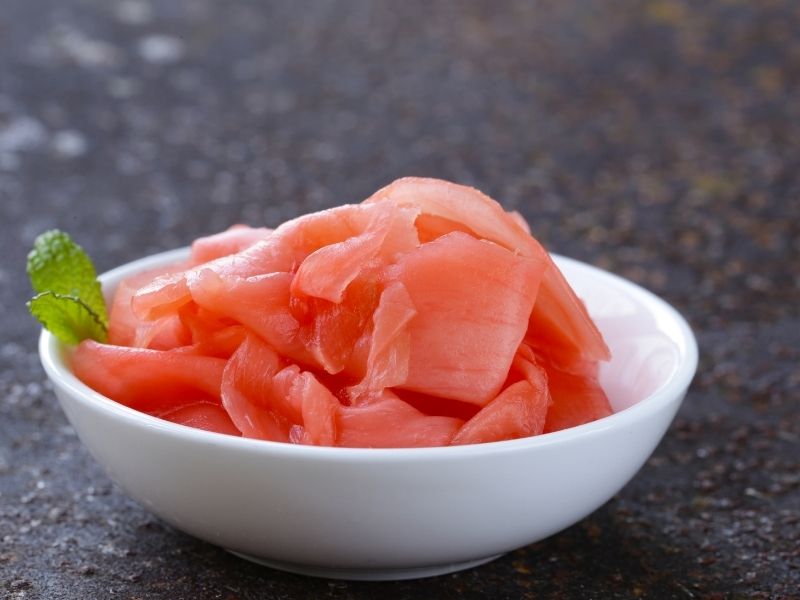 "Amazu shoga", Japanese for "pink pickled ginger", is served as a side with sushi and is traditionally used in meals to bring out the distinct flavor of each course. The ingredients for this dish are thinly sliced ginger, sweet vinegar, sugar, and salt, thus making gari a perfect complement for vegans to enjoy.
Shoyu
An integral part of Japanese cuisine, "shoyu" is a Japanese-style soy sauce made from a fermented mixture of soybeans, salt, wheat, and koji rice mold. Depending on the levels of intensity of each of the four key ingredients, there are 5 variations of this vegan condiment.
Koikuchi

is a dark soy sauce and makes up at least 80% of all Japanese soy sauces. It can be used as a general accompaniment or even incorporated into cooking. Those who prefer a low-salt diet can opt for its low-salt version called "genen shoyu".

Usukuchi

from Kansai is a lighter-colored soy sauce that is best suited for dishes that require a more subtle umami flavor. Commonly used in cooking, it helps preserve the natural taste and color of the ingredients as it is much saltier and less strongly fermented.

Tamari

is a dark variation of shoyu. Its distinct fragrance and dense umami flavor make it to resemble close the original recipe. Tamari is the only soy sauce made without wheat making it also the perfect gluten-free soy sauce substitute.

Shiro shoyu

is a milder soy sauce that is perfect for those with a penchant for sweet things. This white soy sauce mainly contains wheat, with just a small amount of soybean, thus making it light-colored and sweet to the taste albeit not gluten-free.
The refermented

saishikomi shoyu

is another sweet soy sauce. Its thick color, flavor, and fragrance make it suitable for flavoring sushi, sashimi, and more.
It is important to note here that while Japanese soy sauce is sweeter and more nuanced because of the wheat, Chinese soy sauce is far saltier.
Hot mustard and chili oil
Vegans who like a bit of a punch will enjoy lightly dipping their sushi in a creamy hot mustard sauce or a bowl of chili powder and oil. If you need to eat gluten-free, make sure to read about which mustard brands are gluten-free.
Umeboshi Paste
Umeboshi is a vegan paste prepared from pickled Japanese ume. It contains ripe plums, salt, and red perilla leaves to add color.