Sadly not all types of yeast are gluten-free. We researched 6 common types, out of which only 4 were gluten-free. If you want to learn about which certified brands to choose when you are looking to buy baker's yeast (active dry yeast, instant yeast, and fresh yeast), yeast extract, Brewer's yeast, or nutritional yeast, read on.
What is yeast?
One of the best parts of baking is watching our little doughs rise to their full, crunchy, fluffy glory. But what makes dough rise? The answer is yeast! So, what is yeast?
Yeasts are single-celled fungi that have existed for millions of years before humans. There are more than 1500 species of yeast. But the species we use for baking is scientifically called saccharomyces cerevisiae which means "sugar-fungus". Yeast functions by consuming the sugar in your dough/mixture and converting it into carbon dioxide, making your baked goodies light and airy.
Which of the 6 types is gluten-free?
The first thing people usually think of when it comes to yeast is baker's yeast. This type actually comes in 3 different formats: active dry, instant, and fresh. All three types can be used to leaven dough in any given yeasted baking recipe. However, each does have slightly different properties and varying flavors. You can find out how baker's yeast is made here.
Apart from and including the above, here are the 6 most common types of yeast you might come across.
In the below article we researched certified gluten-free products. According to the FDA's labeling guideline, if the container is labeled "gluten-free," the item must contain less than 20 parts per million (ppm) of gluten. Celiac disease experts consider this level to be safe. So which types you should trust?
In short, all 3 types of baker's yeast as well as nutritional yeast are supposed to be gluten-free, while yeast extract almost never is. As for Brewer's yeast, you may be able to find a gluten-free version, but it is not really common. For more details, read the relevant category below.
Is active dry yeast gluten-free?
YES, it is supposed to be gluten-free. Used for most baking recipes, active dry yeast is just live yeast that is partially dehydrated, made inert, and ground into granules. It has a longer fermentation process and is best suited for dough recipes that call for a double rise and a longer proofing time.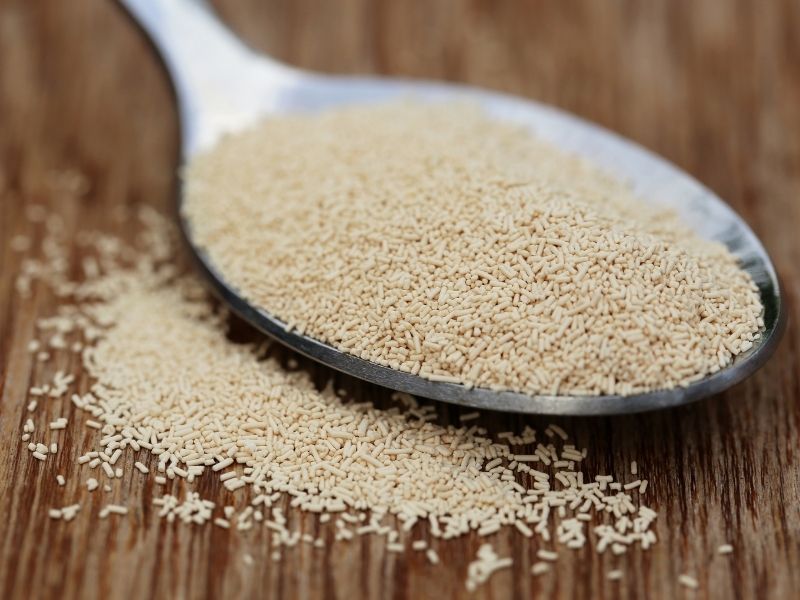 Yeast doesn't typically contain gluten but may be exposed to ingredients or surroundings that do during manufacturing. So always check the labels and look for certified products like:
Is instant yeast gluten-free?
YES, it is supposed to be gluten-free. Instant yeast, like the name suggests, gets your job done quickly. Known as "bread machine yeast" and "rapid rise yeast", instant yeast has more refined, smaller grains than active dry yeast but the two of them are pretty much the same in terms of ingredients. Due to its quick action and larger surface area, it can be used in recipes without activating it beforehand.
Always think of cross-contamination when dealing with naturally gluten-free products. To be on the safe side seek out certified brands like:
Is fresh yeast gluten-free?
YES, it is supposed to be gluten-free. Fresh yeast (also known as "wet yeast", "cake yeast", or "compressed yeast) comes in individually packaged cubes and can usually be found in the refrigerated aisle near dairy and eggs.
It is the only commercially available non-dehydrated yeast. It has a rubbery texture and is a solid but crumbly concoction of water and yeast, which feels halfway between paste and modeling clay.
Since the only ingredient is yeast, it is supposed to be a gluten-free product. Red Star is gluten-free according to their website.
Is brewer's yeast gluten-free?
Since it is often produced from wheat or barley, brewer's yeast is usually not gluten-free. It is used primarily used in making beer, root beer, or kombucha. It has quite a unique bitter taste. You can find out how Brewer's yeast is made here.
The fundamental difference between Brewer's yeast and baking yeast is that brewing yeast produces both alcohol and CO2, whereas baker's yeast creates massive amounts of CO2 and very little alcohol.
Brewer's yeast is for making drinkable beer; baker's yeast is for making the dough rise. But you can substitute one for the other in equivalent quantities, the only difference would be the bitter taste that Brewer's yeast would leave behind. Be sure not to use the inactive version which is sold as a nutritional supplement for lactation even if they are GF, like Kate Naturals* or Mommy Knows Best*!
However, there are possible gluten-free options for Brewer's yeast, but remember to double-check the labels to ensure that it does not include any gluten-containing ingredients. We found the following certified products:
Is nutritional yeast gluten-free?
YES, it is supposed to be gluten-free as it is produced from sugar beet molasses or cane sugar. Known for the proteins, vitamins, minerals, and antioxidants it contains, nutritional yeast is specifically made for cooking. Unlike in baker's yeast, these yeast cells are killed during manufacturing and are not alive in the final product.
Its primary use is in cooking and has a cheesy, nutty, or savory flavor. We use it in many vegan dishes as a parmesan cheese substitute. It is rich in vitamin B12, proteins, and trace minerals. It is not used in baking as it is not activated. Find out how nutritional yeast is made here.
Here are the gluten-free nutritional yeast brands we found:
Is yeast extract gluten-free?
It is not gluten-free. Yeast extract is obtained from fresh yeast in a 5-step process. Usually used as a spread, it is composed of mainly nutritional proteins, amino acids, carbohydrates, vitamins, and minerals. Through evaporation, the extract is concentrated into a paste or a liquid, which is the thick gooey spread we get. Can you add it to a bread recipe? In short, no. It is not an active yeast.
Yeast extract is often produced from wheat or barley. Some yeast extract is also produced from Brewer's yeast. Therefore, they are not gluten-free. You may most commonly know yeast extract from products such as Marmite* (made of barley) and Vegemite* (made of barley and wheat).
Other gluten-free yeast substitutes
While the above gluten-free brands are very accessible, you can also do a couple of things to substitute yeast as an ingredient.
Sourdough
If you love baking and taking your cooking to the next level, making sourdough is the way to go. Sourdough is slow-fermented bread and doesn't require commercial yeast to rise. It is made with a live fermented culture called a sourdough starter that acts as a natural leavening agent. Sourdough bread is defined by its sour flavor, chewy texture, and crunchy, crackly crust.
A gluten-free sourdough starter can be made using xanthan gum-free gluten-free flour. Here is a recipe to make a starter from buckwheat flour or from brown rice flour. The starter doesn't use yeast and is the perfect alternative to regular gluten-free bread recipes.
Baking powder
Baking powder is used as a raising agent in gluten-free baking. It has a similar leavening effect as yeast does especially used in combination with apple cider vinegar or lemon juice.
Baking powder consists of a base (usually baking soda), an acid, and a filler (usually some kind of starch). While baking soda and acid are usually gluten-free ingredients, the starch part is where you need to pay attention. If you are looking into using it, please read about the different types as well as certified brands in our gluten-free baking powder guide.
More gluten-free pantry guides
You can browse through our gluten-free pantry guide or gluten-free flour guide. ​We have also listed 11 vegan foods to avoid on a gluten-free diet.
If you are looking for certified gluten-free products you can buy in stores, check out the below articles. We researched in detail what they were made of and which brands are safe to use. We also give you examples of the best substitutes or of homemade recipes in case you need them.