Yes and No. Corn flakes are supposed to be gluten-free as they are made of corn, but sadly many brands add gluten-containing flavoring like malt extract. Fortunately, we found 13 products that are labelled gluten-free where they opted for a more suitable flavoring than malt-based ones.
The origin of corn flakes
"What's more American than corn flakes?" sang Bing Crosby. And this statement could not be more true! An everyday staple of American households, the invention of this breakfast cereal happened in Michigan.
The story of corn flakes starts with two brothers- Dr. John Kellogg and his younger brother, Will Kellogg. Together, they ran the Battle Creek Sanitarium and Health Spa, a Seventh-Day Adventist organization that promoted healthful living. The patients were refrained from consuming coffee, meat, and alcohol. Smoking was also prohibited.
In 1898, the brothers tried to make a bread substitute, but the dough turned stale. Even still, they put it through rollers, and served these toasted flakes to patients. This flaked wheat cereal called 'Granose' eventually led to the creation of corn flakes. The business-minded Will was a marketing genius who realized that by adding a bit of sugar, salt and other flavors to the recipe it would become a brilliant breakfast fix for health-conscious people.
Eventually, he split from his elder brother, and started the Battle Creek Toasted Corn Flake company. There was a lawsuit filed over the exclusive rights of this hit-of-the-century product, which was finally won by Will. You can listen to the this interview in whole here if you want to know more.
What are corn flakes made of?
This classic cold cereal is made using white corn grits as the base ingredient. The flakes of corn are toasted, and other things like flavoring, coloring, salt, sugar, nuts, and fruits are added. The many variations in recipes were designed to cater to the tastes of different people.
In manufacturing plants, there are 5 main steps: hydrothermal treatment, pre-drying, flaking, roasting and cooling. First steamed and rotated in a cooker to cook it homogeneously, it is then passed through a roller mill to make it more flexible. A vertical flow of air dries it next, and then the grits are rolled to make flakes. Coating with additional ingredients may be done after this. The crunch is added to the corn flakes by heat roasting them. In the last step, they are cooled on a conveyor belt. Flavors like nuts, chocolate, spices, fruit and others may be added. You can read more about how corn flakes are manufactured here as well.
Are corn flakes gluten-free?
Unfortunately, corn flakes are NOT gluten-free despite the main ingredient is corn, which is supposed to be gluten-free. However, several brands add gluten-containing flavoring or sweetener. There is also the risk of cross-contamination if they are made at a factory that processes wheat, or other gluten-containing foods.
Generally, the most common ingredients to look out for are malt and barley. Check the recipe for any of the following: malted milk, malted syrup, malt flavoring, malt vinegar, malt extract and malted barley flour.
Be sure to have a quick glance at the package for the Gluten-Free Certification Organisation (GFCO)'s mark that certifies the product as fully gluten-free. Labels like "no gluten", "gluten free", "free of gluten", and "without gluten" are your guide to safe food. Also remember to quickly scan for warnings like "may contain traces of gluten." If it is labelled gluten-free, it means as per FDA guidelines that it has been tested and verified to contain less than 20ppm of gluten.
Are Kellogg's Corn Flakes gluten-free?
Found in over 150 countries, the cereal offered by Kellogg's regular corn flakes usually contains is not gluten-free as barley malt extract is used as a flavoring, which is derived from barley, a gluten-free containing whole grain.
The ingredients of the original Kellogg's corn flakes* are milled corn, sugar, salt in quantities 2% or less, and malt extract(!). They are enriched with the following vitamins and minerals like iron, Vit B1, Vit B2, Vit B3, Vit B6, Vit B9, Vit B12 and Vit D3.
Does Kellogg's have a GF brand?
YES!!!! Yhey do have 2 corn flakes in their lineup that are labelled with huge capital letters gluten-free.
The

Kellogg's Gluten-free Corn Flakes

is made from corn, sugar, salt, and enriched with vitamins and minerals.
The

Kellogg's Gluten-free Special K Corn Flakes

, on the other hand, is made from whole grain brown rice, sugar, salt, an emulsifier and is enriched with vitamins and minerals.
Both of them are just as crunchy as the classic versions. However, the availability of these varieties seem to be limited to only certain countries so keep an eye out for them.
Gluten-free Corn Flakes Brands
Here's a list of gluten-free corn flake brands for that quick bite before you head out to work:
Arrowhead Mills' Gluten Free Sprouted Corn Flakes
The ingredients that make this breakfast cereal* include sprouted whole grain corn flour, whole grain white sorghum flour, whole grain brown rice flour, fruit juice concentrate(apple or pear), sea salt, vitamins and minerals. Free from gluten, these corn flakes are delicate, crunchy, with a rich nutty taste to them. With a bowl of milk, these corn flakes make a very yummy meal. And the best part? It is completely organic!
Barbara's Bakery Organic Corn Flakes Cereal (Gluten-free)
This corn flakes* are made with 3 simple ingredients: corn meal, apple juice concentrate and sea salt. Light and crispy in texture, these toasted corn flakes have a mildly sweet taste that makes them a great way to start the day. Do note that although it is manufactured in a factory that also processes wheat, it is verified to contain less than 20ppm gluten.
Envirokidz Organic Frosted Amazon Flakes
Saving macaws one breakfast at a time, this certified gluten-free corn flakes* donates 1% of their sales toward education and conservation! Made at Zero-Waste facilities using only organic products, it contains corn meal, cane sugar and salt. The sweet taste of this cereal is what makes it a big hit with young children. There isn't a need to worry, however, as it has only 8g of sugar (per 30g serving); perfect to avoid sugar highs in kids.
Erewhon Corn Flakes
Attune Foods discontinued its gluten-free corn flakes. You might heard of Erewhon corn flakes, but sadly it is no longer available.
Kashi's Organic Indigo Morning
Kashi is part of Kellogg's and they have a product called Indigo Morning, which is labelled gluten-free. However, as per the comments on Kellogg's website, they are really hard to find. Kashi's official website also no longer lists any gluten-free cereals.
Nature's Path's Fruit Juice Corn Flakes
One of the best-sweetened corn flakes is their Fruit Juice Corn Flakes* made with cornmeal, grapes, sea salt, and pear juice concentrate. It's a burst of sunshine in your bowl, with a wholesome taste and natural sweetness that makes these organic, gluten-free corn flakes absolutely scrumptious! The extra-crunchy corn flakes work excellently as a topping or in breading.
Nature's Path's Golden Turmeric Cereal
This Nature's Path Cereal* is certified gluten-free. It is manufactured from cornmeal, yellow corn flour, honey, turmeric, cinnamon, spices, cane sugar, dried coconut, amaranth, quinoa, sea salt, and vanilla, and cardamom flavoring. Watch the milk turn golden thanks to the "Golden Spice." This mouth-watering breakfast comes in an EnviroBox: eco-friendly packages made from recycled paper and printed with vegetable-based ink. This product is not vegan though because of honey.
Nature's Path's Honey'd Corn Flakes
Honey'd Corn Flakes*has large, thick flakes that are bright, tasty, crunchy, and are gluten-free and fat-free. Entirely organic, the ingredients in it are corn meal, honey, cane sugar and sea salt. Do you have a long day at work? Carry these as a midday snack or as a healthy, sweet pick-me-up. It will give you that extra boost to power through your day. This product is not vegan though because of honey.
Nature's Path's Mesa Sunrise
Infused with Ala Omega-3, these Mesa Sunrise Corn Flakes* are produced from corn meal, corn flour, buckwheat flour, quinoa, amaranth, flax seeds, sea salt and tocopherol. With crispiness that lasts to the last bite, this organic, vegan cereal is available in Eco Pacs. These wholesome cornflakes are a wonderful low-calorie addition to your gluten-free diet.
Nature's Path's Purple Acai Cereal
Turn your milk purple with these Purple Acai Corn Flakes* made from corn meal, quinoa, amaranth, honey, sea salt, black carrot juice concentrate (anthocyanin), blueberry flavoring, and a berry powder blend. Chile's maqui berry, Amazonian acai berries and the African baobab fruit, make a nutritious and flavorful breakfast. These crunchy corn flakes stay firmer for longer in milk, so you'll never have a soggy bowl again!
Nestle's Gluten Free Corn Flakes
These Nestle Corn Flakes* are certified by Coeliac UK. Containing maize, sugar, and enriched with vitamins and minerals, these kosher corn flakes are imported by Amazon from Europe. A light, crispy texture is what brings this goodness in a bowl together. They also offer another version called the GoFree Honey Flakes, made with the same ingredients as the original, but with a sweeter taste from the added honey, molasses and sugar syrup.
There are a myriad of ways to use corn flakes. So let's look beyond the walls of the breakfast bowl to explore and create culinary delights.
Cornflakes make a great replacement for fried onions or bread crumbs because of their sweet, ultra-crunchy taste. Simply put them into a bag, and crush them with a rolling pin to make crumbs. You can finely crush them to make a crispy, gluten-free coating for any breaded dish may there be meat or vegan. You can also top stuffed vegetables like zucchini or mushroom before baking, or sprinkle on your mac and cheese. Really anywhere you would otherwise use breadcrumbs.
You can see gluten-free coating made of corn flakes in our Vegan Fried Chicken recipe (pictured below) or our Vegan Buffalo Chicken Wings recipe.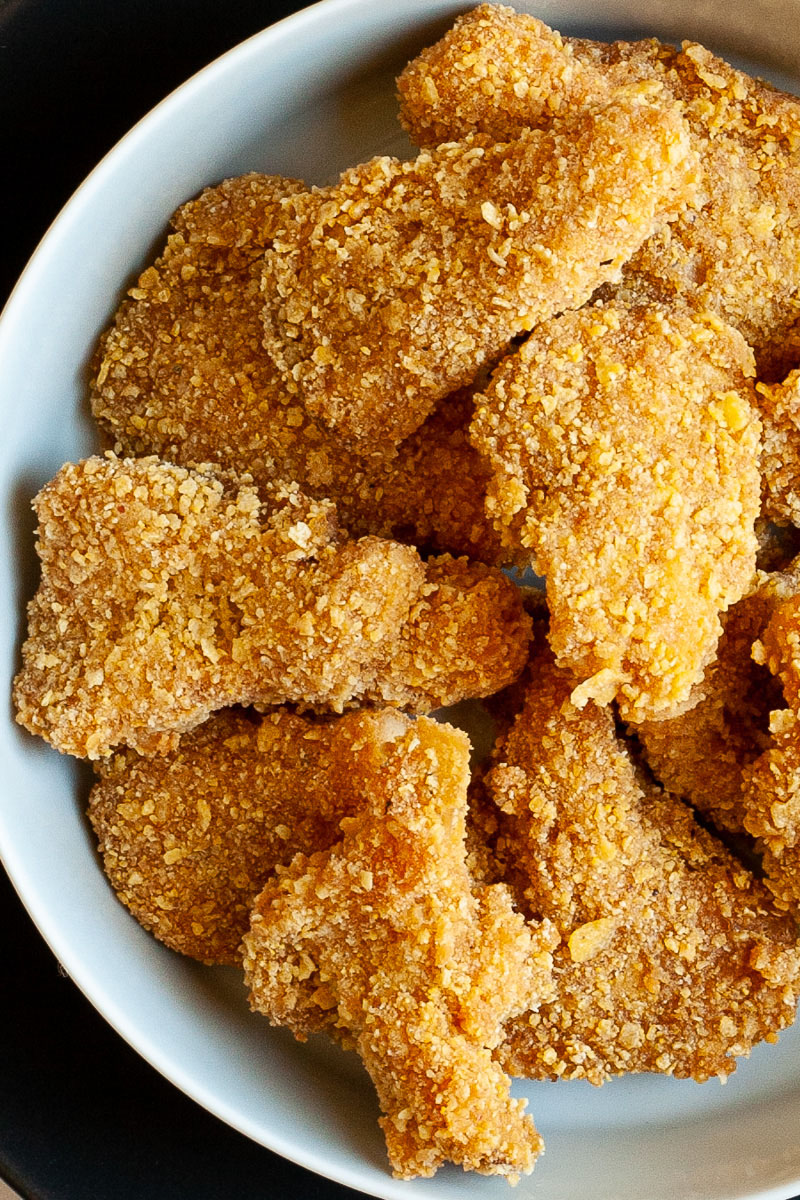 More gluten-free pantry items