Do you use the classic way of flour and milk to thicken your soups? But what happens if you're allergic or looking for dairy-free alternatives or just ran out of your favorite ingredient? We have got you covered with our list of 20 ways in which you can thicken your soups and any liquids with ease.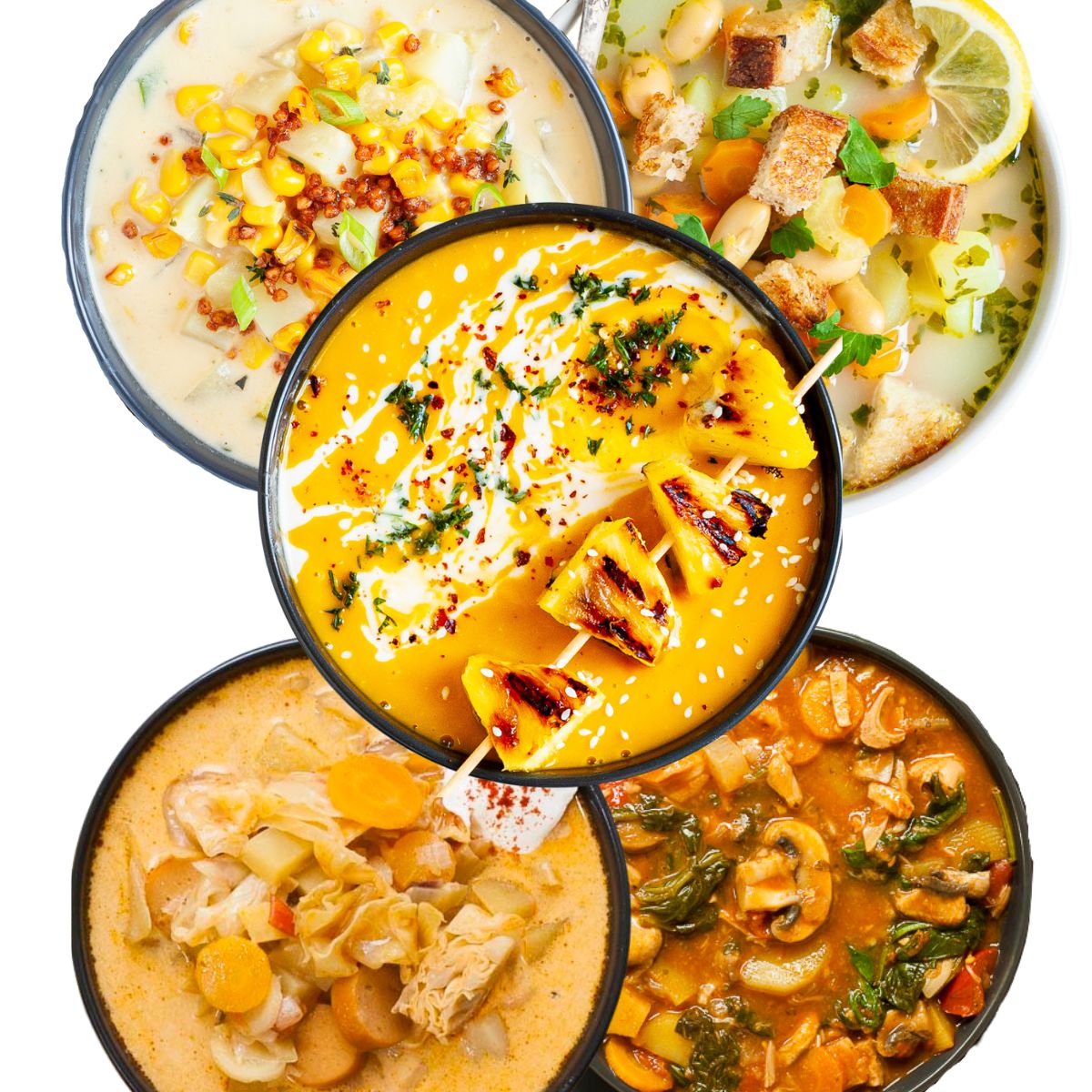 The classic way
The classic way to thicken any soup is the following:
Take a separate small bowl and mix milk, water, or cooking broth with flour to create a slurry.
If you use any dairy products, you need to temper them to avoid clumping. To do that you need to take a bit out of the hot soup and add to it. You need to take as much as to bring the temperate of the slurry closer to the temperate of the soup.
Next, pour it into your soup.
Bring it to a boil until it reaches the desired thickness. It's easy, convenient, and handy.
We also have a list of 30 delicious creamy soup recipes you might like that use various techniques from this article.
Heavy cream or full-fat coconut milk
Another classic way of thickening soup is to add a dash of heavy cream to some warm (and not boiling) soup. This gives your soup some richness and makes it thicker.
When you're looking for a dairy-free alternative, try using canned full-fat or light coconut milk. It works like a charm while imparting a coconut-y taste to your soup at the same time. It doesn't work with all kinds of soups due to the mild coconut flavor, but use it to thicken your curries and sauces with perfect results each time. Our chickpea mushroom curry is a great example of a wholesome creamy curry that we absolutely love!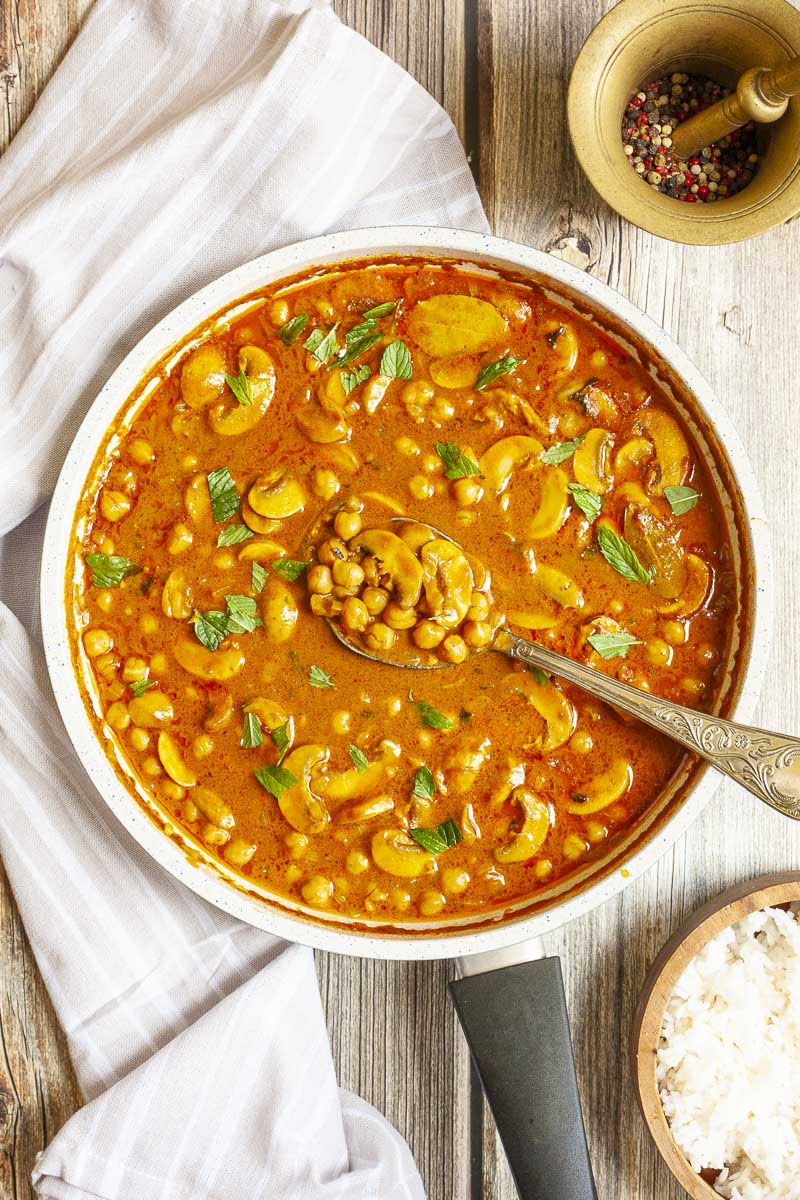 Sour cream, cooking cream, or plain yogurt
Sour cream, cooking cream, or yogurt are some of the most common ingredients that are added to soups to make them thick and filling. Not only do they add to the body of the soup, but they also give it a soft and creamy finish that leaves you wanting more.
Dairy-free and vegan alternatives are also ways in which you can add flavor and character to your soups. Our own recipe for vegan sour cream is a great addition to every soup. We've used it in this cabbage soup with sausages which is a hearty, comfort food to warm you up!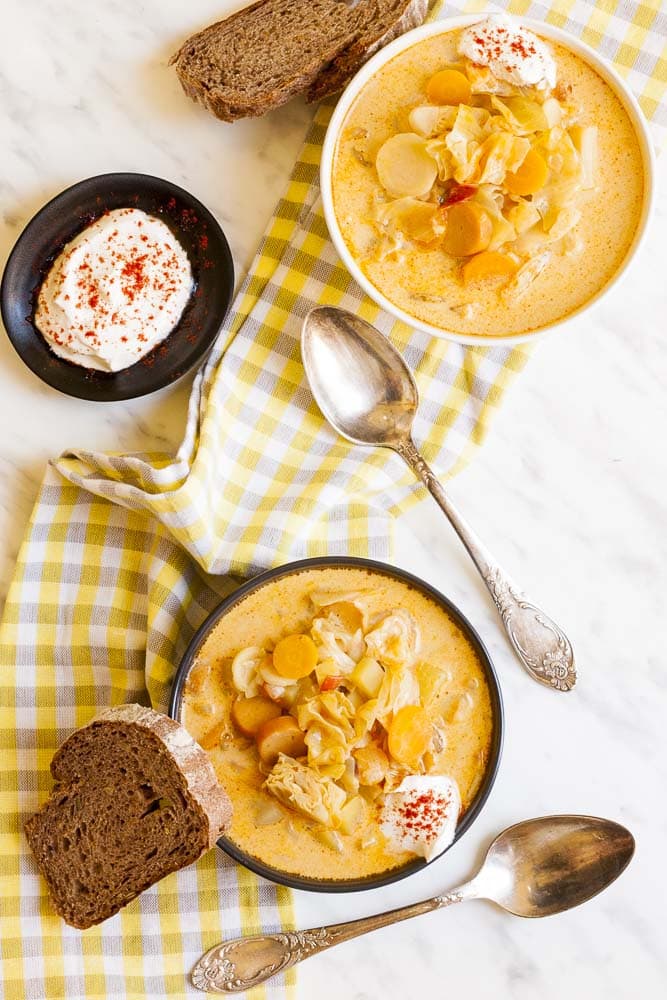 Starch mixed with milk or broth
Cornstarch or any other starch mixed with milk (dairy or non-dairy works just the same) or veggie broth is a great natural way to thicken your soups and stews. You can use whichever you like or is readily available to you.
You will want to create a slurry with cold water in a separate bowl and add it a little at a time. Let your soup simmer for a few minutes, and you will notice that it has already taken on a thick consistency. Just like in our jackfruit stew.
You can also take a quick look at our tapioca starch substitutes for a range of thickening agents that are all ideal additions to soups, desserts, and more!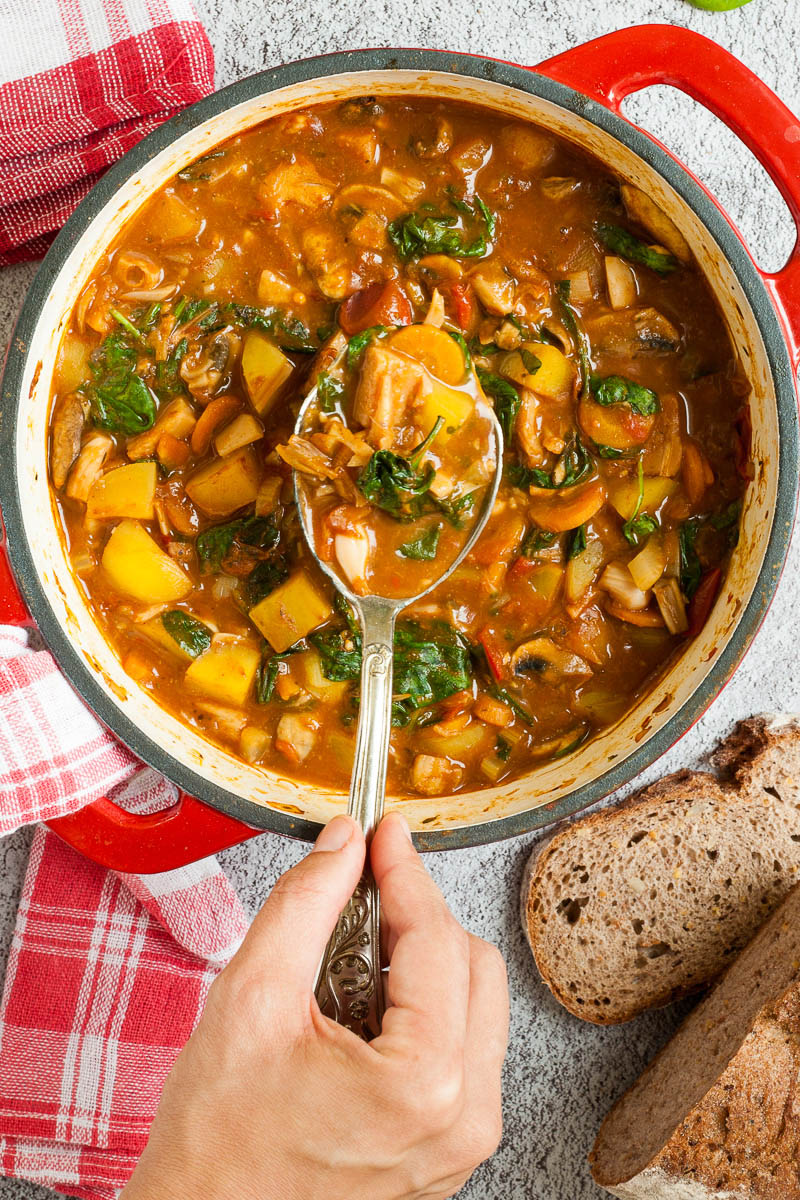 Flours mixed with milk or broth
Flour mixed with milk is the most classic way to thicken soups. Be it all-purpose flour or gluten-free flour as well as dairy-free milk or not, simply mix it well and ensure that there are no lumps. Pour this mix into your simmering soup and within minutes you will see it thicken.
If you use nut milk (like cashew milk) be aware that different ones have different tastes so you need to pick the ones most suitable for your soup.
If you want to use gluten-free flours, we recommend combining them with a bit of starch to make sure the thickening lasts. We usually use rice flour, but without any starch, the soup gets thin when it is reheated later.
Roux
Roux is a mixture of equal parts butter and flour that is used as the base of many sauces. An effective thickening agent, it works wonders with soups and stews of any kind. It is made by stirring flour and melted butter over the stove until the floury taste cooks off.
Traditionally clarified butter and flour are used for this process, but anything from vegetable oil to gluten-free flour work just as well. Simply stir the paste into your pot of soup and simmer.
Our bechamel and onion gravy are two recipes in which we give you a detailed guide on making the easiest roux. And our lemony white bean soup is a delicious roux-based, zesty soup that is easy and light on the palate.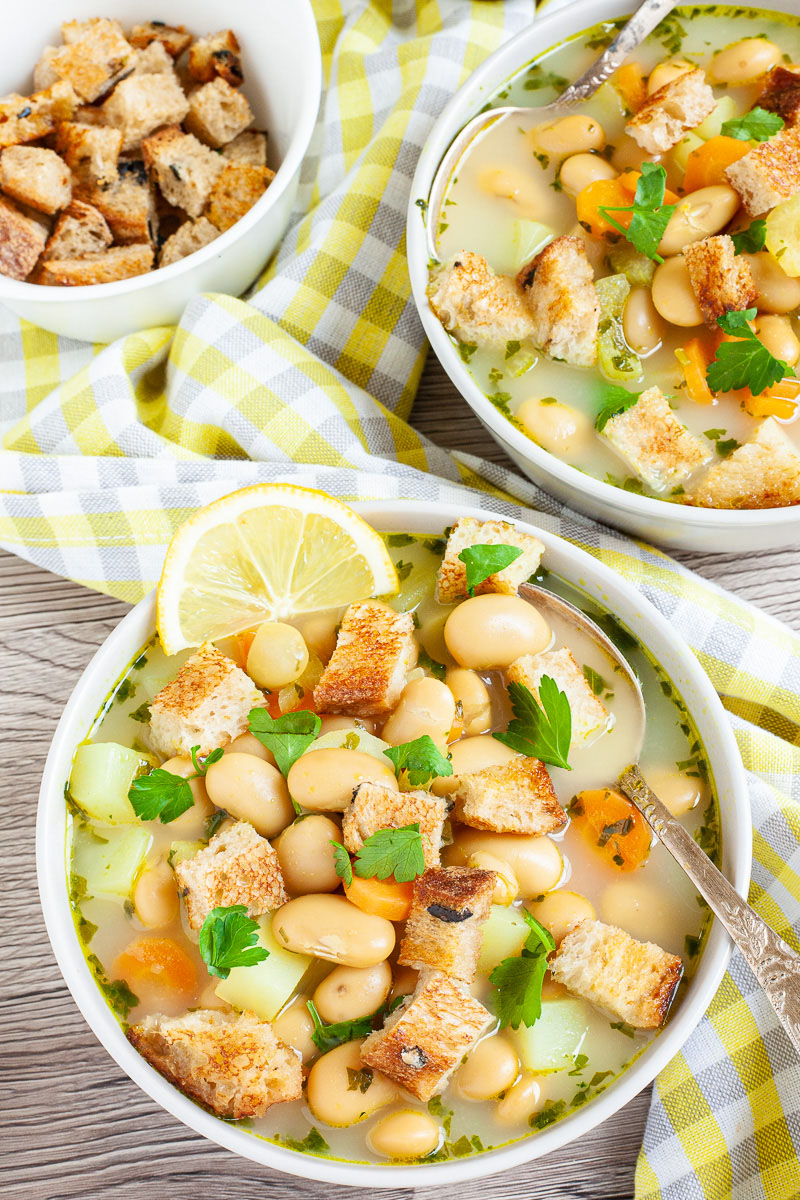 Gelatin, agar agar, xanthan gum, guar gum
Gelatin and agar agar (aka vegan gelatin) are common gelling agents used in desserts. They should not be used in excess in soups and sauces because they could be too strong for these applications. A little goes a long way with these agents, and you only have to stir them into your soup for the magic to happen.
Xanthan gum and guar gum are other thickening agents that are used in gluten-free baking. They are more than enough in their own right to make soup and stew. Again, just a small amount will do the trick.
Potatoes
Potatoes are perhaps one of the most versatile ingredients that we have in our kitchen. Comforting, familiar, and completely accessible, they open a wide avenue of unexplored recipes, tips, and tricks.
Potatoes' starch content makes them a natural thickener and an obvious choice for use in soups. Mashed potatoes, for instance, dissolve into any soup and make it oh-so-creamy with just enough bite to it.
Potatoes are the secret to one of our favorite spinach soup, which is a meal in itself and even finds mention in our ultra-creamy and smooth cauliflower soup. Our best-ever aromatic Hokkaido pumpkin soup uses diced potatoes to achieve a mousse-like consistency that we adore.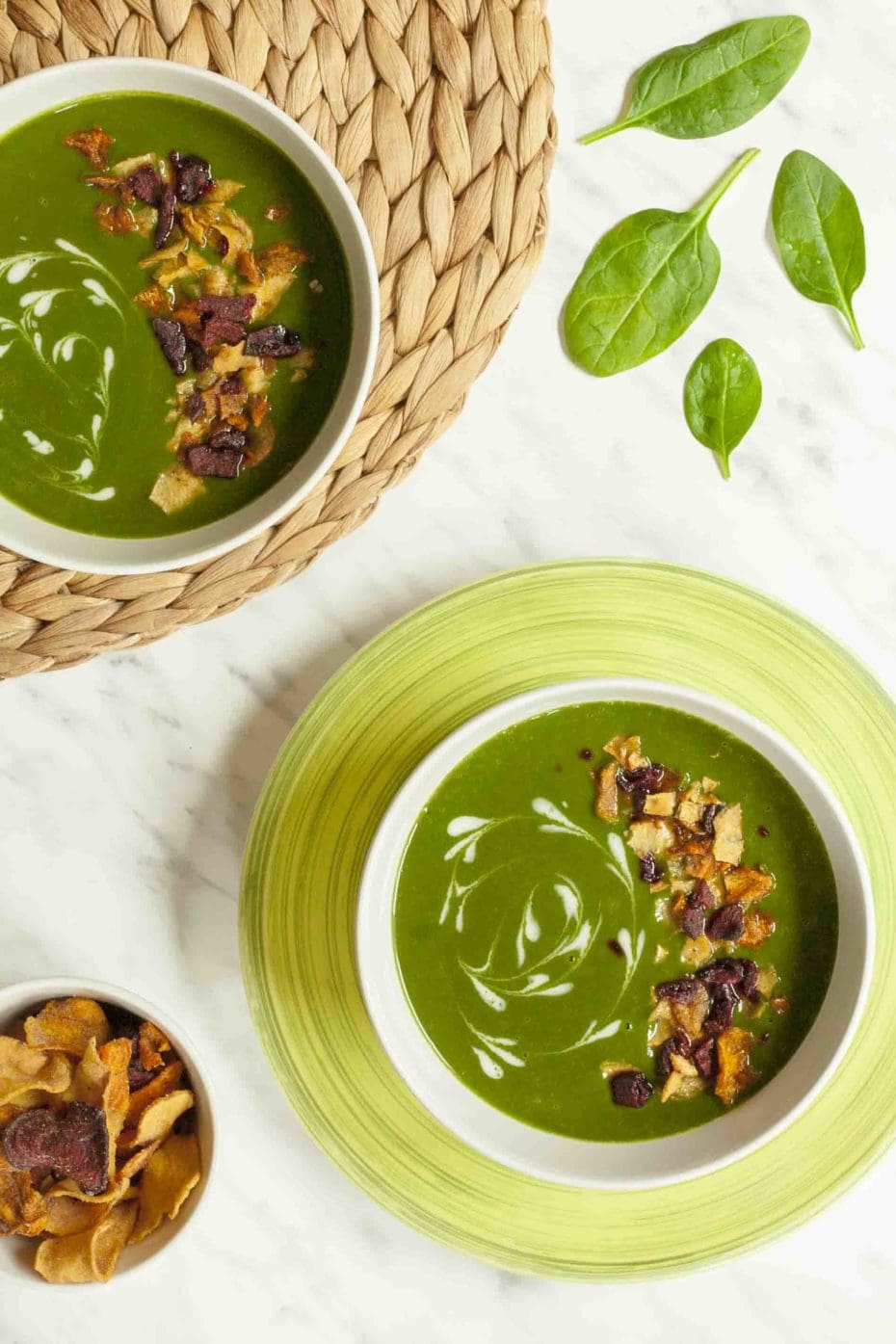 Sweet potatoes or yams
Just like potatoes, sweet potatoes also have the same starchy characteristics but with just a little bit more fiber. It lends a complex sweet and savory flavor to your food, with the same results as normal potatoes.
The sweet potato is the star of our ginger carrot sweet potato soup and once cooked and blended, makes for a thick bowl of velvety soup that is perfect for pairing with charred pineapple sticks.
Another recipe where the versatile vegetable shines is our peppery, thick, and nutrient-loaded roasted broccoli sweet potato soup. And our smoky sweet potato soup heroes this humble produce to make a soup that is a must-try!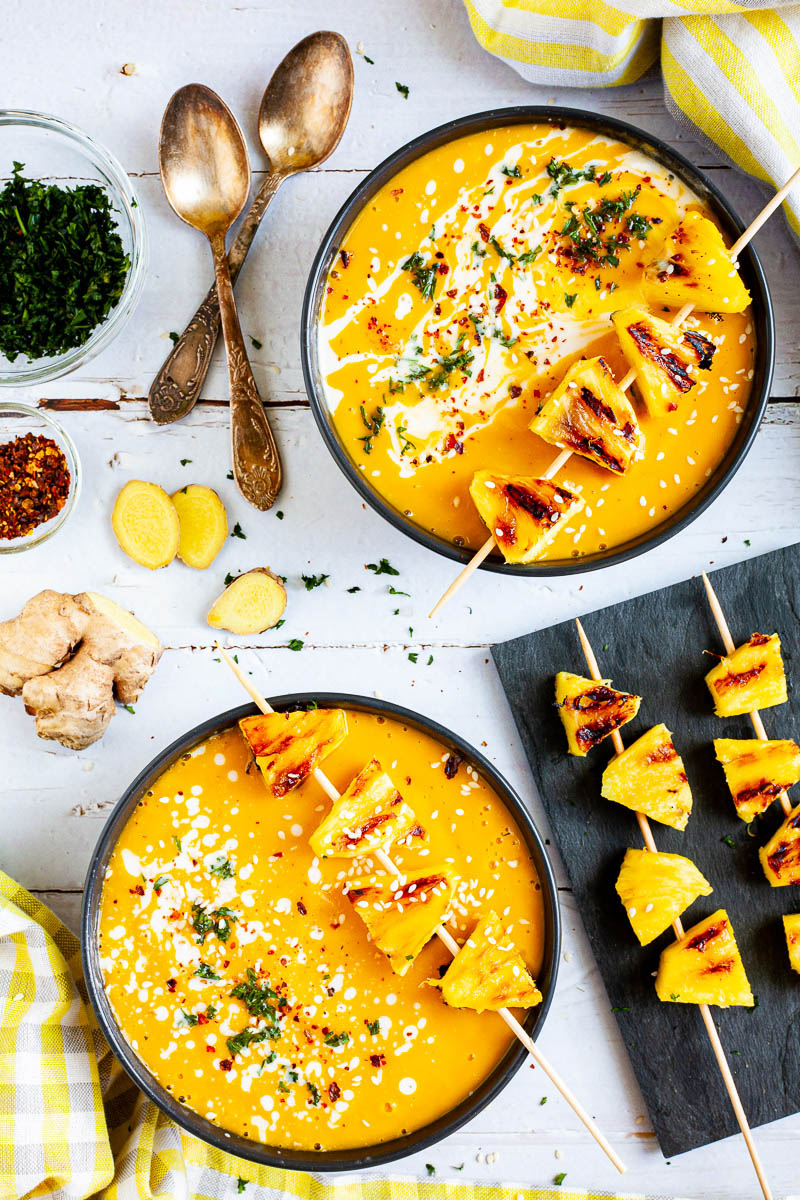 Instant potato flakes
Instant potato flakes are magic, and we, for one, are sold on the idea of an instant thickening agent.
Skip the hassle of making slurries and mashing or dicing vegetables. Just stir in a few instant potato flakes, a spoonful at a time, to your soup on the stove and watch it rapidly thicken before your eyes!
Leftover mashed potatoes
Potatoes are an easy and reliable thickener in every shape, type, and consistency. Whether it's freshly mashed potatoes or leftovers, you can use it in soups to thicken them and add more depth to your dishes.
Using leftover mashed potatoes is a great way to make use of scraps left behind from other meals. Plus, mashed potatoes are extremely accommodating and add a unique flavor to your everyday soup.
We love our mashed potatoes with celery root. It is an interesting take on the classic, and can be easily mixed into a range of soups and broths for a new recipe that will have your friends asking for more!
Pasta
If you're low on resources and have to make do with what you have in the pantry, then there is nothing like good old pasta. Pasta is starchy and glutinous – perfect for thickening any soup.
All you will need to do is cook it with your soup so that its starch content automatically thickens the soup. Alternatively, you can also use leftover or overcooked pasta by blending it into the soup.
If you ever made minestrone soup, you might have realized that even if you cook the pasta separately, the next day the soup is thicker. It also happens to leftover pasta dishes. If you store them with the sauce on, the pasta might get extra mushy and the sauce "disappears".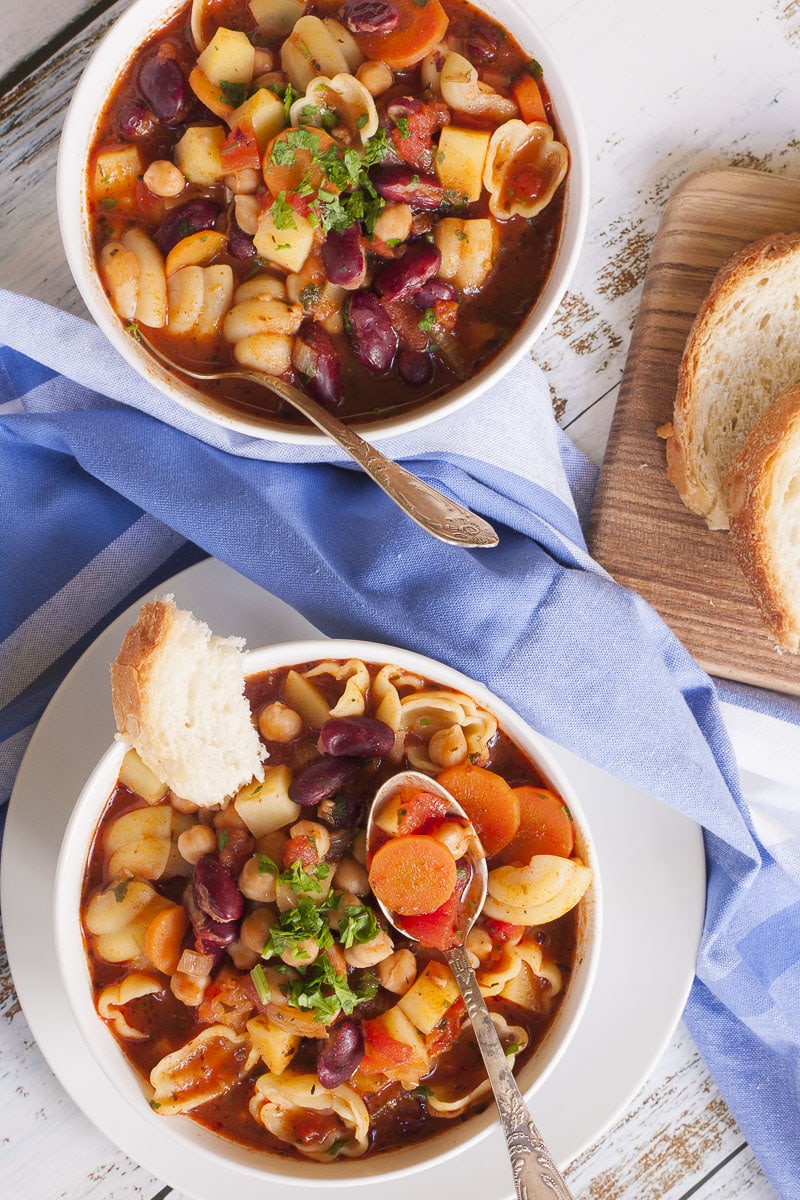 Rice, millet, and other grains
Rice and most other grains are all carbs, which are typically starchy. Their high starch content makes them a good thickening agent that can be effortlessly used in soups and more. For rice and most other grains, the process is the same as that of using pasta. Cooking the grains down with the soup will help in releasing them and making the soup thick.
But what do you do with the leftover rice? Just let it cook further with the soup and blend it in. If you're thinking of using rolled oats, make sure you soak them before cooking them down.
In the below picture you see our vegan bean chili with millet. We used millet to make it more hearty and filling as well as to have some chunky texture in place of ground beef. But millet also helped to make this chili thick.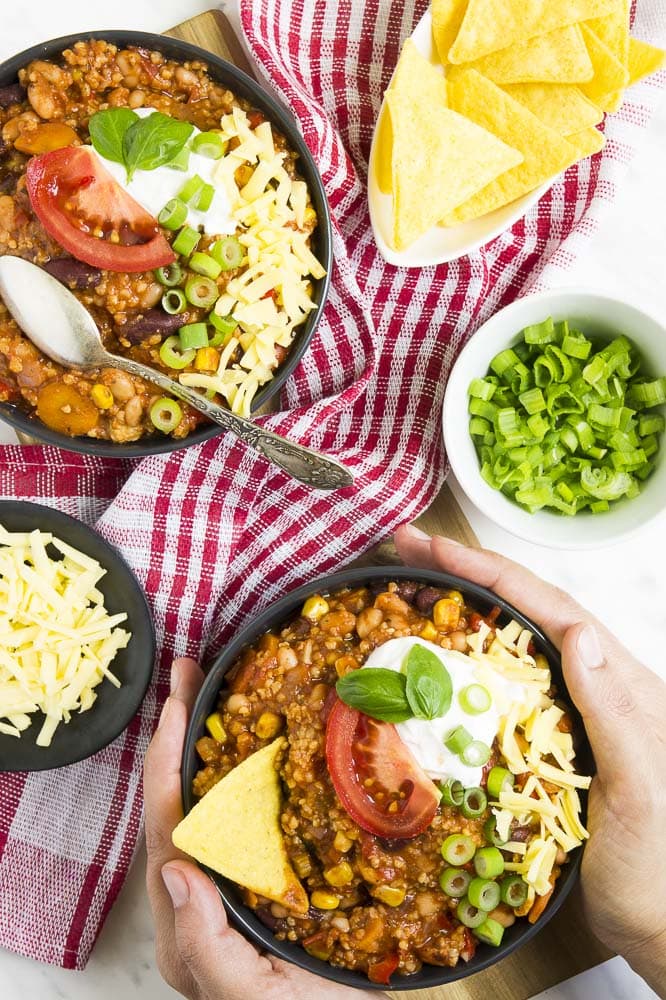 Pureed vegetables
A super easy method that ensures the smoothest soup you've ever eaten involves adding in pureed veggies (even if they are not starchy vegetables). All you need to do is to take out some from your soup and blend them until completely fine, without any bits and pieces. Add this thick blend back into the pot with the rest of the veggies and soup and let it simmer. That's it! Your soup will be ready in no time and with the least effort possible.
Our beloved cream of mushroom soup uses a technique similar which we highly recommend.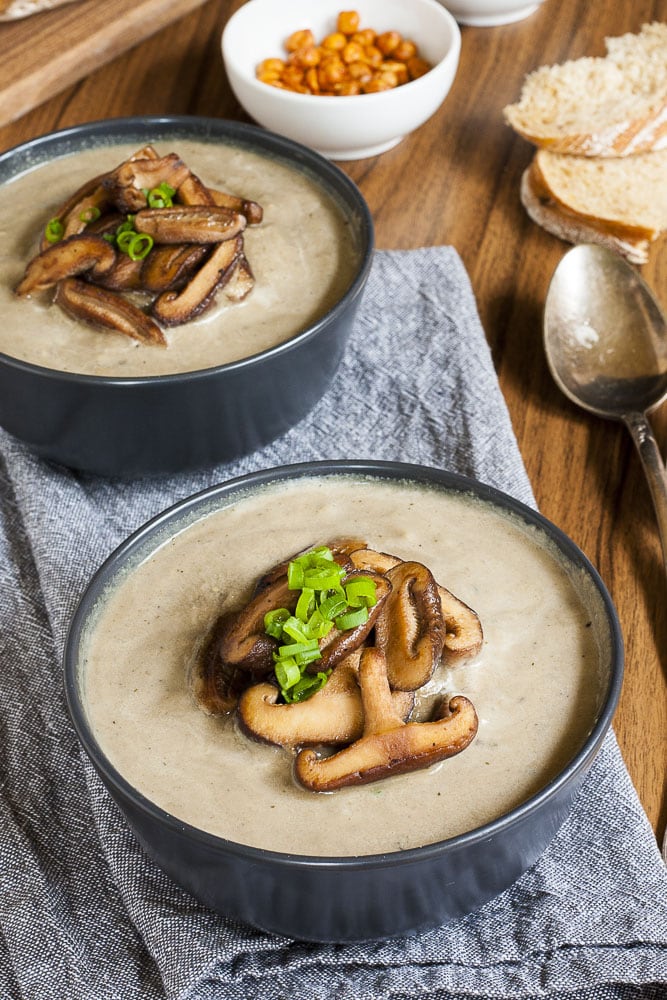 Nuts and seeds
Nuts and seeds (especially cashews) are a welcome change to the usual list of thickeners. They have a separate rich flavor profile that adds texture to any dish, and pairs extremely well with savory items.
Cashew cream is a common substitute for heavy cream or other dairy and has a mild taste that can also be masked with vegetables. We use it in our vegan corn chowder which is oil-free and widely liked.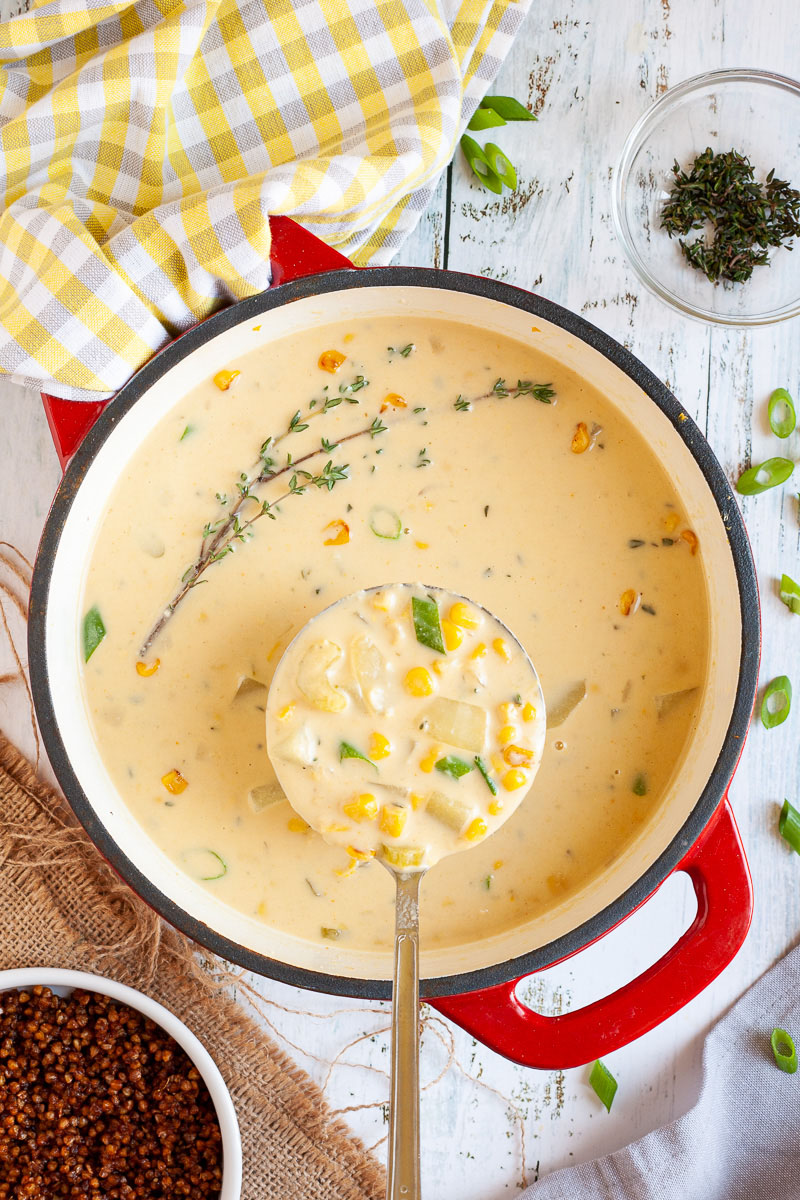 Legumes
Using legumes to thicken soup uses a similar process as other veggies do. Canned or raw, you will have to purée them till they are smooth, add them to the soup and cook it down till the soup thickens. You can also choose to cook the beans or lentils with the soup and finally blend everything together with a stick blender directly in the pan.
Beans can add more substance to the soup and are a great addition if you like them. Some have a more distinct taste, while chickpeas and cannellini beans have a neutral taste. But any beans that you like will do the job.
This vegetable pasta sauce is a superb mix of fresh veggies and chickpeas that together make a delicious, thick sauce.
Stale bread / Breadcrumbs
Stale bread, believe it or not, is also used to thicken soups. The method is simple and applies to any bread. You can tear it into smaller pieces to make things easier, or go ahead as is. That is how gazpacho soups are thickened actually. They are raw soups and as no heat is involved none of the above options is suitable here.
Soak the bread in the soup for a few seconds or until soft. Take the slice of bread or breadcrumbs out and blend it into a paste. Add this paste to the soup and let it all simmer for a few minutes. It is always preferred to use mild bread so that its flavor can be masked. But if you want a fresh twist, you can also choose to use flavored bread. The choice is entirely yours.
If you eat gluten-free, be sure to use gluten-free panko or any of the other gluten-free breadcrumbs substitutes.
Soft silken tofu
Silken tofu is readily available in stores and easy to use. Blend it into a fine purée and use it to thicken a range of soups. If you can't get your hands on silken, you can make do with firm tofu. Just make sure to puree it before adding it to the soup.
If you follow a gluten-free diet, be sure to choose unflavored gluten-free tofu.
Shredded cheese
Grated and shredded dairy or dairy-free cheese is a good binding agent that brings everything together. In sauces and soups, it works extra well and acts as a thickener too.
Eggs
Eggs are a traditional thickening agent. It is required whole eggs or yolks to be beaten and then slowly, and in a consistent stream, whisked into hot soup by tempering it. The soup is then left to cook further and thicken. It is not a vegan option though and vegan egg substitutes may work differently.
Beurre Manié
First, what is a beurre manié?
Now the name may sound fancy, but beurre manié is almost like a reverse-roux if you will. It is a mix of equal parts of flour and butter that are kneaded together to form a dough.
It is voluminous and buttery and often used to thicken soups and sauces. Whisk it into your soup until dissolved, and much like your usual roux, it'll thicken in no time!
Natural thickeners
Among the varieties that we have mentioned
potatoes
sweet potatoes
pureed veggies
rice and other grains
nuts and seeds
beans and legumes are the most natural thickeners
Some of these have an extremely high starch content that gets activated when boiled, and quickly thickens your soups and sauces. They are also items that are easily available at home or at your nearest store, and are completely hassle-free and guilt-free!
We recommend using a good food processor or a high-power blender to ensure that you end up with the smoothest consistency possible. See below an example using our Vitamix*.
Gluten-free thickeners
Tapioca starch, potato starch and flakes, arrowroot, gluten-free flours, and all the natural sweeteners from above are some of the gluten-free alternatives that you can explore while looking for a thickening agent.
Xanthan gum and guar gum are also gluten-free options but are very strong and categorized as powerful thickeners.
Regardless of what you're making, you will find that all the gluten-free options mentioned above will do excellently.
More ingredient guides
We have been writing more and more ingredient guides. We explain in detail how to prepare them, how to cook with them, and what to serve with them. Here are some of the other articles you might be interested in:
Classic Way to Thicken Any Soup
While there are 20 ways to thicken any soup listed in this article, this method is the most popular and well-known of them all.
Ingredients
2

Tbsp

Flour

all-purpose or gluten-free blend

1

cup

Water

or milk or broth
EXCLUSIVE 5-ingredient recipes for busy home cooks that are ready in 15 minutes!
Check out our Express Vegan Cookbook!
Instructions
1 portion of slurry will thicken a soup which is approx. 6 cups / 50 fl. oz / 1.5 litres.

Take a separate small bowl and mix

1

cup of milk, water, or broth with

2

Tablespoons of flour to create a slurry.

If you use any dairy products, you need to temper them to avoid clumping. To do that you need to take a bit out of the hot soup and add to it. You need to take as much as to bring the temperature of the slurry closer to the temperature of the soup.

When it is whisked properly, add it into the soup.

Bring it to a boil until it reaches the desired thickness. It's easy, convenient, and handy.
Notes
Please note that the ratio of how to thicken a soup with flour largely depends on what kind of vegetables are in the soup. If you have a lot of starchy vegetables like potatoes than your soup may be too thick in the end. If that happens, don't worry. Making something thinner is always easier than making something thicker.
Nutrition
Nutrition Facts
Classic Way to Thicken Any Soup
Amount Per Serving (1 portion)
Calories 55
Calories from Fat 1
% Daily Value*
Fat 0.1g0%
Monounsaturated Fat 0.01g
Sodium 12mg1%
Potassium 16mg0%
Carbohydrates 11g4%
Protein 2g4%
Calcium 9mg1%
Iron 1mg6%
* Percent Daily Values are based on a 2000 calorie diet.