We've put together THE ULTIMATE LIST of gluten-free flours, starches, powders, and nut meals. Yes, there are more than 90 different types. Some of them you might already know and use, but some of them will be completely new to you. So, let's dive in and see what kind of flours are gluten-free?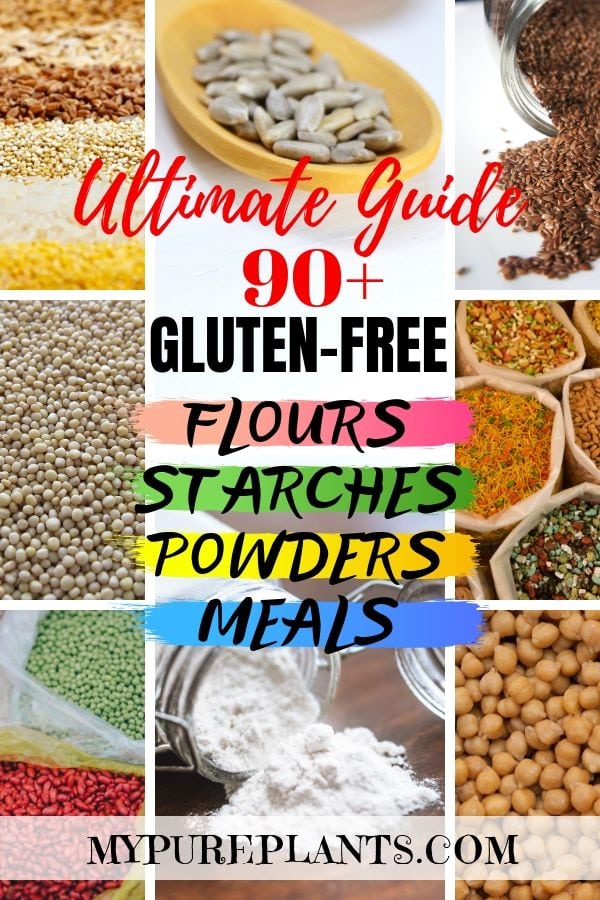 Has it ever happened that you had no idea what to do with a flour you have in hand? What the heck is buckwheat? Is it really wheat? Or sorghum flour? Never heard of it? Have you searched all over Google and Pinterest, but you just can't find a complete list of gluten-free flours where you can see all the flours there is to find? Well, the good news is. This is the gluten-free flours list for you!!! As this guide contains more than 90 different kinds.
What kind of flour is gluten-free?
Gluten is a protein found in grains like wheat, rye, barley and spelt. Eating gluten-containing grains can cause a lot of people serious health issue, like me. You can read my story here or you can read more about Why is gluten bad for some people? If you do need to eat gluten-free, there is only this 4 grains and their flours that you need to cross off your list.
So the good news is that if we were to list all whole grains, surprisingly (or not) most of them will end up being gluten-free. Awesome, right? You don't need to feel limited, you need to feel liberated as you will open your doors to so many different grains and other non-gluten-containing ingredients to cook and bake with.
There is a wide variety of gluten-free whole grains out there, which most of us don't use. The main reason is that wheat was the first domesticated crop, so we got used to cooking and baking with it. You can read more about its origin and history in this FAO research paper.
Before you need any further, a quick pit stop and lesson 101 about cross-contamination. If your home is new to gluten-free cooking and baking, or not your whole family needs to eat gluten-free, you should read Sharon top 4 tips to prevent cross-contamination in your kitchen. Sadly, cross-contamination can spoil a perfectly good gluten-free ingredient.
The Ultimate Gluten-free Flours List
Are you ready to see the list of more than 90 gluten-free flours? We collected ALL gluten-free flours we could think of. We have been cooking and baking gluten-free for a long time now and tried many different ones. If we don't, there is a fellow blogger who helped us out and gave you a recipe.
Whole grain gluten-free flours
Grain-like gluten-free flours
Gluten-free starches
Nut flours and nut meals
Seed flours
Legume flours (beans and lentils)
Fruit and vegetable powders
The list of whole-grain gluten-free flours
The list of grain-like gluten-free flours
Technically these non-cereal grain flours are not made of grain, but they behave like one. They are highly nutritious, but usually rather expensive. These flours – in combination with other gluten-free flours can give a nutritional boost to any recipe. I found this research paper quite interesting about pseudocereals.
The list of gluten-free starches
Starches (cornstarch, tapioca starch, arrowroot starch, and potato starch) are PARAMOUNT in gluten-free baking, as they make everything better. They also act as a FAIL-SAFE as they can fix almost any problems. Let me tell you some examples:
Is the soup, stew, Pot Roast or Bechamel sauce not thick enough? Add some starch.
Is the Custard too soft and runny? The starch was not enough.
Are the veggie burgers not sticking together? Add some starch.
Can't get the pancake mix to work? Add some starch.
Is the pie crust too crumbly? Probably, the starch was not enough.
How to use starches in gluten-free baking?
The most important thing you need to know about starches is that they need HEAT to activate. Tapioca starch needs the lowest temperature, and cornstarch the highest. They will have also different thickening powers and features. Here is a complete guide to the Best Tapioca Flour Substitutes including when and how to use each of them. And yes, tapioca flour is the same as tapioca starch.
Talking about using starches in general. If I am making Gnocchi, or Pizza Crust, or Pie Crust or veggie patties, like these Mushroom Meatballs I usually work with a soft dough as it will harden and get nice and crispy once the starch in it is activated in the oven or on the stove top. I don't put much flour in their mix, just a bit of starch to get the required result.
The list of nut flours and nut meals
Nut flours work perfectly not only in gluten-free baking but in grain-free (paleo) baking as well. They are full of nutrients, minerals, and vitamins. Wanna guess which nut has the highest protein-content? ……Peanuts (7.3 g per 1-oz serving, not per 100g like grains). You can read more about the health benefits of nuts over at Healthline.
Which nut flour to choose?
If a recipe is calling for a nut flour, you can choose any nut flour except coconut flour. Coconut flour is special as it absorbs moisture a little too well. You need to adjust your liquid ingredients if you substitute any flour for coconut flour.
Acorn / Oaknut Flour
Almond Flour
Cashew Flour
Chestnut Flour
Coconut Flour
Hazelnut Flour
Macadamia Flour
Peanut Flour
Pecan Flour
Pistachio Flour
Tiger Nut Flour
Walnut Flour
Difference between nut flour, nut meal, and ground nuts
Nut flour is finer, while ground nuts or nut meal is coarser. Recipes are using the words ground nuts and nut meal interchangeably though, but they are the same. If you buy ground nut or nut meal, make sure to check the packaging to see how coarse it is as that may vary.
In the case of almonds though there is a larger difference. Almond flour is made of blanched almonds, while the almond meal is usually almonds ground with its brown skin on.
Making nut flour at home?
You only need a good and strong blender, like a Vitamix*. Making nut flour (except coconut flour) is easy. You need to blend the nuts for approx. 30-40 seconds (not too much longer as the nuts might turn into nut butter) and sift the nut meal through a flour sifter* or a fine mesh sieve* to get as close to flour consistency as you wish. If it is not fine enough, you can always use it as a nut meal. 🙂
The list of seed flours
Seed flours are another category of gluten-free flours. They work very similar to nut flours, so people with a nut allergy can enjoy delicious nut-free dishes. Seed flours are perfect for gluten-free baking, but they are also important staples both in the paleo and in the keto diet, where grains are not allowed.
Making seed flour at home?
You only need a good and strong blender. Making seed flour can easy. You need to blend flax, sesame, pumpkin or sunflower for approx. 30-40 seconds (not too much longer as the seeds might turn into tahini or seed butter) and sift the meal through a flour sifter* or a fine mesh sieve* to get as close to flour consistency as you wish. If it is not fine enough, you can always use it as ground seeds 🙂
The list of bean and lentil flours
All bean and lentils flours are made from uncooked dried legumes ground into a fine powder. If you have a high power blender or a mill, you can easily make any bean or lentil flour at home. As an added bonus, all flours made of legumes are highly nutritious as they keep all the protein, mineral and vitamin even after they are milled.
Adzuki Bean Flour
Black Bean Flour
Black Eyed Pea Flour
Black Matpe Bean Flour
Chickpea or Garbanzo Bean Flour or Gram Flour or Besan – It is widely used in India. Just think of the most popular ones like pakora or dosa (aka crepe) or roti (aka flatbread). Chickpea flour* is also very popular in vegan recipes as you can make great scrambled eggs, Vegan Frittata, crepe, pizza crust, pasta, brownies – literally everything.
Fava Bean Flour
Green Pea Flour
Green Lentil Flour
Kidney Bean Flour
Lima Bean Flour
Mung Bean Flour
Navy Bean Flour
Pinto Bean Flour
Red Lentil Flour
Soybean Flour
Yellow Split Pea Flour
White Bean Flour
The list of fruit powders
Fruit flours or rather fruit powders are very similar to cocoa powder. They are also very fine and elevate the flavors of your baking. I use them sparingly, just as I would use cocoa powder. If I make a blueberry muffin, I would add some blueberry powder to increase the blueberry taste and give the muffin a nice purple-ish color. Or if I make banana bread or a vegan banana pancake, I would add some green banana flour for an additional flavor boost. Which one would you try from the below list?
The list of vegetable powders
Gluten-free vegetable powders are here to enhance your savory dishes. You can add them to any pasta sauce, soups, stews to highlight the flavors of the veggies in there. Ssssshhh….. they are also perfect to turn a bit unripe veggies to taste better while cooking.
Other gluten-free baking essentials
More gluten-free resources