If you are looking for a creamy Ginger Carrot Sweet Potato Soup, take a look it this vibrant orange, spicy, but sweet cream soup. You can make it within 30 minutes following a couple of simple steps. We love to serve it with some charred pineapple skewers.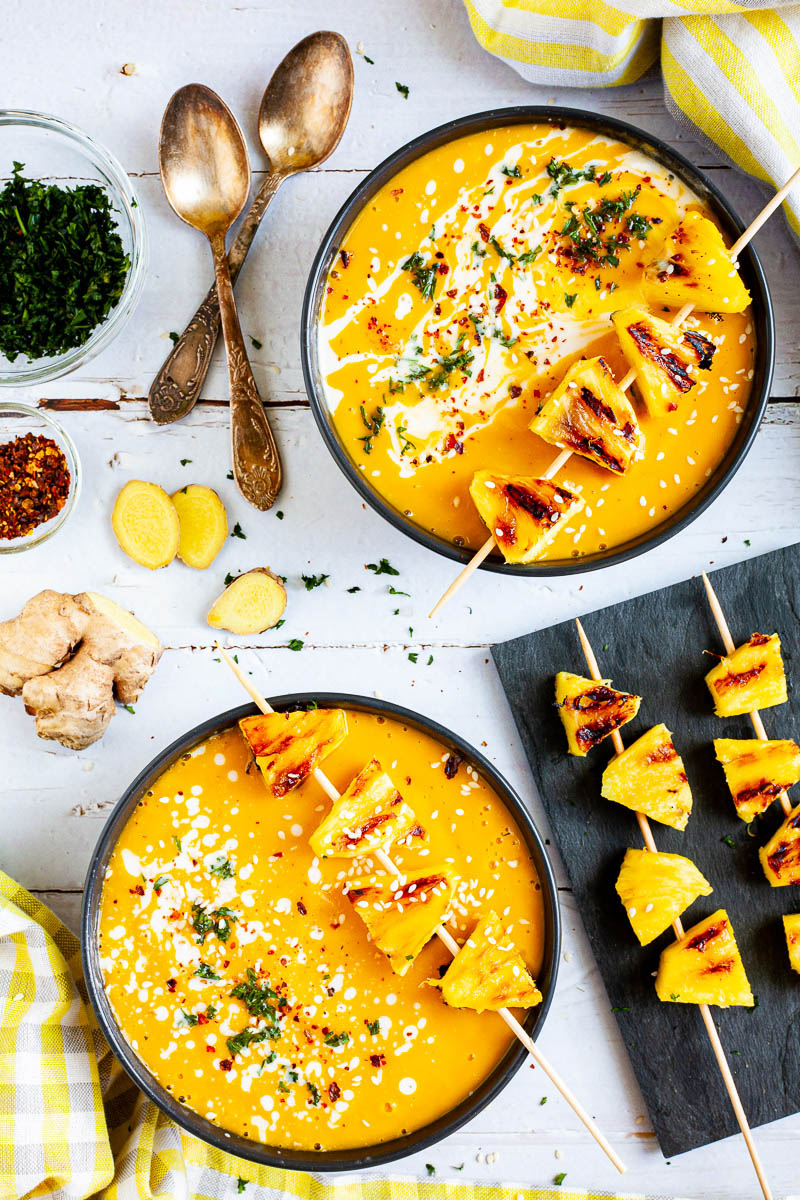 We love a creamy veggie soup like this Hokkaido Pumpkin Cream Soup, or this Vegan Cream of Mushroom Soup or this Vegan Cauliflower Soup. Check out our Vegan Soups recipe gallery from more inspiration or find your inspiration among these 30 Deliciously Creamy Vegan Soups.
Ingredients
As the name suggests carrots and sweet potatoes are the stars of this soup while ginger will set the tone. However, there are a handful of ingredients you still need to make sure that you have a well rounded creamy soup at the end.
Orange sweet potatoes – you can use white or purple, but be prepared for the color change. If you use white the orange color will not as vibrant as on the photos. If you use purple then you will end up with a kind of light burgundy color.
Carrots – any carrots will do. The small fresh ones tend to taste sweeter even compared to baby carrots which are in fact only rounded and polished carrot pieces.
Onion – you can use shallots or brown onion
Garlic cloves
Ginger – the sweetness of the carrots and the sweet potatoes needs to be balanced with something to make it a savory dish at the end. And ginger is the perfect candidate.
Vegetable broth
Smoked paprika powder
Chili flakes (optional)
Why don't you need any thickener?
If you are making a soup recipe, you may need some kind of flour/starch and cream combination to make it rich and creamy. However, in this soup we take advantage of the fact that sweet potatoes are high in fiber and 53% of the carbs is actually starch. This means that your soup will be thick after blending without any additional ingredients. In our Creamy Vegan Soups article, we listed 10 ways to make any soup creamy and thick. And adding potatoes is one of that.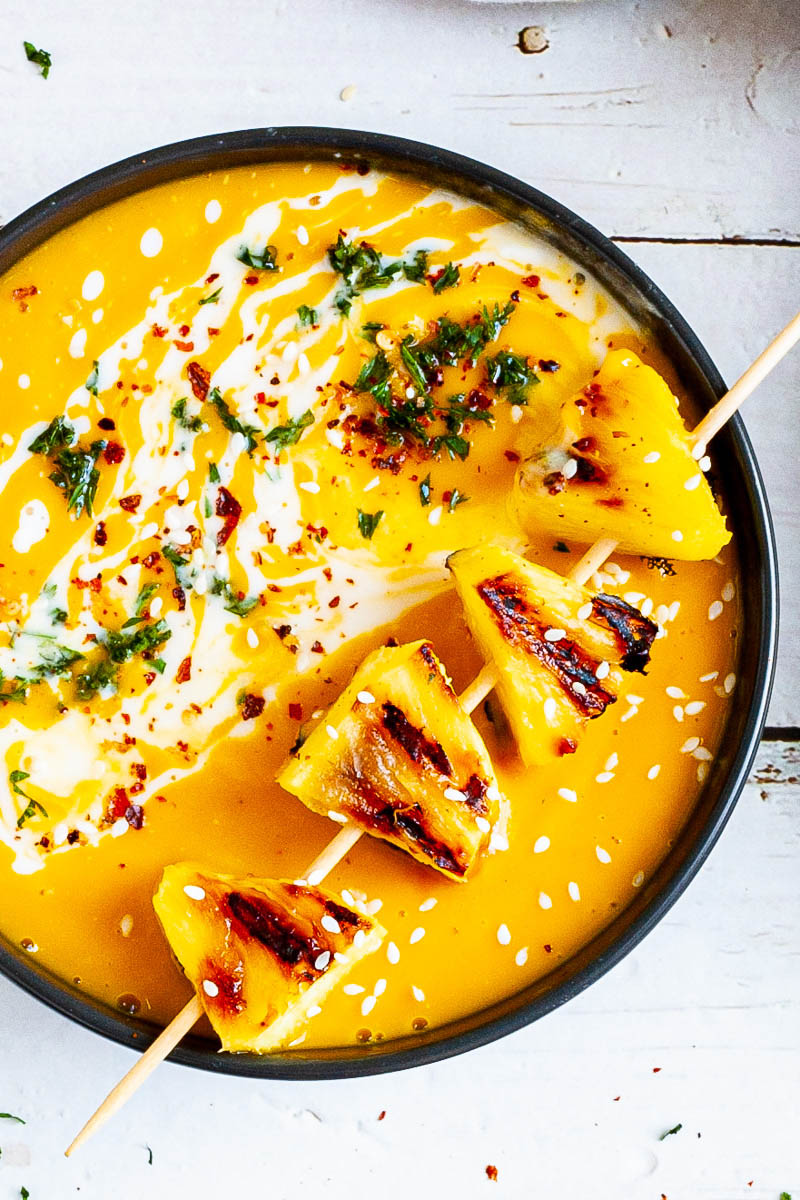 How to make Ginger Carrot Sweet Potato Soup?
Prepare the veggies
Wash, peel and dice sweet potatoes.
Wash, peel and slice carrots.
Peel and chop onion and garlic.
Peel and finely chop ginger. You can also use a simple lemon zester*, or a rotating ginger grater* if you cook with fresh ginger a lot.
Cook the soup
Take a large pot or a Dutch oven and heat it over medium heat. Add olive oil and chopped onion, garlic, and ginger. Sauté them for 2-3 minutes.
Add diced sweet potatoes and carrots.
Add spices (smoked paprika powder, salt, and black pepper). We usually add chili flakes only right before serving so that we can taste the soup without it first.
Finally add the vegetable broth and simmer until vegetables are soft and tender. No need to cover it with a lid. It will usually take 15-20 minutes depending on how small or large you have chopped the veggies.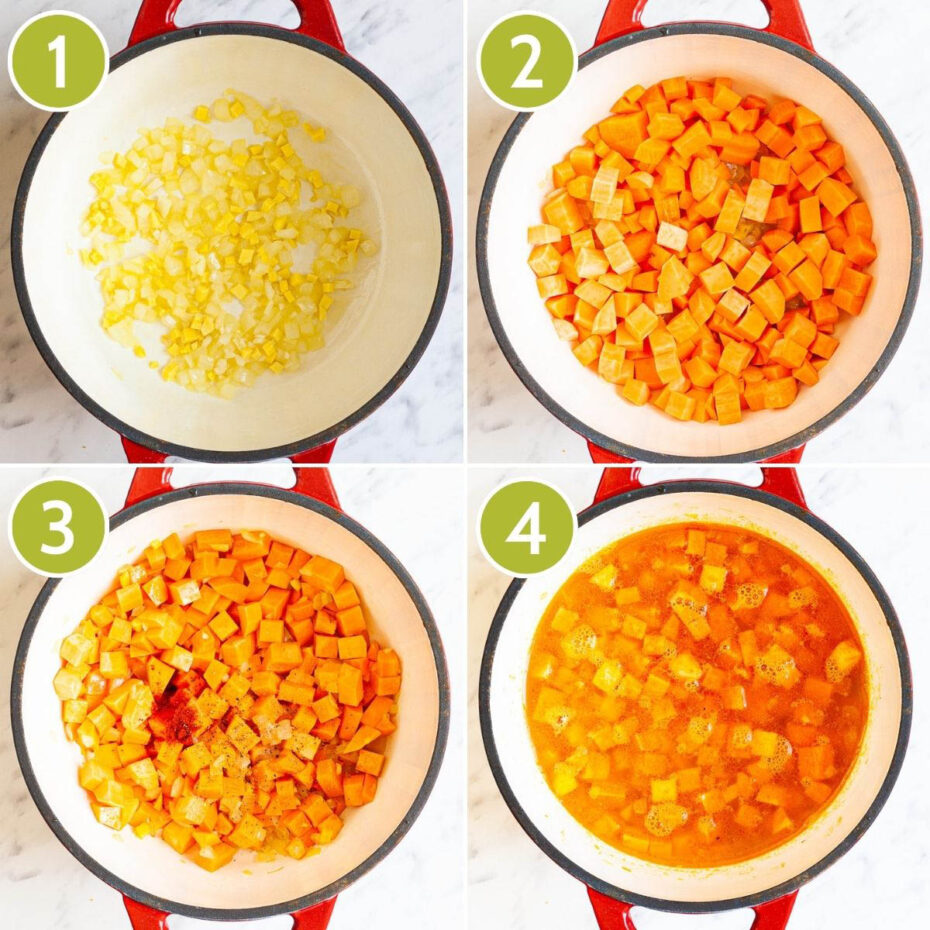 Blend it until creamy
When your soup is ready, the final step is to turn it into a cream soup. Take your blender and pour in the soup. If according to the manufacturer of your blender you should avoid hot liquid, wait a bit to cool it down before blending.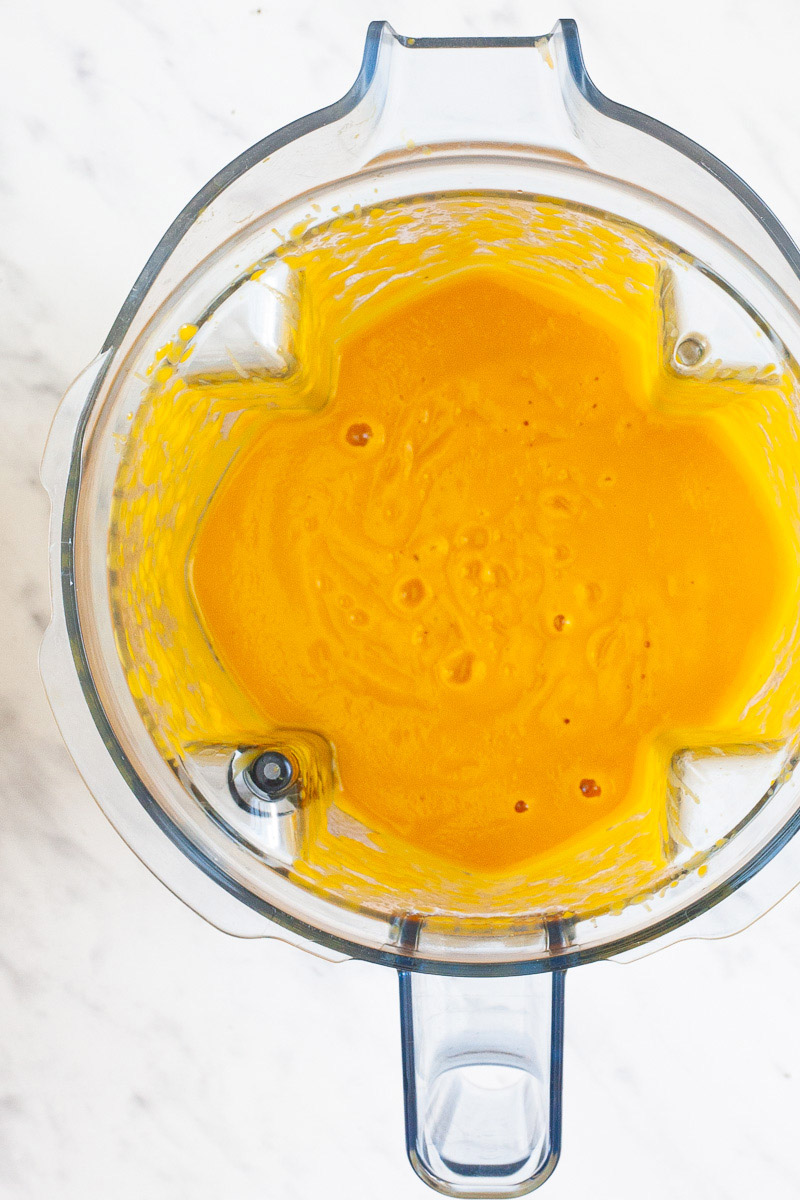 Top tips to make this creamy soup perfectly
Chop vegetables evenly and small – The smaller you cut the veggies, the shorter will be the cooking time.
Vitamix vs Regular Blender – You can certainly use a hand blender (aka immersion blender), a food processor, or a regular blender. They all make a creamy sauce. However, if you need this sauce to be extra smooth without a single little piece to find (just like in the pictures), we recommend using a high powered blender like Vitamix*.
What to serve with a Carrot Sweet Potato Soup?
We definitely have some ideas for you to try. Veggie balls like Eggplant Meatballs, Chickpea Meatballs, Mushroom Meatballs, IKEA Veggie Balls or the Meatiest Vegan Meatballs are always a good choice for creamy soups. It adds a much needed extra protein, not to mention, it turns the meal into a complete main course.
If you are looking for topping ideas, here are our favorites:
breadsticks (I like these Schar gluten-free breadsticks*)
croutons or crackers
seeds, chopped nuts or trail mix
chopped herbs like thyme and cilantro
vegan parmesan or nutritional yeast
canned legumes (any beans or lentils) or even better something like crispy baked chickpeas for added protein
However, to make this soup extra spectacular, we are opted to grill some pineapple wedges on a grill pan. They go perfectly together with this spicy gingery carrot and sweet potato soup.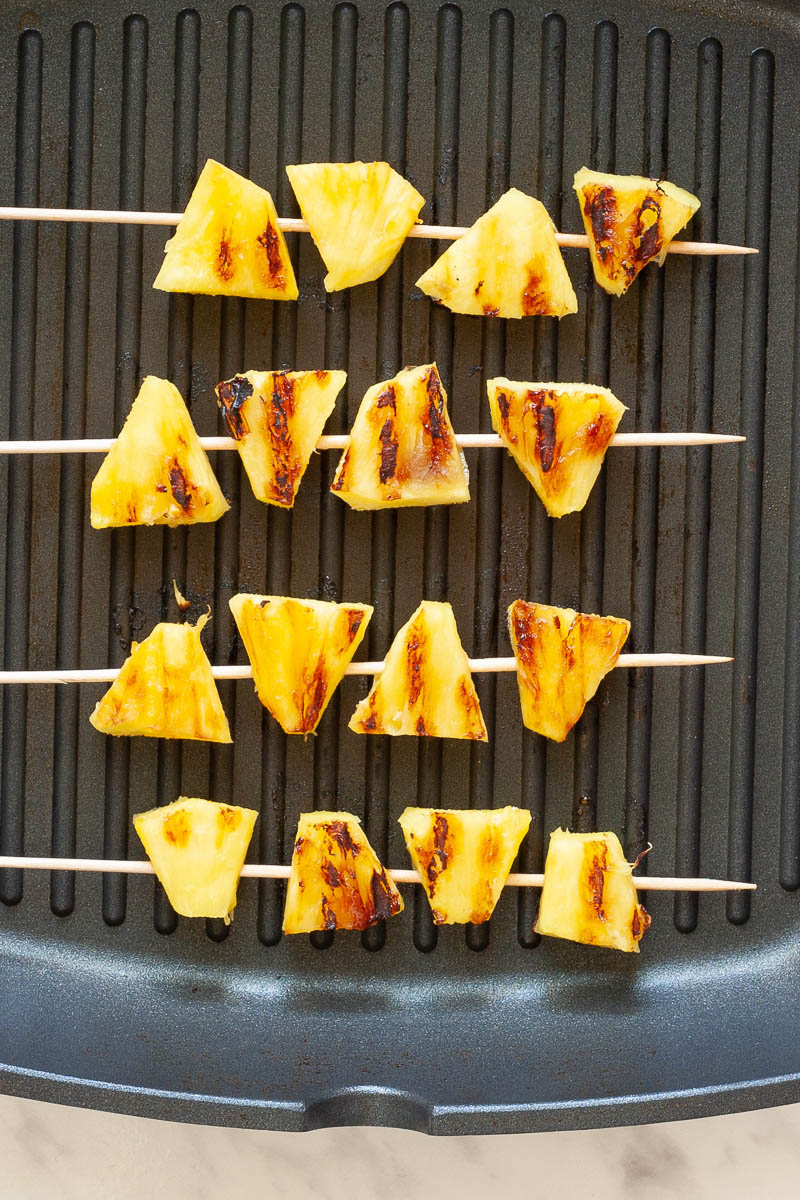 FAQs and Substitutions
Can I use ginger powder?
You can use grated fresh ginger or ginger powder, but you need to step up on the amount as fresh one has a stronger aroma. Read more about the difference between fresh and ground ginger here. The rule of thumb is 1 tablespoon of grated fresh ginger is equal to ⅛ teaspoon of ground ginger.
What else can you add?
While generally speaking vegetables soups are fair game and you can mix and match whatever have on hand. However, it is easy to alter the flavors for blended soups. The closest match to sweet potato can be maybe butternut squash. Both are orange and has a sweet earthy taste.
How to store it?
Store it in a fridge until 4-5 days. This ginger carrot sweet potato soup is totally freezer-friendly. Bring it to boil after thawing before serving.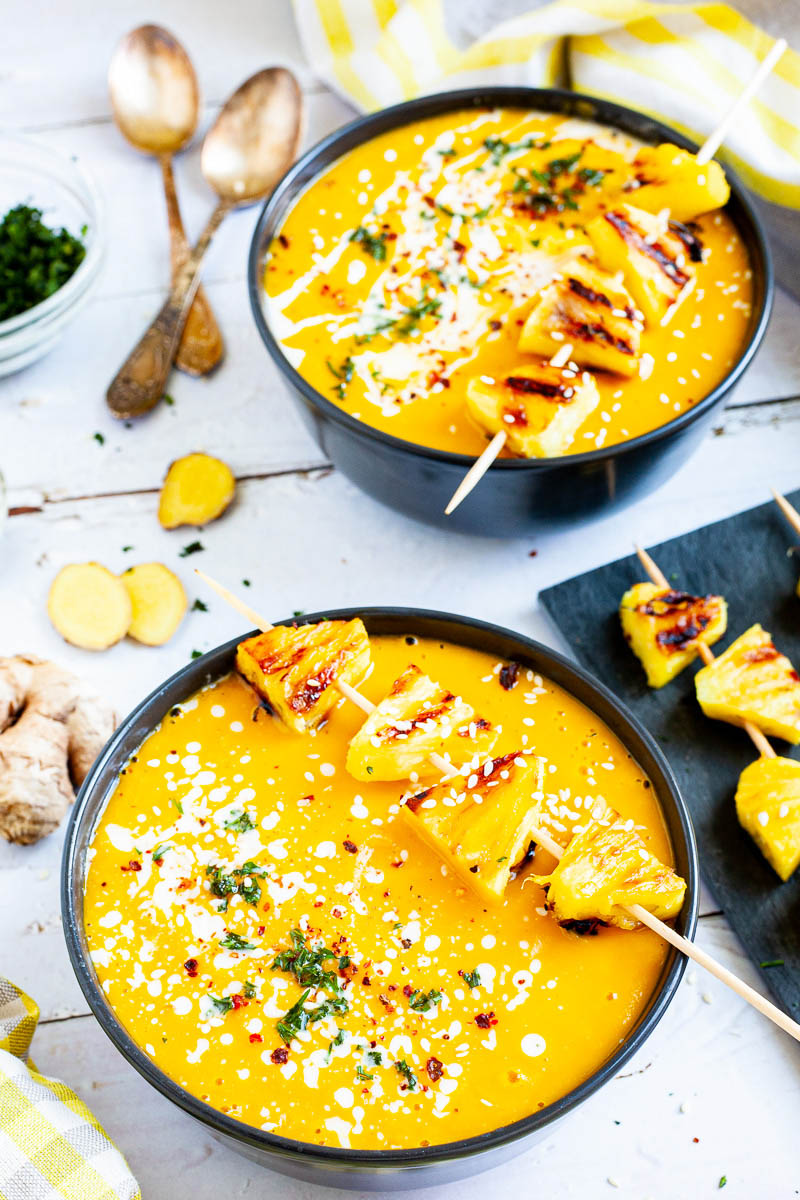 This Ginger Carrot Sweet Potato Soup recipe is meat-free, gluten-free, dairy-free and egg-free. It is also suitable for a vegan and vegetarian diet. It can also be WFPB-friendly (whole foods plant-based) if you sautee veggies in water or veggie broth.
More sweet potato recipes
You can browse through all sweet potato recipes, but here is some of our favorites:
More vegan soup recipes
You can browse through our Vegan Gluten-free Soup Recipes or check out