Did you run out of breadcrumbs that you need for your recipe? Take a look at your pantry, as you might find one of these substitutes for breadcrumbs you can use instead. We listed below 30 alternatives.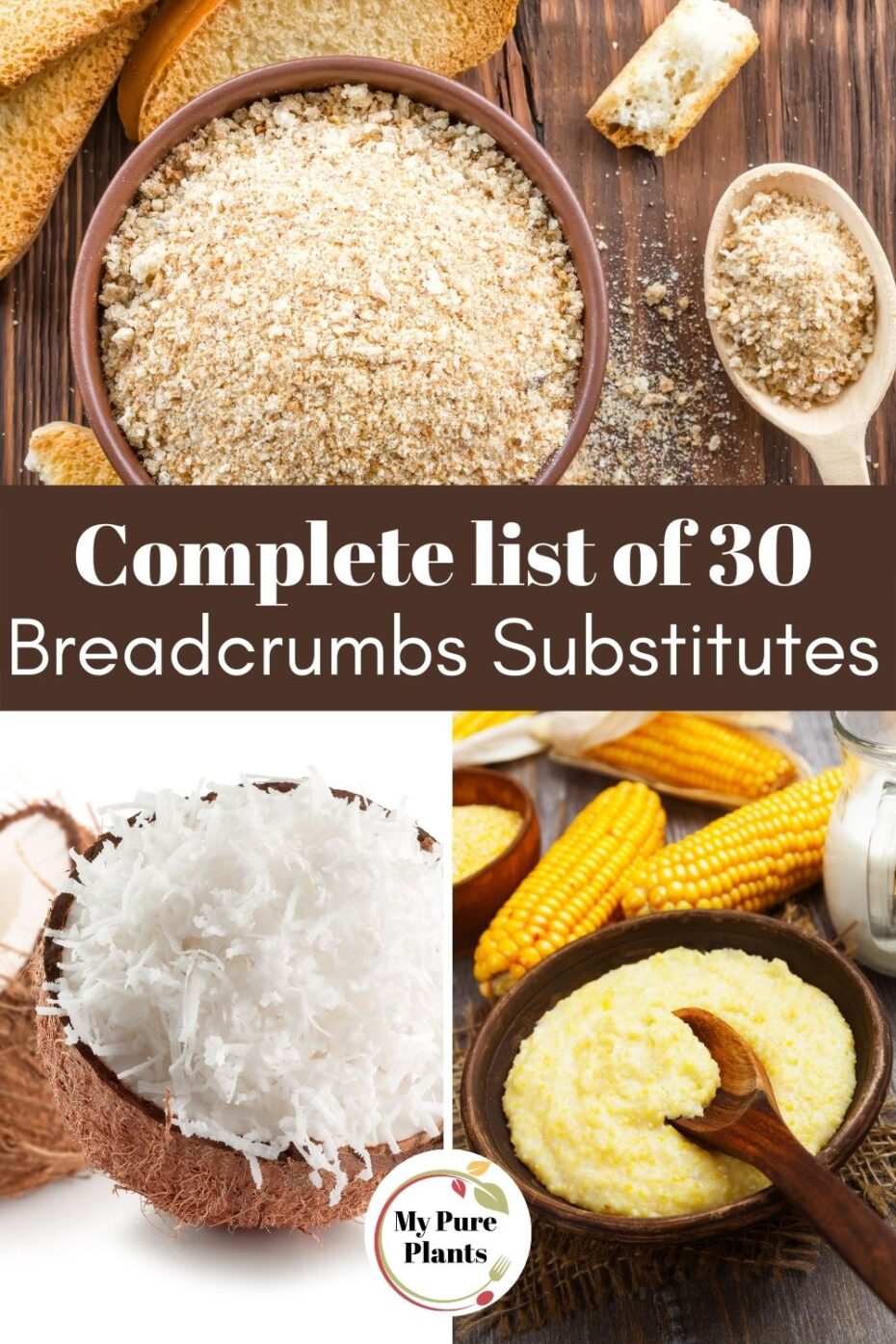 Breadcrumbs are crushed pieces of bread (or even fried) chunks, available in various varieties – fresh or dried, toasted or seasoned, coarse or fine. They are mainly used to add binding, crunch, or control other ingredients' moisture in a recipe. But, as you will see in this article, it's not always necessary to use bread for breadcrumbs.
Breadcrumbs are a versatile ingredient to use in a variety of cooking methods and recipes. What can you use them for?
Adding flavor and texture to fried, baked, and grilled foods.
Absorbing moisture and preventing cooked food from getting too wet.
Using them as a cheap filler to stretch meats (or meat substitutes).
Adding them as a crispy topping on casseroles, salads, and pasta.
Using them as a binding ingredient in meatballs, veggie balls, and fritters.
Owing to its versatility, there are many reasons why you may need breadcrumbs anywhere and anytime and many reasons why you may not have any on hand! Why would you require a substitute?
The most basic reason is that you've run out.
It is also a good idea to substitute breadcrumbs if you're looking for healthier options. Store-bought breadcrumbs typically contain lots of corn syrup, sodium, and allergens like wheat.
And speaking about wheat, classic breadcrumbs are made of wheat flour bread. Therefore, it is not suitable for a gluten-free diet.
Your pantry is out of breadcrumbs, but the recipe calls for them – what do you do? Don't worry just yet, because there are plenty of creative breadcrumbs substitutes! From rolled oats to chopped rice paper, you have no shortage of options. As breadcrumbs can be used for binding or coating, we also explain which substitutes you should choose and why? Here is our list of 30 breadcrumbs alternatives:
Homemade from stale bread
Panko breadcrumbs
Croutons
Pre-made stuffing mix
Rolled oats
Cooked rice
Couscous
Pseudocereals like quinoa or buckwheat
Cornmeal
Flours like almond flour or chickpea flour
Nuts and seeds (ground nuts and nut meals)
Flax seeds and chia seeds
Shredded coconut
Chopped rice paper sheets or rice noodles
Corn flakes, cereals, puffed rice
Chips (potato or other veggies)
Pretzels or crackers
Parmesan cheese (nutritional yeast for vegans)
Riced vegetables like cauliflower or sweet potato
Homemade from stale bread
Got bread you forgot to use, and now it's gone stale? Use it to make breadcrumbs! You can make it into toasted breadcrumbs by toasting it before crumbing or grinding it in a blender straight away to make soft breadcrumbs. Another option is to leave slices of bread to cool or dry in cubes and let them sun dry for about a day before you crush them further into smaller pieces.
Panko breadcrumbs
Panko is a Japanese breadcrumb, where "pan" means bread and "ko" means flour. This form of breadcrumb was traditionally used for making Pan-Asian dishes, but due to its crispiness, it has also gained popularity in Western cuisine.
Panko crumbs are prepared differently from conventional crumbs to ensure that they are shard-like and flaky rather than refined and crumbly. In addition, it is supposed to be lower in calories and in sodium.
Croutons
Crushing croutons is a quick and easy way to make breadcrumbs when you're out of them. Either use a blender or place the croutons in a plastic bag and crush them manually using some weight. If you'd like to preserve them for longer and make them extra crispy while at it, you can bake them at 200 °F for 30 minutes before crushing them. You may want to keep blending or crushing till the crumbs are evenly sized.
Depending on your taste, you can spice the crumbs using herbs, lemon zest, powdered garlic, or oregano. You don't want to have an imbalanced dish in the end, so make it a point to check how salty your croutons are when you begin.
Pre-made stuffing mix
Most stuffing mixes in stores are made out of dried and baked bread pieces, making them one of the handiest alternatives to bread crumbs in case of unavailability. However, it's important to carefully check the labels on mixes, as they can have corn syrup, salty additives, and other ingredients you may not want in your meals.
Rolled oats
Oatmeal is a great binding agent, offering plenty of holds to keep ingredients together instead of breadcrumbs. This is useful when making things like meatloaf or meatballs. Check out this recipe for eggplant meatballs (pictured below), which uses quick oats. Trust me, you can't even tell the difference!
To replicate the crumbly texture, you must pulse the oatmeal through a blender for a coarse blend. Opt for instant or rolled oats over steel-cut oats, as the latter may be too grainy. However, rolled oats don't make the best coating, so avoid using them as a substitute for breading.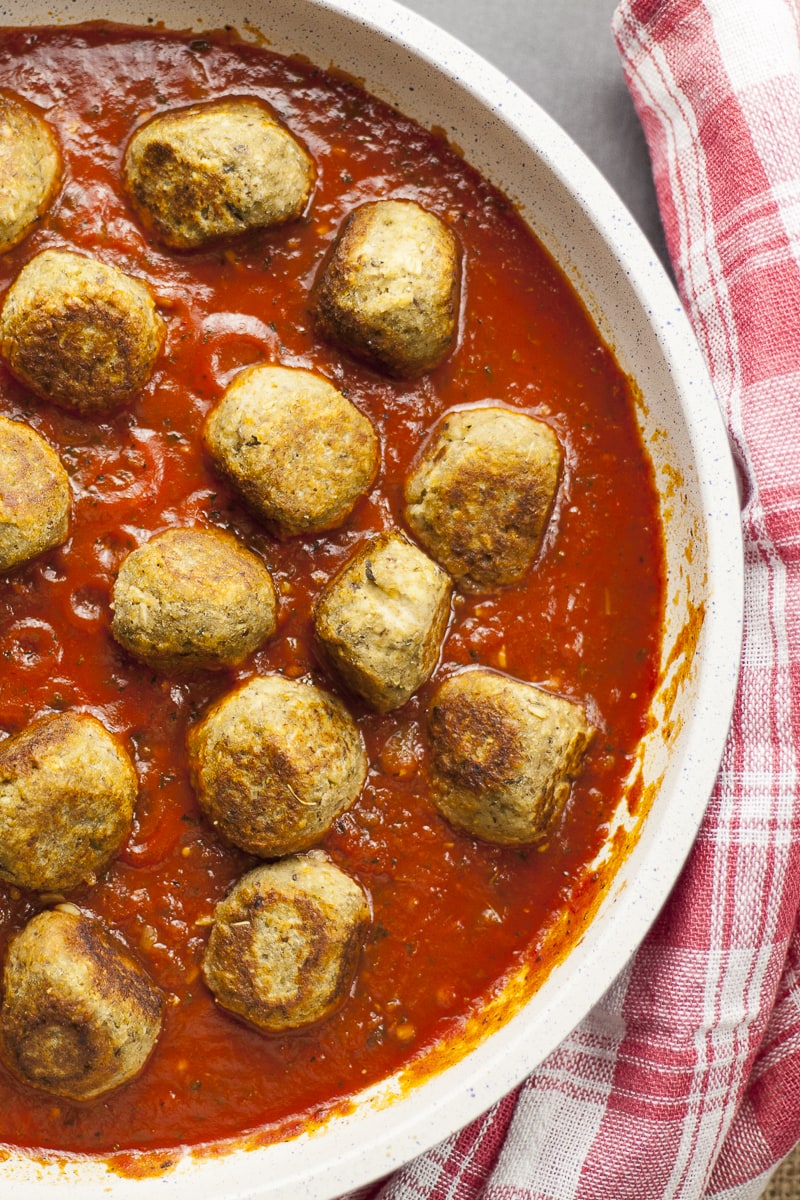 Cooked rice
You might be surprised to learn that the leftover rice in your fridge can make for a great binding agent in meatloaves and meatballs. If you don't believe me, you can check out these recipes that use cooked rice to make chickpea meatballs or mushroom meatballs (both pictured below).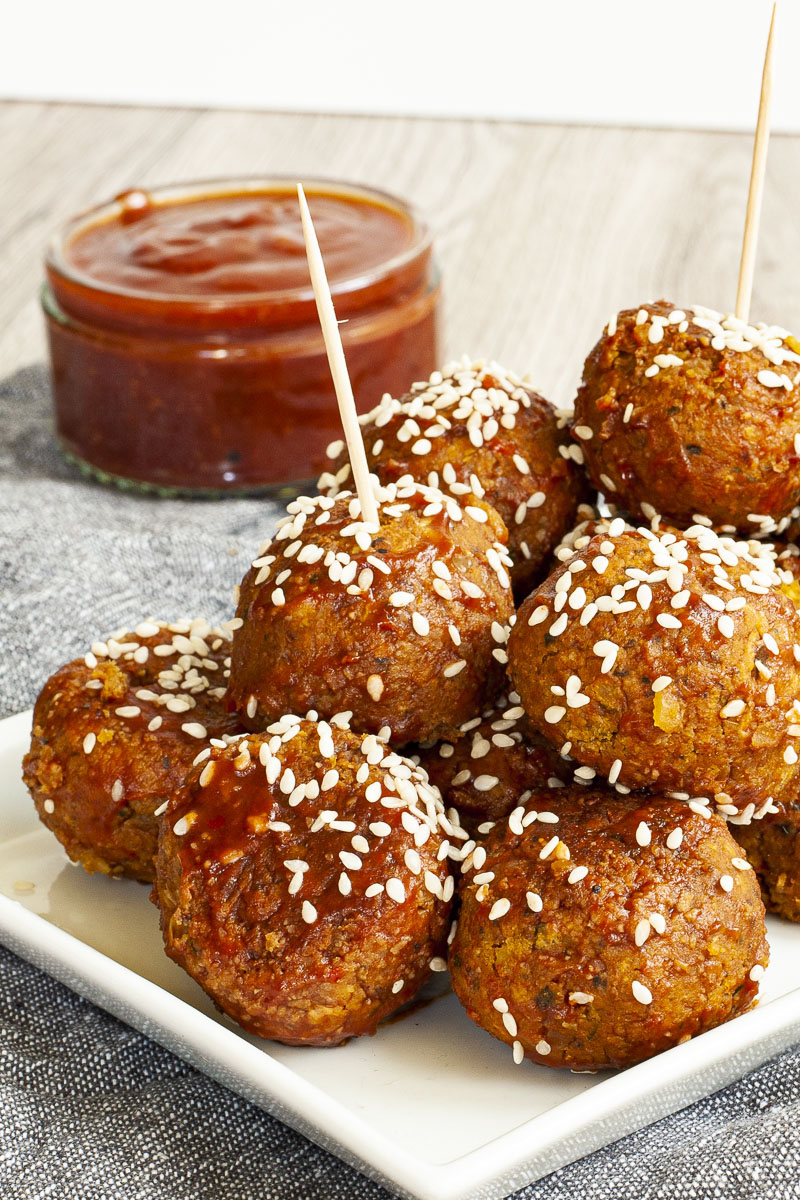 Couscous
Couscous is tiny pasta made by mixing water with semolina flour derived from durum wheat. Different types of couscous are available in the market, including Moroccan (the smallest available), Israeli, and Lebanese.
You can use either dry or moist couscous to replace breadcrumbs in whatever size you like. It all just depends on the end result you are looking for in your dish. Dry for coating and moist for binding, the same as cooked rice above.
Pseudocereals like quinoa or buckwheat
Excellent options can be pseudocereals. They behave similarly to cereals aka grains, but technically, they are not them. Amaranth, sorghum, quinoa, millet, and buckwheat are popular examples.
Much like rice, cooked quinoa can also be used as a filling substitute. You'll see it used this way in this quinoa falafel (pictured below). Quinoa works well when toasted up and used as a breading as well.
As for buckwheat, you can use it by grinding soaked seeds into a coarse blend, like in this vegan lentil loaf (pictured below). Using buckwheat is a great way to add fiber and crunch to your diet!
Cornmeal
It has a nice, coarse texture, reminding you of breadcrumbs when you bite it. You can use cornmeal in a variety of ways. For example, this blue cornmeal baked onion rings recipe uses cornmeal for breading. But you can just as easily turn your cornmeal into a delicious porridge or polenta.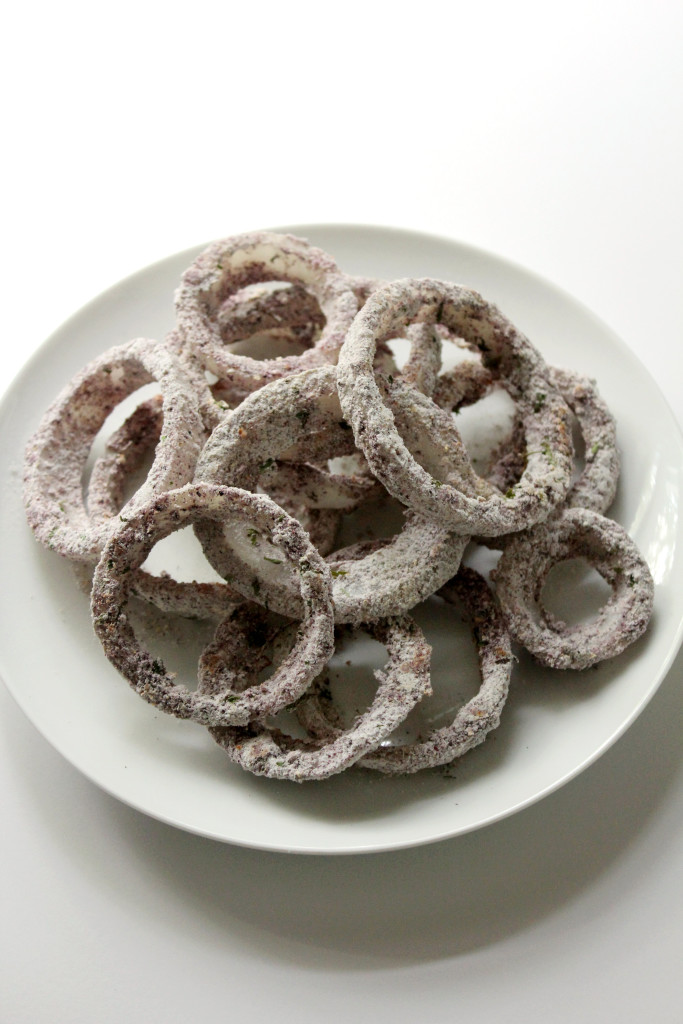 Flours
Did you know that you can switch breadcrumbs for flour as binding agents? The great thing about some of these ingredients is that they are light and neutral tasting, albeit less crunchy.
To make a breadcrumbs-free crunchy coating for this vegan orange chicken (pictured below) we used a mix of chickpea flour and rice flour, then fried them in oil. Super crunchy!
Almond flour is yet another satisfactory alternative. Check out this lentil burger (pictured below) that uses almond flour instead of breadcrumbs. And this isn't all! There are many other options you can use other than all-purpose flour. It just takes a little experimenting.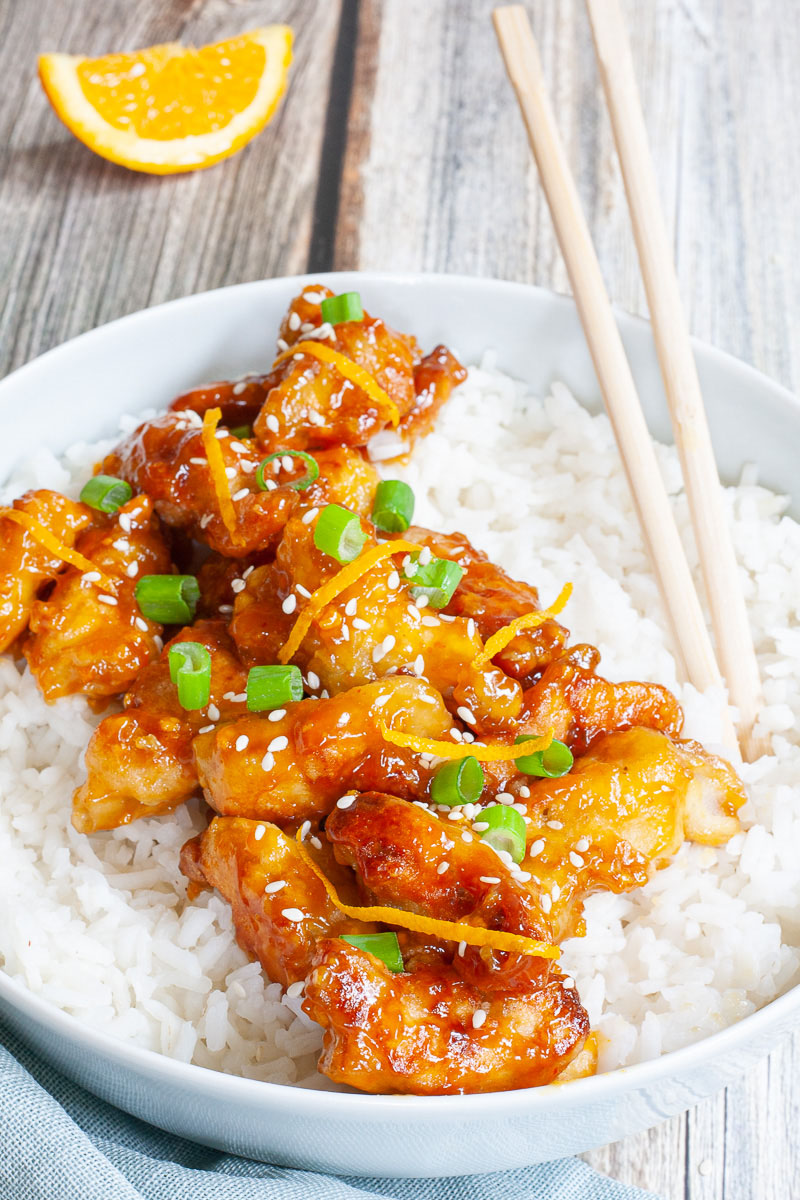 Nuts and seeds (nut meal, ground nut)
They might look big and "nutty," but nuts in flour work well for binding and coating. Nut and seed flours are rich in proteins, gluten-free, and readily available. They work best when combined with other flours, powders, or starches, like arrowroot powder or tapioca starch. Check out this vegan wellington (pictured below) that uses walnuts instead of breadcrumbs to capture the moisture of the filling.
If you have your chef's hat on and are in the mood to experiment, you can even try using ground nuts, like walnuts, almonds, or sunflower seeds, for a toasty, crunchy coating. Try making these baked tofu nuggets (pictured below), and see what I am talking about for yourself.
Flax seeds and chia seeds
Why use seeds for binding and coating instead of breadcrumbs? I can give you several reasons. Mainly, they are loaded with protein, minerals, and vitamins! Adding them to your meatloaves can enhance flavor and be the perfect healthy option.
Flax and chia seeds have a very special characteristic. They form a gel-like substance (often called flax egg and chia egg) if you add water to them. It is widely used as a binder in egg-free baking.
On the other hand, grinding up the seeds into tiny flakes creates a warm, nutty coating.
Shredded coconut
Coconut might seem like an ordinary fruit with few applications at first glance, but with further inspection, you'll see it has a lot going for it. For example, this recipe for coconut tofu demonstrates how you can use unsweetened, shredded coconut as a coating. You have to give it a rough blitz or two, and you are good to go!
Chopped rice paper or rice noodles
Here is a trick you might not have heard about yet – blitz up some rice paper in a food processor until you are left with small rice flakes. Use this as a coating for fried chicken or any other food you wish to make.
We love this ingredient so much, that we have a guide to rice paper wrappers, listing many options to use in recipes. You can also use dry rice noodles if you don't have rice paper.
Corn flakes, cereals, puffed rice
Cornflakes have a great texture, and you can easily buy unsweetened ones. Crush your cornflakes into small chunks, and you created the best breadcrumb substitute. You can even grind it down into a smoother mixture if you want to use it as a coating. If you don't believe me, you should try making these fried oyster mushrooms (aka "vegan fried chicken" or "buffalo vegan chicken wings" pictured below) and see for yourself how extra crispy their coating is.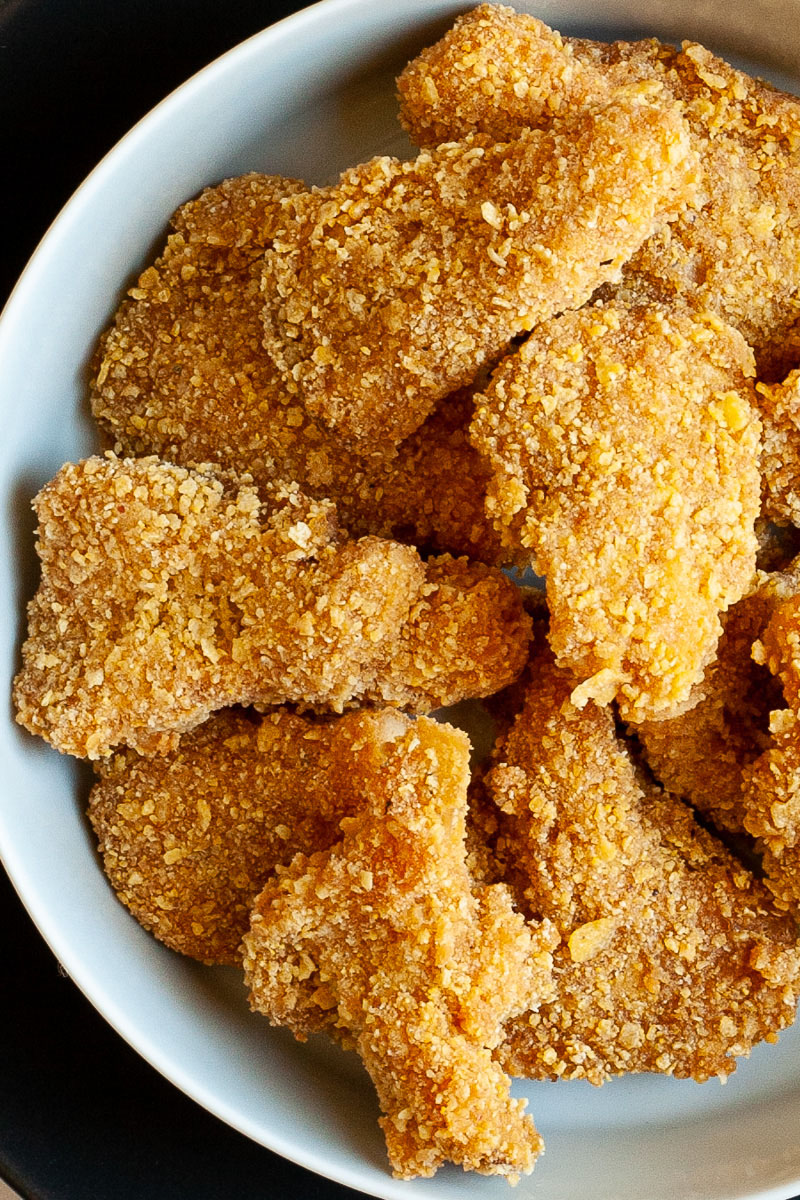 Cereals or puffed rice are other options worth giving a shot at. They can be crushed and used similarly to cornflakes, as described above. This baked mac and cheese recipe uses Corn Chex as a topping, and it looks all sorts of yum!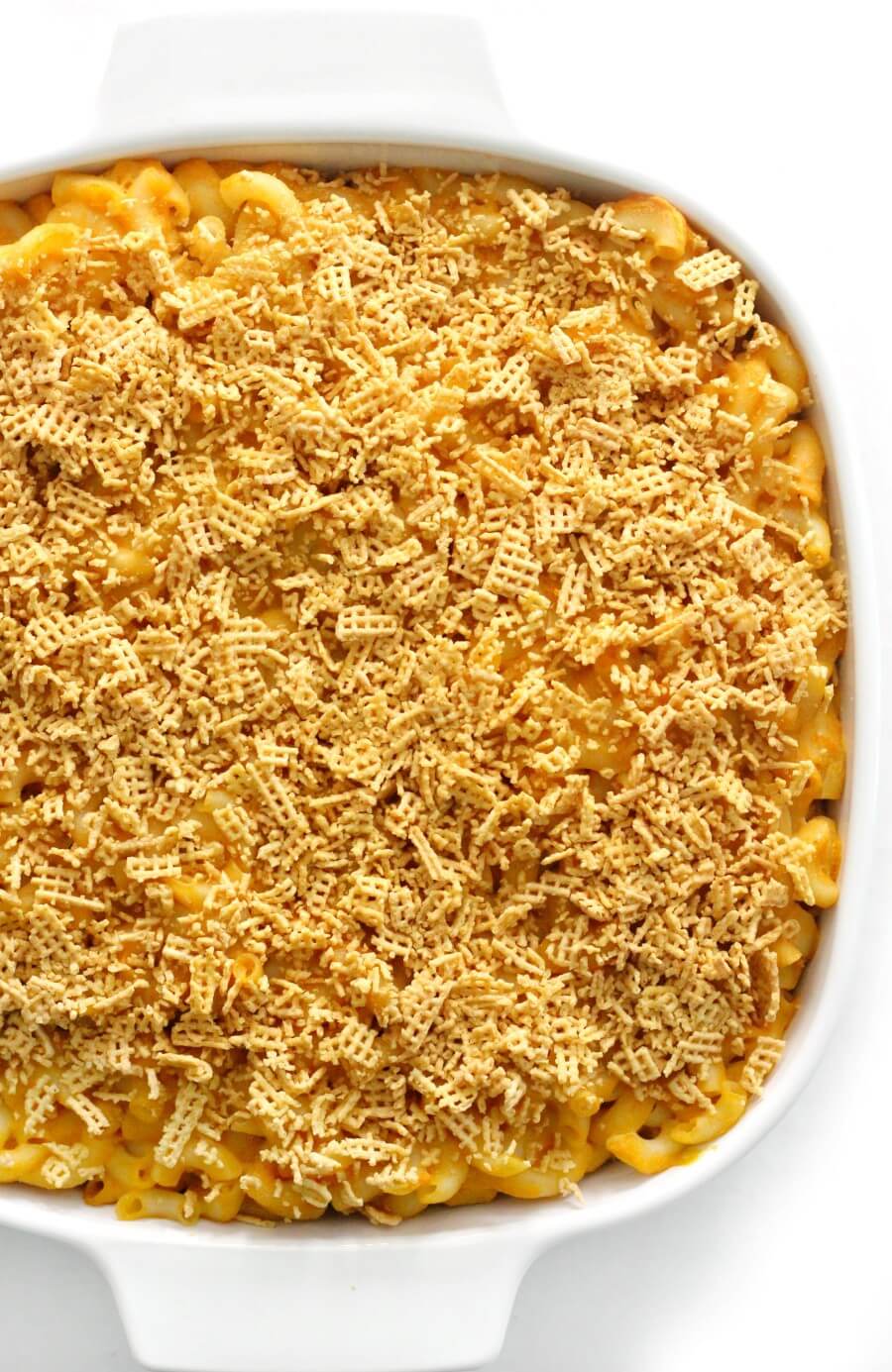 Chips (potato or veggie)
Once you use potato chips or even tortilla chips as breadcrumbs substitutes, there is no going back. They come pre-seasoned, so you might be unable to experiment too much with taste. But that can even be a good thing, as you have some extra layer of flavor.
They also have the perfect texture for the below green bean casserole. Besides, crushing packets of potato chips is therapeutic. If you don't like potato chips, you can swap them out for any veggie chips.
Pretzels or crackers
Pretzels and crackers bring a salty touch to whatever you make, so keep that in mind before adding your own seasonings. Use them like potato chips – crush them into smithereens for a coating or into a more delicate powder for a good bind.
Pop some crackers into a bag and mash them for a satisfying meatball or meatloaf filling. If you want crumbs, be sure not to accidentally make a fine powder. Otherwise, it's instant and easy!
Parmesan cheese / Nutritional yeast
Parmesan cheese is an excellent option for breading without breadcrumbs. Bonus, it even melts a bit, creating a super crispy coating.
Nutritional yeast or "nooch" is a deactivated, inactive yeast. This substance has a flaky texture and nutty taste, which is why people call it vegan parmesan. This tofu buddha bowl (pictured below) combines nutritional yeast with arrowroot and garlic powder to make a wholesome, tasty crust.
Riced vegetables like cauliflower or sweet potato
Riced vegetables like cauliflower and sweet potato are ideal breadcrumbs substitutes to add as a binder. They work similarly to cooked rice, as explained above.
To prepare cauliflower or sweet potato rice, you should first shred the vegetable using a shredder or a grater. Then, lay out the shredded vegetable on a pan and oven-dry it at a low temperature for about an hour or so, or fry it on the stovetop. Heat takes the moisture out and leaves the shredded vegetable crispy and breadcrumb-like.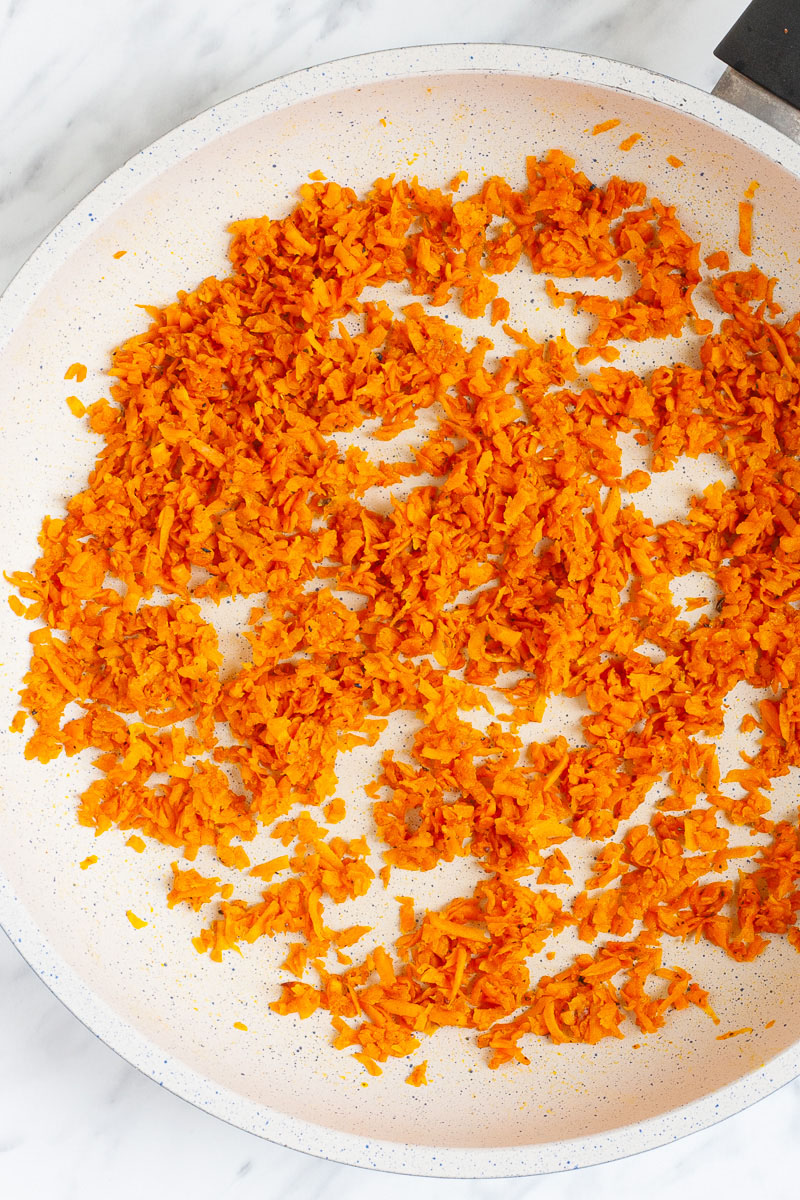 FAQs
Can breadcrumbs be substituted for flour?
Yes, but use it with caution because breadcrumbs cook faster than flour. Avoid deep-frying anything coated with breadcrumbs because it is likely that the insides will cook much slower than the outsides brown. If you absolutely must, consider cutting the food you are coating into smaller chunks or slivers to ensure everything cooks evenly.
Can I use crackers instead of breadcrumbs?
Yes, crackers are, in fact, excellent substitutes for breadcrumbs. They work well in baked dishes like meatballs or meatloaf, add crunch to your dish, and offer a blast of flavors. For more similar substitutes, read the whole article.
What to use instead of breadcrumbs for meatballs?
Rolled oats, cooked rice, quinoa, and even riced vegetables are suitable breadcrumb substitutes for meatballs. They are both good binding agents and are inherently crunchy. For more similar substitutes, read the whole article.
What is a healthy substitute for breadcrumbs?
Riced vegetable like cauliflower is a healthier alternative to breadcrumbs. It's gluten-free, keto-friendly, and helps with weight loss and fighting inflammation. For more similar substitutes, read the whole article.
What can I substitute for breadcrumbs?
We have a list of 30 options: panko, couscous, riced vegetables, pre-made stuffing mix, croutons, homemade stale bread, crackers, cereal, rice paper, shredded coconut, nut meals, flax seeds, etc. It depends on whether you need it for binding, breading, or topping. For more similar substitutes, read the whole article.
Can I replace regular breadcrumbs with panko?
Yes, panko and breadcrumbs can be used interchangeably. The only difference is that when panko is used for frying, the dish turns out crisper and less greasy. For more similar substitutes, read the whole article.
What breadcrumbs to use for mac and cheese?
Add panko or crushed croutons on top of your mac and cheese for the best crunch factor. Think of crackers, cereals, cornflakes, or even potato chips. For more similar substitutes, read the whole article.
More articles on substitution