It is possible to have a creamy vegan spinach soup without adding any dairy-free milk or cream. The not-so-secret ingredient is the potato. That's right whole foods all the way! It technically makes this recipe more of a vegan spinach and potato soup though. I hope you don't mind. 🙂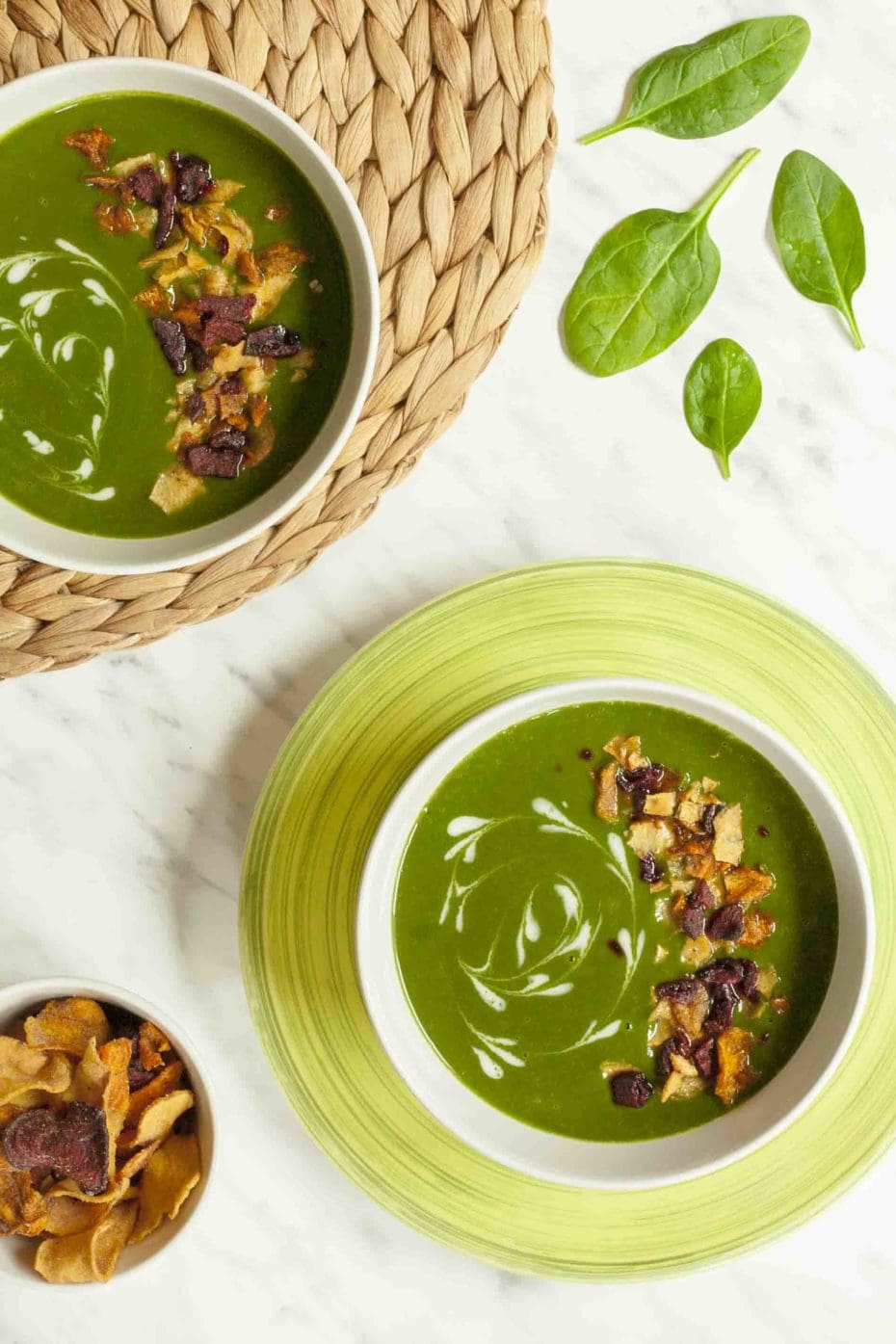 We love soups. We have a whole Vegan Soup Recipes gallery, but just let me share with you other cream soups you might like as well: Vegan Cauliflower Soup, Cream of Mushroom Soup, Hokkaido Pumpkin Cream Soup or Smoky Sweet Potato Soup.
⇒ GET OUR FREE 7-DAY VEGAN MEAL PLAN NOW! OR CHECK OUT ALL VEGAN MEAL PLAN RECIPES HERE! ⇐
Let's talk about spinach recipes!
I hated any dish with spinach for so long. I have tried garlic sautéed spinach, spinach pottage, spinach salad, and spinach pesto pasta. But none of them was a hit back then.
Until one day I had creamy spinach soup with mozzarella balls on a lunch menu at a hotel. I was hungry, so having no other choice I tried it. And it was awesome! I don't know what was I thinking not loving spinach before. So for years, we have perfected our spinach soup recipe to get it as close as possible to the one I ate at the hotel. Finally, I think we figured it out. The secret is the potato. Who knew, right?
This spinach soup recipe became even the FAVOURITE soup of our older daughter. Seriously…
By the way, this recipe is also part of our Quick Vegan Meals collection.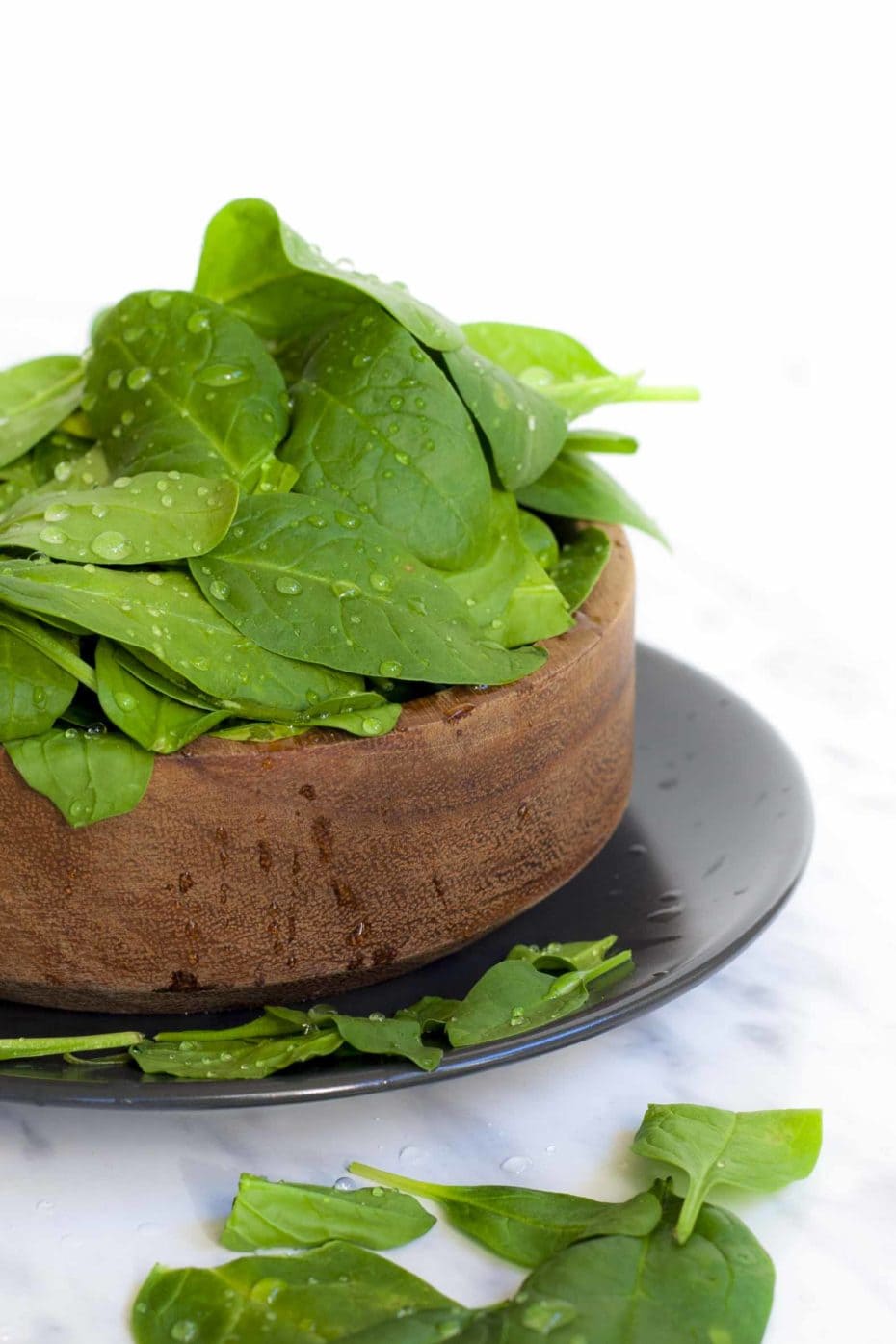 How to make vegan spinach soup?
You need only 5-ingredients. Nothing fancy or hard to get. Whole foods all the way: onions, garlic, spinach, potato, and vegetable broth. Watch this quick slideshow on how to make cream of spinach soup or read on.
Step 1 – Prepare your vegetables
Wash the fresh spinach leaves. Peel and finely chop the onion and the garlic. Peel and dice the potatoes. You can shorten the cooking time by dicing the potatoes smaller like 1 * 1 inch.
Step 2 – Cook your vegan spinach soup
Cook onion and garlic in olive oil. Add spinach to sautée them a bit. (For WFPB-friendly recipe add them directly to the veggie broth.) When the spinach is slightly wilted, pour the vegetable broth and add the peeled and diced potatoes. Cook until potatoes are soft and blend it with a hand blender or regular blender until smooth and creamy. Easy peasy.
[Tweet "Ridiculously easy and quick vegan spinach soup. No fancy or hard to get ingredients. via @mypureplants"]
How to serve this easy spinach soup?
We tried it with so many different garnishes like
What is your favorite spinach soup garnish?
Nutritious cream of spinach soup
Spinach is the first thing you think of when you hear iron-rich leafy green. It is low carb but high in fiber. Spinach is also rich in Vitamin A, C, K1, calcium, folic acid, and iron. Not to mention…
Did you know that spinach belongs to the amaranth family and is related to beets and quinoa? /Healthline/
All these nutrients are important for everyone, but calcium, folic acid and iron especially important for pregnant or breastfeeding moms. That's why I always add a handful of spinach to my Green Lactation Smoothie.
This cream of spinach soup is vegan, vegetarian, dairy-free, nut-free, grain-free, gluten-free and WFPB-friendly (whole foods plant-based). More recipes with spinach.
This Spinach Soup recipe is meat-free, dairy-free and egg-free. It is suitable for vegan, vegetarian, gluten-free and nut-free diets. This recipe is WFPB-friendly (whole foods plant-based) if you cook the vegetables directly in veggie broth.
⇒ GET OUR FREE 7-DAY VEGAN MEAL PLAN NOW! OR CHECK OUT ALL VEGAN MEAL PLAN RECIPES HERE! ⇐
More light dinner recipes
You can browse through our Vegan and Gluten-free Dinner Recipes or our Quick Vegan Meals collection or check out
The Easiest Cream of Spinach Soup (Vegan)
Ridiculously easy and quick vegan spinach soup. 5-ingredients, but nothing fancy or hard to get. Creamy, healthy, not to mention kid-friendly.
Ingredients
1

Tbsp

Olive oil

1

Onion (medium)

2

cloves

Garlic

10

oz

Fresh spinach leaves

300g

2 ½

cup

Vegetable broth

600ml

2

Potato (medium)

Salt

Pepper
Instructions
Wash the fresh spinach leaves. Peel and finely chop onion and garlic. Peel and dice potatoes. The smaller you dice them, the shorter will be your cooking time.

Heat a saucepan on medium heat until olive oil is shimmering. Add the chopped onion and garlic coat it with the oil and spread evenly. Stir occasionally. (For WFPB diet – cook them in veggie broth directly.)

Once onion is tender but still white, add the fresh spinach leaves and stir until wilted.

Now add vegetable broth and the diced potatoes. Cook them until tender 15-20 minutes.

Use a hand blender and puree them thoroughly. Now add the salt and pepper to taste. Ready to serve it.
Nutrition
Serving:
1
bowl
Calories:
140
kcal
Carbohydrates:
24.7
g
Protein:
4.3
g
Fat:
3.8
g
Saturated Fat:
0.5
g
Polyunsaturated Fat:
0.5
g
Monounsaturated Fat:
2.5
g
Sodium:
407
mg
Potassium:
666
mg
Fiber:
4.5
g
Sugar:
3.4
g
Vitamin A:
18850
IU
Vitamin C:
16.5
mg
Calcium:
130
mg
Iron:
3.2
mg