You'll love to try oyster mushrooms but they are just not available at your local supermarket or farmer's market. How about growing oyster mushrooms at home? They are one of the easiest mushrooms to grow especially if you use dedicated mushroom kits. In this article, we go through all the info novice growers need to know to decide whether to try it or not.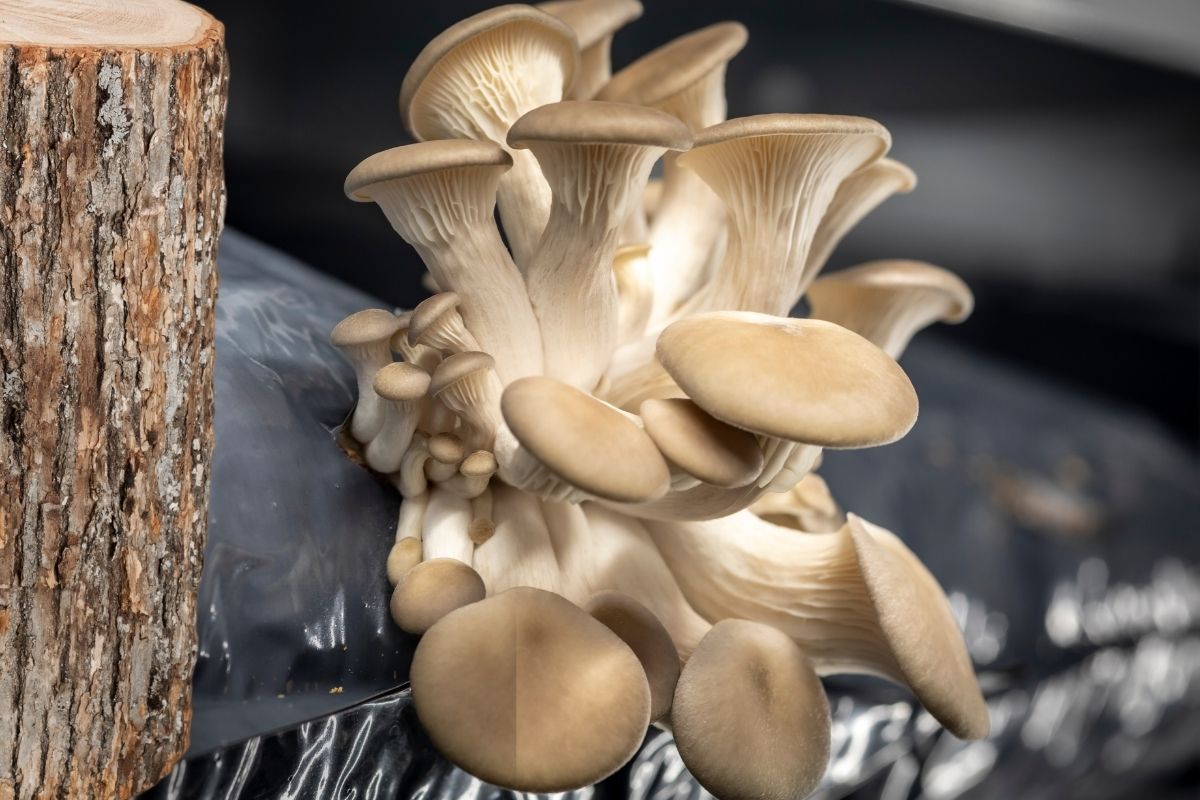 What are oyster mushrooms?
As its name suggests, oyster mushrooms (aka Pleurotus Ostreatus) are shaped like oysters and are easy to identify thanks to their fan-shaped caps. They can be classified into 7 common types of oyster mushrooms based on their size and color.
Favored in Asian cuisine because of their bittersweet anise scent, savory umami flavor, and firm meaty texture, oyster mushrooms are a nutritious marvel indeed! It's because of this and due to their ability to grow quickly and easily that more and more people from across the globe are teaching themselves how to cultivate oyster mushrooms at home.
But if you ever run out of oyster mushrooms while whipping together a creamy soup, don't panic. Just dip into our list of oyster mushroom substitutes and use something like shiitake mushrooms or maitake mushrooms instead. With most of them being very similar in flavor and texture this mushroom variety will ensure that you never have to compromise.
How do these mushrooms grow in nature?
Anyone can learn to grow oyster mushrooms because it's just that simple! Fast and easy growing, these mushrooms can be raised on a wide range of substrate materials as long as they have sufficient warmth and moisture. The root-like mycelia thrive on warmth and moisture to produce spores.
If you're a small business or even just a curious individual interested in feeding your friends and family, you will first and foremost want to understand the process of growing any mushrooms. It involves selecting the mushroom spawn, inoculating and incubating the substrate, and then finally fruiting and harvesting.
How to grow oyster mushrooms at home?
If you've been trying to figure out where to buy oyster mushrooms but aren't enough headway as you'd like, why not consider learning how to grow oyster mushrooms instead?
There are many ways to do it at home, but the most popular growing medium are coffee grounds, hardwood sawdust in bags or buckets, tree logs, or indoor oyster mushroom growing kits.
On coffee grounds
Nearly 99% of coffee bean nutrients remain after brewing, so why not get some good use out of them and make them your mushrooms' substrate? Discarded coffee grounds are perfect for oyster mushrooms like the pink varieties and are an especially great starting point for amateurs due to their easy availability. An added bonus? Since they are already pasteurized you don't need to worry about any bad bacteria or fungi in them, allowing you to completely skip the substrate sterilization step.
For this DIY project, you'll need some fresh coffee grounds, an airtight see-through container, and oyster mushroom spawns. Keep the coffee ground-spore mix in a dark place and moisten once a day (it is easiest with a spray bottle) and in about 6 to 8 weeks you will be able to harvest the fruit of your labor.
Some pointers on how to grow oyster mushrooms on coffee grounds include making sure your coffee grounds are from the same day you plant your mushrooms. They should also be cooled down to room temperature before use. The place you grow your oysters in must be warm and stable as mushrooms love moist and humid substrate.
In plastic bags
One of the more superior techniques employed in mushroom cultivation is using growing bags (buy on Amazon, or at Northspore) to raise them. The bags are usually economically priced and disposable, making them an ideal choice for beginners.
Growing bags come in different sizes and thicknesses, which can be selected based on your needs. They can be hung up pretty much anywhere convenient and are very easy to observe as they are transparent. Being easy to sterilize as well, they allow the spawn to grow in a humidity-controlled environment that is safe from external contaminants.
When growing oyster mushrooms in bags with mushroom spawn, it's best to use a high-quality substrate like Northspore's sawdust, wood chips, or manure. They are sold already sterilized, so you just need to add the spawn, substrate, and moisture and seal it up for incubation. Keep the bag warm (between 20 to 24°C), and when they start showing white spots in about 2 weeks, it'll be time to trigger fruiting (or pinning). You can start harvesting the clusters within just a few days of the mushroom stems being visible.
On logs
Since they are growing on trees in nature, it is not surprising that you can mimic this at home as well. You can use a tree log that you chopped down in your backyard provided that you have one of the hardwood tree types recommended like cottonwood, willow, mulberry, etc., or buy ready-to-use tree logs.
If you cut your own log, let it dry for a minimum of 2 weeks. Drill several holes, add mushroom spores, and seal the holes with wax. Northspore sells complete log kits with a drill, sealing wax, and wax applicator.
Place the log in a shaded area (no direct sunlight) where rain can reach it as high humidity is extremely important. If you don't have enough rain in your area, you need to water the logs frequently. If you need a detailed step-by-step guide visit this guide on how to grow mushrooms on logs with illustrations and recommended tree types.
Using growing kits
While it is possible to find all kinds of mushroom grow bags online, a better idea would be to invest in growing kits that you can buy on Amazon or at Northspore. These are the easiest of them all since everything is prepared for you. With the initial prep work already done for you, it's far less time-consuming. All you need to do is place it in a warm dark place and water it for your fresh oyster mushrooms to make their appearance.
How to store them when they are grown?
Storing mushrooms is as important as harvesting them as they can go bad very fast, especially if incorrectly stored. There are many different ways to store oyster mushrooms like placing them in a refrigerator for a few days in a paper bag or even freezing them for later use. Then you need only 3 steps to prepare them for cooking. If you are short on ideas, here are 11 ways to cook oyster mushrooms with plenty of recipes to try first.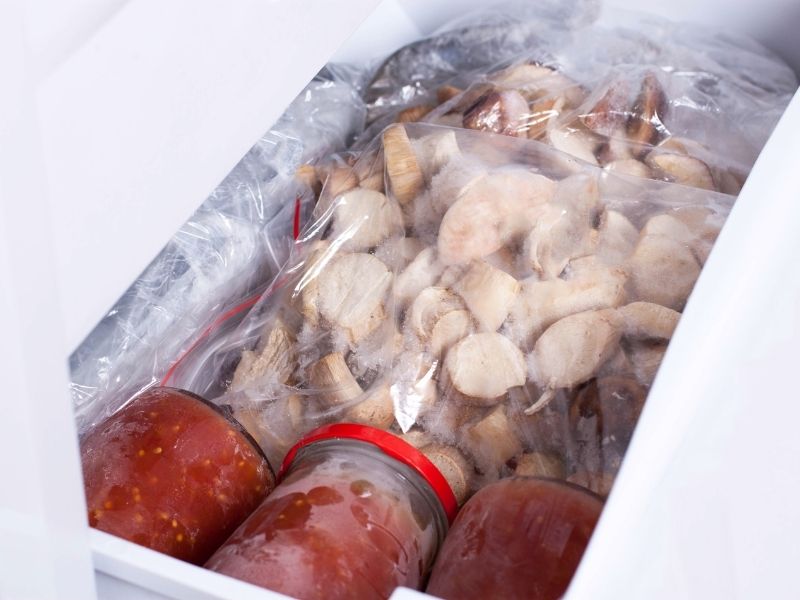 FAQs
How long does it take for oyster mushrooms to grow?
Based on the substrate and type, you can expect to see fruiting in just 10-14 days. Be sure to check out your growing kit info as there may have been slight differences.
Can you grow oyster mushrooms outside?
Of course, they can thrive outside as long as there is warmth, indirect sunlight, and humidity. However, growing kits using coffee grounds or bags are geared towards indoor cultivation. If you want to explore ways to raise them outdoors use starter kits with logs.
What is the temperature needed to grow oyster mushrooms?
They can tolerate temperatures between 5 and 25°C, but grow best between 10 and 18°C. See details on your growing kit.
What kind of conditions do you need to grow oyster mushrooms?
Like most types of mushrooms, they prefer indirect sunlight, moderate temperature, and constant moisture to grow. Keeping an eye out for signs of contamination and pests is also equally important.
How to harvest oyster mushrooms?
The best time to harvest is right before the caps flatten and the edges are still a bit curled inward. Usually 10-14 days after starting to grow them.
More info about oyster mushrooms
This article on how to grow oyster mushrooms is only one part of our complete guide to oyster mushrooms that teaches you everything from growing, buying, storing, preparing, and even cooking them! There's a lot to learn, so get reading! If you need recipe ideas, browse through these 30+ amazing oyster mushroom recipes.