Oven-roasted asparagus and mushrooms are the best spring side dish ever. It is easy, quick, and delicious. The best thing that can ever happen to asparagus is to roast them in the oven or grill them outside. They have such an amazing taste, you really don't even need much seasoning. This recipe will give you a one-sheet pan, no-mess dish that is suitable for most diets including low-carb, vegan, paleo, keto, dairy-free, and gluten-free.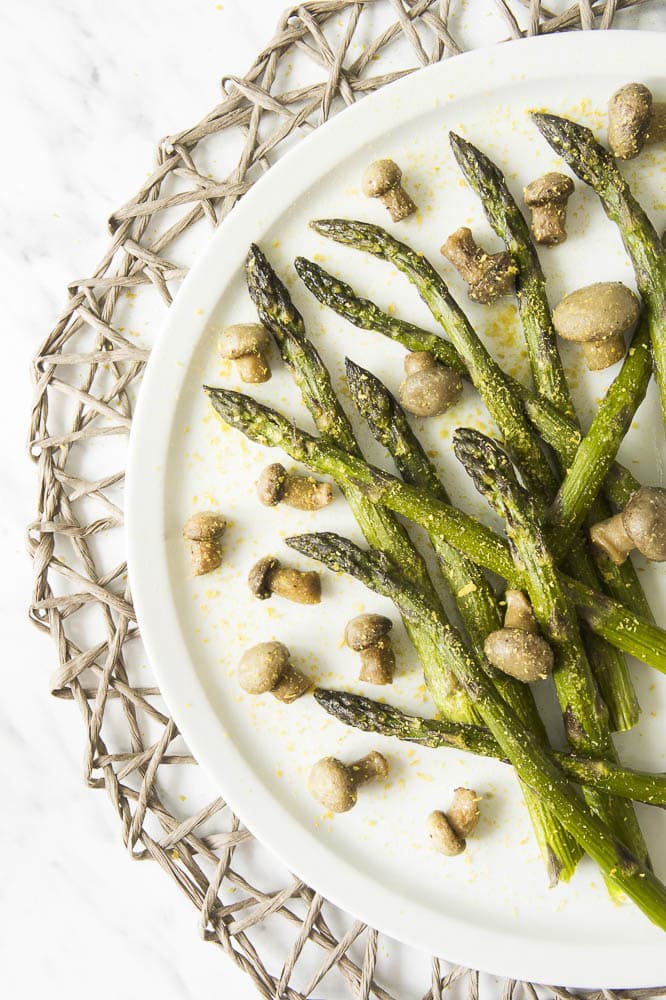 When spring is finally here, I cannot wait to get my hands on some fresh asparagus. After a long, cold winter it is so refreshing to eat some greens. I am craving not only asparagus but everything fresh and green. When asparagus hits the shelves, we are eating them 2-3 times a week as their season is sadly so-so short here where we live. I love lots of freshly chopped spring onions with Homemade Hummus on toast or this refreshing Kiwi Banana Spinach Smoothie for breakfast. For lunch this light and refreshing Asparagus Lemon Pepper Pasta, or this easy and kid-friendly Cream of Spinach Soup, or this pasta-free Vegan Cabbage Lasagna with spinach alfredo sauce.
Do asparagus and mushrooms go together?
I like reading about food pairing and how restaurant chefs decided what ingredients go together. While I haven't really seen mushrooms and asparagus as a classic pairing, it still feels like they are paired for a long time at least in home kitchens. So do they go together? Absolutely. Why?
They are both charismatic enough that neither of them needs heavy seasoning to get them flavorful. We enjoy both of them grilled with only salt and black pepper to accompany them.
Both have a distinct nutty taste. While asparagus has a sweeter grassy aroma, mushrooms are more savory and earthy.
The seasoning you choose, usually works for the both of them.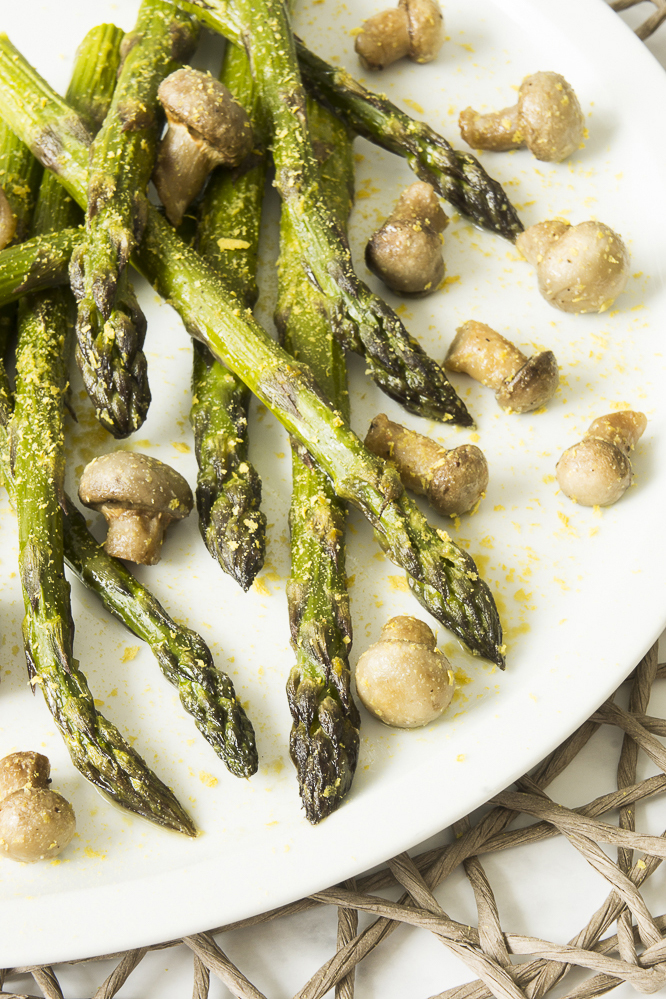 How to prepare asparagus before roasting?
The most important thing to know is that you need fresh asparagus for roasting. Full stop. Nothing else will cut it. So, when you see some on the local market or in stores, grab them quickly and eat them in the next 3-4 days.
How to tell if asparagus is bad?
If the spears are slimy, it means they probably stored them wrong and they started to rot.
If the stalks are wrinkly, it means they are too dry. I would rather use them for veggie stock.
If the whole smells bad, then you are better off throwing them in the trash.
Preparing asparagus before roasting
Rinse them.

Snap them.

Where they break, they break. You can't really snap them at the wrong place. They break where the asparagus gets woody and hard. Discard the bottom or use them in veggie stock. A quick tip: The longer you store them, the larger portion of the asparagus will have to be discarded. However, if you store them in a bowl of water in the fridge, you can spare time.

Peel the ends if needed

. If the end of the asparagus is still thick and woody after snapping, you can peel the bottom inch or two with a vegetable peeler. I usually only do it with white asparagus, as the thinner green ones tend not to be too woody.

Do you need to cut them?

I only cut them up for stir-fries. They are perfect as it is for roasting and grilling.

Ready for roasting!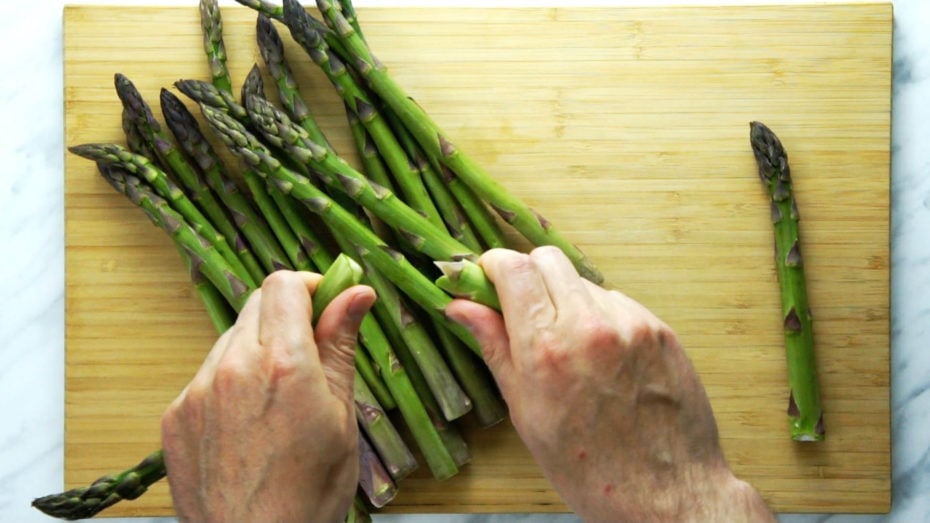 Best mushrooms to roast and

how to prepare them?
For recipes with asparagus and mushrooms any type works. The most well-known, budget-friendly, and widely available mushrooms are button mushrooms. They can be even small enough so no peeling or chopping is needed before roasting. If you don't find button mushrooms in your local store, try to look for cremini/crimini, or small portobello, or baby bella, or Italian brown, or champignon, or chestnut mushroom. They are practically the same both in taste and texture.
We really like to mix the different types of mushrooms. The perfect example would be our Vegan Cream of Mushroom Soup where we use both button and portobello mushrooms in the soup, but soy glaze shiitake mushrooms as a topping.
If you want to mix things up. We recommend shiitake mushrooms, enoki mushrooms, or even oyster mushrooms to accompany these roasted asparagus. We just love oyster mushrooms in any way possible. Check out this 20 Must-Try Oyster Mushroom Recipes post. If you choose those, you need to slice both shiitake and oysters as they need more time to roast if they stay in whole. Enokis are small, so you can roast them as they are.
How to season them?
Both mushroom and asparagus are charismatic enough that neither of them needs heavy seasoning to get them flavorful. We enjoy both of them grilled with only salt and black pepper to accompany them, although here are some additional spices that go great with them:
garlic or onion powder -> everything is better with some garlic, isn't it?
parmesan cheese -> we used nutritional yeast which is a "kind-of" vegan parmesan
butter -> it is not a spice per se, but the buttery flavors go great with both
balsamic vinegar
ginger or nutmeg
thyme or rosemary -> I like these way better than basil or oregano
smoked paprika or chili -> if you like them hot
How to roast asparagus and mushrooms in the oven?
Line your sheet pan with a non-stick

parchment paper

or use a non-stick baking sheet.
Spread

asparagus

in a single layer and drizzle with olive oil, salt, pepper, garlic powder, and nutritional yeast.
Mix

mushrooms

with olive oil, salt, and pepper. Arrange them in between the asparagus.

Roast them

in the oven on 425 Fahrenheit (220 degrees Celsius) for 13-15 minutes depending on the size of the mushrooms and the thickness of the asparagus.
Both the asparagus and the mushrooms should be

tender if you pierce

them with a fork and slightly brownish on the edges. No need to flip them during roasting, they will be ready without it.
Top tips to make perfect roasted asparagus and mushrooms
We always wash the dirt off the mushrooms.
If the mushrooms are small enough, you can roast them whole.
Button mushrooms have a lot of moisture (more than shiitake or oyster), so we recommend using a fan oven. If you don't have one, open the oven time to time or place a wooden spatula behind the door to keep it slightly open for the entire time. This way the moisture that turns into steam will leave the oven and the asparagus will roast and not cook.
If you find any part of the asparagus not worth roasting, you can always use them to make veggie stock.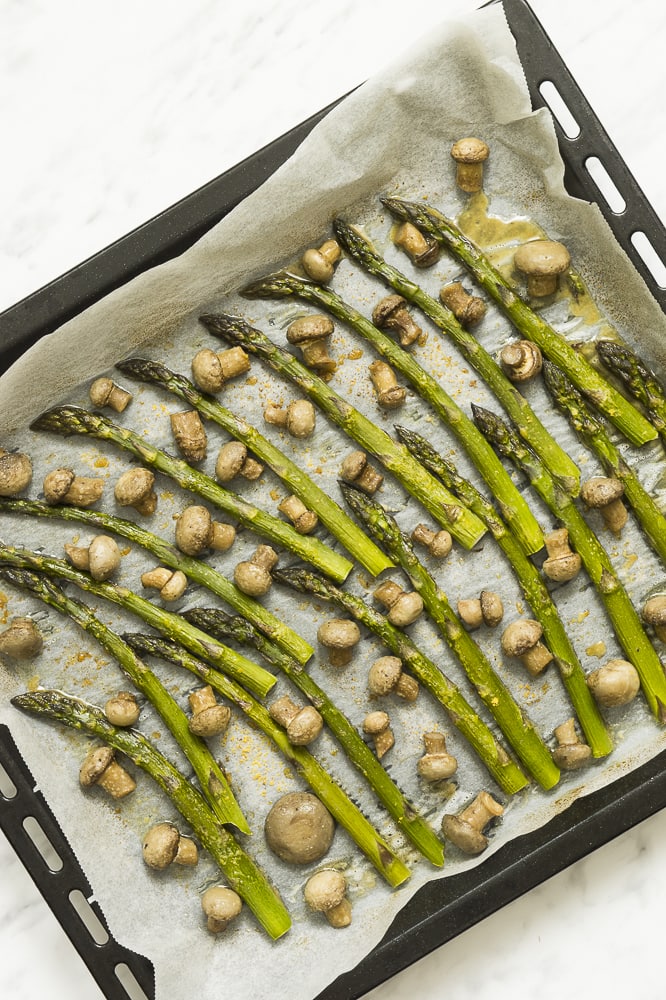 FAQ and substitutions
Can I use white asparagus?
Did you know that the difference between green and white is that whites grown in the soil, while green ones grow above? That is why white ones are usually thicker and woodier and needs to be peeled. You can use white ones in this recipe, but most probably you need to roast them longer around 17-20 minutes on 425 Fahrenheit (220 degrees Celsius).
Can you grill them instead of roasting?
Our little trick is to use aluminum foil drip pans*. Similar to the oven grilling, pre-heat your gas grill for 425 Fahrenheit (220 degrees Celsius) and grill asparagus with mushrooms in one drip pan for 13-15 minutes, turning them half time.
How to store raw asparagus?
Sadly, they won't hold long in the fridge. Especially if you store them bundled up or within a plastic wrap. However, I have a little trick to keep them from drying:
If it is the end of the season or the asparagus are already woody and wrinkly, after preparing them as per the below steps I usually drop them in a bowl of cold water. I store them in the water and in the fridge. I found that if I don't store them in water, then they snap closer to the spear, so I lose a larger portion of the stalk. In this way, the drying stops, but you have to use them within 2 days tops.
What goes well with them?
To be honest we like eating them (even our kids) right out of the sheet pan just like that. But if we feel like dipping it in a sauce, I make this Super Easy Vegan Hollandaise, or this Vegan Bechamel Sauce or a thicker version of this Garlicky Cashew Alfredo.
It is a quintessential spring side dish perfect not just for roasting but for grilling as well. So most people make them to accompany grilled meat-based dishes. However, this is a vegan blog, so let me give you some delicious meatless ideas that you will enjoy equally:
Basic Vegan Risotto (pictured below) -> Yes, number 1 on my list that goes perfectly with roasted asparagus and mushrooms.
Fried Oyster Mushrooms (pictured below) -> They are the perfect little fried nuggets that would be great to enjoy with asparagus and mushrooms. Any grilled veggies go great with them, but if it is spring time, think about this side.

Creamy soups of all kinds

-> They would be a perfect topping for this Creamy Vegan Corn Chowder or this Roasted Broccoli and Sweet Potato Soup. Asparagus goes great with seafood, so a clam chowder should also be on your list to try.

Meatballs of all kinds

-> I can totally picture them in a spaghetti and meatballs kind of dish with a chunky hearty Vegan Marinara Sauce. Try them with Eggplant Meatballs, Veggie Balls, or with the Meatiest Vegan Meatballs. Maybe eating them with Mushroom Meatballs would be too much of a stretch, but let us know in the comments what do you think.

Casseroles of all kinds

-> If you need a more creative side then mashed potatoes, try them with Vegan Wellington, Vegan Pot Pie, Vegan Shepherd's Pie, Vegan Moussaka or Vegan Eggplant Parmesan.

Burgers of all kinds

-> Instead of French fries, think of them when you make a burger. We have a delicious Beet Burger and Portobello Mushroom Burger recipe.
This Roasted Asparagus and Mushrooms recipe is vegan, so meat-free, dairy-free and egg-free. It is also suitable for paleo, low carb, keto, gluten-free, whole30. This recipe is WFPB-friendly if you omit the olive oil.
More easy side dish recipes
You can browse through our Vegan Gluten-free Sides Gallery or check out
UPDATED: This recipe was originally posted in May 2019, but was rewritten and republished with more tips, serving ideas, and more in March 2021.