Imagine a garlicky, creamy green pasta sauce mixed with a bowl of fettuccine. You need only 5 ingredients and 15 minutes to make this creamy spinach sauce. Isn't it one of the quickest meal you can make? Sprinkle the top with a generous layer of Parmesan cheese and serve while it is hot!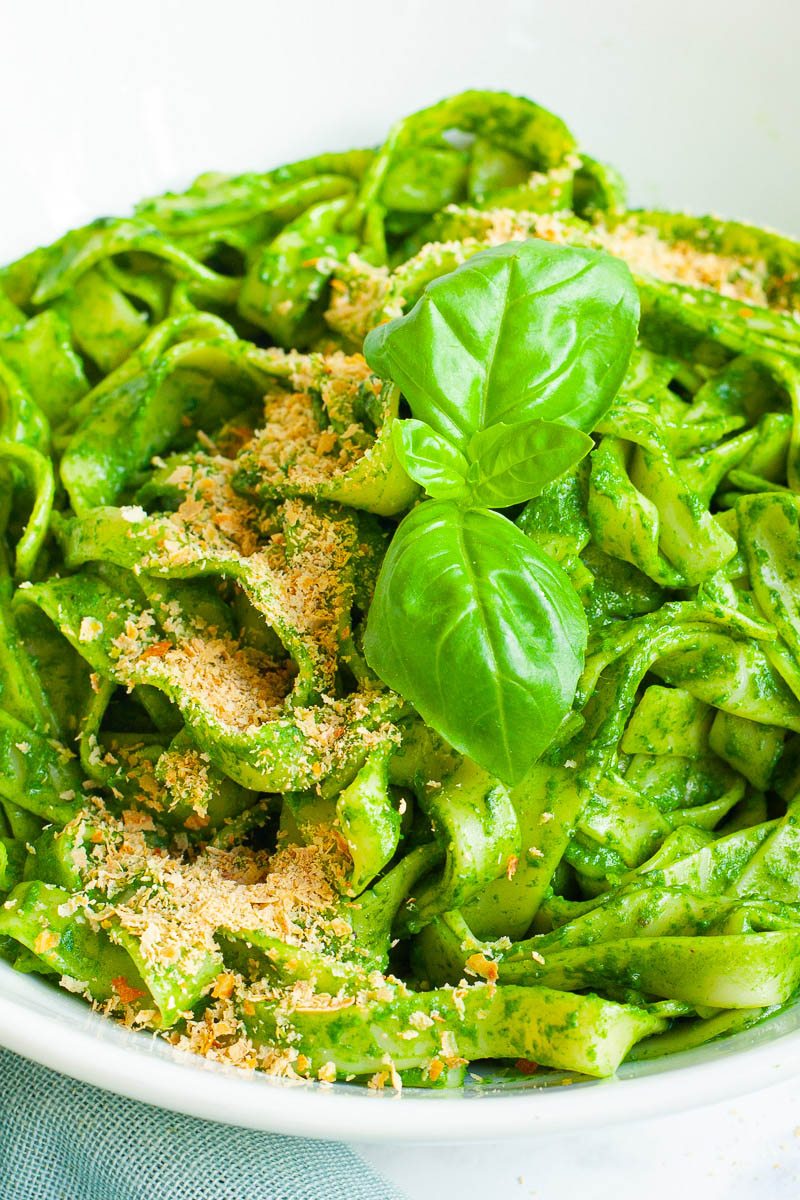 Are you looking into this recipe because you love quick pasta sauces? If you want to try other unique and delicious recipes, we recommend this Caramelized Carrot Pasta Sauce or this Hidden Veggie Sauce (not just for kids). We also have an awesome collection of The Best 20 Gnocchi Sauces that you can add to any pasta really.
5-ingredient green sauce for pasta
So what do you need to make this creamy spinach pasta sauce? It is the perfect sauce to change ingredients depending on your diet or allergy. The sauce will be perfect with dairy-free and vegan products as well. So these are the 5 ingredients to make a green pasta sauce:
fresh spinach leaves
garlic
heavy cream (we used a dairy-free cooking cream)
Parmesan cheese (we used nutritional yeast to make it vegan)
olive oil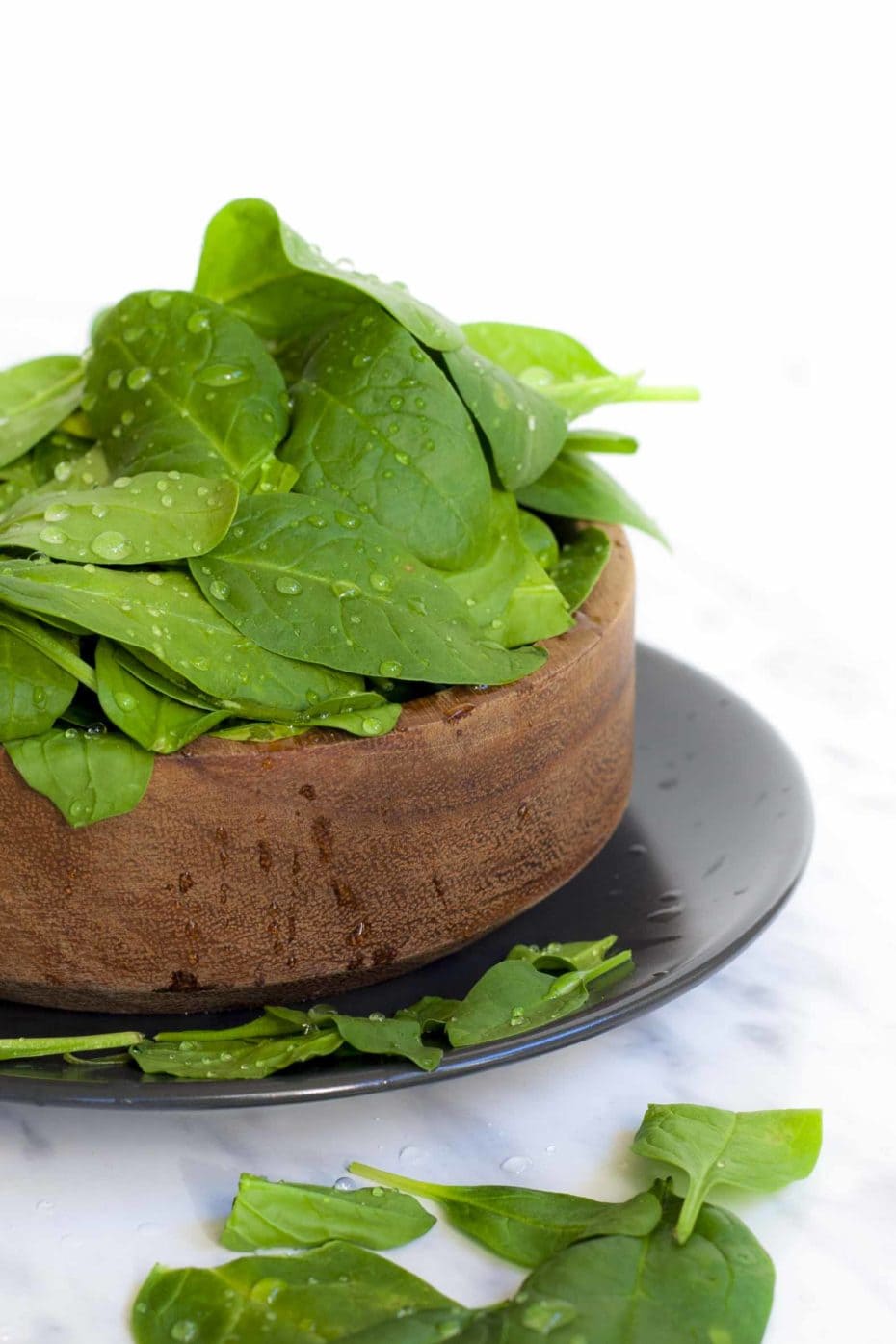 Can you use frozen spinach?
Absolutely! We chopped the fresh spinach leaves with our food processor before wilting them in the frying pan for several reasons. One of the reasons would be to make the leaves easier to work with. It kind of already mimics frozen spinach as that is usually packaged as cubed spinach puree. Use the same amount may it be fresh or frozen.
Can you use other leafy greens?
Yes, of course. The sauce should work with any other leafy greens, like kale for example. Let us know in the comments, which one would you try.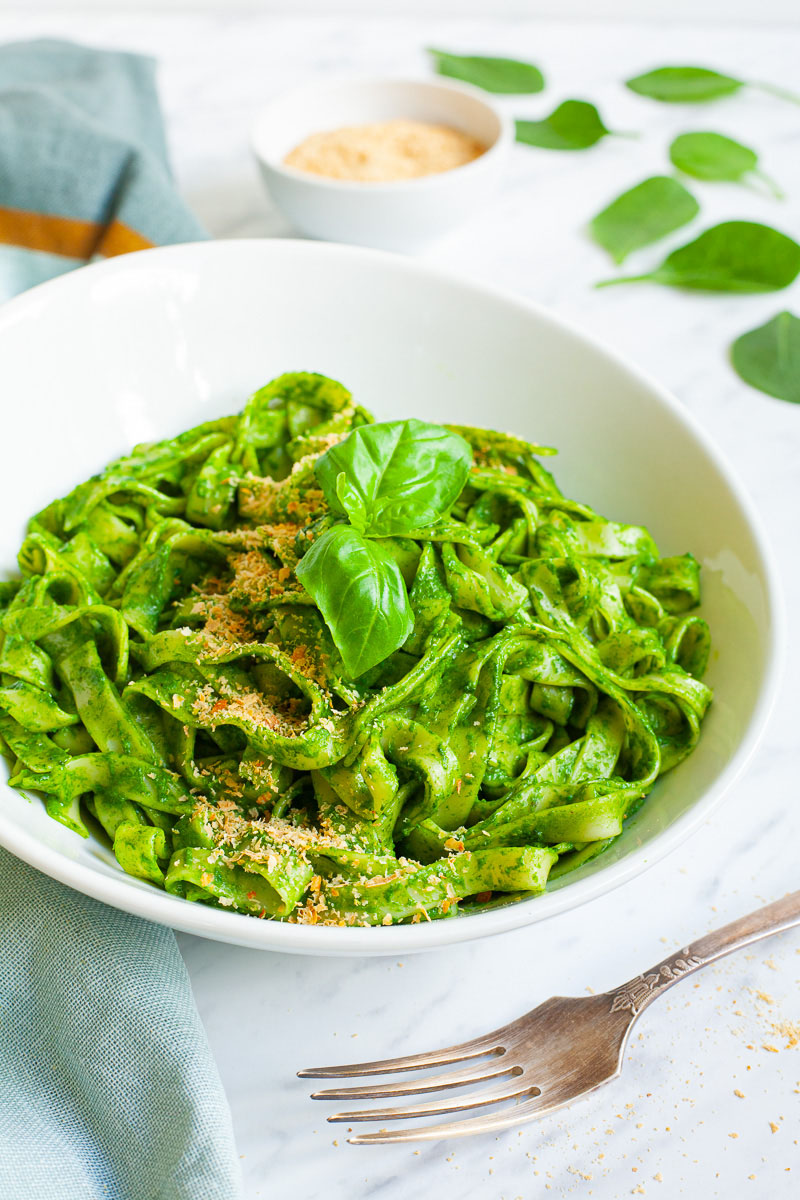 How to make spinach pasta sauce?
Prepare ingredients
Cook pasta in boiling water as per packet instructions.
Peel and mince or finely chop garlic.
Wash spinach leaves (if you buy them unwashed). Add the to your food processor and chop them into small bits. No need to puree them.
If you use frozen spinach, let it thawed before using them. We buy frozen spinach that is packed in ice cube size. In that case, you can toss the frozen spinach cubes into the wok or frying pan and thaw them while cooking.
Making the green pasta sauce
Heat your frying pan or wok on medium heat. Add olive oil and minced/finely chopped garlic. Stir and sautee for 1 minute.
Add chopped spinach leaves. Stir and cook for another minute. (picture #1)
Add heavy cream (we used a dairy-free version) and parmesan (we used nutritional yeast as a vegan alternative). Stir well and bring it to boil. Approx. another 1 minute. (picture #2)
Take a long thin container and use an immersion blender to make it extra smooth and creamy.
Drain pasta and mix it with the creamy spinach sauce. Serve while hot! Before serving, sprinkle them more Parmesan or nutritional yeast.
The best pasta for this green spinach sauce
I don't know what you think but I love long pasta like spaghetti, fettuccine, tagliatelle or linguini with this spinach sauce. It sticks to it neatly (see picture below). But if you have penne, rigatoni or farfalle, this sauce is equally delicious with them.
We also tried this recipe with rice noodles*. They are allergy-friendly and makes for a delicious and light pasta dish. It is also super easy to make. All you need is a kettle. Boil some water. Add the noodles to a saucepan and pour the hot water on them. Cover the pan with a lid and your noodles are ready in 10 minutes. No need to turn your stove on.
The sauce itself is gluten-free, but you can choose any of your favorite gluten-free pasta. If you want something unique, choose quinoa spaghetti* or this protein-packed edamame spaghetti* or this chia flour pasta*.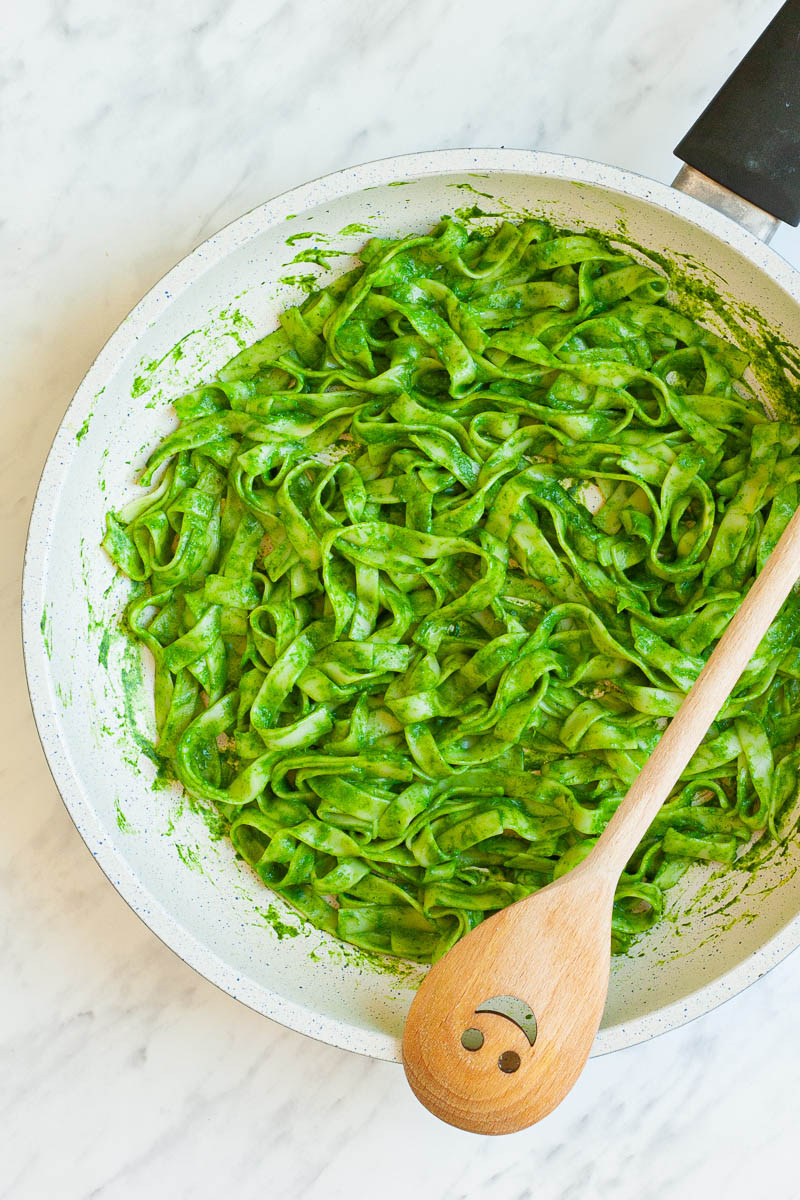 Topping ideas for this creamy spinach pasta
You can never go wrong with some veggie toppings. Our favorite ones are the following:
Lightly roasted cherry tomatoes or sun-dried tomatoes (It is always nice to add a bit of colour.)
Sauteed Mushrooms or even better wild mushrooms
Sauteed broccoli or even better broccolini
Green peas or snap peas (mangetout)
Sweet corn
Olives (kalamata or green)
Legumes (beans, lentils) like white/cannellini beans, red kidney beans, chickpeas (roasted or cooked)
Nuts and seeds (almond slices, pepitas, pistachios or any leftovers from making the pesto)
More vegan parmesan, or nutritional yeast
Vegan feta cheese crumbles or vegan mozzarella
Let us know in the comments what is your favorite topping!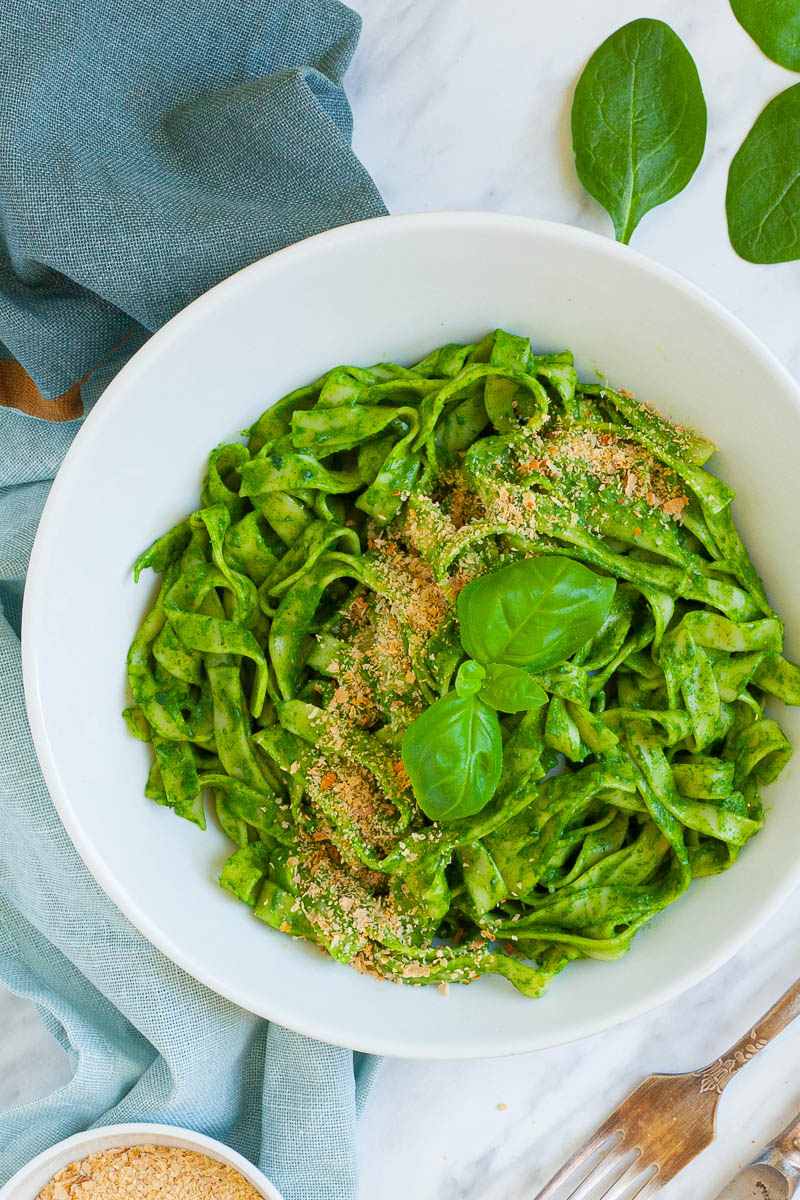 This Spinach Pasta Sauce recipe is meat-free, dairy-free and egg-free. It is suitable for vegan, vegetarian, nut-free and gluten-free diets. It is WFPB-compliant if you sautee veggies in water or veggie broth. Choose your pasta according to your dietary needs.
More spinach recipes
You can browse through our Vegan Spinach Recipes or check out these.
More pasta recipes
You can browse through our Vegan Sauce Recipes or our Quick Vegan Meals collection or check out
UPDATED: This recipe was originally posted in July 2018, but was rewritten in April 2019. We further tweaked the recipe, took new photos and rewritten it again in May 2021.