These Spicy Vegan Samosa Rolls are a great appetizer fusion between Indian samosas and Vietnamese summer rolls. You can prepare their spicy potato, carrot and pea filling in one pan and then wrap it in gluten-free rice paper wrappers. They are perfect finger food either uncooked or crispy.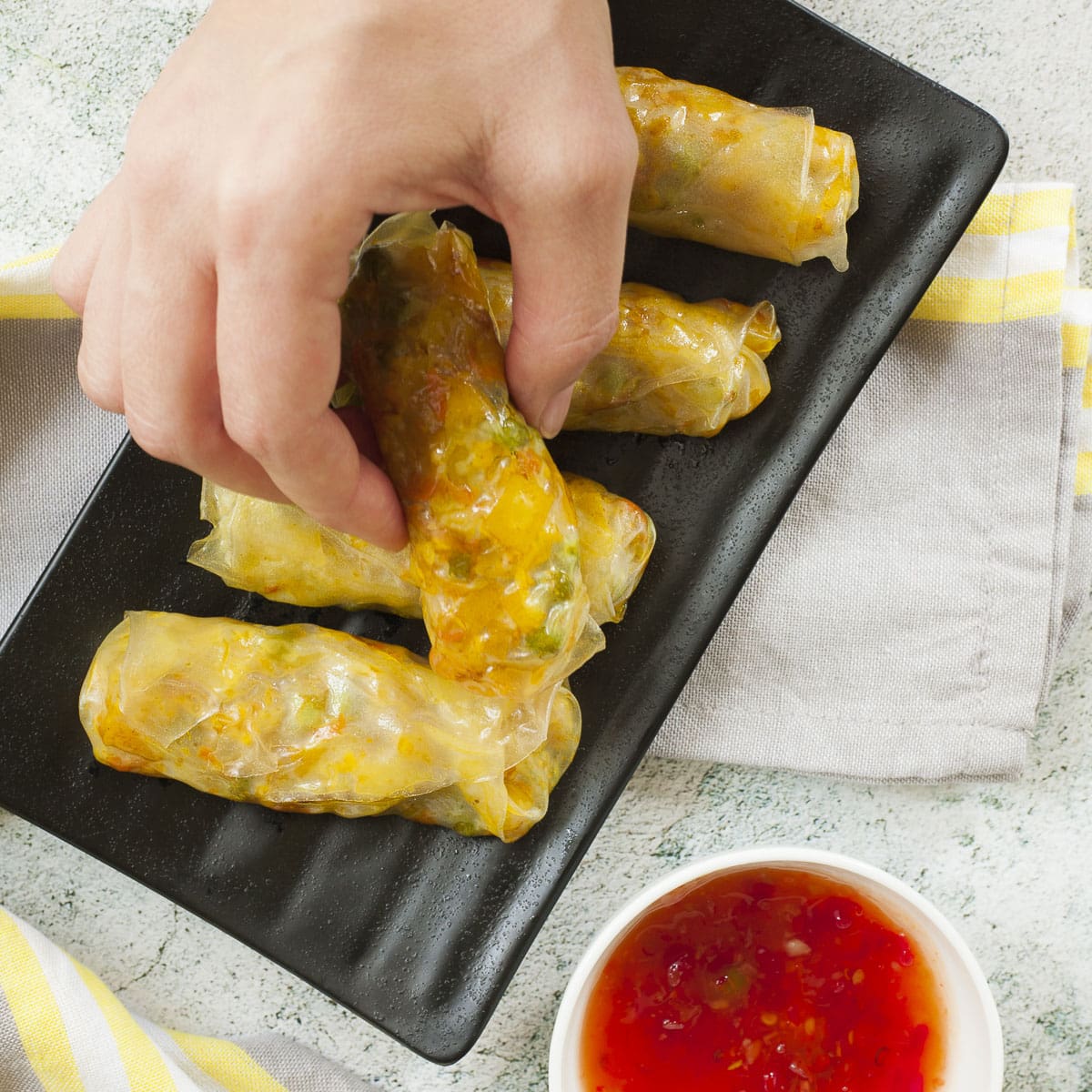 This recipe is not the only Asian-inspired recipe and also not the only one with rice paper. Have you seen our Crispy Rice Paper Spring Rolls or our Vegan Orange Chicken or our Sweet Potato Sushi Rolls recipe or our Chickpea Mushroom Curry?
What is samosa?
Samosa is one of the most popular portable snacks in India. Traditionally, it is a flaky pastry filled with a spicy potato filling (with or without meat) and fried in oil. Samosa is usually shaped in a triangle or more like a cone. Depending on the filling samosa can be vegan, but sadly the original samosa recipe uses a wheat flour based wrapper which is not gluten-free.
So what is the easiest way to make them vegan and gluten-free?
⇒ Make a quick, one-pot hearty veggie filling and use gluten-free rice paper!
Why is rice paper the solution? We have written a Complete Guide to Rice Paper Wrappers (incl. the Best Rice Paper Rolls Recipes) where we share all the tips you should know about how they are made, which one to buy, what is the difference between the brands and how that difference needs to be paid attention to when handling the rice papers.
Ingredients of vegan samosas
To make vegan / vegetarian samosa, you need 5 veggies and 5 spices. Yes, the spices are the heart of this dish to make them taste like a samosa. So what do you need?
onion
garlic
potatoes
carrots
peas
spices (cayenne pepper, cumin, curry powder, garam masala, turmeric, and salt)
How to make gluten-free samosa rolls?
Preparing the veggies
Peel and mince onion and garlic.
Wash, peel and cut potatoes in small cubes.
Wash, peel and shred carrots.
If you use frozen ones, you can thaw them in advance (although it is not needed if you're short in time).
Making samosa filling
Heat 1 Tbsp of the olive oil in a large nonstick pan over medium heat.
Add the finely chopped onion and garlic, and cook until soft and fragrant (3-4 minutes).
Add the remaining olive oil, chopped potatoes, shredded carrots, and peas. Cook for 2 minutes.
Add all spices and cook for 5 minutes.
Finally, cover it with a lid and cook for 12 to 15 minutes, stirring occasionally until the potatoes are soft. (See the yummy, cooked veggie filling on the below photo.)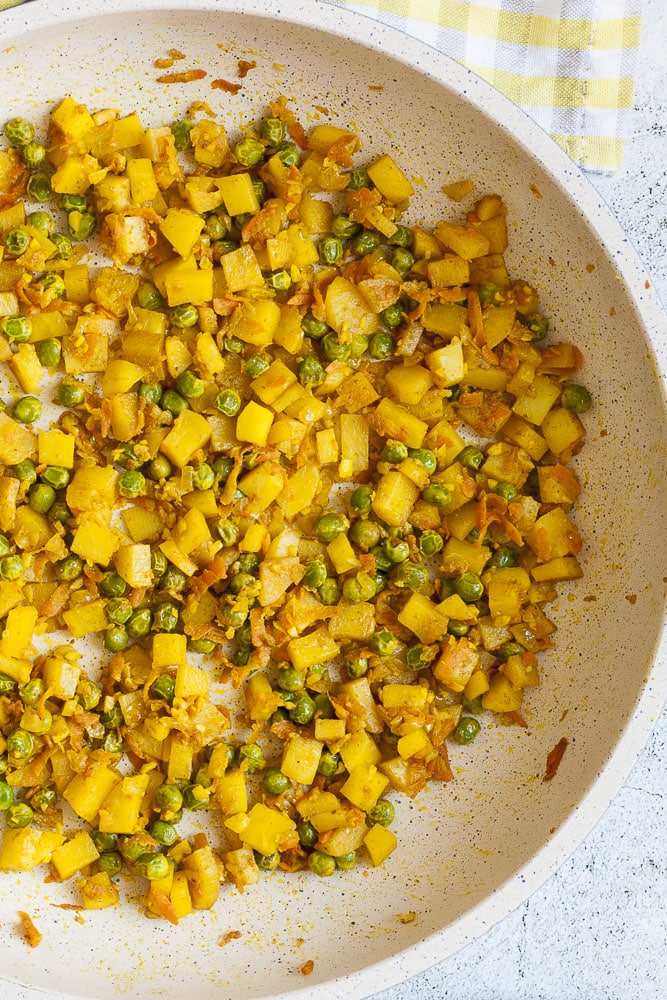 How to roll rice paper?
We have a complete guide on How to use Rice Paper Wrappers with tips on how to handle them depending on the type you have, how to roll them tight and how to make them crispy in the oven or by pan-frying or by air frying. In general, you should do these steps.
Soak a rice paper wrappers in warm water for approx. 2-5 seconds.
Lay it on a flat surface and spread roughly one-sixth of the potato filling in the center at around ⅓ from the bottom.
Fold the sides to the middle.
Then roll the bottom seam upwards and tuck the filling in tight with your fingers.
Roll the rice paper around the filling all the way to the top, as if you were rolling a burrito.
Different brands may behave differently. Some brands need only a quick dunk in the water, while others need 5 seconds. So you may end up with a rice paper roll that is too sticky to hold the filling together or they pop during frying or baking. For troubleshooting, please check out our Rice Paper Guide.
Crispy or not?
You can enjoy gluten-free samosa rolls in rice paper just like that. If they feel too wet or sticky. Put them in the fridge. But don't pack them together tightly as they may stick together.
If you want to make them more like crispy spring rolls you can. I really like the texture of the rolls after baking. It is crispy and crunchy. Nice to bite on them.
Bake

them in a pre-heated 350 Fahrenheit (180 degrees Celsius) oven for 10 minutes until the rice paper gets light brownish and crispy.
Low fry them in 0.5-inch high oil or

deep fry

them for a couple of seconds until they turn nice and crispy.
If you have an

air fryer

, you can use it to make them crispy. Spray a bit of oil beneath so the rice paper rolls don't stick to the bottom.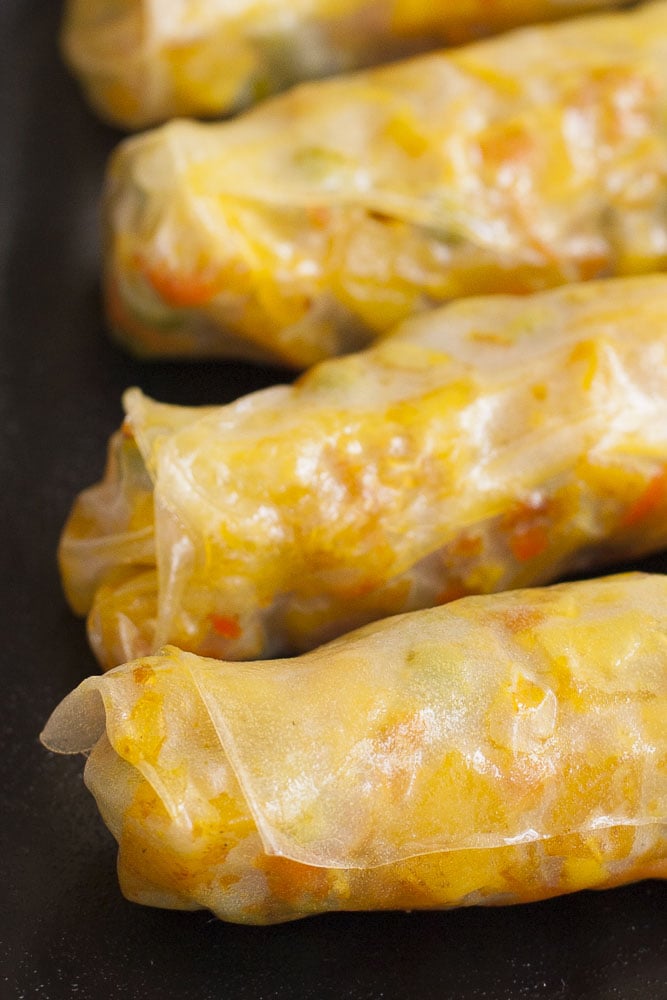 What sauce is good with vegan samosas?
You can dip these crispy samosas in a various sauce and they will taste amazing all the time. We like to dip them in
Cilantro and Mint Chutney (see ingredients in recipe card below)
Sweet Chili Sauce (I know it is not Indian, but I love the two together)
Let us know what is your favorite dipping sauce in the comments below!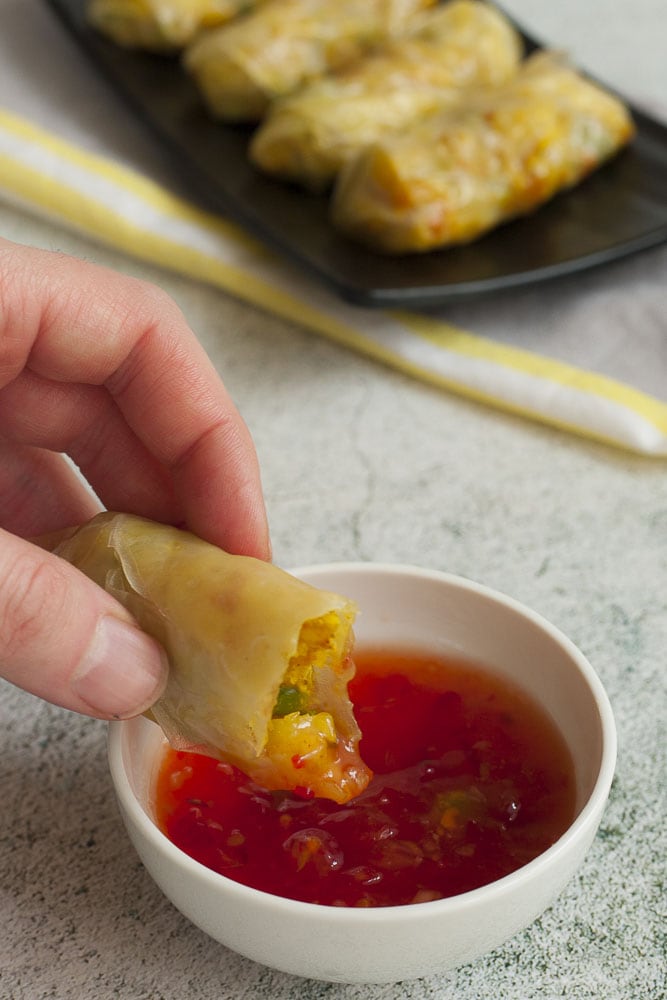 What kind of samosas are they?
Well, I was asked to review a cookbook. It is such an exciting thing to do. I am excited as I get to try new recipes, and I also feel the excitement of the author as their new "baby" reviewed by many bloggers at the same time. But the most exciting thing is that I get to share with you one recipe from the book. And I chose this delicious SAMOSA SUMMER ROLLS recipe.
But which cookbook is it, you ask?
⇒ Click here to see all the cookbooks we recommend including some free e-books you can download right now!
Weeknight One-Pot Vegan Cooking by Nicole Malik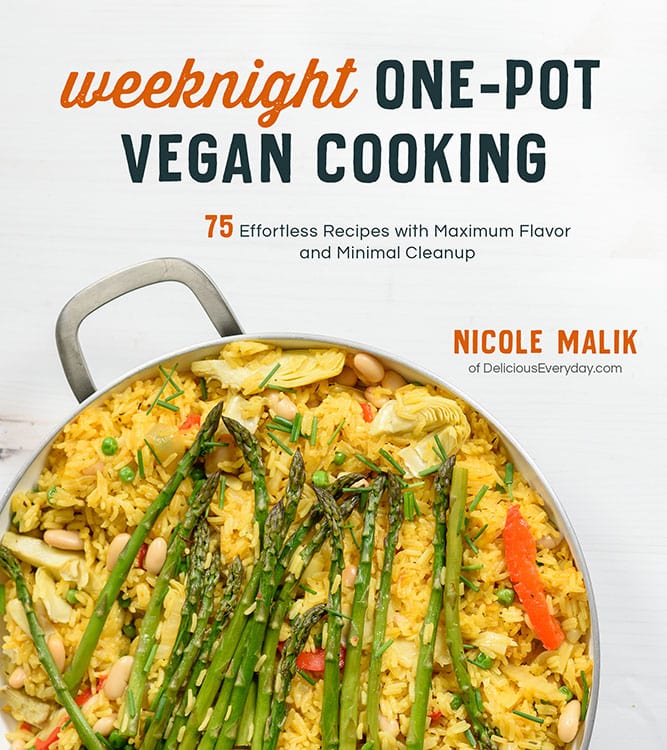 Nicole is the creator of Delicious Everyday. She shares vegan and vegetarian recipes with her 2 million yearly readers. We really enjoy her blog ever since we started eating plant-based as she cooks delicious meals from scratch using whole ingredients. Just like us. If you haven't found her online, you should definitely go and check her blog.
She became vegetarian at a very young age when she was only 12 years old and meatless options were scarce. Which means she perfected her cooking skills and homemade recipes to perfection over the years. Her motto is
Food should be an experience that we enjoy. No judgement, no guilt.
⇒ Buy Weeknight One-Pot Vegan Cooking Cookbook on Amazon now, and start eating the rainbow!
What can you find in the cookbook?
Nicole's cookbook is almost 100 pages long and divided into 7 chapters. The book contains 75 delicious no-mess vegan recipes that you can make in ONE POT mostly within 30 minutes. Exactly what we need if we want something healthy, delicious and quick lunch and dinner on the table.
When we think of Quick Vegan Meals, we do think of soups, salads, pasta, stir-fry, and one-pot meals. Her recipes don't have a long list of crazy unique ingredients and spices. She uses well-known staples to create colorful, rich and nutritious dishes. No salad and no tofu :-), but a rainbow of veggies, grains, legumes, and fruits. You can choose recipes from the below categories:
Eat Your Veggies

Eat with Your Hands

Crowd-pleasing Comfort Food

Incredible Grains

Bowls of Deliciousness

Rise and Shine

Simply Sweet One-pot Treats
Some of her recipes from the cookbook we recommend
We list you here some of the recipes from the book we either made and loved or on our list of must-try dishes:
Portobello Pot Roast – She makes an unbelievably thick brown sauce using dark ale. We make Portobello Pot Roast without it since I need to eat gluten-free and sadly beer is non-compliant. But I saw in Bon Appetite's article about gluten-free beers a dark ale that looks promising. I just need to get my hands on it and I am making this recipe right away.
Pan-fried Polenta Puttanesca – Polenta can be really bland, so you need a spicy and flavorful sauce to add to it. It was delicious.
Fig & Balsamic Skillet Flatbread – Reduced balsamic syrup poured over sweet figs and onion slices and topped with arugula. So yummy!
Jamaican Jerk Veggie and Pineapple Lettuce Wrap – Colourful veggies and sweet pineapple seasoned with Jamarican Jerk seasoning. Lettuce wraps are such a quick and easy lunch.
Creamy Pumpkin Risotto with Fried Sage – We love risotto. This creamy pumpkin version has definitely got into our Top 3 next to Mushroom risotto and Beetroot risotto.
Spicy Mexican Quinoa Skillet – Since making this Quinoa Salad with Berries and Candied Nuts, we can't wait to try more quinoa recipes. This is one of the next ones.
All in all this cookbook is awesome. We recommend it to anyone who would like to start eating plant-based or vegan or just one dish at a time. All the recipes you can choose from are easy to make and fuss-free. So they are quick wins that will encourage you to try more and more!
⇒ Buy Weeknight One-Pot Vegan Cooking Cookbook on Amazon now, and start eating the rainbow!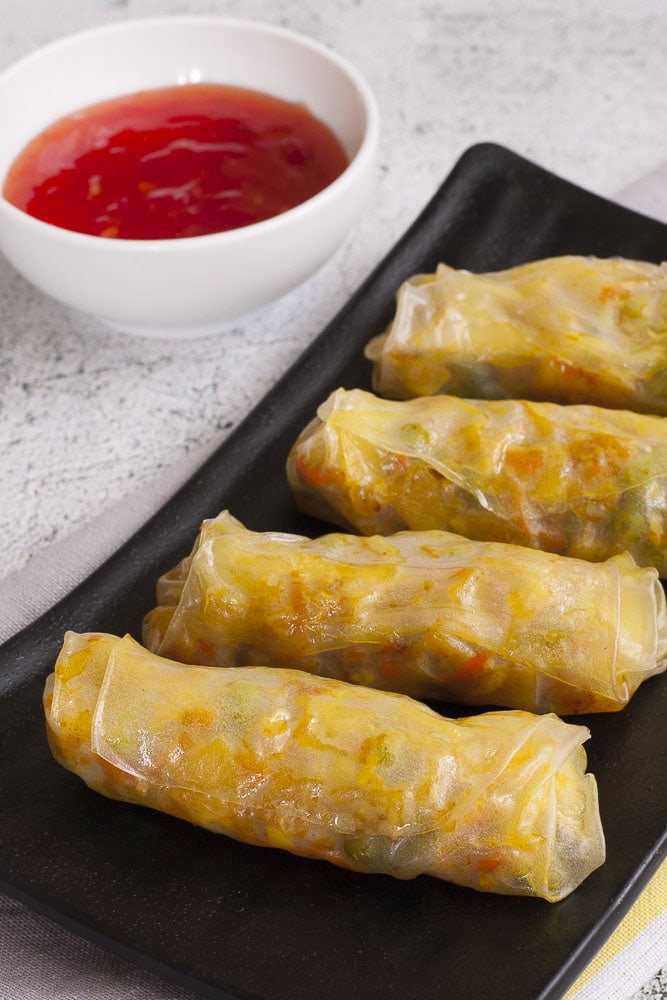 This Vegan Samosa Rolls recipe is meat-free, gluten-free, dairy-free and egg-free. It is also suitable for a vegan and vegetarian diet. It can also be WFPB-friendly (whole foods plant-based) if you sautee veggies in water or veggie broth.
More vegan appetizer recipes
You can browse through our Vegan Appetizers recipe gallery or check out