My Perfect Vegan Chocolate Cake – It is a moist and decadent double chocolate cake with a 2-ingredient chocolate coconut whipped cream frosting. One bowl for the cake and one bowl for the frosting. Simple, easy, and delicious! Dairy-free and gluten-free as always.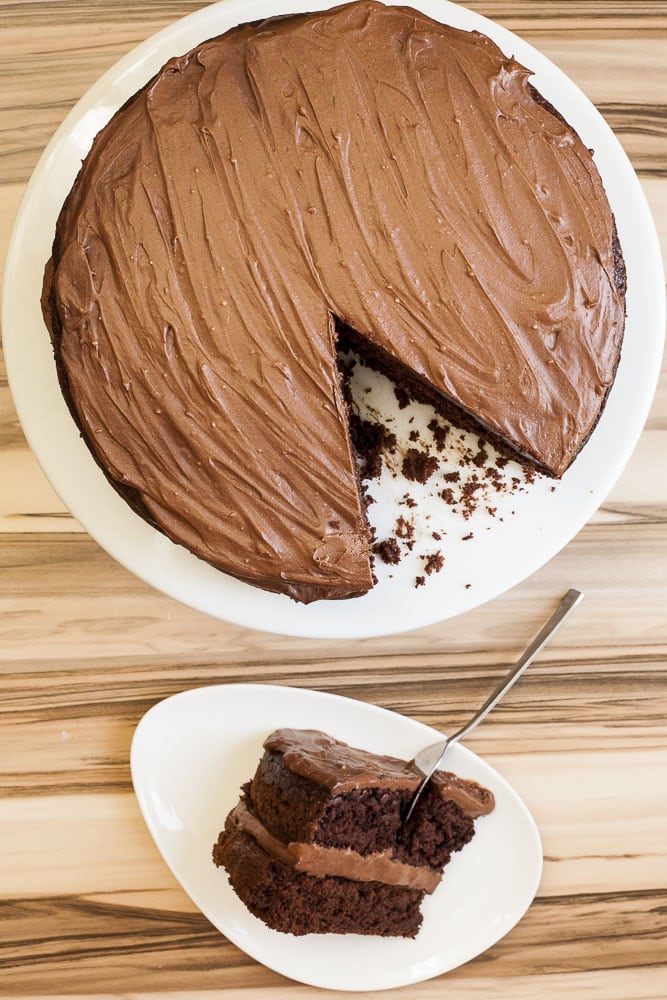 If you need more vegan gluten-free chocolate dessert recipes, try our easy and vibrant chocolate peach galette, our fudgy sweet potato brownies, or our rich sweet potato chocolate pudding recipes.
Why you'll love this recipe?
When we started eating plant-based, the first thing I wanted to make vegan and gluten-free was a chocolate cake. I can tell you that it wasn't easy to come up with a decadent double chocolate cake recipe that meets ALL my requirements:
Obviously, the cake has to be vegan and gluten-free.
I don't want to use any box flour mixes or hard-to-find ingredients.
The texture of the cake has to be moist, chocolatey but not crumbly.
The frosting has to be easy and without any butter.
In 2019 I finally made a double chocolate cake for my birthday that was all the things I listed above. And nobody batted an eye at the fact that one slice was missing when I presented them with the cake. Oh yes, the slice I needed to take a photo for this post. Exhibit A below. 🙂
Ingredients – chocolate cake
After trying and testing different flour mixes and combinations, I ended up with the following 10 ingredients. The result is a delicious, rich, vegan, and gluten-free double chocolate cake, which checks all the boxes for me! Not to mention easy to make, so beginners can jump right into it. You can turn it into chocolate cupcakes or a chocolate sheet cake easily without changing anything.
oat flour – it is easy to get, and close enough to wheat flour
cocoa powder – a healthy alternative to chocolate chips
coconut sugar – I love its natural caramelized sugar flavor
peanut butter – we use homemade peanut butter (for nut-free, you can use Earth Balance butter)
dairy-free milk – we use homemade cashew milk
applesauce – it makes the cake moister and less crumbly
psyllium husk or ground flax/ground chia – egg substitute aka binder
baking soda and apple cider vinegar – when these two are together they create a foam that lifts the cake up to be fluffy and not dense
sparkling water – to create air in addition to baking soda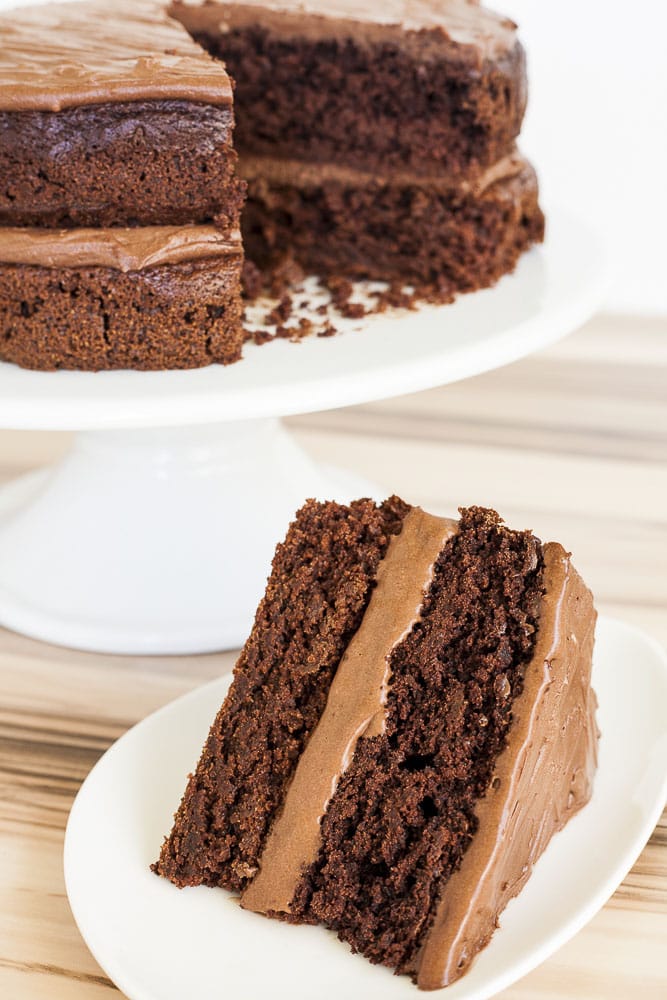 Ingredients – chocolate frosting
It is a chocolate frosting without butter or any dairy for that matter. It is still creamy and luscious, thick but light and fluffy at the same time. The best part is that this easy homemade chocolate frosting is super quick to make. You only need 2 minutes and 2 ingredients:
I need to add here for those who don't like coconuts that this light chocolate frosting has no coconut flavor. My father-in-law hates the taste of coconut but he couldn't recognize it when I told him what the frosting was made of.
How to make a gluten-free vegan chocolate cake?
Take a large bowl and add all dry ingredients: oat flour, cocoa powder, coconut sugar, psyllium husk, and baking soda.
Mix with a spatula or spoon until they are well combined.
Add dairy-free milk (cashew or almond milk).
Add also apple cider vinegar and mix thoroughly.
Now add peanut butter, unsweetened apple sauce, and sparkling water.
Mix it well until you have a smooth cake batter.
Take your cake pan and line it with parchment paper. I love this removable button cake pan as it is so easy to take the cake out after baking.
Pour in the cake batter. Try to make the top as even as you can. Bake in a pre-heated oven at 350 Fahrenheit (180 degrees Celsius) for 30 minutes on the center rack. Check with a toothpick to see if the cake is ready.
Top tips to make the cake perfectly
Use a flour sifter or a fine-mesh strainer to sift oat flour and cocoa powder to avoid any lumps in your batter.
If you use homemade peanut butter or oil-free store-bought one, we recommend adding a bit of melted coconut oil. Otherwise, you may end up with a crumblier cake than you'd expected.
Even if I use a removable button cake pan, I always use non-stick parchment paper to make removing the cake easier.
After you removed the baked caked from the oven, allow cooling for 10-15 minutes. Now, you can take your vegan chocolate cake out of the pan and the frosting can finally begin.
You can further enhance the chocolate flavor if you add a bit of espresso powder.
How to make vegan chocolate frosting?
I HIGHLY recommend frosting this yummy chocolate cake with this easy, 2-ingredient chocolate coconut whipped cream. It is actually a creamy, dreamy, light frosting. Just heavenly!!! It makes this cake even more amazing. When it is ready, try not to eat it with a spoon right out of the bowl….No, you haven't done it? Okay, maybe it is just me and my daughter, who licked the bowl clean. 🙂
Scoop out the creamy part of the canned coconut milk after it has been chilled in the fridge for at least 2 days into a large mixing bowl.
Try to take as little from the watery part as you can.
Now, take your hand mixer and whip it for a minute.
Add hot chocolate powder ¼ cup at a time and whip until they are fully combined. That's it! Didn't I say laughably easy? In 2 minutes, you will have your vegan chocolate frosting ready.
Top tips to make coconut whipped cream
Store your canned coconut milk in the fridge! – To separate the watery and the creamy part, the coconut milk needs to be chilled (in the fridge and not in the freezer) for at least TWO days. I know that a lot of recipes say one day or overnight, but in most cases that wasn't enough for me. So I ended up storing them in the fridge the whole time, this way I always have them separated whenever I need any cream.
Its volume will not increase by whipping! – If you scoop out the creamy part that is the amount you end up with after whipping. It doesn't behave like heavy cream in this sense, where whipping at least doubles the volume of heavy cream.
It is sensitive to temperature. – If you make your coconut whipped cream and put it back into the fridge, it will harden again and you need to whip it again. If you've already used it as a frosting, it will harden on the cake as well. Also the longer you beat, the warmer it gets and it will be too runny to frost your cake with it.
If you use cocoa powder instead of hot chocolate powder, then use a powdered sweetener. In our experience, liquid sweeteners like maple or agave syrup will make the whipped cream runny.
FAQs and substitutions
What if coconut cream won't separate?
Yes, it can happen. There are usually THREE reasons why:
The canned coconut milk was not a full-fat one, but a light one. We like Aroy-D or Natural Value, as both of them, have 17-18g fat content per can.
The product you used contained an emulsifier, the sole purpose of which is actually to prevent separation. We always check the ingredients list so that it only contains coconut and water.
The can hasn't been in the fridge long enough. I usually put them in the fridge two days in advance or just keep them in there so I don't have to plan ahead.
Can you use other flour?
I haven't tested this recipe with other gluten-free flours like almond flour or even a gluten-free flour blend like Bob's Red Mill. I especially wanted to develop a recipe for oat flour.
Is oat flour gluten-free?
Yes and no. Not all oat flours have been created equal, so make sure to use certified gluten-free oat flour and you are good to go.
How can I make a nut-free chocolate cake?
You can use Earth Balance vegan butter instead of peanut butter. And oat, soy milk, rice, or coconut milk instead of nut milk.
Can I use a different sweetener to make it low carb?
Probably yes, although I only tested this recipe with cane sugar and coconut sugar (the same amount is needed). Therefore, I am not familiar with the measurements for other sweeteners like stevia or erythritol. If you do, please let us know in the comments.
Other frosting alternatives
Alternatively, you can also use this sweet potato chocolate pudding recipe to frost brownies, cupcakes, and cakes like this. It is actually made of 4 ingredients including sweet potato puree.
Or if you prefer to have a classic vanilla buttercream frosting, try Nicole's super easy, 4-ingredient vegan buttercream frosting recipe.
This Vegan Chocolate Cake recipe is dairy-free and egg-free. It is suitable for vegan, vegetarian, and gluten-free diets.
More vegan gluten-free dessert recipes
You can browse through our vegan gluten-free dessert recipes or check out
Gluten-free Vegan Chocolate Cake (Oat Flour)
It is a one-bowl, moist, and decadent gluten-free vegan chocolate cake with chocolate coconut whipped cream frosting. Simple, easy, and delicious!
Ingredients
Chocolate cake – dry ingredients
Chocolate cake – wet ingredients
EXCLUSIVE 5-ingredient recipes for busy home cooks that are ready in 15 minutes!
Check out our Express Vegan Cookbook!
Instructions
This recipe is to make a one-layer chocolate sponge cake base in a 9-inch cake pan. If you need a double layer (like in the photos), double the recipe and bake them separately in two 9-inch cake pans.
Chocolate cake
Mix dry ingredients – Take a glass bowl and add all dry ingredients: oat flour, cocoa powder, coconut sugar, psyllium husk (or ground flax seeds), and baking soda. Mix with a spatula or a spoon.

Add dairy-free milk and apple cider vinegar to the dry mix and stir until you get a smooth batter.

Add peanut butter and apple sauce and mix again.

Finally, add sparkling water and mix gently.

Line your cake pan with parchment paper and pour in the mixture. Try to make the top as even as you can.

Preheat the oven to 350 Fahrenheit (180 degrees Celsius) and bake for 30 minutes.

Before removing the chocolate cake from the baking pan, wait for it to cool down.
Chocolate frosting
Scoop out the creamy part of the canned coconut milk after it was chilled in the fridge for at least 2 days. Try to take as little from the watery part as possible.

Now, take your hand mixer and whip it for 1 minute.

Add ¼ cup of hot chocolate powder at a time and whip it until combined. 1 minute or so.

Frost your cake using a silicone icing spatula. To have a decadent frosted cake, you need to count on 1 can per layer and 2 cans for the sides.
Notes
RE-TESTED RECIPE AS A REACTION TO COMMENTS
As we received some comments about the amount of baking soda, I re-tested the recipe with new baking soda and ACV amounts and also added apple sauce to make the cake moister.
Nutrition
Nutrition Facts
Gluten-free Vegan Chocolate Cake (Oat Flour)
Amount Per Serving (1 slice)
Calories 100
Calories from Fat 27
% Daily Value*
Fat 3g5%
Sodium 131mg6%
Potassium 95mg3%
Carbohydrates 16g5%
Protein 3g6%
Vitamin A 21IU0%
Calcium 26mg3%
Iron 1mg6%
* Percent Daily Values are based on a 2000 calorie diet.
UPDATED: This recipe was originally posted in September 2019. Since then it has been re-tested as a reaction to comments in June 2020. It has been republished with the complete frosting recipe in April 2022.