Thin and tender potatoes in a rich creamy, garlicky, sour cream-based white sauce is what you will get if you try this Vegan Scalloped Potatoes recipe. No cashews and no flour is needed to make this dairy-free, nut-free, and gluten-free comfort food.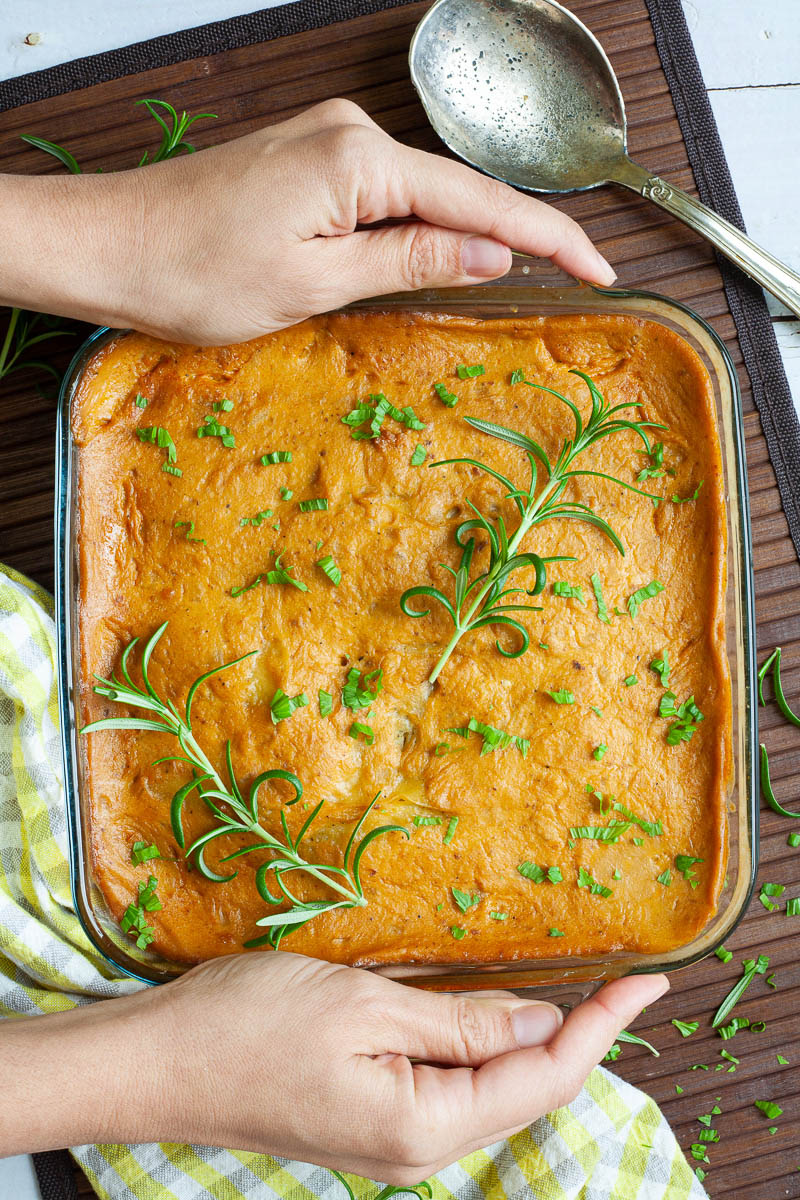 Potatoes are the number 1 comfort food according to my opinion. They are easy to work with and they usually make a hearty, filling dish. They are perfect as mashed on the top of our Vegan Shepherd's Pie, or as French fries next to our Vegan Beetroot Burger. Potatoes also make the best creamy Spinach Soup and Pumpkin Soup without any heavy cream.
Why are they called Scalloped Potatoes?
Scalloped potatoes or Potatoes au Gratin? But what is the difference? I love this potato casserole dish, but I wasn't sure what to call it. Apparently, scalloped potatoes are thinly sliced potatoes baked in a creamy sauce and topped with breadcrumbs, while au gratin potatoes has cheese grated on the top instead of breadcrumbs. So our recipe is definitely closer to Scalloped Potatoes.
Ingredients
It is a dairy-free and gluten-free potato casserole dish baked in a sour cream-based sauce. The recipe has 3 main ingredients:
potatoes, onion and garlic
optional toppings: breadcrumbs, spring onion, chives, grated cheese, etc.
To make our rich, creamy sour cream based sauce, you need 8 ingredients.
No cashews were harmed while making this sauce. The sour cream is a perfect base and it reminds me of the potato casserole my mom used to make. Well, she also added boiled egg slices and sausages to it back then. I skip those obviously now.
Sour cream goes hand in hand with sweet paprika powder in our family. It is an awesome combination. You won't regret trying it. We also add it to our Vegan Cabbage Soup and to our Creamy Vegan Mushroom Pasta.
How to make Vegan Scalloped Potatoes?
Slice the potatoes with a mandolin
The first step is to prepare the potatoes. Wash them, peel them and slice them. The best way to do that is by using a mandolin slicer*. Not only will it shorten the prep time significantly, but also ensures that all slices are the same. Why is that important? Because all potato slices will be tender and ready at the same time. Just look at the below picture. Doesn't these scalloped potatoes look restaurant-style?
Prepare the vegan cream sauce
We used our favorite cast-iron skillet from UnoCasa*but you can use other pans as well. Heat it over low-medium heat.
Add olive oil, chopped onion. Stir and sauté for 2-3 minutes. Add chopped garlic. Stir and cook for another minute or so.
Take it off the stove for a bit and add smoked sweet paprika powder and corn starch. Mix it well.
In a separate bowl, mix vegan sour cream with dairy-free milk. Both needs to be on room temperature.
Add ½ cup from the milk-sour cream mix and whisk it well. You need to go in small batches to make sure you get a smooth sauce. Go until you run out of liquid to add. Whisk continuously.
When the milk-sour cream mix is well incorporated, add the vegetable broth. Stir thoroughly.
Finally, add garlic powder, onion powder, nutritional yeast, salt, and black pepper. Mix well.
Bring it to boil and wait until the sauce thickens.
Assemble and bake
Let's assemble our scalloped potatoes. I love to use glass oven-safe dishes*, so I can check the progress of the baking easily.
Pre-heat the oven on 395 Fahrenheit (200 degrees Celsius)
Spread a bit of vegan butter, coconut oil or other oil at the bottom.
Add the first 2 layers of thin potato slices.
Add a bit from the vegan cheezy cream sauce.
Repeat until you ran out of potatoes and sauce. Make sure you have enough sauce left to cover all potatoes on the top.
Bake the potatoes covered with a tin foil for 40 minutes.
Take the tin foil off and bake it for another 20 minutes.
After that you can sprinkle it with breadcrumbs and grated cheese and bake under the broiler for 10 minutes.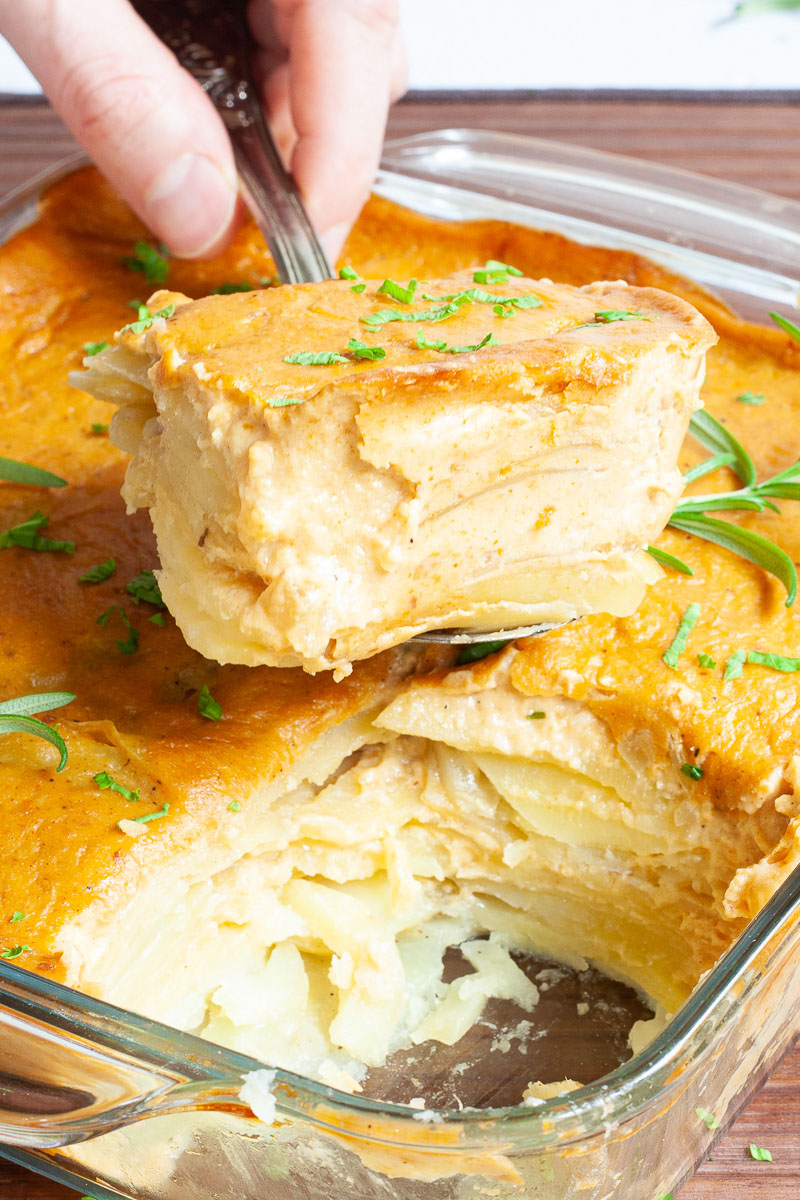 Top tips to make perfect vegan scalloped potatoes
If you use

new potatoes

, you don't need to peel them as their skin is very thin, edible and nutritious.
The thinner you slice the potatoes, the shorter will be the cooking time. That is why we absolutely recommend you to get a mandolin slicer*. As slices will have an exactly same width, they will be cooked and tender at the same time.
We recommend using a

tin foil to cover

the scalloped potatoes. It keeps the heat in, so the potato slices in the middle will be cooked as well. It will also make sure that the top of the sauce will not burn or getting too dark.
Secrets to a smooth sauce
They are not really secrets per se, but our top 4 tips to make this cream sauce successfully and fuss-free.
Cook it on low heat -> Never ever on high heat especially after you added the cornstarch. You can start on medium, but take it off the heat when adding cornstarch. Continue thereafter on low.
Add liquid in batches -> It is the safest way especially if it is your first time making this sauce. I usually go with ½ cup at a time.
Use a whisk -> I always use a whisk, as I found it to be a fool-proof way to make any sauce lump-free. If you use a spatula or a wooden spoon, definitely take the pan off the heat (even off low heat) and stir thoroughly until you get the sauce smooth again.
Add seasoning at the end ->You don't know how much of the liquid evaporates during cooking. I only add seasoning after I am happy with the thickness of the sauce.
Troubleshooting tips
This sauce is quite similar to our Vegan Bechamel or our Vegan Onion Gravy in terms of how to add the liquid and thicken it. These sauces are roux-based recipes, while this one has cornstarch the following tips would still apply:
Not thick enough? -> Add more starch but make sure you first dissolve it in a bit of milk. Like 1 Tbsp flour or starch – 2 Tbsp milk. Alternatively, you can take it off the heat, wait for it to cool a bit and add starch directly in the sauce and stir vigorously with a whisk to avoid any lumps. Note: The sauce will thicken a bit more when it is cooling down.
Too thick? -> Add more milk, like 1-2 Tbsp at a time.
Help, I got lumps! -> Take it off the heat and use a blender (immersion blender) to break up any lumps. If the sauce remains too thin or too thick go with the above suggestions.
FAQ and substitutions
What kind of potatoes works the best?
We recommend Yukon potatoes for their creamy texture, but Russet potatoes also work well. Huffington Post has a great article about all potato types.
Can you assemble scalloped potatoes ahead of time?
Yes, you can prepare and assemble scalloped potatoes the night before and bake the next day. Make sure to cover them with a lid or cling foil so they don't get dry. When ready, bake them and serve hot. They are best when they are right out of the oven.
How long will scalloped potatoes last in the fridge?
We usually eat them within 3 days. Personally, I don't like to eat anything after 3-4 days.
What vegetable goes well with scalloped potatoes?
We ALWAYS make scalloped potatoes with onion and garlic. So that is a no brainer, but we sometimes add broccoli florets or carrot slices. Let us know in the comments what is your favorite combination.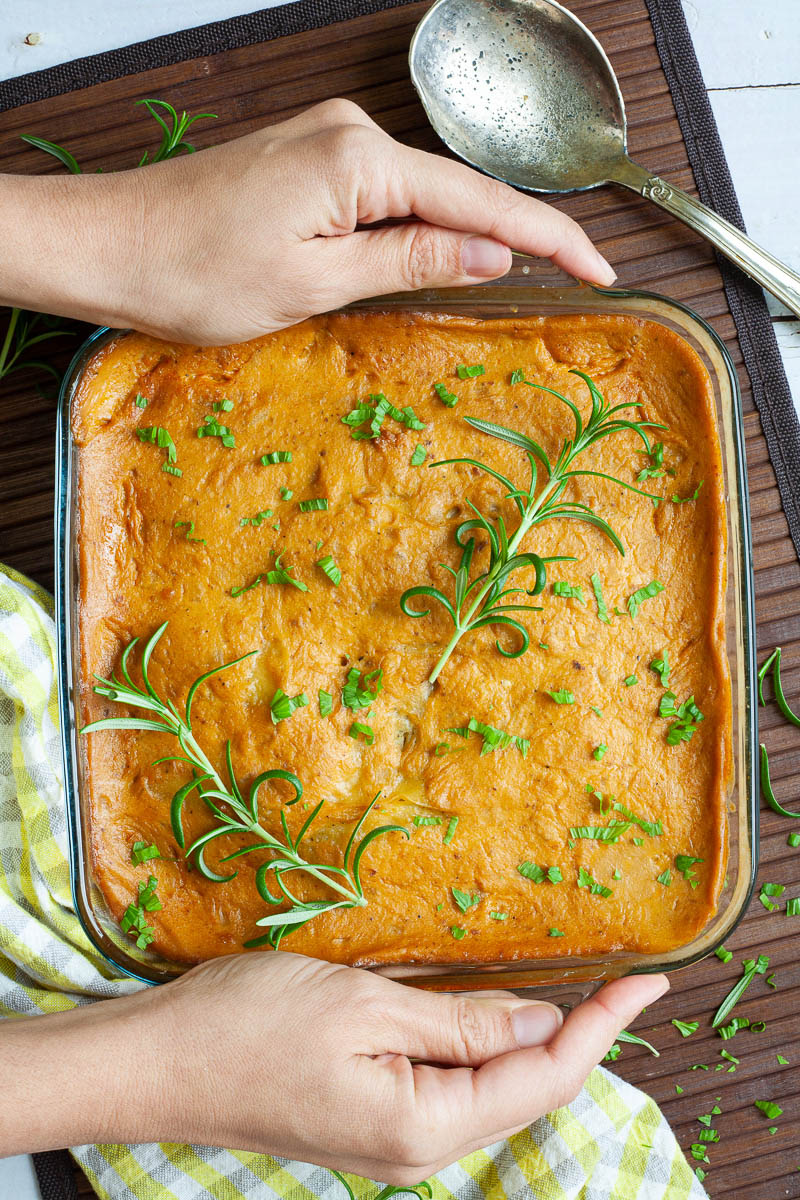 What to eat with Scalloped Potatoes?
Scalloped potatoes can be a perfect side dish for many vegan main course meal. Classic thinking usually dictates that people serve it with some kind of meat, but the below vegan dishes would be just heavenly with these creamy potato casserole.
This Scalloped Potatoes recipe is vegan, so meat-free, dairy-free and egg-free. It is also suitable for WFPB, vegetarian, nut-free and gluten-free diets.
More vegan side dishes
The classic version is a side dish, but we love to mix different "side dishes" to make a whole meal like
More vegan comfort food recipes