Do you need a creamy and absolutely delicious Vegan New York-style Cheesecake with a vibrant raspberry sauce for topping? The texture is how I remember cheesecake should be like. It is baked, it is oil-free, it is undetectably gluten-free. The best part is I only used FIVE whole foods ingredients to make the filling.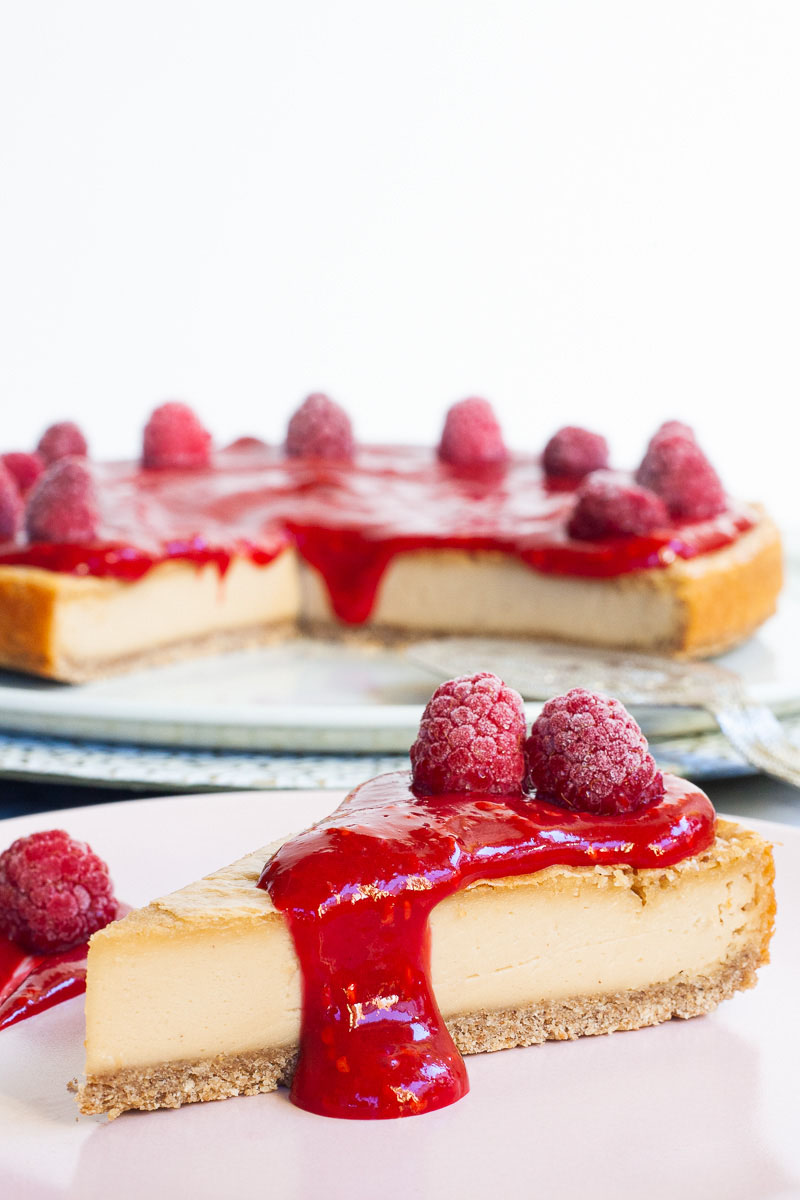 Delicious vegan and gluten-free dessert recipes can be quite elusive. When you cook something you can taste and adjust but with baking, you have only one shot. That is why we share dessert recipes that we are absolutely tested to perfection like our the Best Ever Vegan Pumpkin Cheesecake. Its secret is to use roasted butternut squash puree instead of canned pumpkin. Huge difference! Or try the Creamiest Vegan Panna Cotta (no agar agar!!!) and the Creamiest Vegan Rice Pudding ever. So delicious!
What to expect from this recipe?
If you want to try the vegan version of a well-known and popular dessert, what do you want in the end? Of course, you want it to be the same or damn close to the original. Sometimes it is, sometimes it is not. And cheesecakes are no exception. Everybody has a favorite recipe and making it vegan is a challenge for sure. I tested this recipe so many times to make it to how I remember what cheesecake should taste like.
A cheesecake should be soft, moist, creamy, fluffy, and not dry, crumbly, or dense.
The perfect cheesecake is light, but filling as one slice is usually enough (khm… I mean two slices.)
The thin crust of the cheesecake is only a side-kick to the delicious filling.
The pure vanilla taste comes through, although I have always loved a tangy berry sauce on top to balance the sweetness of the cheesecake.
If you have been on our blog before you may have noticed that we don't really like using processed ingredients. I am sure vegan cheesecake tastes delicious with a store-bought vegan cream cheese made of oil or soy, but we usually opt for something with whole foods.
vegan -> egg-free, dairy-free of course
gluten-free -> undetectable
soy-free
oil-free -> also compliant with a whole foods plant-based diet
refined sugar-free – this is a dessert recipe so definitely not low-carb, but at least it has maple syrup right? 😉
no processed ingredients
but most importantly OVER-THE-TOP DELICIOUS!!!
Ingredients you need
Have I mentioned you only need FIVE ingredients to make the cheesecake filling? They are the following:
full-fat canned coconut milk (coconut cream)
cashew nuts
maple syrup
freshly squeezed lemon juice
vanilla extract
You can use a classic graham cracker crust if you can find a gluten-free product. Or you can try our super easy almond flour crust recipe which is a variation of our popular Gingerbread Pie Crust recipe, which smells heavenly with our Vegan Pumpkin Cheesecake or our Caramel Apple Crisp Pie. It is allergy-friendly, but there is no way anybody could tell that. It is super simple to mix and roll out. No kneading is required. You only need FIVE ingredients:
Almond flour or almond meal
Oat flour
Maple syrup
Flax egg
Vanilla extract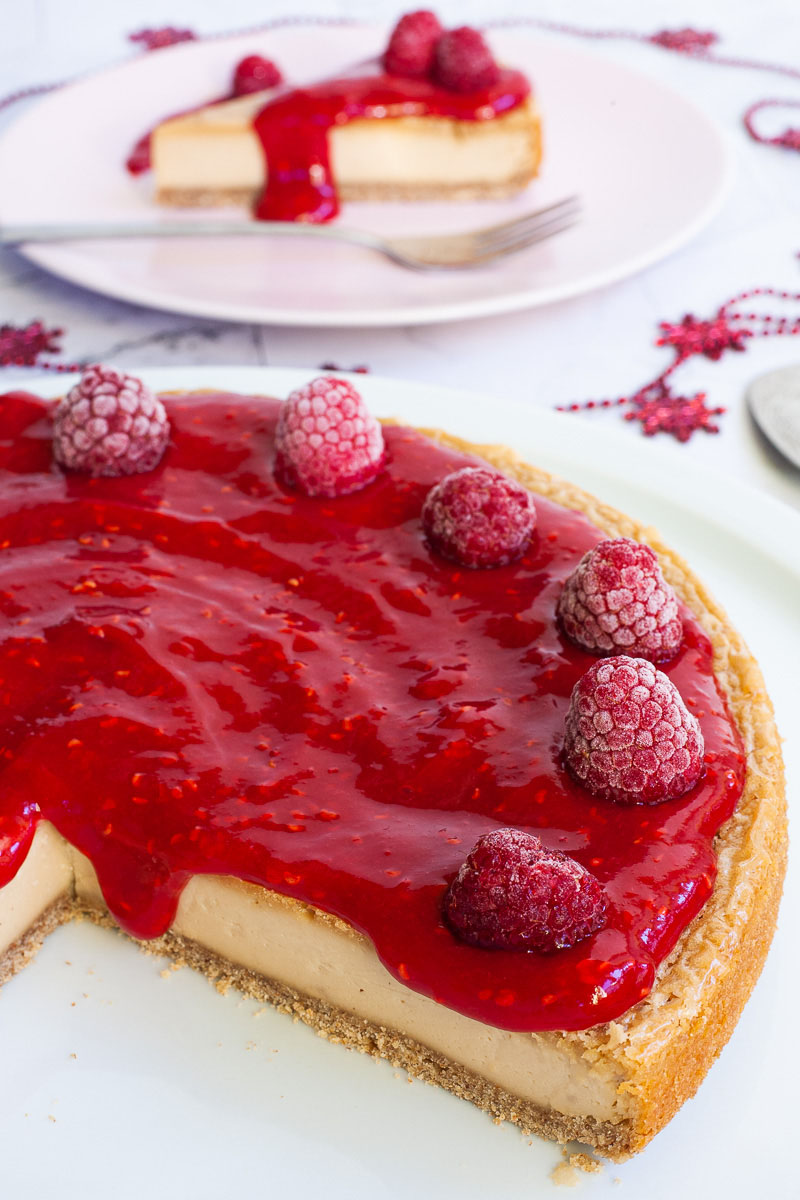 Why are all the Best Vegan Cheesecakes baked?
As much as no-bake cashew cheesecakes can be delicious, nothing beats a good old-fashioned baked cheesecake. And I am here to give you exactly 3 reasons:
Baking makes it healthier – You can skip coconut oil or tofu or store-bought cream cheese and any other processed stuff if you bake it. Coconut oil is liquid when heated, but solidify once it is cooled. This feature ensures that the cheesecake filling holds together. The best way to skip it is to bake it.
Baking makes it creamy – If you ever tried warming up cashew cream to make pasta sauce or nachos dip, you might have realized that cashew cream thickens due to heat. If you bake it, the cheesecake thickens up without added starch.
Baking makes it light – If you bake it, it will give you the original New York-style cheesecake texture that a raw, no-bake cheesecake will never do without any processed ingredients.
How to make this Vegan Cheesecake?
Prepare the almond flour crust
Mix 1 Tbsp ground flax with 3 Tbsp water in a small bowl. Not flax seeds or flakes, but ground flax.
Take a large bowl and mix all ingredients (oat flour, almond flour, flax egg, vanilla extract, maple syrup). You can use a spatula or your hands. (photo #1)
Roll it out on a silicone mat to less than 0.5-inch (0,5 cm) thick. Place a cling foil / saran wrap on the top to make it even easier. (photo #2)
Place a 9-inch (23 cm) springform pan with a removable bottom on top and cut the crust around it.
Place a round parchment paper in the cake pan or cut out one to cover the bottom. I add two stripes like a cross below it so it is easier to lift it and to transfer it to a cake stand after baking. (See video for more details)
Place the cut-out crust on the top of the parchment paper. (photo #3)
Making the oil-free cheesecake filling
It is one quick step only. Take your high power blender and add full-fat coconut milk, soaked cashews, maple syrup, freshly squeezed lemon juice, and vanilla extract. Blend until silky smooth.
A quick tip: We boil water in a kettle and soak cashews in hot water for 5 minutes. You can also boil water in a stockpot on the stove and "cook" cashews for 5 minutes.
Baking it in the oven
I used a 9-inch (23 cm) round springform cake pan and the cheesecake filling was about 1.5-2 inches (2-3 cm) thick. If you plan to use another size, adjust baking time accordingly.
Pre-heat the oven for 350 Fahrenheit (180 degrees Celsius)
Pour the cheesecake filling on top of the crust.
Level it with a spatula and shake it a couple of times to get the air bubbles out.
Bake it for 35-40 minutes.
When ready, wait for it to be cool. First, place a knife between the side of the cake and the form and run it around. Then open up the cake form. Transfer gently the cake stand and chill before slicing.
How do you know it is ready? The top should rise a bit. It may also crack a bit. It feels and looks softer a bit jiggly but not hollow when it is ready. This cheesecake will firm up during cooling. Don't wait until the top gets brown.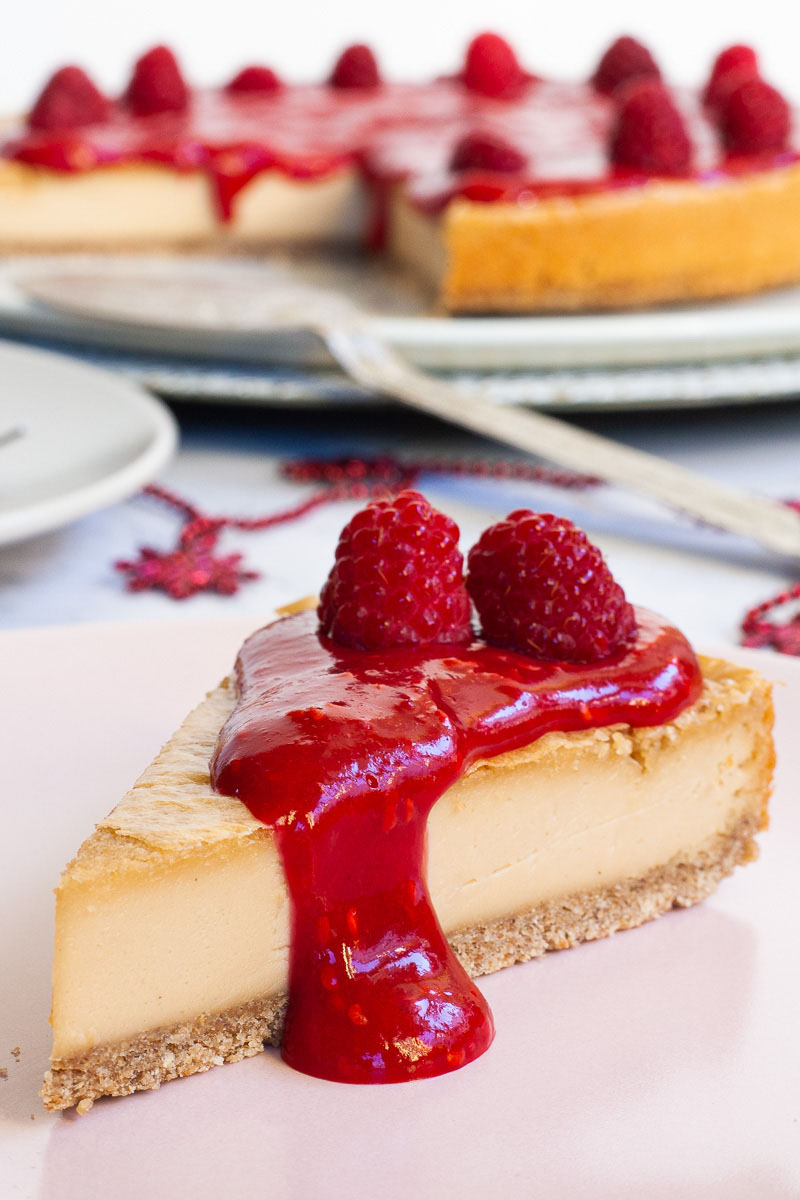 Ideas for vegan cheesecake toppings
When your baked vegan cheesecake is ready, I know you want to hurry and taste it. But if you try to cut it while it is still hot, you may not be able to make nice and clean slices. It is also better to add any topping when it is cool. Here are some ideas:
whipped cream and fresh fruits (I make coconut whipped cream)
strawberry puree for topping (which you can make with any berries)
raspberry sauce (in the recipe card)
fruit compotes
caramel sauce (I make vegan caramel sauce from canned coconut milk and coconut sugar)
melted chocolate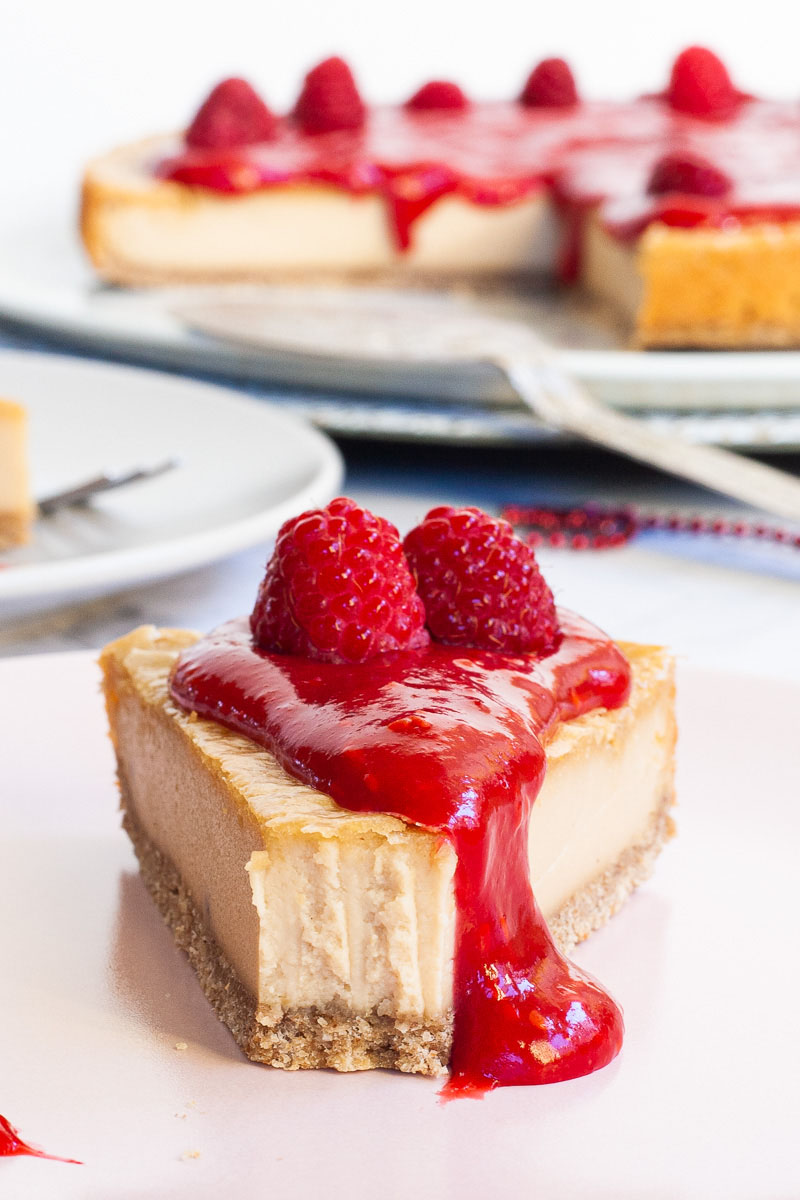 FAQs and substitutions
Do you really need a Vitamix?
If you want to make any vegan cheesecake recipe that calls for cashews you need a high power blender like Vitamix* or Blendtec to get the creamiest, smoothest result. You will sadly not get the same result with a regular blender or food processor.
Can you make it nut-free?
You need cashews to make the creamy, fluffy cheesecake filling. It is also needed to thicken the filling after it is baked. Sadly, I don't know any other alternative. If you try to use only canned coconut milk or cream, the cheesecake filling will not firm up without starch or additional thickener.
How long does it last?
Keep it in the fridge for not more than 4-5 days.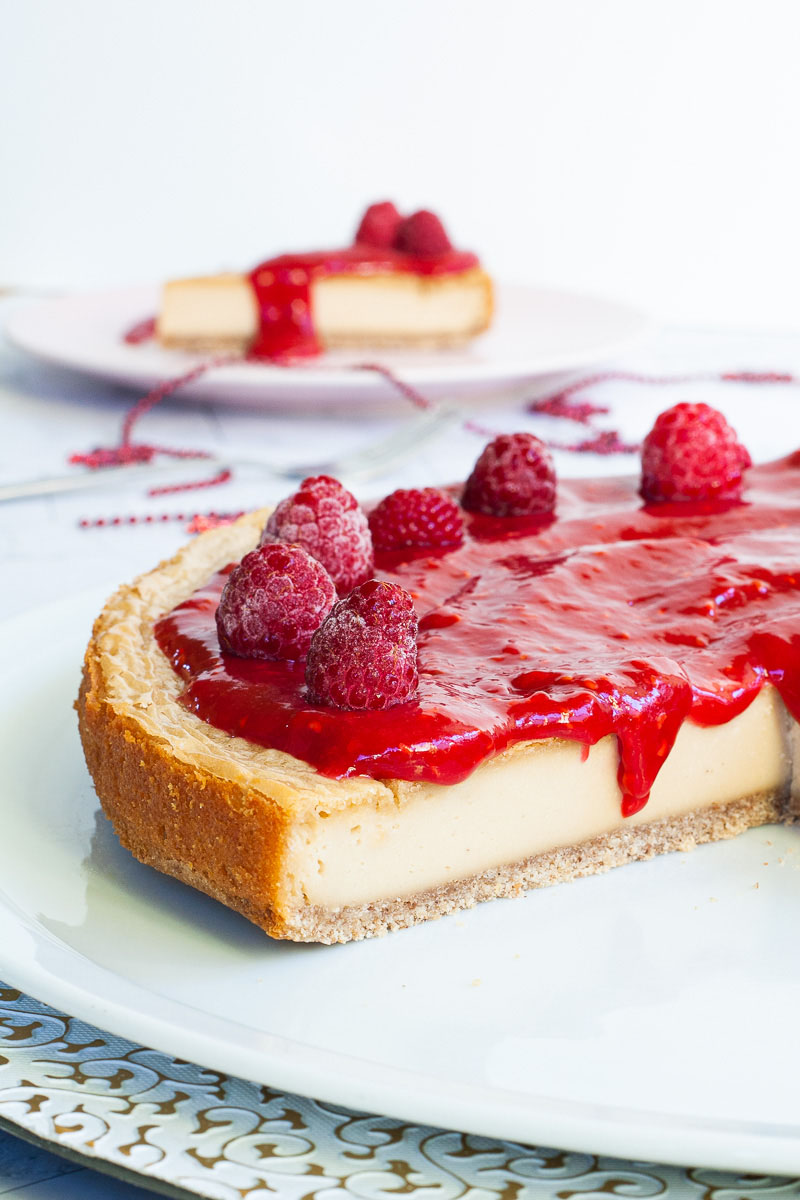 This Cheesecake recipe is vegan, so dairy-free, and egg-free. It is also suitable for vegetarian, soy-free, and gluten-free diets. It is also WFPB-compliant (whole foods plant-based).
More vegan dessert recipes
You can browse through our Vegan and Gluten-free Dessert Recipes or check out