Learn how to make homemade Vegan Baileys Almond Milk Liqueur with this quick and easy recipe. All you need to do is mix Irish whiskey, coffee, almond milk, cane sugar and a bit of vanilla and cocoa powder.
It's Emese and I love Baileys! I don't drink much alcohol, but if I have to choose just one of all alcoholic drinks, I would choose Baileys. I even toasted with it on our wedding. 🙂 Also my husband explicitly asked me to mention that he strongly prefers wine or beer. 🙂
So why I decided to make vegan Baileys. For one, the real deal can be quite expensive and two, because it is so damn easy to make a very very similar one.
⇒ GET OUR FREE 7-DAY VEGAN MEAL PLAN NOW! OR CHECK OUT ALL VEGAN MEAL PLAN RECIPES HERE! ⇐
Ingredients of Baileys Almande
At the end of 2017, Baileys launched the vegan version of the popular spirit and they called it Baileys Almande.
According to Baileys, this new Almondmilk liqueur is made from sweet almond oil and almond essence (extracted from crushed almonds), cane sugar and purified water with a touch of real vanilla.
Surprisingly, they don't speak about coffee or whiskey as an ingredient. But why should they? Baileys is all about coffee. Also, everyone should know what kind of alcohol is in any Baileys. Well, Irish whiskey of course.
How to make Vegan Baileys at home?
Step 1 – Make a strong quality coffee
We have a neat little Nespresso Citiz & Milk machine*, which we bought after our first daughter was born. Still loving it by the way especially after a long sleepless night. For this recipe, we made an espresso using a Nespresso capsule called Arpeggio*. It is rather a strong to medium in intensity as I prefer to have a distinct coffee taste in our Irish cream liqueur.
Step 2 – Blend to make it an Irish Cream Liqueur
Use unsweetened almond milk. There are some recipes with coconut milk, which is fine, but in any case, I prefer to drink my coffee with almond milk, cashew milk or hazelnut milk (Yum!). Not to mention Baileys also chose almond milk to create their vegan version of this popular Irish Cream Liqueur.
To remain as authentic as possible I used Irish whiskey (Jameson's for example). Feel free to use more, although I believe I used a fair amount. :))
I also added cane sugar and vanilla extract as in Baileys Almande to get as close as possible. You can use coconut sugar as well, which adds a nice caramel-kind of flavor to it. It will be subtle but yummy indeed.
Last but not least, I added just a little bit of cocoa powder as I read that it is one of the not so secret ingredients of the Original Baileys.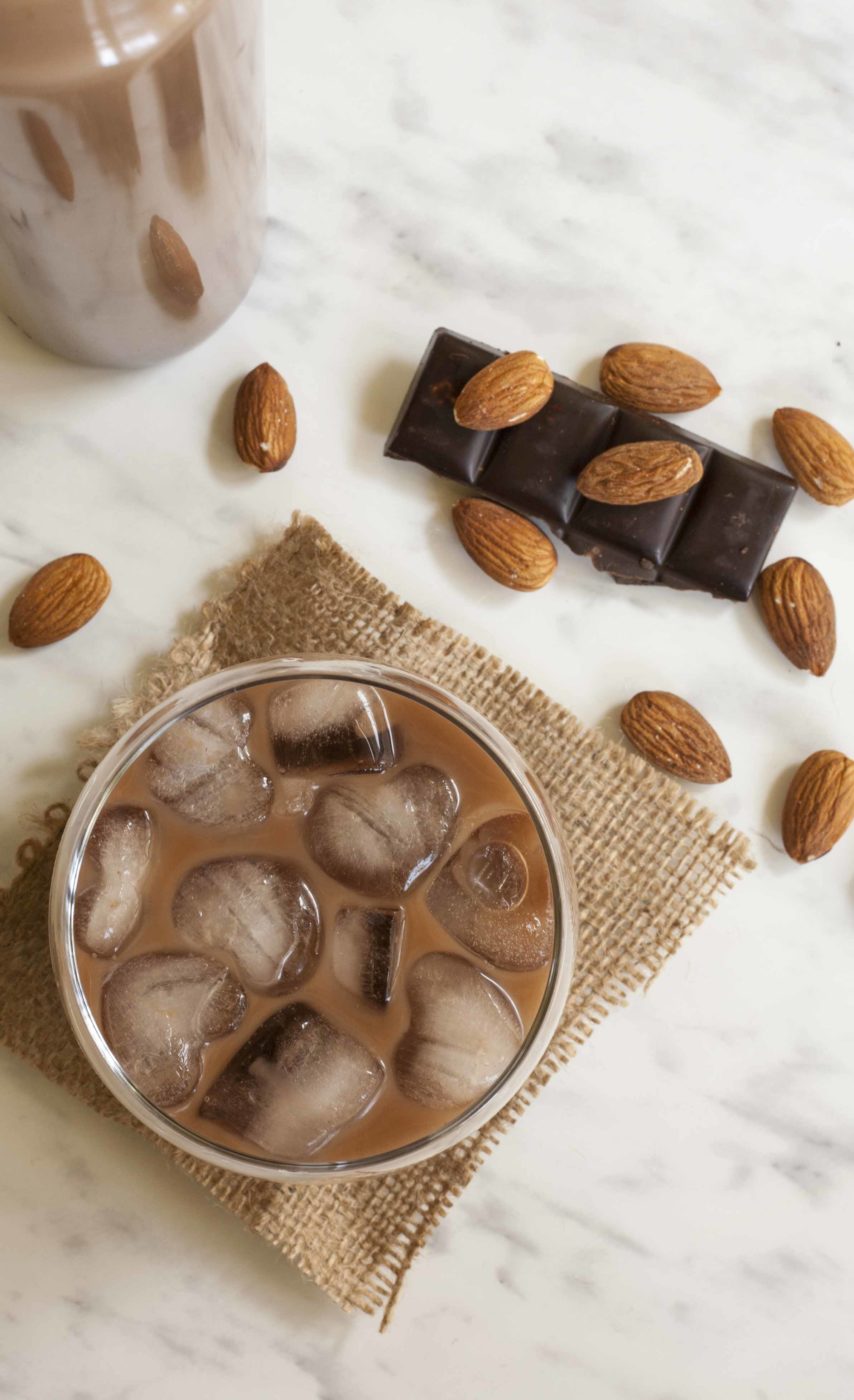 How to drink Irish Cream Liqueur
On the rocks. 🙂
I found these lovely heart-shaped chocolate molds* to make healthy vegan gummy "bears" for my daughter (recipe still to come so stay tuned). But aren't they also perfect for ice cubes? My Vegan Baileys just got a tiny bit more awesome.
If you like to mix it up, you can add this homemade Irish cream liqueur to other drinks like:
Any coffee-based drinks like iced coffee, hot coffee, latte macchiato, etc.
Other drinks like chai latte, milkshake, hot chocolate etc.
Cocktails like Eggnog, Mudslide, Martini, B-52, Jello Shots etc.
Here is a list of Baileys cocktails and mocktails. Sadly not all of them are vegan, but a good start to get some inspiration.
Vegan desserts using Baileys
Not only you can drink it, but you can bake with it. If a recipe calls for coffee or whiskey or other spirit you can add this homemade Baileys instead. It will definitely spike up any recipe. It is a perfect addition to any chocolate-based desserts. Here are some inspiration from other bloggers. All recipes are vegan and gluten-free (or with GF option) using a bit or more of Vegan Baileys.
FAQs and Substitutions
Can you make it nut-free?
Yes, you can use light coconut milk or soy milk if you need it nut-free. It may alter the taste a bit though. You can use dairy-free milk in combination with full-fat canned coconut milk for a richer taste, but we recommend bring it to boil and cool it down before adding it to the blender. Otherwise, the full-fat coconut milk will solidify in the fridge when you want to chill the vegan Baileys. And that will look quite horrible. 🙂
How long does it last?
Keep it in the fridge around 4-5 days, tops a week.
What kind of coffee should I use?
Of course, you can use any other cold brewed or capsule coffee or instant espresso powder, but be sure to choose at least a medium one in intensity. Otherwise, you might not be able to taste the coffee in it at all.
Is whiskey gluten-free?
Well… According to Beyond Celiac, whiskeys are safe to drink for people diagnosed with coeliac as the distilling process removes any gluten. That being said I also read in several websites that distilleries might add back some "mash" after the distillation has finished or they can use a wheat-based glue to seal the barrels or there might be some caramel coloring or other added flavor that might contain gluten. So proceed with caution and check with the manufacturer.
This Vegan Baileys recipe is dairy-free and egg-free. It is also suitable for vegan, vegetarian and gluten-free diets. I think alcohol is not approved in a WFPB-friendly (whole foods plant-based) diet. It is only nut-free if you use dairy-free and nut-free milk like coconut milk or soy milk.
⇒
If you need an Easy 7-day VEGAN MEAL PLAN, click to download our free e-book with a shopping list.
More vegan appetizer recipes
If you think of Baileys, think of Christmas or New Year's Eve or St. Patrick's Day. It is a digestive, an appetizer to serve before dinner or to toast with it. Here are some festive appetizer recipes you can try or check out our Vegan Appetizers recipe gallery.
Copycat Vegan Baileys (Almande Liqueur)
5-minute homemade Vegan Baileys made of Irish whiskey, coffee, almond milk, cane sugar and a bit of vanilla extract and cocoa powder
Instructions
Add all ingredients in a blender and mix for a couple of minutes.

Serve chilled on the rocks. Shake well before serving. Store in fridge.
Nutrition
Serving:
1
dl
Calories:
135
kcal
Carbohydrates:
21
g
Protein:
0.6
g
Fat:
1.1
g
Polyunsaturated Fat:
0.2
g
Monounsaturated Fat:
0.7
g
Sodium:
68
mg
Potassium:
68
mg
Fiber:
0.1
g
Sugar:
20
g
Vitamin A:
430
IU
Calcium:
190
mg
Iron:
0.4
mg
UPDATED:This recipe was originally posted in Febr 2019, but it was re-written a bit and republished in Dec 2020.