Get ready to embark on a culinary journey celebrating the earthy and versatile mushroom with our collection of 21 irresistible mushroom recipes. From appetizers to mains and even desserts, these dishes showcase the incredible range of flavors and textures that mushrooms can bring to your table. Whether you're a devoted fungi enthusiast or just looking to incorporate more umami-rich ingredients into your meals, these recipes will captivate your taste buds. So, explore the magic of mushrooms and discover delicious dishes that will have you coming back for more, ensuring that your love for these fungi delicacies will only grow stronger.
Chickpea Mushroom Curry
This Chickpea Curry or Chana Masala with Mushroom is a delicious and easy-to-make Indian dish that will satisfy your cravings for a mild and creamy curry. Packed with spices, coconut cream, and veggies, it is perfect for beginners who want to explore the world of Indian cuisine.
Recipe: Chickpea Curry
Grilled Vegetable Napoleon
This grilled vegetable Napoleon is a showstopper with vibrant, char-grilled layers of veggies like eggplant, zucchini, bell pepper, portobello mushroom, and more. If you want a visually stunning and flavorful side dish, look no further. Served with aromatic basil pesto, it is stunning and flavorful.
Recipe: vegetable napoleon
Fried Wings
Oyster mushrooms make the tastiest and easiest plant based fried wings ever! It is perfectly golden brown and crispy on the outside but meaty on the inside. The wing itself is only ONE ingredient!
Recipe: fried wings
Crispy Oyster Mushroom Tacos
Looking for a meatless taco alternative? Look no further than this Oyster Mushroom Tacos recipe. These mushrooms have a meat-like texture and are packed with flavor, making them the perfect substitute for meat strips.
Recipe: mushroom tacos
Vegetables and Dumplings
This vegetables and dumplings< recipe is a hearty and comforting dish that will warm you up on a cold day. The dumplings are soft and fluffy, while the mushrooms and veggies add texture and flavor to the creamy broth.
Recipe: vegetables and dumplings
Vegetable Gyros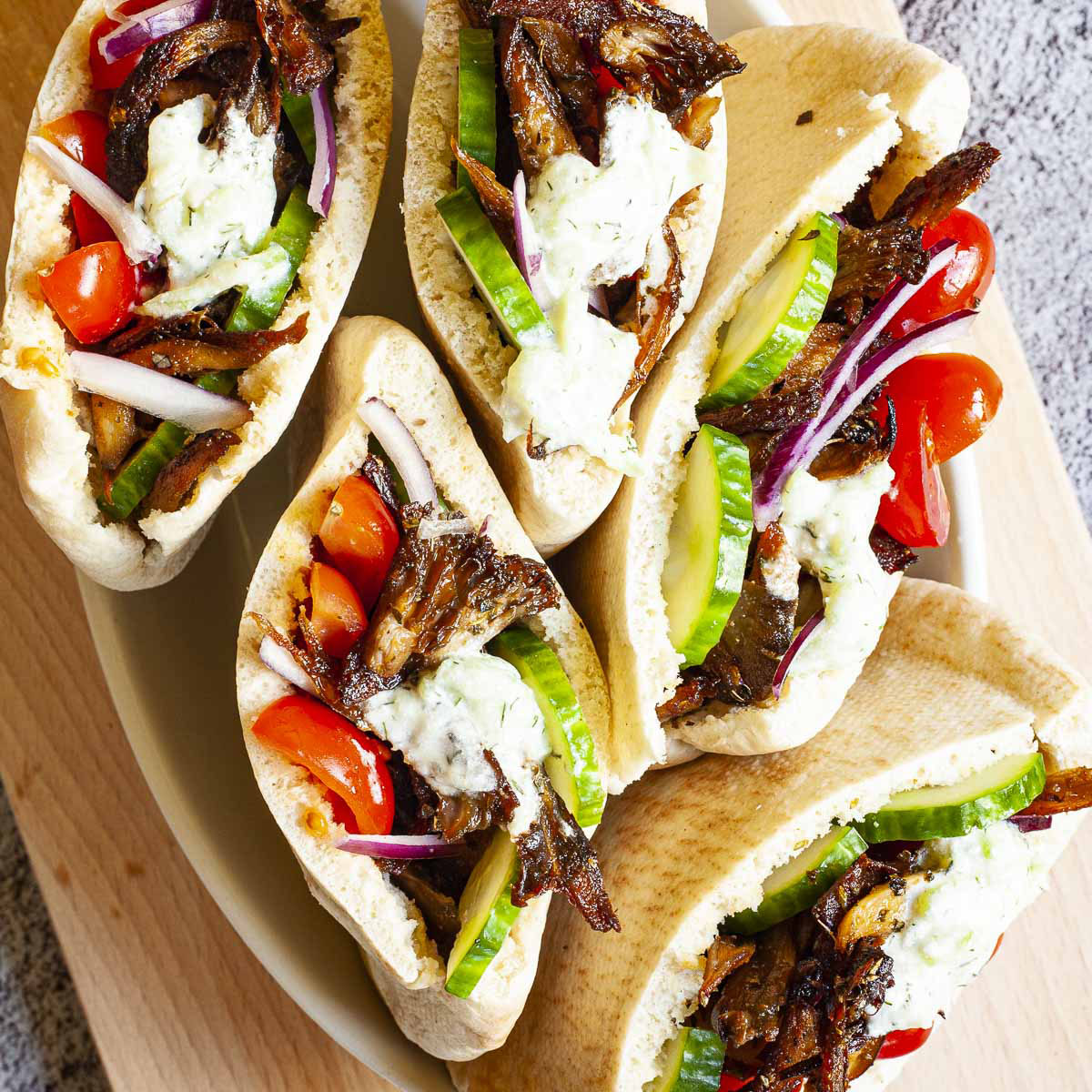 These gyros made with shredded oyster mushrooms have the perfect texture and taste, making them the best option for a filling meal. The crispy gyro meat pairs well with fresh vegetables and homemade tzatziki sauce, all wrapped up in a pita pocket.
Recipe: gyros
Tom Yum Fried Rice
Easy to make and packed with flavor and aroma, Tom Yum fried rice is best summed up in one word: Unforgettable. In this simple, easy-to-follow recipe, you'll learn how to make an all-veggie version from the comfort of your own kitchen. The best part? It takes less than 22 minutes to prepare!
Recipe: tom yum fried rice
Veggie Stew
The best thing that can happen to canned young jackfruit is to turn it into a hearty and filling veggie stew. It is the perfect dinner recipe when you need a warm and steamy bowl of delicious comfort food.
Recipe: veggie stew
Creamy Mushroom Pasta
Indulge in the rich and creamy flavors of this mushroom pasta, made with sautéed mushrooms and a savory herb-infused creamy sauce. Topped with Parmesan and a touch of red chili pepper, this dish is a comforting and delicious meal that's perfect for any day of the week.
Recipe: mushroom pasta
Oyster Mushroom Steak
This recipe is perfect for those who want a tasty and meatless alternative to steak. With the right marination and cooking technique, pearl oyster mushrooms can be transformed into a crispy and flavorful dish that can satisfy even the most carnivorous appetites.
Recipe: oyster mushroom steak
Buffalo Dip
Learn how to make a creamy, cheesy sauce that's both soy and nut-free using cannellini beans. Pair it with oyster mushrooms for the perfect plant-based alternative to shredded chicken in your buffalo dip.
Recipe: buffalo dip
Pan-fried Green Herb Oyster Mushroom
If you are looking for THE oyster mushroom recipe you can serve as a side dish, this will surely be your favorite. Green herbs like thyme and parsley with a smidgen of chili peppers and a splash of lemon juice will bring out the natural mushroom flavor that can accompany any main course.
Recipe: pan fried oyster mushroom
Sauteed Mushrooms in Soy Sauce Glaze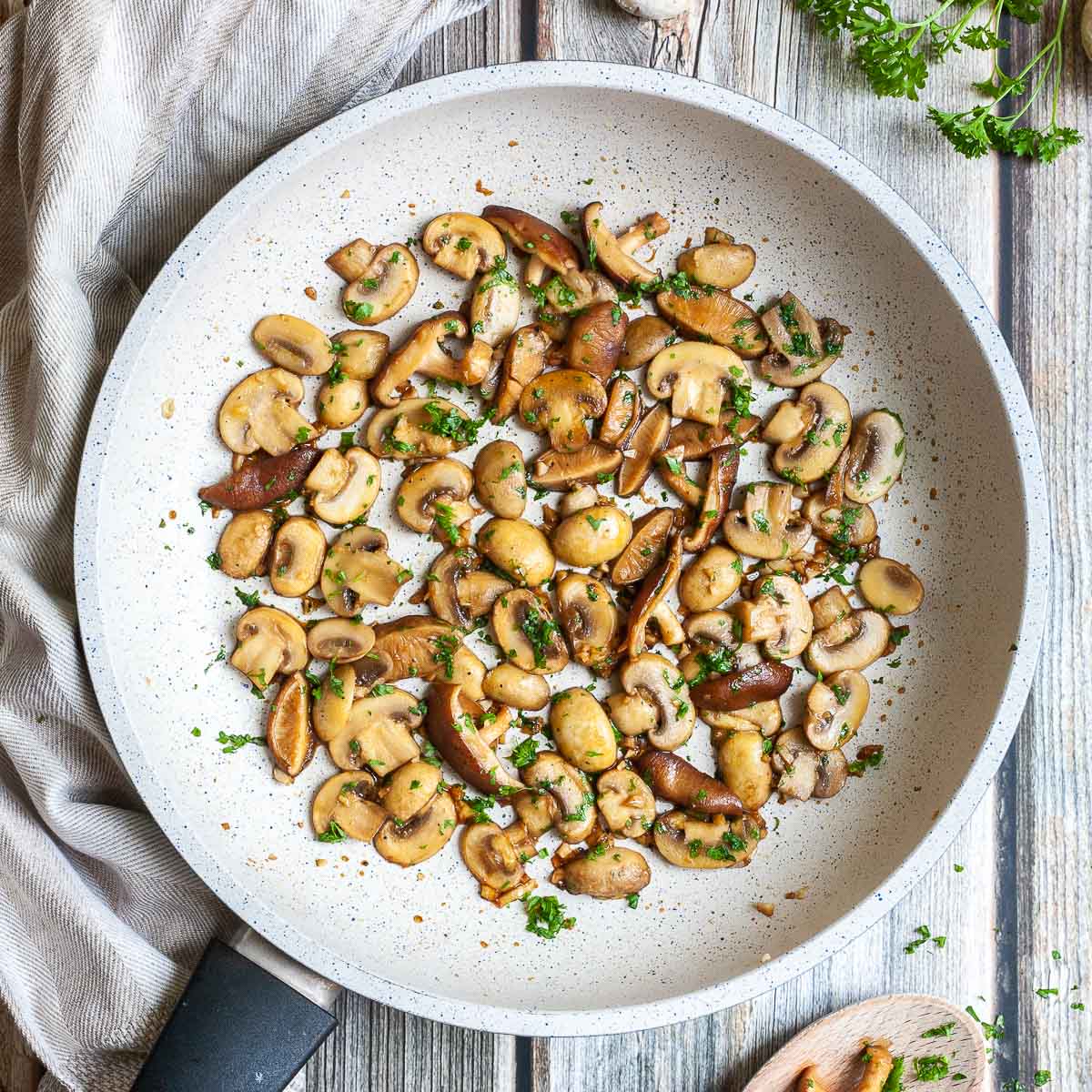 These garlicky soy sauce sauteed mushrooms are a quick and delicious side dish that's perfect for any meal. The umami flavor of the soy sauce and the caramelized garlic make these mushrooms irresistible.
Recipe: sauteed mushrooms
BBQ Pulled Burger
Shredded king oyster mushrooms make the best meatless pulled pork. Their meaty texture is way better to roast, grill, or fry than jackfruit. In 40 minutes, you can have this BBQ pulled mushroom burger with a coleslaw.
Recipe: pulled burger
Mushroom Meatballs
These mushroom meatballs are bursting with flavor and easy to make. Spices and cooked rice keep the mushrooms moist, resulting in a delicious and unforgettable vegetarian meal.
Recipe: mushroom meatballs
Veggie Noodle Soup
This veggie noodle soup is the perfect comforting and nourishing meal that can be made in just 30 minutes. It's loaded with hearty veggies, aromatic herbs, and meaty king oyster mushrooms that make it a satisfying and healthy option for lunch or dinner.
Recipe: veggie noodle soup
Philly Cheesesteak
To make the best vegetarian Philly cheesesteak you should pan-fry shredded oyster mushrooms (not cut, but torn apart). They will have the perfect beefy texture and taste. Fill your hoagie roll with a generous amount of mushroom cheesesteak and vegan cheese.
Recipe: Philly cheesesteak
Portobello Pot Roast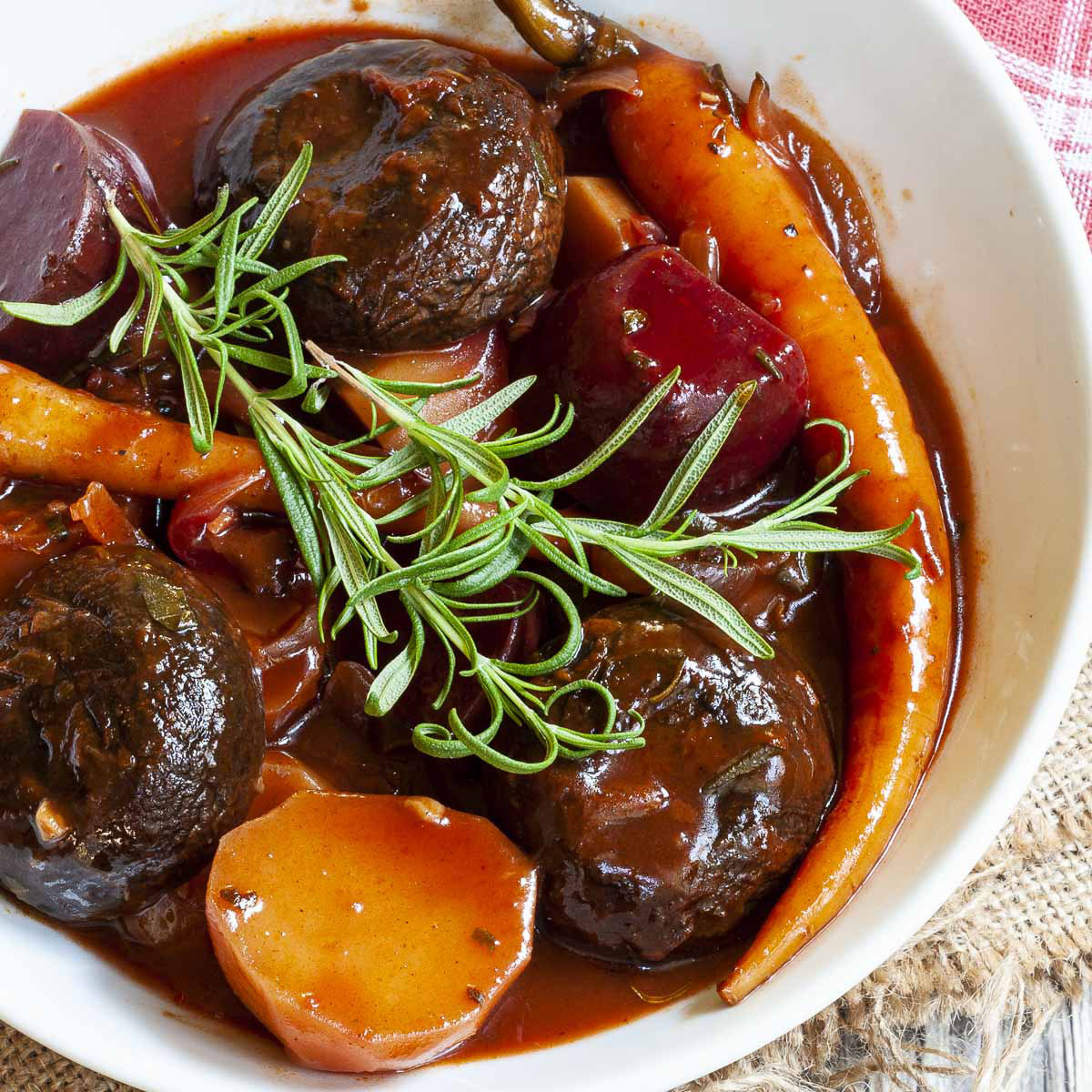 This pot roast is the perfect dish for those looking for a satisfying and flavorful one-pot dinner. With juicy portobello mushroom caps and an array of veggies stewed in a rich red wine gravy, it's a hearty and comforting meal that's also easy to make.
Recipe: pot roast
Roasted Asparagus and Mushrooms
Oven-roasted asparagus and mushrooms make a perfect pairing as a side dish in any season. With their simple preparation and delightful taste, they are sure to complement any meal.
Recipe: roasted asparagus and mushrooms
Pad Woon Sen (Thai Glass Noodles Stir Fry)
This is a classic Pad Woon Sen recipe turned completely meatless. Silky Thai glass noodles in a sweet and salty sauce are stir-fried with carrots, cabbage, tomato, onion, and mung bean sprouts. For added protein, this recipe calls for tofu scramble and marinated oyster mushrooms
Recipe: pad woon sen
Portobello Mushroom Burger
This portobello mushroom burger is piquant and scrumptious at the same time. Grilled portobello mushroom caps are seasoned with a fajita spice mix, then layered among guacamole, salsa, nacho cheese sauce, and spicy fajita veggies.
Recipe: portobello mushroom burger
26 Big-Batch Dishes to Stock Your Freezer
15 Weekend Lunch Recipes on a Dime to Feed The Family
Europe's Finest 25 Recipes You May Not Even Know Of
25 Asian Foods You Absolutely Need to Make At Least Once
Skip The Dreaded Drive-Thru Line With These 15 Fast Food Copycat Recipes