These absolutely delicious, rich and flavorful mushroom meatballs are so easy to make. We used only whole foods ingredients with the right combination of spices to create a truly unforgettable vegan or vegetarian meal. You're going to immediately wonder why you don't make these more often.
If you love mushroom dishes, let me show your our favorite ones (apart from this recipe of course). Have you seen our scrumptious Vegan Wellington with Roasted Butternut Squash and Rosemary Mushroom Puree? If you need something quick and easy, try our Chickpea Mushroom Curry or our Vegan Fajitas with Portobello Mushroom. Or check out all of our yummy vegan mushroom recipes.
Best mushroom for meatballs
The star of this vegan meatball dish is mushroom of course. We used button mushrooms being the most common type out of all, but any fresh mushrooms can be a good candidate. Start with whatever you have on hand or find in your local store. As the different mushrooms have subtle differences in taste and texture, you can even mix and match different kinds so the flavors can bring your meatballs up a notch.
Our favorite ones are…
white/brown button mushrooms,
portobello mushrooms,
shiitake mushrooms,
oyster mushrooms,
porcini mushrooms,
other wild mushrooms.
Other names for button mushrooms -> If you don't find button mushrooms in your local store, try to look for cremini/crimini, or small portobello, or baby bella, or Italian brown, or champignon, or chestnut mushroom. They are practically the same both in taste and texture.
Ingredients to accompany the mushrooms
Of course, mushroom is the main ingredient, but not the most important one. You need the right combination of rich flavors, different textures and strong spices to bring the best out of them. Mushrooms tend to be a spongy with quite neutral taste. They are so perfect for meatless dishes as they bring the meaty texture along with absorbing the seasoning entirely. So what else in in our vegan mushroom meatballs recipe to make them perfect?
chopped walnuts or walnut meal
cooked rice
onion
garlic
starch (only a bit to make sure the balls have crispy crust after baking and they hold together firmly)
seasoning: ground dried basil, ground dried oregano, cumin, soy sauce, nutritional yeast, smoked sweet paprika powder
We tried this recipe with oats, but as they have such a strong taste, they overpowered the mushrooms. So we opted for white rice (same as in our Chickpea Meatballs recipe) as they have the perfect texture to make the meatballs soft in the inside but crispy on the outside. Still rice manages to complement rather than overpower the mushroom and the seasoning. Oats work great in our Eggplant Meatballs recipe, but here rice is the one to make them perfect. So this recipe is not only vegan but gluten-free as well.
How to make Mushroom Meatballs (Vegan)?
Prepare your ingredients – step 1
Peel and finely chop the onion and the garlic. Chop walnuts into meal using a food processor if you don't have walnut meal in your pantry. Cook the rice according to package instructions.
Gently wash any dirt off of the mushrooms by using a colander* or a sieve*. Dry them with a paper towel or clean kitchen cloth. We almost never peel mushrooms, but sometimes cut out the stem if they feel too dry or too hard. Then slice them.
Sautee mushrooms – step 2
Cook onion and garlic in olive oil and cook them until soft and glassy (photo #1). When they are ready, add sliced mushrooms (photo #2). Then add the seasoning: salt, black pepper, ground basil, ground oregano, and cumin (photo #3). Stir and cook until mushrooms are soft and have shrunk (photo #4).
Blend and form meatballs – step 3
Take a food processor and add the sauteed mushrooms (avoid being it too hot in case your food processor cannot handle it), walnut meal, nutritional yeast, smoked sweet paprika powder, soy sauce, and cooked, drained rice (photo #5). Pulse it a couple of times, but avoid making a puree. You still need to be able to see all ingredients in chunks (photo #6). You can either add the starch in the food processor or after the mix is ready to see how much do you really need (photo #7). It will be soft and may stick to your hands a bit. If it is too sticky add more starch. When you're ready, form balls in the size of 1-2 Tablespoons (photo #8). Bake your mushroom meatballs in a pre-heated oven of 350 Fahrenheit (180 degrees Celsius) for 20-30 minutes or until they have a crispy crust.
Top tips to make perfect mushroom meatballs
Immersion blender or food processor – It can be tricky to get the right consistency with immersion blender especially if you don't have walnut meal and you need to make it using whole or chopped walnuts.
Size matters – Baking time depends on the size of the meatballs you make. The smaller they are, the shorted time they will need.
Balls or patties – You can make burger-shaped mushroom patties, the mixture will hold it together.
FAQs and Substitutions
How do you store them?
You can keep it in the fridge for 4-5 days tops without any problem. We recommend storing the meatballs by themselves and not dipped in any sauce.
Can you freeze them?
Yes, you can. We recommend freezing after frying/baking, not as an uncooked mixture as it may become too moist when thawed. If you are ready to enjoy them, pop them back in the oven or warm them up in a frying pan to get crispy crust back.
Is soy sauce gluten-free?
You would think that, but unfortunately, they are not. All is explained in our "Is soy sauce gluten-free?" post. You can use any of the 5 gluten-free soy sauce substitutes we listed. We usually use tamari*, which has the same flavor, but gluten-free.
What can you use instead of soy sauce?
You can use balsamic vinegar or Worcestershire sauce for an extra umami flavor. Yes, there are vegan and gluten-free sauce brands listed in our "Is Worcestershire sauce gluten-free?" post.
Can I make it nut-free?
That is a tricky question as walnuts give a depth of flavors which accompanies mushrooms perfectly. If you want to make it nut-free, we recommend using sunflower seeds or pepitas (pumpkin seeds). We haven't tested this recipe other than with walnuts and pecans, but let us know in the comments if you try.
What to serve with them?
When your "meatballs" are ready, you can serve them in many different ways. Try also our easy Eggplant Meatballs or our Chickpea Meatballs or our Copycat IKEA Veggie Balls recipe. They are delicious! So what to do with your vegan mushroom meatballs?
Drop them into our homemade marinara sauce and make spaghetti with "meatballs". You can even pop it in the oven top it with lots of grated cheese to turn it into a pasta bake or casserole.
Make this amazing caramelized carrot pasta sauce that complements these meatballs perfectly. (Pictured below.)
You can make a complete meal serving them with vegan mashed potatoes to the side, or your favorite Fried Rice or any combination of roasted veggies (asparagus, mushroom, root veggies…)
Make a vegan meatball sandwich with marinara sauce.
Put them on a stick or skewer, add a dip (like vegan BBQ sauce) and serve them as appetizers.
Take a vegan and gluten-free biscuit and make meatball biscuit sliders.
Drop them in your vegan mac and cheese. So yummy!
Stuff pita bread with veggies and these veggie balls top with your favorite vegan yogurt dip.
Add them to your vegan shakshuka to make it more filling.
Can it be a delicious pizza topping? Why not?
Let us know in the comments what is your favorite combination!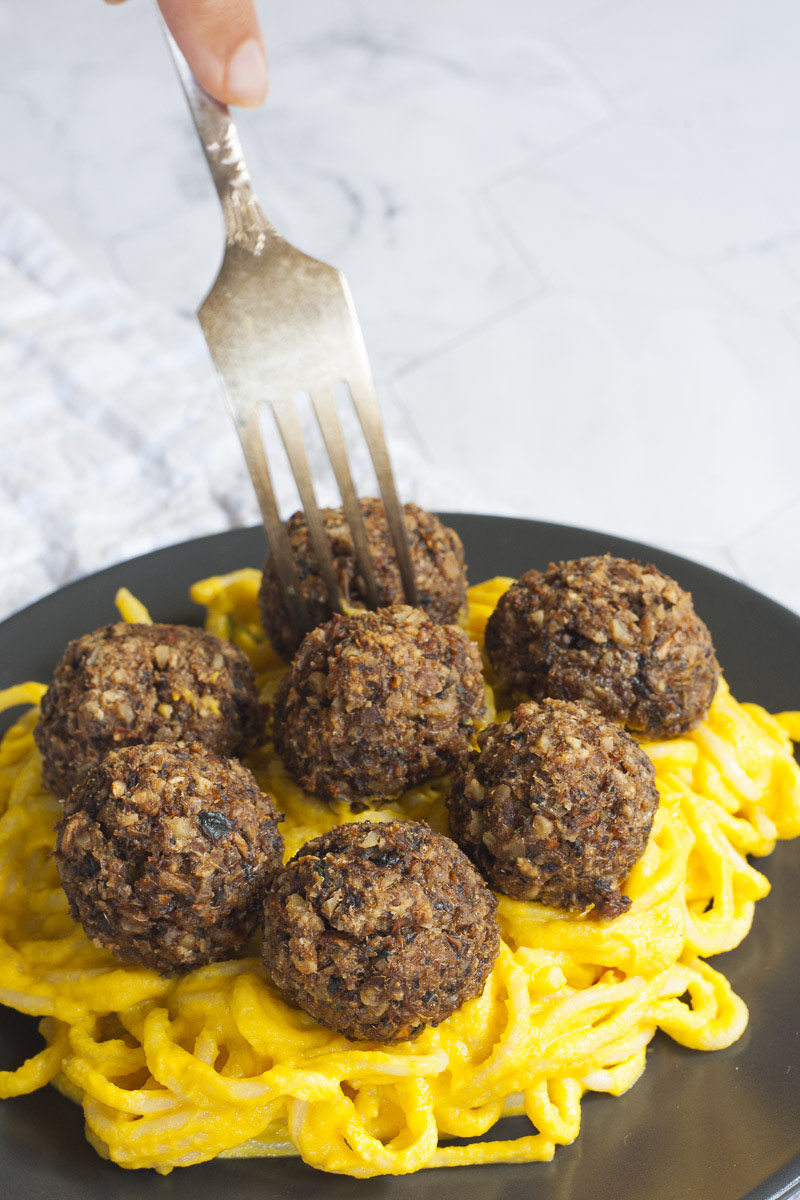 This Mushroom Meatballs recipe is vegan (so egg-free and dairy-free), vegetarian, soy-free (if you use tamari), and gluten-free. It is WFPB (whole foods plant-based) friendly if you sautee mushrooms in water or veggie broth.
More quick vegan dinner recipes
You can browse through our Vegan and Gluten-free Dinner Recipes or our Quick 15-min Vegan Meals collection or check out