Lecsó is sort of the Hungarian version of the French ratatouille. It is a super easy tomato and pepper stew you can stir up in one pot within 30 minutes. If you would like to eat Lecsó EXACTLY how Hungarians eat it, you should try this recipe.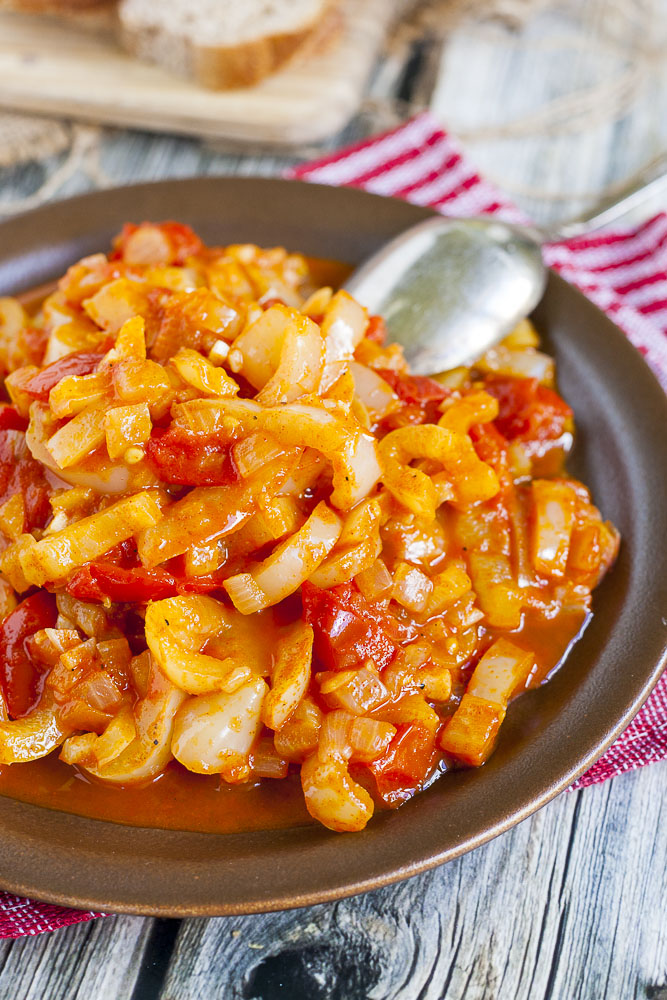 You may not know but we are in fact Hungarians. You can see a glimpse of Hungarian cuisine in some recipes like goulash, cabbage soup, red lentil soup, mushroom pasta in paprikash sauce, carrot pasta sauce which is actually a vegetarian take on the popular Hunter's stew ("vadas"). We love eating a variety of dishes from different cuisines, but from time to time we get back to our roots. More Hungarian family recipes to come for sure.
What is lecsó?
Lecsó is a Hungarian traditional comfort food that we eat quite often, especially during summer and early fall. However, there are regional variations not just within Hungary, but within Central Eastern Europe, as there are also Czech, Slovak, Serbian, Croatian, German, and Russian versions called "leczo", "lecho" or "letscho".
What they all have in common is that lecsó is a tomato and pepper stew traditionally cooked in a cauldron on an open fire. It was a cheap dish to make so people may refer to it as peasant food.
Back then people used the ingredients they had on hand, which were usually lard or bacon, onion, tomato, yellow peppers, and of course sweet Hungarian paprika. In poorer times, when meat was scarce, this dish was still available and much loved by the Hungarians. Nothing beats the smoky flavors that cooking in a cauldron adds to this stew.
If you'd like some comparable dishes to imagine how lecsó tastes like, you can think of
French Ratatouille (this is by far the closest), or
Italian Eggplant Caponata, or
Spanish Piperade.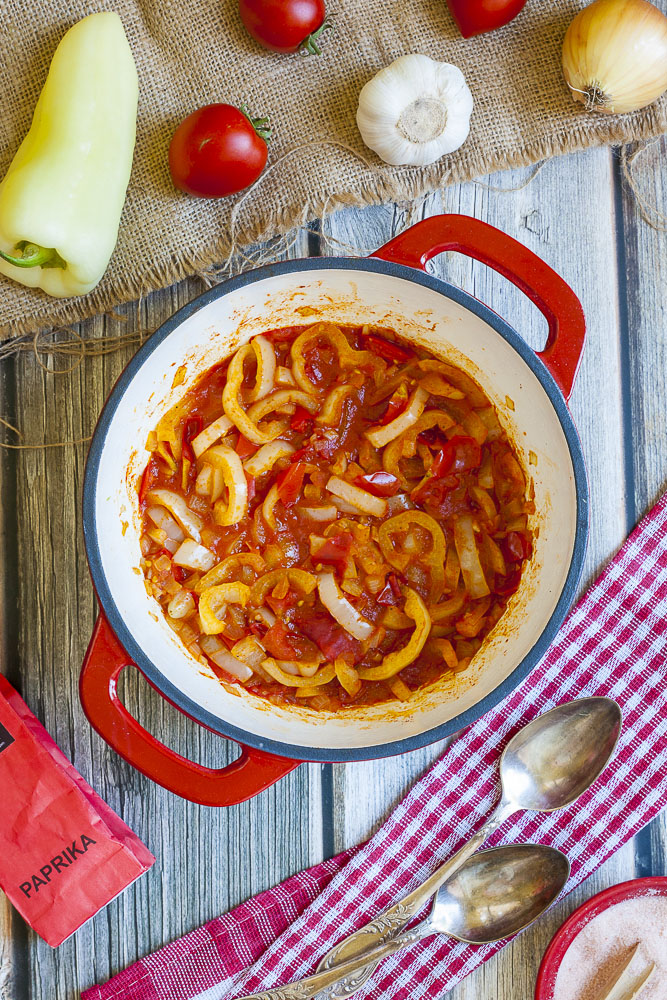 Ingredients
It doesn't matter which regional or personal variations you find or want to make, you absolutely need the below FIVE ingredients for any and all versions:
onion
garlic
tomatoes
peppers
sweet Hungarian paprika* or other sweet smoked paprika powder
liquid smoke – optional (to replicate cooking in a cauldron on an open fire)
Top tips to choose the best ingredients
Okay, so you might think it is redundant to highlight how to choose a tomato or a pepper. However, this recipe has only a couple of ingredients, so choosing the right ones is essential. If you would like to make an authentic lecsó, here is what you need to know.
Tomato: You need the large, juicy tomatoes like Beefsteak and Heirloom Tomatoes. The most important vegetable as there is no sauce or veggie broth, the juiciness of your dish depends on your choice of tomatoes. Cherry tomato or cocktail tomato is definitely not ideal to use as they are more skin than flesh.
Pepper: The authentic dish is made of Hungarian wax pepper or banana peppers (the sweet kind) or in combination with some hot peppers. If you can't find those in stores, you can substitute it for bell peppers. You just need to cook the stew longer as they tend to be thicker than a wax pepper. With the same cooking time, the bell pepper may remain uncooked and too crunchy. Red, yellow, green bell peppers are all good choices.
Onion: It is not the dish to substitute it with leeks, or shallots, or spring onion. Red or yellow onion is what you should use. Full stop.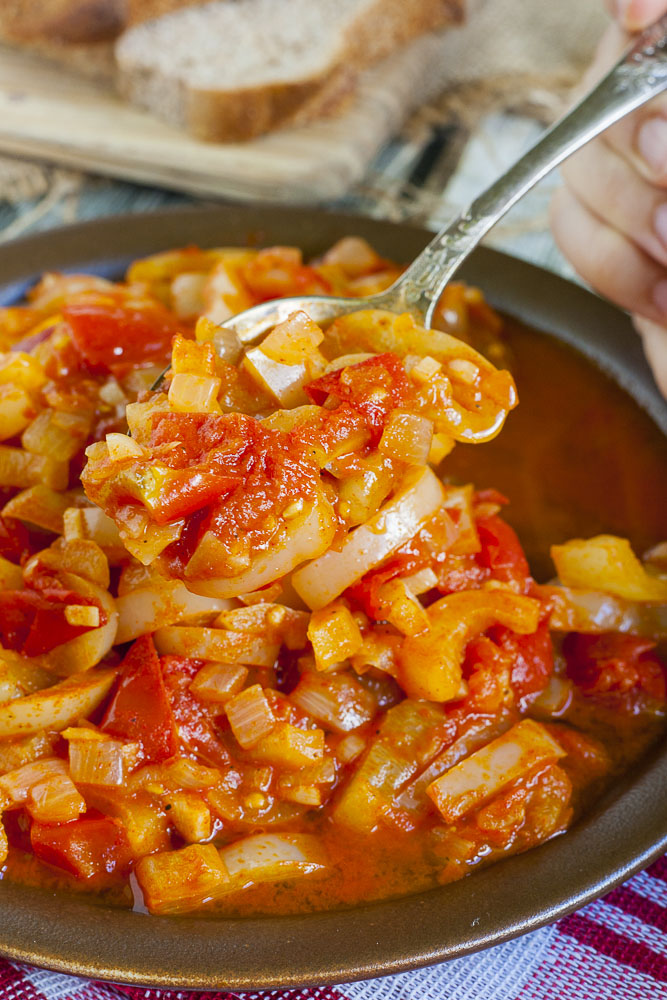 How to make a lecsó?
We love meals that are easy, simple, and quick. Cooking this sweet pepper and tomato stew is no exception. For us, the veggies are perfect when they are crunchy a bit and you can distinguish all kinds. Let us show you how to make the perfect Hungarian Lecsó for 2 in approx. 30 minutes!
Prepare the ingredients
Peel and chop onion and garlic.
Wash and cut tomatoes first into wedges, then cut it half or third. You need to end up with pieces in a size of 1 inch (1-1,5 cm) cubes.
Wash and slice peppers. First cut them half, remove the seeds and the stem. Lay it on the cutting board and slice vertical stripes. Now, cut the stripes in half horizontally so you have 2-3 inch long (3-4 cm) stripes. If you use the original wax or banana pepper you can slice them as rings. (As you can see it in the picture collage below.)
Cooking lecsó
Heat your stockpot or Dutch oven to medium heat and add vegetable oil or

coconut oil

(in place of lard).
Add chopped

onion

(photo #1), stir, and cook for 2 minutes.
Add chopped

garlic

(photo #2), stir, and cook for a minute.
Add sliced

wax peppers, salt, and black pepper

(photo #3). Stir until combined.
Add chopped

tomatoes

and Hungarian paprika* or other sweet paprika powder (photo #4). Stir until combined.
Cover it with a lid and cook it on medium heat until it is boiling (photo #5).
Remove lid, stir and cook for 6-8 minutes until the tomatoes are mushy and there are juices. (photo #6). Ready to be served!
A quick tip: My mother-in-law likes to simmer the pepper stew until the tomatoes and the peppers almost disintegrate and turn into a very-very thick stew. You can almost spread it on toast. So yummy like that too!
Top tips to make it perfectly
Juicy tomatoes

-> As I mentioned above you need to pick juicy, soft, mature tomatoes. They are the ones that are so ripe that they fall apart quickly and form the base of the stew easily. If you have hard, unripe veggies or cocktail tomatoes (that are more skin than flesh), then it will take longer to cook them or even then you will not be able to produce the juices needed to make the stew.

Fresh tomatoes vs canned chopped tomatoes

-> The traditional way is to use fresh, juicy, ripe tomatoes, but we do understand that it is not always possible to get hold of. You can use chopped canned tomatoes (not tomato sauce or tomato paste) so you have a bit of chunky texture.

Use the lid

-> Covering your pot with a lid ensures that the juices are kept in the stew as well as it maintains a hot temperature to cook the chopped vegetables faster.
How spicy should it be? – Depending on how hot and spicy you prefer your soup, you can add chili powder or sriracha or freshly chopped raw chili peppers beside the sweet paprika powder. In Hungary, we use Eros Pista* which is a roughly pureed hot paprika and nothing else.

Why coconut oil?

– The traditional way is to make the base for cooking onion and garlic with lard or bacon ("szalonna"). As we eat plant-based, the closest alternative is coconut oil. Why? It gives a texture similar to lard.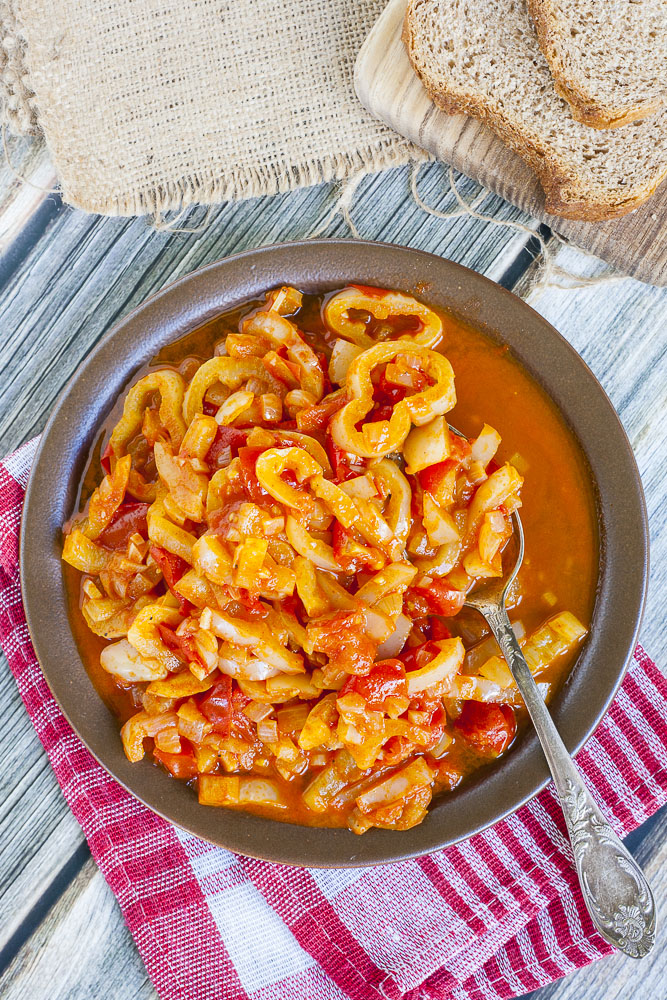 What to serve with it?
We usually eat it as a light lunch or dinner with maybe only a crusty slice of bread on the side. However, if you want to add something and still keep it authentic, we recommend 2 things. Both of them are traditional add-ins and will make this pepper stew even more of a complete main course meal.
Make

scrambled eggs

or omelets or fried eggs. (Since we are a vegan blog, we'd like to mention meatless options like tofu scramble, chickpea flour omelet, vegan fried eggs, vegan frittata, savory vegan french toast.)
Grill or roast

sausages

("kolbász" in Hungarian). (Obviously, you can also use vegan sausages.)
As lecsó is very similar to the French ratatouille, you might find even more ideas in our What to serve with ratatouille? post.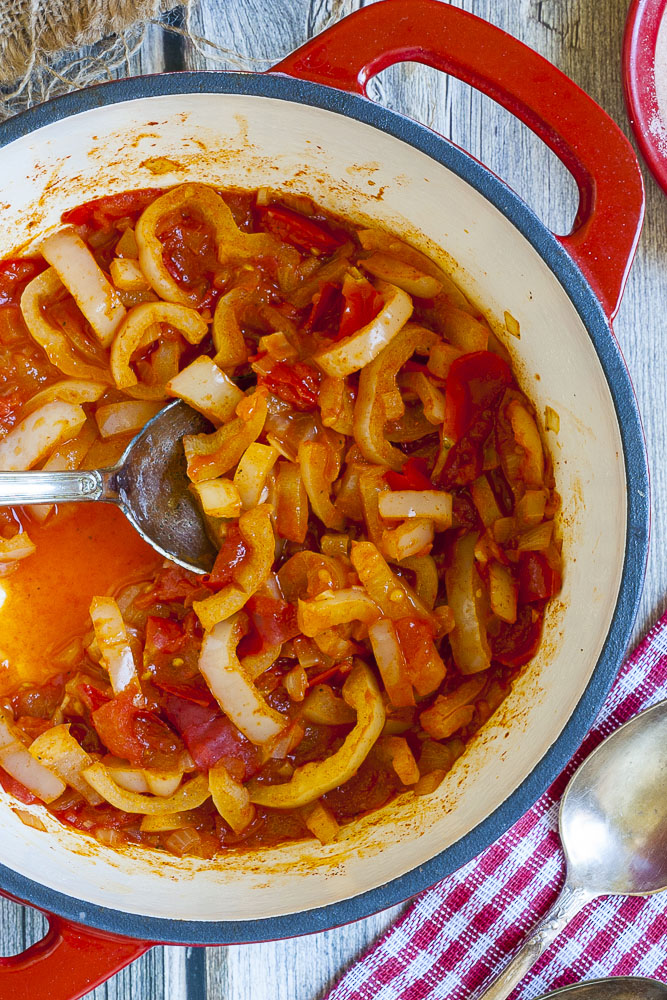 This Hungarian Lecso recipe is meat-free, dairy-free, and egg-free. It is also suitable for vegan, vegetarian, nut-free, gluten-free, and soy-free diets. It can also be WFPB-friendly (whole foods plant-based) if you cook the onion and the garlic in water or in veggie broth.
More vegan stew recipes
More vegetarian Hungarian recipes
If you are interested, here are some of our Hungarian family recipes. Or check out the below list:
UPDATED: This recipe was originally posted in July 2020, but it has been updated with more info and tips in March 2022.