No idea what to serve with ratatouille? Should you consider it as a main dish and choose a side to go with it? Or is it really only a veggie side dish? The amazing thing is that ratatouille can be both. We collected 45+ delicious combinations to enjoy this light summer veggie stew in both ways.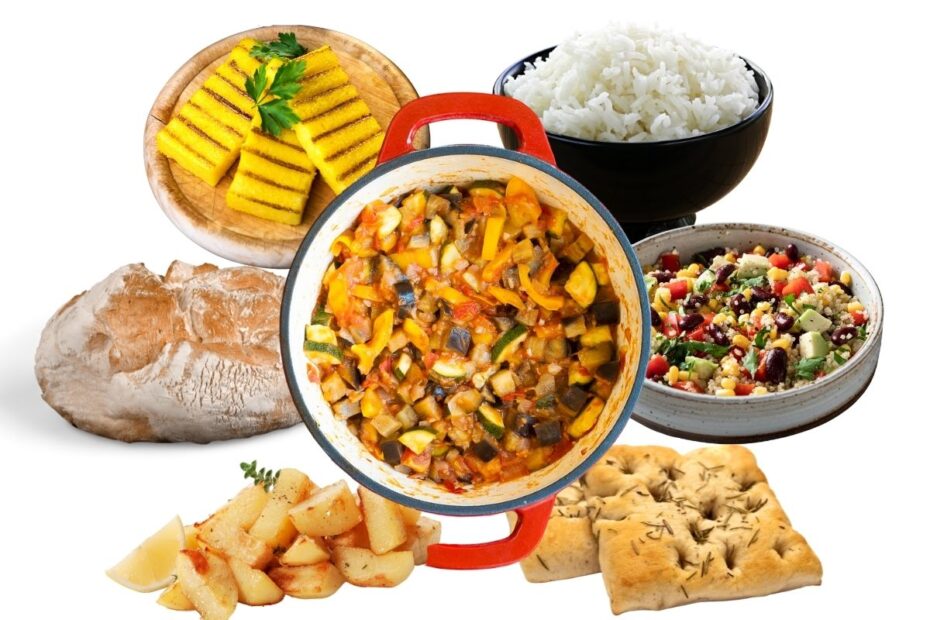 What is ratatouille?
Ratatouille is a French veggie stew using summer vegetables like eggplant, zucchini, red pepper, and tomato. It is considered a "peasant dish" meaning the stew is meatless and made up of cheap ingredients. Furthermore, it is also a type of stew that gets better with every passing minute. Isn't it wonderful?
There is no exact ratatouille recipe, so everybody interprets it a little bit differently. Since the movie with the same name was released in 2007, the oven-baked ratatouille (similar to "confit byaldi") became really trendy. However, originally the French cooked it on a stove.
Here is our one-pot easy french ratatouille recipe that you can make within 30 minutes! We use juicy diced tomatoes, globe eggplant, yellow bell pepper, and young zucchini topped with fresh herbs. See the result for yourself in the below picture.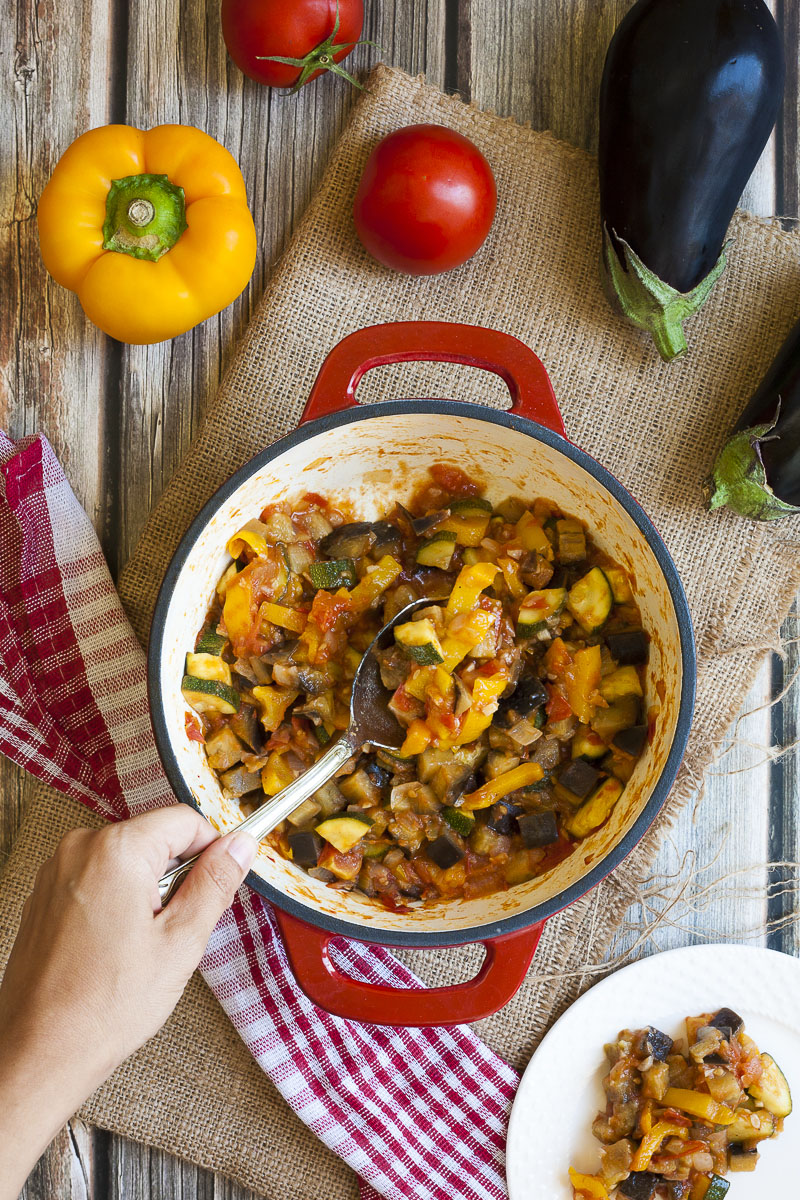 But how do the French eat it?
Ratatouille is a fresh summer vegetable dish that originated in Provence, South France. They serve it
hot as a side dish with meat (like chicken, pork chops, or flank steak) or fish or cold as an appetizer on baguette.
Best sides to serve with ratatouille
If you would like to enjoy it as a main dish aka as a light summer veggie stew, here are a couple of delicious side dishes that go great with it.
Bread, the good old classic
It is a stew so take a slice of rustic crusty sourdough bread or ciabatta and dunk. You might not know this about us, but we eat gluten-free. So we would like to show you also some homemade gluten-free options to choose from.
Rice and other grainy sides
Our favorite side dish to accompany ratatouille is simply cooked brown rice. However, here are some creative variations that match perfectly with the French flavors of fresh thyme or fresh basil.
Potatoes sides
Naturally, most people love potatoes as a side dish. Due to the crunchy texture of ratatouille, mashed potatoes may not be the best choice, but oven-roasted or fried recipes complement this veggie stew perfectly.
Polenta
It is also a popular side dish to serve with ratatouille. The sweetness of the cornmeal complements the crunchy cooked vegetables nicely and turns them into a cozy, heart-warming bowl of comfort food.
Creative mains to serve with ratatouille
Now, you might think – well – it looks like a yummy veggie side dish, rather than the main course. We got you covered. The French usually serve ratatouille with grilled meat or fish, although here are some vegetarian options as well. Why? Because it is delicious and gives you an even wider variety of combinations. There are lots of meatless options to choose from:
Vegetarian main courses
If you want to turn ratatouille into a complete lunch or dinner, add something hearty and filling. There are several delicious high-protein recipes using legumes like lentils, chickpeas, or other beans that complete any roasted vegetable-type dish. Here are our favorite ones:
Protein-packed salads
It is hard to enjoy heavy meals during the hot summer, isn't it? So a light summer salad for a light summer stew is just what you might need. They are a refreshing and colorful combination that will not leave your tastebuds hanging.
Ratatouille for breakfast
Last, but not least ratatouille is a scrumptious savory breakfast alternative. If you make it a day before, all the flavors and the juices come together and make it even more delicious and rich. The French serve it with poached egg or omelet and Italian sausages. If you need an eggless/meatless alternative, we have some tips for you here:
Top tips to choose the perfect complementing dish
Whether you eat ratatouille as a side dish or a main dish, here are a couple of tips you can consider if you want to keep it more or less authentic:
Choose a dish using typical French herbs. These are thyme, basil, rosemary, tarragon, savory, marjoram, oregano, and bay leaf. If you choose sides/mains seasoned with these, they should be a perfect match for ratatouille.
Look for typical Mediterranean ingredients. Provence is located in Southern France, so Mediterranean recipes are usually a safe bet to choose from. Look for recipes with ingredients like kalamata olives, capers, artichoke hearts, balsamic vinegar, olive oil, garlic, tomatoes, pasta, bread, seafood, meat, dairy, legumes, and wine.
Keep it simple. France is famous for its intricate recipes even for stews and soups, although ratatouille is one of the lightest French stews ever (especially compared to a hearty, meaty Beef Bourguignon). So keep it simple and choose a side or main that highlights the delicious variety of summer veggies in ratatouille.
More stew and soup recipes
If you like ratatouille, you might also enjoy other stew-type veggie recipes like
We hope that you could find some inspiration from the above list. Let us know in the comments, what is the best way to eat ratatouille as per your taste.